Baked pasta alla Tranese from Puglia.
Pasta alla Tranese is a delicious baked pasta recipe from Puglia made with marinated tomatoes and stracciatelle cheese. I think it's one of the best baked pasta recipes I know!

Pasta alla Tranese al forno.
Regular visitors to my blog have, most probably, realized baking is one of my favourite ways to cook pasta (Italians say pasta al forno- in the oven). Of course, I love other pasta recipes, especially different pesto sauces and seafood pasta dishes. But, baked pasta has long been a firm favourite of mine! And, I love discovering different ways to make it.

Interestingly, baked pasta isn't common in restaurants here where I live in Northern Italy, apart from lasagne al forno with Bolognese. However, it is a very popular way of serving pasta at home, especially on Sundays or holidays. And, most Italian regions have their own particular baked pasta recipes.

On a recent search for an original recipe for baked pasta, I came across this recipe called 'pasta alla Tranese'. This baked pasta recipe is supposedly from Trani, a historic fishing port in Puglia, southern Italy, between Bari and Barletta on the Adriatic coast. I say supposedly because there seem to be different versions of this recipe.

The cheese.
The version I chose to cook includes stracciatella, a delicious soft creamy cheese with a decidedly sweet taste. In fact, stracciatelle is better-known as the interior and, in my opinion, the best and tastiest part of burrata. However, other versions use mozzarella and some only have grated pecorino and Parmigiano.

What makes this baked pasta alla Tranese special?
The main feature of pasta alla Tranese recipe is the use of raw tomatoes. These are halved and left to marinate in salt, garlic and basil prior to baking. The tomatoes aren't cooked before the pasta dish goes into the oven. Some people mix them with the half-cooked pasta in the oven dish. Others, as in the case of my recipe, use these tomatoes for the top layer of the dish.

I think the inclusion of stracciatella and that layer of raw marinated tomatoes, make this one of the best baked pastas I have eaten in a long time. I'm sure you'll feel the same if you try it!

Other ingredients.
Apart from the marinated tomatoes and the stracciatella, this baked pasta alla Tranese includes a homemade tomato sauce, plus some grated Parmigiano and pecorino. You'll also need an onion, a clove of garlic, some breadcrumbs and some parsley. And, that's just about it! Baked pasta doesn't get much simpler or tastier than this!

The pasta.
You can use any medium sized tube pasta to make pasta alla Tranese.  I used mezze maniche rigate, meaning grooved half sleeves! This pasta is made by a company called Garofalo from Gragnano near Naples. However, you could also use mezzi paccheri rigate, meaning half paccheri with grooves. Pasta tubes such as rigatoni, occhi di lupo and penne rigate would work well too.

If you do try this pasta alla Tranese recipe, I'd love to hear what you think. Please write a comment here on the blog or post a comment on the Pasta Project Facebook page.
Your feedback means a lot to me!
Buon Appetito!
Other Vegetarian baked pasta recipes here on The Pasta Project.

Save this recipe for later?
If you want to save this recipe for later, you can print it, bookmark this page or save it to Pinterest.
Pin for Later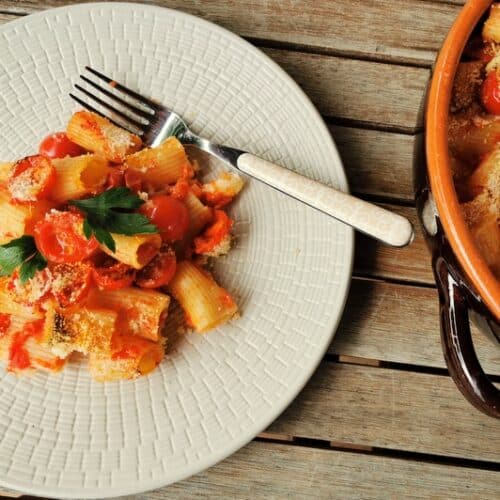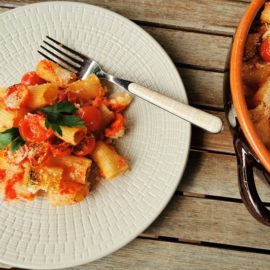 Baked Pasta alla Tranese
A wonderful vegetarian baked pasta recipe from Puglia.
Ingredients
500

g

cherry tomatoes

(1.1lbs) or datterini

4-5

basil leaves

torn into pieces

500

g

pasta tubes

(1.1lbs) I used mezzi maniche rigate from Garofalo

300

g

fresh stracciatella cheese

(10.5oz)

45

g

pecorino

(1.5oz) grated

45

g

Parmesan

(1.5oz) grated

1

garlic clove

crushed

breadcrumbs

as required

black pepper

to taste
For the tomato sauce
3

tablespoons

extra virgin olive oil

1

small onion

peeled and finely chopped

500

g

ripe tomatoes

(1.1lbs) blanched, peeled, deseeded and chopped or 1 bottle 700 g (1.5lbs) passata ( I prefer to use passata rustica which is thicker than classic passata)

1/2

tsp

sugar

salt

for pasta and to taste

fresh parsley

(for serving)
Instructions
Make the tomato sauce
Fry the chopped onion in a little olive oil until translucent

Add the passata or chopped peeled tomatoes, a pinch of salt and the sugar to reduce the acidity

Simmer over a medium heat for 15-20 minutes.
Make the main dish
Halve the 500 grams cherry tomatoes and put them to marinate in a bowl with the crushed garlic, basil and a pinch of salt.

Half cook the pasta in plenty of boiling salted water, drain and mix with the tomato sauce after keeping aside enough sauce to layer the bottom of your oven dish.

Ladle the saved sauce into the bottom of an oven dish (earthenware is traditional if you have one).

Spread a layer of pasta with sauce and season with pecorino and parmesan cheese and half the stracciatella cut into pieces.

Add a second layer of pasta, seasoned with cheese (pecorino, parmesan and stracciatella) and finish with a layer of pasta.

Cover the last layer with the marinated cherry tomatoes, garlic and basil

Sprinkle breadcrumbs and some more grated cheese on top, drizzle with olive oil.

Bake at 180 degrees for 45 minutes until you will have formed a nice crust on the well-roasted tomatoes.

Remove from oven, let stand and serve sprinkled with some fresh parsley as required
Notes
You can use any medium sized tube pasta. I used mezzi maniche rigate, but rigatoni, mezzi paccheri or maccheroni would work well too.
Instead of stracciatella you can also use mozzarella.
*This recipe was originally published in 2017 but has been updated with new photos and text.