Baked Candele Pasta with Mushrooms.

Last Sunday we had four guests for lunch, one of whom is a vegetarian. My hubby wanted to cook fish but it was also important to serve dishes that our vegetarian friend could eat! Have you ever had that dilemma? So, what to cook? (go straight to recipe)
I wanted to use the candele pasta we had recently discovered, so I decided to make a vegetarian baked pasta with the insanely long candele and a rocket pesto to eat as a dip with warm bread. My husband also cooked vongole (clams) and baked sole fillets, which we served with crispy roast potatoes and a green and seed salad! It turned out to be quite a feast, which is pretty much the norm here in Italy when entertaining guests!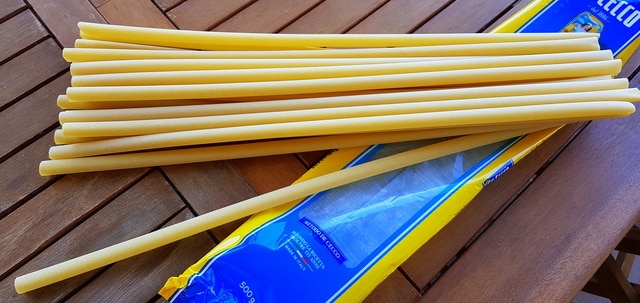 Candele, if you haven't read my post about them, are a traditional pasta of Southern Italy, especially Campania. The word 'candele' means candles and this pasta appears to have been inspired by the long slim candles used in Catholic religious processions. Long being the operative word as they are about 50cm in length!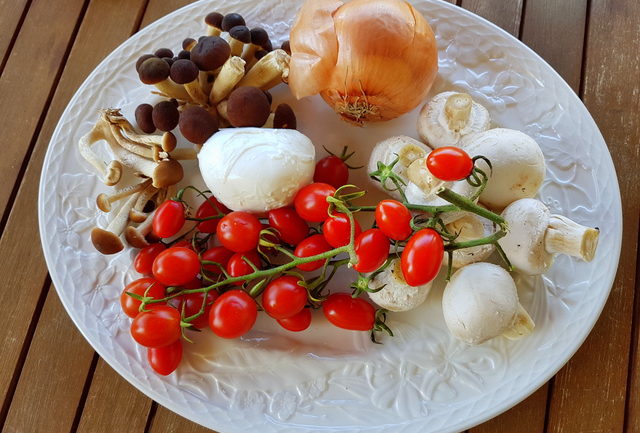 The biggest problem was how to cook them. There were a couple of possibilities. I could have partly cooked them in water and then finished off in the oven with the sauce and cheese. But, I got it into my head that I wanted to cook them from raw in the oven. The secret to doing that is the sauce has to be quite liquidy. You, also, have to keep an eye on it and add liquid if the dish is becoming too dry before the pasta is cooked. And it takes longer to cook the dish this way! However, my efforts were rewarded by the taste! The baked candele really seemed to have absorbed the flavours of the sauce and the result was divine!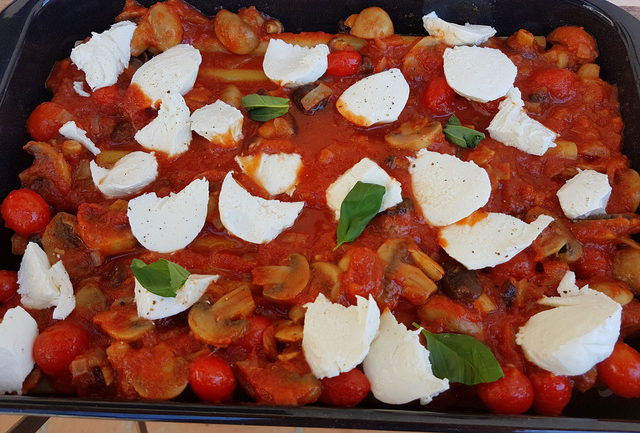 I would have loved to have an oven dish that was long enough to keep the baked candele intact but unfortunately my largest dish was just a bit too short. Candele are, infact, normally broken by hand into 2 or 3 irregular sized pieces before cooking. I broke mine more or less in half, so most of the pieces in the ready dish were about 25cm in length. Still long enough to be awesome!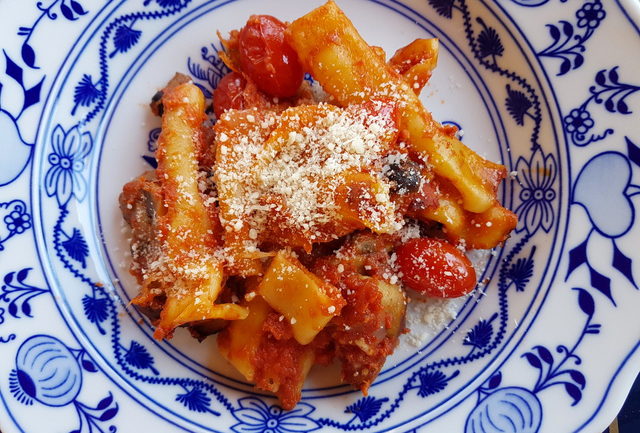 This was my first time cooking this type of pasta, but it won't be my last! As I said earlier, cooking the candele from raw in the oven takes more time but I thought it was well worth it. If you can't find this pasta ( it is available online), you can use most tubular pasta for this recipe and I'm sure the result will be just as good. Just don't forget to reduce the cooking time for smaller pasta shapes.
See the recipe for this delicious dish on the next page.
Buon Appetito.