12 Authentic Pasta with Ricotta Recipes.
Pasta is, of course, the most famous Italian staple. And ricotta is probably one of the most popular cheeses in the Italian kitchen. Pasta recipes that make use of ricotta are among my favourites. In fact, there are many dishes that combine these two favourite Italian foods. Check out these 12 Italian pasta with ricotta recipes . I'm sure you'll find a few you'd like to try!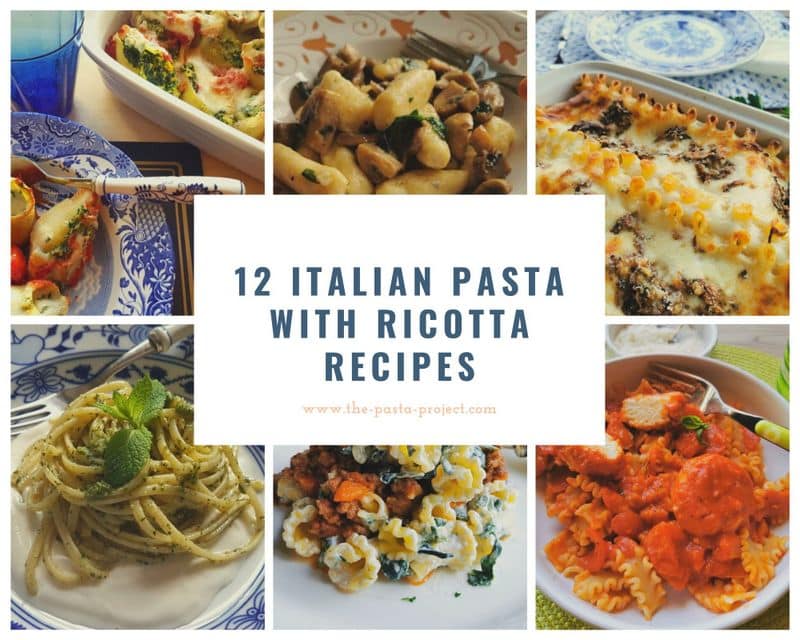 What exactly is ricotta?
Ricotta is actually a whey cheese obtained by reheating the whey left over from the production of other cheeses made with sheep, goat, water buffalo or cow's milk. In fact, the word 'ricotta' means recooked!
Even the Ancient Romans made ricotta!
Simply put, when you make cheese, you separate milk into two substances, curds and whey! Most cheeses are made using the curds. Ricotta is made using the whey. It's a bit similar to cottage cheese. Italians have been making ricotta for centuries. Even the Ancient Romans made it!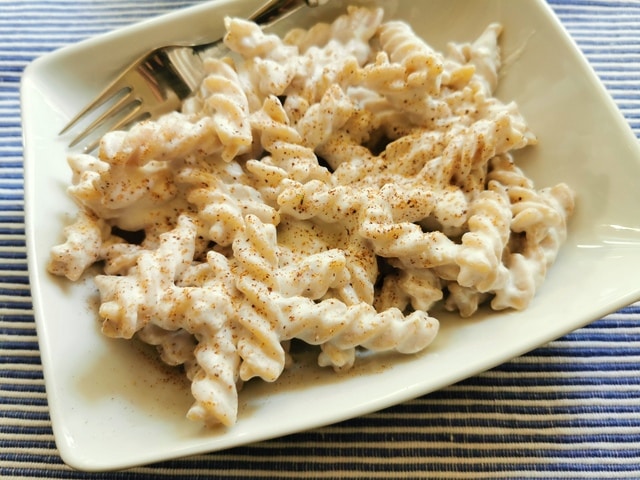 Traditional Italian fresh ricotta is smoother than cottage cheese and tastes mildly sweet. Ricotta is mostly used and eaten when it's fresh. However, there are ricotta cheeses which are aged such as ricotta salata (salted ricotta), ricotta affumicata (smoked ricotta) and ricotta infornata (baked ricotta). These 12 Italian pasta with ricotta recipes all call for fresh ricotta!
Just click the recipe name to find out more about each dish!
Meatless Italian pasta with ricotta recipes.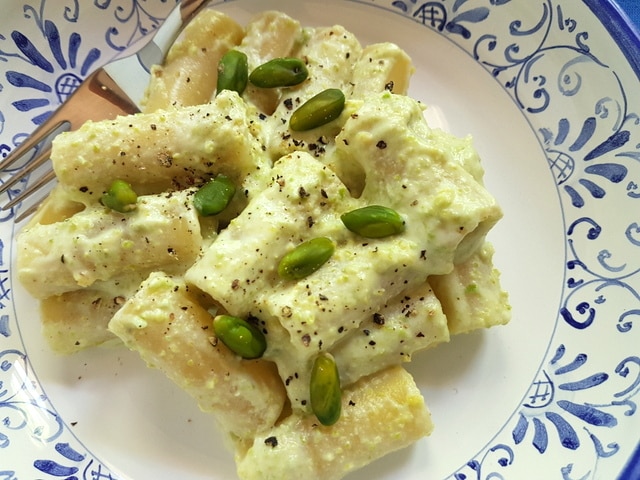 Two of the most important ingredients in the Sicilian kitchen are ricotta and pistachios. Both are used in desserts and pasta recipes. This Sicilian ricotta and pistachio pasta is a delicious example of how beautifully these two typical foods can be used together to make a divine creamy plate of pasta.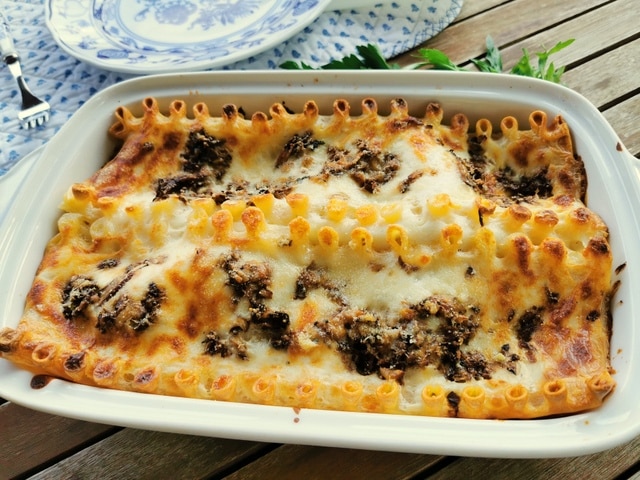 This Italian ricotta mushroom lasagne al forno is one of my favourite lasagna recipes. Made with fabulous Southern Italian dried lasagna riccia and porcini mushrooms, this dish tastes as beautiful as it looks!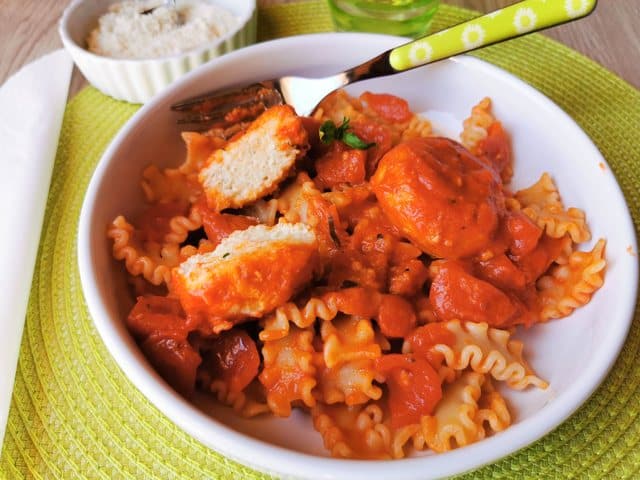 This fabulous vegetarian version of pasta with 'meatballs' is based on a traditional recipe from Calabria in Southern Italy. Actually, these Calabrian ricotta balls in tomato sauce are delicious with pasta or without! You can also make extra and fry or bake them!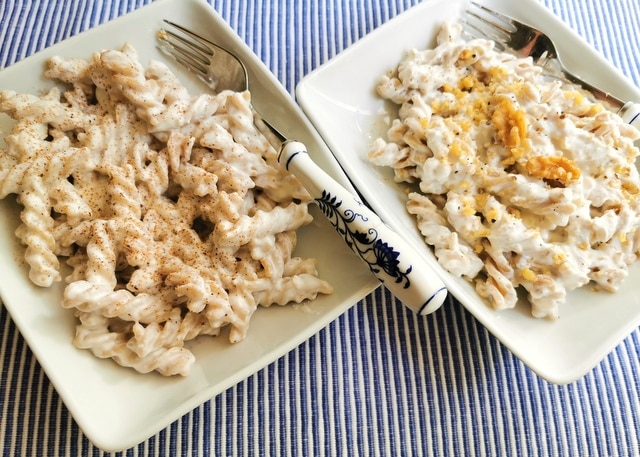 In Southern Italy, pasta with ricotta is a popular go-to recipe when mothers don't know what to cook or haven't had time for shopping. Kids love it! I'm sure you and your family will love these Sicilian ricotta pasta recipes too!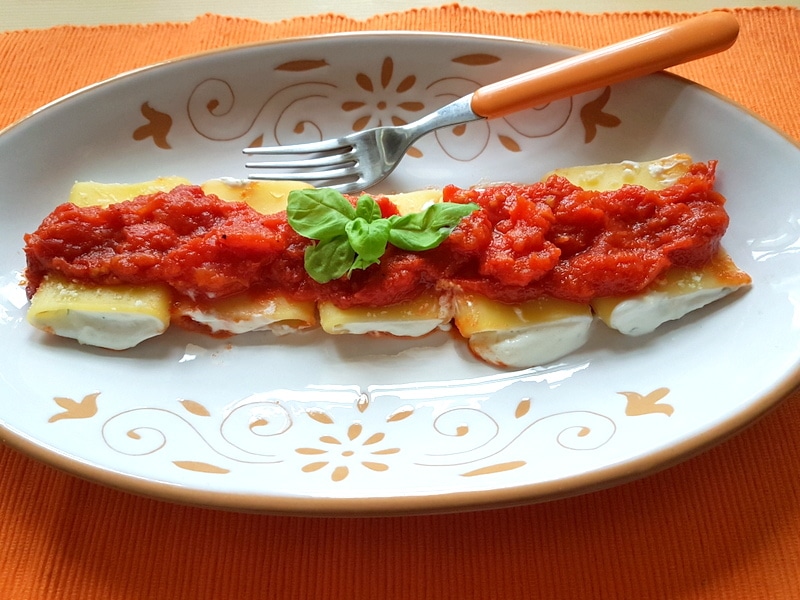 This paccheri recipe is so full of Mediterranean flavour , yet super simple to make. If you've never tried Neapolitan paccheri pasta before, this is a great recipe to begin with.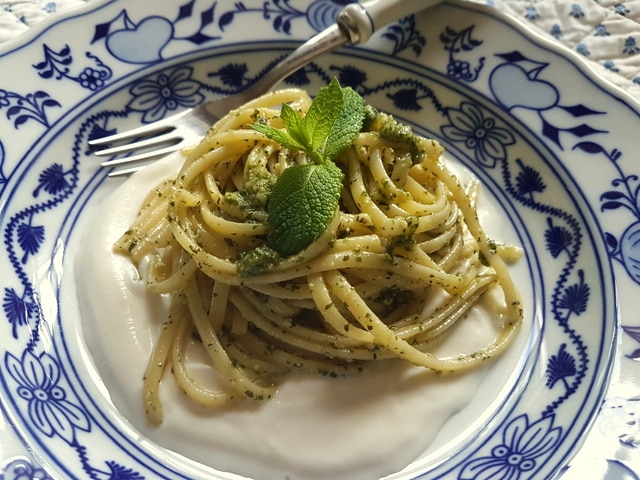 This fresh and creamy contemporary linguine pasta with mint pesto recipe is perfect for summer days when mint is in season and heavy meals are the last thing on our minds!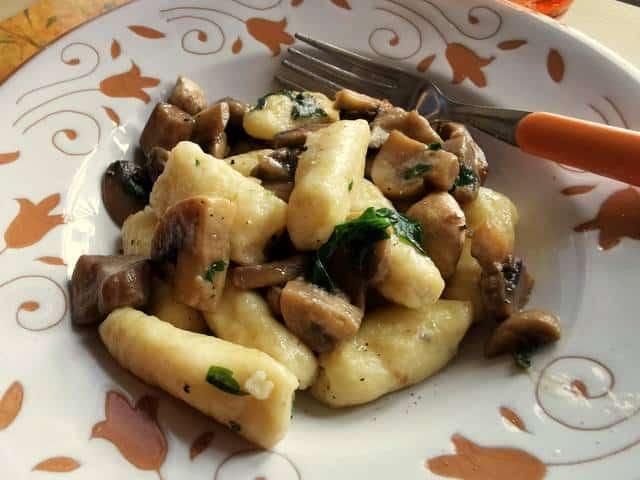 Traditionally made with Piemontese ricotta and fresh porcini, this vegetarian recipe is just as delicious with other types of ricotta and mushrooms.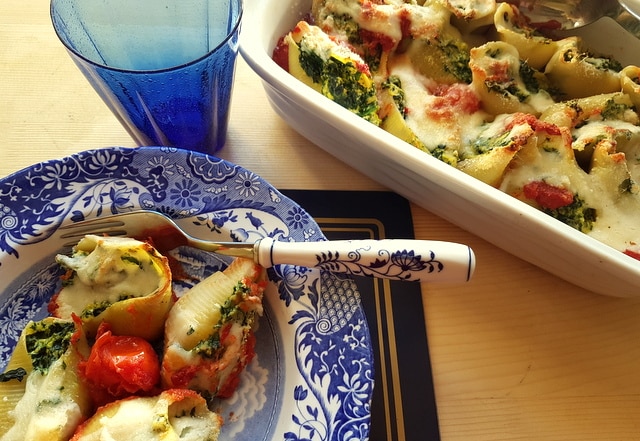 The two most traditional Sunday lunch baked pasta shell dishes in Italy are either with a meat ragu filling or like this recipe for pasta shells with spinach and ricotta.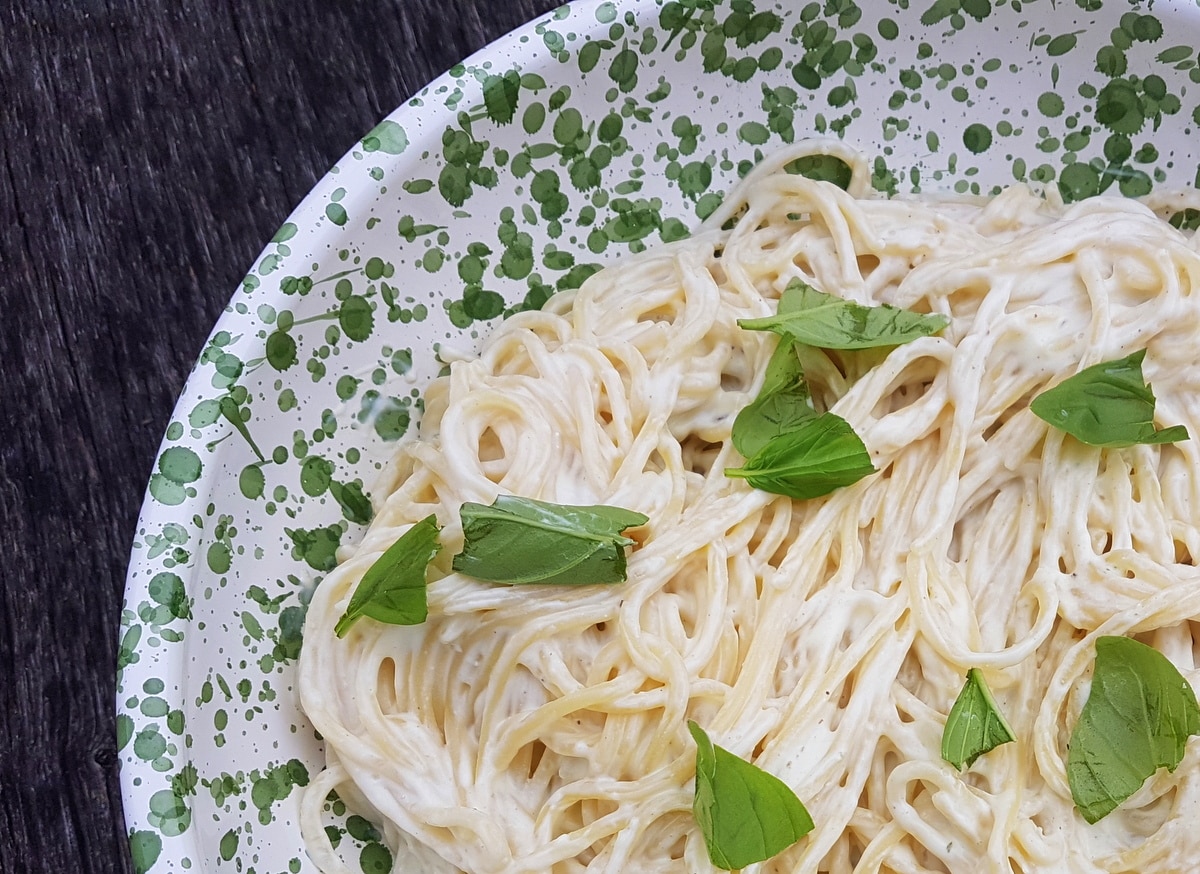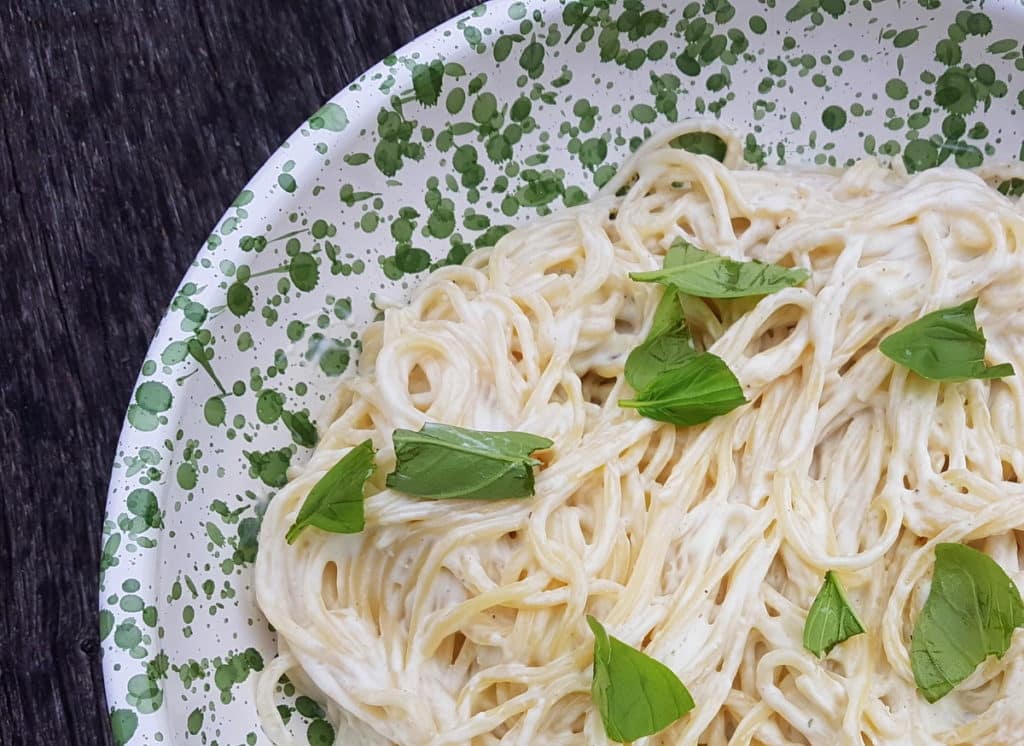 This spaghetti al limone with ricotta and basil has a wonderful fresh summer taste, with an intense lemony flavour. In fact, close your eyes and you can even imagine you are eating this dish sitting on a terrace overlooking the sea on the Amalfi coast or Capri!
Ricotta gnudi with black truffle is a heavenly dish made with Tuscan gnudi (gnocchi). However, even without black truffles you will love these divine ricotta dumplings!
Ragu lovers Italian pasta with ricotta recipe.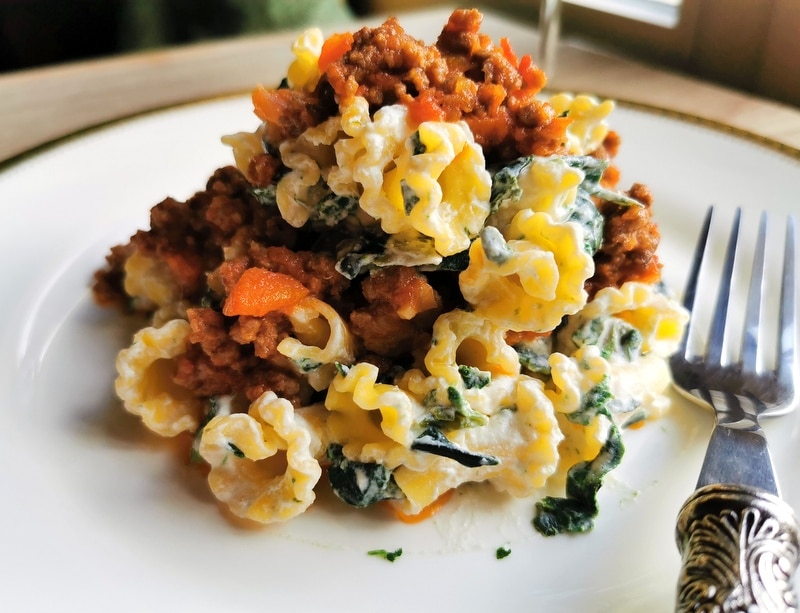 Known as Tuscan pasta tordellata, intordellata or stordellata, this delicious deconstructed version of a traditional tortelli recipe from Tuscany tastes as good as the filled pasta dish, with less work! I loved everything about this recipe, including having 2 sauces.
Sweet pasta with ricotta.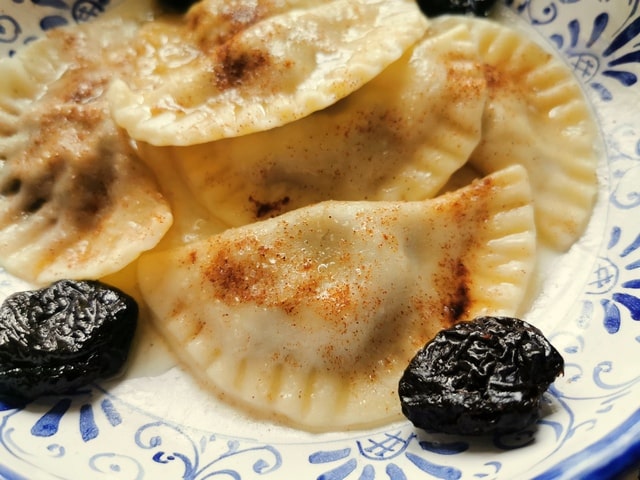 These traditional Northern Italian sweet ravioli are a unique and delicious way to serve pasta. These cjarsons are filled with prunes, figs and ricotta and served with melted butter, cinnamon and sugar!
If you do make these Italian pasta with ricotta recipes, I'd love to hear how they turn out. Please write a comment here on the blog or post a comment on the Pasta Project Facebook page.
Your feedback means a lot to me!
Buon Appetito!
Save for later?
If you want to save these recipes for later, you can bookmark this page or save it to Pinterest.
Pin for later