12 Traditional Pasta Recipes from Puglia (Apulia)
These 12 pasta recipes from Puglia are just a taste of how good the food is in this Southern Italian region. Puglia is where pasta with meatballs originated. It's where orecchiette pasta originated and where homemade pasta is still very much de rigueur!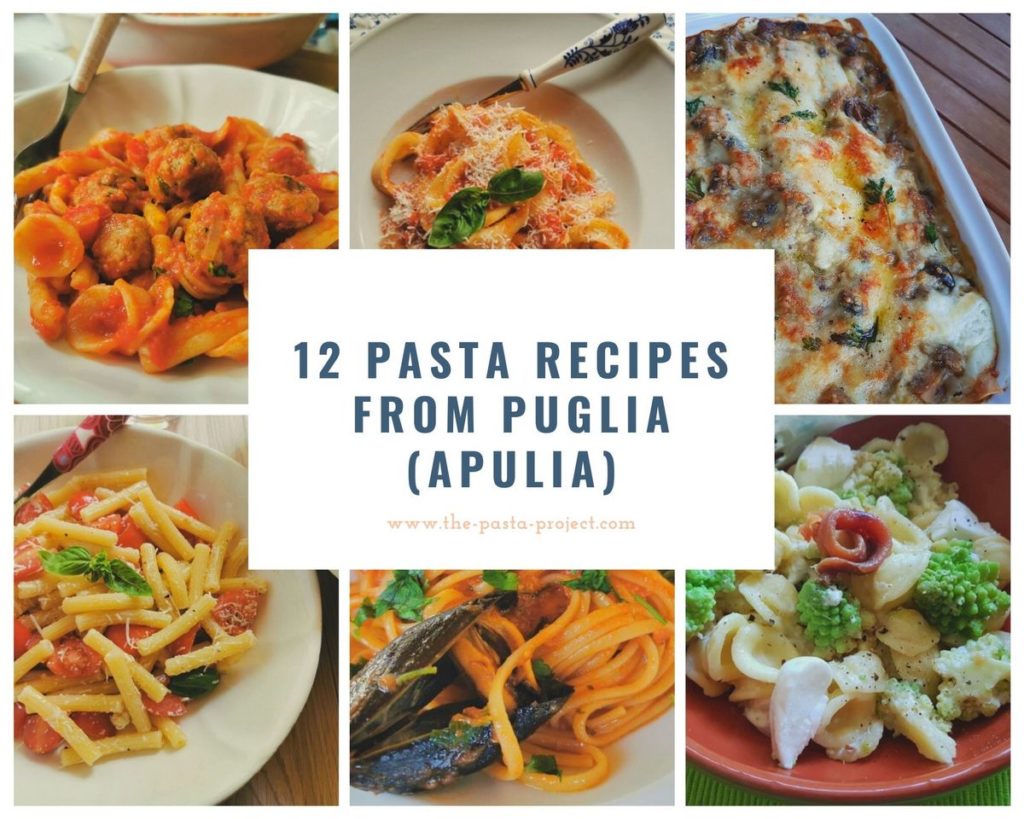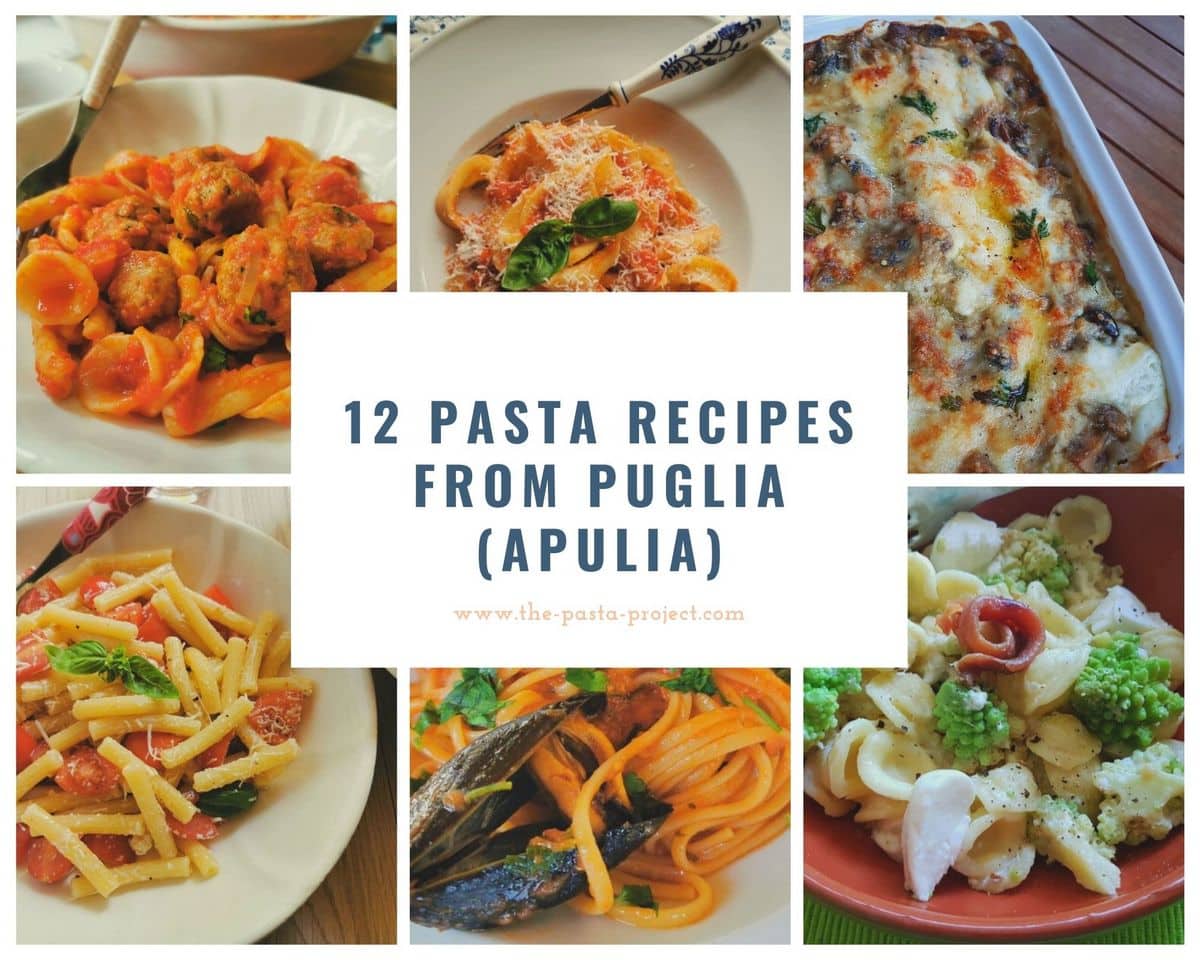 Where is Puglia?
For those who don't know where the Italian region of Puglia is, the easiest way to explain is to say Puglia is the heel of the Italian boot. So, yes, a Southern Italian region with lots of coastline and a warm Mediterranean climate! In fact, if I could live anywhere in Italy, Puglia would be one of my top choices.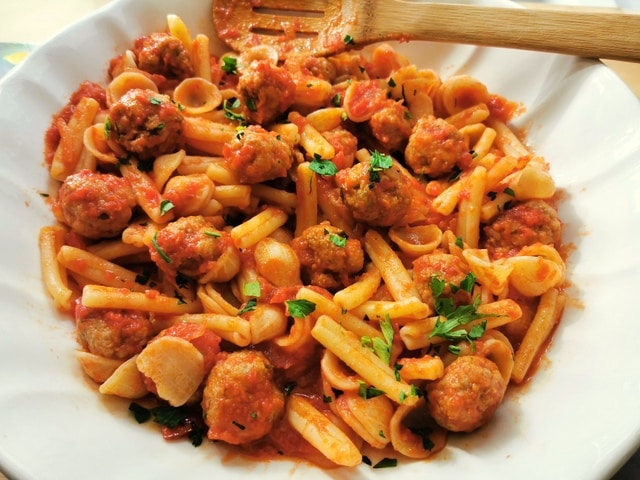 Puglia's towns, villages and landscapes reminded me a lot of Greece (which is only 70 odd km away), as well as Malta where I lived for a number of years. This region has lots of olive trees, a beautiful coastline with white sand Caribbean type beaches in places and is very rural. Puglia is my kind of place!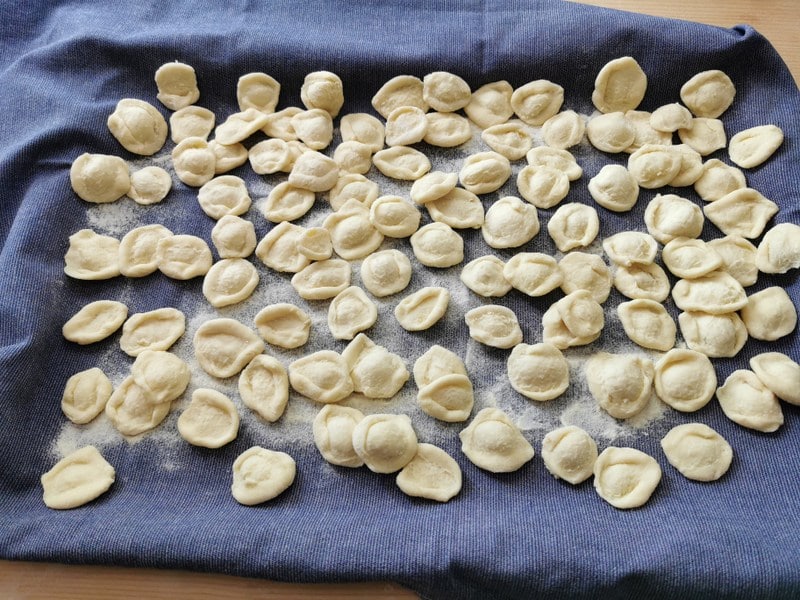 Food in Puglia.
Needless to say the food is pretty awesome too. Puglia is a mainly agricultural region. 40% of Italy's olive oil comes from there, as does a lot of the country's durum wheat. The local cuisine is based on seasonal locally grown produce and home cooking. Simple but delicious fare.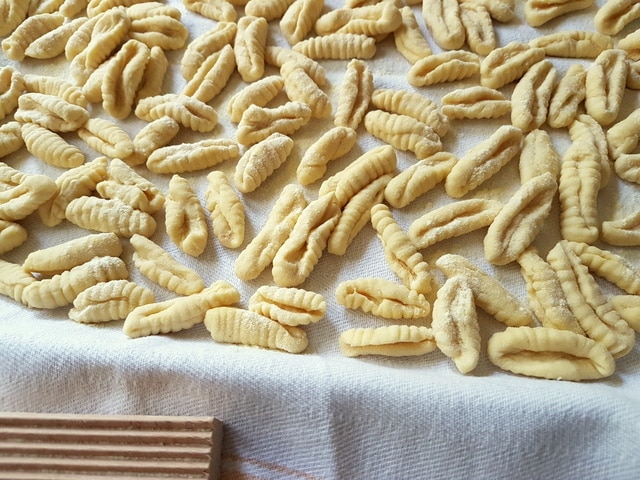 Of course, people eat quite a lot of seafood (there are 800km of coastline), the most popular and famous being mussels from Taranto (check out the pasta recipe from Puglia for spaghetti with mussels below). They also consume a lot of pasta, bread, veggies, cheese and pulses. The most popular meat is lamb or goat, as well as various local cured pork products but meat tends to be mostly slow-cooked or roasted and eaten for Sunday lunch and on holidays. There are very few traditional dishes with beef!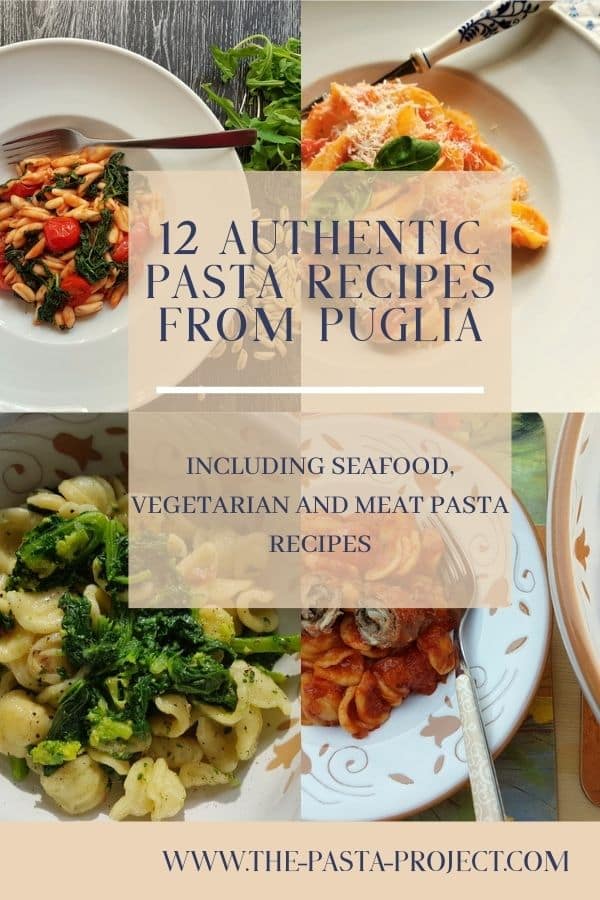 As you will see from these 12 pasta recipes from Puglia, there are other types of fresh and dried pasta. But, orecchiette and cavatelli feature most in traditional Apulian pasta recipes. Of course, you can use other types of pasta for all these recipes if you can't find or make the original type.
Click the dish title to go to the recipe post.
Seafood pasta recipes from Puglia.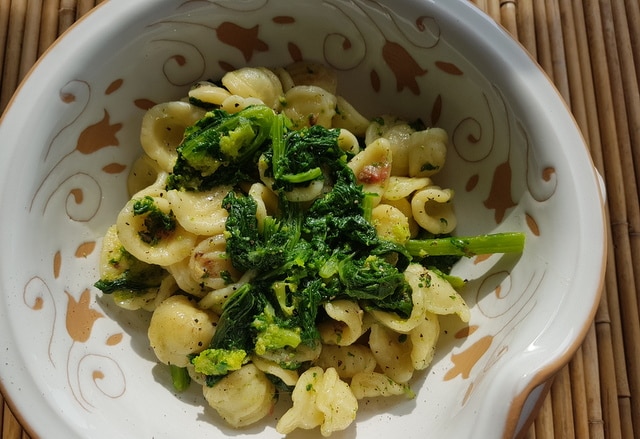 Orecchiette with broccoli rabe (cime di rapa in Italian) is one of THE signature pasta dishes of Apulian cuisine. However, it is also popular in neighbouring Basilicata and the surrounding areas of Southern Italy. Like so many traditional pasta dishes, this is a simple recipe made with only a few ingredients but it is so so tasty! Like many Southern Italian pasta dishes, this contains anchovies. Of course you can make it without. But, in reality the anchovies are used for their umami flavour and the finished dish has no fishy or salty taste!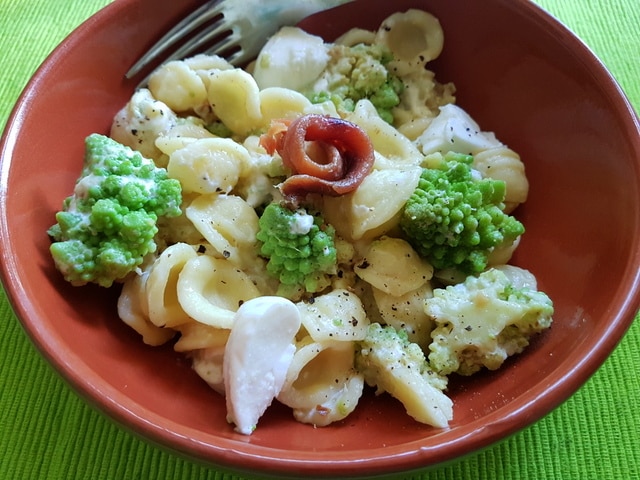 Orecchiette pasta with Romanesco broccoli is another recipe that includes orecchiette and anchovies. In fact, it's quite similar to the classic orecchiette with broccoli rabe above. Similar but not the same! This can be made with other types of broccoli too, but the star of this dish is the Romanesco broccoli. This is an amazing looking member of the brassica family of veggies. It's not a cross between a cauliflower and a broccoli but actually a separate vegetable variety that's been grown in Italy since 16th century.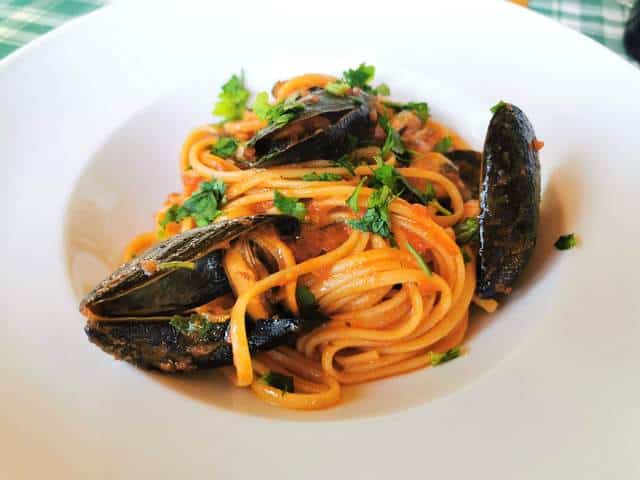 Many people prefer to eat seafood in restaurants, rather than cook it at home. However, a lot of seafood dishes, especially seafood pasta recipes, are really not difficult to make and don't leave your house smelling of fish! This spaghetti with mussels alla Tarantina is one such dish. It's unbelievably tasty, easy to prepare and will definitely impress your guests! As I mentioned above mussels from Taranto in Puglia are very popular (and very appreciated in the mussel eating world). So, it's not surprising that the Pugliese have such delicious mussel recipes!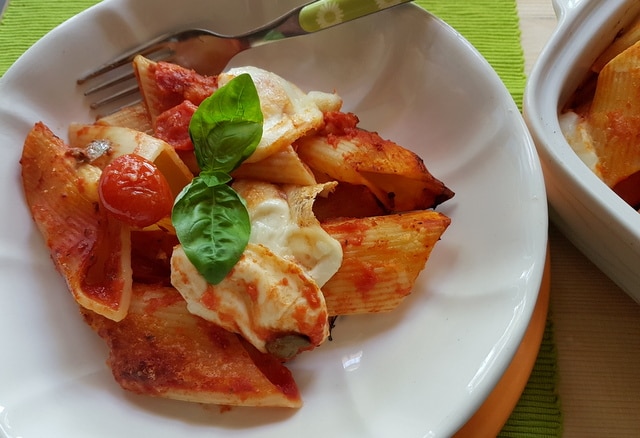 Pasta alla pizzaiola is a simple but delicious Southern Italian pasta recipe inspired by pizza marinara, hence the name! Although, most definitely of Neapolitan origin, slightly different versions of alla pizzaiola are traditional in Basilicata, Sicily and Campania. This recipe is the version from Salento, Southern Puglia. It includes capers and anchovies. I also added some fresh mozzarella just before serving. It's also possible to bake pasta alla pizzaiola (al forno), which is what I did with the leftovers.
Meat pasta recipes from Puglia (Apulia)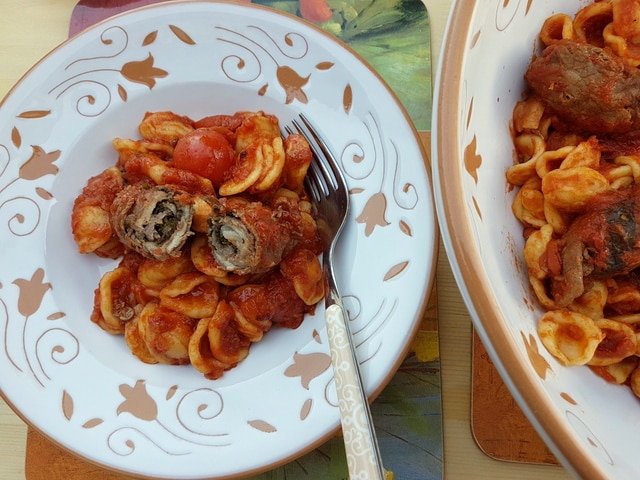 This rich and tasty traditional orecchiette with braciole alla Barese recipe comes from Bari the capital of Puglia. Like many similar Italian 'Sunday sauce' recipes, it takes a while to cook, but the result is melt in your mouth filled beef rolls in a thick flavourful tomato sauce. As is traditional with this orecchiette with braciole alla Barese, Italians often divide these kinds of sauces into two courses. This means, the meat infused tomato sauce is served over pasta and the braciole are the main course (secondo in Italian). However, everything can be eaten together as a very hearty one dish meal.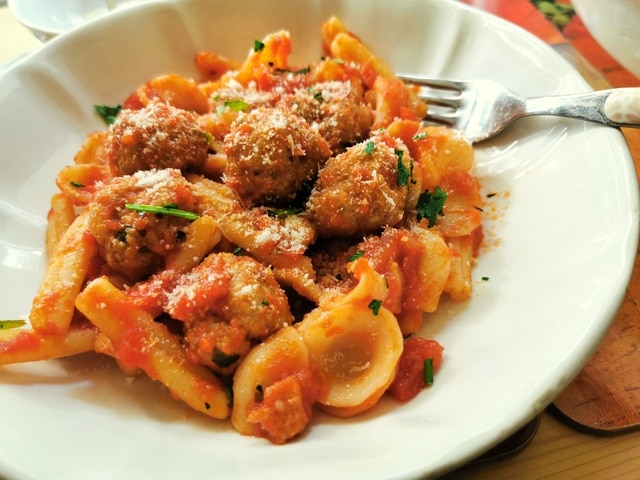 Pasta with meatballs is one of those recipes that sparks much debate. Many think of it as an Italian-American dish and not something that's eaten in Italy. This is partly true. Most definitely, Italians don't eat spaghetti with meatballs like in the US. However, in Puglia, this orecchiette with meatballs is very very traditional and many people think of this as the original Italian version of pasta with meatballs. The biggest difference between this recipe and the American version is mostly the size of the meatballs. This recipe calls for small meatballs about the size of a walnut!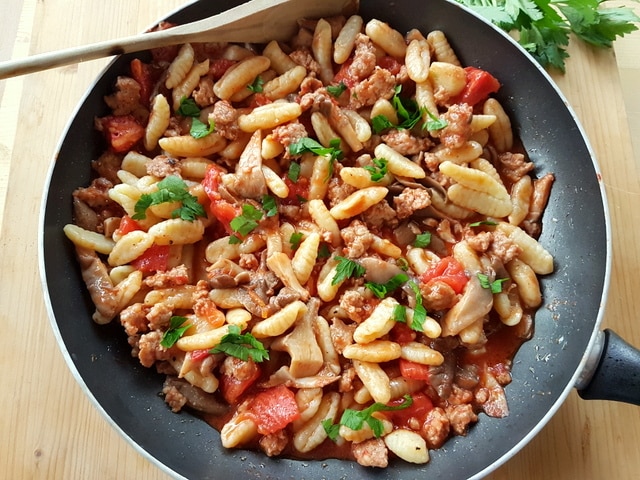 This yummy homemade cavatelli with oyster mushrooms and sausage is another very traditional pasta recipe from Puglia. There, they use cardoncelli aka king oyster mushrooms. But, you can use other types of oyster mushrooms too. Cavatelli pasta is a typical Central and Southern Italian pasta that is eaten a lot in Molise, Puglia, Sicily and other regions. However, you may find it referred to by different names and in different lengths depending where you are eating it. In Puglia, they often call it capunti. With this recipe,I have included instructions for making homemade cavatelli.
Vegetarian pasta recipes from Puglia.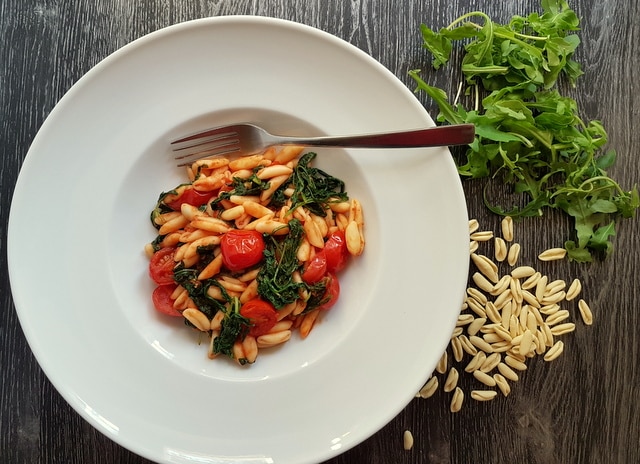 Cavatelli pasta with rocket is a healthy and delicious typical Apulian pasta recipe, which is also often made with orecchiette too. This is a very simple and easy to make dish. The main sauce ingredients are just garlic, tomatoes and rocket (arugula). The last cavatelli recipe I mentioned above was with homemade pasta. But, this time round I used dried cavatelli. You can use either.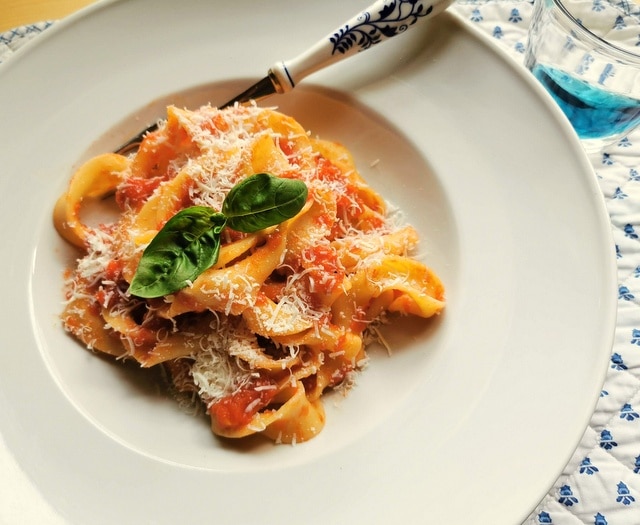 Sagne torte with tomato sauce and strong ricotta is a simple but delicious typical Sunday lunch recipe from Salento, the part of Puglia than runs along the bottom of the heel of Italy. The pasta is a twisted flour and water tagliatelle and the sauce is usually made with fresh tomatoes or passata. Also called sagne ritorte or 'ncannulate' in the local dialect, sagne torte is a pasta that's not so widely available or made outside of Puglia. There is a dried version available but if you can't find it you can use other ribbon pasta such as dried tagliatelle.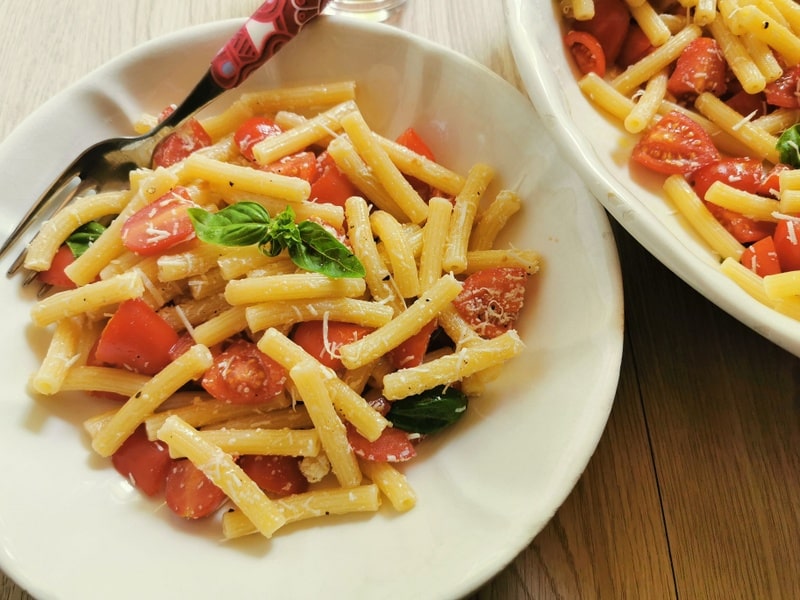 This pasta salad crudaiola Barese, also called pasta alla crudaiola, is an incredibly versatile and healthy dish. You can eat it as a one-plate light meal, as part of a cold buffet or at a picnic. This is another pasta recipe from Bari. It is made with fresh cherry tomatoes, a clove or 2 of garlic, fresh basil, a sprinkling of hard ricotta called Marzotica (or ricotta salata) and lots of extra virgin olive oil marinated together for a couple of hours and then mixed with the cooked pasta. Super simple and perfect for warm weather!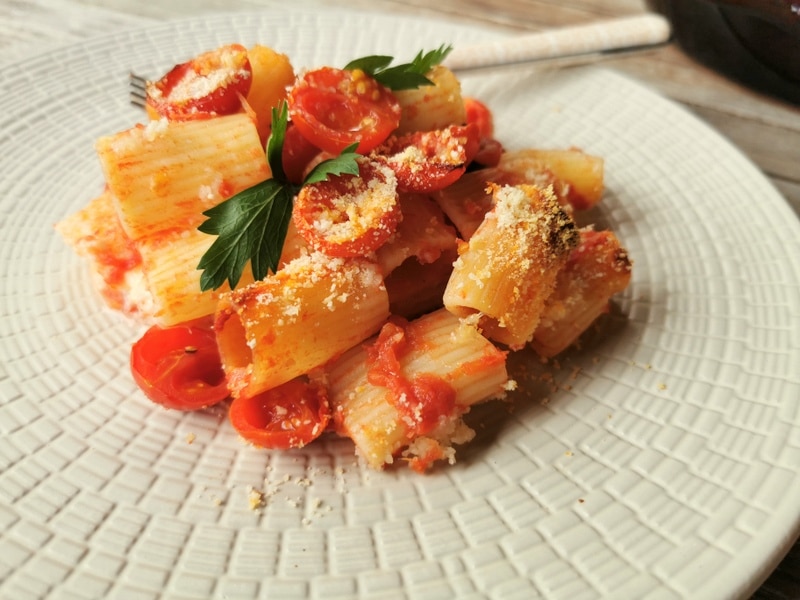 Pasta alla Tranese is another really tasty vegetarian pasta recipe from Puglia. This is a baked pasta dish made with marinated tomatoes and stracciatelle cheese. I think it's one of the best baked pasta recipes I know! The main feature of pasta alla Tranese is the use of raw tomatoes which have been halved and left to marinate in salt, garlic and basil prior to baking. These tomatoes aren't cooked before the pasta dish goes into the oven. Some people mix them with the half-cooked pasta in the oven dish. Others, as in the case of my recipe, use these tomatoes for the top layer of the dish. So delicious!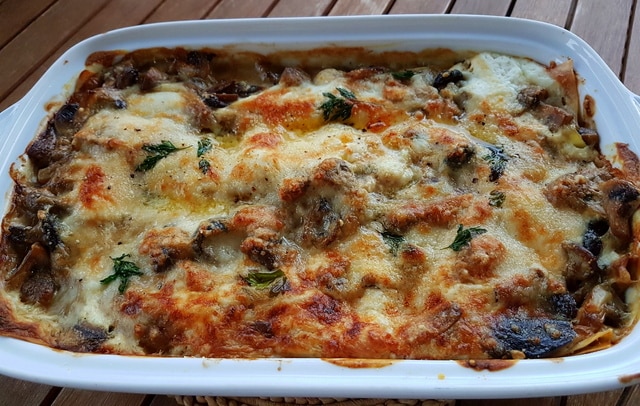 If you want to impress your guests, this lasagna bianca with mushrooms and burrata is the way to do it! My lovely Sicilian hubby was so enthusiastic about this dish that he couldn't stop talking about it for days! The taste is outstanding yet the ingredients are simple. I guess the most important thing is the quality of those ingredients, most importantly the use of fresh burrata (Puglia's signature cheese). And, if you can find them, fresh porcini make it extra special!
Other regional recipe round ups.
Pin for later so you'll be able to easily find this recipe round-up!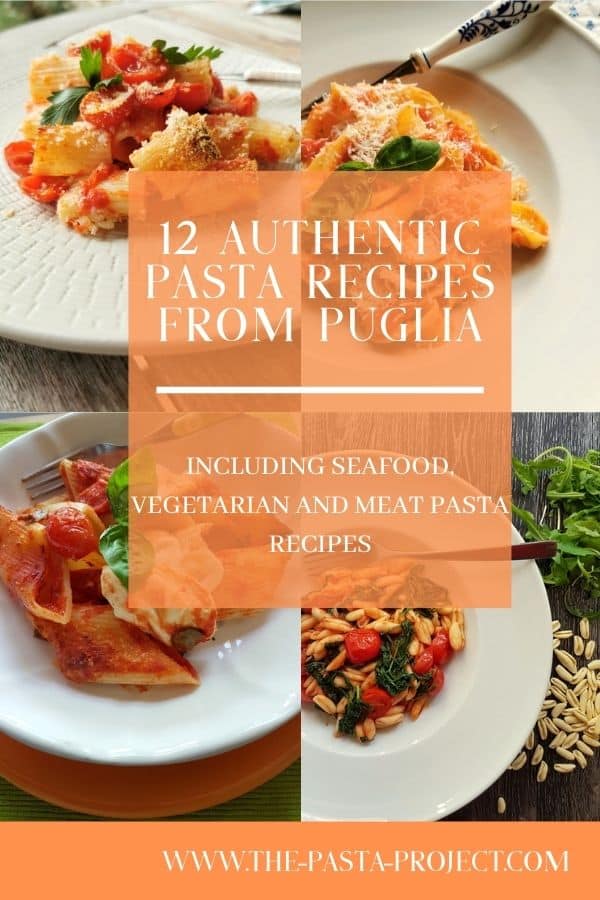 If you do try this any of these pasta recipes from Puglia, I'd love to hear what you think. Please write a comment here on the blog or post a comment on the Pasta Project Facebook page.
Your feedback means a lot to me!
Buon Appetito!
None of these recipes include instructions for homemade orecchiette. But if you click on this round up link you'll find it there. Homemade orecchiette.