A traditional pasta recipe from Puglia.
This healthy and delicious vegetarian cavatelli pasta with rocket is a traditional dish from Puglia in Southern Italy. Typical of the Southern Italian culinary tradition, it's one of many simple recipes made with just a few fresh seasonal local ingredients.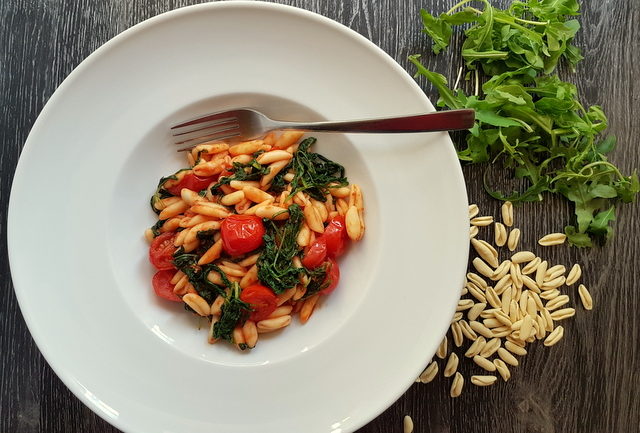 Cavatelli con rucola.
Cavatelli pasta with rocket is a typical Apulian recipe, which is also often made with orecchiette. This is a very simple and easy to make dish, even if you use homemade cavatelli or orecchiette. The last cavatelli recipe I posted was made with homemade pasta. But, this time round I used dried cavatelli. You can use either. If you wish to use homemade cavatelli pasta, check out the recipe on my cavatelli with oyster mushrooms and sausage recipe.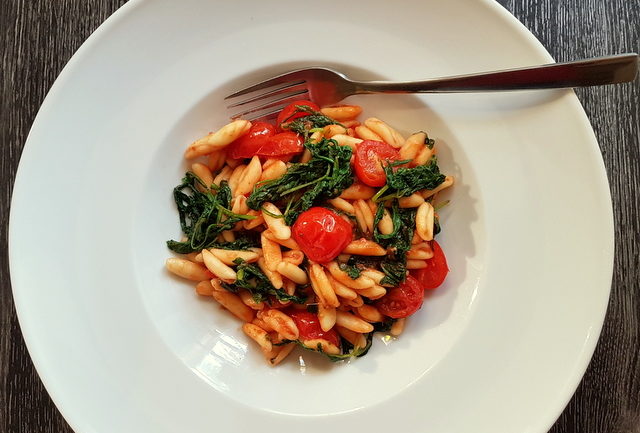 The pasta.
Both cavatelli and orecchiette are traditional pasta types in the beautiful Southern Italian region of Puglia. If you've never been, put it on your bucket list! Cavatelli originated in the neighbouring region of Molise, but is popular throughout southern Italy. Orecchiette pasta comes from Puglia and has been eaten there since the 12th or 13th century. Both these types of pasta are often homemade in the Southern regions, although you can buy dried versions throughout Italy.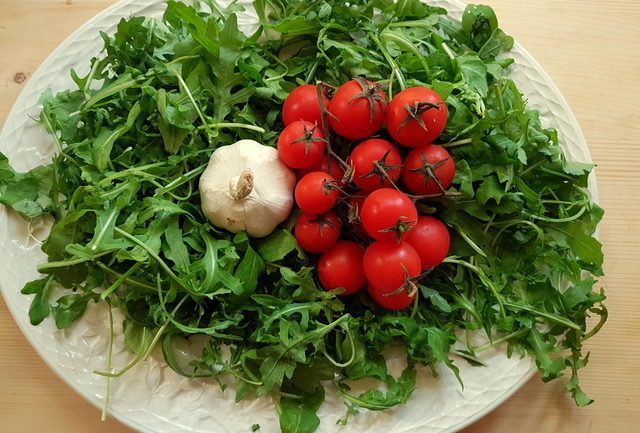 Cavatelli pasta with rocket is a very economical dish, typical of the rural culinary traditions of Southern Italy. It contains very few ingredients but, is really delicious! It's the combination, freshness and quality of the ingredients that makes these simple Italian pasta recipes so tasty.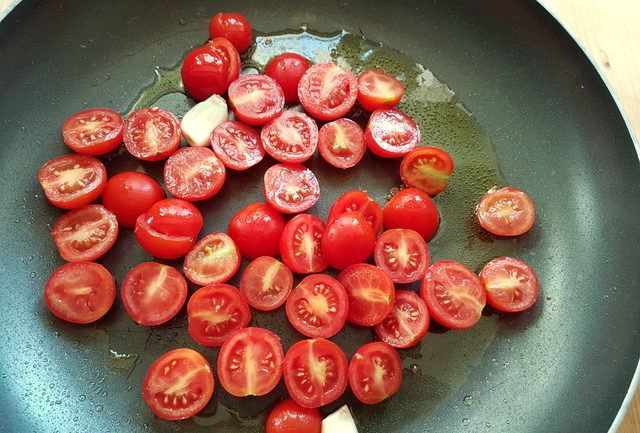 Wild or cultivated rocket.
Traditionally, this cavatelli pasta recipe includes wild rocket which grows in Puglia all year round. Wild rocket is much more aromatic and pungent than the greenhouse variety. But, at the same time, it also has a marked bitter aftertaste that not everyone likes. I used cultivated rocket to make this dish.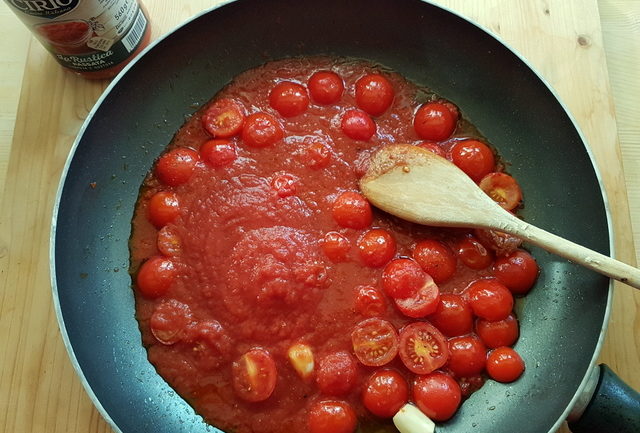 Rocket, also called arugula or rucola (in Italian), belongs to one of the healthiest groups of veggies known as cruciferous vegetables. This group includes kale, broccoli and Brussels sprouts. So, as you can imagine, rocket is very good for you. It is very high in nitrate which apparently helps reduce blood pressure. And, even contains a compound called sulforaphane that is believed to have cancer fighting properties.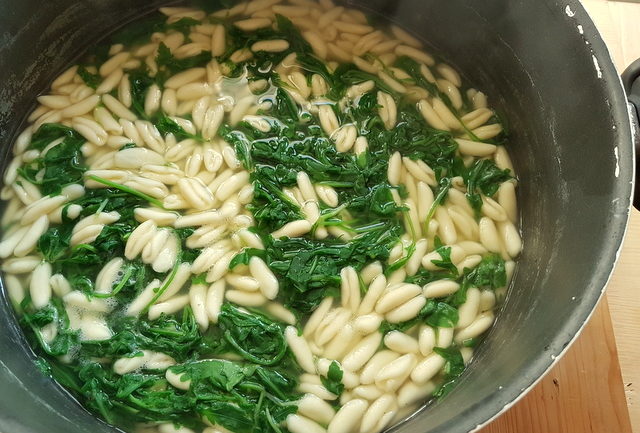 A little rocket history.
The Italians have eaten rocket or arugula since the times of Ancient Rome. However, it started life more as an aphrodisiac than a salad! The ancient Romans used it as a basic ingredient in love potions! In fact, the Romans often cultivated it in soils that housed phallic statues made to honor Priapus, the god of fertility!
In the Middle Ages, however, rocket was banned from cultivation in the monasteries because of its notorious fame. However, these beliefs were not unfounded. Researchers from the Department of Pharmacological Sciences of the University of Milan and the University of Bologna have carried out studies to verify the effectiveness of rocket as a sexual stimulant!
Rocket in Italy.
Here in Italy, rocket is very very popular. Italians eat it mostly raw in salads or on pizza or as a pesto. However, it's also delicious cooked, like in this cavatelli recipe. Rocket actually cooks faster that other greens like kale or collard greens and has more flavour than spinach or Swiss chard.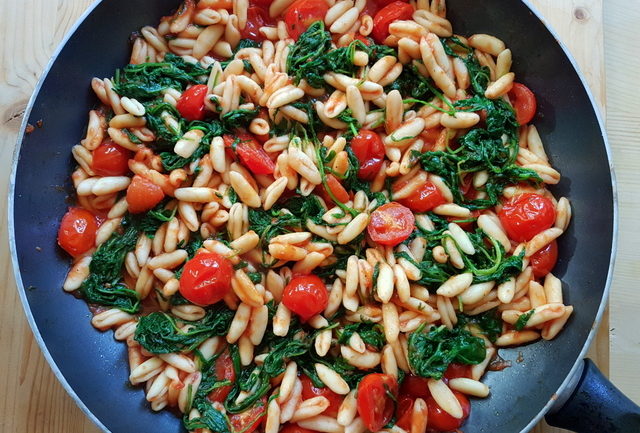 Making this cavatelli pasta with rocket recipe.
Many pasta dishes from Puglia involve cooking the pasta in the same water as the vegetables. Another popular example is pasta with broccoli rabe. This method of cooking not only gives the pasta more flavour, but also speeds up cooking times and produces less dirty pots and pans!
So, this cavatelli pasta with rocket recipe involves just two main steps. First to make a tomato sauce. You can use fresh peeled tomatoes, ready-made tomato passata or a combination of passata and cherry tomatoes, which is what I love to do! Second, boil the pasta and rocket in the same water. Then just drain and add to the sauce! Easy peasy!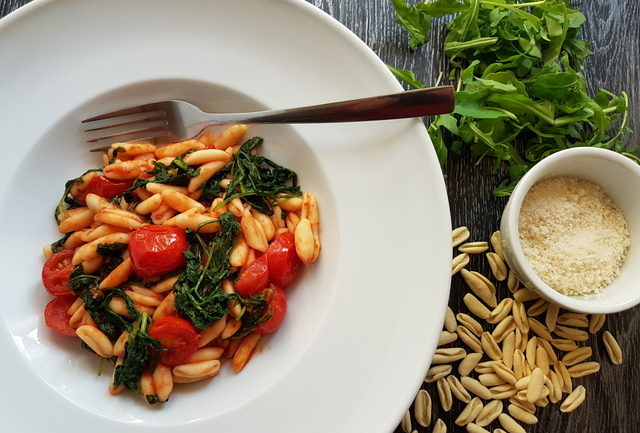 Other ingredients.
For added flavour people in Puglia often add a couple of anchovy fillets which certainly give the dish a umami flavout. But, you can leave them out for a totally vegetarian or vegan dish. Typical of Southern Italy, this cavatelli with rocket also has peperoncino (red chili pepper) and garlic. Both of these can be added in quantities depending on preference. If you like your pasta more garlicky or spicy, just increase the amounts in the recipe.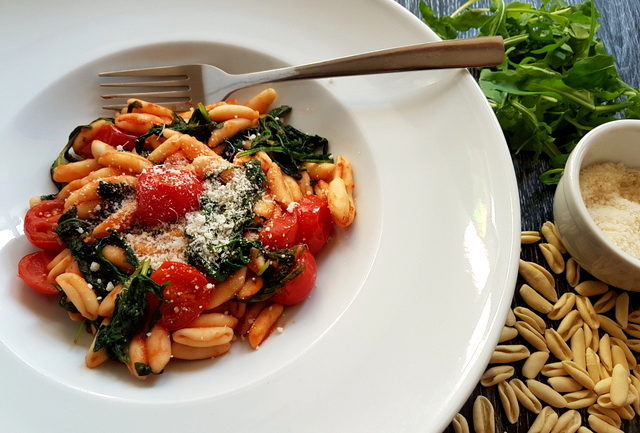 Finally grated cheese is often sprinkled on this dish before eating. However, different cheeses can be used. Some people prefer a hard ricotta or salted ricotta like ricotta salata or ricotta Marzotica. Others use a softer ricotta such as cacioricotta, but you can also use pecorino.
Let me know if you try this recipe.
Whichever cheese you choose, I'm sure you're going to love this dish. It can be on the table in 30 minutes. It's tasty and healthy and, in addition easy to make vegan or vegetarian. What more can you want?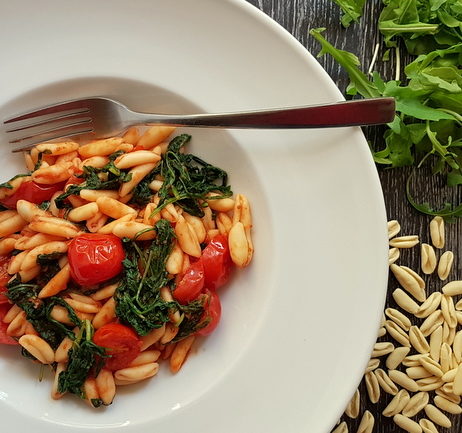 If you make this cavatelli pasta with rocket recipe, I'd love to hear how it turns out and if you liked it. So, please leave a comment here on the blog or on The Pasta Project Facebook page.
Looking forward to hearing from you!
Buon appetito!
Other cavatelli recipes on The Pasta Project
Cavatelli with peperoni cruschi (Senise peppers)
Other orecchiette recipes on The Pasta Project
Save this recipe for later?
If you want to save this recipe for later, you can print it, bookmark this page or save it to Pinterest.
Pin for later
This recipe was originally published in 2018 but had been updated.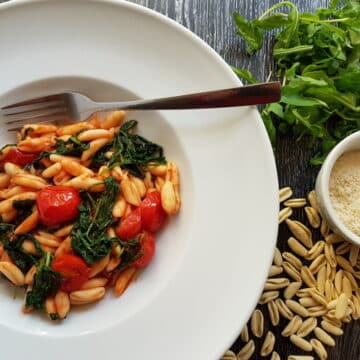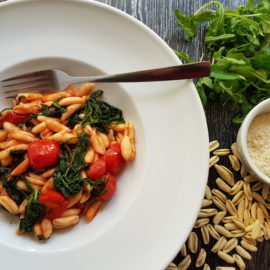 Cavatelli Pasta with Rocket
This healthy and delicious vegetarian cavatelli pasta with rocket is a traditional dish from Puglia in Southern Italy. Typical of the Southern Italian culinary tradition, it's one of many simple recipes made with just a few fresh seasonal local ingredients.
Ingredients
400

g

cavatelli pasta or orecchiette

(14oz) dried or fresh

300

g

rocket (arugula)

(11oz) wild or cultivated

2

garlic cloves

peeled

1

tsp

peperoncino (red chili pepper)

fresh or dried

12

cherry tomatoes

cut in half

300

g

tomato passata

(11oz) I use Cirio passata rustica

salt

for pasta and to taste

black pepper

to taste

50

g

pecorino cheese (grated)

( 2oz) or ricotta salata or cacioricotta

3-4

tbsp

extra virgin olive oil
optional ingredients
1-2

anchovy fillets (optional)
Instructions
Preparation
Clean the rocket, wash it well, with cold water. Then drain it in a colander and keep aside. Wash the cherry tomatoes and cut in half. Peel the garlic. Chop the red chili if using fresh.
Make the tomato sauce
Next, prepare the tomato sauce. Put the garlic cloves, the chili pepper and 4-5 tablespoons of extra virgin olive oil in a frying pan or skillet. (also anchovy fillets if using) Fry for a few minutes until the garlic has softened and the anchovy has started to melt. Then add the cherry tomatoes and cook for 2-3 minutes until they start to soften.

Add the tomato passata (or a can of peeled tomatoes) and salt and pepper to taste. Cook until the sauce it has thickened (about 10 minutes). After cooking, remove the garlic cloves.
Cook the pasta and rocket
While you are making the tomato sauce, put a pot of water on to boil for the pasta. Add salt once it starts to boil. Bring to the boil again and add the pasta. Cook the pasta al dente according to the instructions on the packet (if dried). Fresh cavatelli or orecchiette will rise to the surface when they are ready, remove with a slotted spoon.

Add the rocket to the pasta 5 minutes before the pasta is ready. If you are using fresh pasta the rocket can cook with it from the start.

Save a cup of the cooking water and drain the pasta and rocket.
Finish the dish
Add the pasta and rocket to the tomato sauce. Mix everything together well and season to taste. If the sauce seems dry add some of the pasta cooking water.

Serve immediately with grated cheese.
Notes
Traditionally this dish is made with cavatelli or orecchiette. But, you can use other short pasta such as penne.
Some people also add onions or olives and other herbs such as basil. Meat lovers may like to add pancetta or sausage meat. These need to be cooked at the beginning with the garlic and chili.
Use vegan cheese and no anchovies for a vegan version. Omit anchovies to make this recipe vegetarian.
Want to know more about my life in Italy? Why not subscribe to my newsletter? New subscribers get a free series of recipe e-books too!
Pin for Later
If you are interested in learning how to make homemade pasta and different types of gnocchi, check out my shop page for some great video online courses from my friends in Rome! Nothing beats learning to make pasta from Italians! Plus while you're there why not order a copy of my autumn/winter pasta recipes cookbook!?