Pasta alla Pizzaiola Recipe from Puglia (Salentina).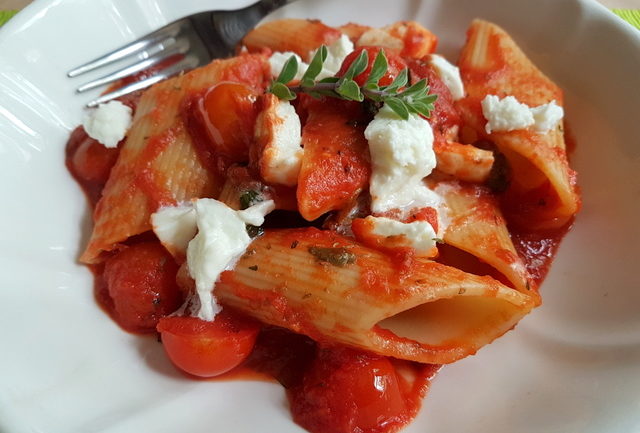 Pennoni alla Pizzaiola Salentina.
Pasta alla Pizzaiola is a simple but delicious Southern Italian pasta recipe inspired by pizza marinara, hence the name! Although, most definitely of Neapolitan origin, slightly different versions of alla pizzaiola are traditional in Basilicata, Sicily and Campania. This recipe is the version from Salento, Puglia.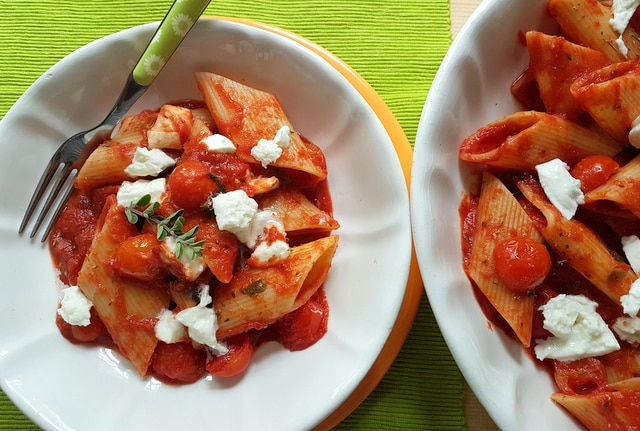 A little alla Pizzaiola history.
Many food historians say that pasta alla pizzaiola actually started as a meat sauce, the leftovers of which were used as a pasta condiment. Cooking meat in what is actually marinara pizza sauce was a way for poorer people to make low quality cuts of meat tastier and more edible. This dish was also very popular in the post war period when good quality meat was hard to come by.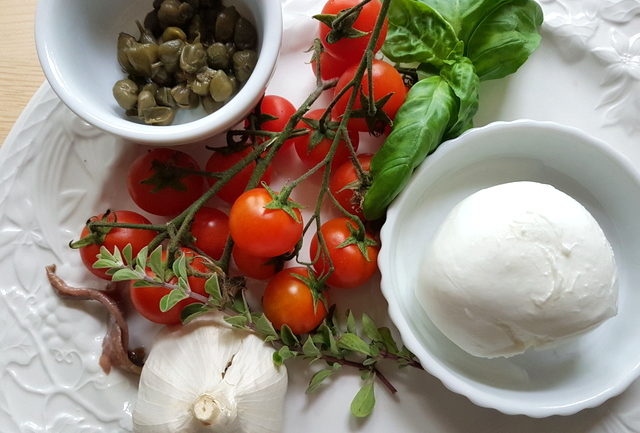 Although not an item on many restaurant menus, meat with pizzaiola sauce is still very popular in Southern Italy. The meat, which is traditionally veal or beef slices, is cooked in the actual sauce. And as mentioned above, many people use some of the sauce on pasta in order to have a two course meal.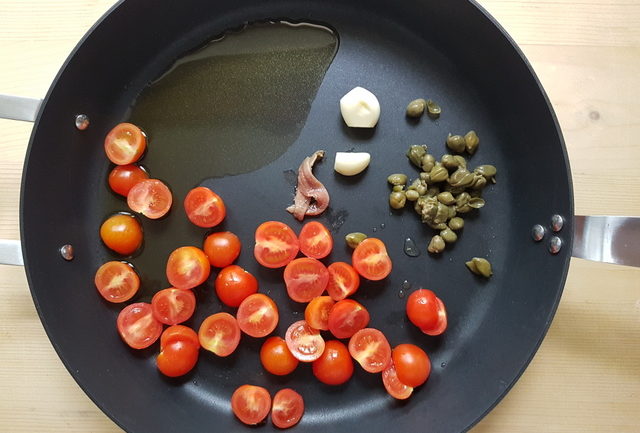 This practice is popular among Southern Italians. For example, most Italians don't eat spaghetti with meatballs. They serve the sauce with pasta as a first course, and eat the meatballs separately as a main course or 'secondo'. The same is true for recipes like braciole (beef rolls).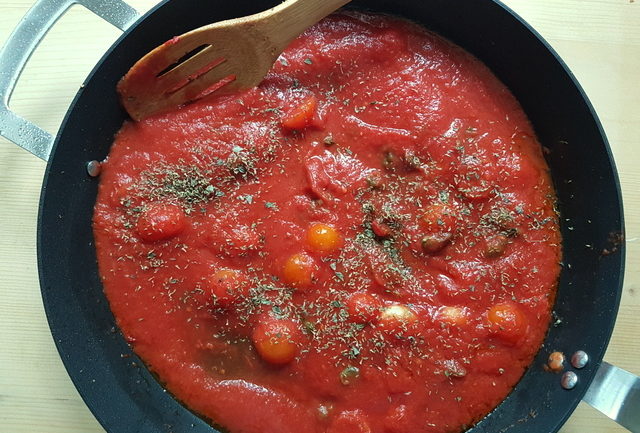 Nowadays, there are also many alla pizzaiola recipes with other types of meat such as chicken or with fish, for example swordfish or tuna. Some Italians roll the meat into involtini or braciole. In addition, there are some veggies served this way. Potatoes alla pizzaiola is a traditional recipe in Palermo, Sicily.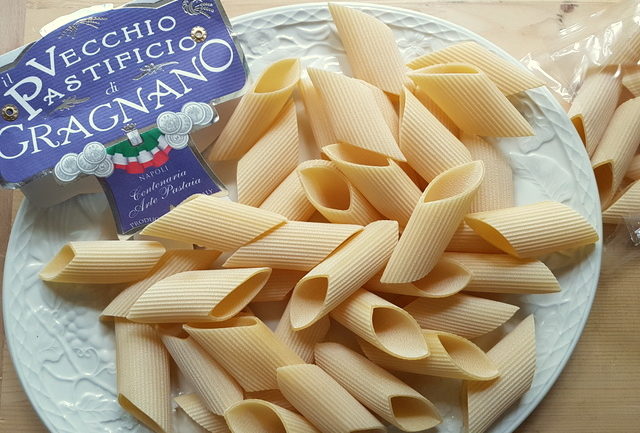 Marinara sauce.
Over time, it has become popular to make alla pizzaiola specifically for pasta, without cooking meat as well. In Naples and the rest of Campania, whether made with meat or just for pasta, alla pizzaiola sauce is usually simply marinara sauce. This is a super simple sauce made with just olive oil, garlic, tomatoes and oregano.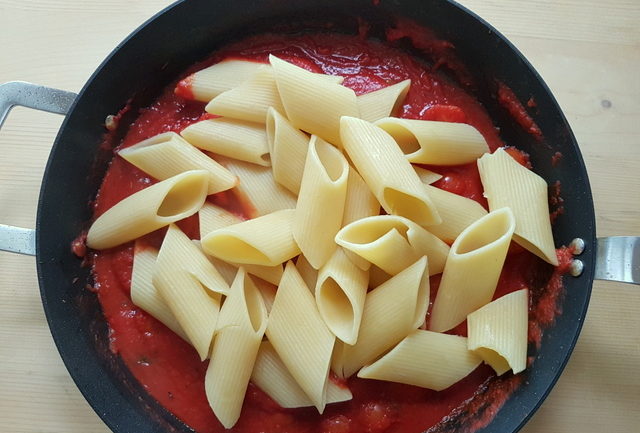 The name 'marinara' derives from the fact that marinara pizza was a popular food among sailors (marinai) during the 18th century. The ingredients were easily conservable and perfect for long sea voyages.
Different versions of pasta alla pizzaiola.
When making alla pizzaiola just as a pasta sauce, many Southern Italians add other ingredients. This version from Salento includes capers and anchovies. I also added some fresh mozzarella just before serving. It's possible to bake pasta alla pizzaiola (al forno), which is what I did with the leftovers. So, I actually got two pasta meals out of one preparation! You can also choose to just bake this dish.
I found a number of recipes that also included olives or parsley or basil or peperoncino (red chili). In my opinion, this is a recipe you can slightly play around with, as the Italians do. However, in general the basic sauce remains tomatoes (fresh and/or passata), a generous sprinkling of oregano and garlic.
The pasta
Traditionally, Italians eat pasta alla pizzaiola either with a long pasta such as spaghetti or bucatini, or with short penne or pennoni. Pennoni are giant penne. I used pennoni di Gragnano from a company called Il vecchio pastificio di Gragnano.
As I have mentioned in other posts, pasta di Gragnano is fantastic pasta from a town near Naples called, of course, Gragnano. There are a number of different pasta companies there. This pasta is made according to strict regulations and is really excellent quality. Look out for it when you're shopping!
If you do try this recipe, I'd love to hear what you think. Please write a comment here on the blog or post a comment on the Pasta Project Facebook page.
Your feedback means a lot to me!
Buon appetito!
Other pasta recipes from Puglia on The Pasta Project
Save this recipe for later?
If you want to save this recipe for later, you can print it, bookmark this page or save it to Pinterest.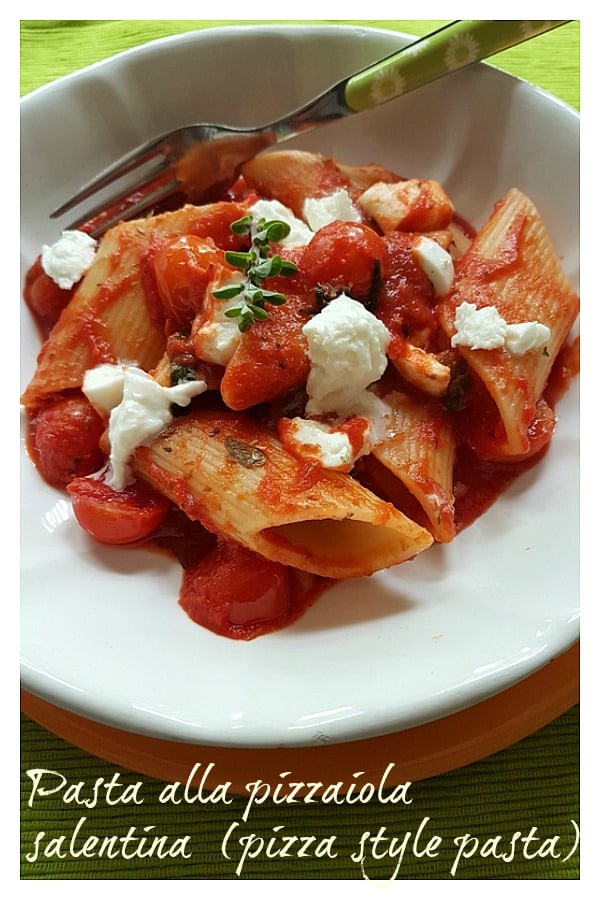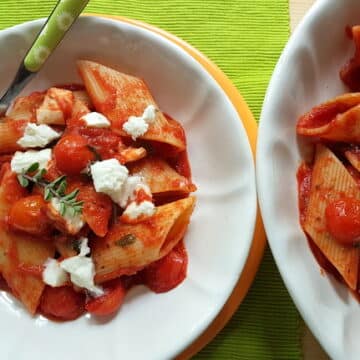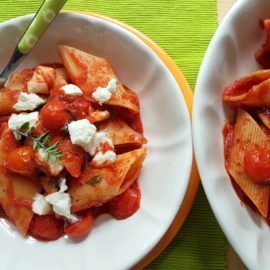 Pasta alla Pizzaiola Recipe from Puglia
This delicious pasta recipe from Puglia is based on pizza marinara sauce, hence the name! It can be served baked or not baked. It is simple to make but full of Mediterranean flavour! Make it vegetarian by leaving out the anchovies!
Ingredients
400

g

pennoni pasta

(14oz) or other pasta of your choice

500

g

tomato passata

(17oz) or canned peeled tomatoes

12

cherry tomatoes

(optional)

250

g

fresh mozzarella

(9oz) double the mozzarella if you plan to bake before serving

1-2

garlic cloves

peeled

1-2

anchovy fillets

(salted or preserved in oil) leave out for vegetarian option

1-2

tsp

oregano

dried or 2-4 tsp fresh

salt

for pasta and to taste

3-4

tbsp

extra virgin olive oil

1

tbsp

capers

(salted or preserved in vinegar)
Instructions
If using salted capers rinse under running water. If using cherry tomatoes wash them and cut into halves. Peel the garlic.

Put a pot of water on to boil for the pasta. Add salt when it starts to boil and bring to the boil again.

In a high-sided skillet or frying pan, sauté the garlic cloves, the anchovy fillets, the capers and the cherry tomatoes together with the olive oil. After a few minutes, once the anchovies have melted, add the tomato passata.

Cook over a medium heat for about fifteen minutes. When half cooked, add salt to taste and sprinkle with the oregano, leave to simmer and flavor for 10 more minutes. Remove the garlic.

In the meantime, cut the mozzarella into small pieces and then cook the pasta al dente according to the instructions on the packet.

Remove some of the sauce from the pan. When it's cooked, drain the pasta and add to the skillet/frying pan with the sauce. Mix everything together well to distribute the sauce evenly. Plate the pasta after putting a nice spoonful of the saved sauce in the bottom of the bowl/plate.

Put some mozzarella pieces onto the pasta before serving.
To bake your pasta alla pizzaiola
Transfer the pasta mixed with the sauce to a buttered oven dish. Cover the top with mozzarella slices and bake in a preheated oven at 180°C until the top starts to crisp and the mozzarella melts and browns slightly!
Notes
Traditionally,  pasta alla pizzaiola is made with long pasta such as spaghetti or bucatini or short pasta like penne or pennoni (giant penne) You can also use vermicelli or fusilli! 
Want to know more about my life in Italy? Go to the homepage and subscribe to my newsletter. New subscribers get a free recipe e-book too! https://www.the-pasta-project.com
Pin for Later