This rich and tasty beef braciole with orecchiette pasta is an authentic Italian recipe from Bari in the Southern Italian region of Puglia (Apulia).
In Puglia, this recipe is typically called orecchiette alla barese or braciole alla barese and is a 'Sunday sauce'. The beef rolls are cooked until incredibly tender and the sauce is infused with the flavors of the meat and the filling, making a flavorful, unique tomato sauce.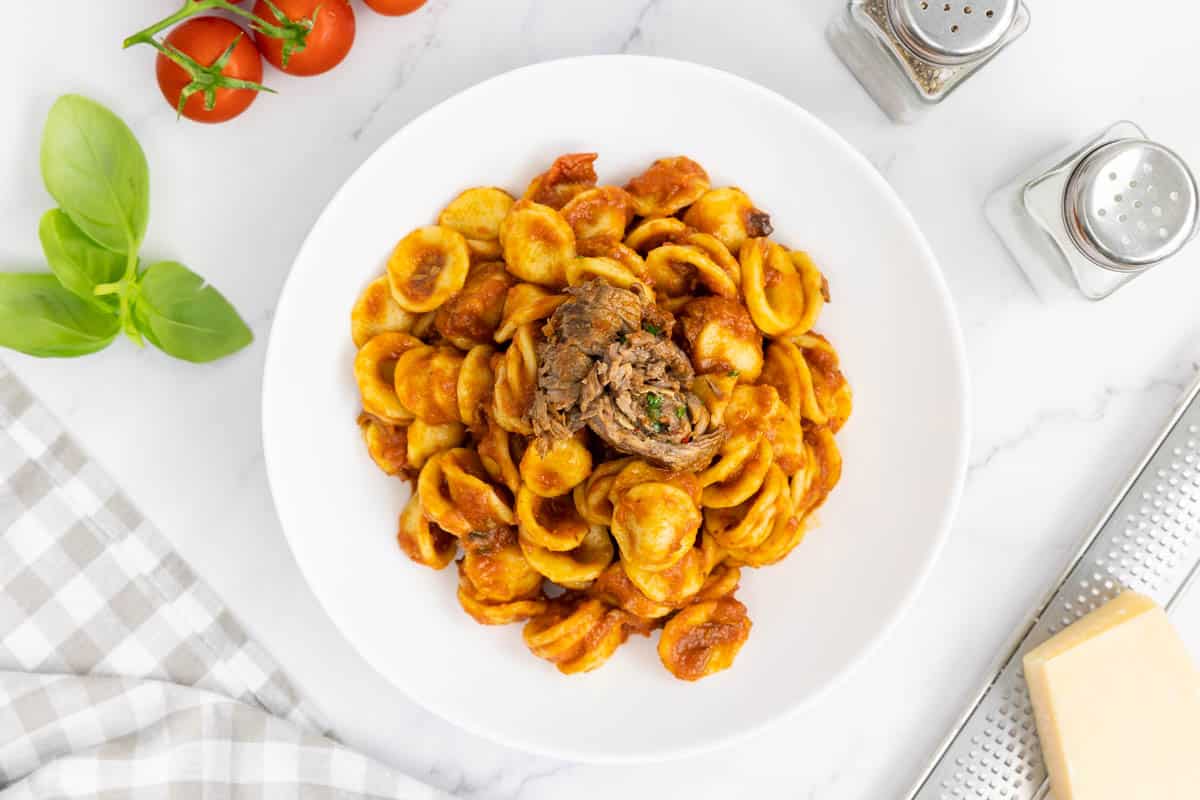 History
Orecchiette with braciole alla Barese is one of the most loved and well-known 'Sunday' dishes in Bari, Puglia (Apulia). The braciole (in local dialect 'brasciole') are beef or veal rolls. Although the original recipe is made with horse meat.
The rolls are made with a filling of parsley, garlic, pecorino cheese and, sometimes, lardo or prosciutto. They are cooked very slowly in a tomato sauce that becomes a thick tasty ragù enriched with the flavor of the meat.
In Puglia, braciole is traditionally served with orecchiette. Orecchiette is the most well-known of Pugliese pasta and has been made and eaten there since the 12th or 13th century!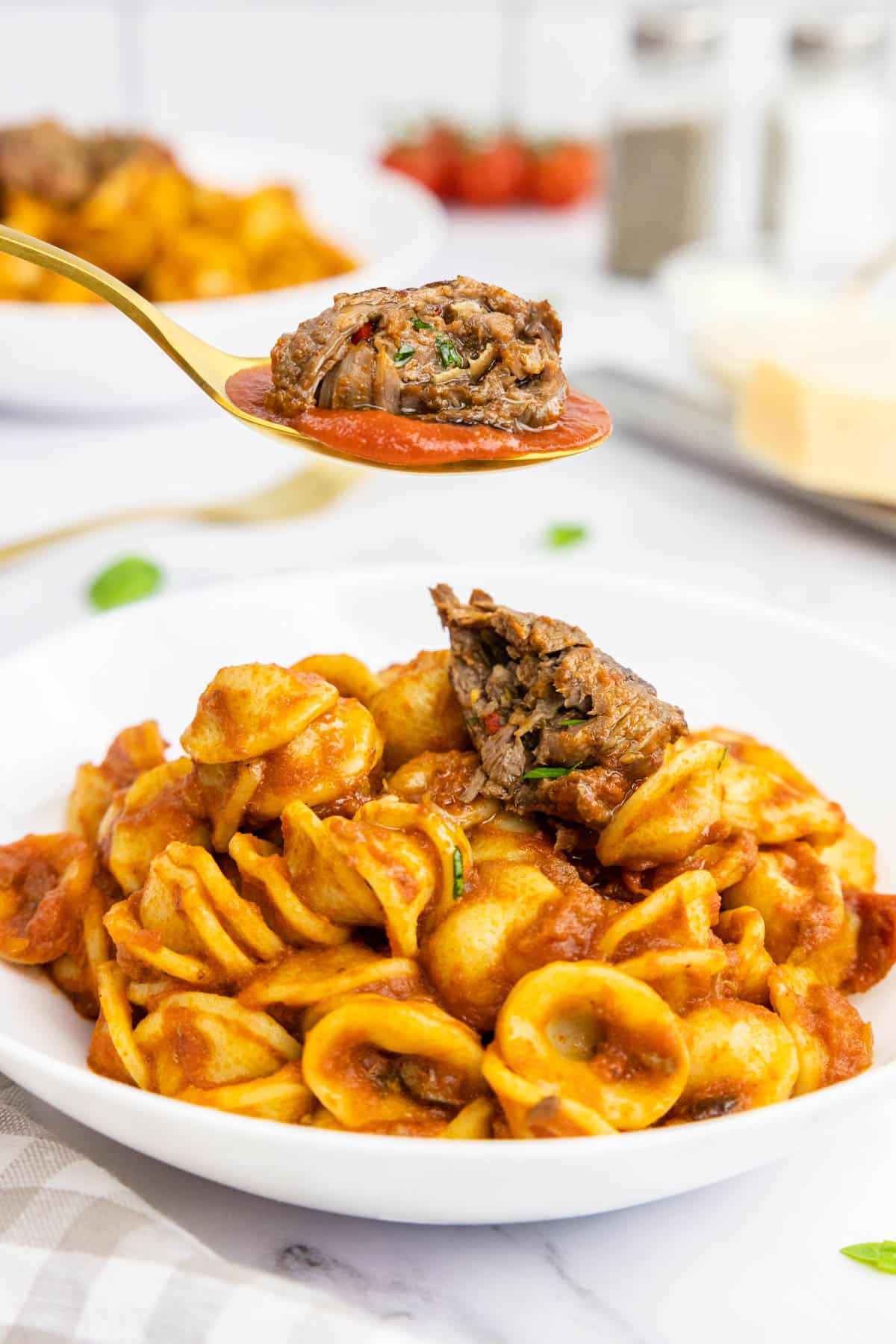 Sunday Sauce!
In many Italian-American families they refer to slow cooked tomato and meat pasta sauces as 'Sunday sauce'. Italians say 'sugo della domenica', meaning the same thing.
These types of pasta sauces are so named because they are traditionally cooked and served on Sundays or national holidays.
In Italy, this dish is traditionally served as 2 courses. The pasta with the rich tomato sauce and then the braciole as a main course with vegetables and bread.
We like to eat it together as a one plate meal! You can also cook once and eat twice by serving the 2 courses as separate meals.
Ingredients
This braciole recipe uses many traditional Italian ingredients and flavors with a couple of more unique ingredients like Italian Lardo and Pecorino. But don't worry if you can't source those; we have great alternatives for any harder to find ingredients.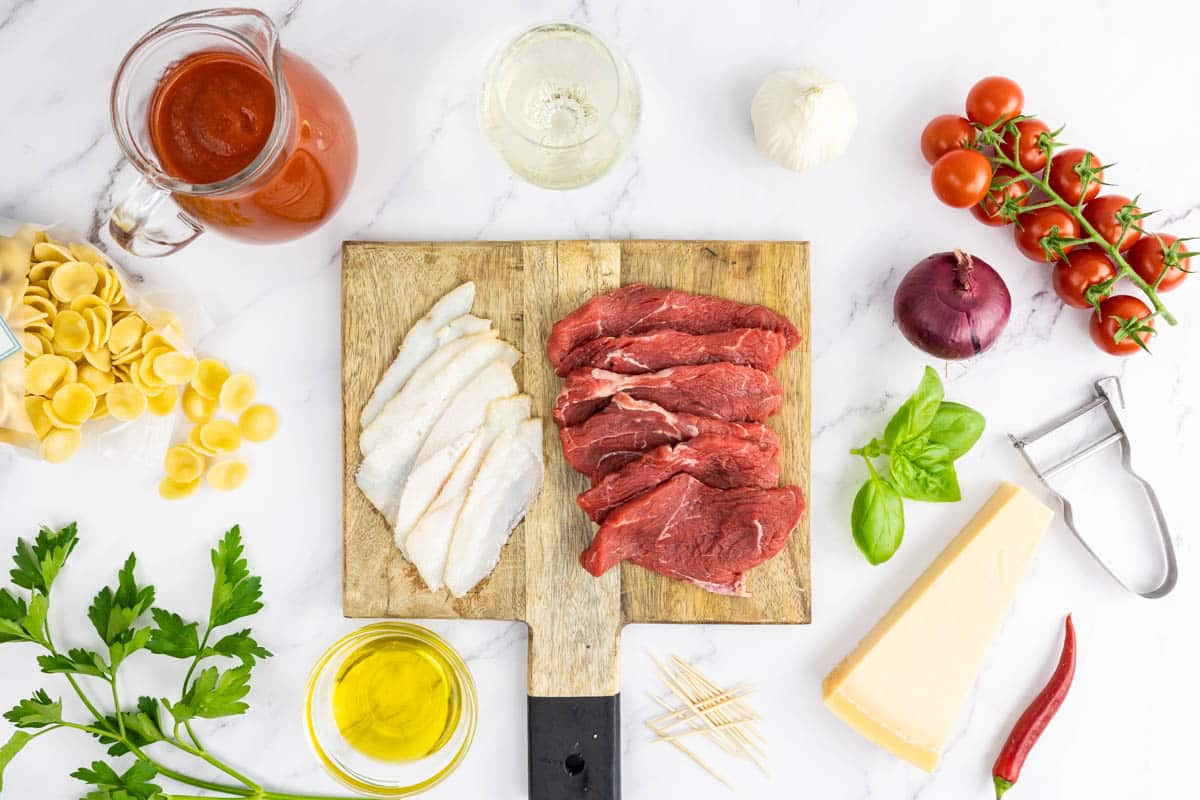 Beef: The key ingredient in braciole, typically made from thinly cut top or bottom round roast or sirloin. These cuts of beef are lean and flavorful, and they soften to the perfect tenderness when cooked slowly in the braciole sauce.
Pasta: Orecchiette, or "little ears" in Italian, is the pasta of choice for this recipe. Its small, concave shape is ideal for holding the rich sauce. However, other short pasta types can also be used.
Italian lardo: Lardo is Italian cured pork back fat (not lard) that adds depth and richness to the braciole stuffing. If you can't find lardo, prosciutto crudo or pancetta make good substitutes.
Pecorino: An Italian cheese made from sheep's milk. Pecorino lends a salty, tangy flavor to the braciole stuffing. Parmigano Reggiano or Grana Padano can also be used as a substitute.
Red chili pepper: This is the heat component in braciole stuffing. Depending on your heat preference, you can adjust the quantity or even add some of the seeds for more spice.
Tomato passata: Use a good quality tomato passata like Mutti. An alternative to passata is canned chopped or peeled plum tomatoes. If you use whole peeled tinned tomatoes make sure to break them up with the back of a wooden spoon after around an hour of simmering.
Wine: A splash of red or white wine is used to deglaze the pot and add more complexity to the sauce. The alcohol in the wine evaporates during cooking so this recipe can be served to kids.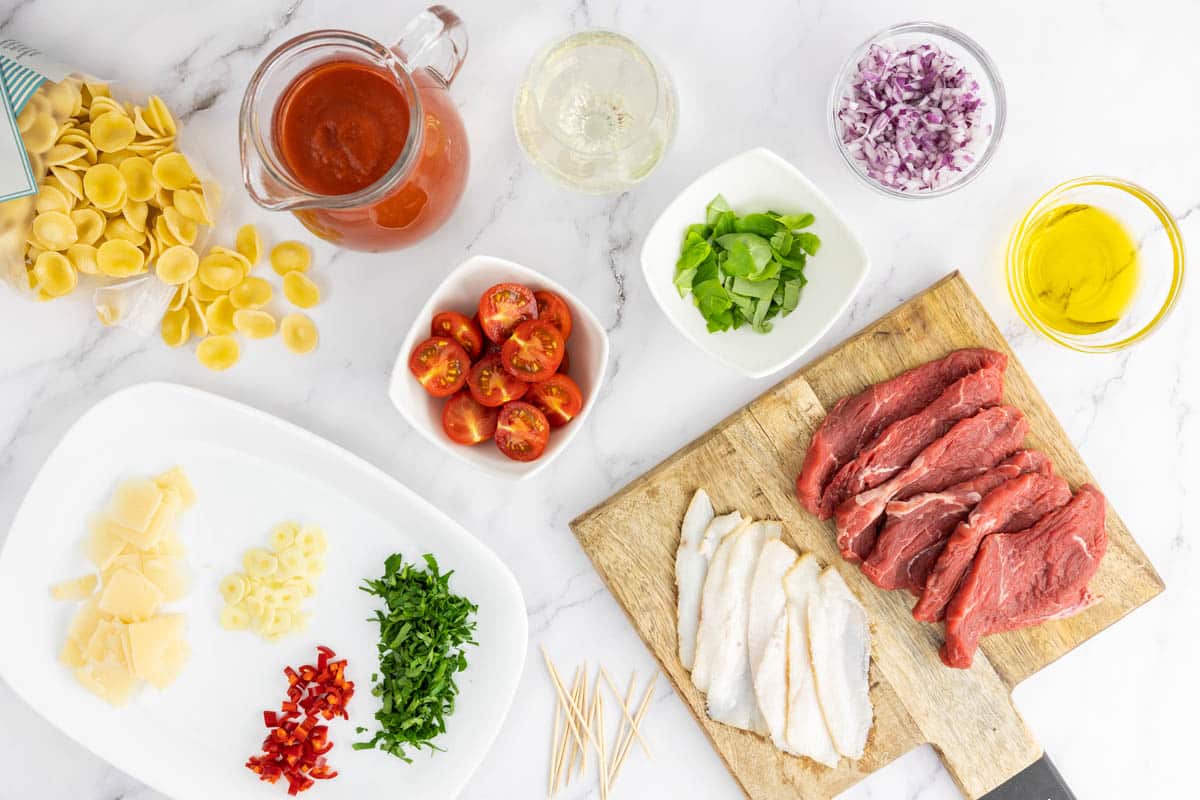 Expert Tips
Preparing the meat: When preparing the meat for the braciole, ensure to pound the beef slices to a thin layer. This helps the flavors from the sauce penetrate the meat and keeps the meat tender while cooking.
Cooking the sauce: Slow and steady cooking is key to this flavorful braciole recipe. Gently simmer the sauce at medium-low or low heat until the sauce is just bubbling. This gentle simmering allows the tough collagens in the meat to gently break down, making the meat more tender.
How to not over thicken the sauce: When you add the pasta to the braciole sauce it will start to thicken the sauce. My tip is to reserve a small cup of pasta water, and if you need, you can add a splash to make the sauce thinner.
How to Roll Braciole
1) Using a sturdy surface lay the beef flat side down on to a chopping board.
2) Using a tenderizer or meat mallet, gently pound the beef, starting from the thicker side and working your way across.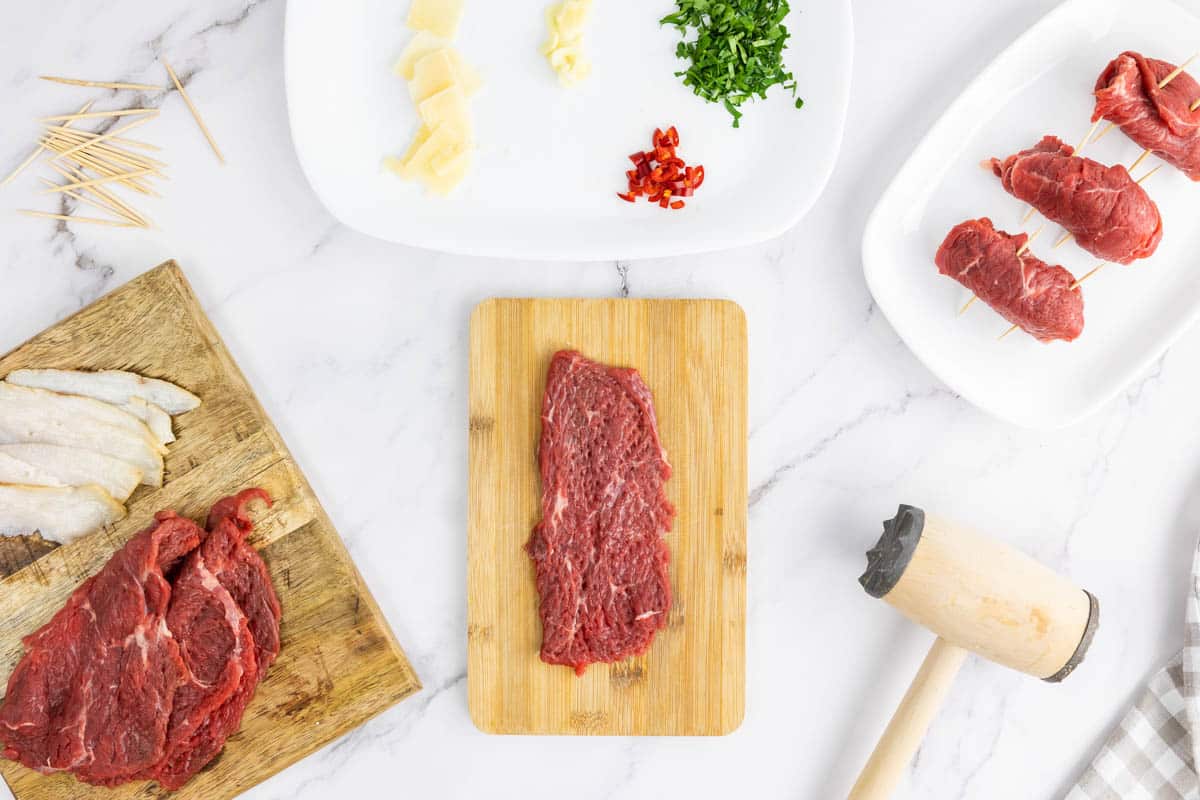 3) Add one slice of lardo, diced chili, garlic, pecorino shavings and parsley while leaving a small space around the edges of the meat.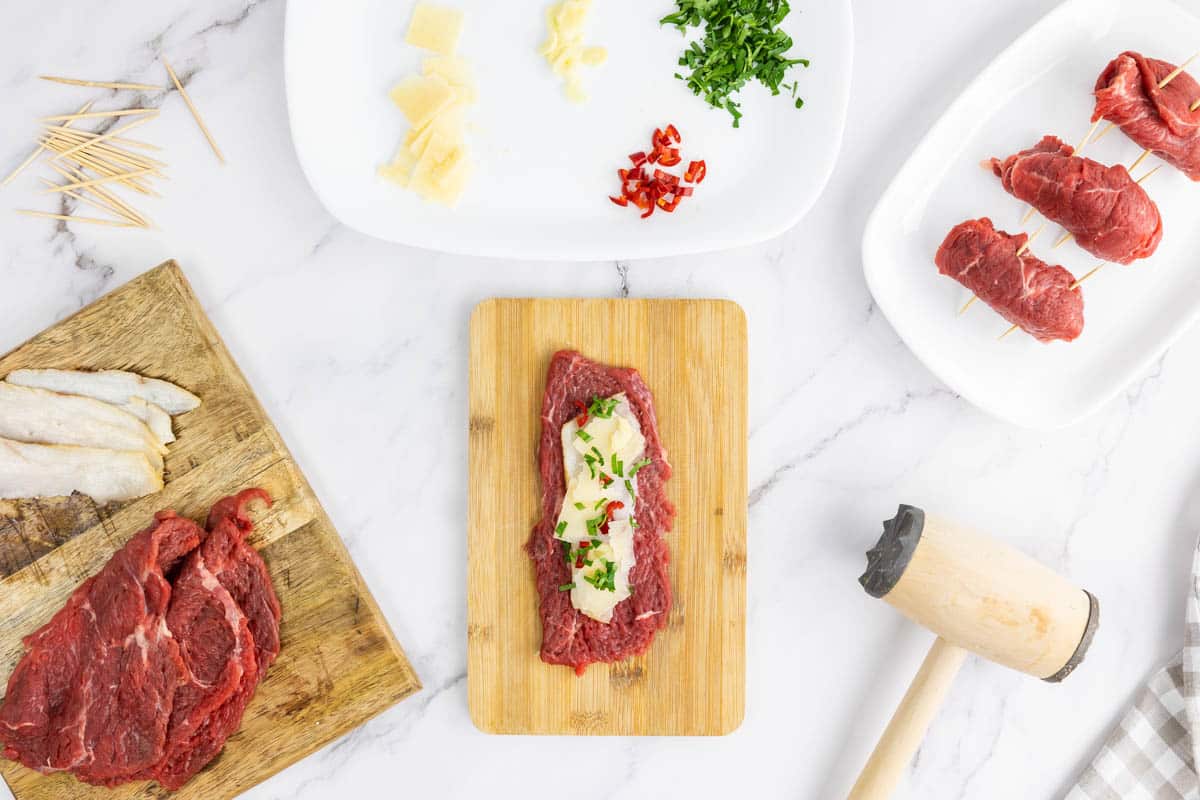 4) Starting at one side, gently but tightly roll the beef.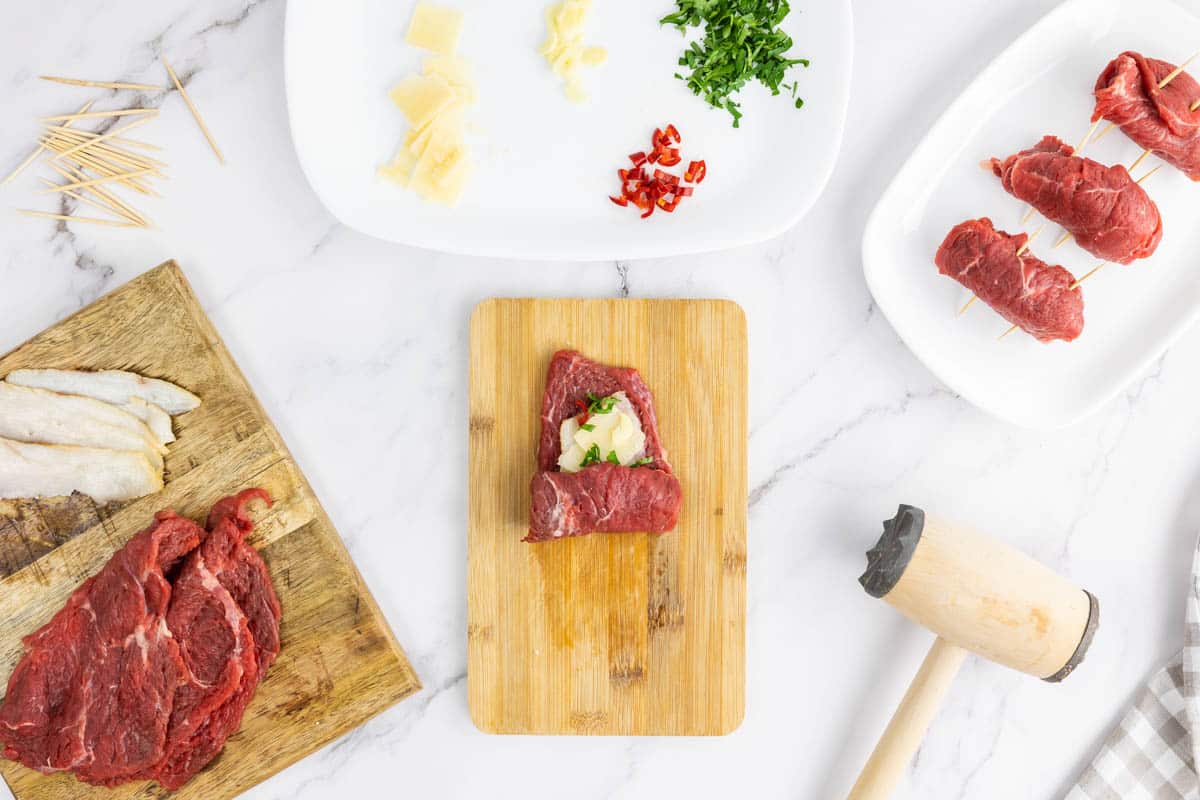 5) Use two toothpicks and insert them at the edge of the rolled beef until they pierce the other side. The bracioles are now ready to cook.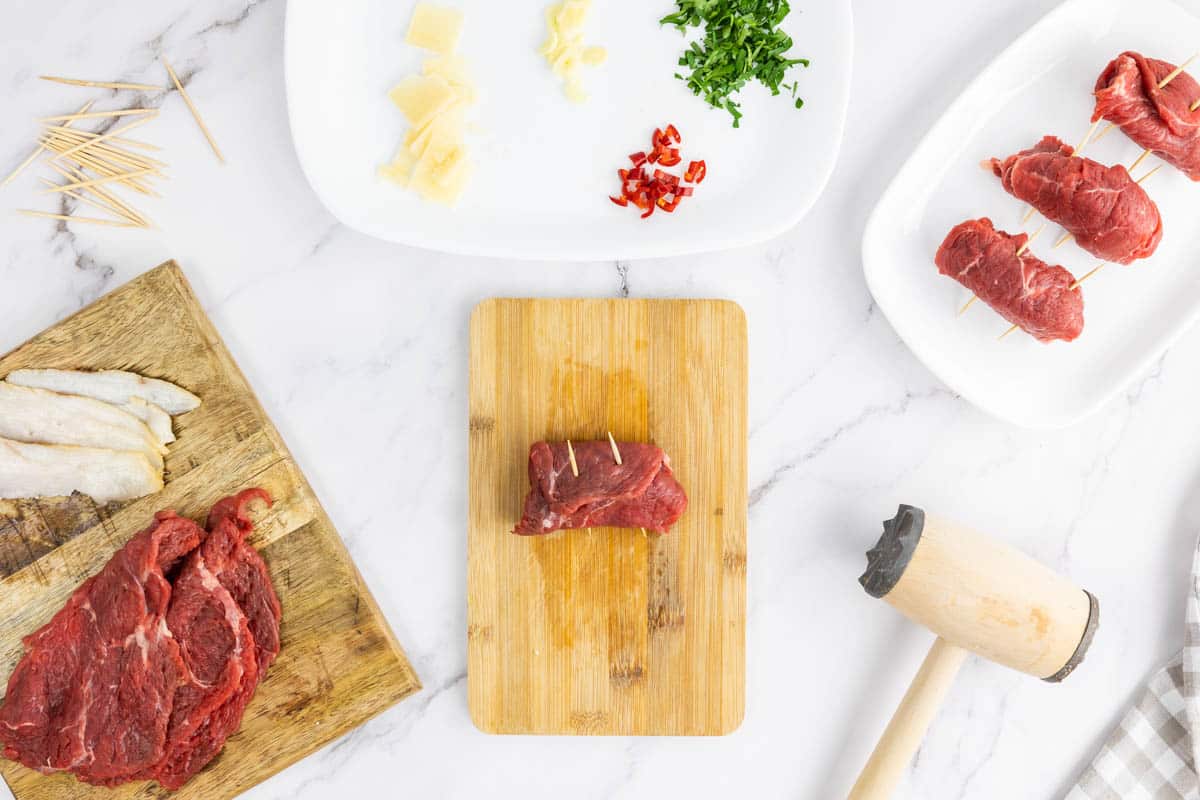 Step by Step Instructions
1) Heat olive oil in a Dutch oven or deep skillet over medium-high heat. In two batches, sear the braciole for 2 to 3 minutes on each side or until browned. Then remove them from the Dutch oven and place to the side.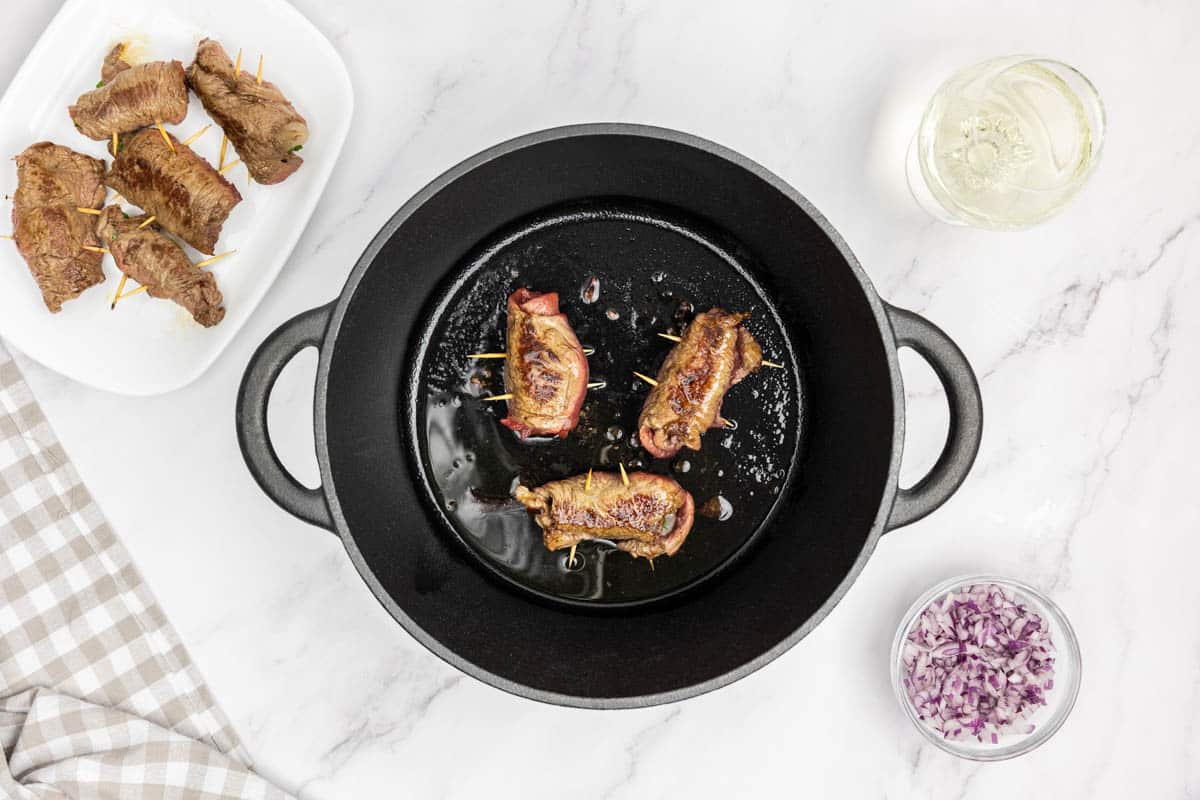 2) Turn down the heat to medium-low. In the same Dutch oven, sauté the diced onion for 5 to 7 minutes or until softened.
Note: If you have any extra Italian lardo you can add some with the onions. The Italian lardo will melt and make a richer and more flavorful sauce.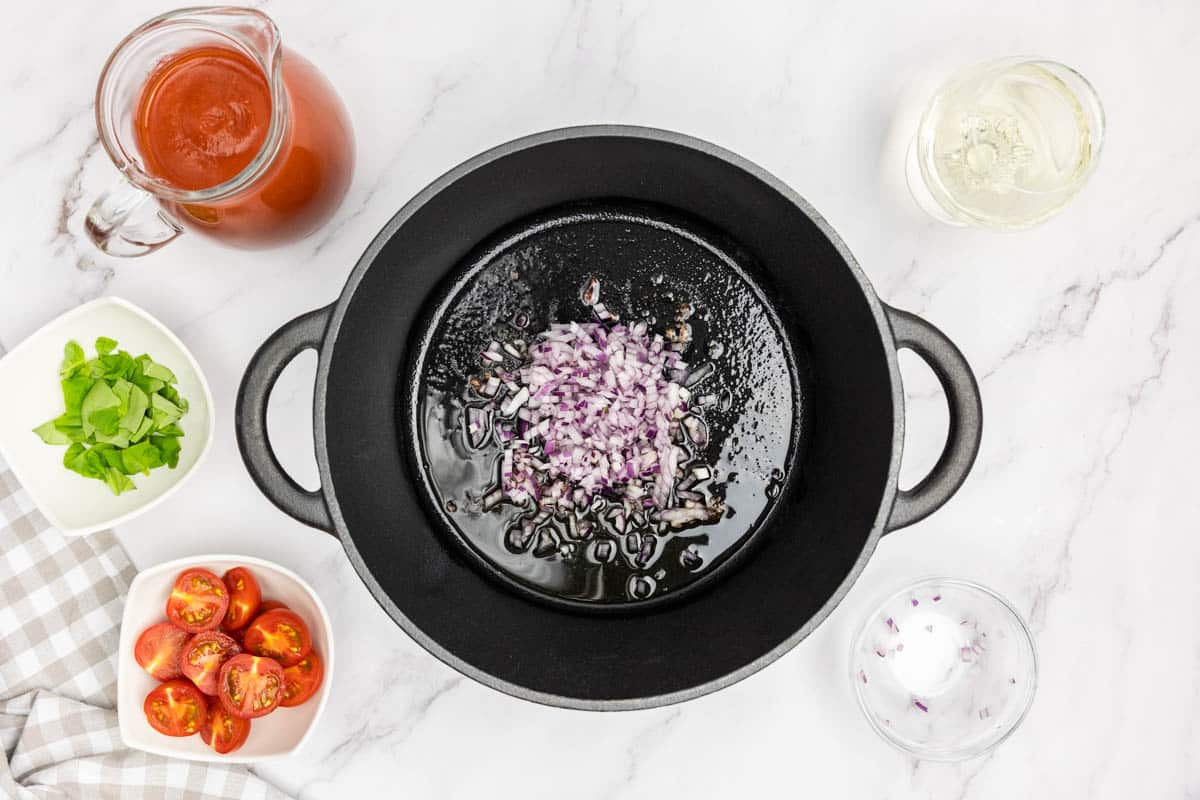 3) Pour in the wine and deglaze the pan, scraping any brown bits with a wooden spoon. Reduce until evaporated.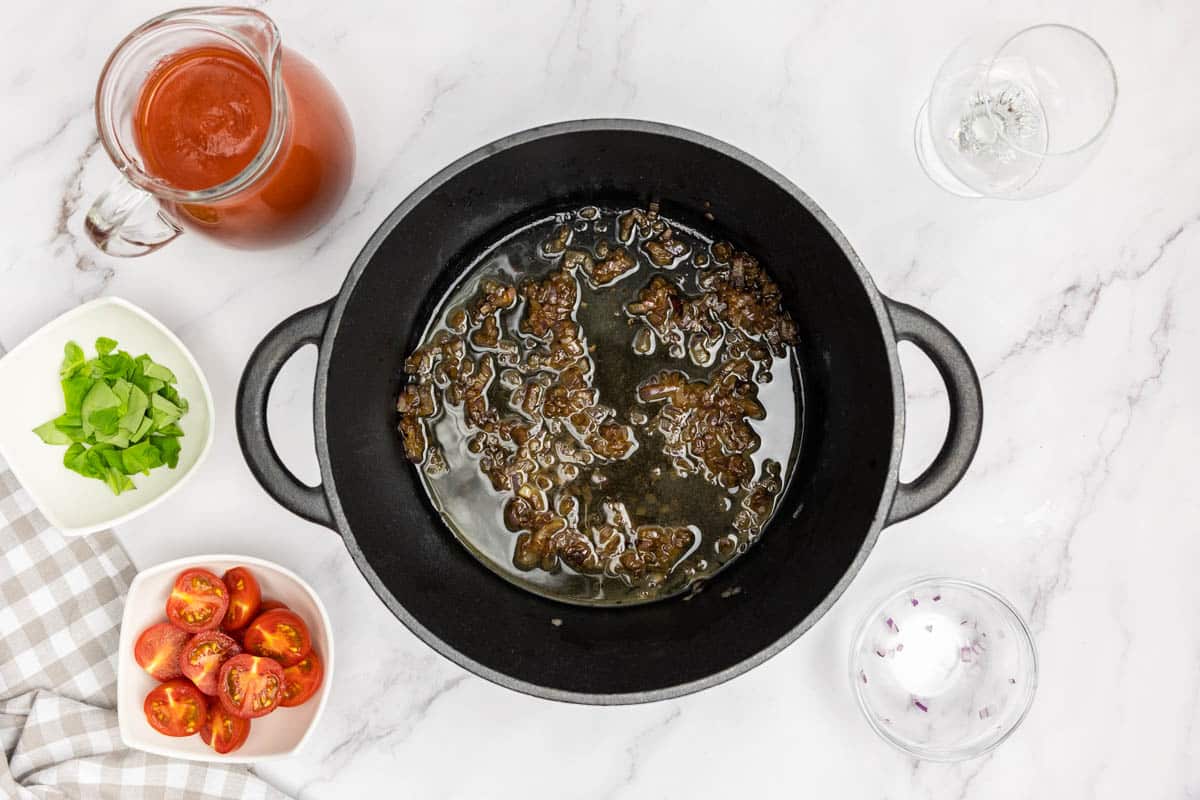 4) Add the tomato passata, torn basil leaves, and cherry tomatoes (if using) to the Dutch oven. Season with salt and pepper. Bring the sauce to a boil, then reduce the heat to medium-low.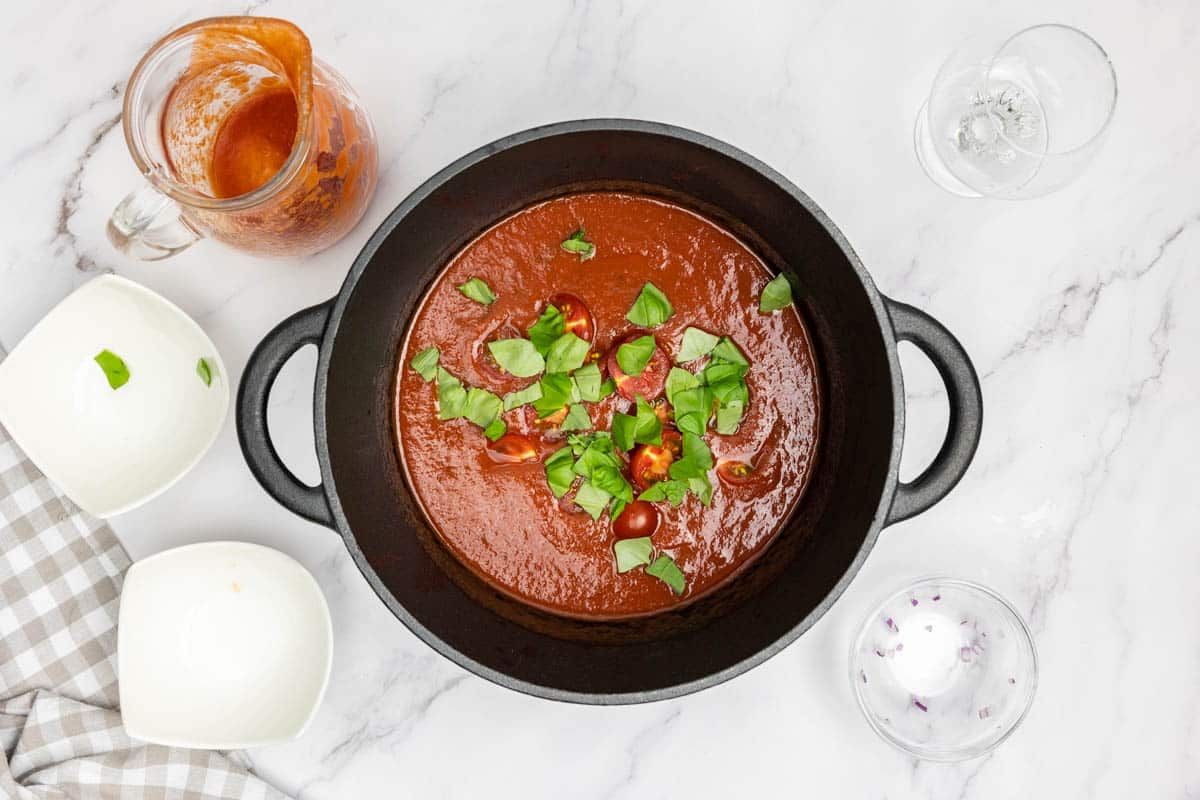 5) Add the seared braciole to the Dutch oven, immersing them in the sauce. Cover and let it simmer until the meat is tender, approximately 1.5-2 hours. Stir occasionally to prevent sticking.
Note: If needed, adjust the sauce's consistency by uncovering it to reduce if watery or adding water if too thick.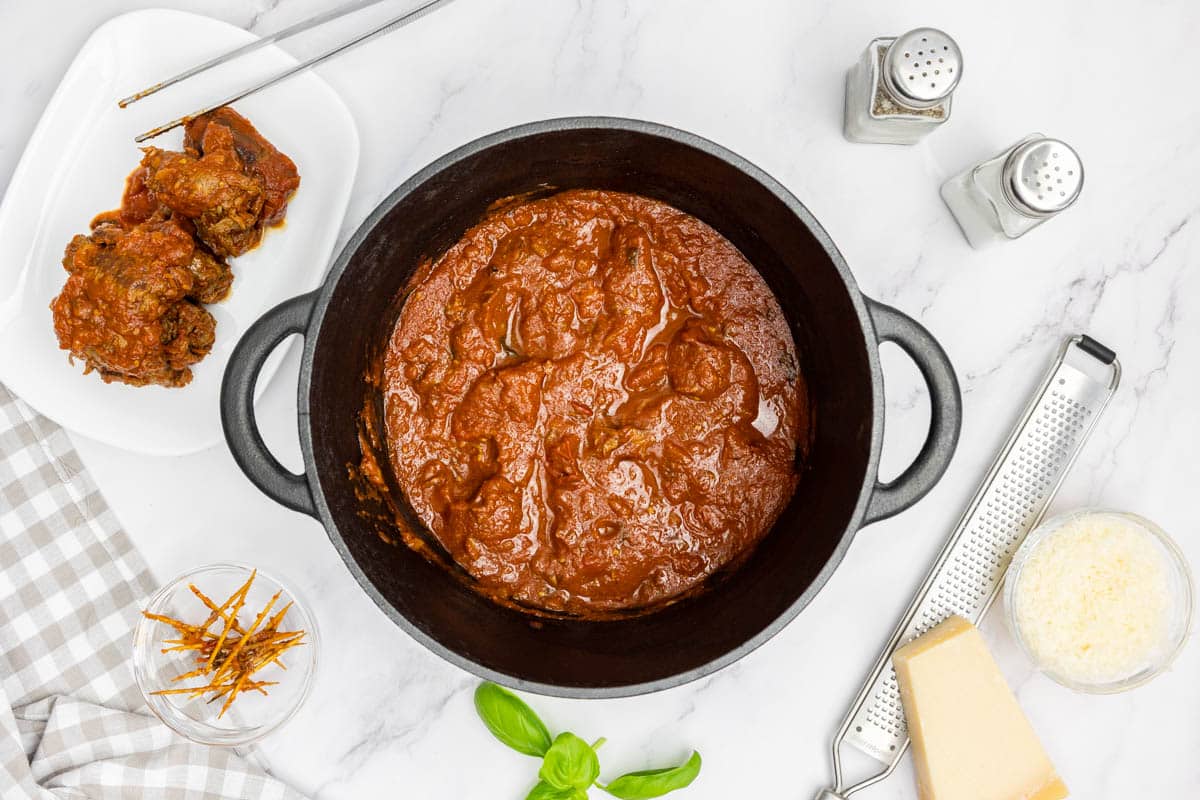 Finish and serve.
6) As the beef nears readiness, bring a pot of water to a boil for the pasta. Add salt once the water starts to boil, then let the water return to a boil. Cook the pasta in the boiling salted water until it's al dente, following the package instructions for timing. Reserve some pasta cooking water before draining the pasta.
7) Remove the braciole from the sauce and add the drained pasta into the sauce, stirring to mix. If the sauce is too thick, add some of the reserved pasta cooking water.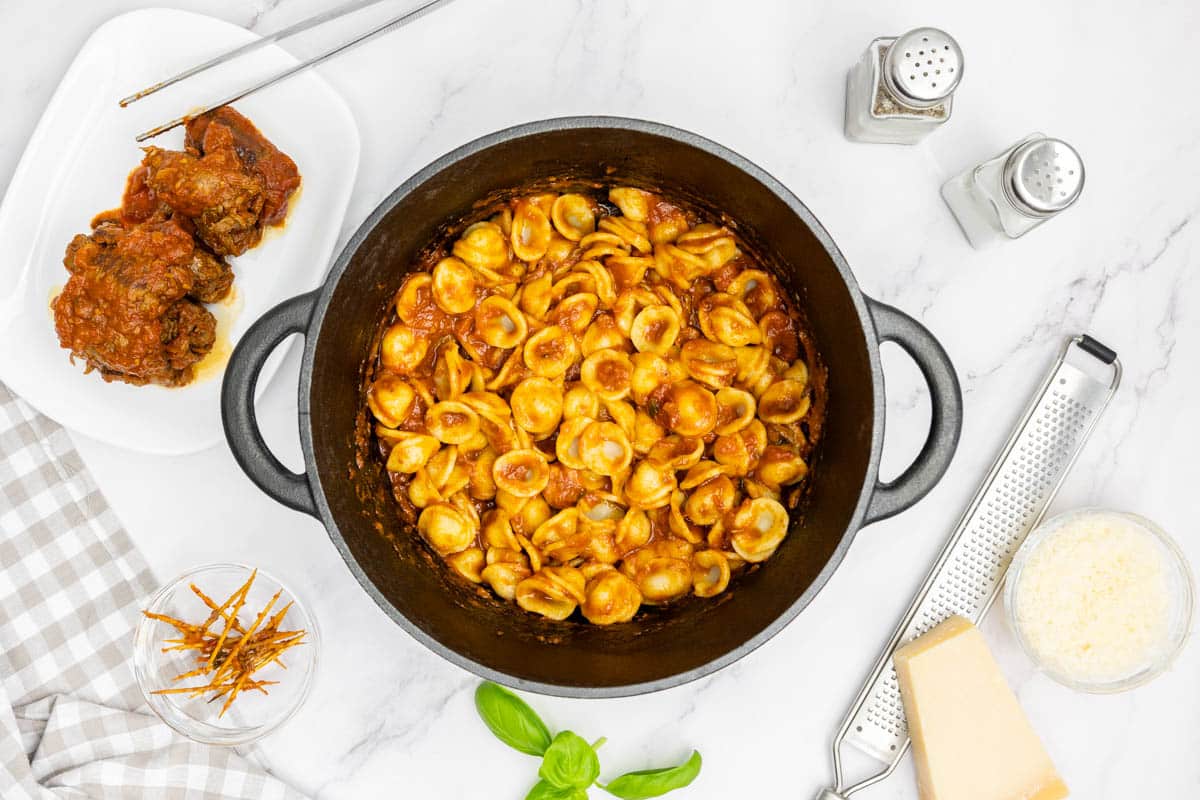 8) Remove the toothpicks from the braciole before serving and slice them in half. Portion the braciole on each plate with pasta and serve with additional grated pecorino.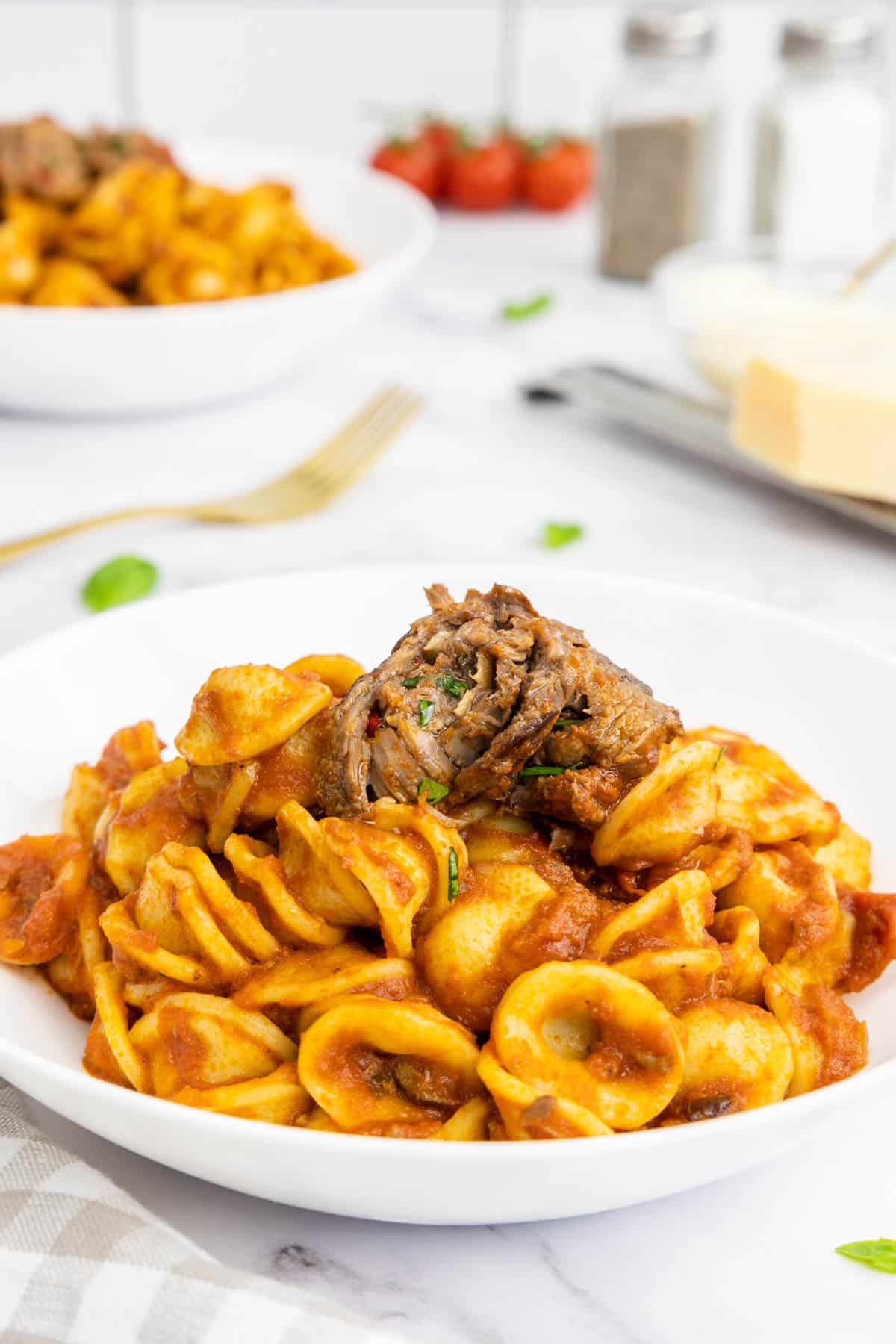 Storage and Leftovers
Leftovers can be stored in an airtight container in the refrigerator for up to 3 days. When you're ready to enjoy the leftovers, you can reheat the pasta and beef braciole covered in the microwave until hot.
Reheating the beef braciole without the pasta
The best way to reheat the beef braciole and its sauce without the pasta added is to gently simmer it in a pot with a lid on until hot. This usually takes 5-7 minutes from room temperature and around 10 minutes from the refrigerator.
FAQs
What cut of meat is braciole made from?
Braciole is typically made from thin slices of beef, usually from a top or bottom round roast or sirloin. These cuts of beef are lean and become tender when cooked slowly, making them ideal for braciole.
What is braciole stuffed with?
Braciole is stuffed with a savory mix of Italian lardo or prosciutto crudo, garlic, fresh parsley, Parmesan or Pecorino cheese, and chili pepper or flakes.
Can I use another type of pasta for this recipe?
Yes, while orecchiette is traditionally used, you can substitute it with other short pasta varieties like fusilli or penne, which are also good at holding onto the rich, hearty sauce.
More Recipes You May Like:
If you make this recipe I'd love to hear how it turns out and if you liked it. Please leave a comment here on the blog or on The Pasta Project Facebook page. Looking forward to hearing from you.
Buon appetito!
Photos by Jack Slobodian.
Save this recipe for later?
If you want to save this braciole recipe for later, you can print it, bookmark this page or save it to Pinterest.
Pin for Later: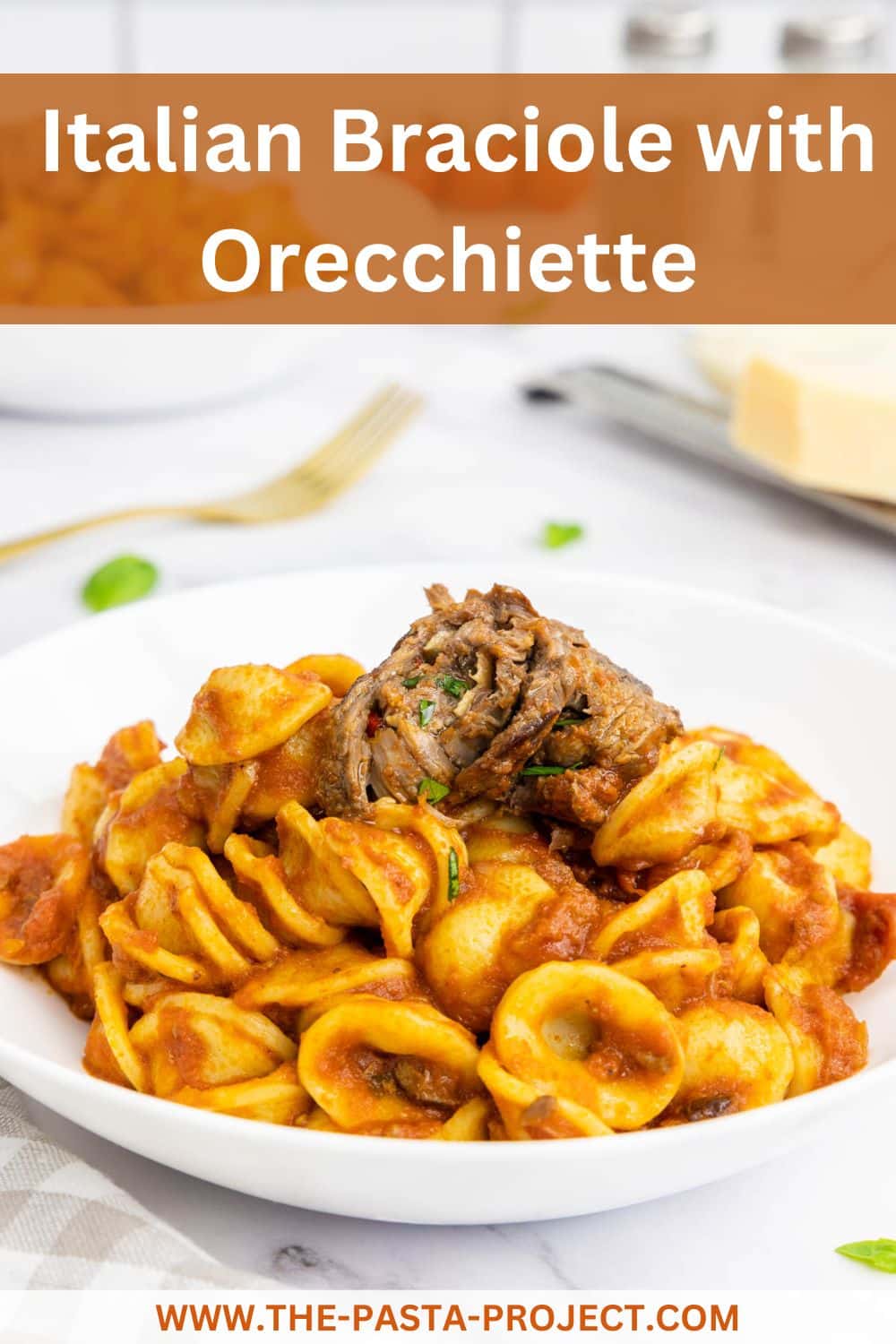 If you are interested in learning how to make homemade pasta and different types of gnocchi, check out my shop page for some great video online courses from my friends in Rome! Nothing beats learning to make pasta from Italians! Plus while you're there why not order a copy of my autumn/winter pasta recipes cookbook!?
Photos by Jack Slobodian