For those who don't know it, paccheri, also called schiaffoni, is an iconic Neapolitan pasta shape popular in Campania and other parts of Southern Italy. Neapolitans serve it with seafood, vegetable-based sauces and meat ragu. Plus, it can also be stuffed and baked or just filled. So, a versatile pasta you can use in many recipes. Below are 7 of my favourite Italian paccheri recipes that are so worth making! I'm sure that once you have tried one or two, you'll love paccheri pasta as much as the Neapolitans do!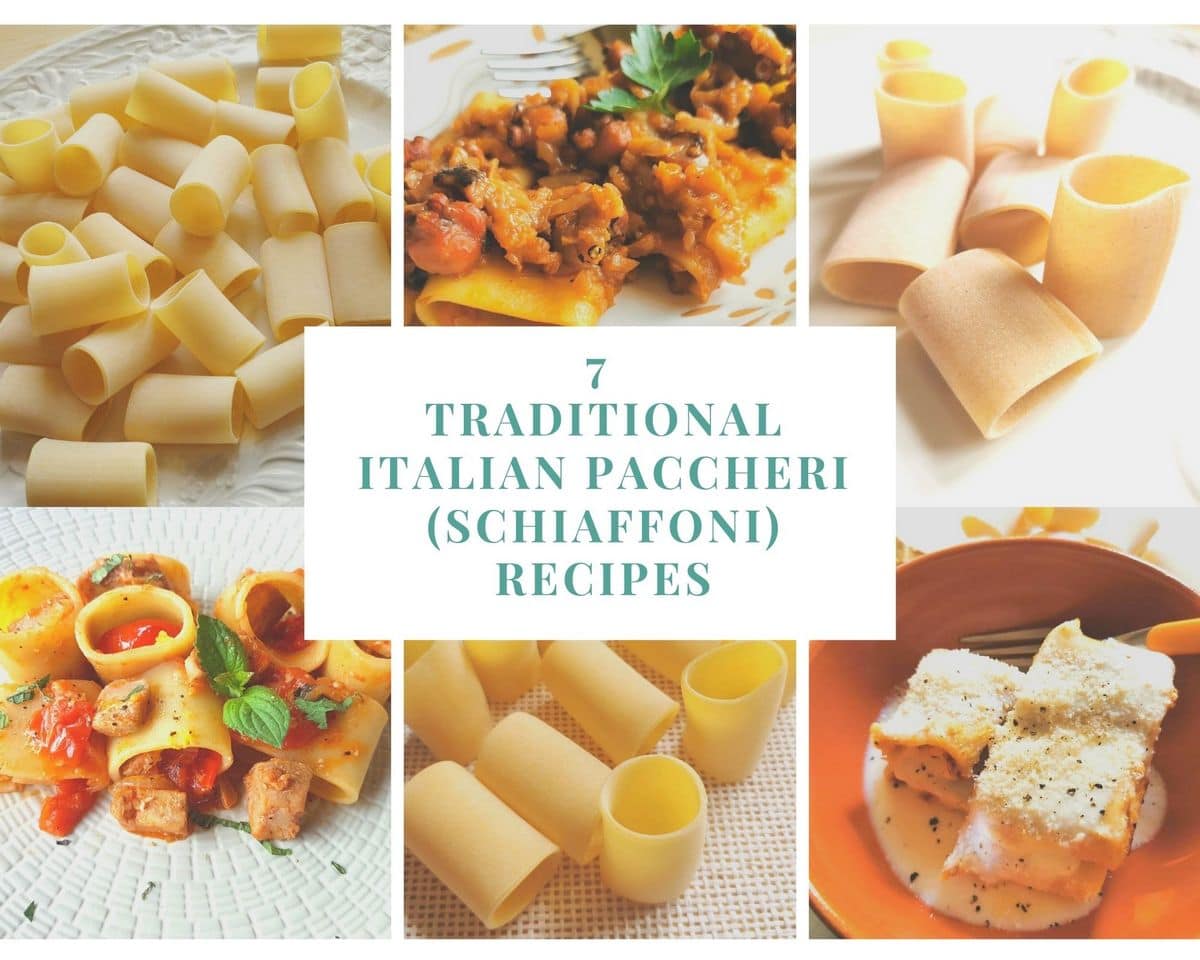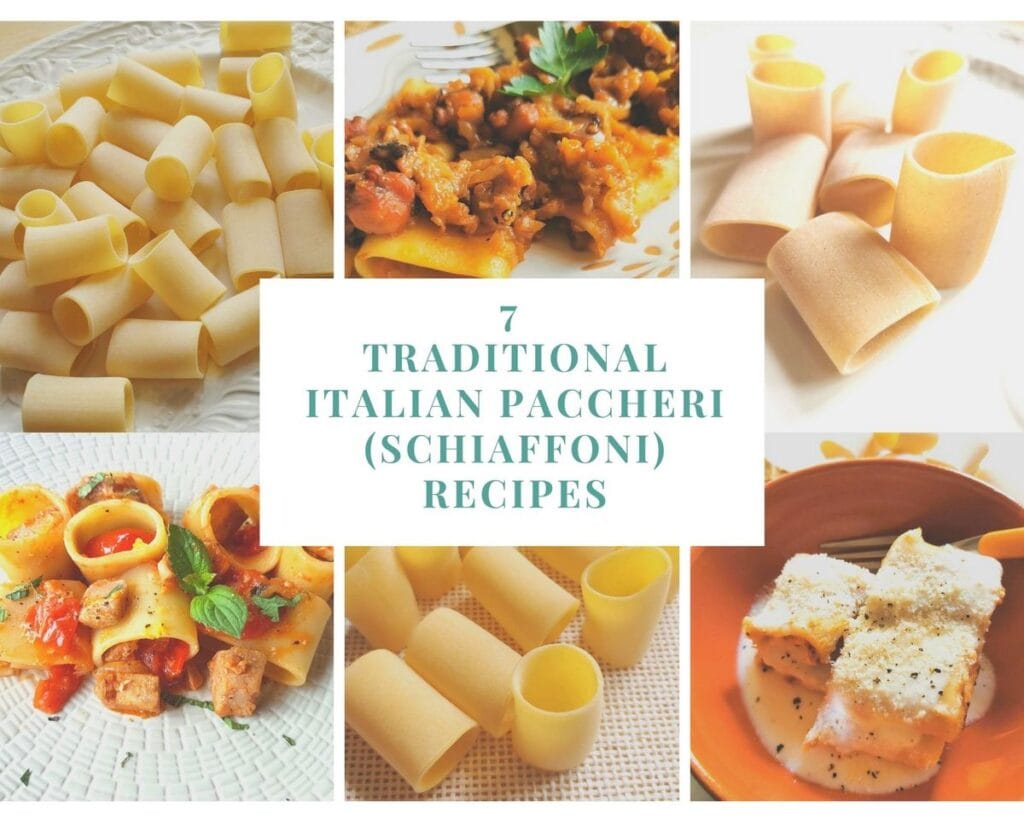 What does paccheri (schiaffoni) look like?
Paccheri is a large tube pasta. It's shorter than tubes like cannelloni and much wider. Some people think it looks like pieces of a cut up garden hose! Most pasta makers make this pasta more or less the same size. However, you can also find a smaller version called mezzi paccheri, meaning half paccheri. Paccheri is also available in lisce (smooth) and rigati (grooved) versions. The latter is sometimes called 'paccheri millerighe' or thousand-line paccheri!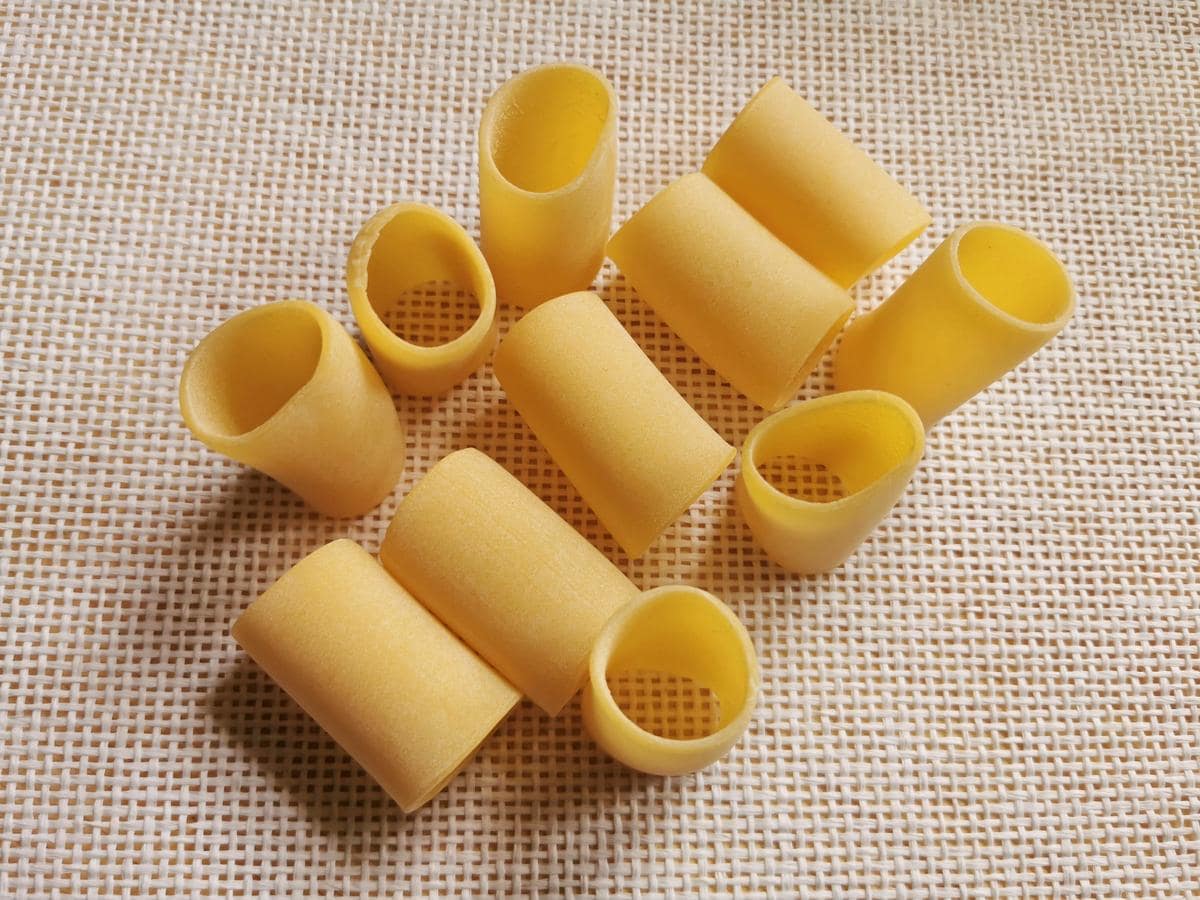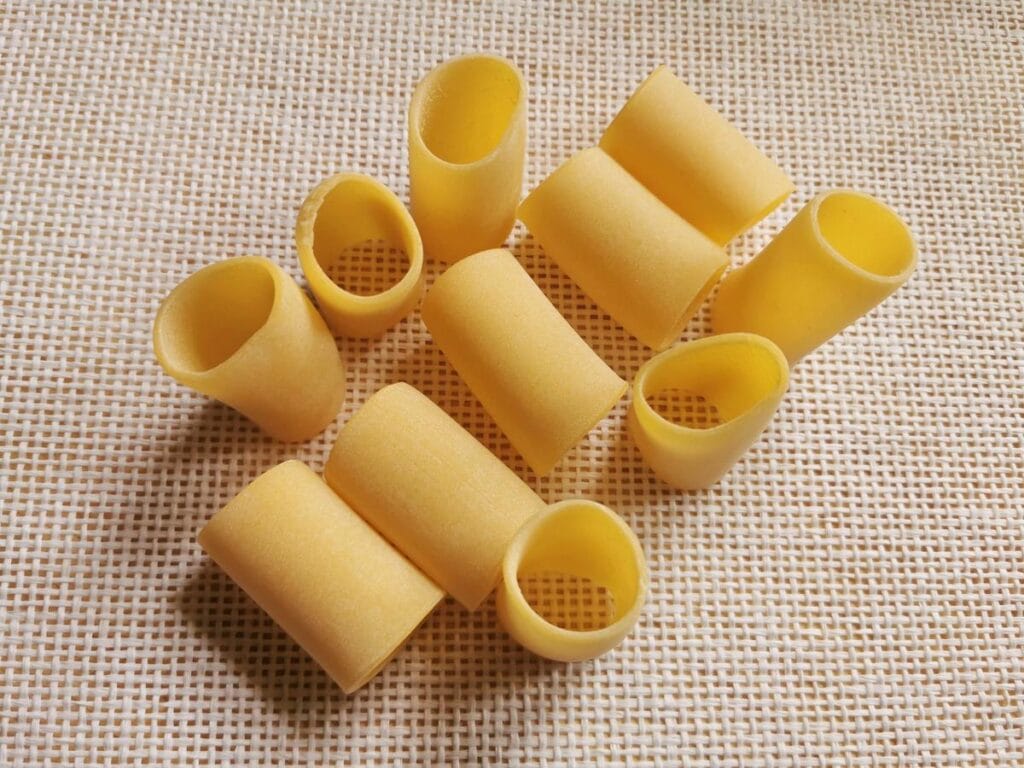 What does the name paccheri mean?
The names 'schiaffoni' and 'paccheri' seem very different. But, in Italian, the word 'schiaffo' means slap. In Neapolitan, dialect 'una pacca' also means a slap! Many believe that this pasta got is name/s because the noise made when pouring sauce onto it sounds like a slap! You can read more about the history and origins of this Neapolitan pasta in my paccheri post.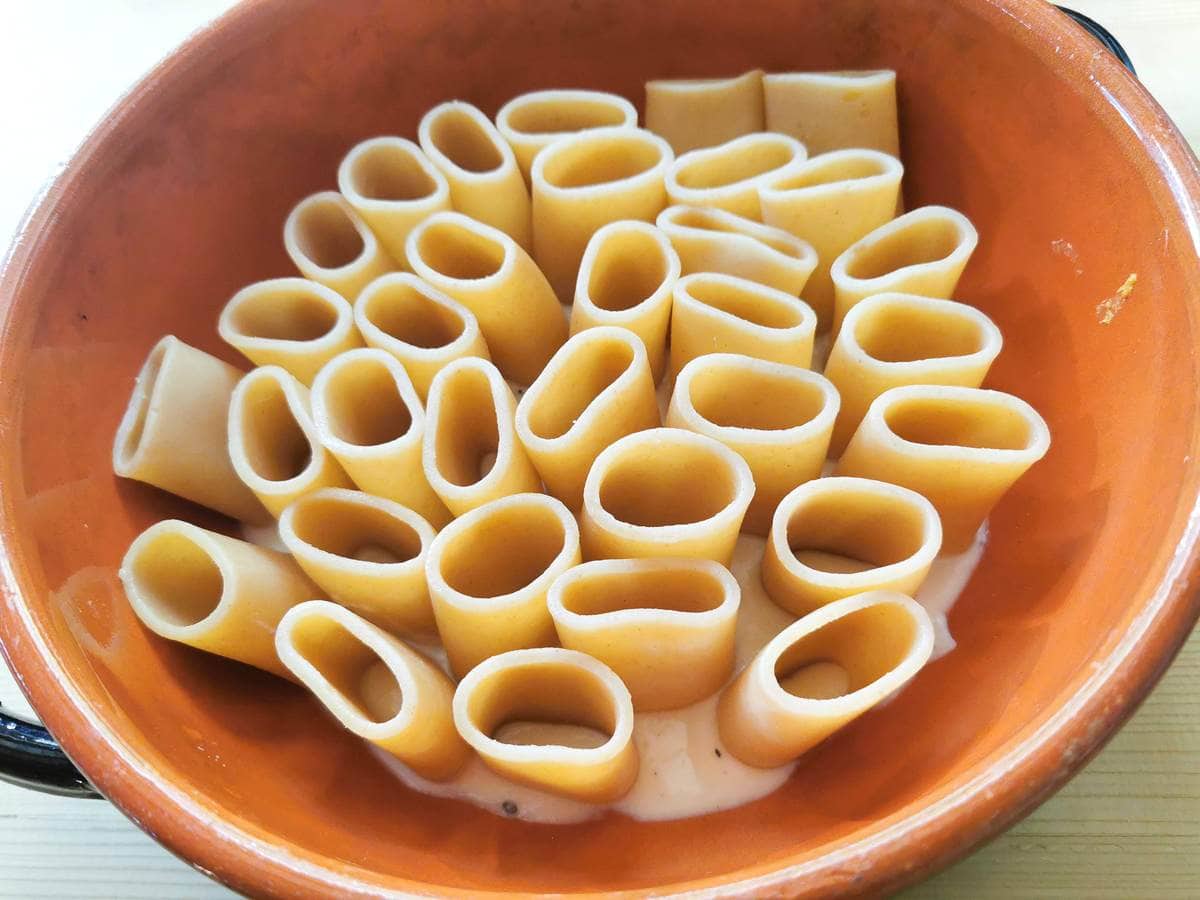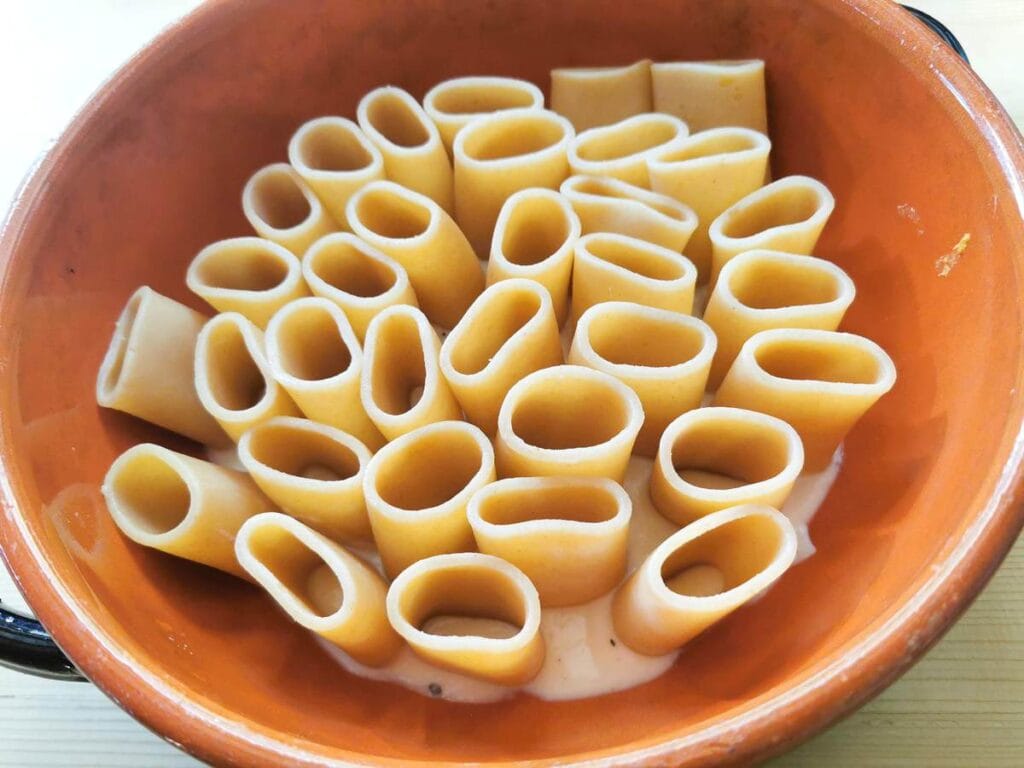 These 7 Italian paccheri recipes
As I mentioned above, paccheri is a very versatile pasta that Neapolitans and other Southern Italians cook in different ways. These 7 Italian paccheri recipes include seafood sauces, vegetarian condiments and meat ragu. So, something for everyone. Enjoy!
Click the name to go to the recipe post.
Italian paccheri recipes with seafood.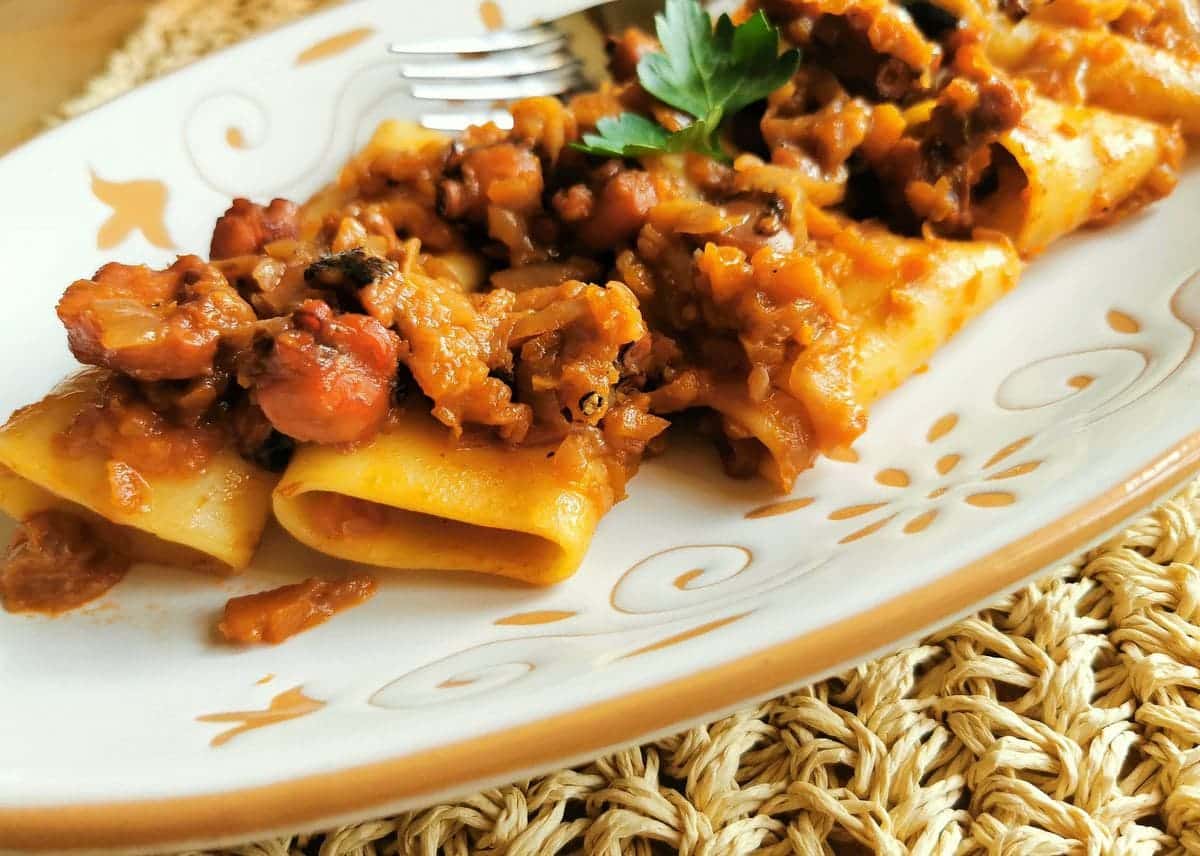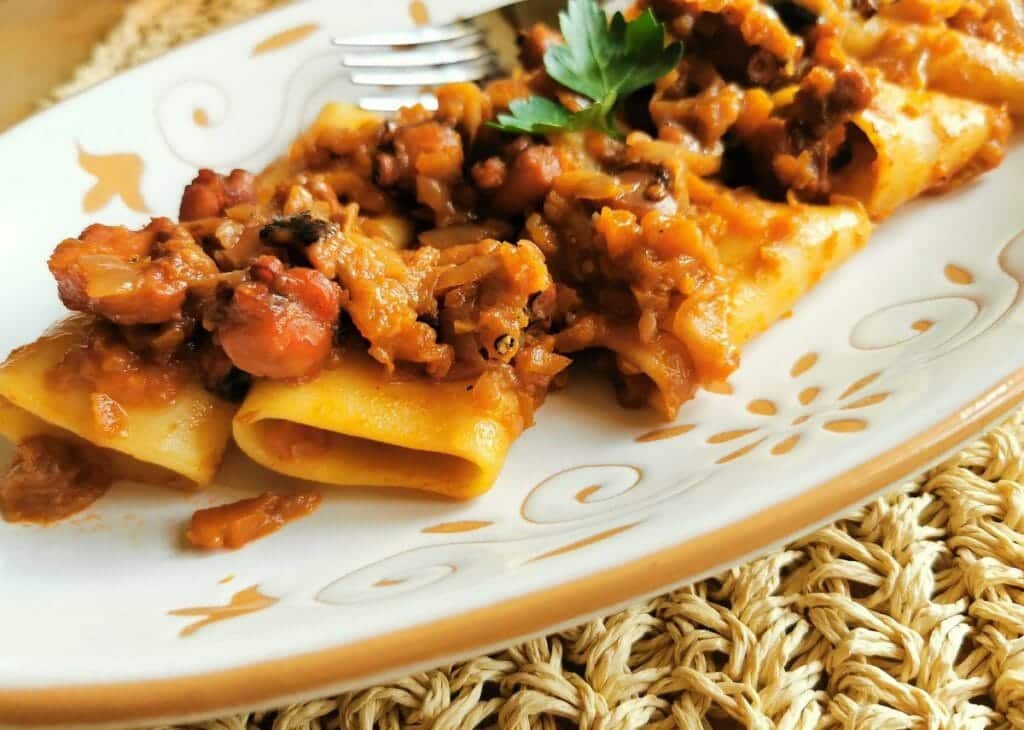 If I had to choose a favourite out of these 7 Italian paccheri recipes, I guess this would be it. But then I love seafood and the tender slow-cooked octopus in this Genovese sauce is fabulous!
This recipe takes a while to cook but has only a few ingredients. These are mostly octopus and onions. This is actually a seafood version of a traditional meat and onion sauce also called 'alla Genovese' or la Genovese. You can read more about the history of this dish and how to make it on the recipe post. Just click the recipe name!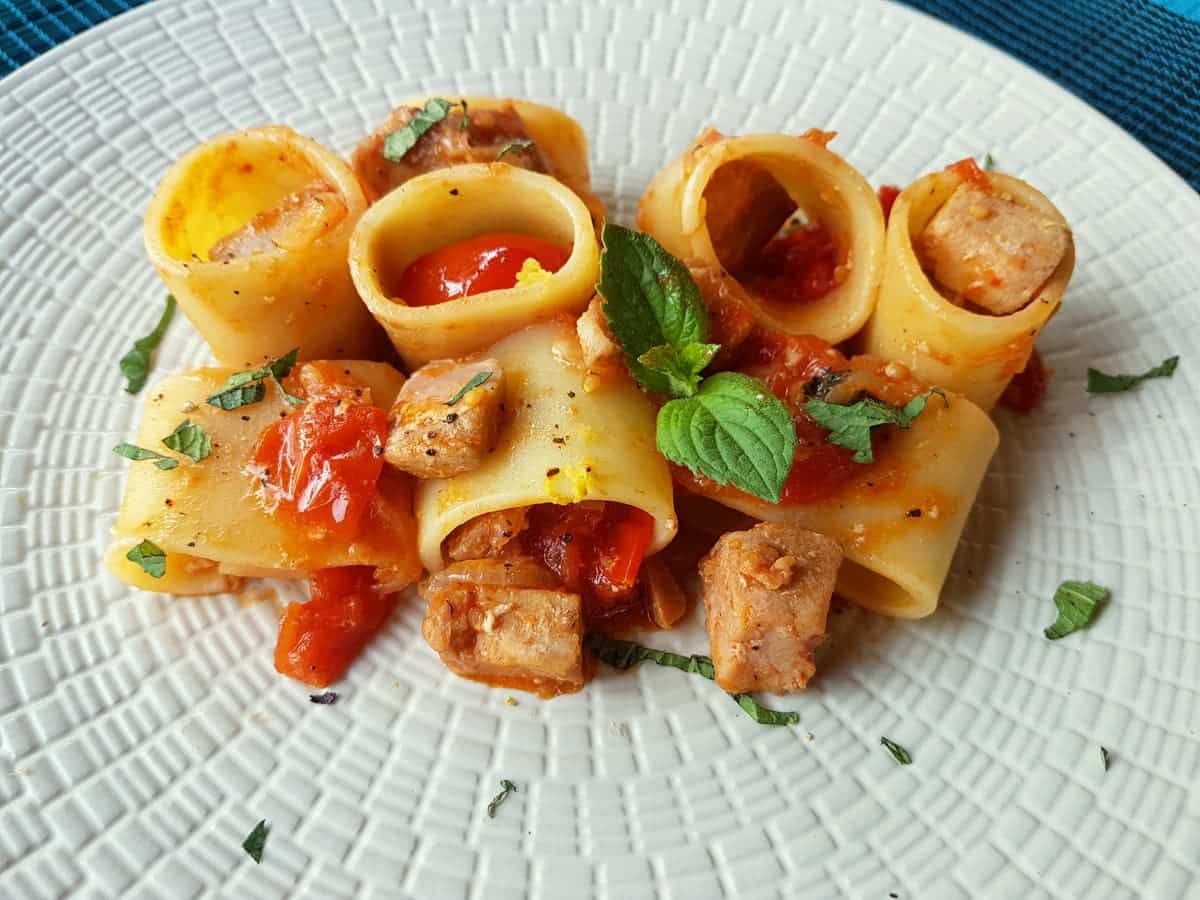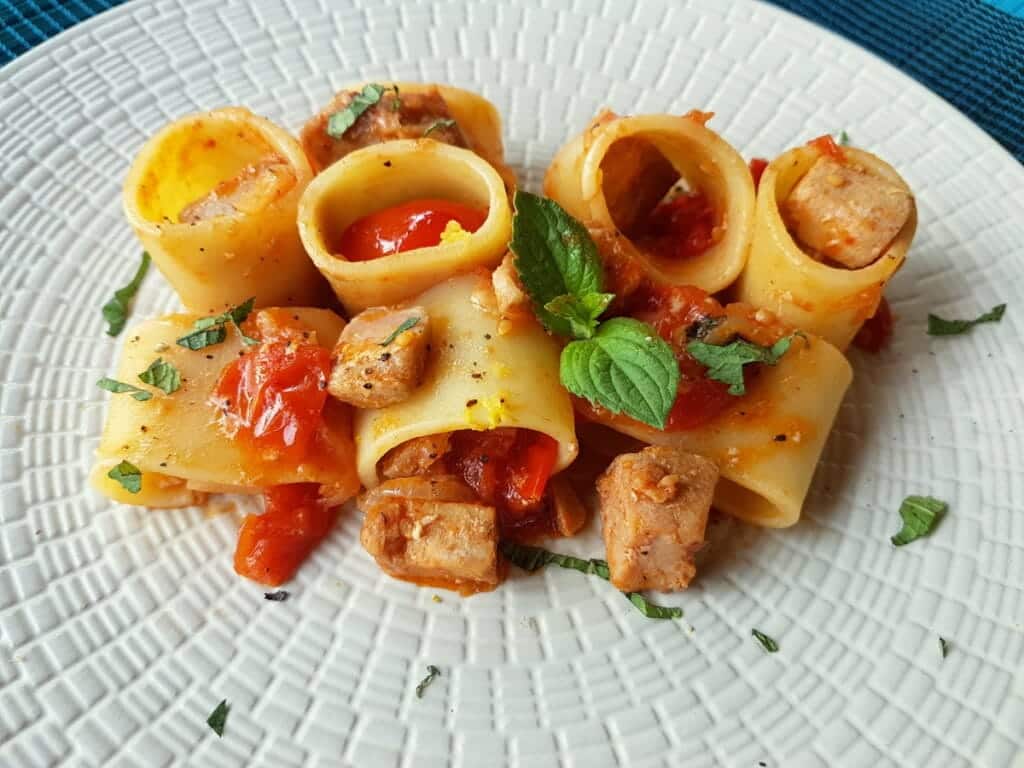 This fresh tuna ragu pasta recipe comes from Sicily, where paccheri is very popular too. Sicilians are masters at cooking fresh tuna. Well, they've been fishing and eating it since the time of the Phoenicians and perhaps even longer! There are so many delicious Sicilian tuna recipes. But, I think with pasta is definitely one of the best ways to eat this fish. Like many traditional Italian pasta recipes, this has just a few fresh seasonal ingredients. Plus, it doesn't take long to cook. One to add to your summer menu!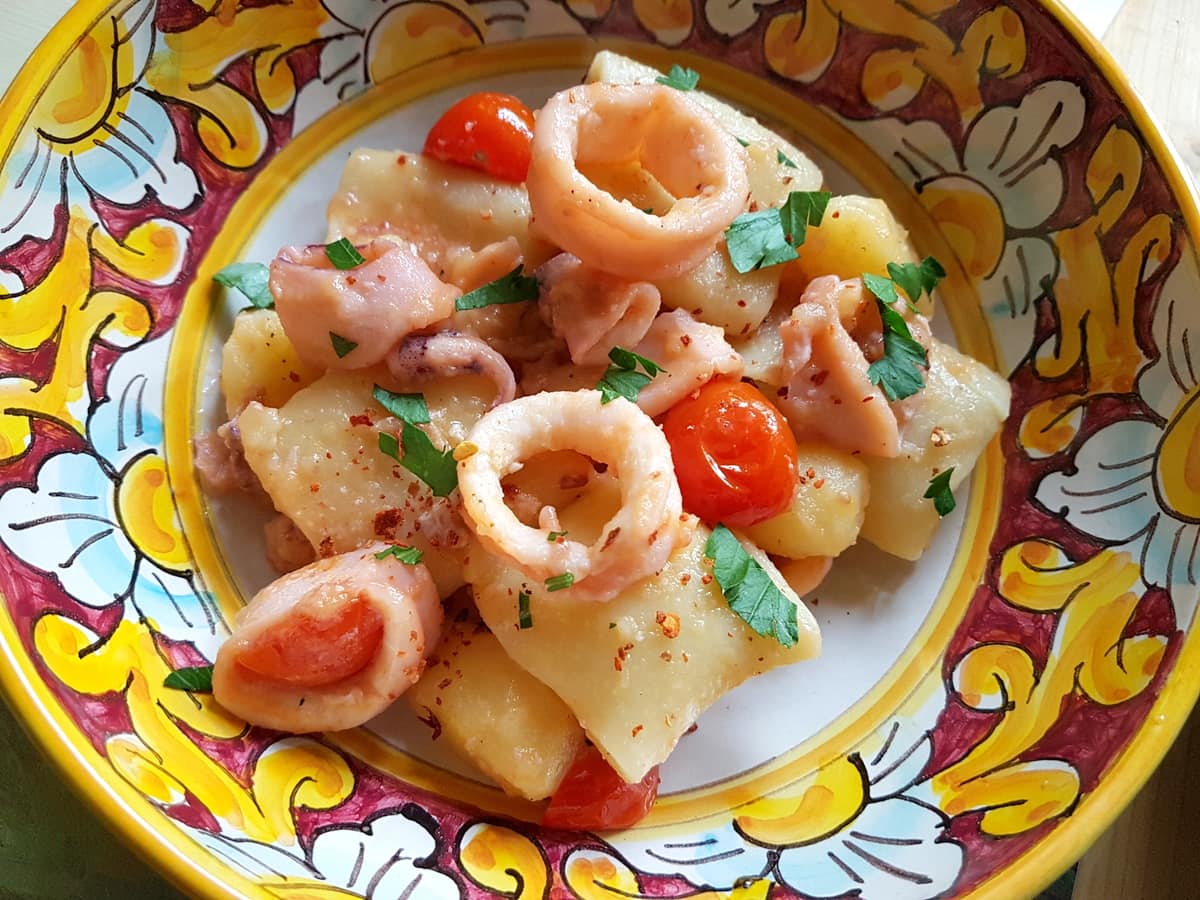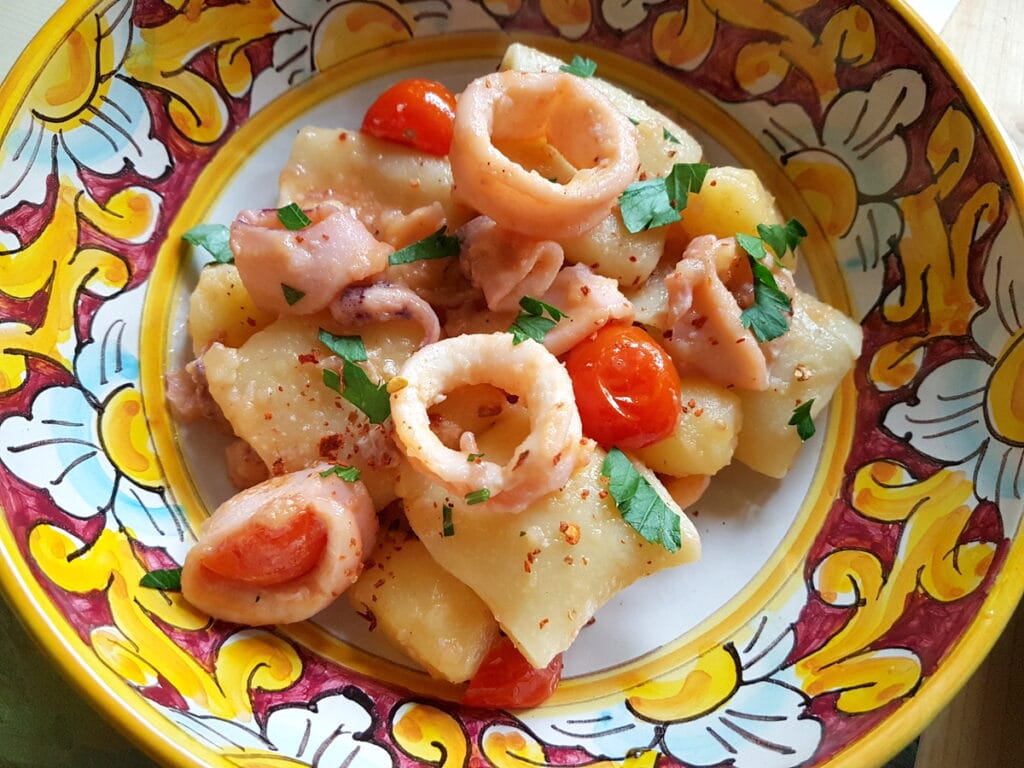 Pasta with potatoes is a combination that originated in what the Italians call 'la cucina povera', meaning the peasant kitchen. The combination of pasta with potatoes or legumes made for a filling cheap meal for the poorer population who couldn't afford meat on a regular basis.
The addition of seafood started among the fishing families and other inhabitants in the coastal areas. Seafood is a staple in Naples and calamari particularly popular. With the addition of some peperoncino (red chilli pepper), garlic and parsley this is a really flavourful Neapolitan classic that I'm sure calamari lovers will enjoy!
Italian paccheri recipes with meat.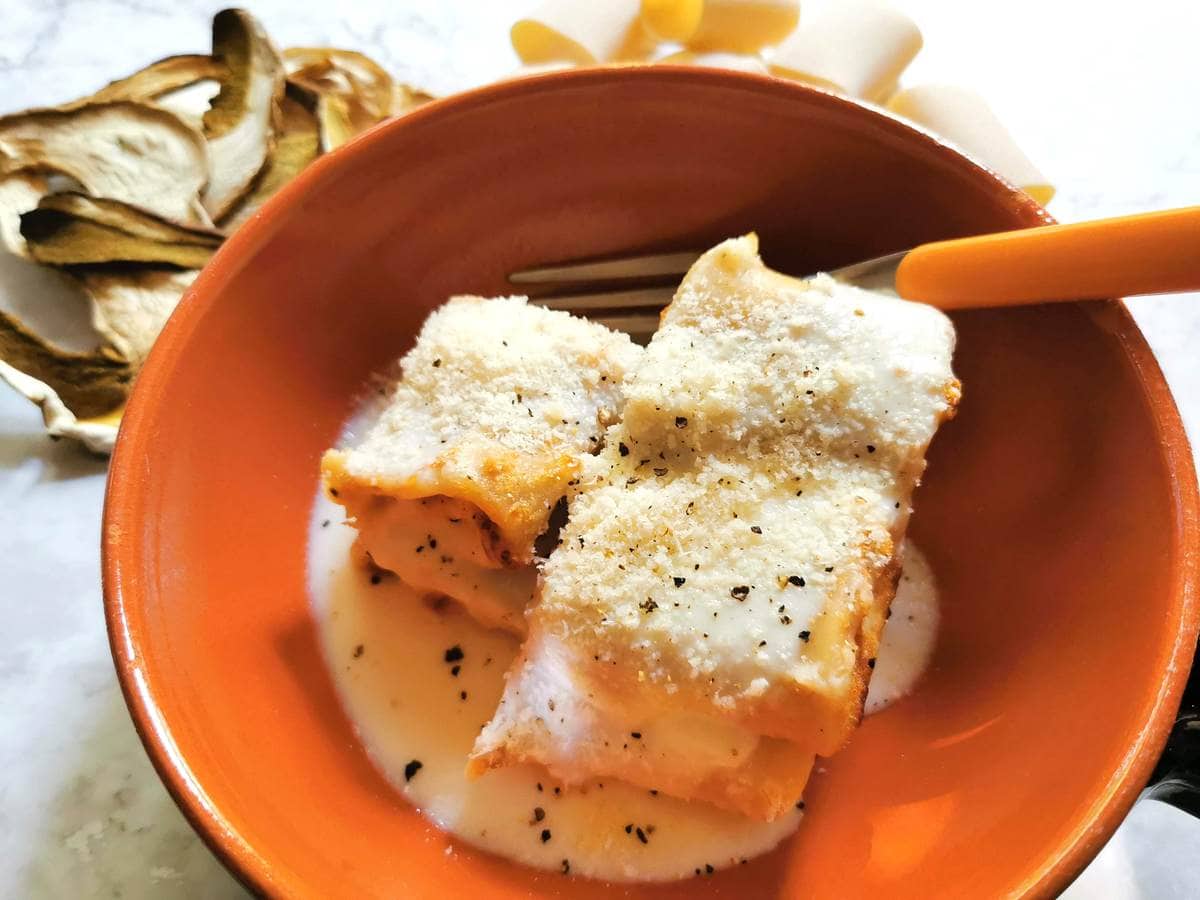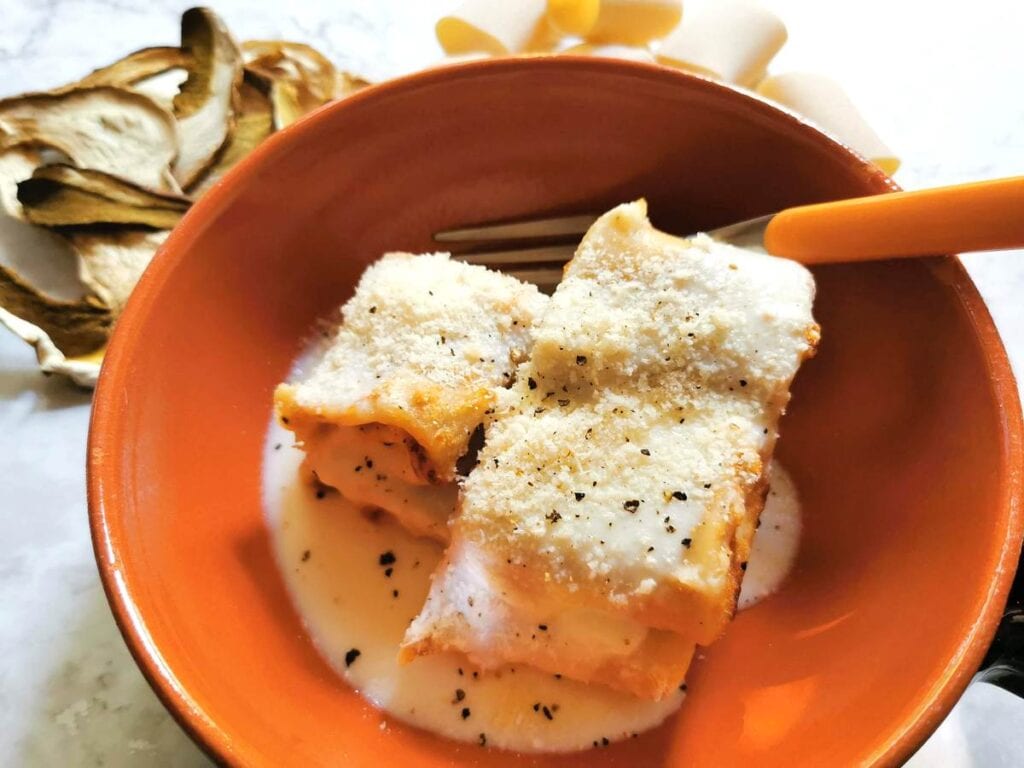 Needless to say, there are lots of recipes for stuffed and baked paccheri. It's such a tasty and popular way to serve this pasta. In this version, the paccheri is stuffed with a delicious creamy porcini (ceps), sausage (Italian salsiccia) and ricotta filling. It is then baked in a cheesy béchamel.
Sounds fantastic, doesn't it? Like other baked pasta recipes, this dish does take a little while to make. But, I think, it is exceptional enough to serve at special occasions or when you just want to treat yourself and your family to something out of this world!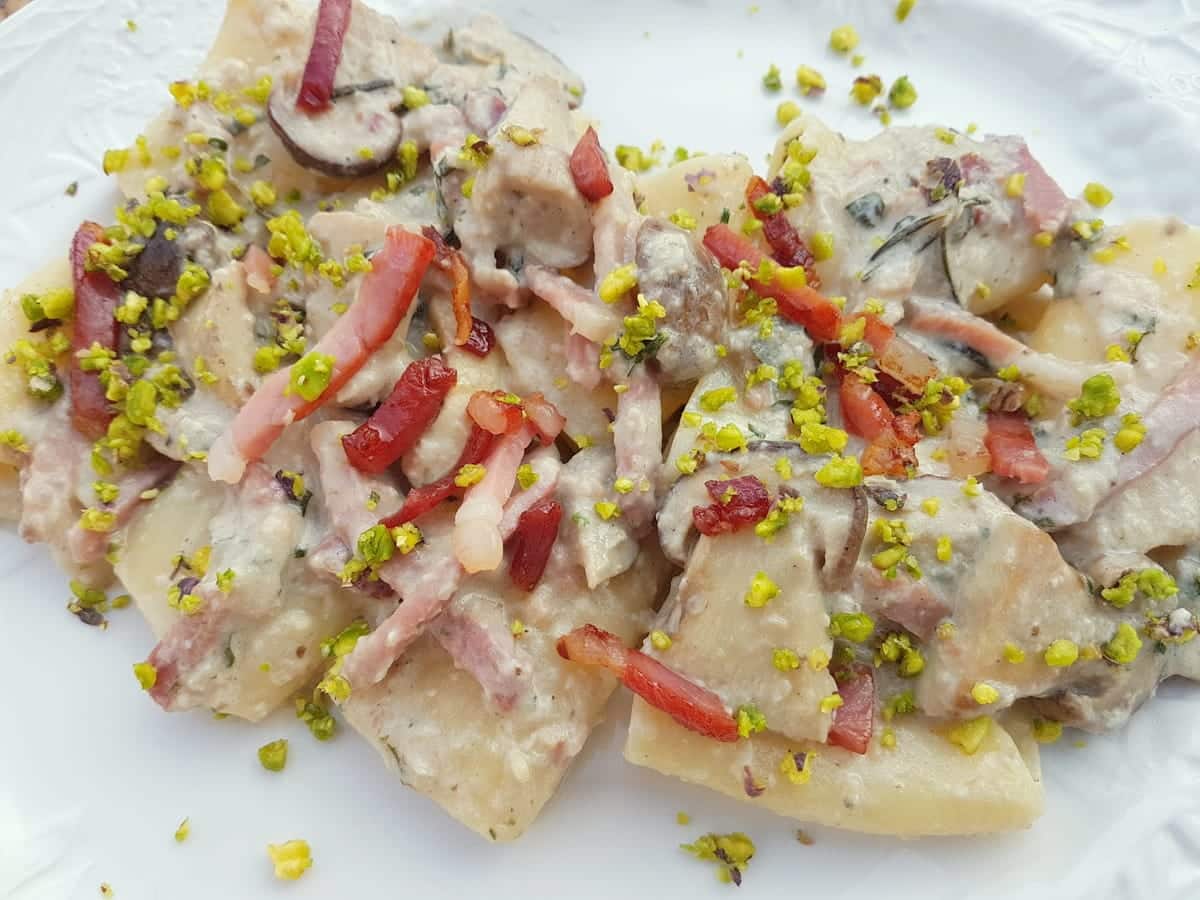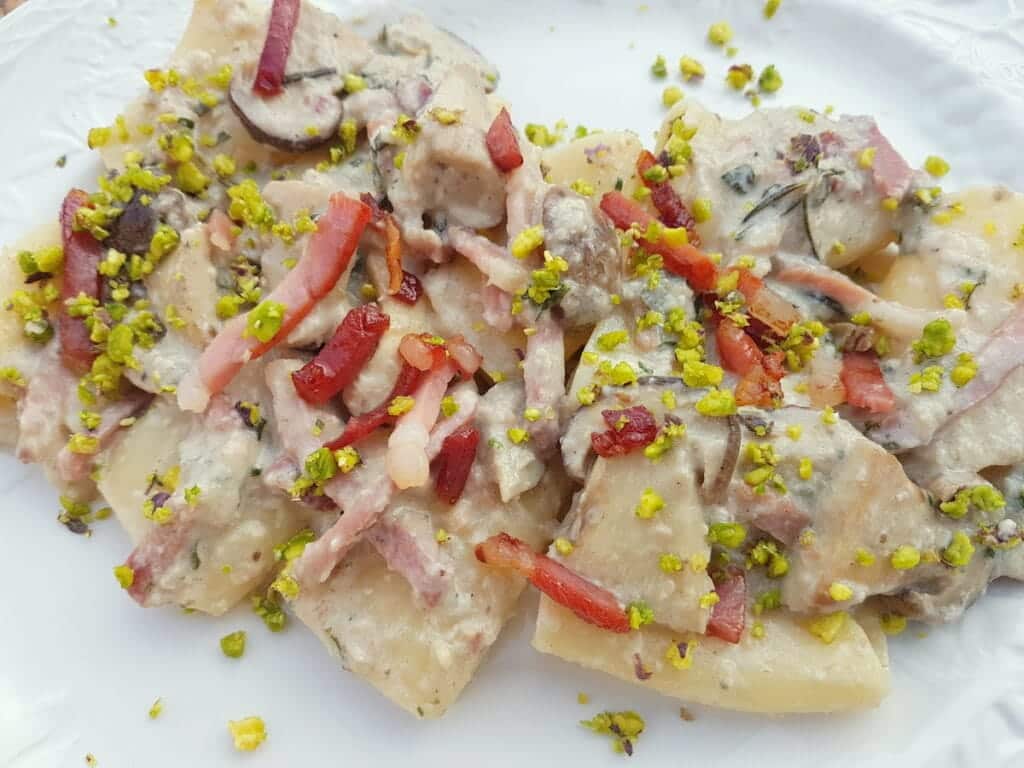 Speck isn't a typical Sicilian food product (It's actually a type of bacon from the South Tirol). However, I found this recipe on a Sicilian restaurant website. Paccheri and porcini is a traditional combo in Naples as well. And, pistachios are a much-used ingredient in Sicily. I guess the addition of speck was the chef's invention. But, it was a great idea!
However, if you don't have speck, use pancetta or prosciutto. I baked the leftovers instead of reheating them in the microwave. I couldn't decide which I liked more, the freshly made pasta dish or the leftovers! Give this recipe a go! It's definitely one to remember!
Vegetarian Italian paccheri recipes.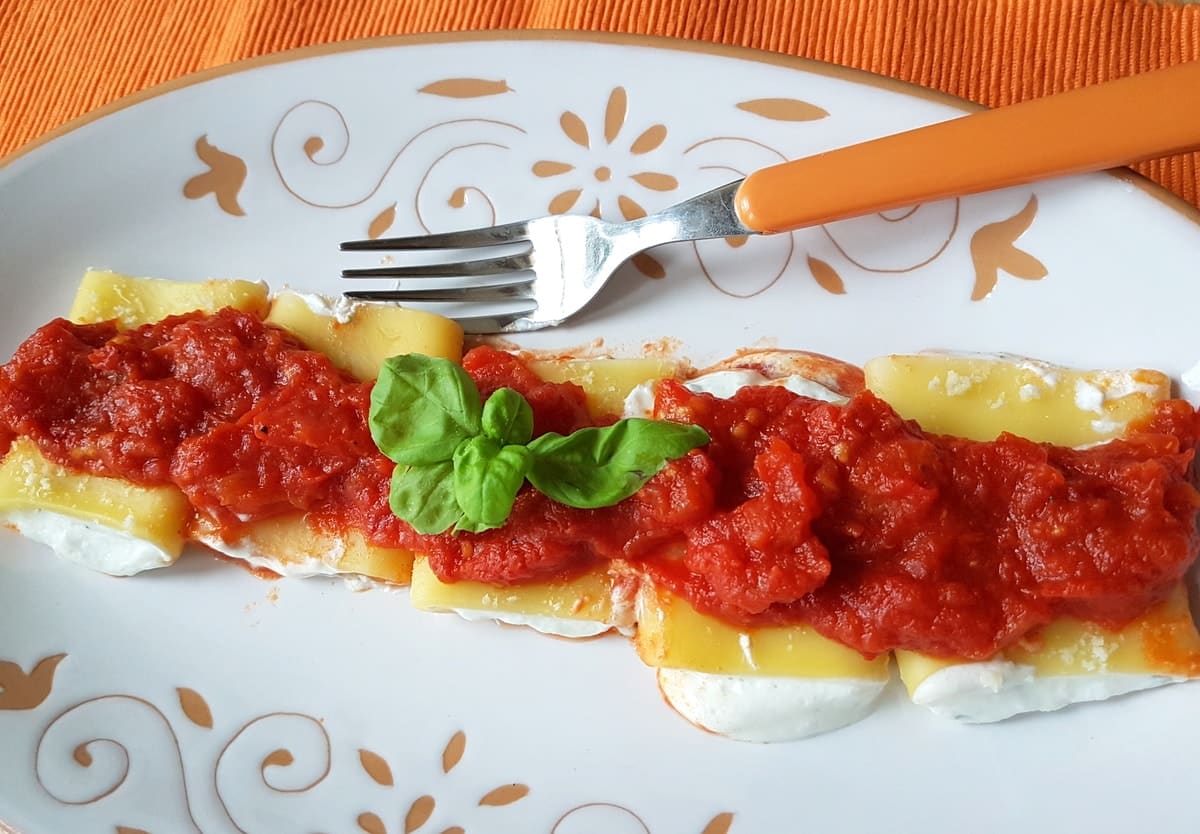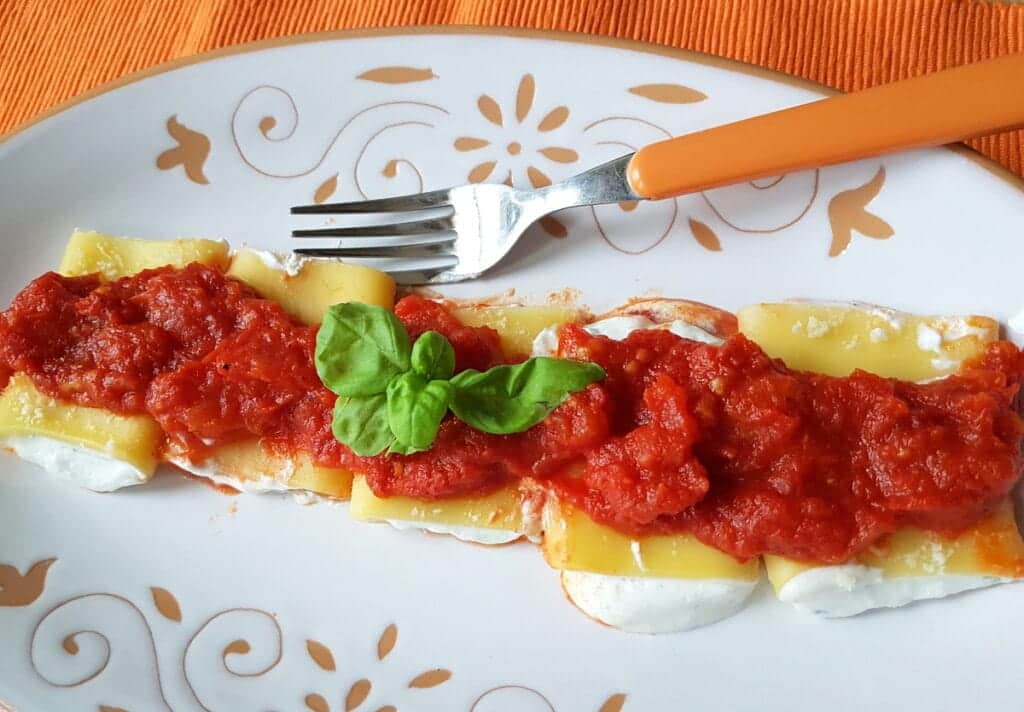 The filling for the pasta in this recipe is pretty easy to make, just fresh ricotta and basil. The sauce is a simple homemade tomato sauce, Then, once everything is prepared you just need to bake the filled paccheri and sauce together for 10 minutes. However, you can also serve this dish without baking. This recipe is a delicious way to try out filled paccheri for the first time. It's also full of typical Mediterranean flavour and absolutely delicious! I'm sure once you have tried it, you'll have it on repeat!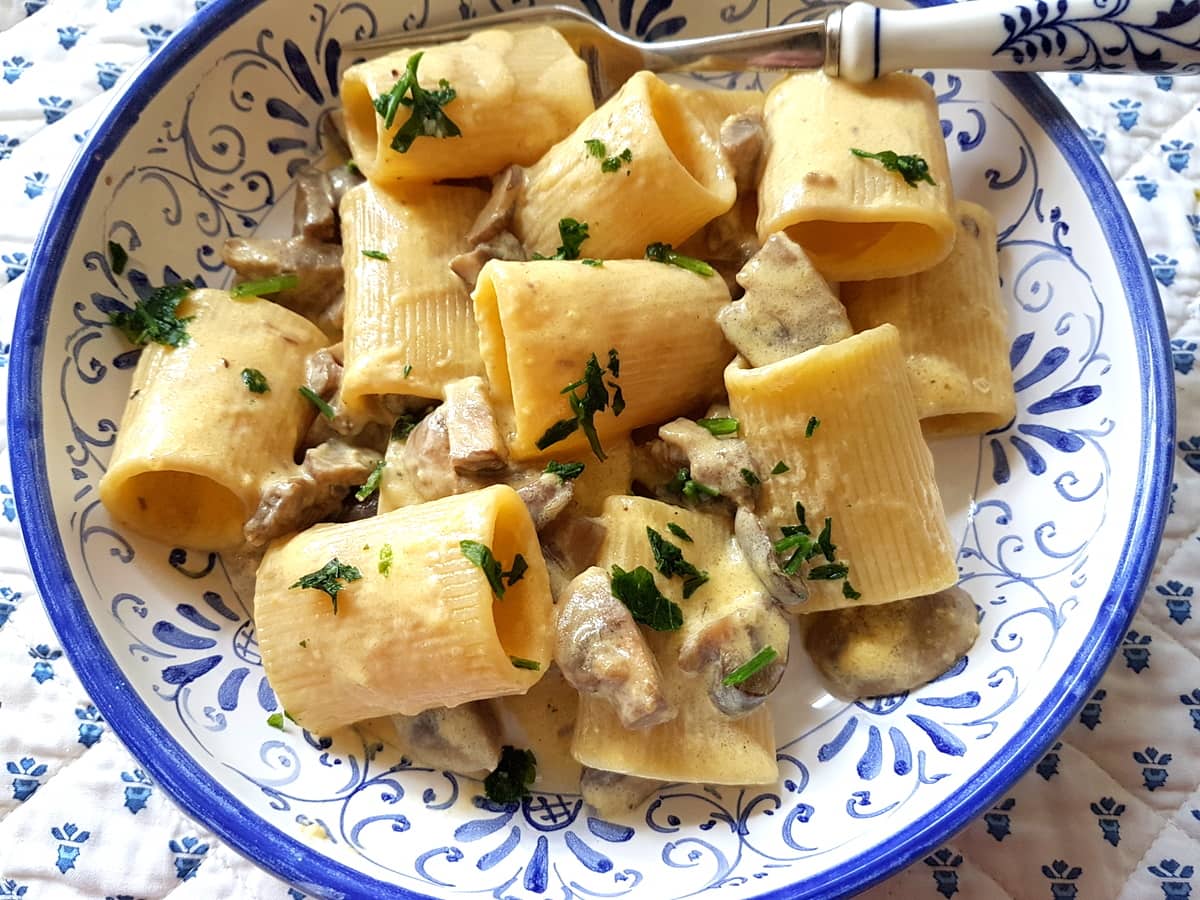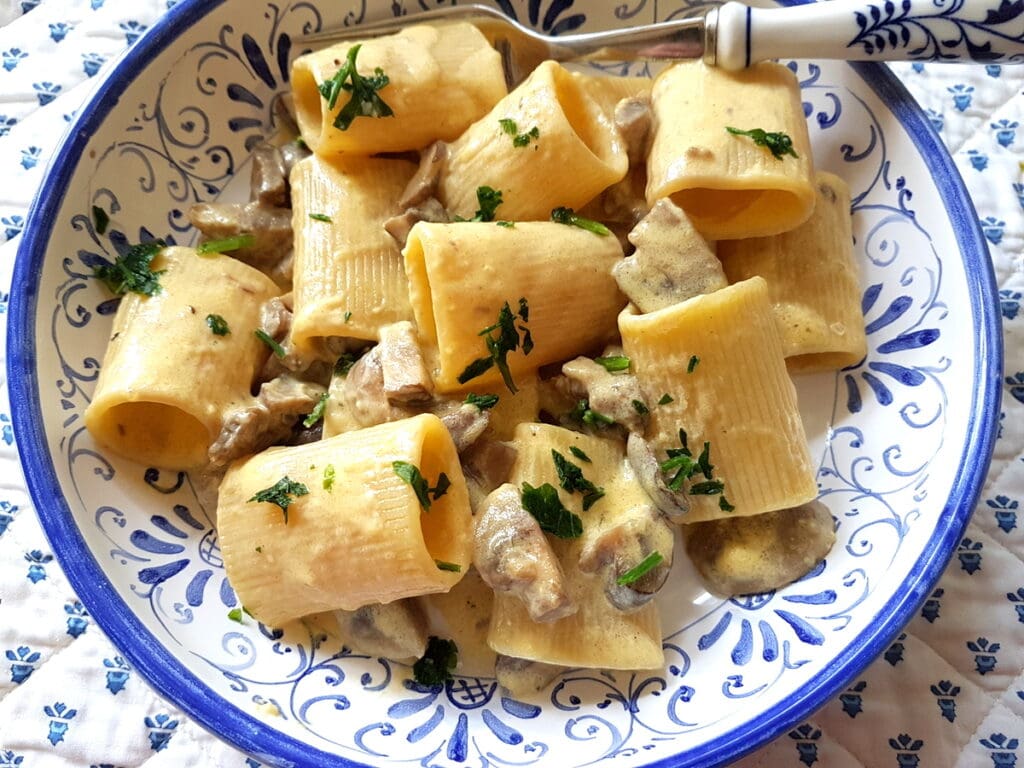 This last recipe in my 7 Italian paccheri recipes worth trying is one of the most popular recipes here on the Pasta Project. I've received countless glowing reviews of it and many photos of visitors' versions! This is a traditional Neapolitan recipe made with half paccheri, mushrooms of your choice (fresh or dried), cream, butter, eggs and Parmigiano. In fact it's a bit like a mushroom carbonara. It's also quite fast to make, so perfect for weeknights and family meals!
Save this collection of Italian paccheri recipes to your favourite pasta or Italian food board on Pinterest!
If you make any of these Italian paccheri recipes, I'd love to hear how it turns out and if you liked it. Please leave a comment here on the blog or on The Pasta Project Facebook page. Looking forward to hearing from you!
Buon appetito!
Where to find paccheri (schiaffoni) pasta.
Many of my favourite pasta companies make paccheri. These include nearly all the companies that produce pasta di Gragnano. Gragnano is a town near Naples, famous for dried pasta. The European Union has recognized Pasta di Gragnano as a PGI product (Protected Geographical Indication), meaning it meets rigorous standards to earn its label. There are about 15 companies with this label including Di Martino, Garofalo, Pastificio dei Campi, Gentile, Afeltra and more.
Other pastamakers whose paccheri I have used are Benedetto Cavalieri from Puglia, Girolomoni from Le Marche and Mancini also from Le Marche. Look out for these at Eataly and other Italian specialty shops.