Homemade Pumpkin Gnocchi with Sage Butter
Italian homemade pumpkin gnocchi are a delicious way to make use of leftover pumpkin! They're easier to make than you think and can be frozen for later use!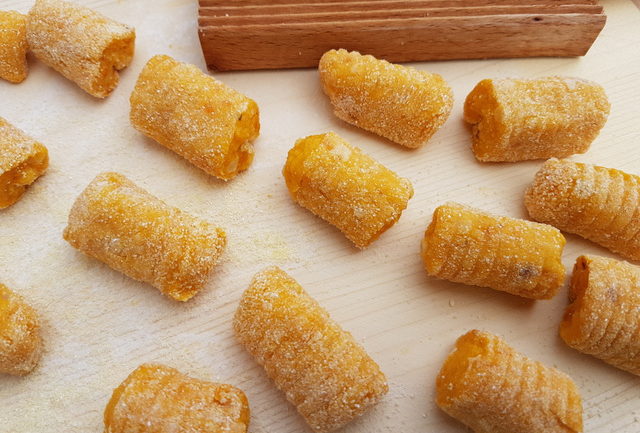 Gnocchi di zucca al burro fuso e salvia.
No matter how good ready-made store bought gnocchi are nothing quite beats the homemade version. This was not my first time making potato gnocchi, but it was my first time making homemade pumpkin gnocchi. I have to confess my first attempt at these gnocchi was a bit of a disaster. My hubby had just bought me a pasta dough maker and I thought I'd try it out with the pumpkin gnocchi dough! However the dough came out way too sticky and stodgy! I guess gnocchi have to be made by hand. It's not that it's difficult, I was just being lazy!
(This post was first published a year ago but has been updated)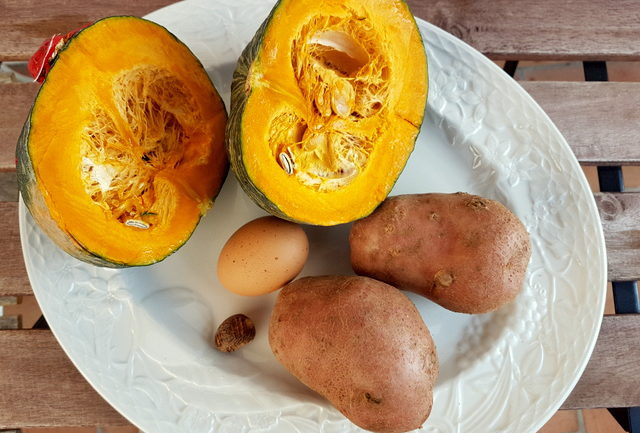 Second time round I kneaded the dough by hand and the result was sensational homemade pumpkin gnocchi! The lesson is gnocchi dough has to be kneaded by hand , as little and as fast as possible.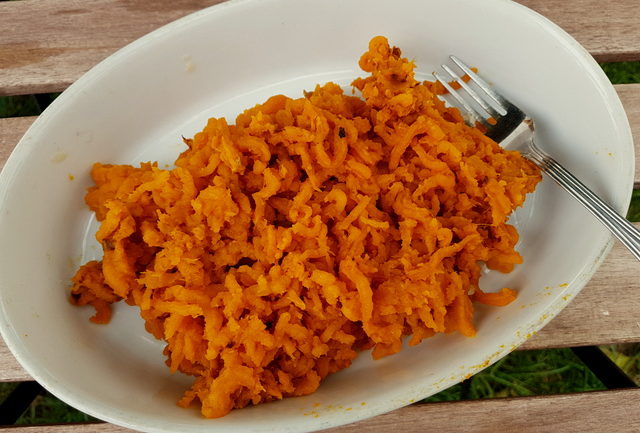 Different kinds of pumpkin gnocchi.
There are different ways of making pumpkin gnocchi. They can be made, as I did with potatoes, flour and roasted pumpkin puree. They can be made without the potatoes, just pumpkin and flour or with ricotta instead of potatoes and some people also make them using breadcrumbs. I am planning to try some of these different versions, but I have started with the most common.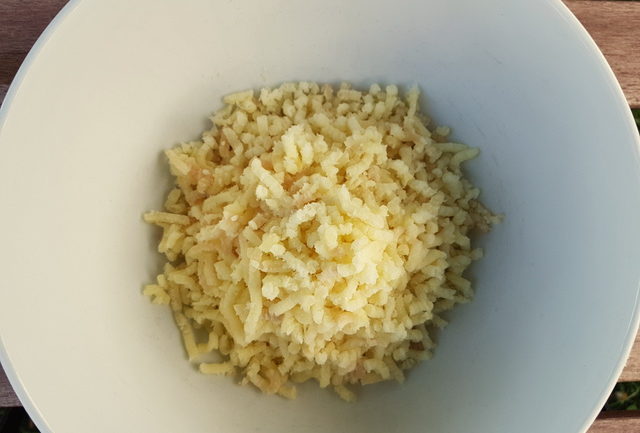 Pumpkins and squash are an important ingredient in the Italian autumn kitchen and both are used in a myriad of recipes including soups, risotto, pasta, desserts and, of course, gnocchi. Interestingly, most Italian recipes call for 'zucca' without specifying which type (pumpkin or squash!). But, I guess in many cases either can be used. After all, pumpkin is a type of squash!
Pumpkin gnocchi recipes work best with the sweeter types of pumpkin/squash such as butternut squash, Calabaza squash, Kabocha squash, Italian zucca Mantovana, zucca Marina di Chioggia and Delica pumpkins.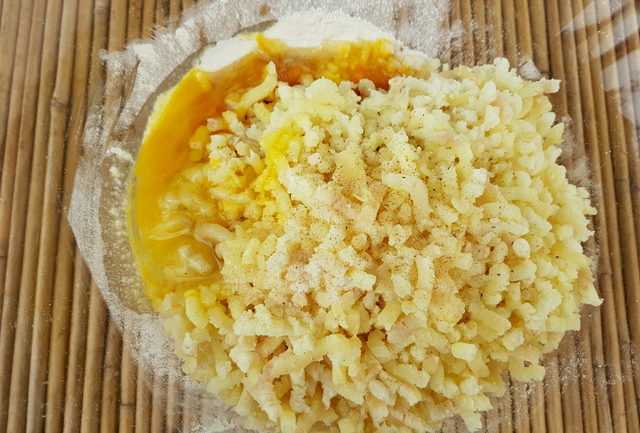 How to serve your homemade pumpkin gnocchi.
Apart from the different methods of making the pumpkin gnocchi themselves, there are a number of ways these gnocchi are served. The most traditional is with sage butter (burro e salvia) which involves frying fresh sage leaves in melted butter until they start to crisp and then mixing the cooked gnocchi with the butter and serving with some grated parmesan if required. So simple, yet delicious!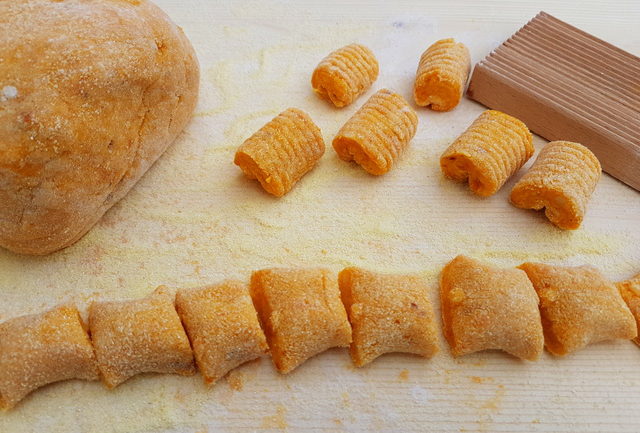 Here in Veneto, these gnocchi are also served with melted butter and smoked ricotta in a dish called 'alla Bellunese' after the town of Belluno where this recipe originated. Pumpkin gnocchi are also often served in a cheese sauce such as parmesan, gorgonzola or tallegio to which ingredients such as truffles, walnuts, broccoli or mushrooms may be added. And speck, pancetta and sausage are the most traditional 'meat' ingredients used in pumpkin gnocchi recipes. These gnocchi are also great baked and can be frozen and used without defrosting. In fact, I have some in the freezer which I will use soon.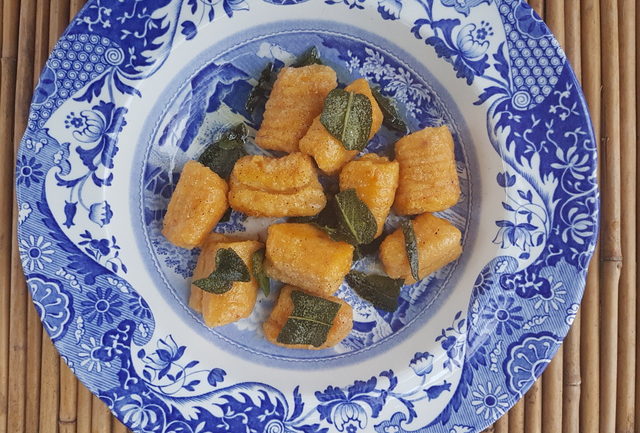 I used my first batch in two recipes, the traditional sage butter and another recipe with parmesan cream, speck, rosemary and walnuts! That was divine. If you'd like to give making your own pumpkin gnocchi a try, the recipe is below along with how to prepare them with sage butter.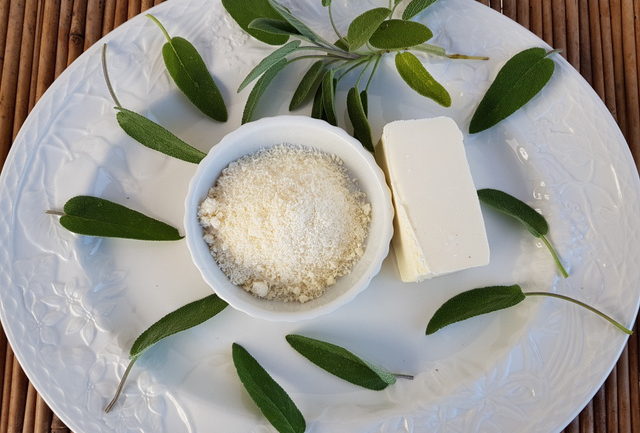 If you make this homemade pumpkin gnocchi with sage butter, I'd love to hear how it turns out and if you liked it. So, please leave a comment here on the blog or on The Pasta Project Facebook page.
Looking forward to hearing from you!
Buon appetito!
Check out the other way to serve these delicious homemade pumpkin gnocchi.
Pumpkin gnocchi with speck, walnuts and Parmesan cream.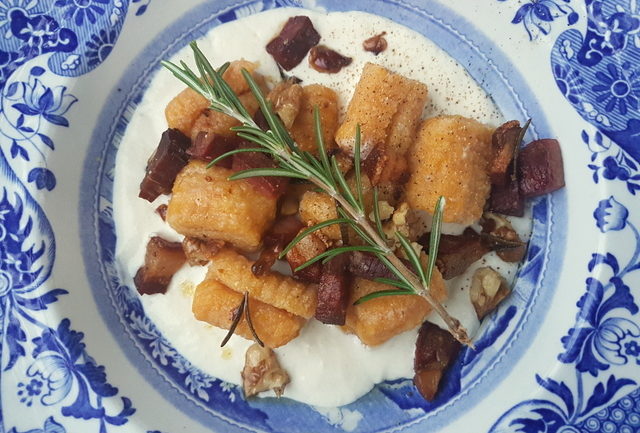 Save this recipe for later?
If you want to save this recipe for later, you can print it, bookmark this page or save it to Pinterest.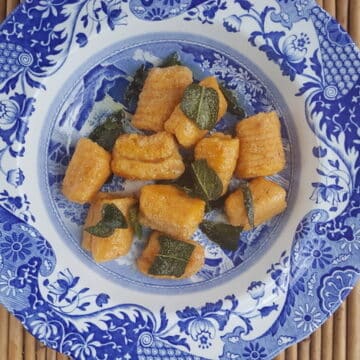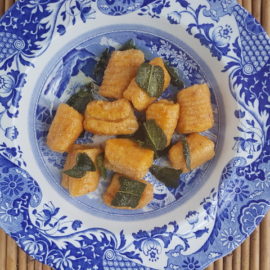 Homemade pumpkin gnocchi with sage butter
These traditional pumpkin gnocchi are quite easy to make and only need some sage butter and grated cheese to be served in a very tasty and delicious way.
Ingredients
350

g

Russet potatoes

(12oz) you can also use Desiree, Marfona or King Edward potatoes) Important that the potato is floury!

350

g

Pumpkin

(12oz) I used a Delica pumpkin but other types can be used too

250

g

'00' flour

(9oz)

1

pinch

salt

1

egg

lightly beaten

1

tsp

nutmeg

grated
For the sage butter
100

g

butter

(3.5oz)

1

handful

fresh sage leaves

50

g

Parmesan or grana

grated (2oz)
Instructions
Cut the pumpkin in half, remove all the seeds and peel it. Then cut the pumpkin into chunks and roast on baking paper in a preheated oven for about 30 minutes until fork soft.

Remove the pumpkin from the baking tray and mash it a bit with a fork. If you have one, pass the pulp through a potato ricer (in Italian passavedura) or continue to mash until it's as smooth as possible.

In a large pot with just enough water to cover them, boil potatoes cut in half with their skins on. Boil for about 20-30 minutes or until fork tender. Over-boiling will cause potatoes to become mushy and too wet.

Strain and peel the boiled potatoes, removing any brown spots that might be below the skin. Peel them quickly, as the cooler they get, the less fluffy they become. Press the potatoes through a potato ricer into a bowl. (you can also press them flesh down through the potato ricer without peeling The skin will stay in the ricer) If you don't have a ricer you can mash the potatoes until smooth.

Allow the potatoes to cool a little if they are still hot and then put them in a bowl with the pumpkin puree, flour, a pinch of salt, the nutmeg and the lightly beaten egg. (If the potatoes are too hot, the egg will start to cook)

Mix everything together using a wooden spoon and then your hands. Once the mixture starts to resemble a dough, turn it out onto a lightly floured wooden board.

Knead the dough with your hands, adding a little more flour if you need to. Work carefully and quickly, as the more you handle the dough, the harder it will become. You need the same lightness you would use for pastry. Continue until the dough loses most of its stickiness and becomes a more solid mound.

Cut a quarter of the dough off and cover the rest with a tea towel to prevent it drying out too quickly. Re-flour your work surface. I used semolina flour (semola in Italian).

Divide the quarter into two and roll each piece out into a rope or snake about as thick as your thumb and cut it into pieces about 2-3 cm wide.

Gently roll each gnocco against the floured front tines of a fork or down an gnocchi board to make ridges. Then arrange in a single layer on a prepared floured baking tray ( I used semolina flour for this). Repeat with the rest of the dough.

Allow the gnocchi to rest for 20-30 minutes before cooking.
Cook the gnocchi with sage butter.
Put a pan of water on to boil for the gnocchi. When it starts to boil add salt and bring to the boil again.

Melt the butter in a frying pan or skillet. Add the sage leaves and allow them to get a little crispy.

Cook the gnocchi in the boiling salted water. They don't take very long to cook but the time will depend on how light they are. As soon as the gnocchi rise to the surface, remove them with a slotted spoon and transfer to the butter and sage.

Mix the gnocchi and sauce together and serve immediately with grated Parmesan or grana.
Notes
Potato and pumpkin gnocchi need to be cooked almost immediately, although you can keep them covered in the fridge or at room temperature for a couple of hours. However you have to keep them separated or they will stick together! You can also freeze them but you'll have to freeze them on a tray or plate and once they are frozen you can transfer them to a freezer bag.
Nutrition
Calories:
570
kcal
Carbohydrates:
70
g
Protein:
15
g
Fat:
26
g
Saturated Fat:
16
g
Polyunsaturated Fat:
1
g
Monounsaturated Fat:
7
g
Trans Fat:
1
g
Cholesterol:
103
mg
Sodium:
393
mg
Potassium:
774
mg
Fiber:
4
g
Sugar:
3
g
Vitamin A:
8232
IU
Vitamin C:
13
mg
Calcium:
217
mg
Iron:
5
mg
Pin for Later