This divine orzo risotto with Gorgonzola has to be one of the best pasta with Gorgonzola recipes I have ever made or eaten. Not only is this a 5-star restaurant quality dish, but it's actually super simple to make and calls for just 3 main ingredients apart from the orzo/risoni pasta.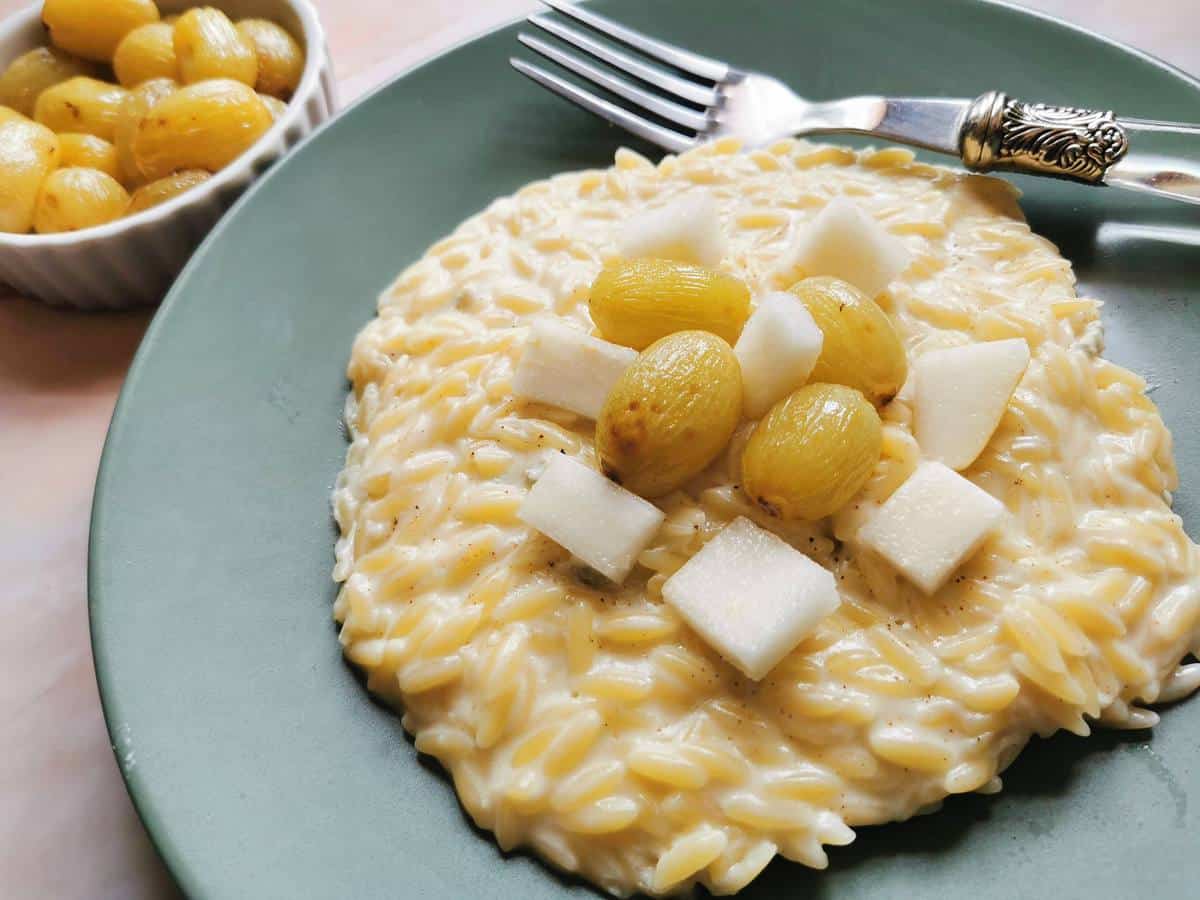 The two most popular ways to serve Gorgonzola here in Northern Italy are with pasta and in a risotto. This recipe is a fusion of these two dishes. The pasta, orzo, not only looks like rice, but is cooked risotto style. Italians call this method risottata. In other words, in the same way one would cook rice for a risotto. The result is a creamy Gorgonzola pasta that looks like a risotto.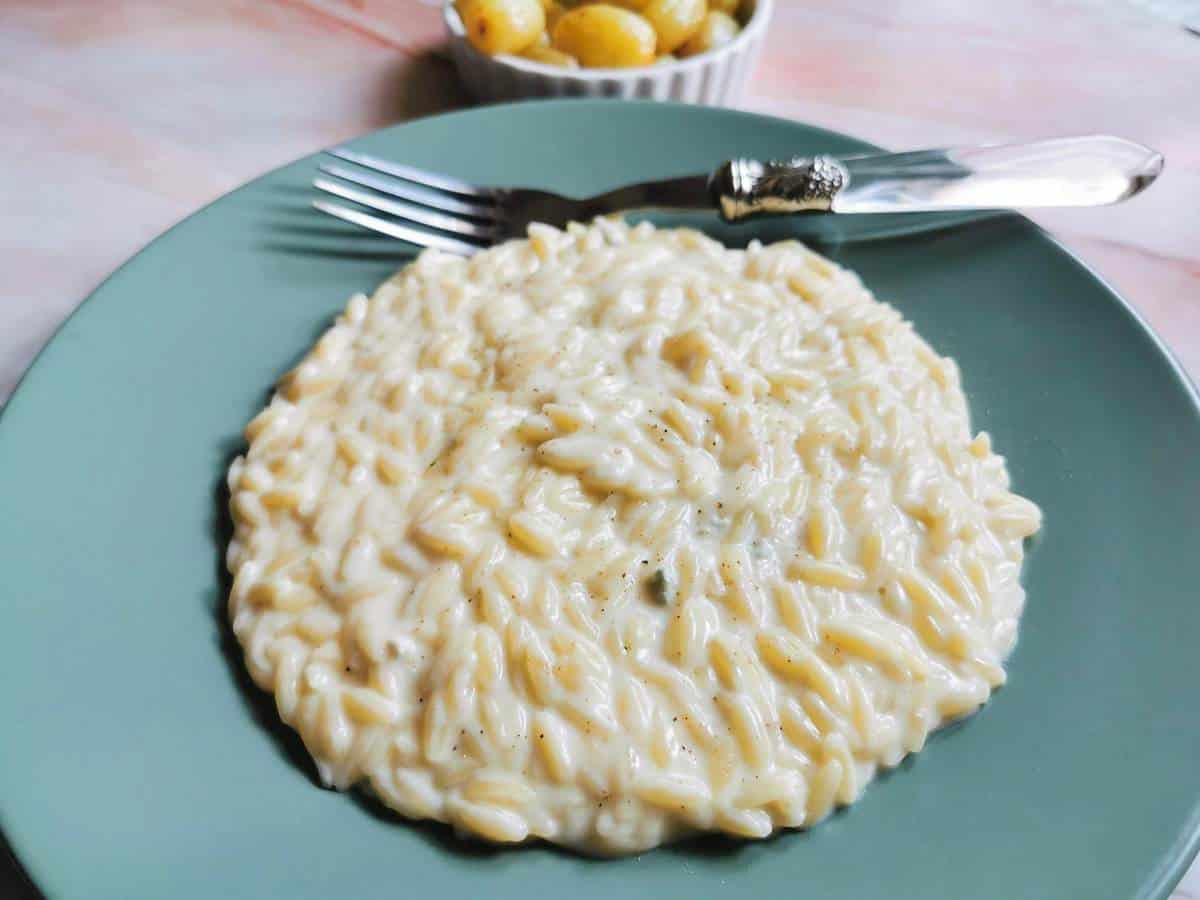 What is orzo pasta?
For Italians, orzo (also called risoni) is a type of pastina. Pastina is a generic term for many types of tiny or very small soup pasta. Other types of pastina include stelline (stars), acini di pepe (pepper corns), and grattini (grated pasta). Pastina pasta is traditionally cooked and served in soups and broths.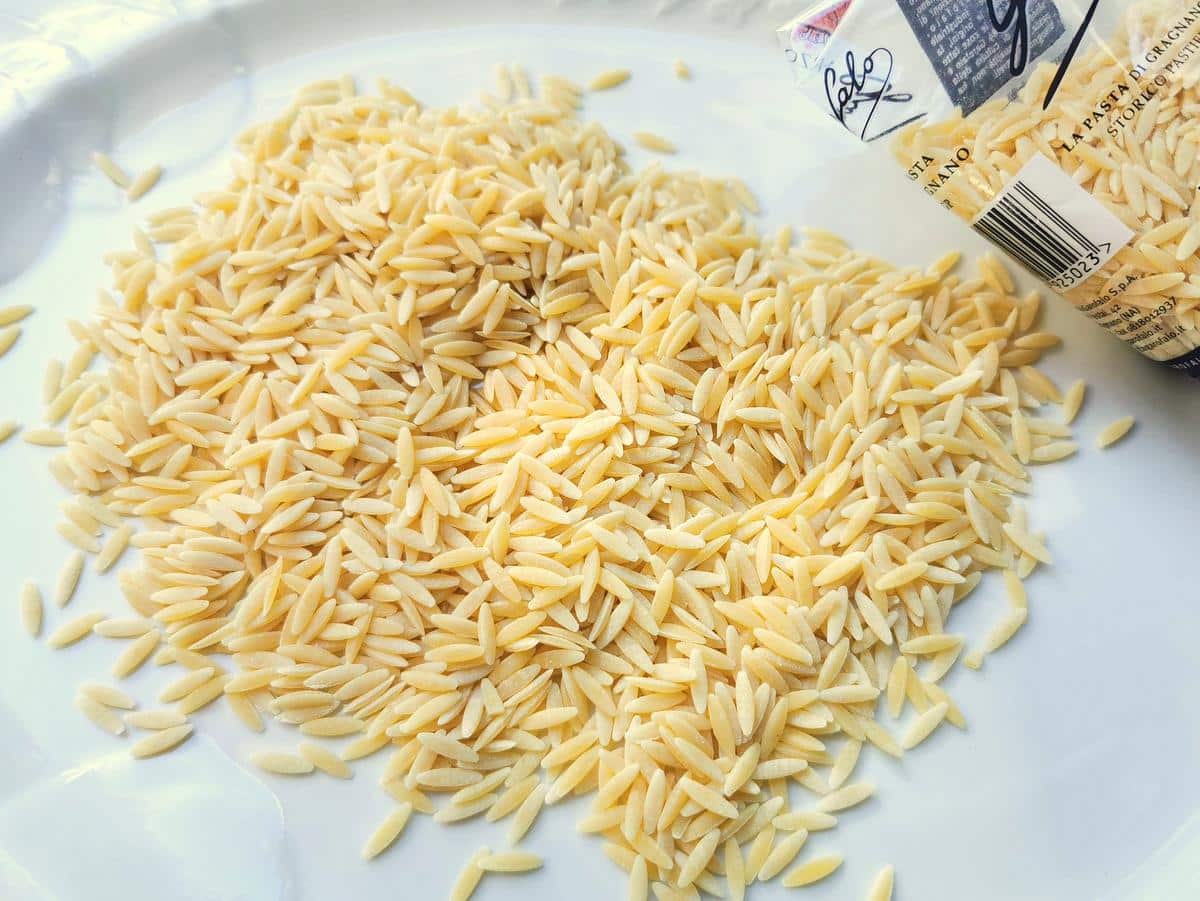 Orzo looks like grains of rice. In fact, its other name, risoni, attests to that similarity. Like other types of dried pasta, orzo is made with hard wheat flour (semolina flour) and water. According to the Italian Wikipedia, orzo originated in Tuscany. However, it is also popular in Greece, Spain, Turkey and other Arab countries, not just in Italy.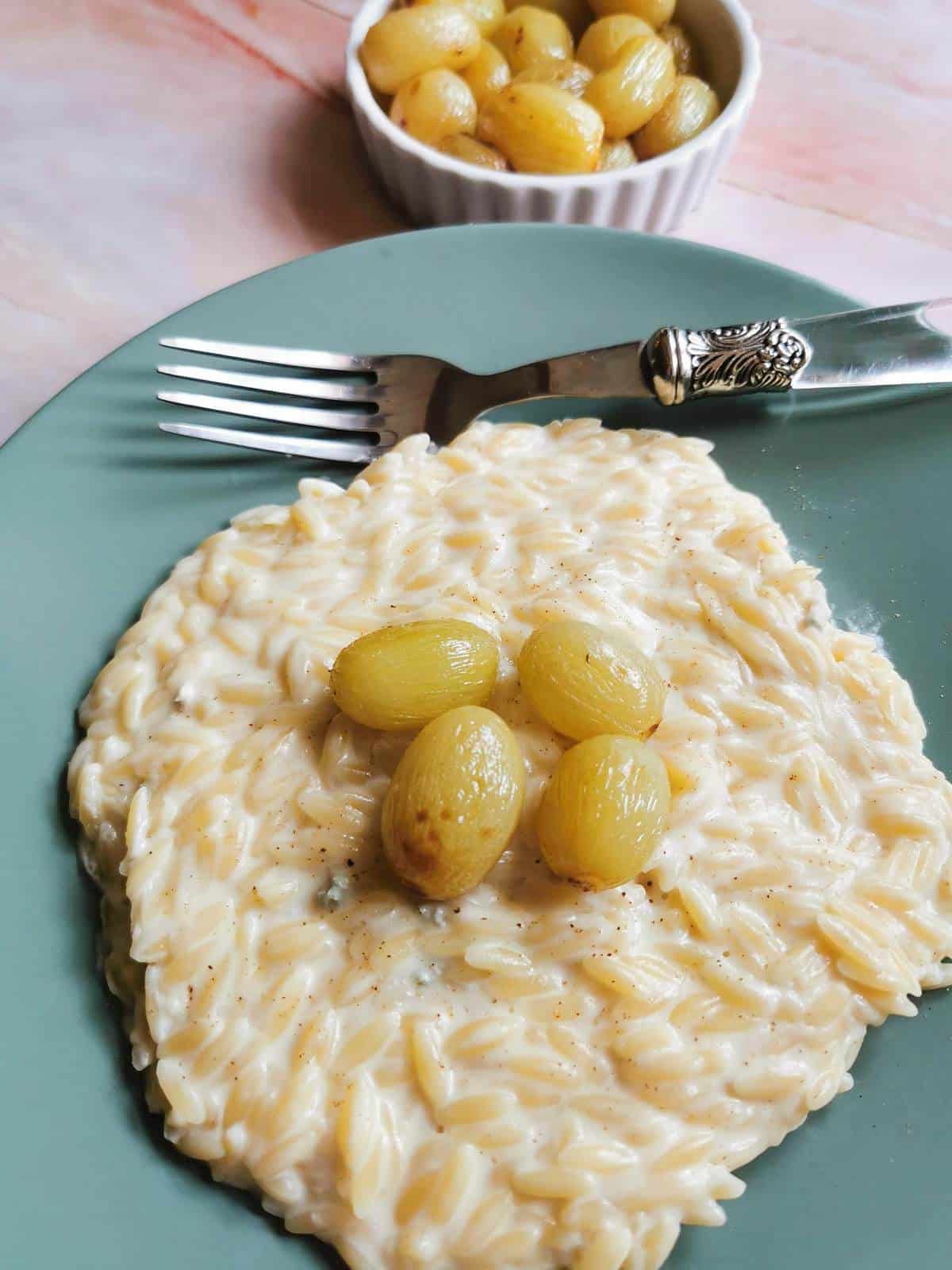 How to cook orzo.
This risotto with orzo entails cooking the orzo risotto style. However, Italians also cook orzo in soups or broths as I mentioned above. In addition, they boil it like other dried pasta and use it in pasta salads and sometimes in baked pasta recipes and with pesto.
There are also a number of other Italian risotto with orzo recipes. So far, I have published one other with pumpkin which makes a fabulous Thanksgiving starter or side dish.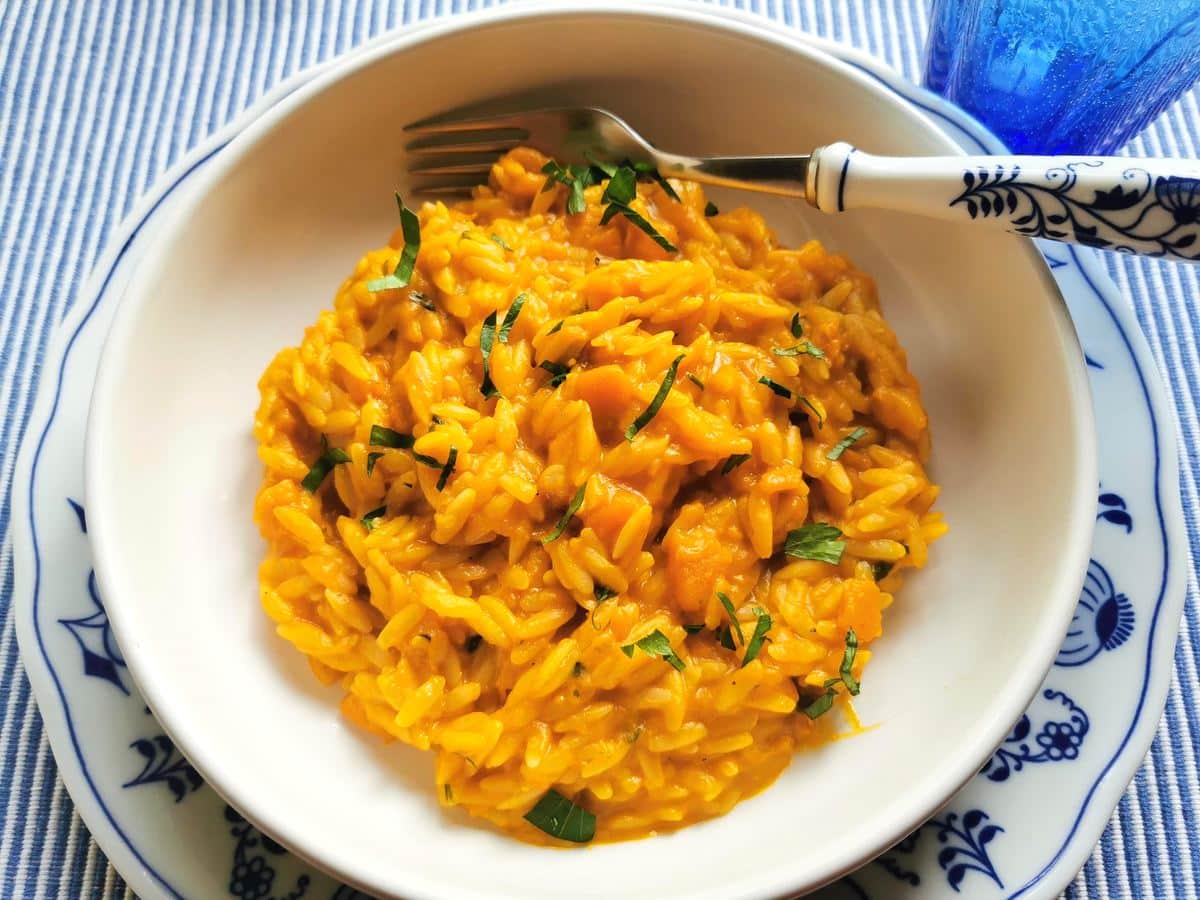 This recipe has both Gorgonzola and mascarpone.
Gorgonzola is actually a very old blue cheese that dates back to Roman times. Some say that it was made for the first time in 879 AD in the town of Gorgonzola, close to Milan in Northern Italy. According to others, Gorgonzola was first made in Pasturo, a town located in the Valsassina in Lombardy.
Gorgonzola is one of Italy's' favorite cheeses and one of its most popular exports. The production of this cheese is now very controlled to ensure that it conforms to certain standards of production.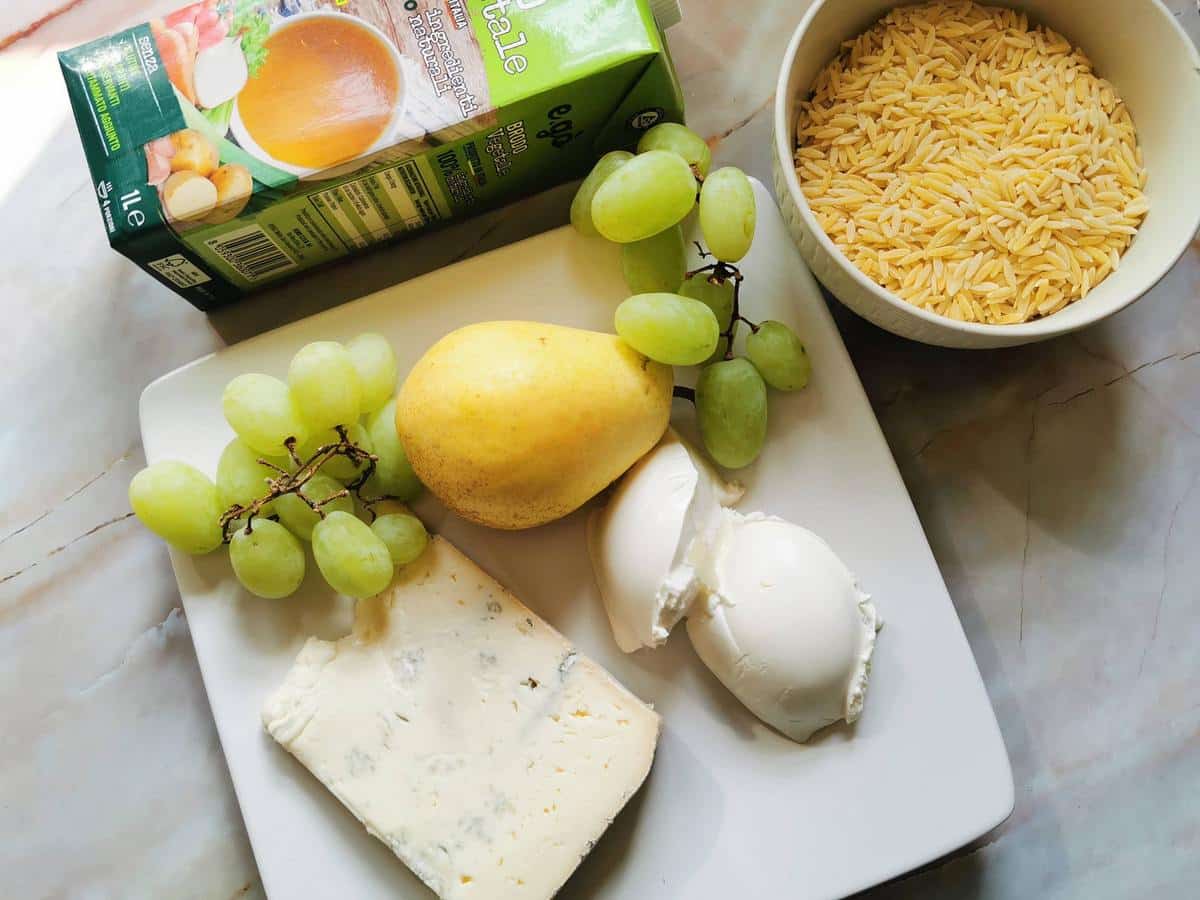 It has Protected Designation of Origin (DOP) status in the EU and is a DOC cheese in Italy. Gorgonzola DOP is made only with milk from cows in Piedmont and Lombardy.
There are two main types of Gorgonzola - 'Dolce' and 'Piccante'. You can use either for this recipe. However, 'Dolce' is creamier and milder, whereas 'Piccante' has a firmer texture with a stronger sharper flavor. To be honest, I prefer Gorgonzola dolce for this orzo risotto recipe.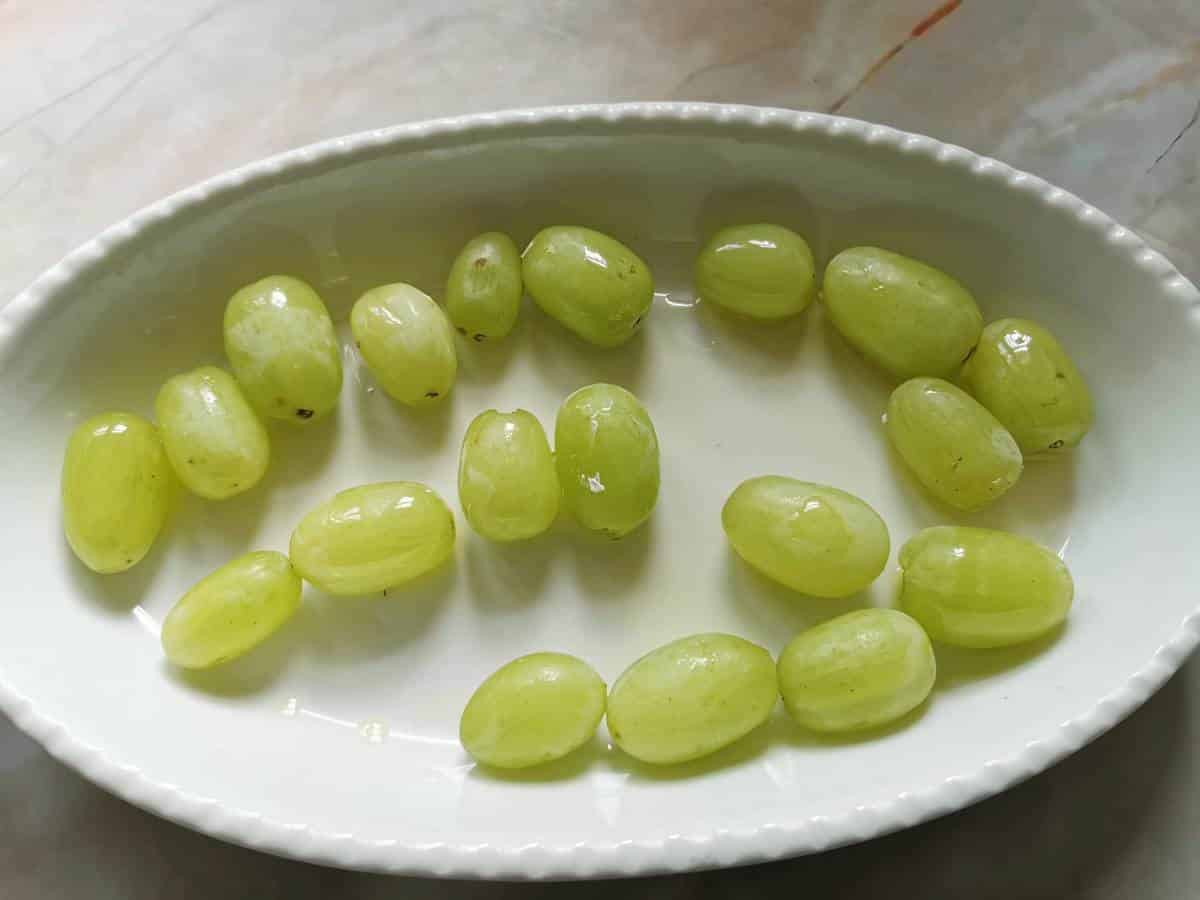 The other cheese in this recipe is mascarpone. This acid-set cream cheese is a popular Italian product well -known as an ingredient of tiramisu. However, mascarpone is an ingredient in many savory recipes as well.
This soft, slightly sweet cheese originated in Lombardy in the late 16th, early 17th century. It is often paired with gorgonzola. In fact, here in Italy, we can buy blocks of mascarpone and Gorgonzola layered together that are out of this world delicious!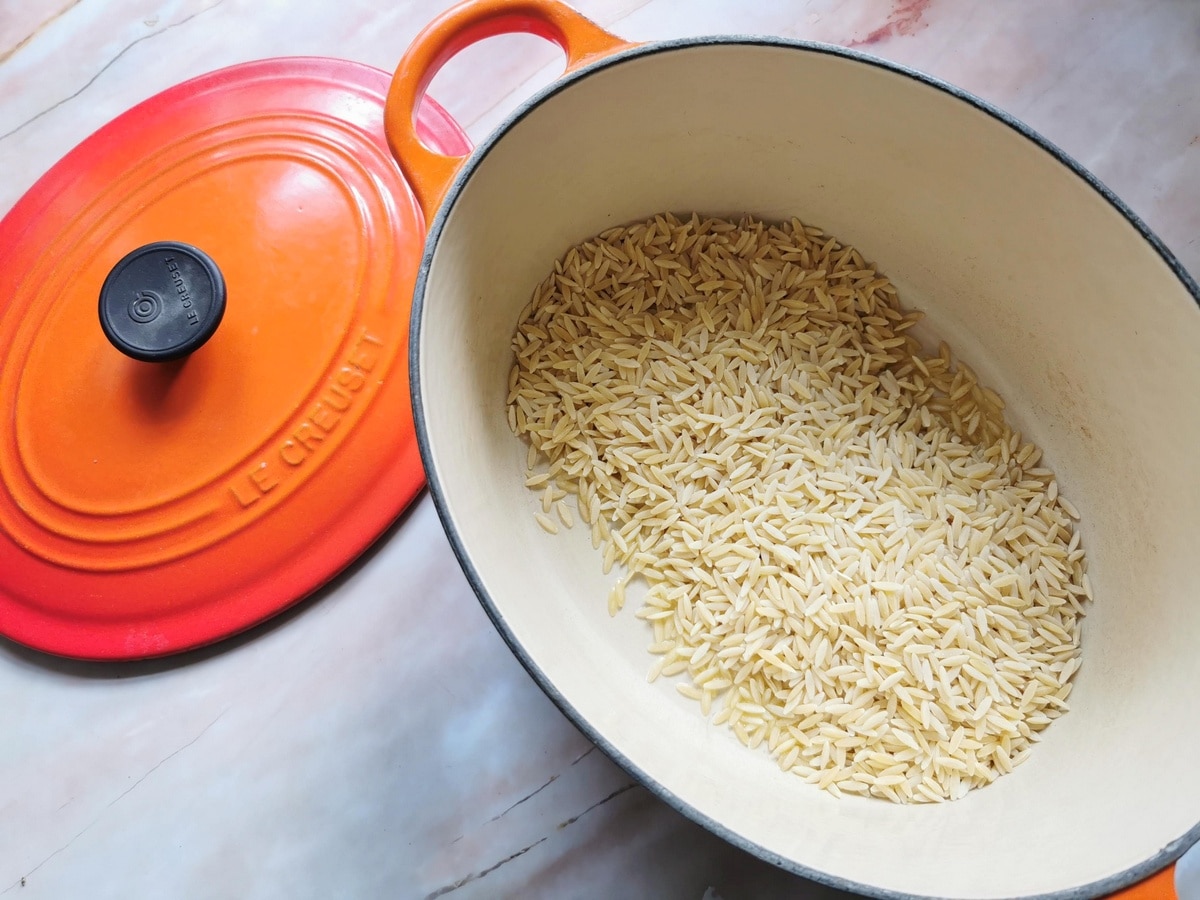 Other ingredients in this orzo risotto.
Apart from the orzo pasta and cheese, this recipe includes just some vegetable broth and salt and pepper. However, I topped my orzo with Gorgonzola with some fresh pear and roasted grapes. The former is a traditional addition to Gorgonzola risotto or pasta recipes. The latter was my own invention!
Ingredients and substitutions.
Gorgonzola is not a vegetarian cheese because it is made with animal rennet. To make this recipe vegetarian, you can replace it with Italian Dolce latte which is usually vegetarian or Stilton or Oxford Blue. But, it's best to check the label of the cheese you buy to be sure it doesn't have animal rennet.
Mascarpone is the best creamy cheese for this recipe. However, you can substitute it with cream cheese (+ some heavy cream) crème fraiche, sour cream or even ricotta. Mascarpone is vegetarian. Italians make it by heating heavy cream and then adding an acid like tartaric acid (cream of tartar), citric acid, or lemon juice to solidify and thicken the cream.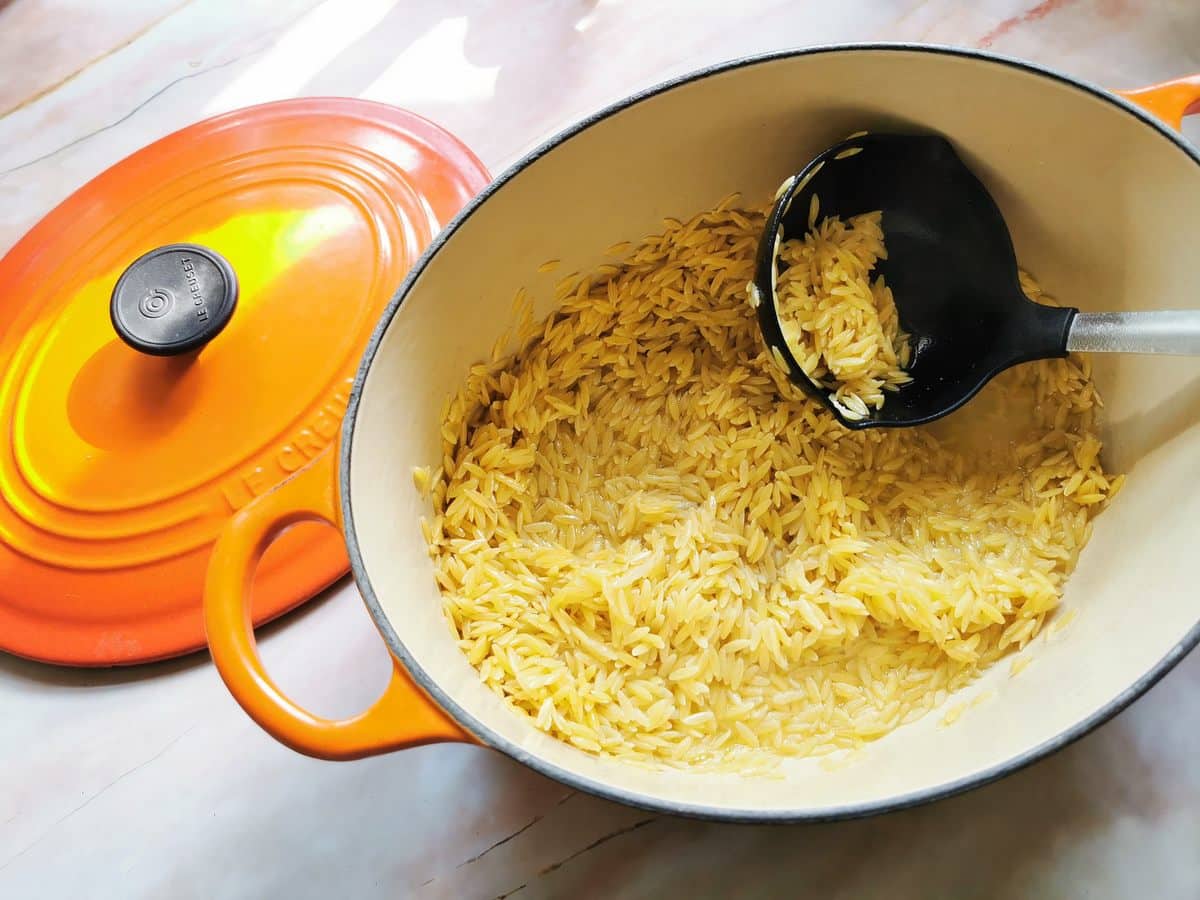 Orzo/risoni: There are other types of small pastina that you can use in this recipe instead of orzo. These include stelline (stars) and acini di pepe (pepper corns). However, the similarity of orzo to rice makes it the best pasta to get the right look and consistency.
Vegetable broth: I used a ready-made organic vegetable broth. You can also make your own broth or use vegetable stock cubes diluted in water.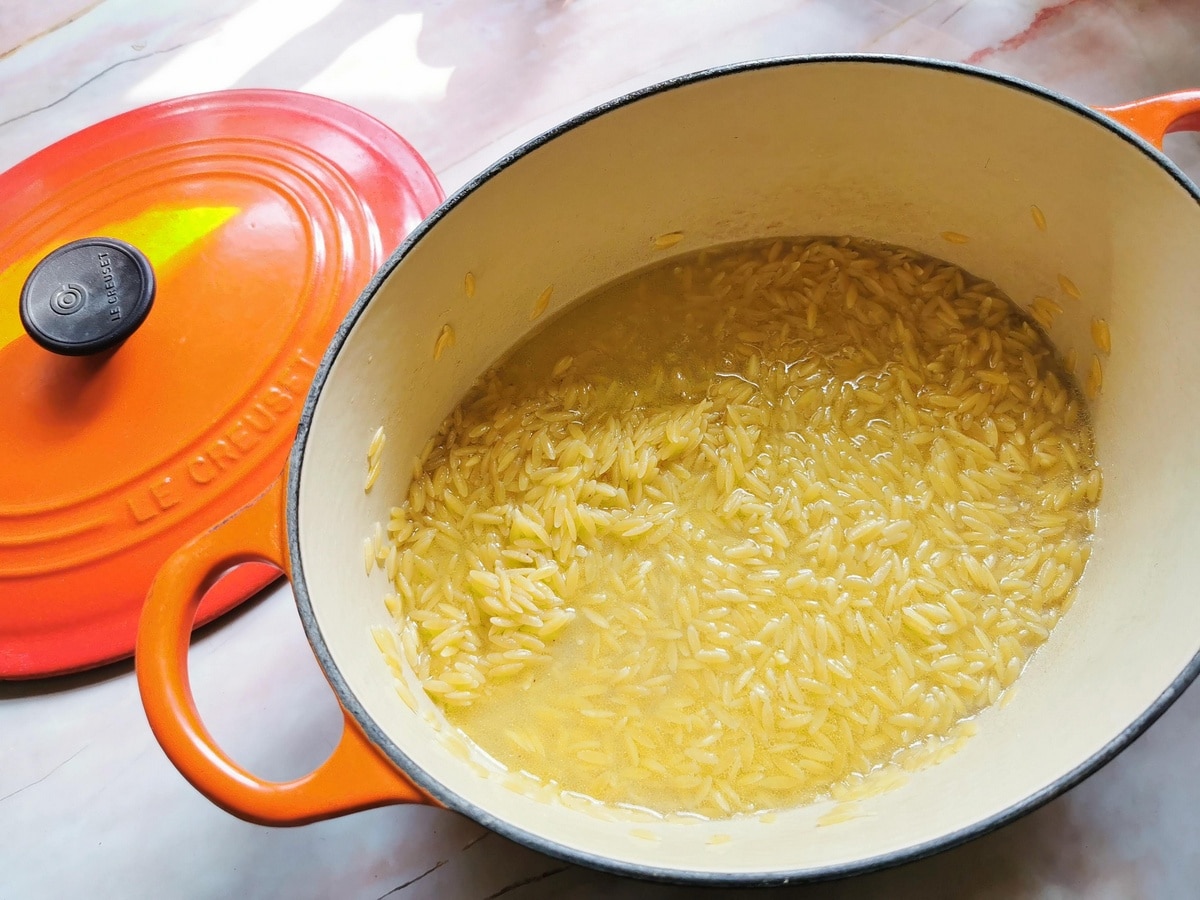 Toppings: I topped my orzo risotto with fresh pears and roasted grapes. Figs and walnuts are also often paired with Gorgonzola pasta, risotto and gnocchi dishes.
Alternatively, you can serve this dish just with some grated Parmigiano cheese or a vegetarian hard cheese as Italian Parmigiano Reggiano has animal rennet in it like traditional Gorgonzola.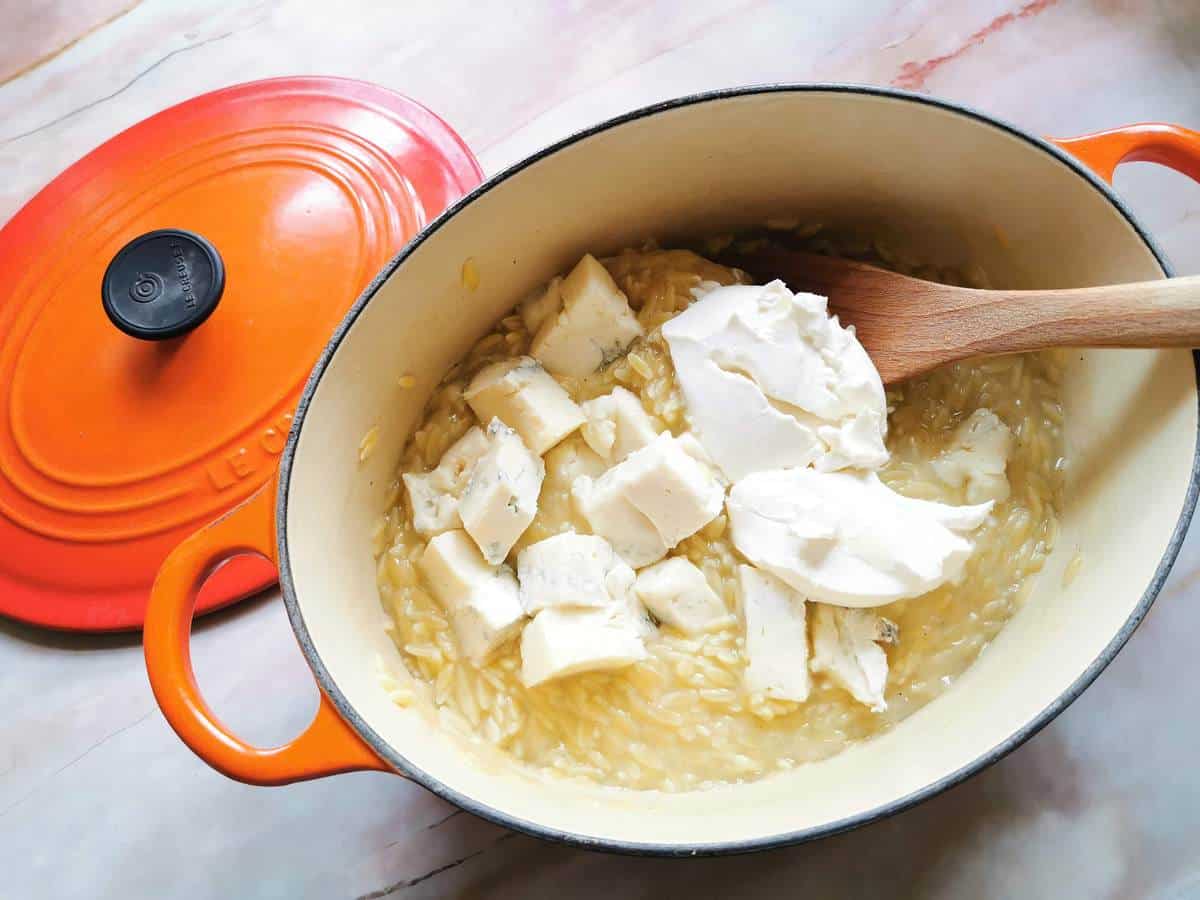 How to make this orzo risotto recipe.
This recipe is very easy to make and requires just a few ingredients. The first step is to slightly toast the orzo/risoni in olive oil in a heavy pot. I used my Dutch oven.
Once the orzo is very slightly toasted (don't let it turn brown) you can start to add some hot vegetable broth a ladle at a time whilst constantly stirring the pasta gently. Just like making risotto.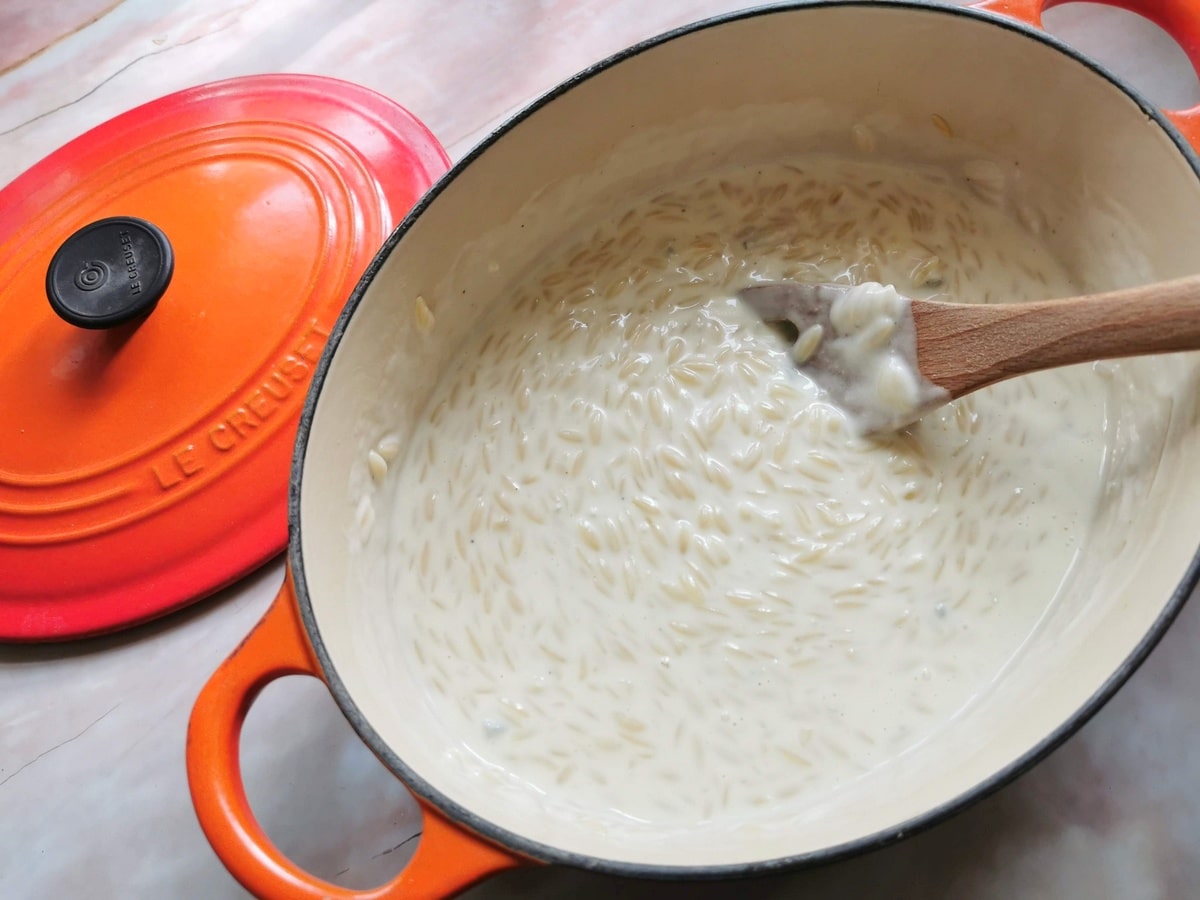 Continue to add broth and keep stirring the orzo until the pasta is almost cooked. Then add the gorgonzola and mascarpone. Stir the cheese into the pasta risotto until it's all melted. Add salt and pepper to taste and serve immediately with preferred topping.
If making roasted grapes as I did, these need to be cooked in a preheated oven for about 20 minutes with some olive oil and a little salt. Roasting the grapes makes them sweeter!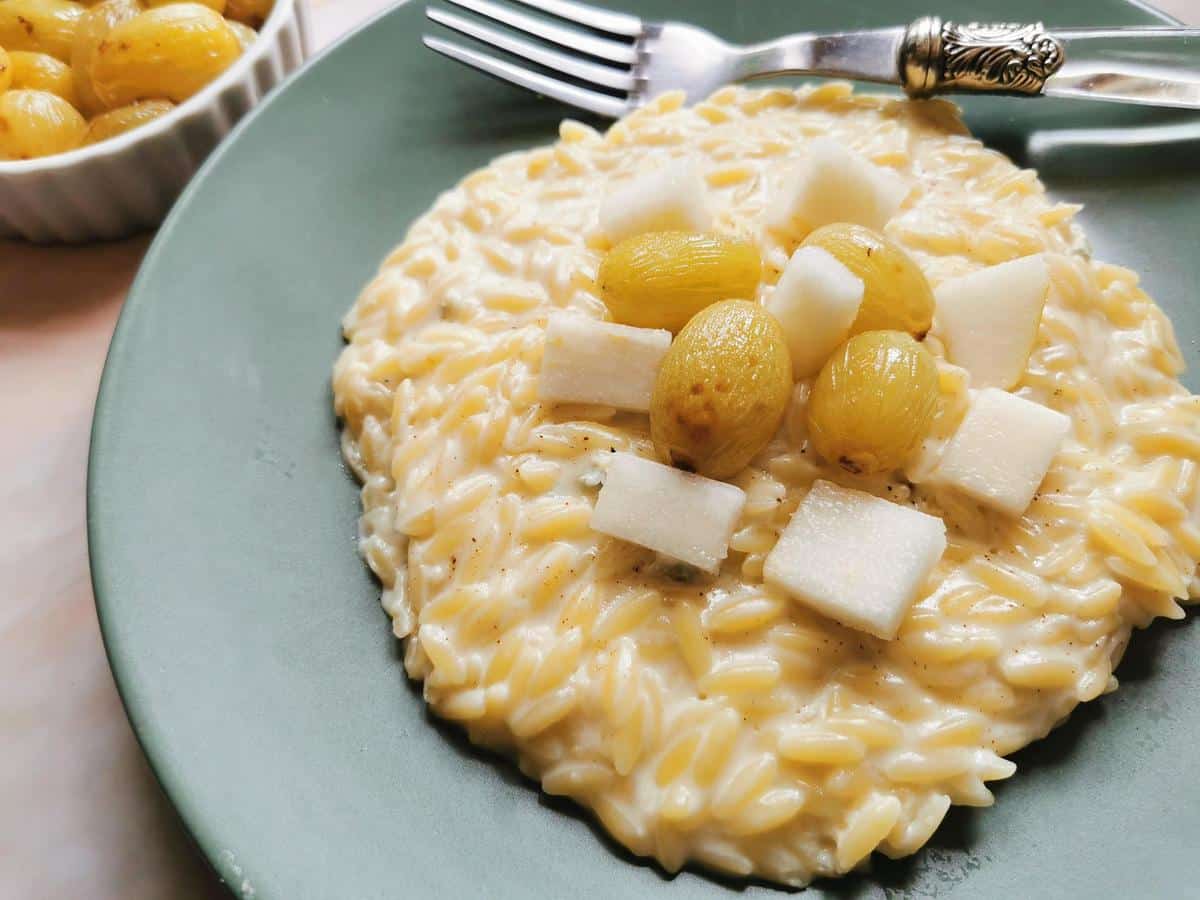 What to do with leftovers.
You can store leftovers in the fridge in a sealed container for 2-3 days. I don't recommend freezing this orzo risotto with Gorgonzola. However, after a short time, the pasta tends to absorb the sauce and leftovers will be much drier than when first served. So, the consistency changes a lot.
My favourite way to use leftover pasta risotto is to bake it with a sprinkling of hard cheese on top.
FAQ
Can I make this recipe with risotto rice instead of orzo?
Yes, you can but it will take longer to make, and you may need more broth.
Can I make this recipe with other types of pasta?
Yes, you can use other types of small pasta in this recipe. Very small pasta will make a similar dish but bigger pasta types will change the look and consistency.
When I first made this orzo with Gorgonzola risotto style, I was blown away by how good this dish is, and how easy to make. The following week, I made it for house guests, and they were so impressed too. I'm sure once you try this recipe, you, your family and your guests will love it too!
If you do try this orzo risotto recipe, I'd love to hear what you think. Please write a comment here on the blog or post a comment on the Pasta Project Facebook page.
Your feedback means a lot to me!
Buon Appetito!
Other pasta with Gorgonzola recipes to try!
Pin for later.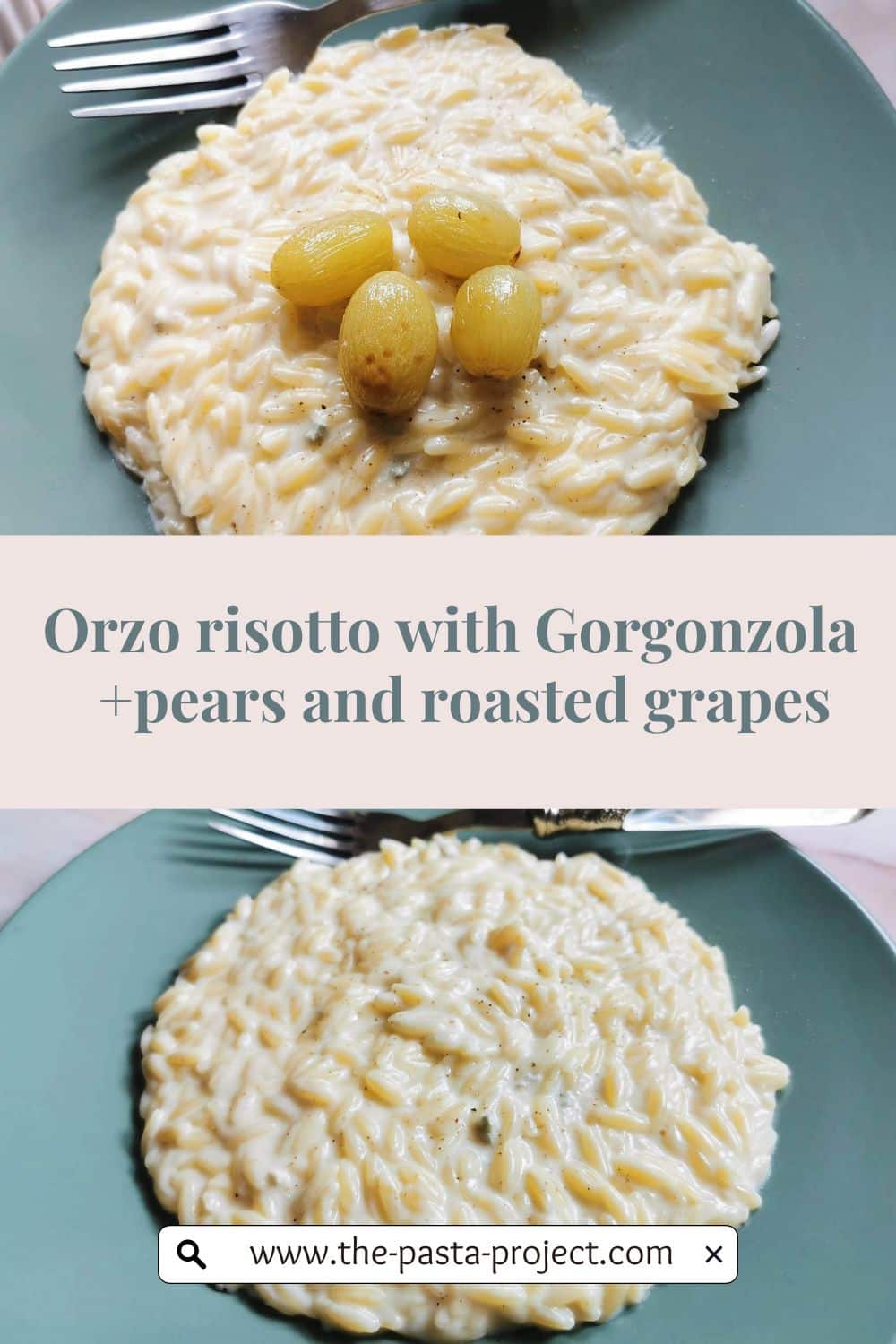 Glossary for some Italian terms in this recipe post.
Risotto is a traditional Italian rice dish made with a starchy Italian short grain rice. Most Italian risotto rice is grown in Lombardy, Piemonte and Veneto. There are different types of risotto rice. Arborio is the most popular outside of Italy. But, Italians consider Vialone Nano and Carnaroli to be the best.
Risottata refers to a cooking method mostly used with pasta in which the pasta is cooked the same way as rice in risotto.
Pastina is a general term for different types of small pasta traditionally used in soups and broths. You can read more about Italian pastina in my 'what is pastina?' post. Orzo/risoni is a type of pastina that looks like grains of rice.
Check out my shop.
If you are interested in learning how to make other homemade pasta and different types of gnocchi, check out my shop page for some great video online courses from my friends in Rome!
Nothing beats learning to make pasta from Italians! Plus, while you're there, why not order a copy of one of my pasta recipe cookbooks or check out some recommended pasta-making tools?