10 Italian Sausage Pasta Recipes from different parts of Italy.
These 10 Italian sausage pasta recipes are just a taste of the many delicious ways Italians combine sausage meat with pasta. If you have never tried making sausage pasta, you should definitely give it a go. Most of these recipes are easy to make and budget friendly. They are also seriously delicious!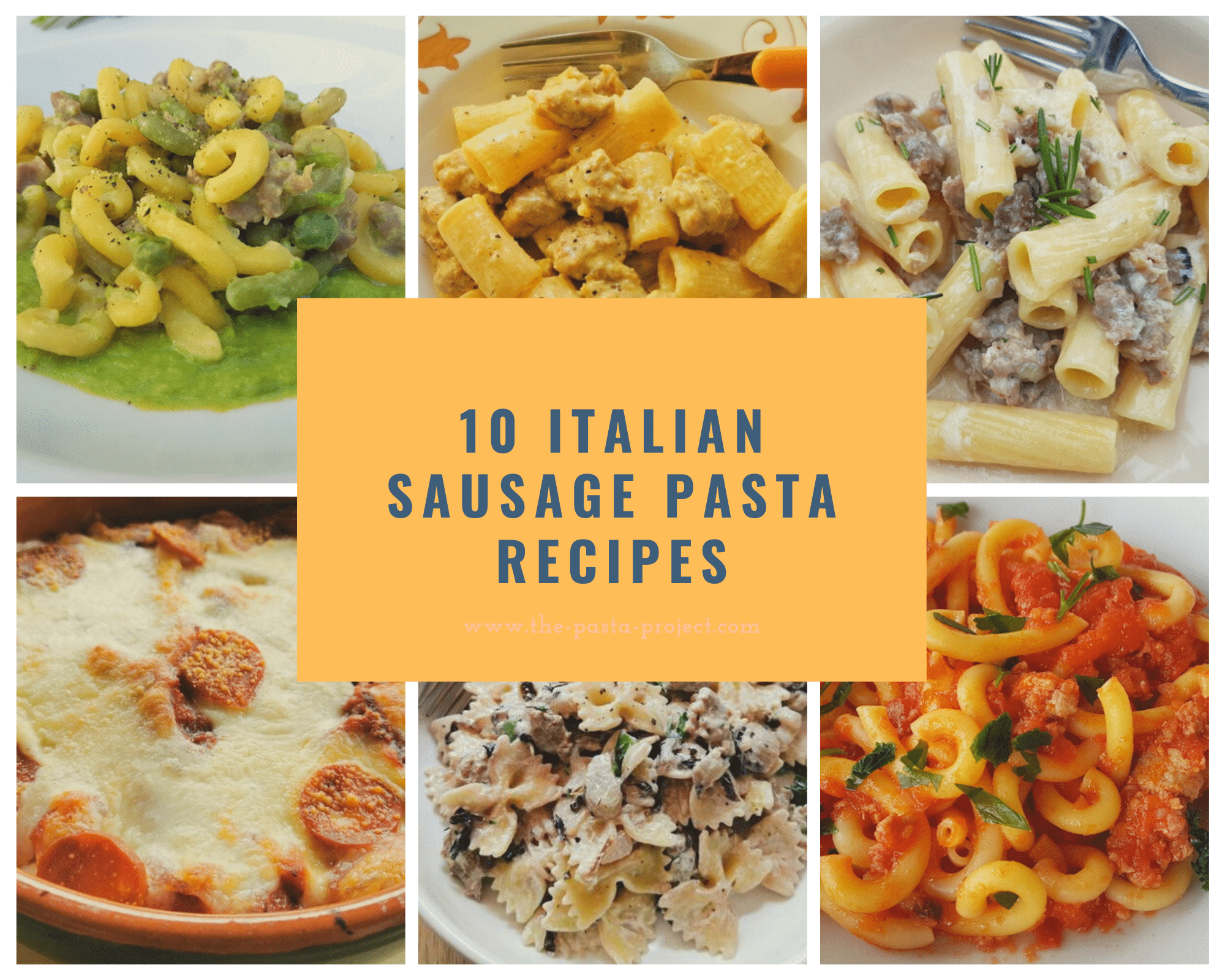 I must admit prior to starting the Pasta Project I hadn't made many Italian sausage pasta recipes. But, now, I love them and make them pretty often. Pasta with sausage meat has lots pluses. Firstly sausages add a flavour to sauces that is distinctly different to just using ground meat. Italian sausages are really delicious! Secondly, sausage meat doesn't require long cooking times. It cooks pretty quickly and is also budget friendly as sausages tend to be cheaper than good quality beef, pork, lamb or veal.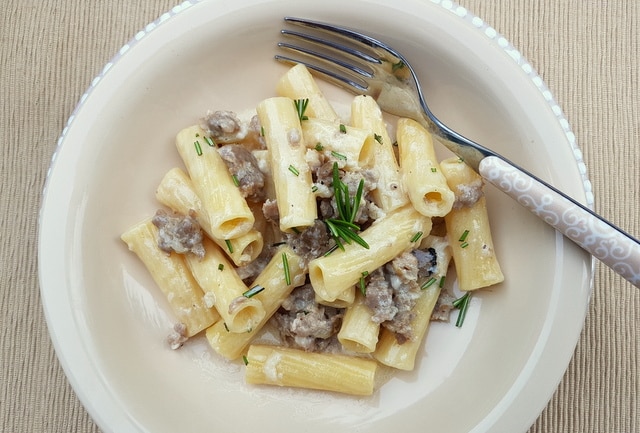 Sausages in Italy.
I would say that pork is the most popular meat throughout Italy. Italians make so many amazing products from pigs. Think salami, prosciutto, ham, lardo, pancetta, guanciale, capocollo (copa), speck, mortadella etc. In fact, the list is pretty endless! Plus practically every Italian region has traditional types of pork sausage. So, this means they also have their own traditional sausage pasta recipes.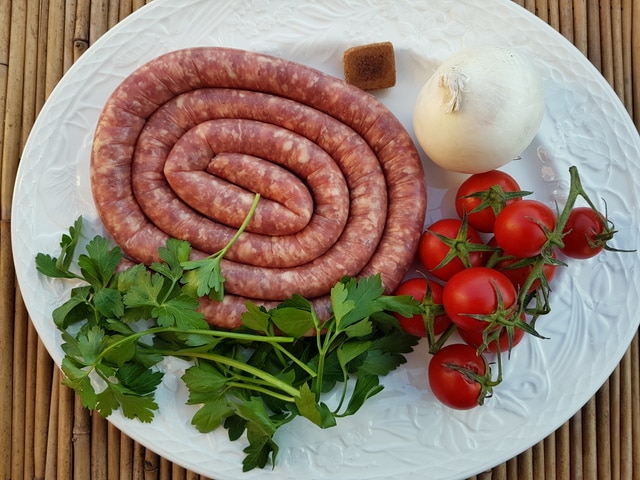 The most common type of pork sausage used in Italian sausage pasta recipes is 'salsiccia'. This usually refers to a simple fresh pork sausage made from a mixture of lean and fatty pork cuts, ground and mixed together with a little salt and wine, usually red. There are many types of salsiccia which also have spices or herbs such as rosemary, fennel seed, nutmeg, black pepper, chili pepper (peperoncino) etc. For most of these Italian pasta recipes the best is just a plain Italian salsiccia.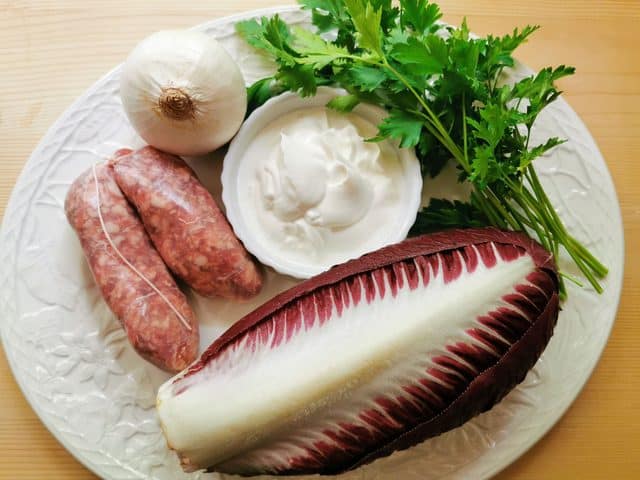 Even where the recipe calls for a particular type of sausage, you can always substitute with something similar. So, don't be discouraged from trying these Italian sausage pasta recipes. Even if you use another type of sausage, the results are sure to be delicious!
Click the recipe name to find out how to make the dish.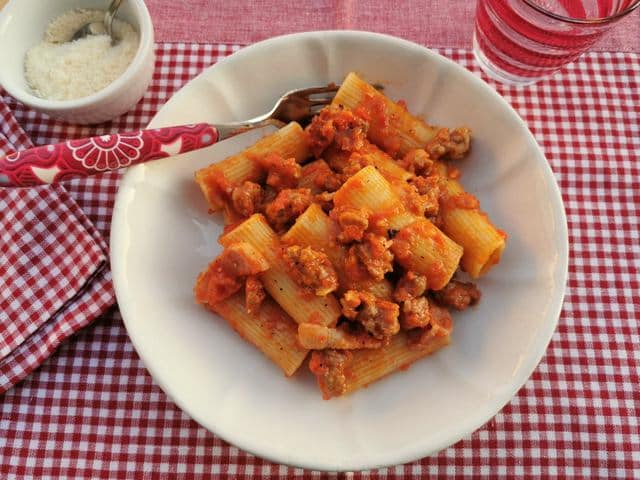 Sausage rigatoni alla Zozzona is a traditional pasta recipe from Rome that Romans make to use up leftovers of typical local ingredients. It's easy to put together and substantial enough to be a meal on its own. Like other pasta recipes from Lazio, rigatoni alla Zozzona is a filling and hearty recipe and made with frequently used typical ingredients. In this case, guanciale, tomatoes, eggs, Pecorino and sausage. In fact, many of Rome's favourite pasta recipes make use of the same ingredients.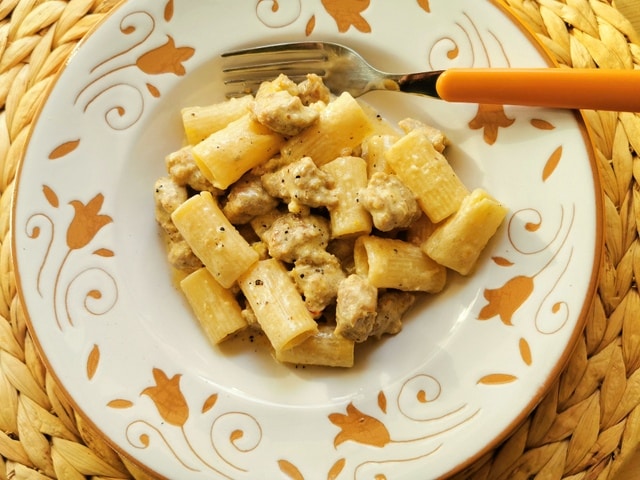 This creamy sausage and saffron pasta recipe from Lombardy is actually surprisingly simple to make and has just 4 main ingredients. It is simple enough for a great weeknight dish but rich and luxurious too!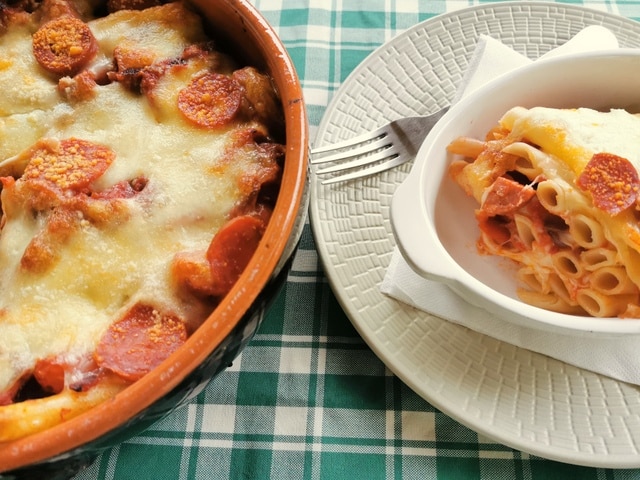 This baked ziti pasta with spicy sausage, sometimes also called 'ziti alla diavola' (devilled), is a great Neapolitan baked pasta dish. Pasta prepared in this way is really flavourful and this recipe is simple and fast to make. This is a delicious Southern Italian baked pasta recipe that's perfect for those who like spicy food.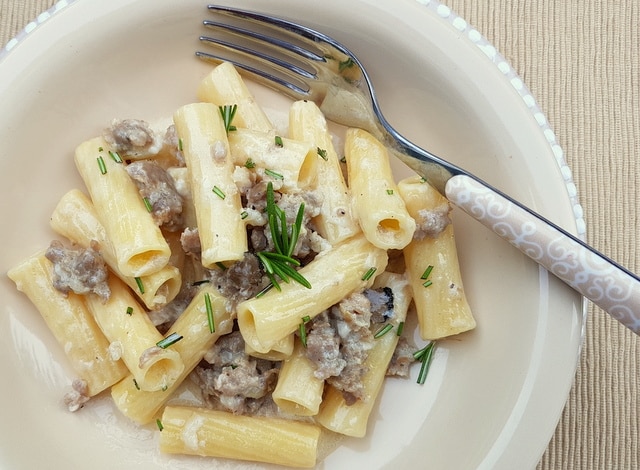 Pasta alla Norcina is a typical recipe from Umbria; specifically the ancient town of Norcia, famous for its sausages and cured meats. There are actually two versions of pasta alla norcina. This one is made with Norcia sausage crumbled into a pan with oil and onion, fresh cream, truffle and pecorino. This is a very simple recipe with few ingredients but so flavourful and creamy you'll want to make it part of your regular pasta menu (great without truffles too!)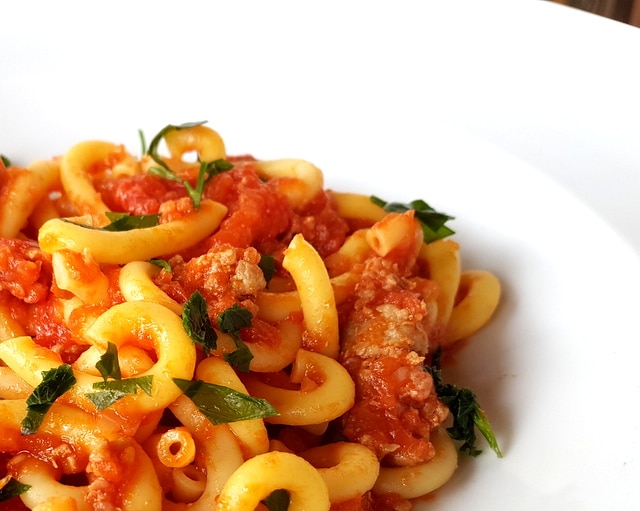 Despite not being as well-known as other classic pasta dishes from Bologna, gramigna with sausage is a common and popular menu item in Bologna's homes, restaurants and trattorias. The simplest and most traditional version of this sauce only has three ingredients: sausage, tomatoes, and onion.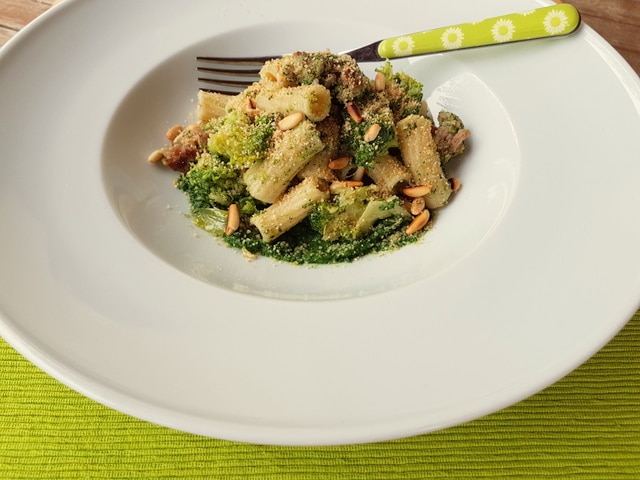 My Sicilian hubby introduced me to pasta with broccoli and it really was love at first bite! Since then, I have eaten different versions of this typical Southern Italian dish. All delicious, but this Sicilian broccoli pasta with sausage and chard is definitely one of my favourites! It's super tasty and healthy too, especially if you make it with organic ancient grain pasta from Sicily, as I did!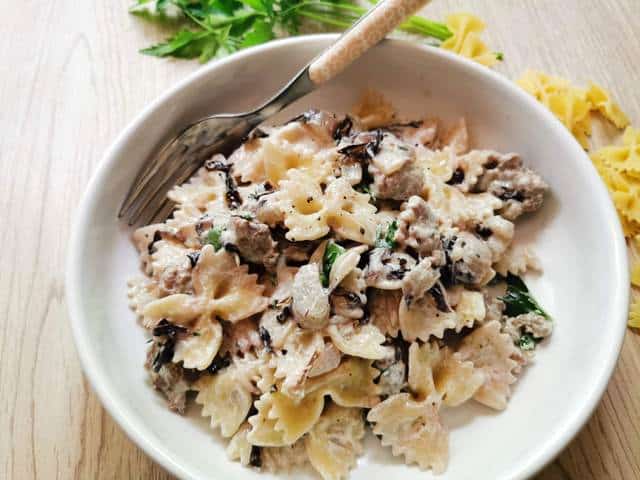 Sausage and radicchio (Italian chicory) is a popular combination for both pasta and risotto recipes, particularly here in Northern Italy, where most of the country's radicchio is grown. This sausage and radicchio pasta recipe has only 3 main ingredients and is super simple to make. It's also very tasty and full of authentic Italian flavour!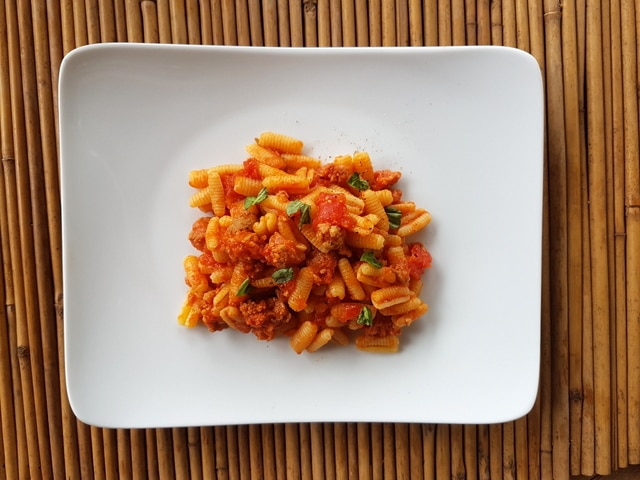 This malloreddus with sausage, tomatoes and saffron alla campidanese recipe is probably the most well-known way to serve these Sardinian gnocchi. It's made with delicious pork sausage seasoned with fennel, saffron and fresh tomatoes . If you can't find sausages with fennel you can also add crushed fennel seeds to the sauce to give it a similar flavour.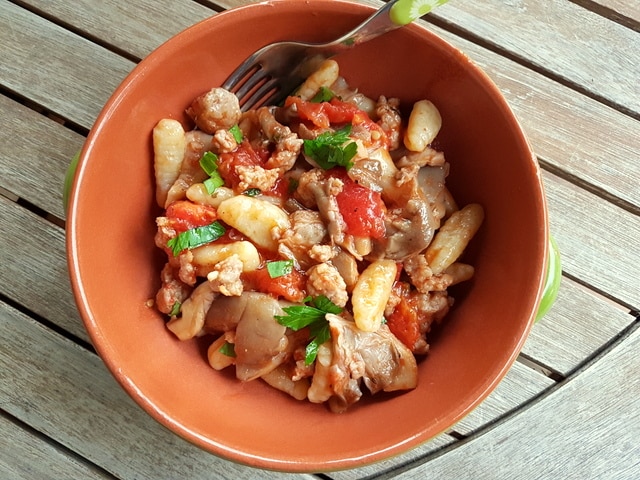 This yummy homemade cavatelli pasta with oyster mushrooms and sausage is a traditional dish from Puglia in Southern Italy. There, they use cardoncelli aka king oyster mushrooms, but you can use other types of mushrooms too.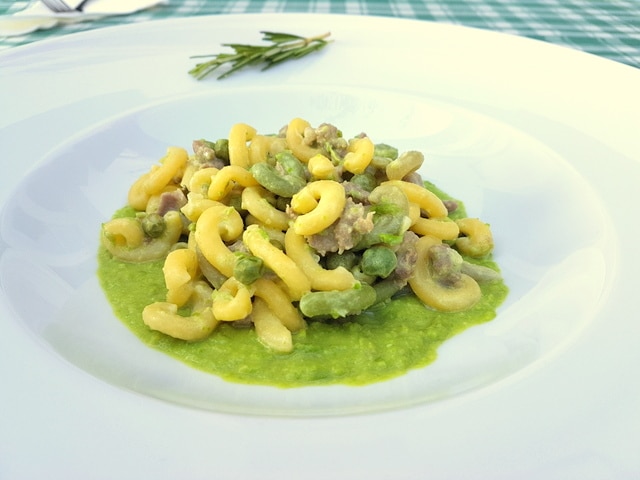 There are many tasty pasta with sausage recipes here in Italy. But, this gramigna with sausage, peas and cream definitely ranks among my favourites. It's perfect for both family meals and entertaining.
More recipe collections:
Don't forget to pin for later.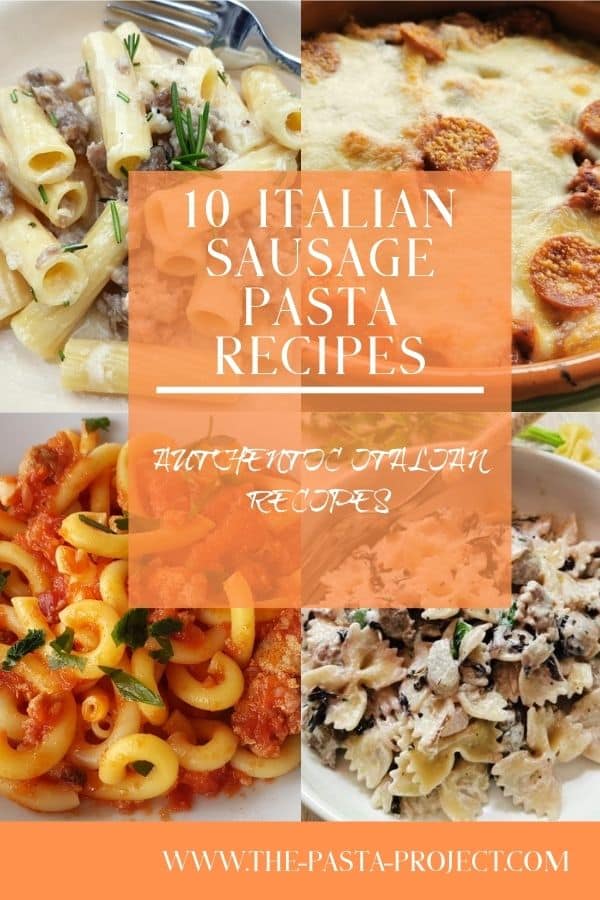 If you make any of these Italian sausage pasta recipes, I'd love to hear how they turns out and if you liked them. Please leave a comment here on the blog or on The Pasta Project Facebook page.
Looking forward to hearing from you!
Buon appetito!