Every Italian region has a unique kitchen with recipes, types of pasta and even ingredients that aren't found or used in the same way elsewhere. And, there is much that is unique about the food in Liguria. This mountainous coastal region is where basil pesto comes from and Ligurians use it a lot; in soup, on focaccia and in pasta, as you'll notice in these 12 pasta recipes from Liguria.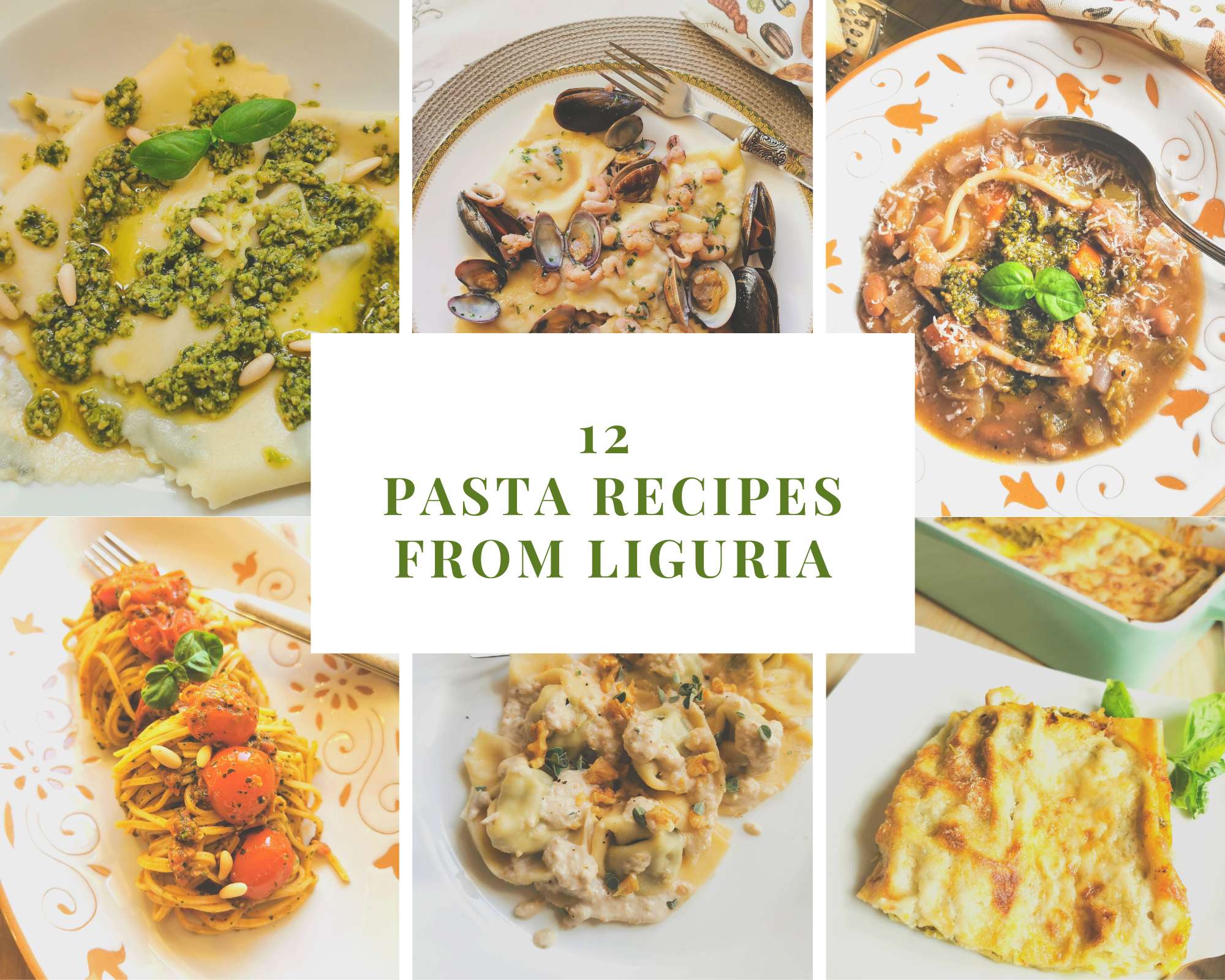 Said by many to be the best example of the Mediterranean diet, the typical Ligurian larder is stocked with local olives and olive oil, pine nuts, salt preserved anchovies, fresh and pickled vegetables, legumes, dried mushrooms and herbs. An abundant use of cultivated and foraged herbs is what particularly sets Ligurian cuisine apart from other Italian regions.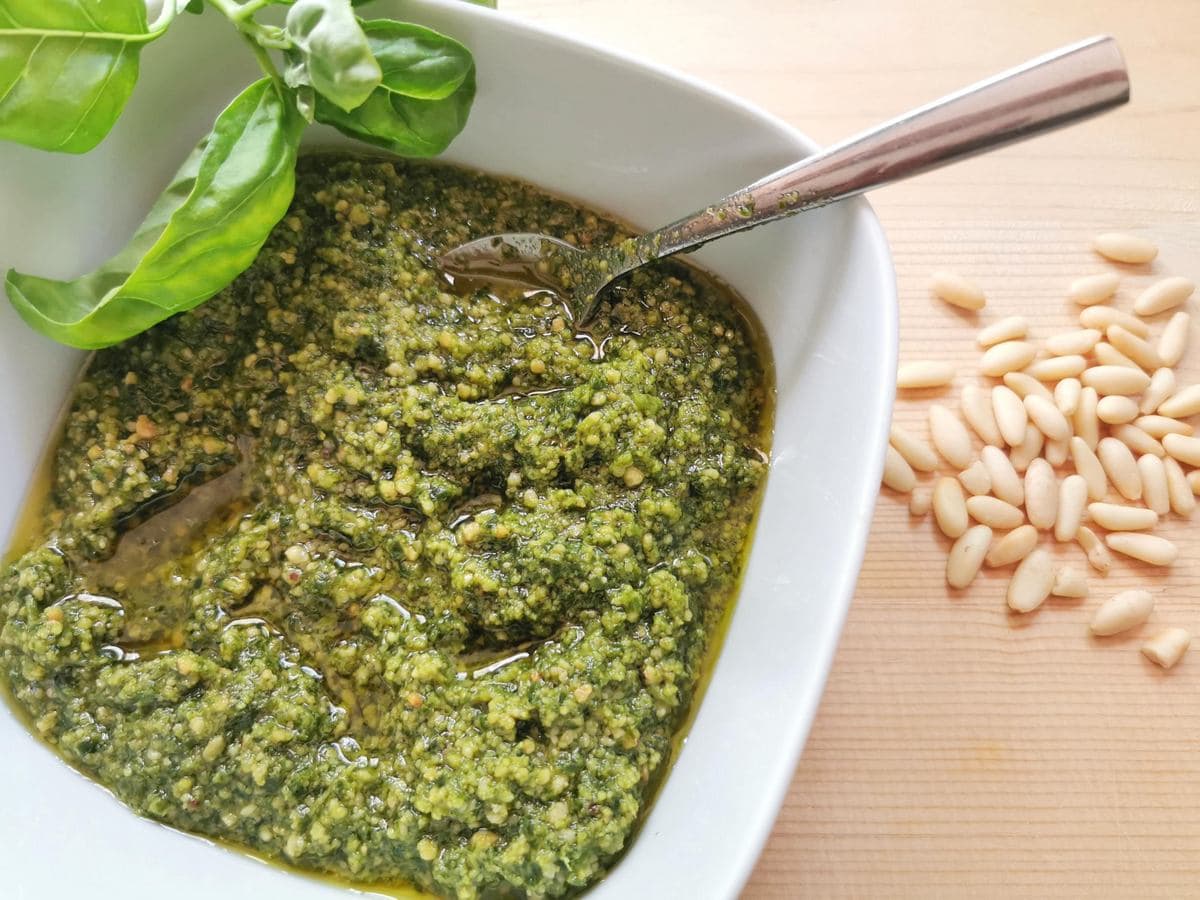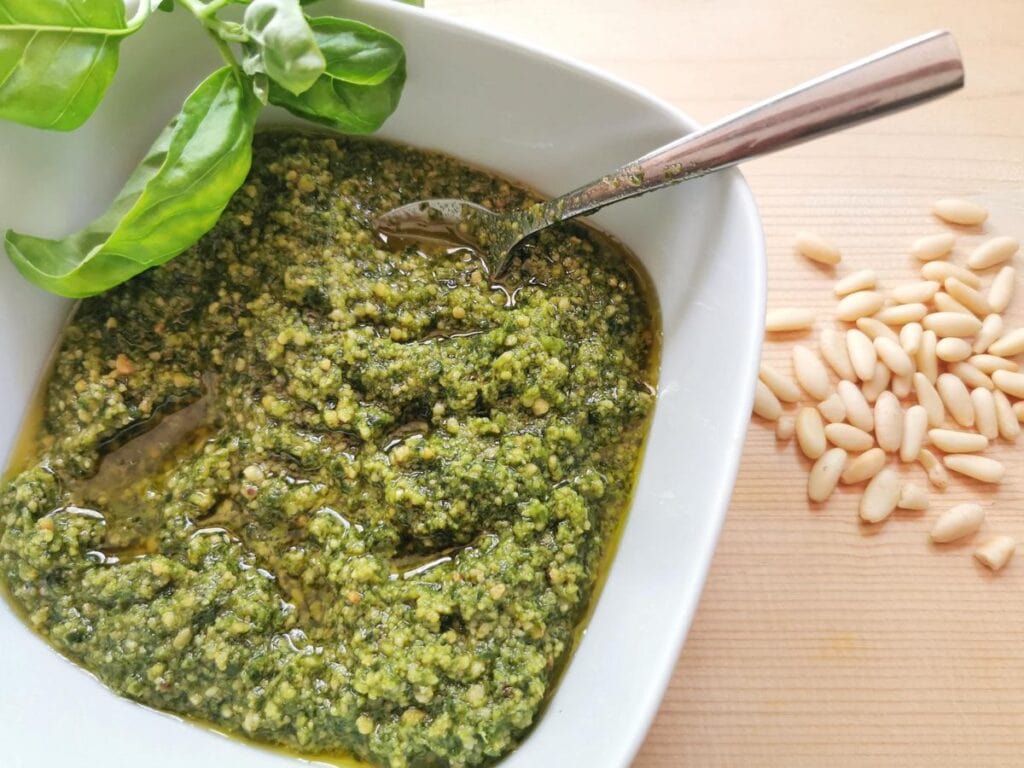 In fact, the traditional Ligurian diet is rich in vegetarian and meatless dishes. Because of a limited amount of grazing land, meat used to be a rarity for the average person and fish was mostly enjoyed only by those living on the coast.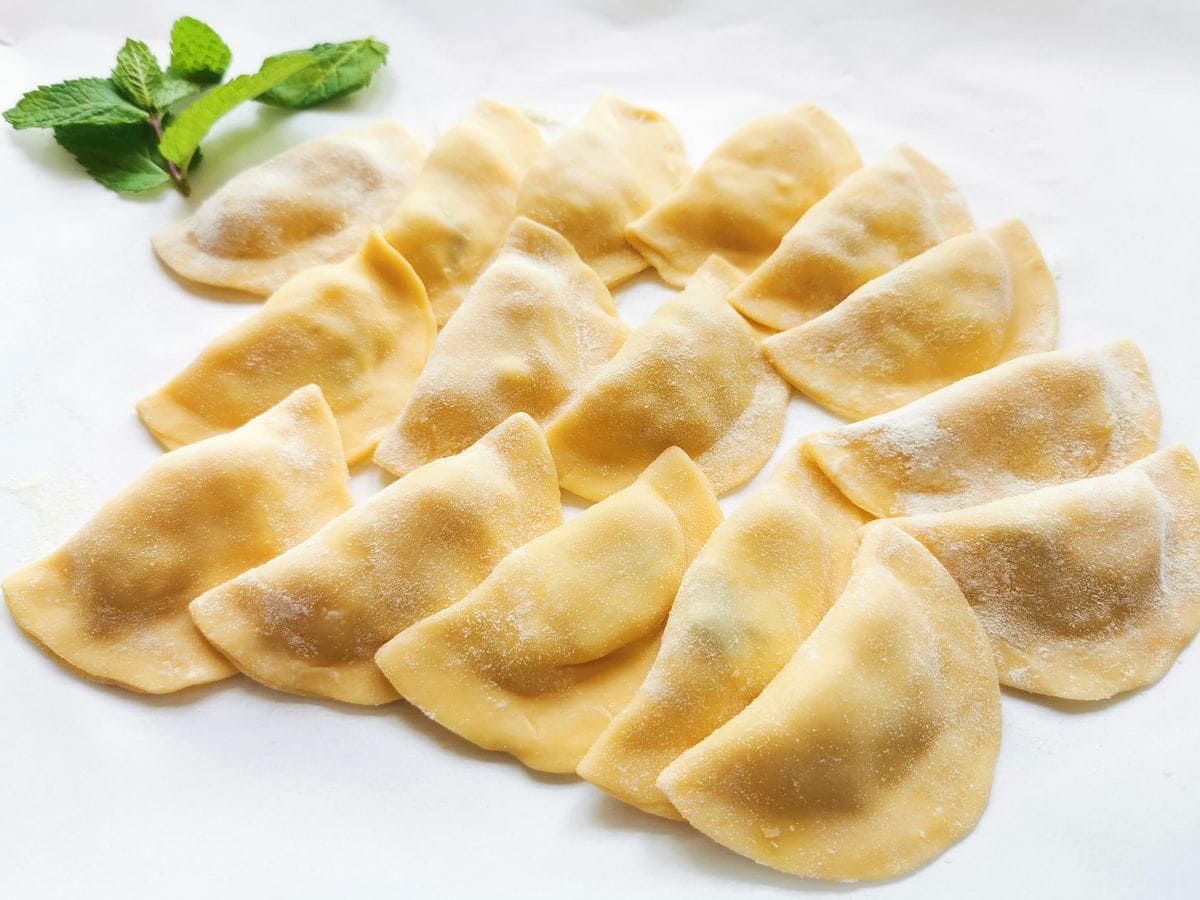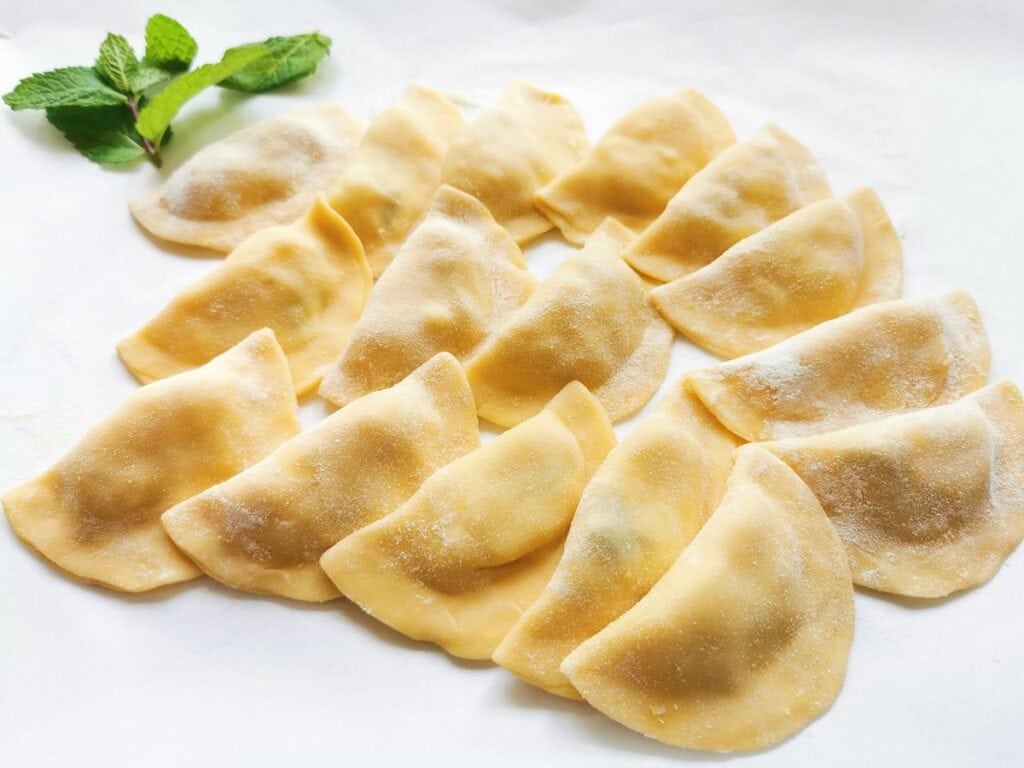 Pasta in Liguria.
When it comes to pasta, Liguria is said to have given the world ravioli! So, as you can imagine there are many ravioli recipes. There are also a number of other unique pasta types that come from this region. The most well-known being corzetti (stamped pasta medallions) trofie and trenette. Corzetti and trofie feature predominantly in this collection of 12 Ligurian pasta recipes. Of course, you can make some recipes with other types of pasta!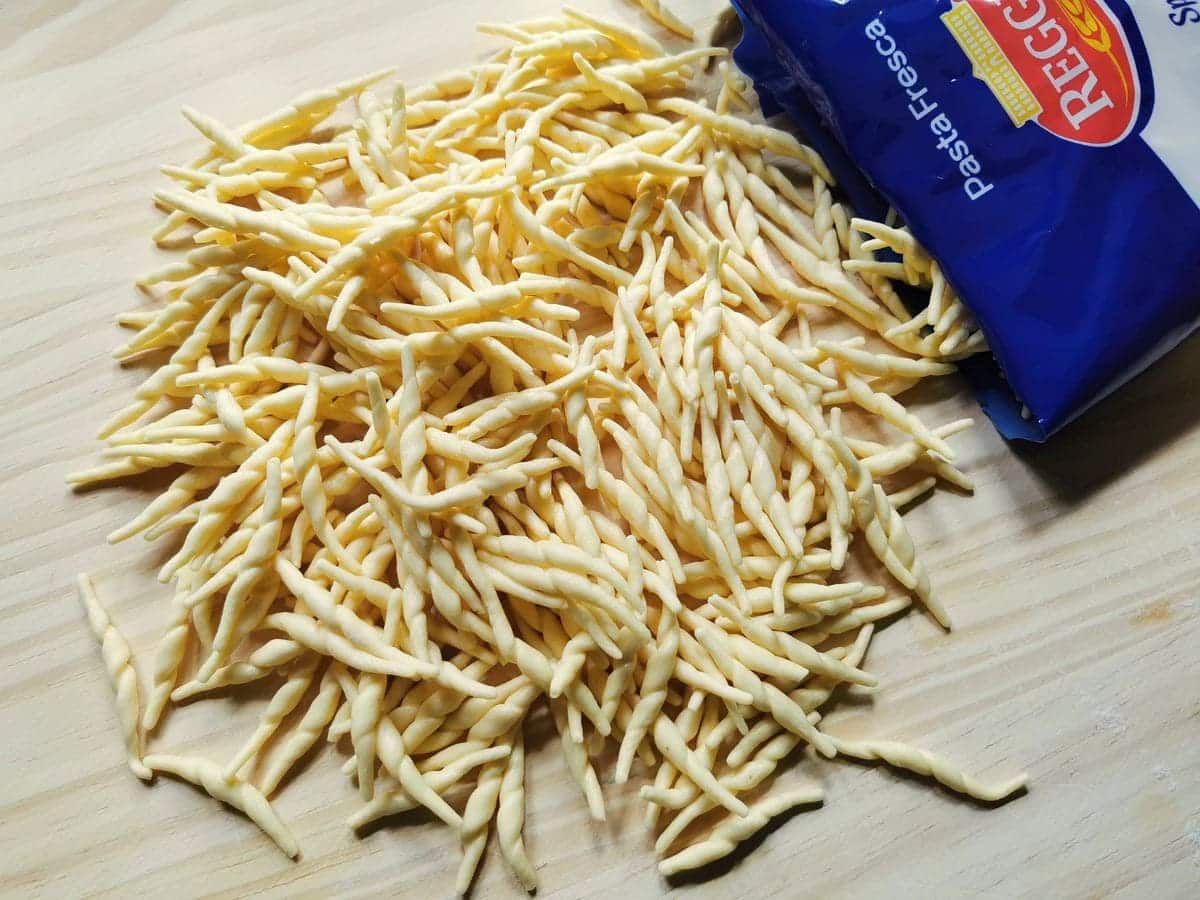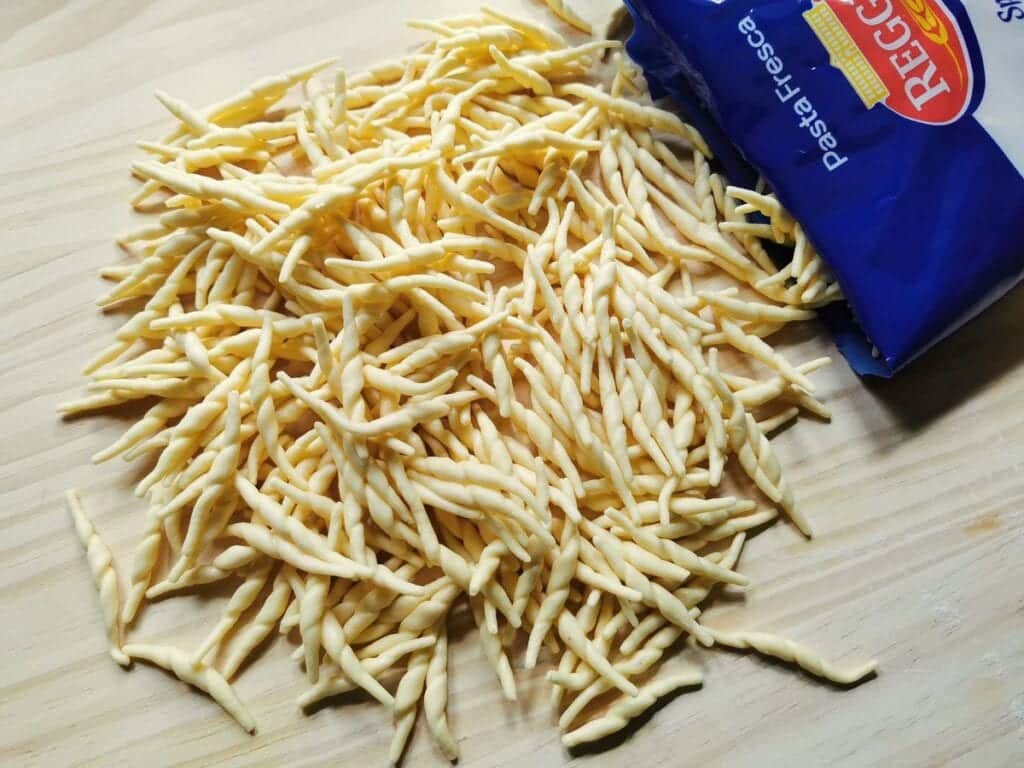 Click the recipe name to go to the post.
Homemade pasta recipes from Liguria.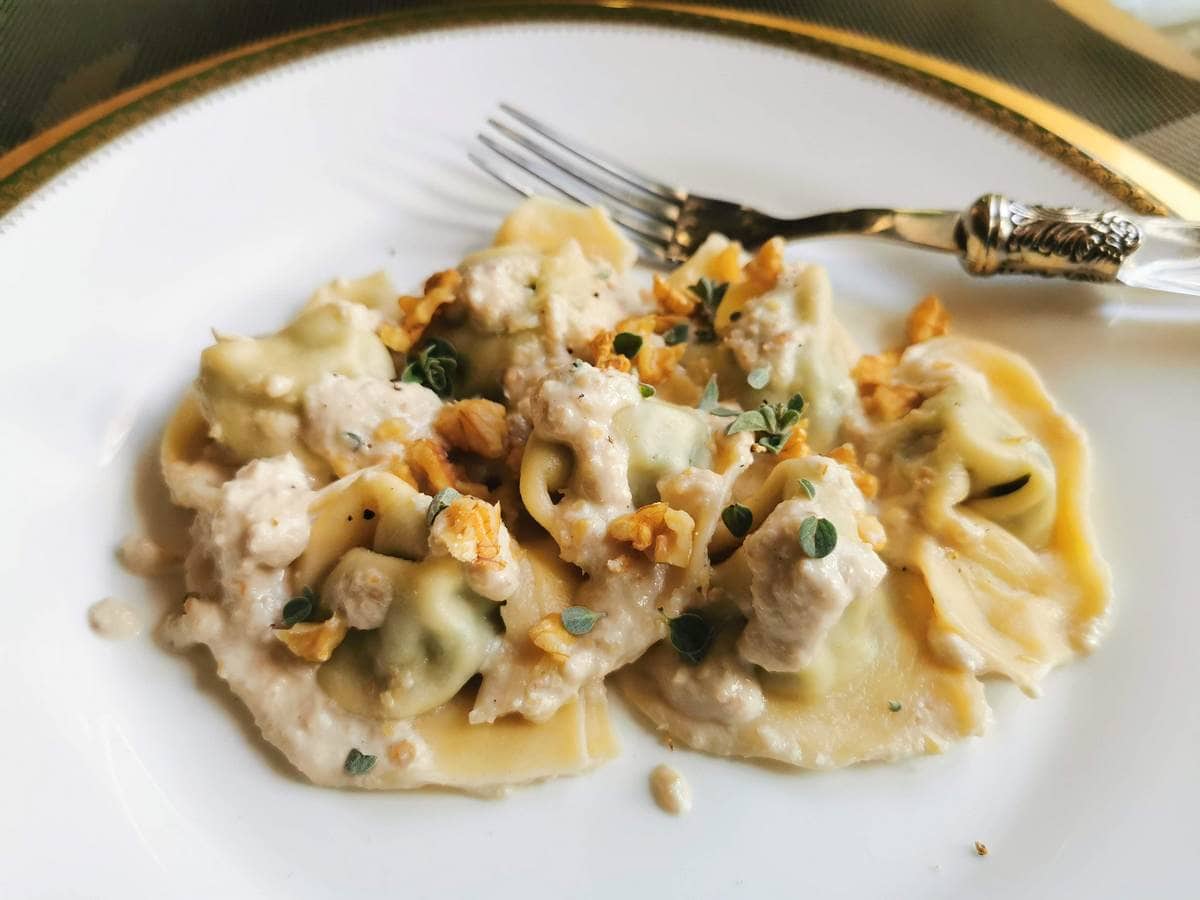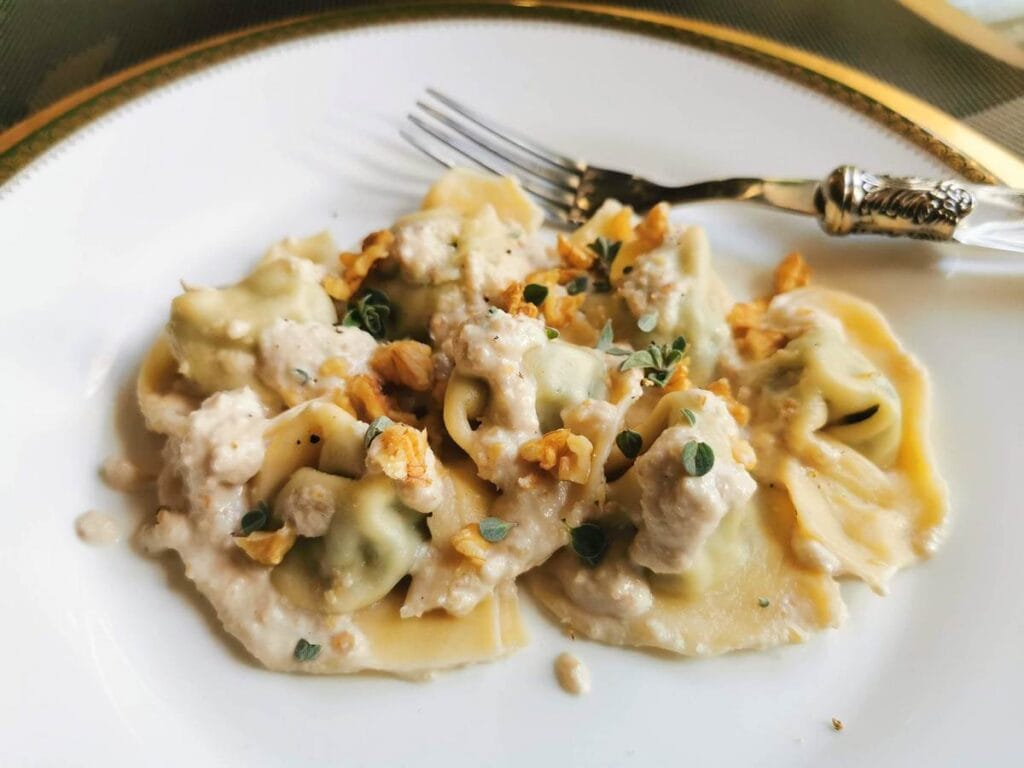 Pansotti is a stuffed ravioli-like pasta filled with ricotta and a variety of herbs and greens. A delicious easy to make vegetarian pasta normally served with walnut sauce. This dish is popular on Sundays and days of abstinence from meat such as Christmas Eve and particularly during Lent.
"This was my first time making homemade pasta and let me tell ya, it was so worth the time it took to prepare. The walnut sauce paired perfectly with the pansotti pasta creating a most harmonious dish." Jessica

from recipe reviews and comments.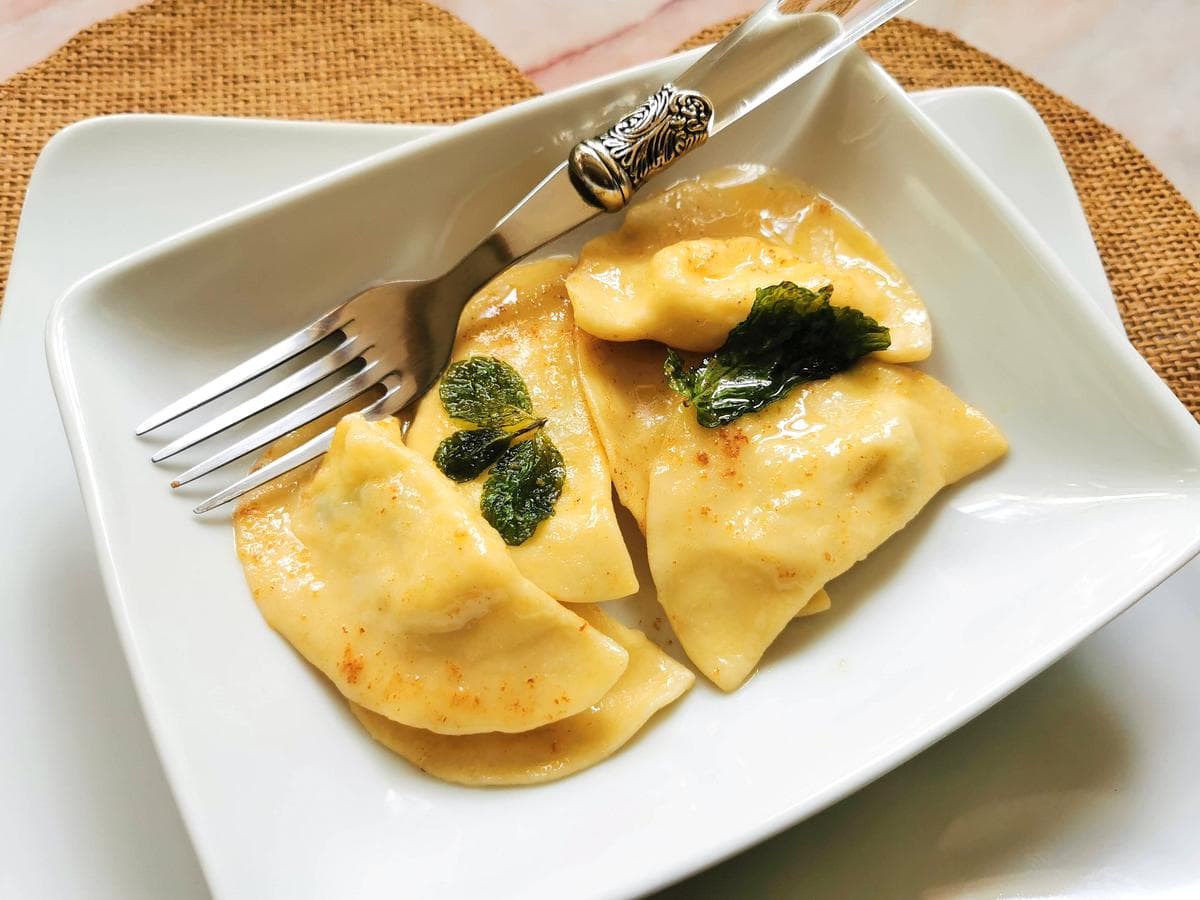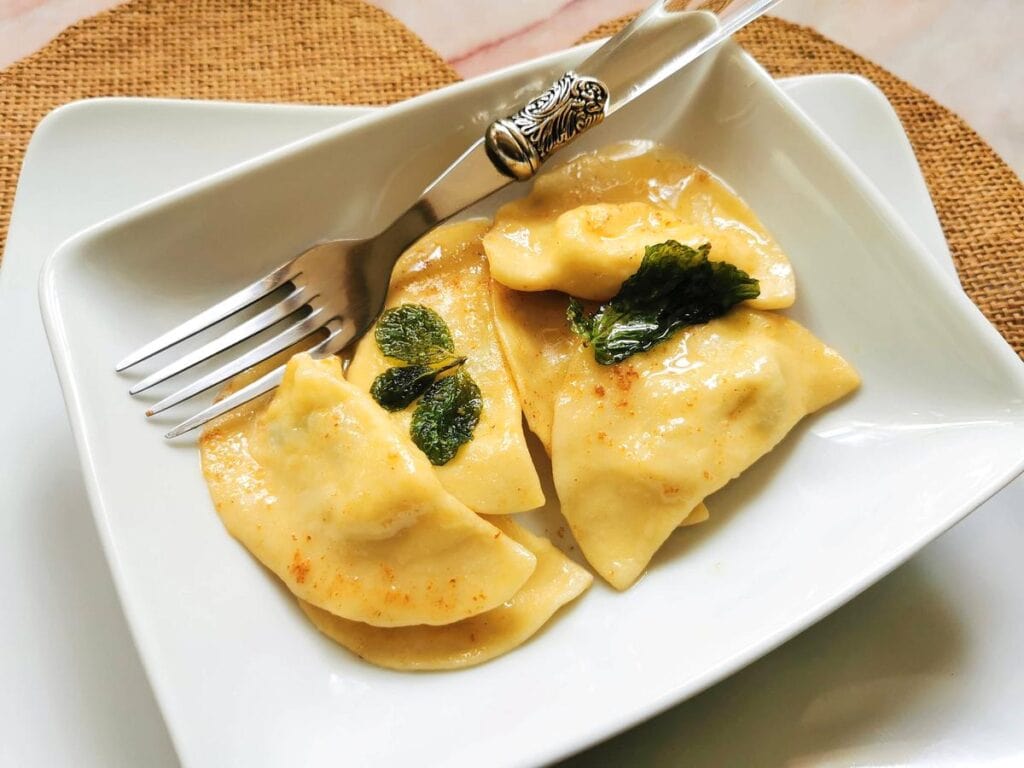 Also known as le turle de Mendatica, Ligurian potato and mint ravioli is a traditional dish from the Ligurian Alps, particularly the area around the village of Mendatica which lies on the slopes of Mt Fronté between Liguria, Piemonte and France. There, the mountain residents have a unique cuisine referred to as la cucina bianca della Liguria (the white cuisine of Liguria).
"This ravioli is wonderful! The potato added the perfect creamy touch, and I just love the bright flavor of the mint. Definitely worth making!" Amanda.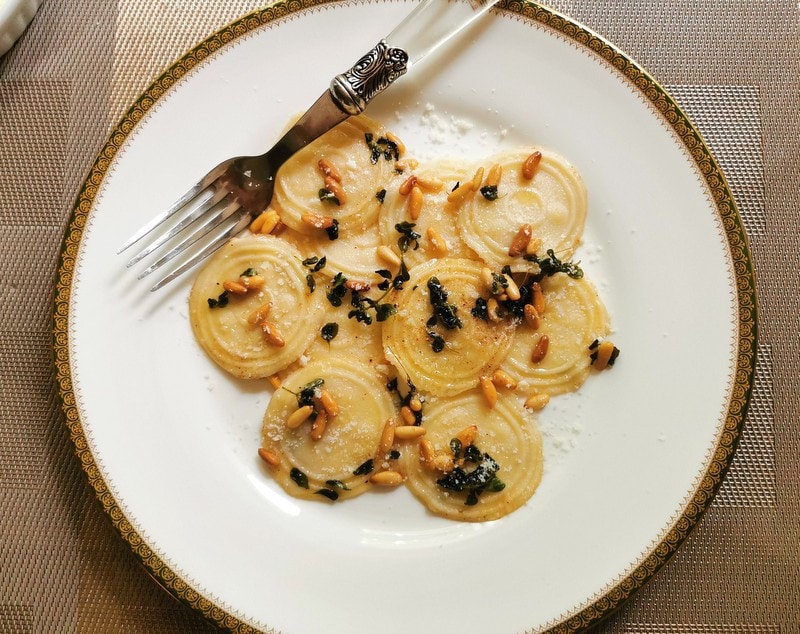 Homemade corzetti pasta with marjoram and pine nuts is an elegant and delicious traditional recipe from Liguria. The corzetti pasta medallions are made using a corzetti stamp but you can also use a cookie cutter and stamp. This is a great example of how you can make a 5-star dish with just a handful of ingredients.
"This was wonderful. I didn't have a corzetti stamp, so I used a crumpet disk that I cut to create a smaller diameter. There was no emblem. It was like corzetti for someone with writer's block!" Glen

from recipe reviews and comments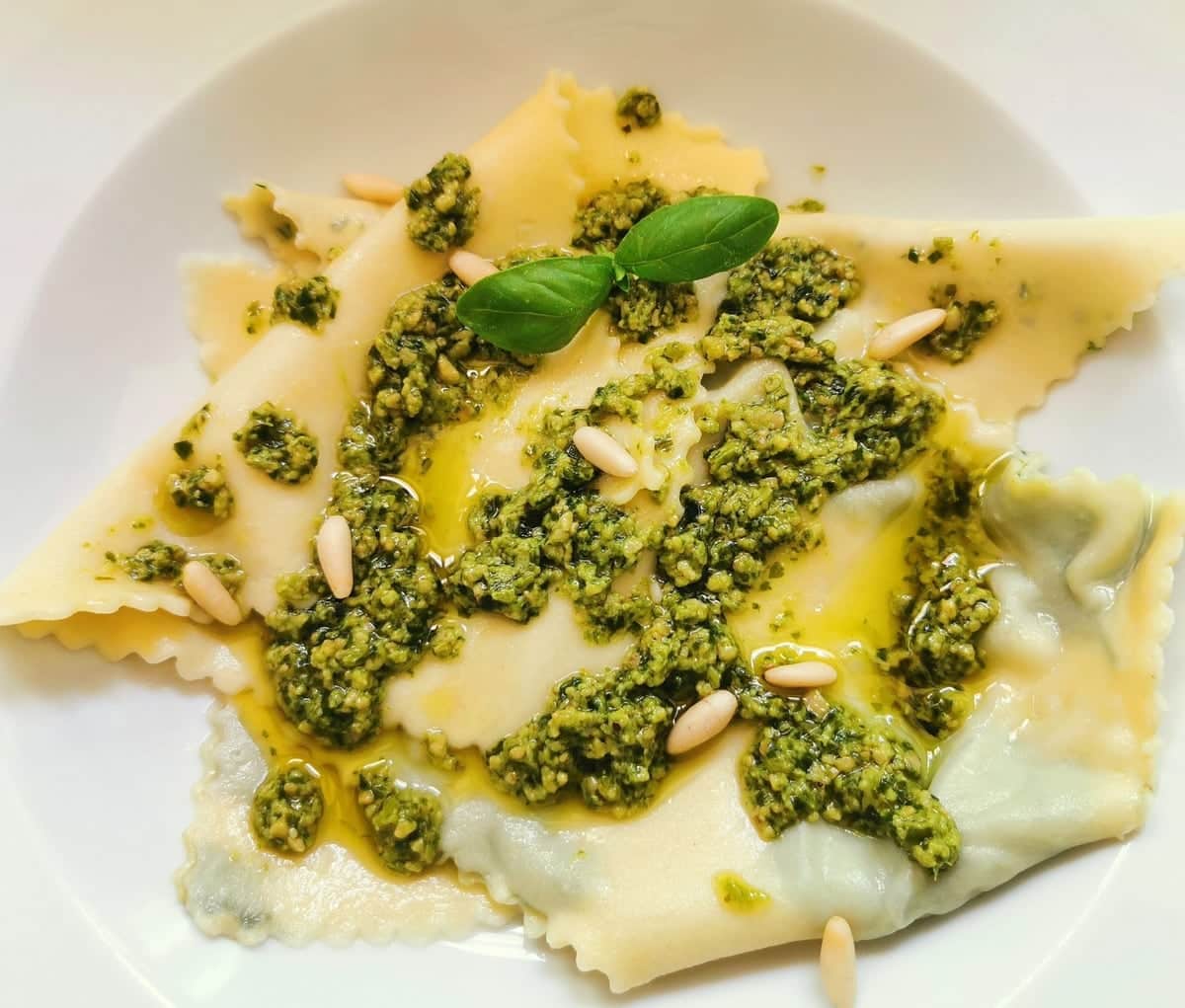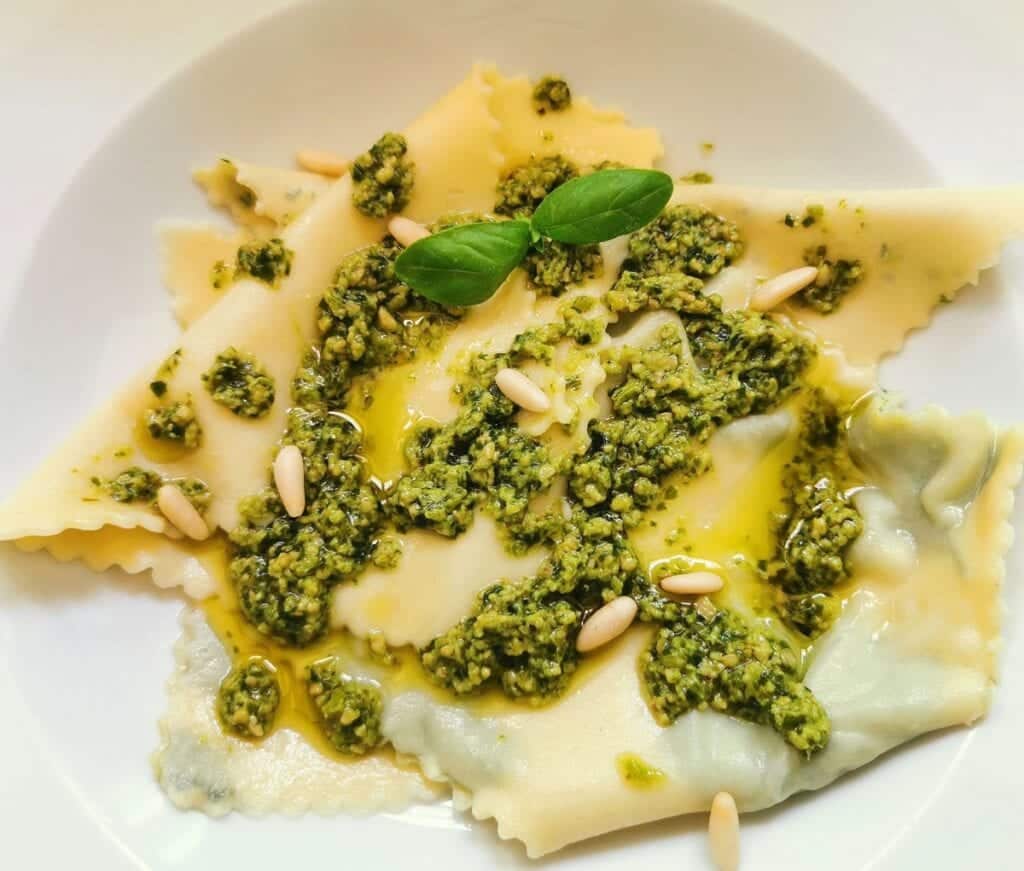 The Italian name for this pasta is 'fazzoletti di seta', which means 'silk handkerchiefs'. It's not difficult to understand why! These homemade pasta squares are traditionally super thin and silky, hence the name silk handkerchiefs! Homemade fazzoletti di seta with pesto is the oldest Italian recipe for pasta with basil pesto.
"These were perfect, the dough is so easy I don't know why I don't make fresh pasta more often. This shape is so different from what Americans are used to, but it works so well with the pesto." Jim

from recipe reviews and comments.
Meatless/vegetarian pasta recipes from Liguria.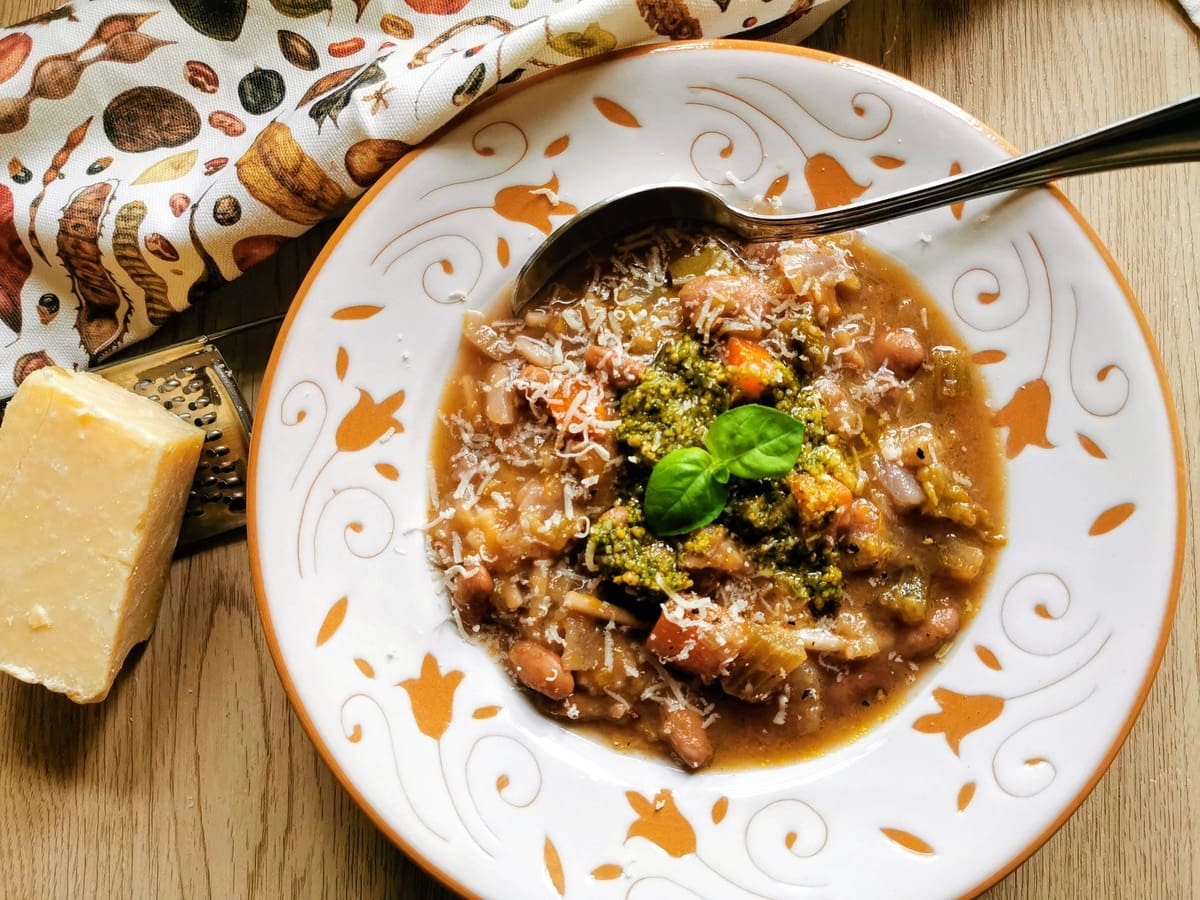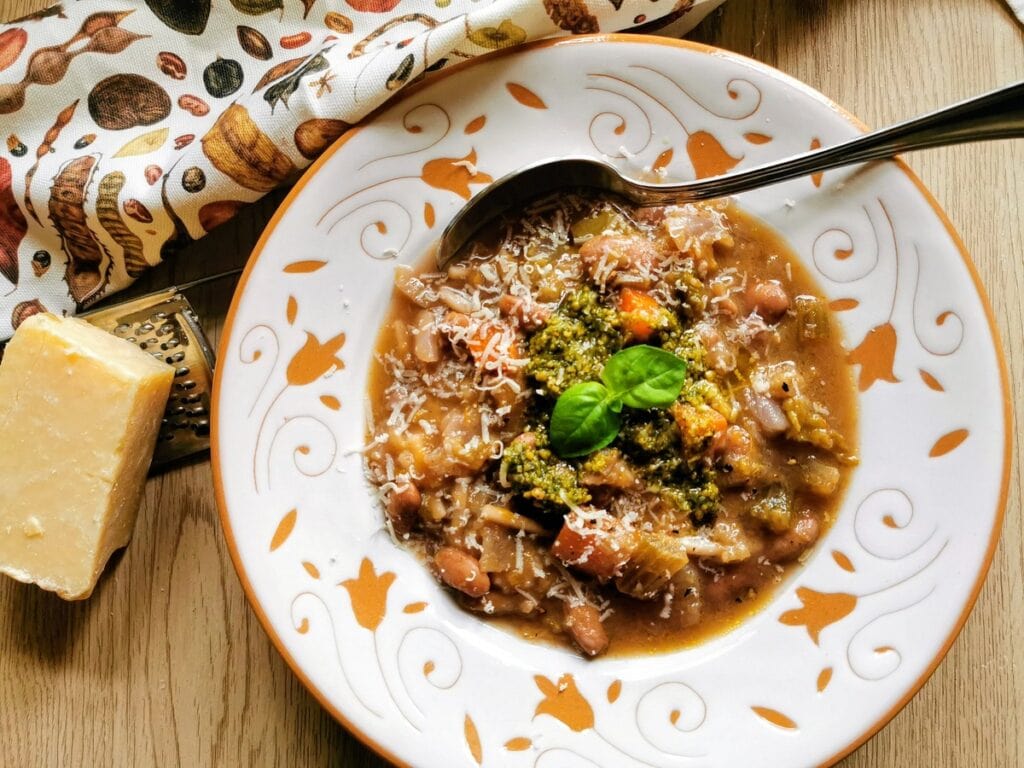 This recipe for minestrone with pesto from Liguria is one of my favourite minestrone recipes. Not only is it full of fresh seasonal veggies, but the addition of the local basil pesto really makes it uniquely flavourful. I used broken spaghetti in this soup. But, you can use other types of pasta instead or leave the pasta out.
"This is a lovely recipe which I cooked it last night. I had lots of late basil to use up, so this was a perfect opportunity to make some pesto – the addition of homemade pesto really elevates this soup. I definitely recommend the addition of the Parmesan rind when cooking as it imparts so much flavour. Many thanks for sharing a beautiful dish." Kate

from recipe reviews and comments.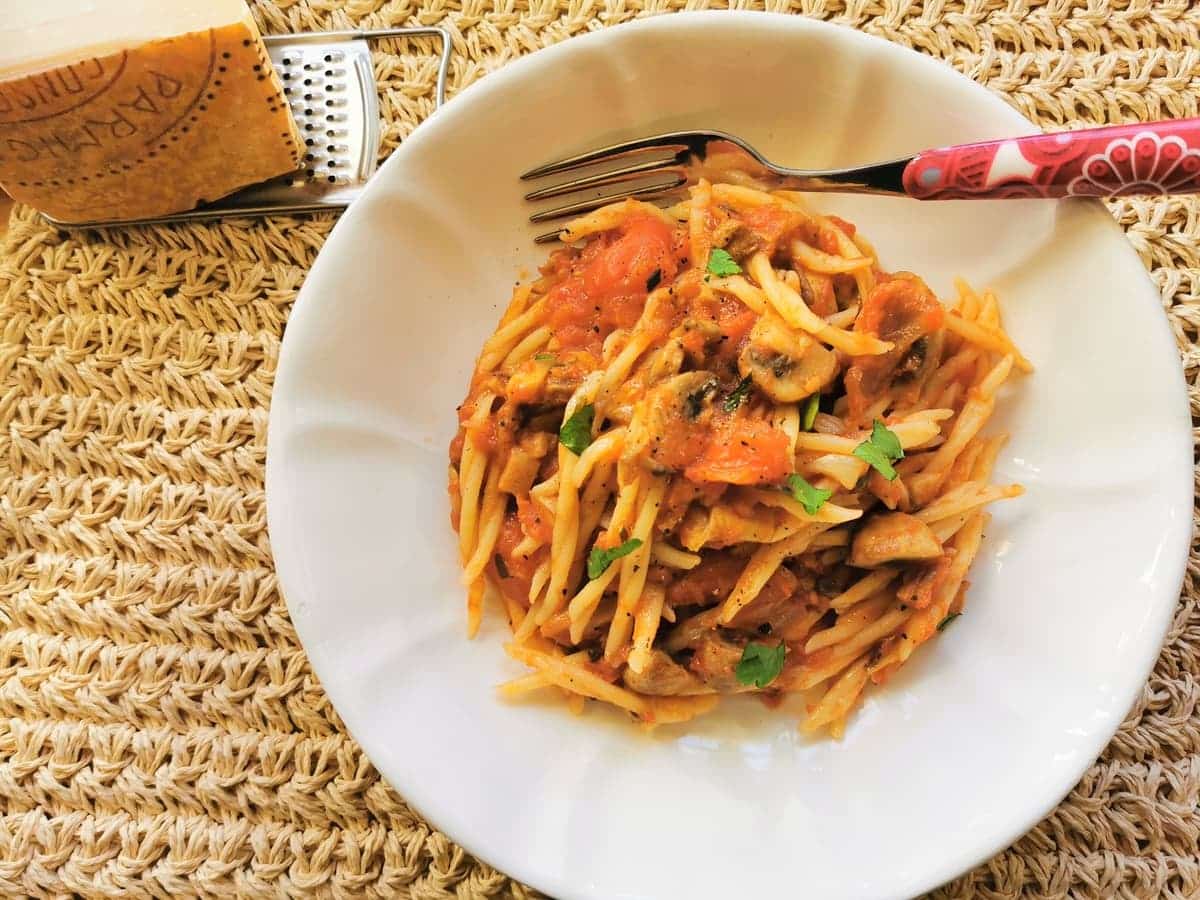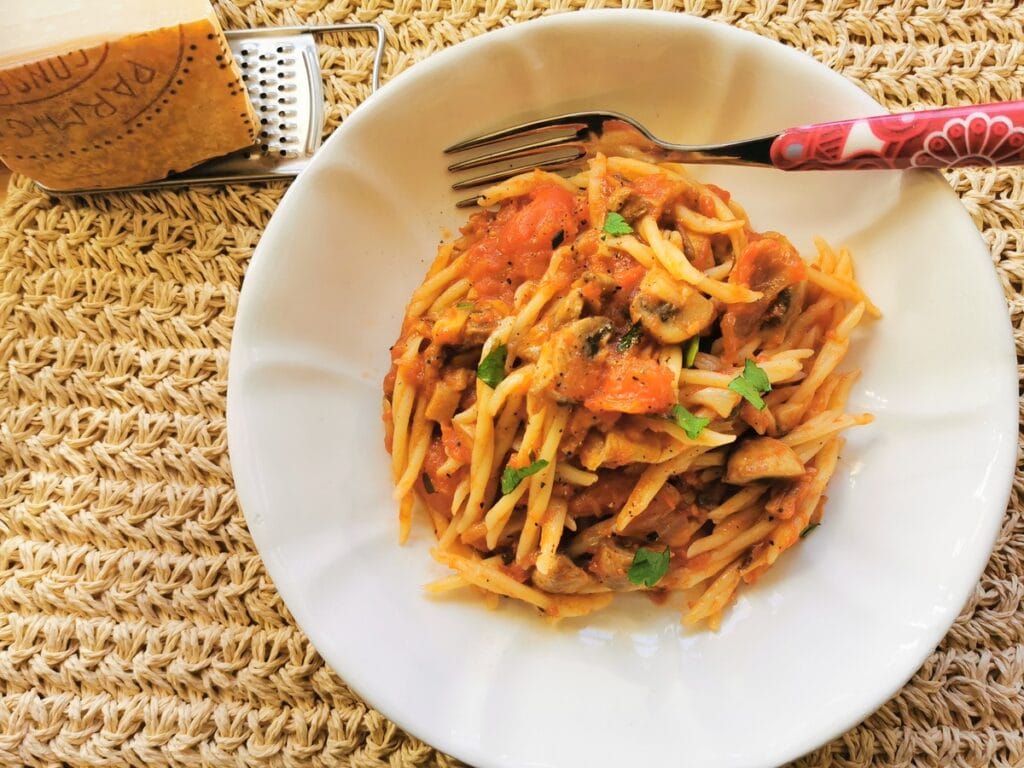 Known as 'tocco de funzi' in the local dialect, this Genovese mushroom ragu is a traditional pasta sauce in Liguria. If they are in season, it's typically made with fresh foraged porcini (ceps). However, many Ligurians make it with dried mushrooms when fresh are out of season.
"I love your blog so much. I feel like I am in Italy reading through the recipes. This mushroom ragu was out of this world!" Jennifer

from recipe reviews and comments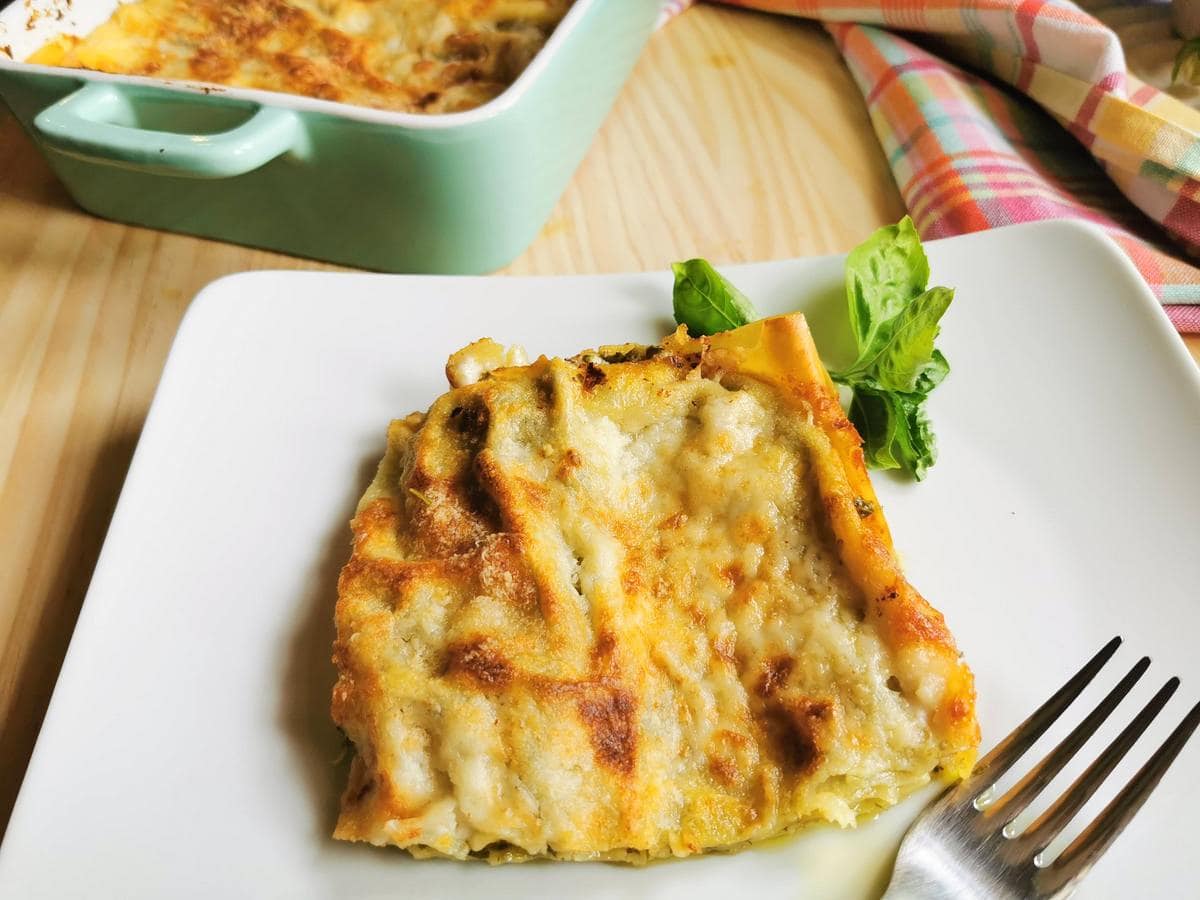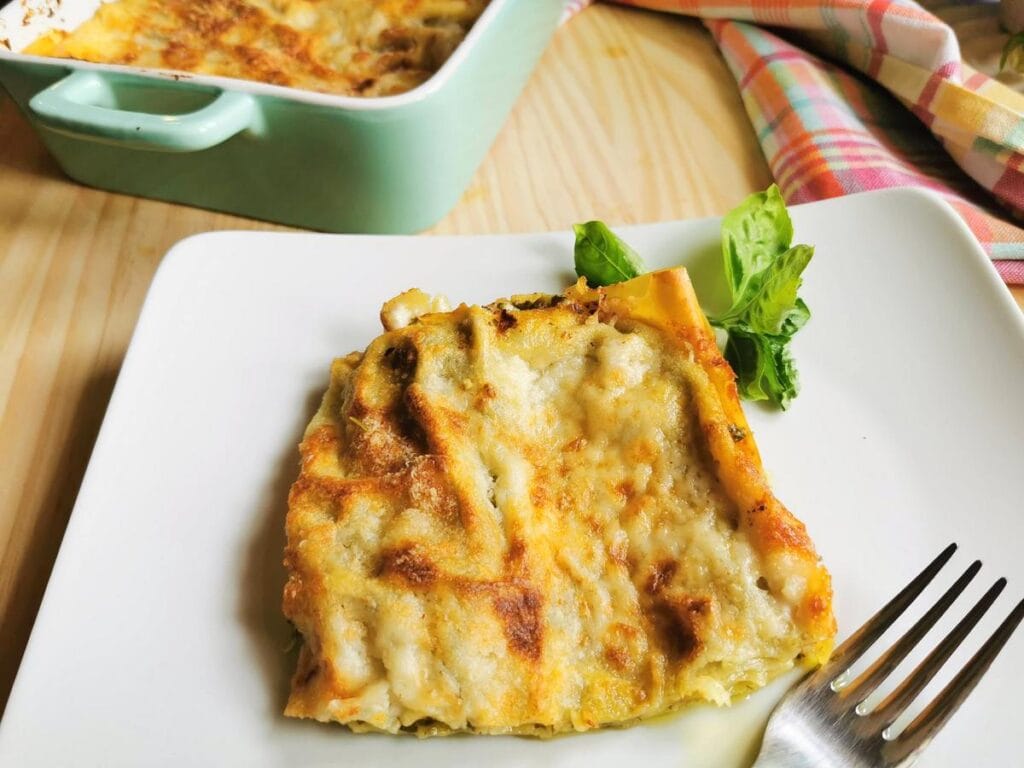 This Italian basil pesto lasagne al forno (also known as lasagne alla Portofino) is hands down the best meatless lasagna recipe ever. It's light, easily made vegetarian and just totally delicious. If you're a pesto fan, you'll fall in love with this dish!
"Made this wonderful dish exactly as written except my cheese monger did not have provolone and I substituted with slices of Italian Fontal and it was delicious. Made my own pasta sheets using Central Milling 80 flour and whole eggs. Incredibly delicious." Dave

from recipe reviews and comments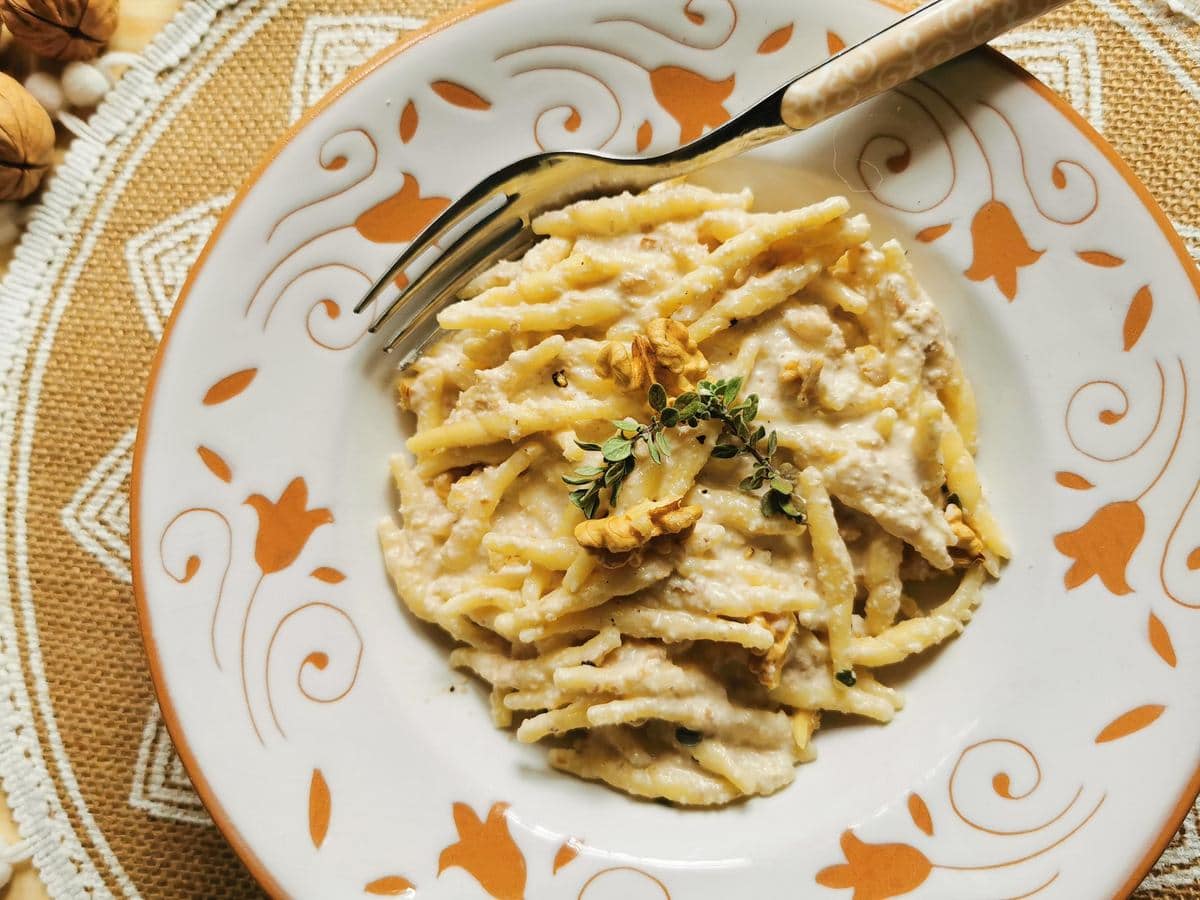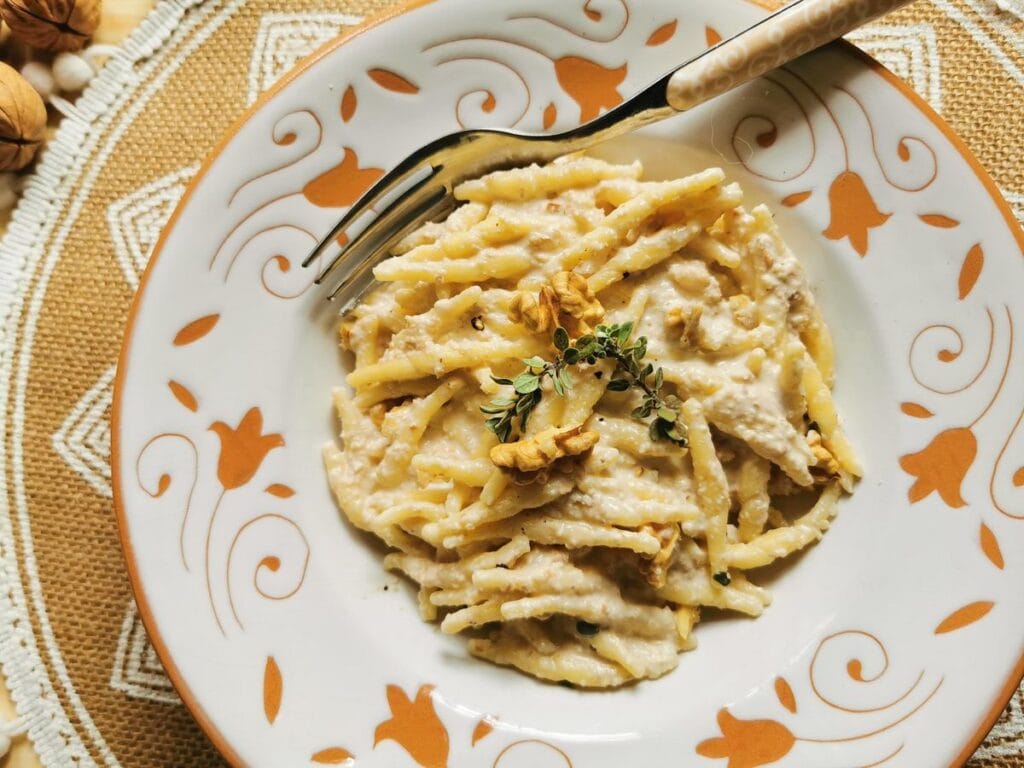 Although not as famous as pesto Genovese (basil pesto), walnut sauce is another delicious type of Ligurian pesto. It's also just as easy to make! Although not a traditional way to eat pasta in Italy, I think this dish makes a great side dish for steak or chicken!
"I made your Pasta with Walnut Sauce for Christmas Eve dinner and it was simply delicious. Am enjoying your blog very much." Anne

from email comments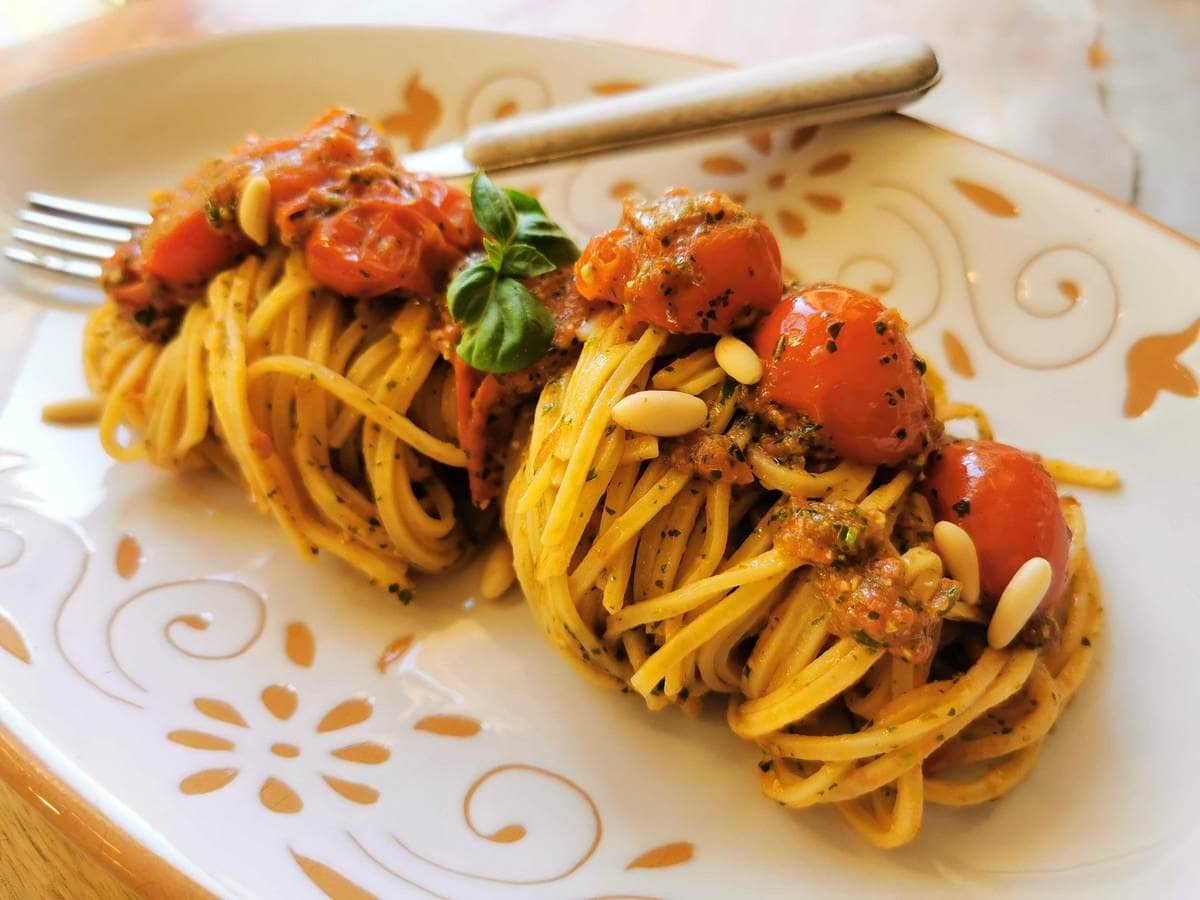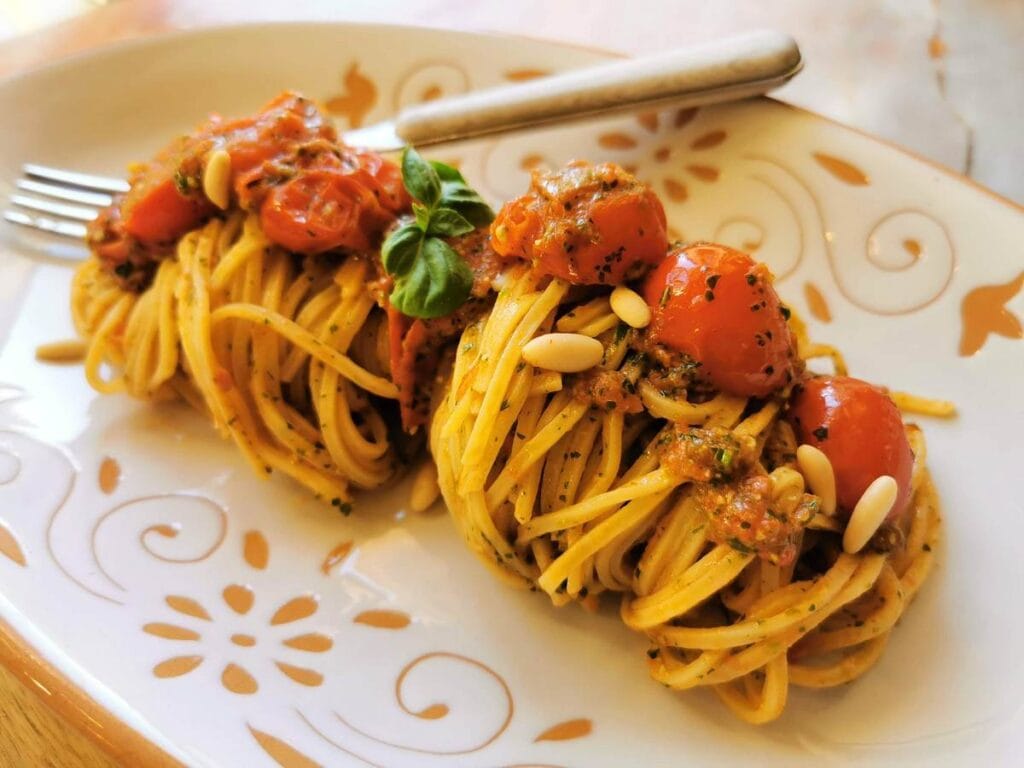 Lovers of basil pesto will enjoy this pasta Portofino (or alla Portofino) recipe which combines pesto with tomatoes. Known as pasta Portofino after the famous picturesque fishing village on the Italian Riviera, this is a super simple dish full of the aroma of an Italian summer!
"We love homemade pesto, and this recipe was a fantastic dish. We added some king prawns and the family loved it, thanks for sharing!" Kay

from recipe reviews and comments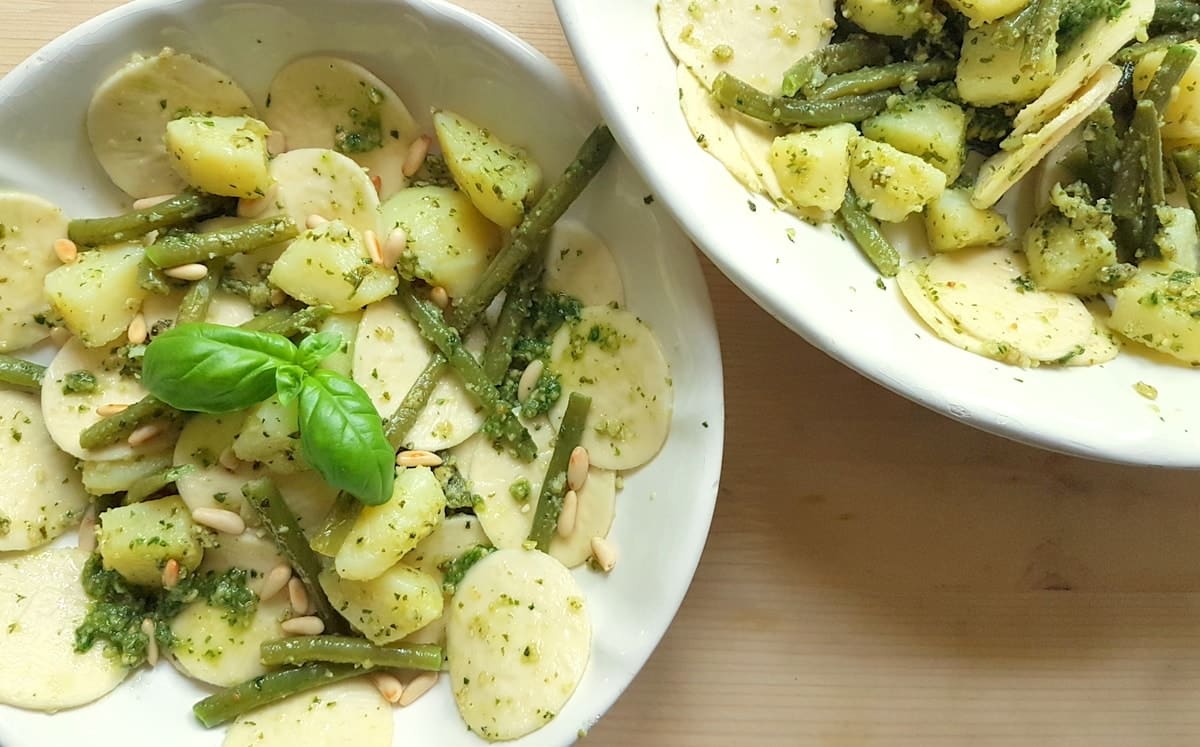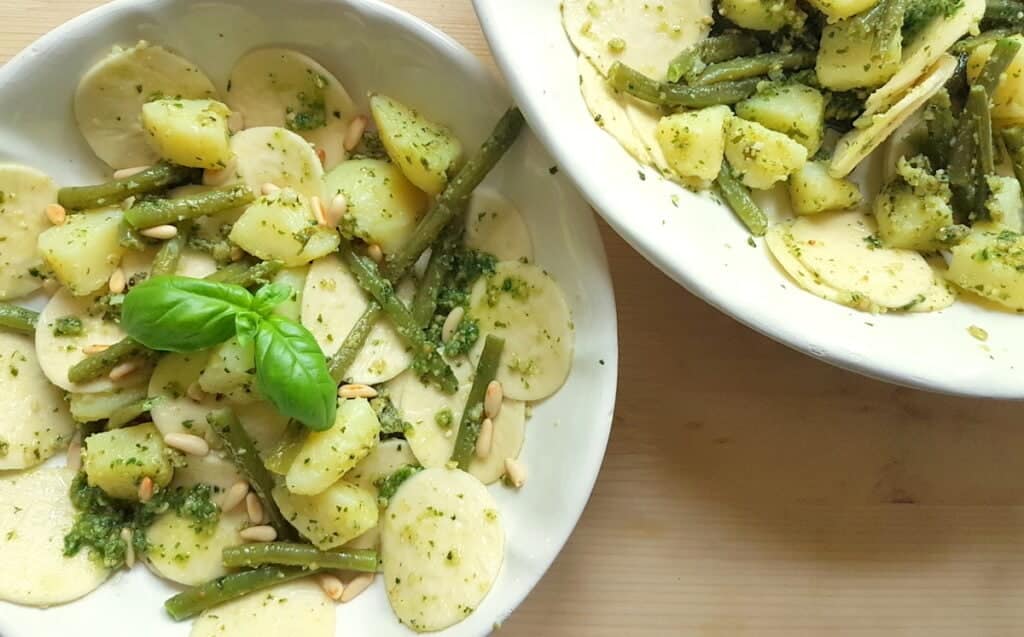 This pesto pasta Ligure is the most typical way that Ligurians serve pasta with pesto. In fact, you can find this dish prepared in homes and restaurants throughout the region. I made it with corzetti. But, it's often eaten with trofie or trenette, both traditional types of local pasta. Of course, you can use your favourite pasta instead.
"Pesto is my fave pasta sauce and this is a perfect combination of ingredients with it." Mireille

from recipe review and comments
Seafood pasta recipes from Liguria.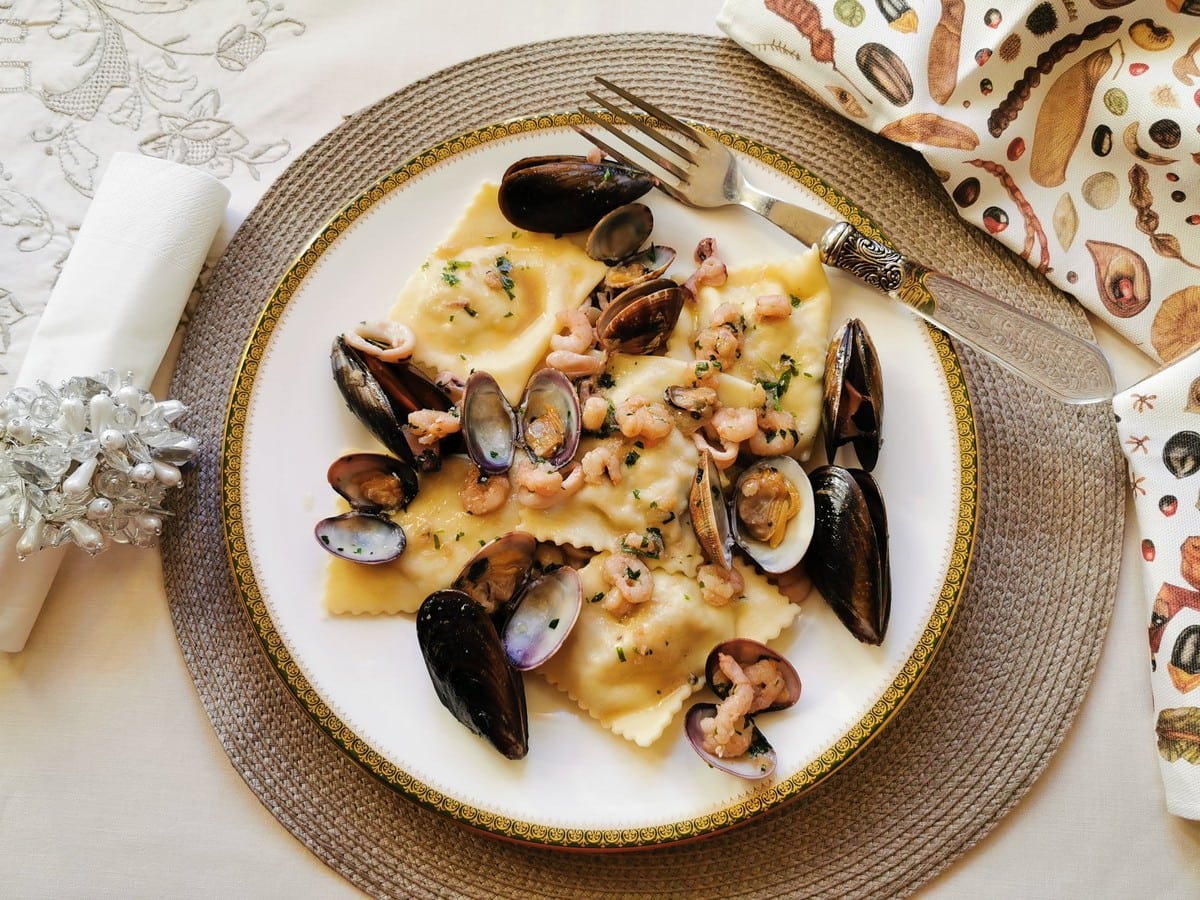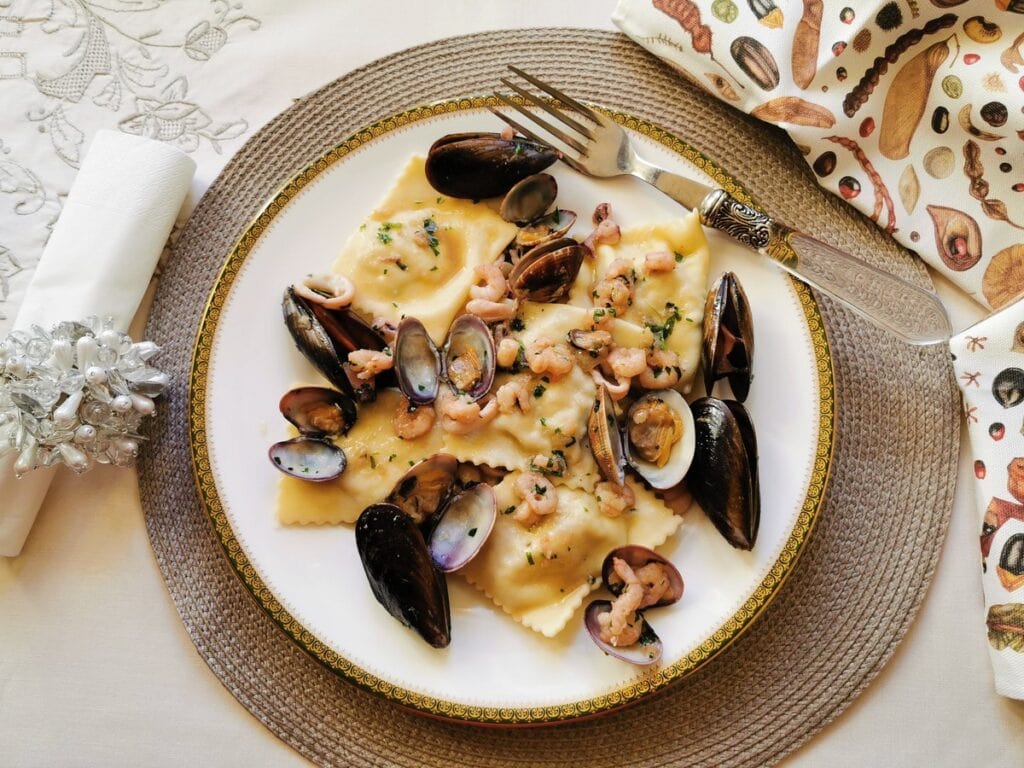 Fresh seafood and homemade pasta are a match made in foodie heaven! If you are a fish and seafood lover, this baked fish ravioli is an absolute must-try! It's perfect for special occasions like Valentine's Day, birthdays and holidays such as Christmas and New Year.
"These ravioli are insane! So much flavor both in the filling and the sauce. A great pasta dish, love it!" Paula

from recipe reviews and comments
Meat pasta recipes from Liguria.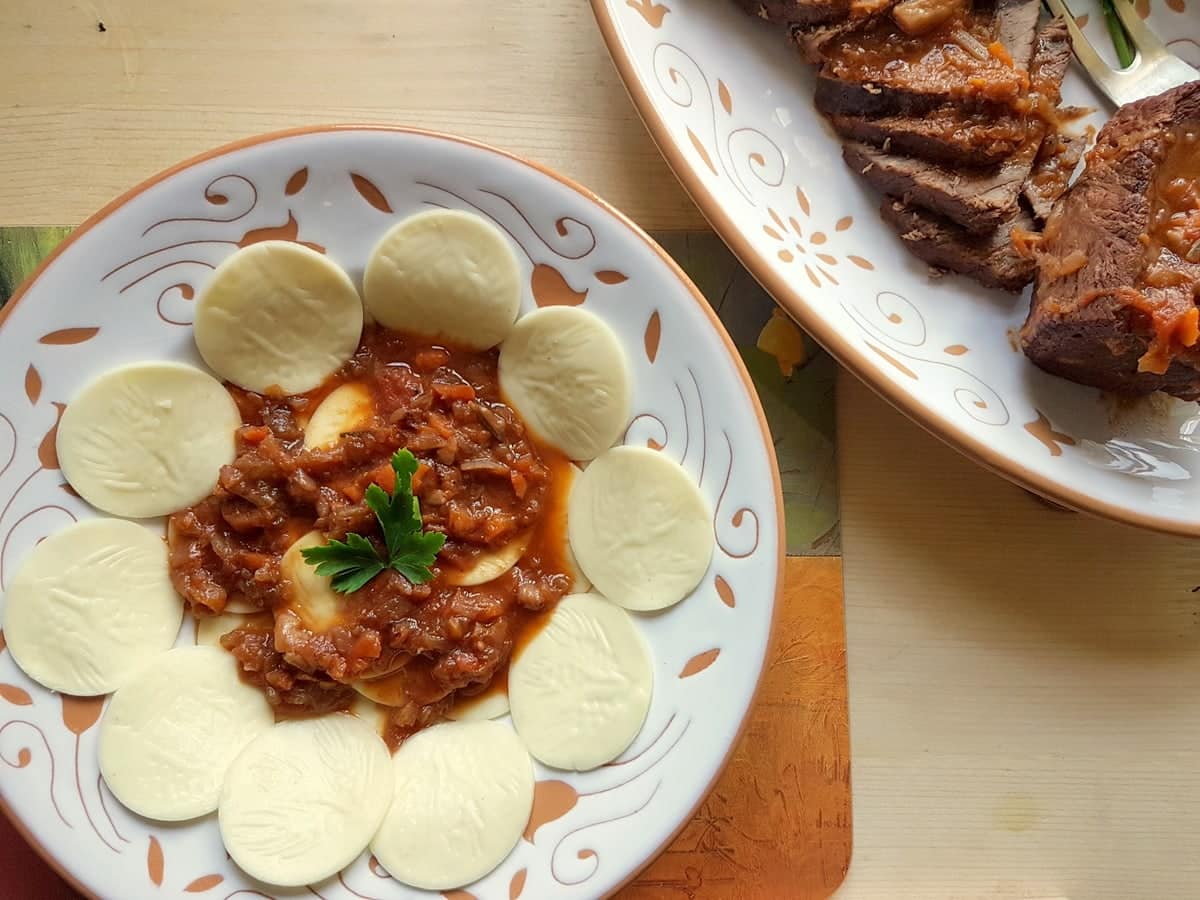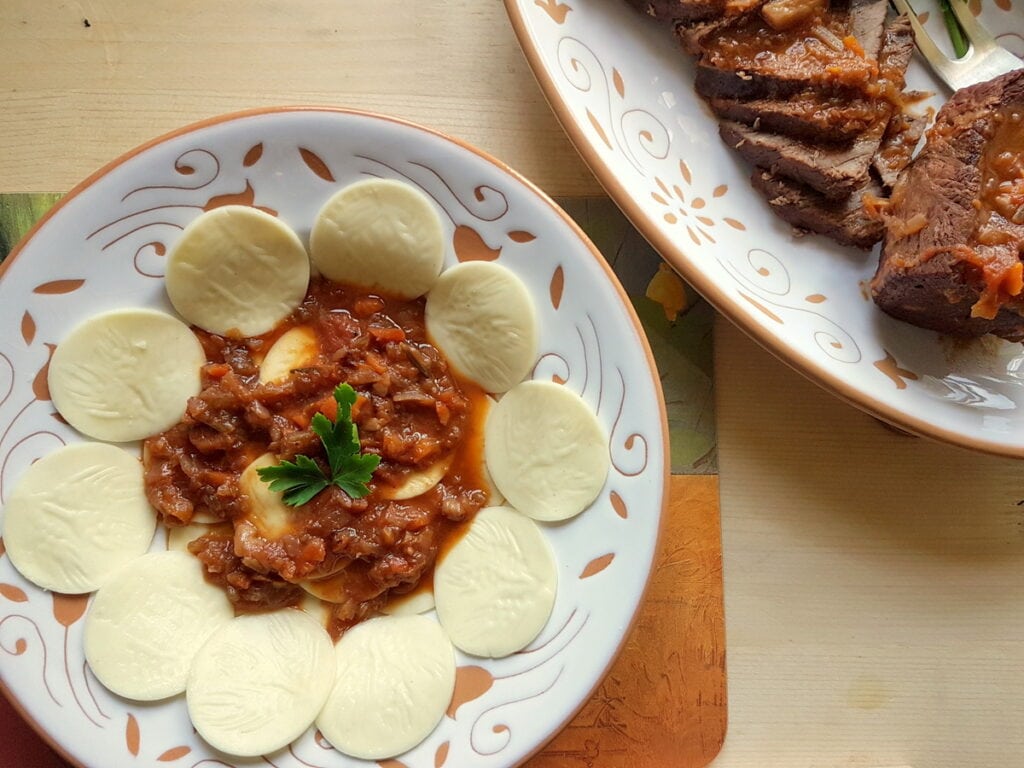 This slow braised beef and pasta recipe is super scrumptious for two reasons. Firstly, the corzetti (also called croxetti) are delicious pasta medallions with beautiful designs stamped on them. Secondly, the rich and flavourful sauce doubles up as a pasta sauce and a pot roast main course. Of course, you can use other types of pasta too!
"I love the stamped pasta with the simplicity of this dish! This really is wonderful, rich and tasty comfort food!" Nicole

from the recipe reviews and comments
Let me know what you think.
If you do try any of these traditional pasta recipes from Liguria, I'd love to hear what you think. Please write a comment here on the blog or post a comment on the Pasta Project Facebook page.
Your feedback means a lot to me!
Buon Appetito!
Want to save this collection of 12 pasta recipes from Liguria for later?
If you want to save this post for later, you can bookmark this page or save it to Pinterest.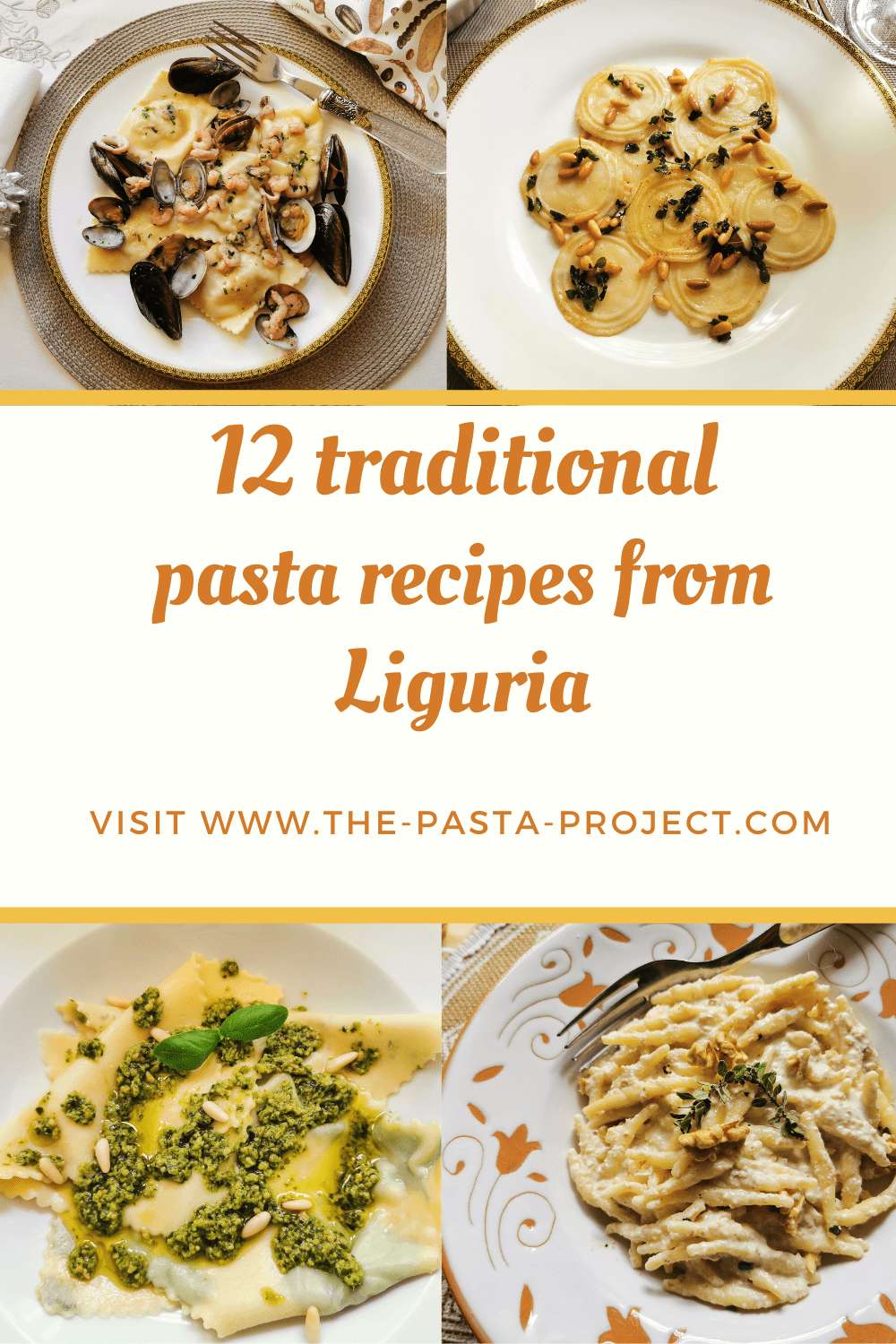 If you are interested in learning how to make other types of homemade pasta and different types of gnocchi, check out my shop page for some great video online courses from my friends in Rome! Nothing beats learning to make pasta from Italians! Plus while you're there why not order a copy of one of my pasta recipe cookbooks or checkout some recommended pasta making tools? All great prezzies for pasta lovers! FacebookPinterestCondividi