Two of the most important ingredients in the Sicilian kitchen are ricotta and pistachios. Both are used in desserts and pasta recipes. This Sicilian ricotta and pistachio pasta is a delicious example of how beautifully these two typical foods can be used together to make a divine creamy plate of pasta.
Occhi di Lupo con ricotta e pistacchi alla Siciliana.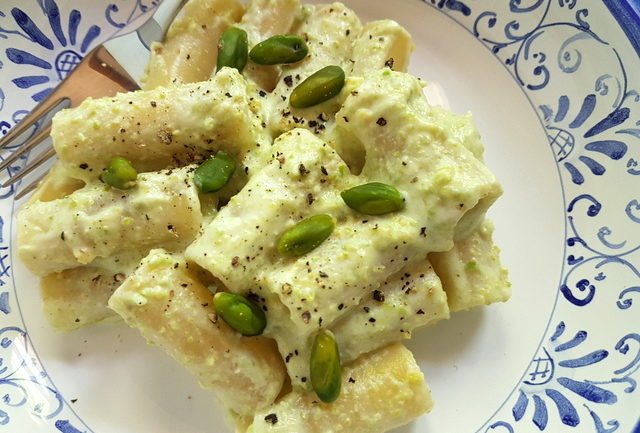 Ricotta in Sicily.
Ricotta is made and eaten throughout Italy. However, it's more prevalent in Sicilian cuisine than in other regional cuisines.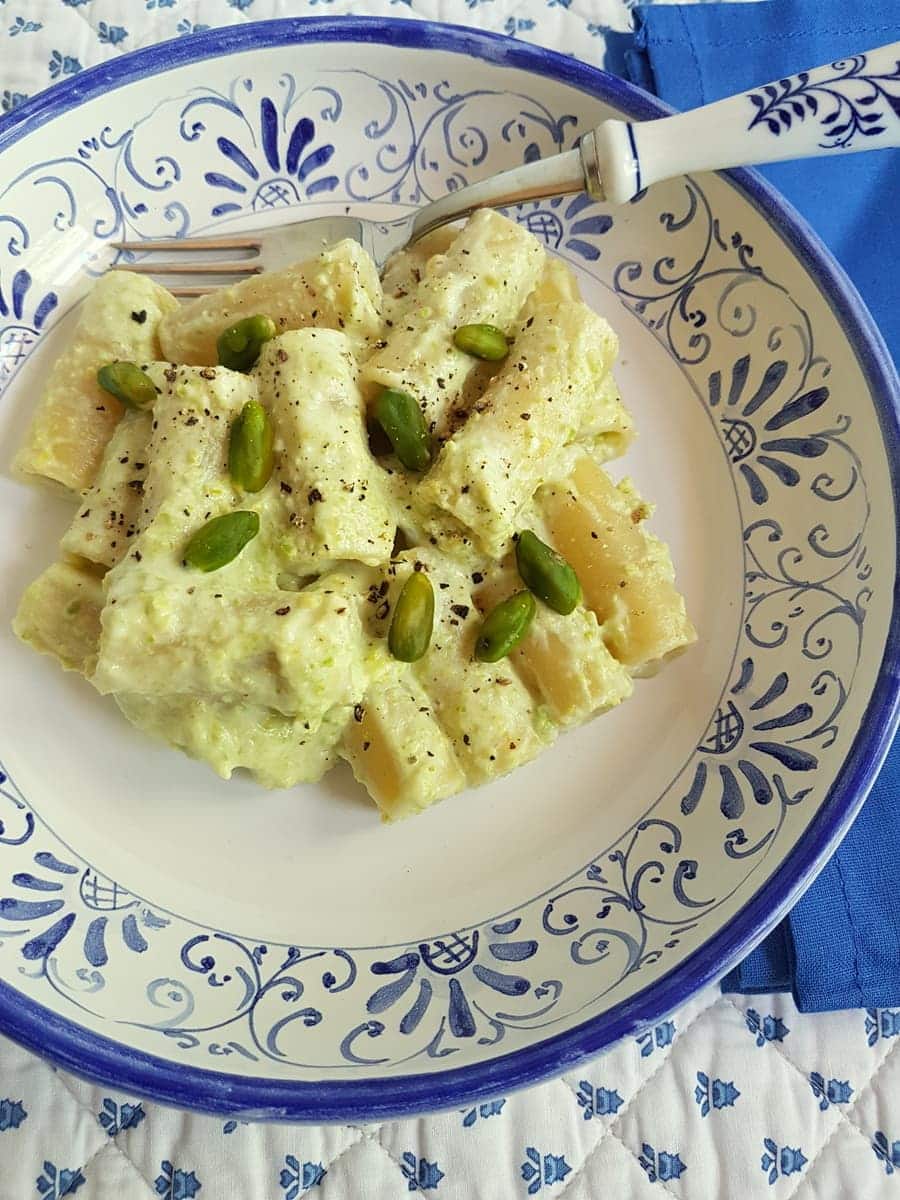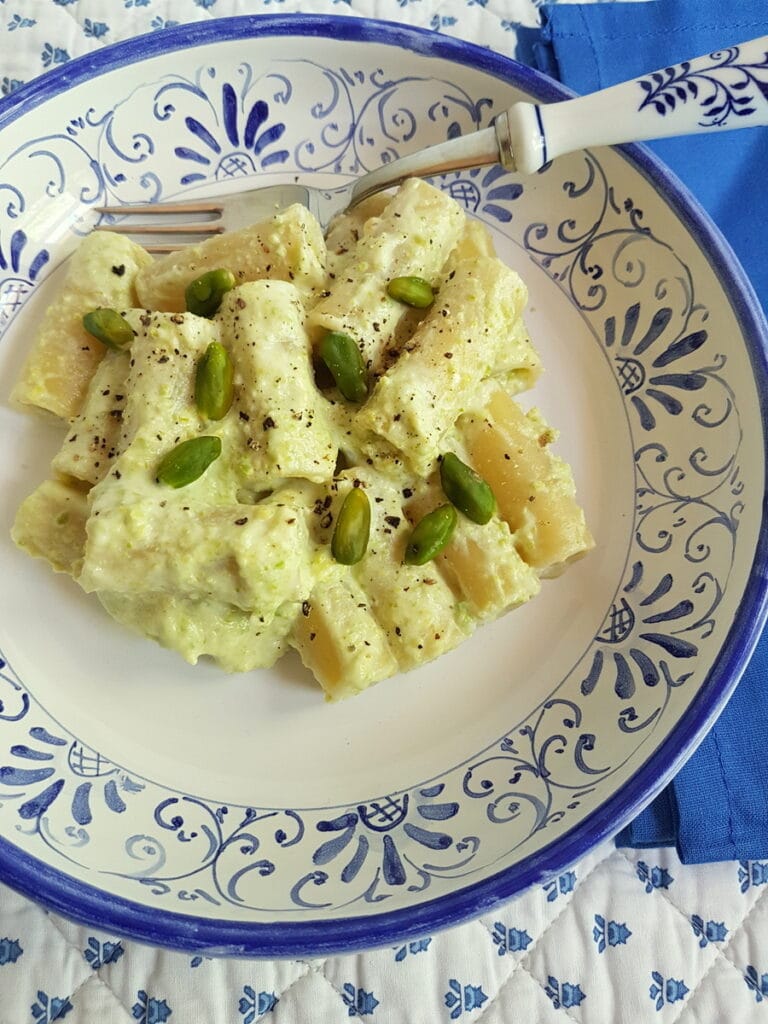 Cheese making is an ancient tradition in Sicily. In fact, some say that cheese making in Europe originated in Sicily. Of all the cheeses produced on the island, ricotta is probably the most used in the Sicilian kitchen.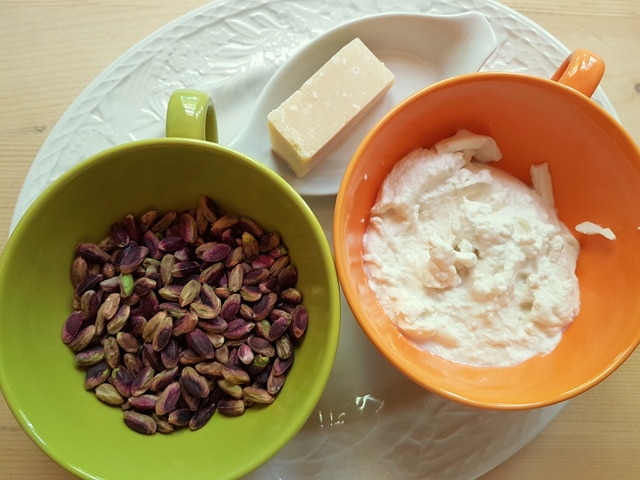 Ricotta is actually a whey cheese obtained by reheating the whey left over from the production of other cheeses made with sheep, goat or cow's milk. Did you know that the word 'ricotta' means recooked?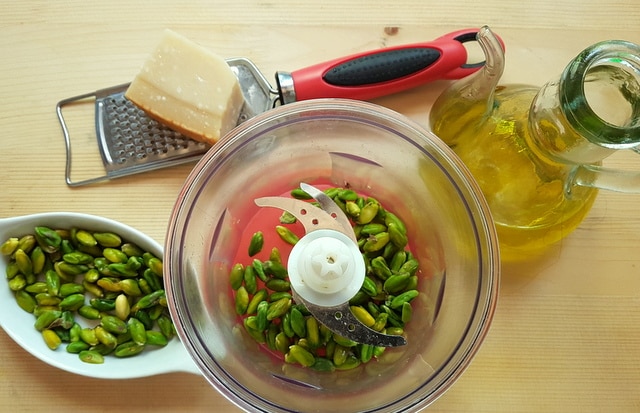 In Sicily, they make different kinds of ricotta. These include ricotta salata which involves dry-salting the surface and aging the cheese for 10-30 days. This cheese is often grated on to pasta dishes and is an essential ingredient in pasta alla Norma.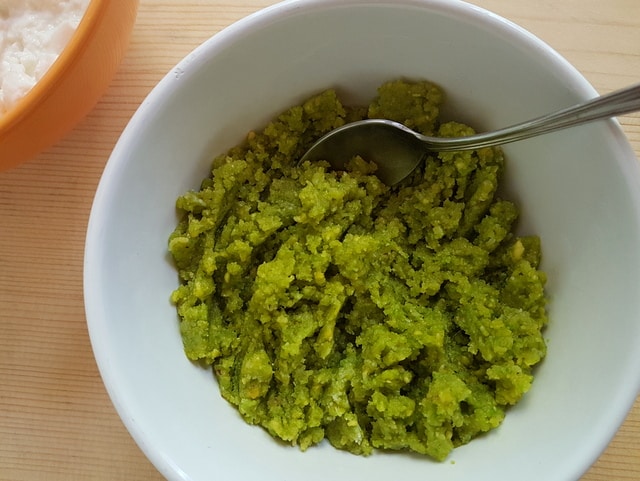 Then there is ricotta affumicata (smoked ricotta) and ricotta infornata, which is made with fresh ricotta placed into ceramic vessels and oven-baked for a day or more, giving the cheese a thin reddish-brown crust.
Ricotta in the Sicilian Kitchen.
Ricotta, especially sheep ricotta, is the queen of the island's patisseries. Sicilians use it in many cakes and desserts including cassata, cannoli, cassatele and even ice cream. Of course, there are a lot of Sicilian pasta with ricotta dishes too. The most traditional is with just ricotta and perhaps some nutmeg. However, many include other ingredients like fava beans, almonds, eggplant or even ragu.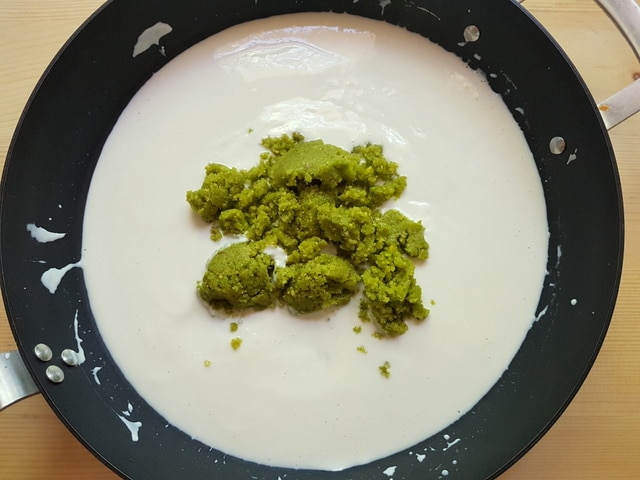 This Sicilian pasta with ricotta recipe has pistachio pesto in it! Pistachios are also an important ingredient in the Sicilian kitchen.
Pistachios in Sicily.
Sicily is the only Italian region that cultivates the real pistachio (pistacia vera). The best and greatest quantity of pistachios in Sicily come from the town of Bronte. In fact, pistachios from Bronte are considered to be among the best in the world and are actually the most expensive!
Bronte is a town I have visited on numerous occasions with my Sicilian hubby. Actually, the pistachios I used for this Sicilian ricotta and pistachio pasta recipe were from Bronte! Of course, not everyone can find Sicilian pistachios! However, any good quality raw pistachio kernels work well too. If raw pistachios aren't available you can try toasted ones, but preferably unsalted.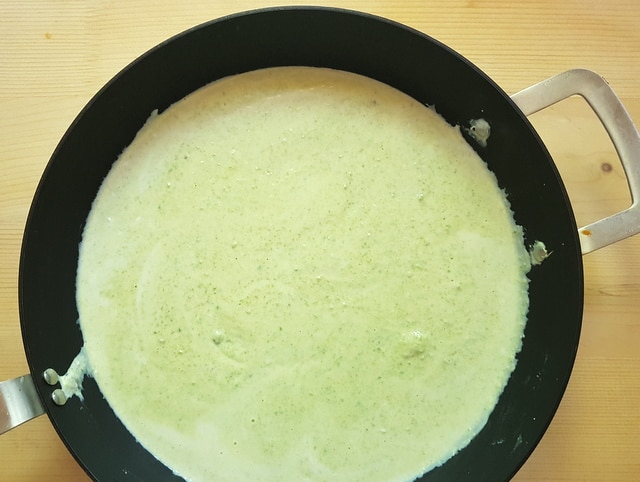 In Bronte, pistachios grow in volcanic soil, on the sun baked terrain of Mount Etna and the Nebrodi mountains. The harvest takes place every two years between the end of August and beginning of September and is an important event for the town's population. Even today, the pistachios are harvested by men, women and children who climb the slopes to pick the nuts, one at a time.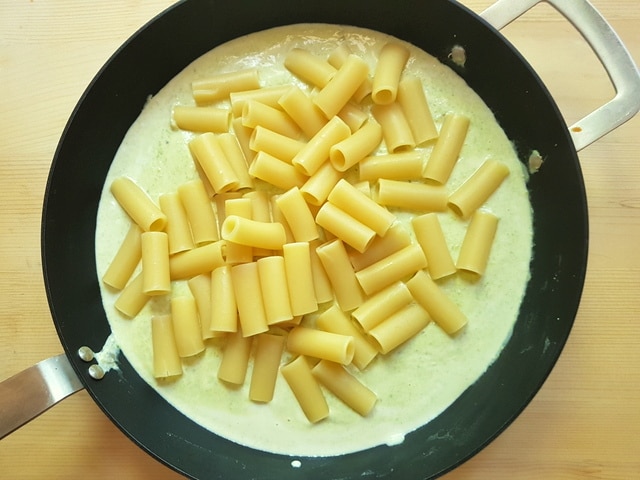 Like ricotta, pistachios are used in Sicily to make ice-cream and many cakes. Sicilians also use them to make granita (a kind of sorbet), a pistachio liqueur and a green Nutella! However, probably the most well-known savoury pistachio recipes are pistachio pesto and this creamy pasta with ricotta and pistachio.
Making this Sicilian ricotta and pistachio pasta.
I have already posted another recipe for pistachio pesto on its own with scialatielli pasta. In this recipe however, you cream the ricotta with the pasta cooking water and then mix it with a simple pistachio pesto. This is a super easy recipe that only takes as long as it takes to boil the water and cook the pasta.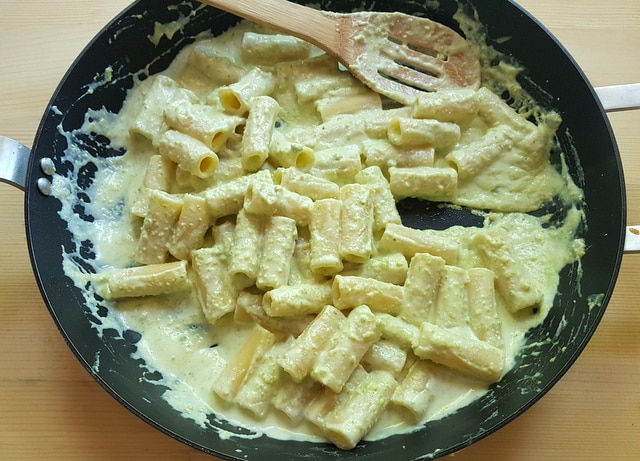 The pasta.
I used a typical Southern Italian pasta tube called occhi di lupo, meaning wolf's eyes. You can read more about this pasta if you visit my occhi di lupo post. A number of different Italian pasta makers make these largish pasta tubes.
The ones I used were from Di Martino, one of the companies who produce Pasta di Gragnano IGP. If you want to know more about pasta from this town near Naples, take a look at my post about my visit to Gragnano.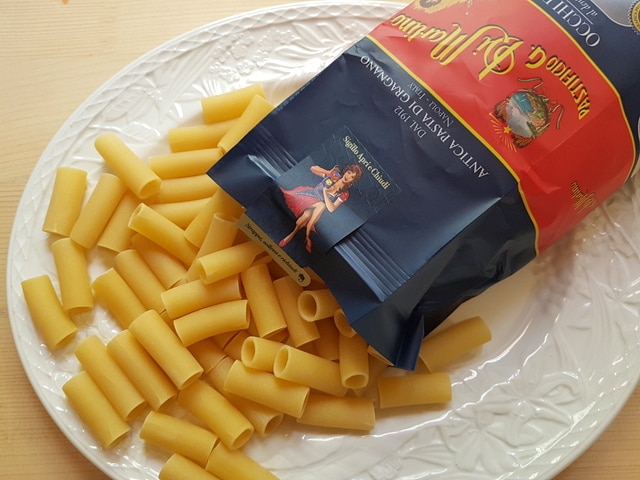 Other types of pasta tubes also go well in this recipe. In Sicily, they often use ditali or small pasta shells. However you can use penne, sedani or any other small to medium sized pasta tube. Whichever pasta you use, I'm sure you are going to love this creamy dish. It's easy to make and quite light, so great for warm weather meals too!
If you make this pasta recipe, I'd love to hear how it turns out and if you liked it. Please leave a comment here on the blog or on The Pasta Project Facebook page.
Looking forward to hearing from you!
Buon appetito!
Some of the other pasta recipes with ricotta on The Pasta Project.
Save this recipe for later?
If you want to save this recipe for later, you can print it, bookmark this page or save it to Pinterest.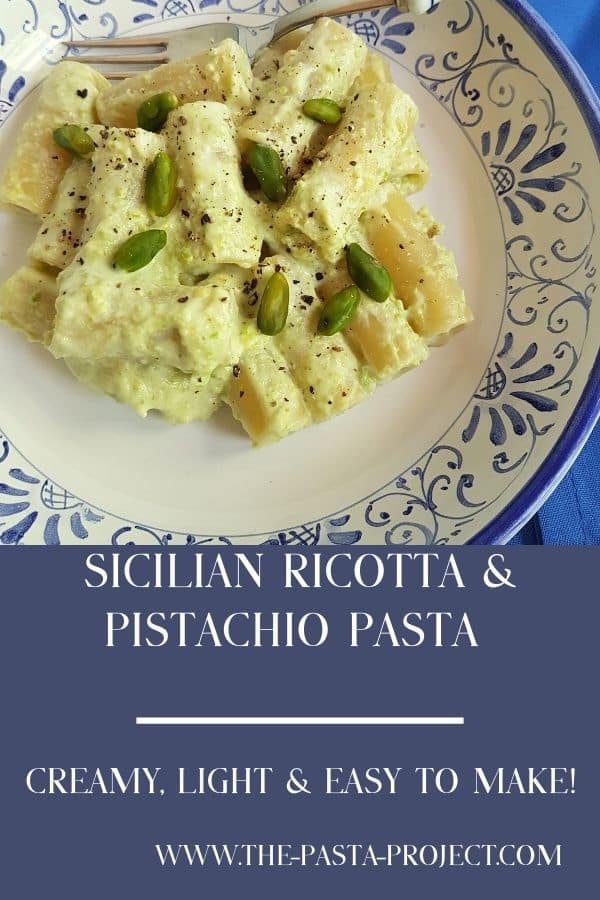 Have a look at my other ricotta pasta recipes for more delicious recipes like this one!
Don't forget to pin for later!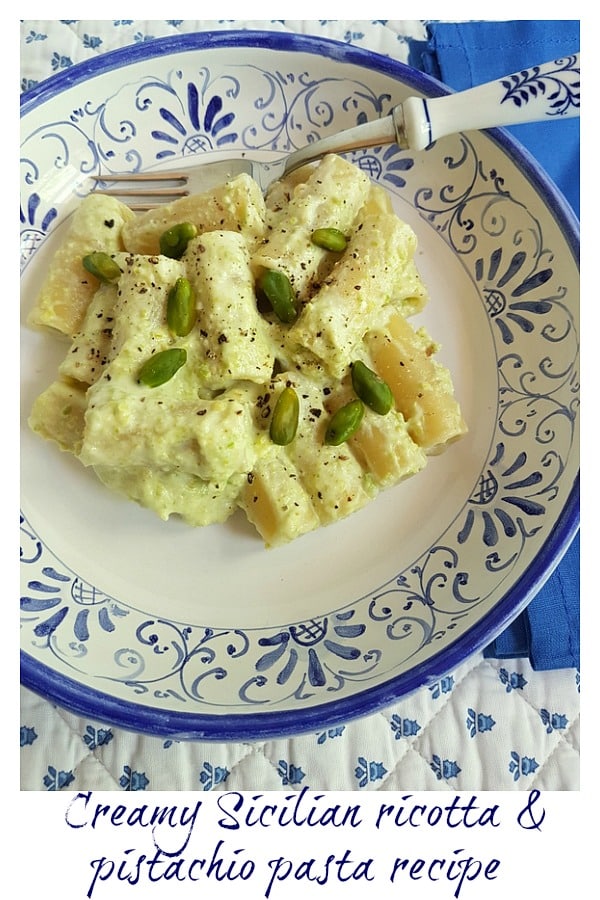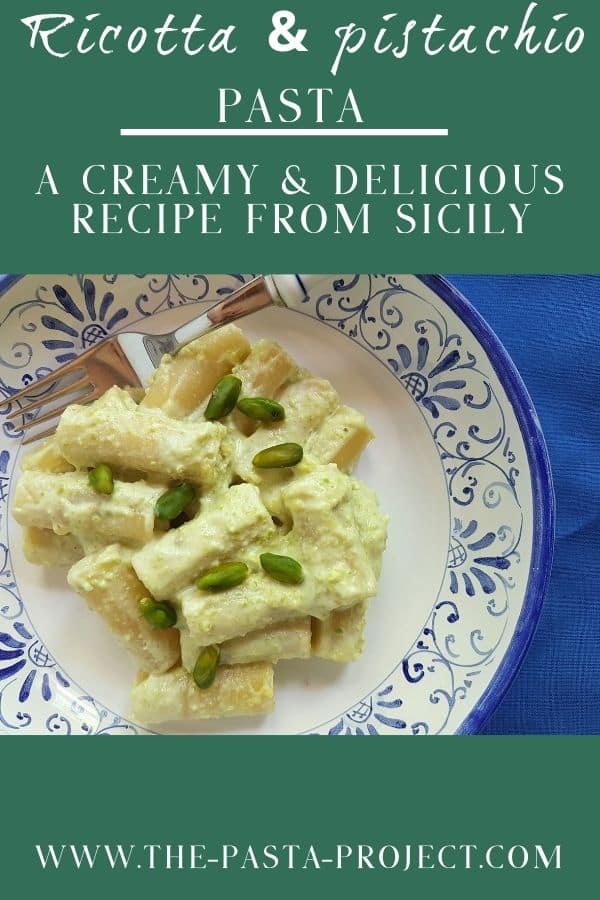 CHECK OUT MY SHOP PAGE.
If you are interested in learning how to make homemade pasta and different types of gnocchi, check out my shop page for some great video online courses from my friends in Rome! Nothing beats learning to make pasta from Italians! Plus while you're there why not order a copy of one of my pasta recipe cookbooks or checkout some recommended pasta making tools? All great prezzies for pasta lovers!