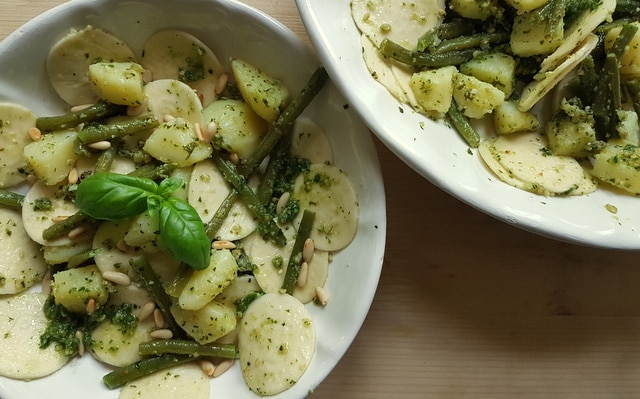 Pasta alla ligure con patate e fagiolini.
In the same way that Bolognese sauce is omnipresent in Bologna's homes and restaurants, basil pesto or pesto Genovese is ubiquitous in Ligurian cuisine. In fact, it's practically a national symbol in Liguria, the Northern Italian region it comes from. People in Liguria are not only very proud of their pesto, but also quite fanatic about how it should be made and how to serve it. This pesto pasta Liguria with potatoes and green beans recipe is one of the most traditional ways they eat pesto in Liguria. The pesto, which is always homemade, is served with green beans, potatoes and pasta.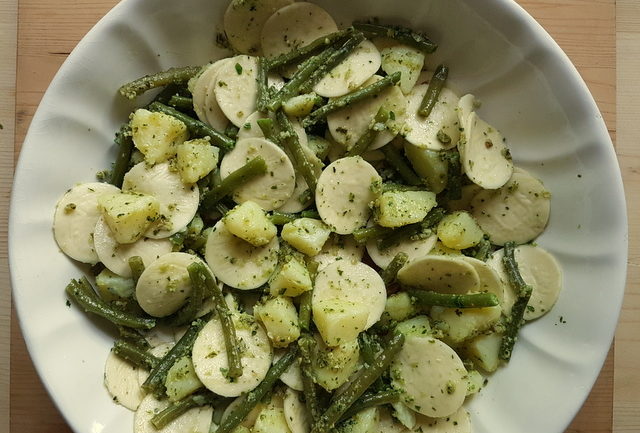 The official basil pesto recipe.
Also like Bolognese in Bologna, basil pesto has an official recipe! This was published by the Genoa Chamber of Commerce and is composed of 7 ingredients; Ligurian basil leaves, Mediterranean pine-nuts, Vessalico garlic cloves, Ligurian extra virgin olive oil, coarse sea salt and two types of cheese, aged Parmesan and Pecorino from Sardinia. Of course, most of us have to use locally sourced ingredients such as basil leaves garlic and olive oil. It may also not be possible to find both cheeses. I actually often make it with just Parmesan (but don't tell anyone from Genoa!).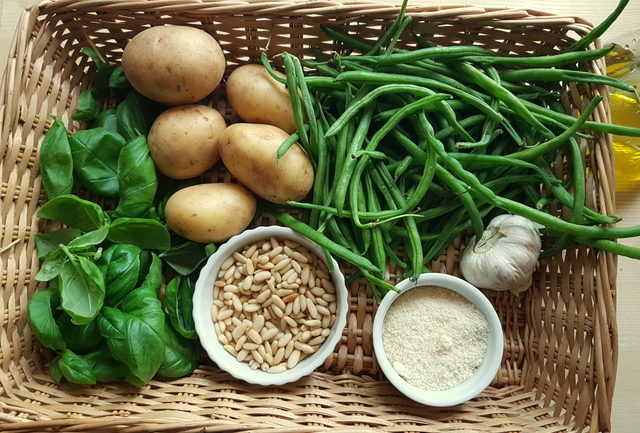 Pesto Pasta Liguria with potatoes and green beans.
Pasta with pesto can be found in every restaurant in Liguria. The pasta is usually trenette (similar to linguine), trofie or corzetti and is dressed with just pesto and grated cheese or, as in this recipe, with potatoes and green beans as well. Normally just called pesto pasta Liguria with potatoes and green beans (pasta alla ligure con patate e fagiolini) , this dish is also known as pesto avvantaggiato. Most often the pasta, potatoes and beans are cooked in the same pot, sometimes one ingredient at a time, but also all together. Then everything is tossed with basil pesto.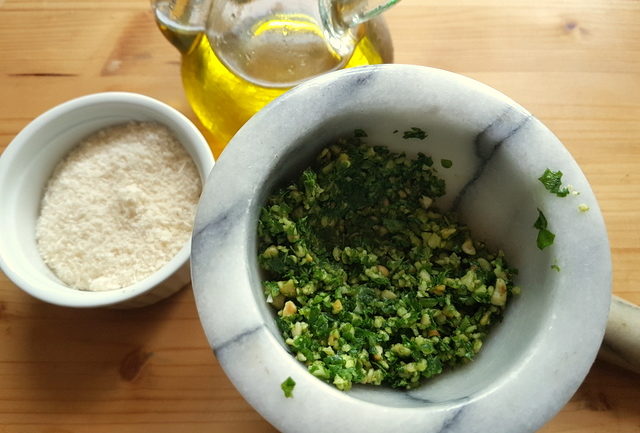 A one-pot recipe.
This pesto pasta Liguria with potatoes and green beans is a very easy dish to make as you only need one cooking pot and the pesto is, of course, made from raw ingredients. Some people recommend salting the cooking water quite heavily. This is because the salt is said to help maintain the bright colour of the beans and keep the potatoes firm!
Whether you cook the pasta, potatoes and green beans together depends on individual choice. However, if using fresh pasta, this definitely needs to be cooked alone or added only 2-3 minutes before the beans and potatoes are ready. I cooked the vegetables and pasta separately, but in the same water, as I find it's easier to get the cooking times right.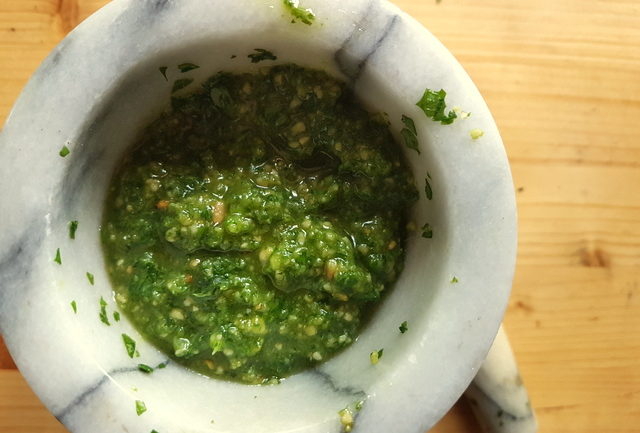 Making the pesto.
Traditionally basil pesto is made with a pestle and mortar. However, you can also use a blender or mini food processor. Alternatively, crush the pine nuts with a pestle and mortar or a hammer and use a blender for the rest. But, mix the cheese in after with a fork or wooden spoon. This gives the pesto a more authentic texture.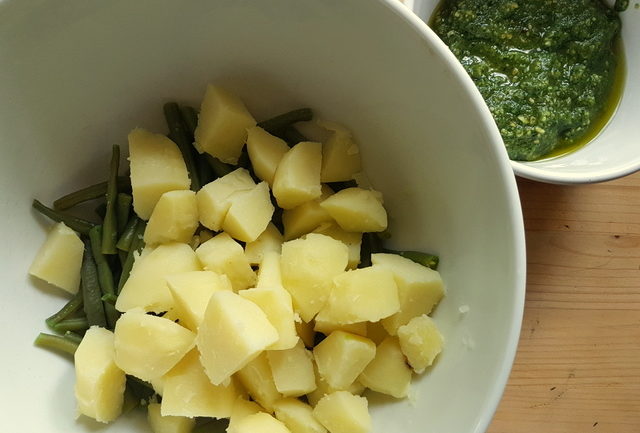 The Pasta.
I used corzetti pasta medallions for this pesto pasta Liguria recipe. Corzetti, also called croxetti, are an ancient type of pasta dating back to the Middle Ages. The designs on the pasta are created with a wooden mold or stamp. This stamp has two designs engraved on it (one for each face of the pasta medallion). In the past, noble families had their family coat of arms engraved into the stamp! You can read more about this unique pasta on my corzetti or croxetti post.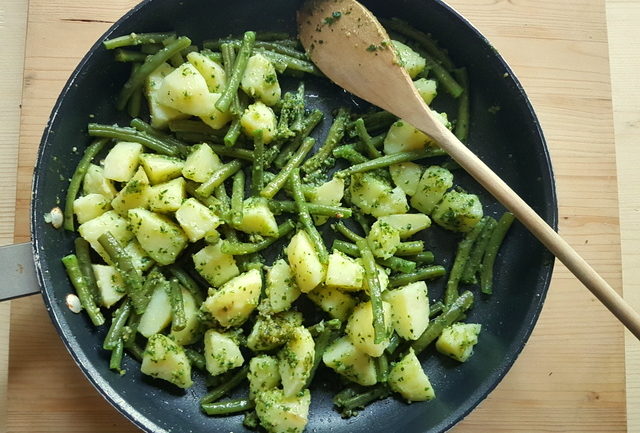 You can buy dried corzetti or make them yourself (I used dried).There are companies which sell these stamps online such as this company called Florentine Touch . They sell corzetti stamps through Etsy. You can even order your own design! If you can't find corzetti, trofie or linguine are traditional pasta partners for basil pesto with potatoes and green beans. Alternatively fettuccine or penne work well too.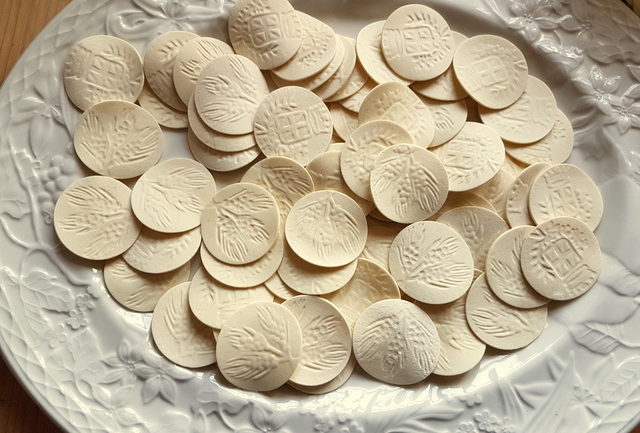 Let me know if you try this recipe!
Whichever pasta you use, I'm sure you'll love this typical Ligurian way to eat pasta with pesto. And, if you do try this pesto pasta Liguria with green beans and potatoes, please let me know what you think. You can comment here on the blog or on The Pasta Project Facebook page. Looking forward to hearing from you!
Buon appetito!
(See the recipe on the next page. Just scroll down and click 2)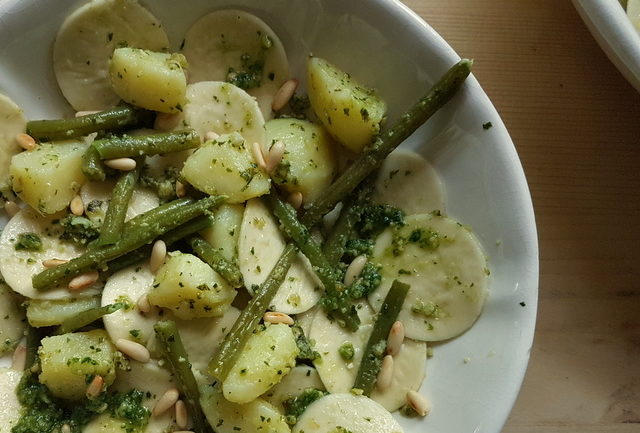 Save this recipe for later?
If you want to save this pesto pasta Liguria recipe for later, you can print it, bookmark this page or save it to Pinterest.
If you enjoyed this recipe have a look at my favorite Liguria pasta recipes.
More pasta recipes you may like
Pin for Later