Whole Wheat Penne with Aubergine and Pine Nuts.
This delicious whole wheat penne with aubergine (eggplant) is based on a recipe from the late Antonio Carluccio's book 'Complete Italian Food'. It's full of Mediterranean flavours, healthy and easy to make!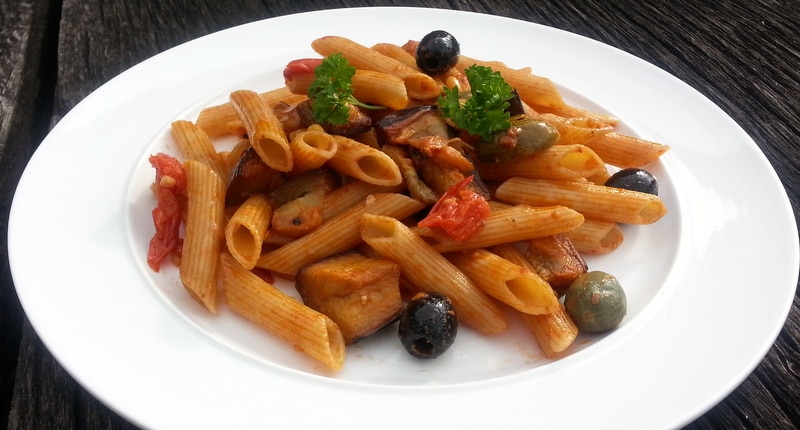 Pasta integrale con melanzane e pinoli.
I have been in the UK on and off recently. Unfortunately, to spend some time with my mum who hasn't been well. Apart from the fact that this has meant I have had less opportunity to upload posts, it has also restricted the amount of pasta dishes I can prepare for my pasta project! Of course, pasta is available in UK. But, the choice where my mum lives is limited (in comparison to Italy!). Plus, she's on a special diet which doesn't allow for a lot of pasta!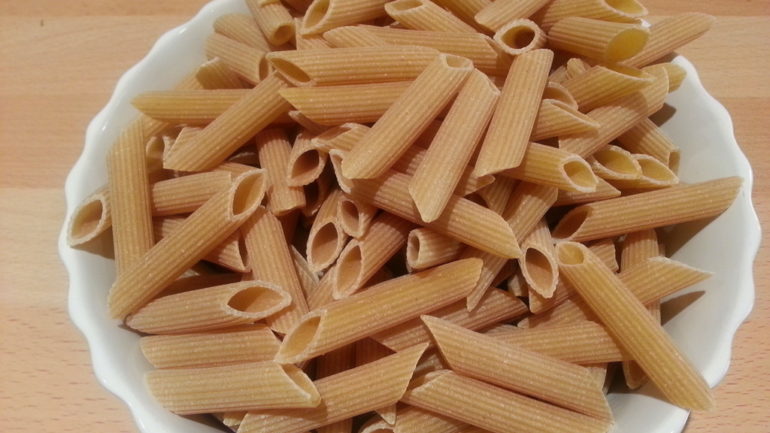 We haven't remained completely pasta free, however! Whole wheat pasta is always a very healthy option and so I decided to use whole wheat penne rigate to make my mum this whole wheat penne with aubergine vegetarian pasta recipe. I came across this penne with eggplant in one of her cookery books; Antonio Carluccio's Complete Italian Food. At home, I tend to use Italian cookery websites for inspiration, but my mum has some Italian recipe books, which, of course, I had to spend some time browsing through! I used penne rigate (grooved) rather than lisce (smooth) because, in my opinion, grooved pasta tends to hold the sauce better.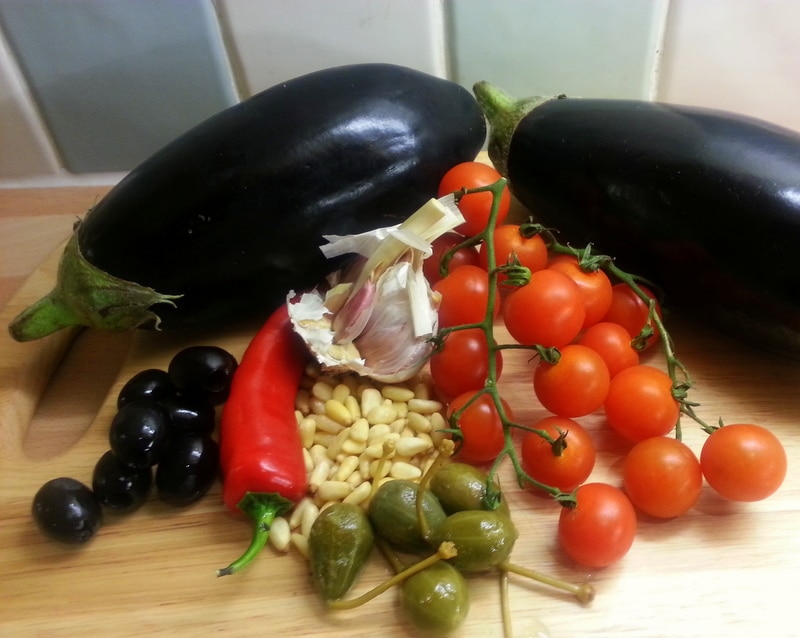 This recipe uses a combination of typical southern Italian ingredients, cooked to make a simple but delicious pasta sauce. These are very popular ingredients for pasta dishes throughout Italy, especially in the South. This whole wheat penne with aubergine is also great during the summer months because it's light and easy to digest.
I love British supermarkets!
The great thing about British supermarkets is that, apart from the small choice of pasta, you can find such a great variation of produce from around the world. Italian supermarkets are more limited when it comes to non-Italian food. So, although most of the ingredients for this recipe came from the Mediterranean countries (aubergines, olives, pine nuts, capers, chilli peppers), I was able to buy everything I needed.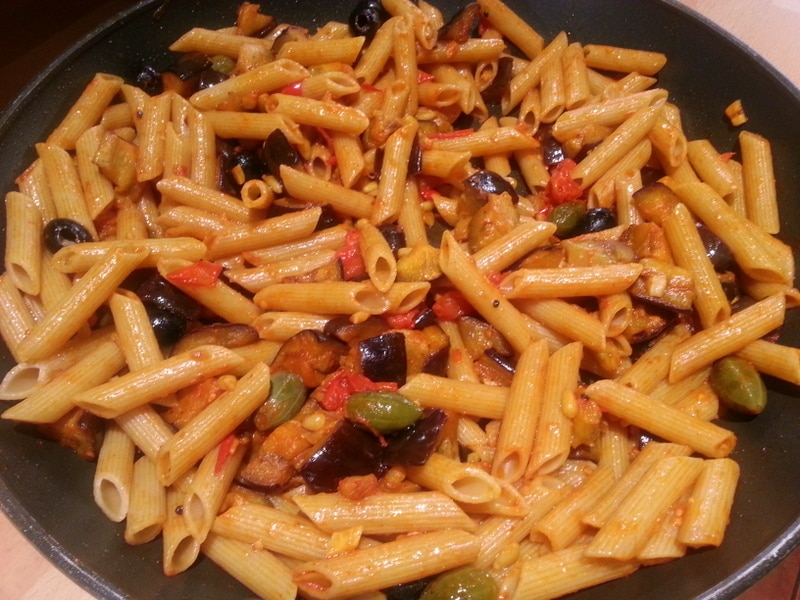 Well almost! I couldn't find pecorino cheese, not even in Waitrose, so I made do with a beautiful chunk of parmigiano I had brought from Italy and instead of salted capers (which I also couldn't find) I used lovely large caper flowers! As a footnote, I also added cherry tomatoes and reduced the amount of tomato paste in Carluccio's recipe! I always prefer to use fresh tomatoes.
The result was superlicious! I think the whole wheat penne added a depth of flavour, as did the caper flowers. It also tasted really good the next day and although I just warmed the leftovers up in the microwave, I reckon it would work as a cold pasta salad in summer or baked with the addition of some mozzarella! So when you make it, make extra. You'll have two meals for the time it takes to make one!
Buon Appetito!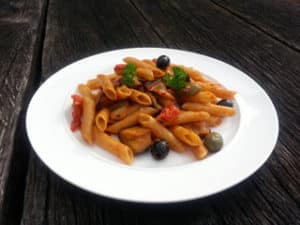 Whole wheat penne with aubergine and pine nuts
A taste of the Mediterranean with nutritious whole wheat pasta
Cuisine:
Italian, Mediterranean
Keyword:
pasta, pasta recipe, penne, vegetarian
Ingredients
400

g

whole wheat penne rigate

400

g

aubergine

cut into small cubes

1

garlic clove finely chopped

1

tablespoon

concentrated tomato paste

10-12

datterini or cherry tomatoes

1

red chilli pepper

peperoncino finely chopped

20

pitted black olives

60

g

grated parmesan or pecorino

8-10

caper flowers stems removed

Extra virgin olive oil

Salt and pepper
Instructions
Put the aubergine cubes in lightly salted water for 30 minutes, then drain, squeeze out the water and pat dry on kitchen paper.

Fry them in olive oil with the garlic until brown. Aubergine tends to absorb the oil so you may need to add more if they start to stick.

Add the cherry tomatoes, tomato paste, pine nuts, caper flowers, chilli pepper and olives and continue to cook on a low heat for 15-20 minutes. The longer you cook the sauce, the more concentrated the flavours will be. Add a little water if the mixture is too dry.

Add salt and pepper to taste

While the sauce is cooking, put a pot of water onto boil for the pasta. Add salt once it starts to boil and bring to the boil again. Cook the pasta in the boiling salted water until al dente according to the instructions on the packet, then drain and mix well with the sauce.

Serve with the grated parmesan or pecorino cheese.
Recipe Notes
This recipe could also be served as a cold pasta salad in summer or baked with the addition of some mozzarella.
If you can't find whole wheat penne any short pasta can be used such as fusilli or maccheroni.
Adapted from Complete Italian Food Antonio Carluccio