This amazingly delicious and super simple one-pot fresh fava bean pasta recipe from Sicily is so much more than the sum of its parts! All you need is pasta, fresh fava beans, spring onions, wild fennel or dill, pecorino and ricotta to make what is one of the best spring pasta recipes I know!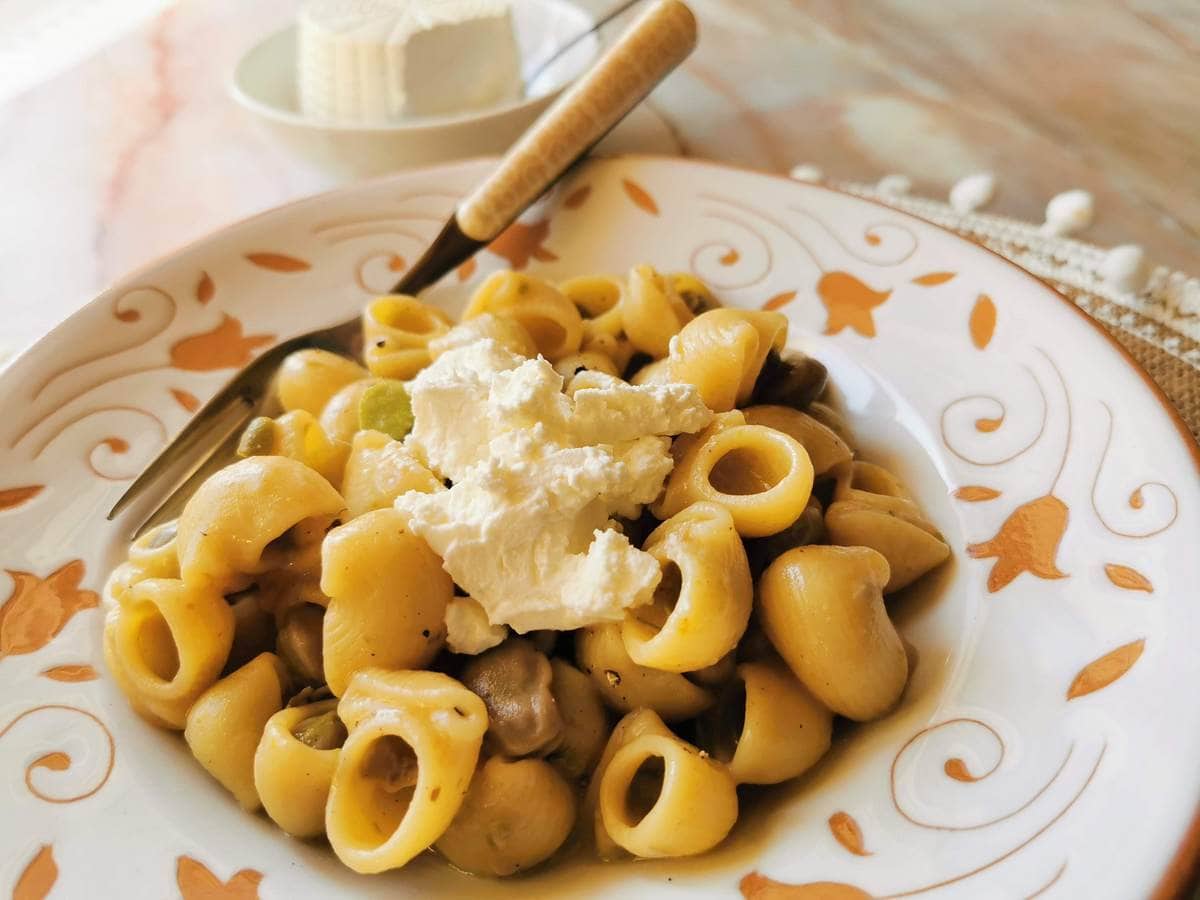 Pasta con fave.
Being Sicilian, my hubby Salvatore loves fava beans (broad beans)! So, as soon as they are available, he comes home with bags full! Normally fava or fave in Italian are most abundant from the middle to end of spring! However, this year spring seems to have arrived early. We already have almond trees blossoming when normally they do so in the mid-March.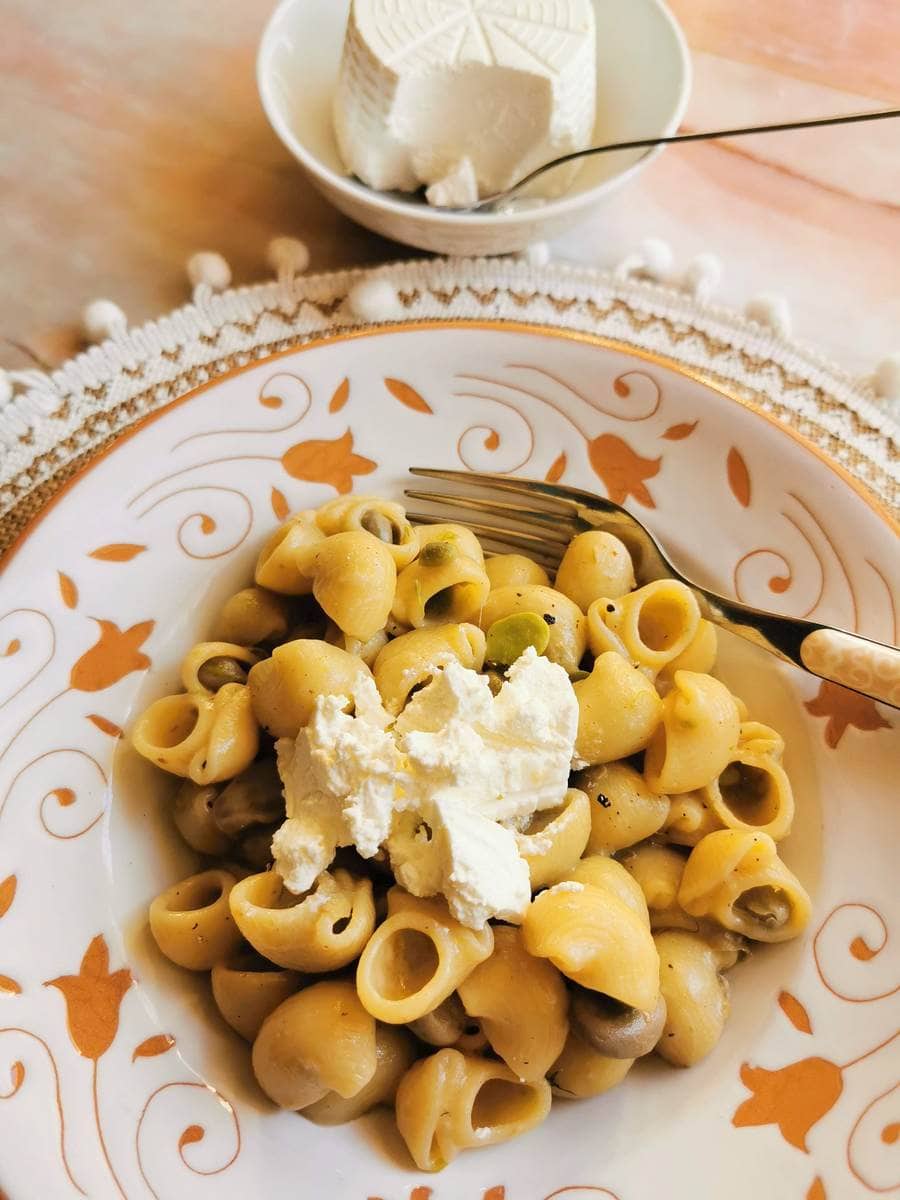 So, Salvatore brought home a bag of very young fava beans. In fact, most were pretty small, as you can see in the photos. However, like peas, fava beans are sweeter and more delicious when small. Hubby ate quite a few raw and the rest I used to make his favourite spring pasta recipe, pasta con fave!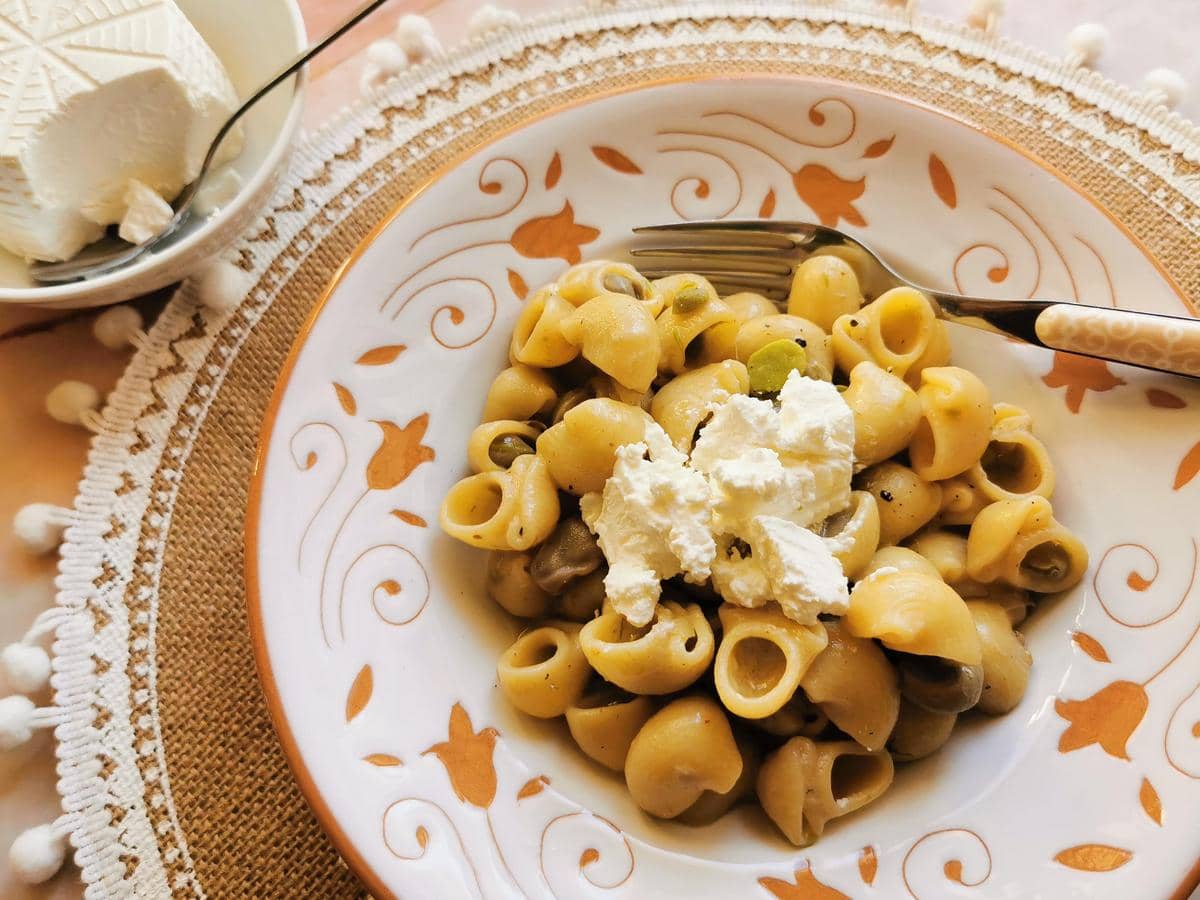 The Italians love fava beans!
The Italian kitchen is traditionally based on seasonal produce. And, even though many foods can now be found year-round there are still lots of dishes that Italians prefer to make and eat with fresh 'field to fork' ingredients. This is particularly true in the spring when veggies and legumes such as asparagus, peas, new potatoes, agretti (salwort) and fava beans are available.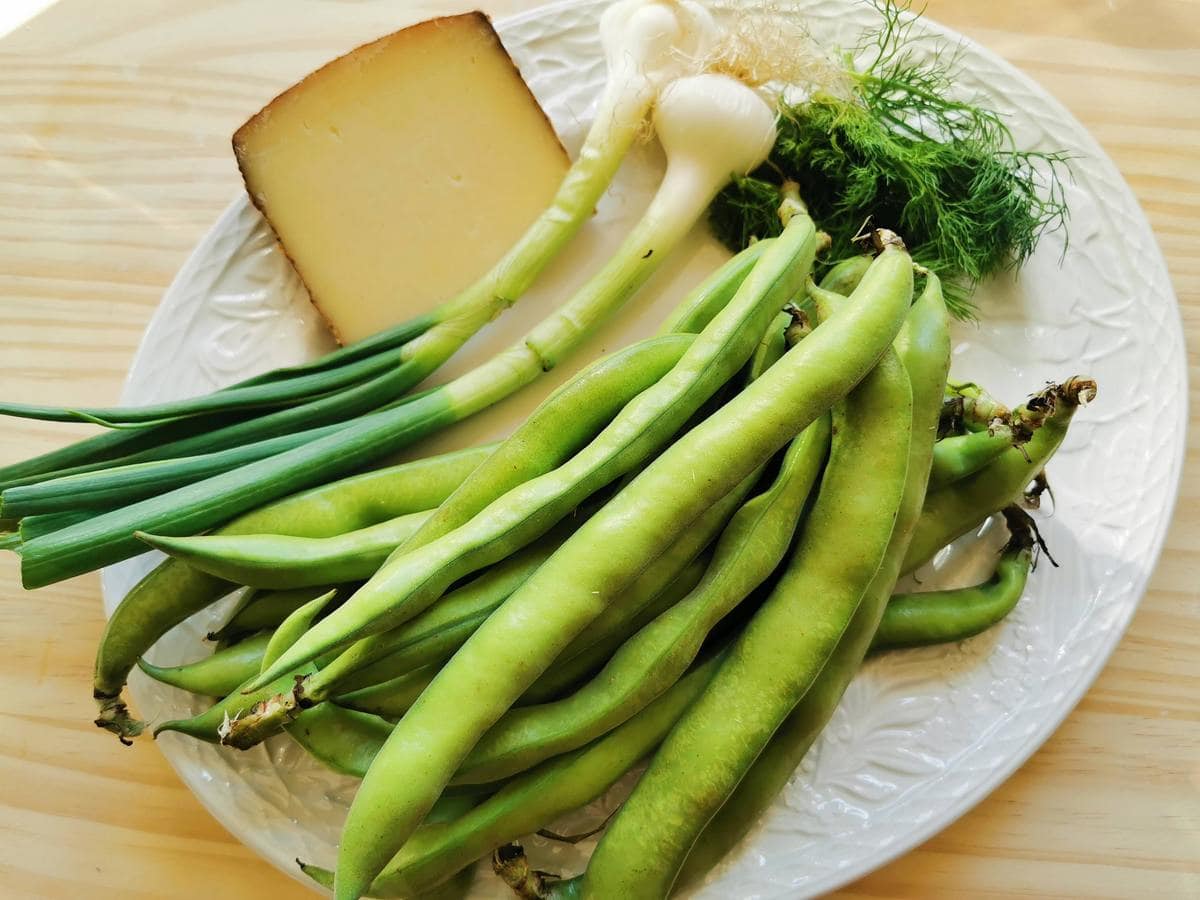 Fava beans, also called broad beans or faba beans, are among a handful of produce that actually can't be found fresh all year round. I guess they can't be cultivated in greenhouses. So, when they appear in the shops and markets, they sell out pretty quickly! The Italians love fava beans!
Italians have been cultivating fava beans for thousands of years!
Other Italian fava bean recipes.
There are a number of Italian fava bean dishes, particularly in Central and Southern Italy. After all, Italians have been cultivating these beans for hundreds, even thousands, of years. The Romans eat uncooked fava beans with pecorino. The Sicilians make a thick soup called maccu or macco with dried fava beans.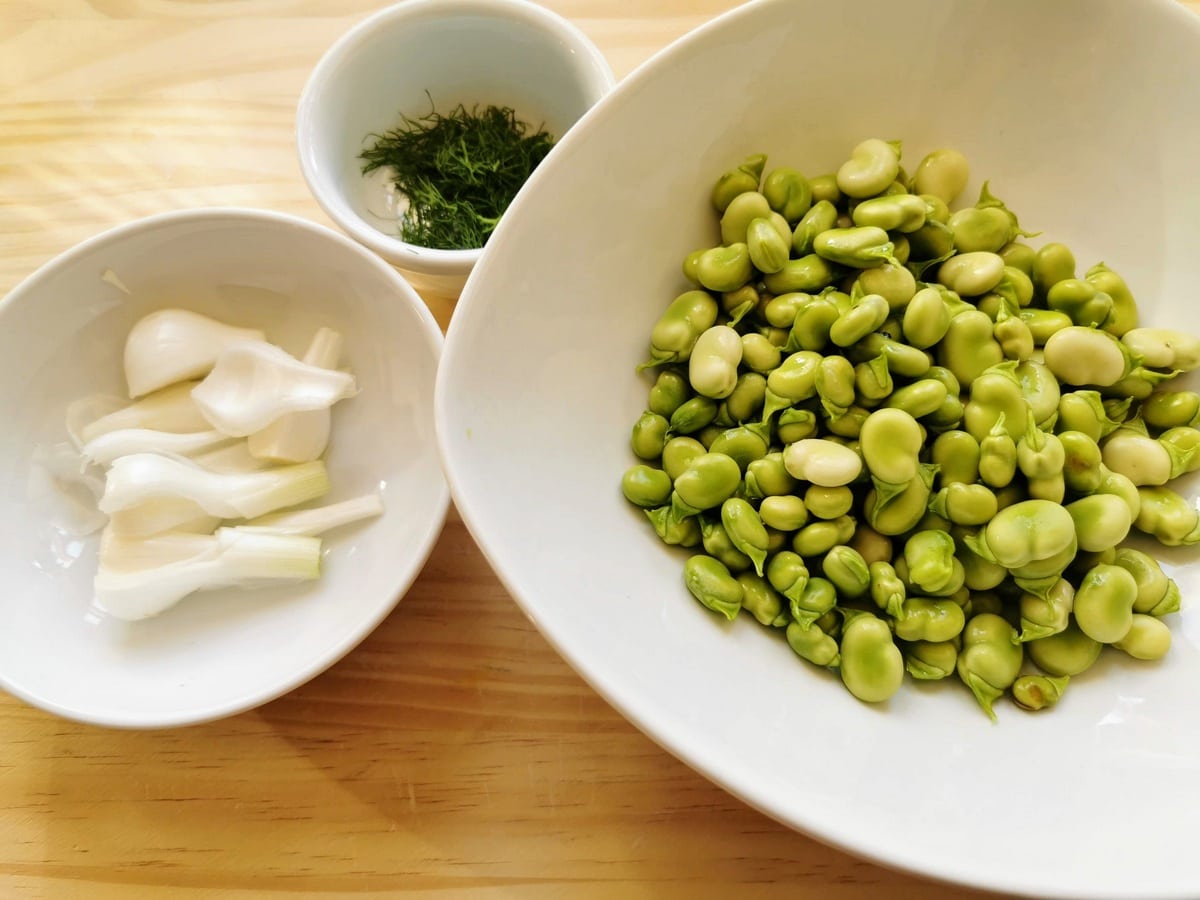 In Puglia, fava beans are eaten as a side dish with breadcrumbs, pecorino and lemon juice. And, the Sardinians make La Favata, fava beans cooked with different cuts of pork and served on slices of the local flatbread, pane carasau.
There are also many other Italian fresh fava bean pasta recipes. I have already published a recipe for pasta with fava beans and pancetta from Le Marche. Also, on my to make list are minestra di pasta e fave (pasta and fava bean soup) from the island of Elba and pasta with white fava beans from Bari in Puglia.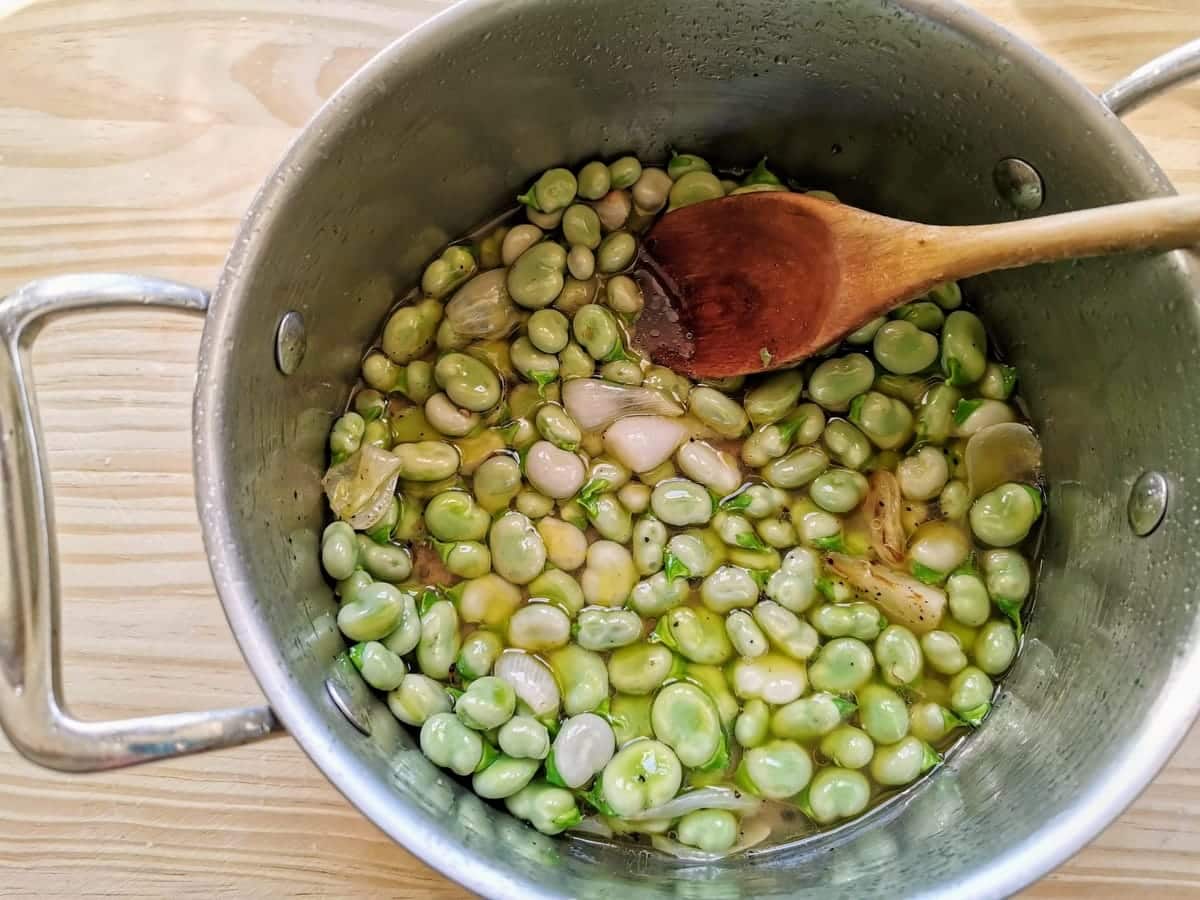 What do fresh fava beans look like?
From the outside fresh fava beans look very similar to fresh peas. The pods are green when young. However, they change to a blackish-brown as they mature. These beans are usually harvested when quite young, so while the pod is still green. You can eat very young fava whole with the pod, as Salvatore likes to do. And, small beans are delicious raw without removing the outer skin which becomes tougher as the beans mature.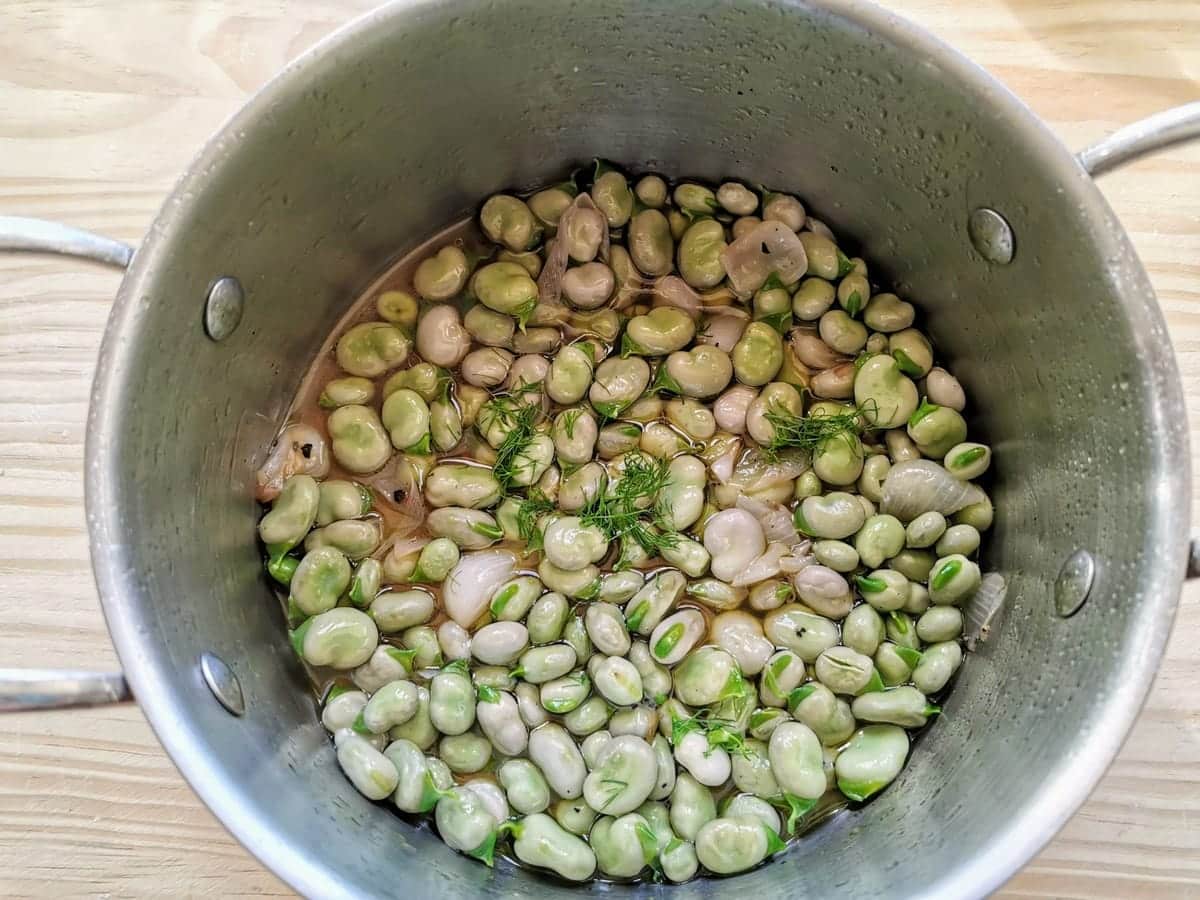 Do you need to peel shelled fava beans?
If you are using older more mature beans in a recipe, it's better to remove the outer skin before cooking. But, in my opinion, fava beans don't need to be peeled unless they are quite big. And, in that case, they're probably best dried! When you remove the skin of each bean, you also remove the very earthy flavour that makes them so tasty. Plus, it takes so much more time!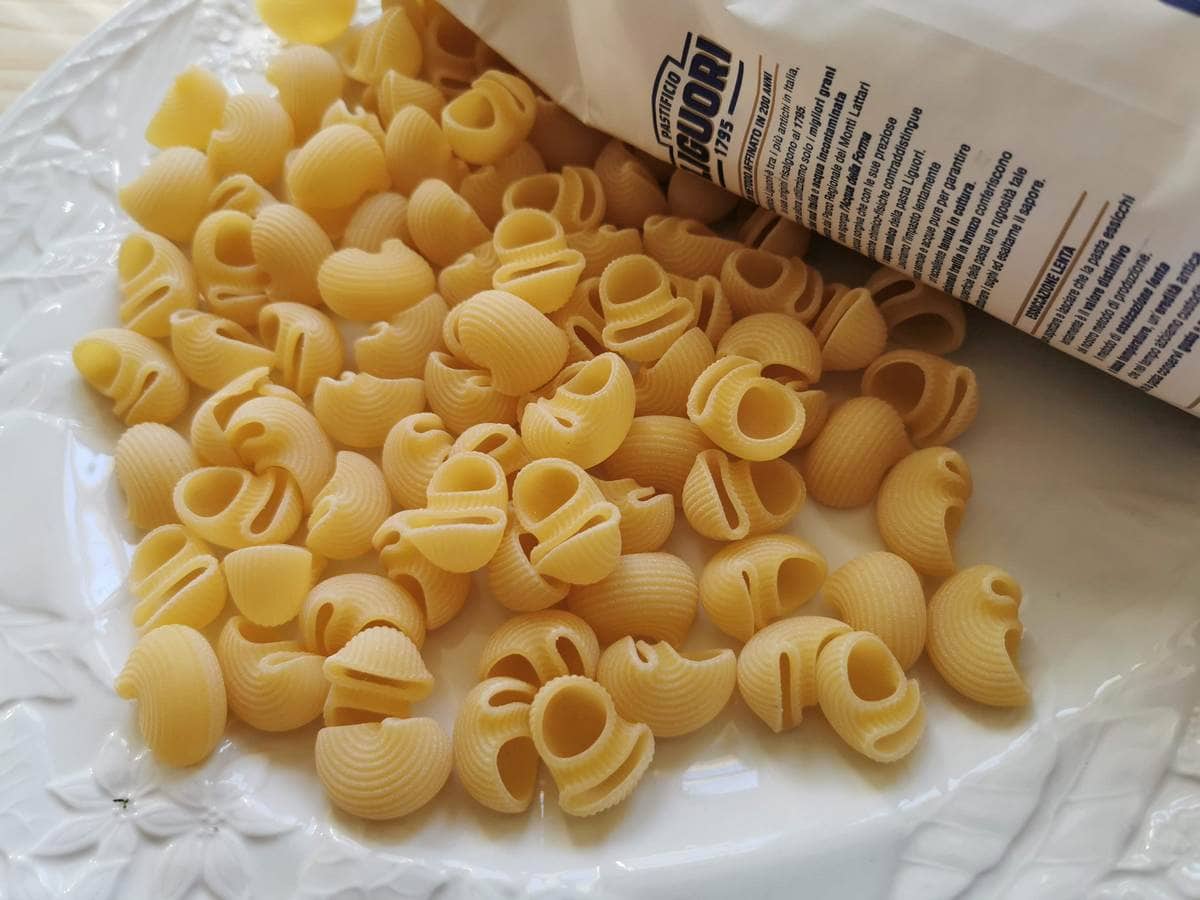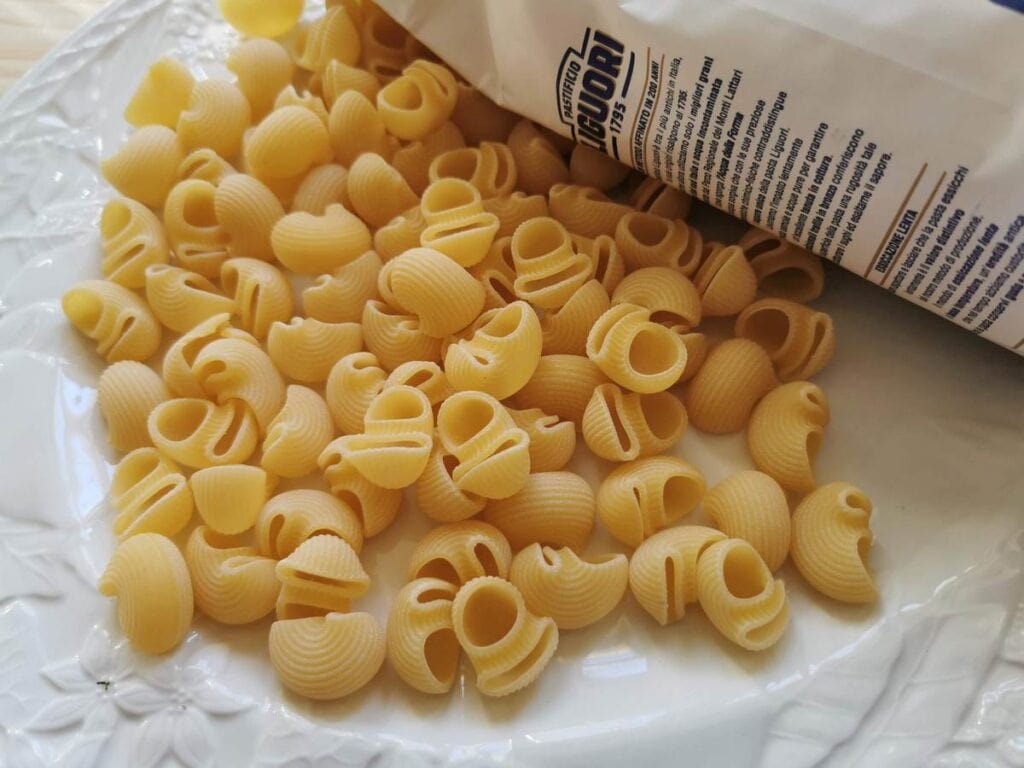 Are fava beans nutritious?
Like other legumes, fava beans are super nutritious. I've read that the nutrients in fava beans can even aid in preventing some illnesses.‌ Apparently, one cup of cooked fava beans contains almost a third of daily protein needs which makes these beans a great ingredient for vegans and vegetarians.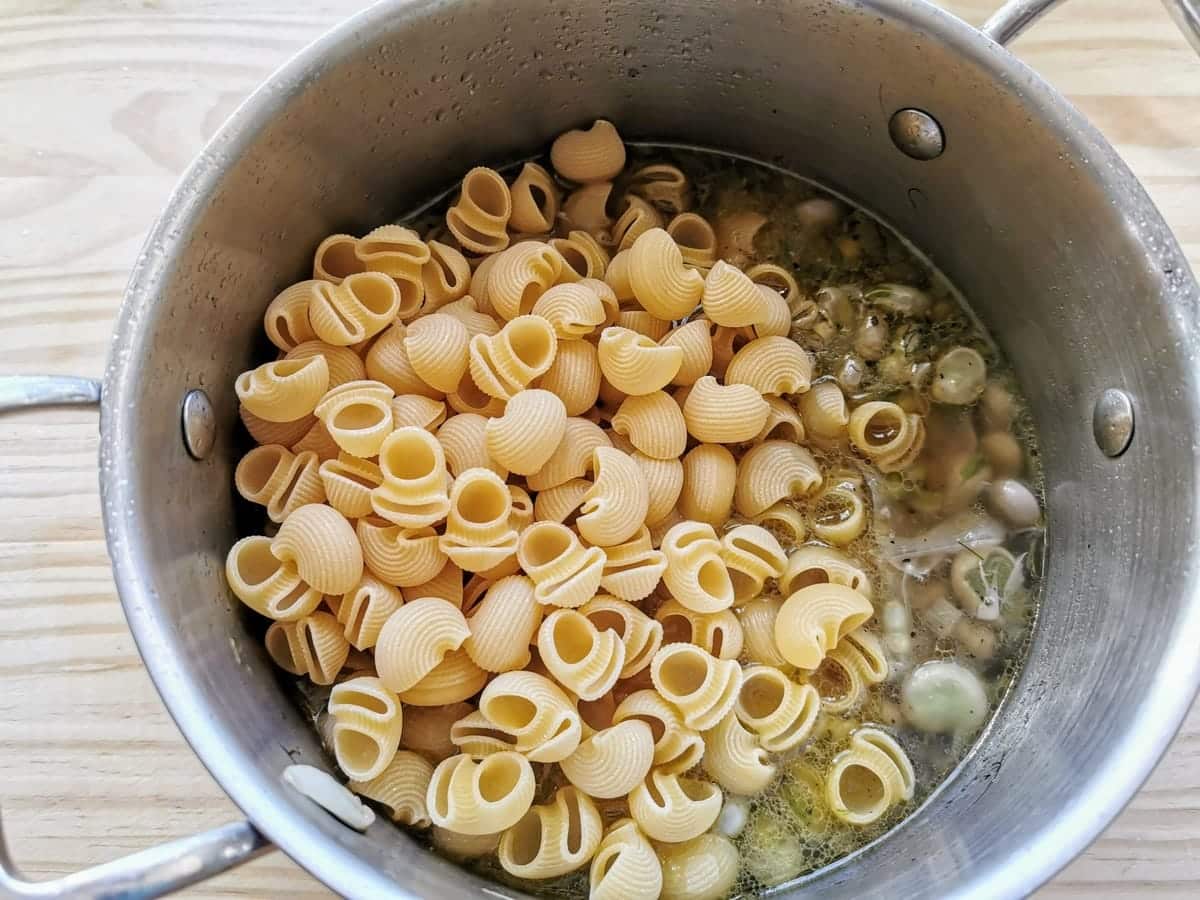 Other ingredients and substitutions.
Apart from the beans and the pasta, this recipe has just a few ingredients some of which differ in other versions. I used spring onions, but you can use leeks instead. Traditionally Sicilians add wild fennel to this recipe. You can replace it with dill or mint or fennel seeds if you like them. Wild fennel grows by the roadside in Sicily and the people there use it in lots of recipes.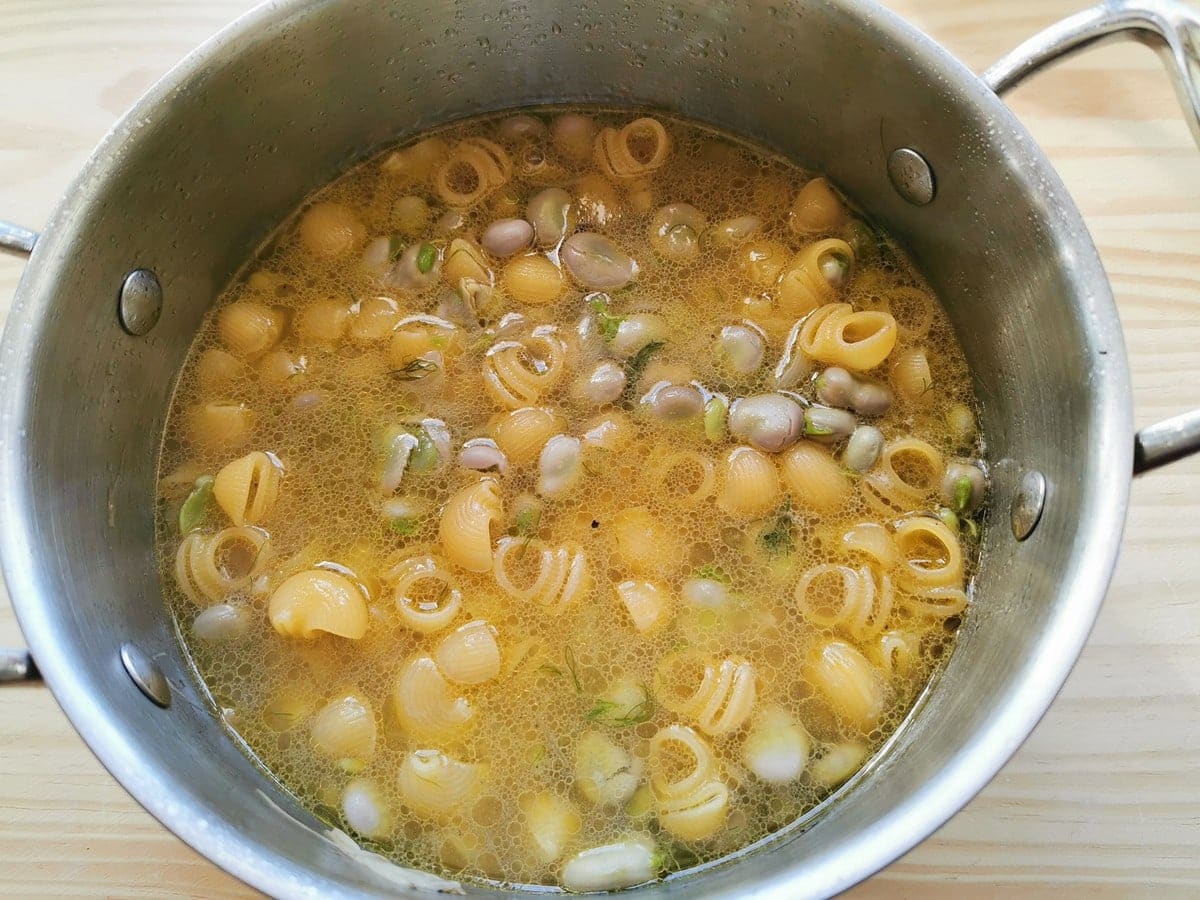 Most versions of this Sicilian fava bean pasta call for Pecorino cheese although I've also seen ricotta salata used. In addition, I added fresh ricotta as per some recipes I saw. I think it makes this dish super creamy. But, you can leave it out. However, Pecorino isn't vegetarian so strict vegetarians will want to use a vegetarian parmesan or just use ricotta.
The pasta.
Traditionally this recipe would be made with ditali, small pasta tubes. I used lumache rigate, grooved snail shell pasta. My pasta came from a company who make pasta in Gragnano, a town near Naples that's very famous for dried pasta. You can also use small shell pasta called conchiglie.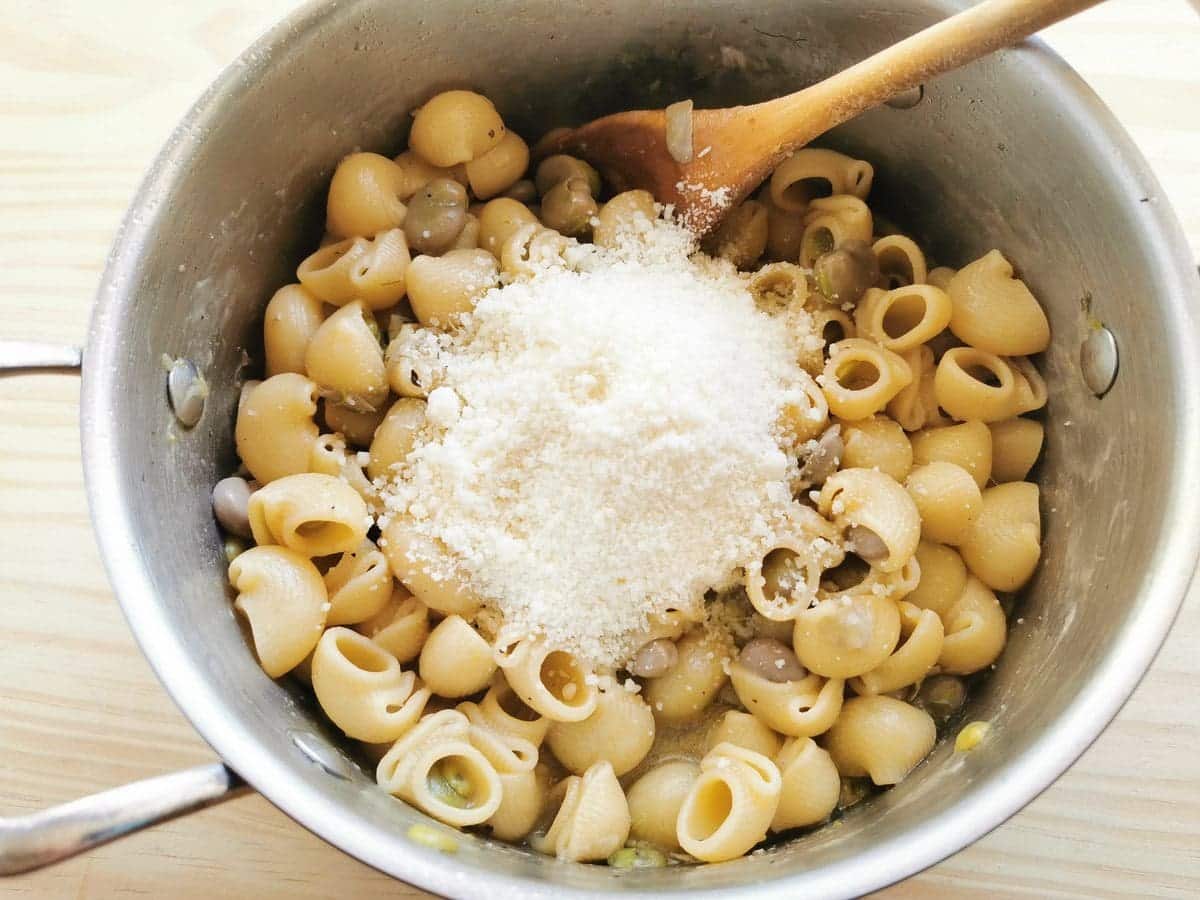 How to make this fresh fava bean pasta recipe.
Shelling and peeling (if necessary) the beans is the most time-consuming step in this recipe. Once that's done, there's not much else to prepare. Just rinse the beans and wash, peel and chop the spring onions or leek. Then, chop the wild fennel, dill or mint.
Next, sauté the onion or leek in olive oil until soft, add the fava beans. Sauté these for a minute then, add water, season with salt and pepper and cook covered for 10-15 minutes. You can also use vegetable stock instead of water.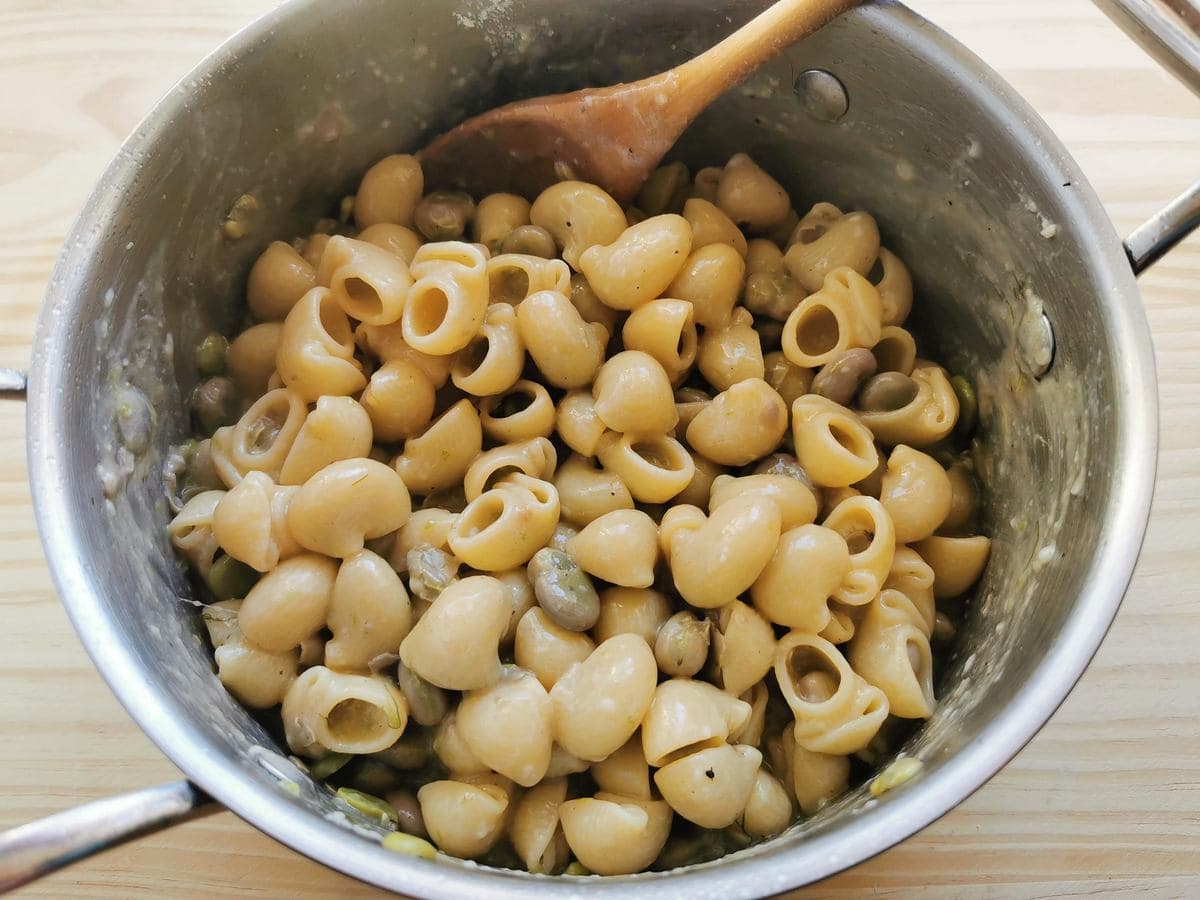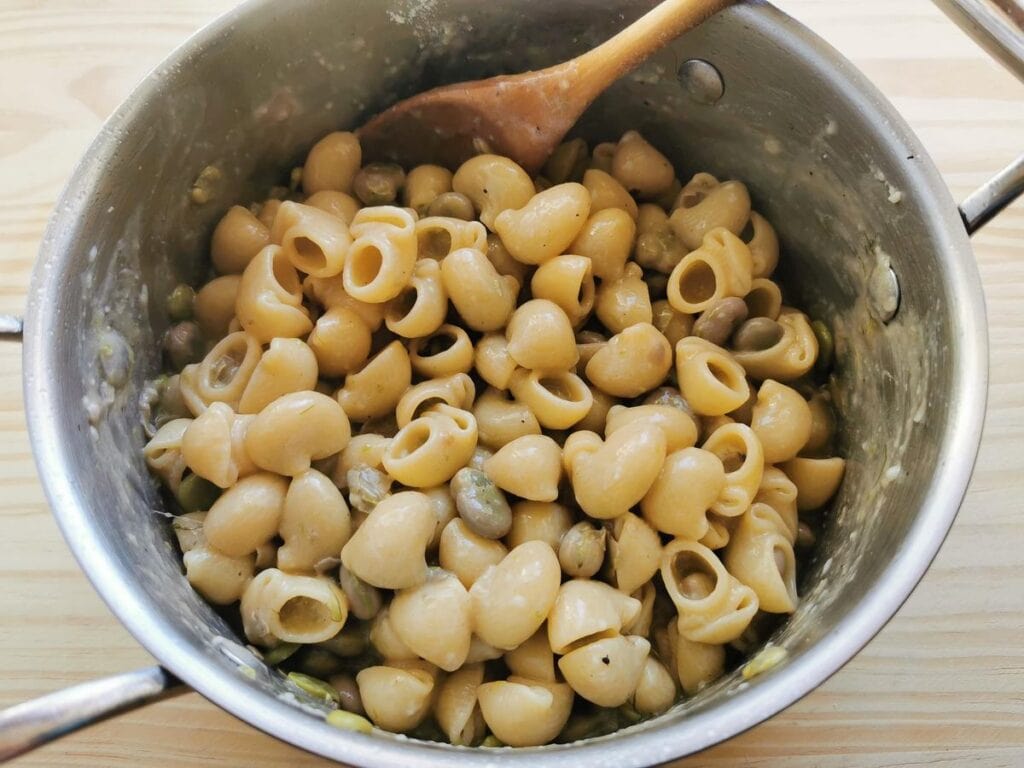 Once the beans are almost cooked, add the wild fennel and then some hot water (enough to just cover the beans) and pour in the pasta. This recipe calls for the same amount of pasta as shelled beans so for 2 people you need 200g of each or double that for 4. Cook the pasta with beans in the same way as you would risotto, stirring frequently and adding a little more hot water (has to be hot) if required.
Once the pasta is al dente, remove the pot from the heat and add in the pecorino or vegetarian parmesan. Continue to stir until the cheese has melted into the sauce. Add more salt if necessary and freshly ground black pepper.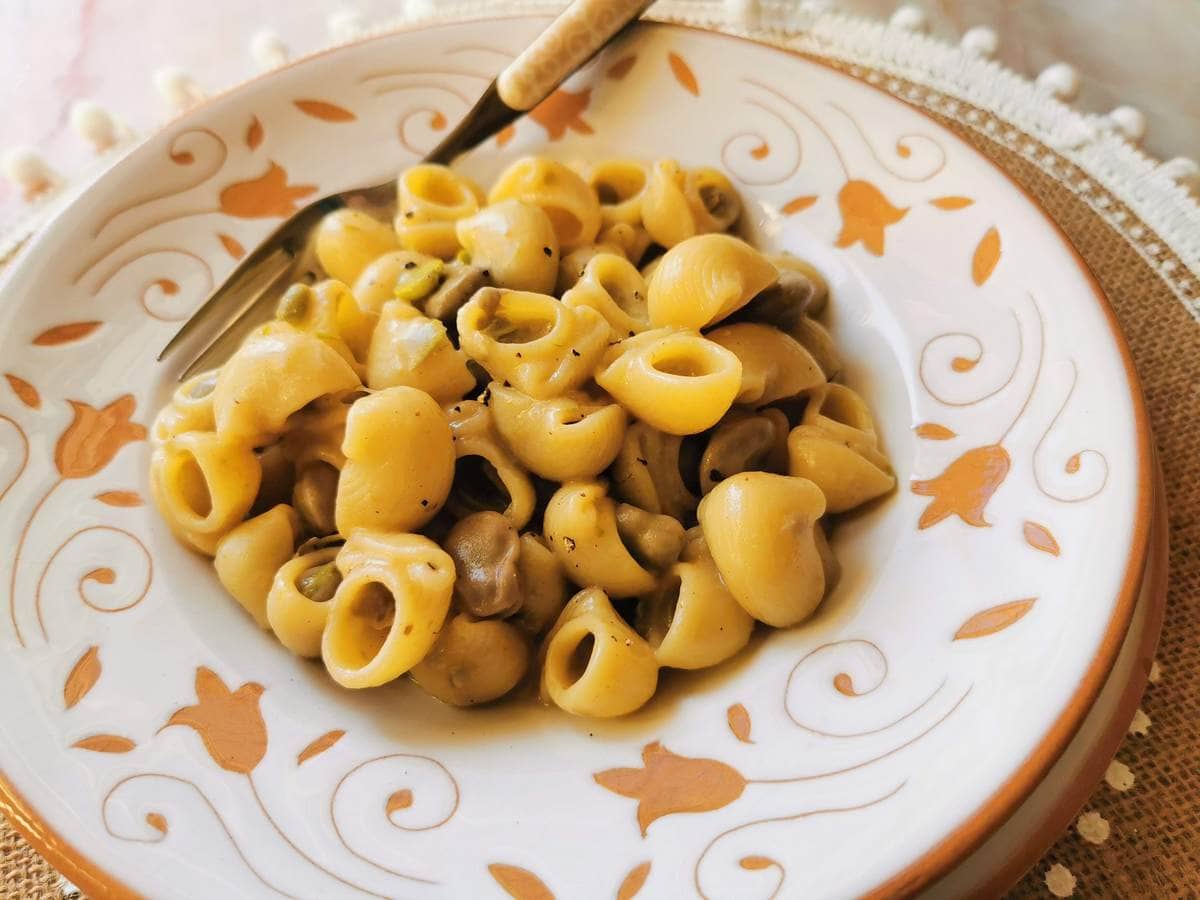 Serve immediately with a large dollop of fresh ricotta, if using! If you decide to use fennel seeds instead, these are best added to the beans as they are cooking before pouring in any water.
Ways to serve and conserve this fresh fava bean pasta with pecorino.
Here in Italy, pasta is usually eaten as a first course (primo piatto) followed by a main course or it's a one plate meal. Although not traditionally Italian, I think some pasta dishes are great served as a side dish or part of a buffet. This Sicilian recipe would definitely work as a side dish with sausages or even white meat like chicken or pork!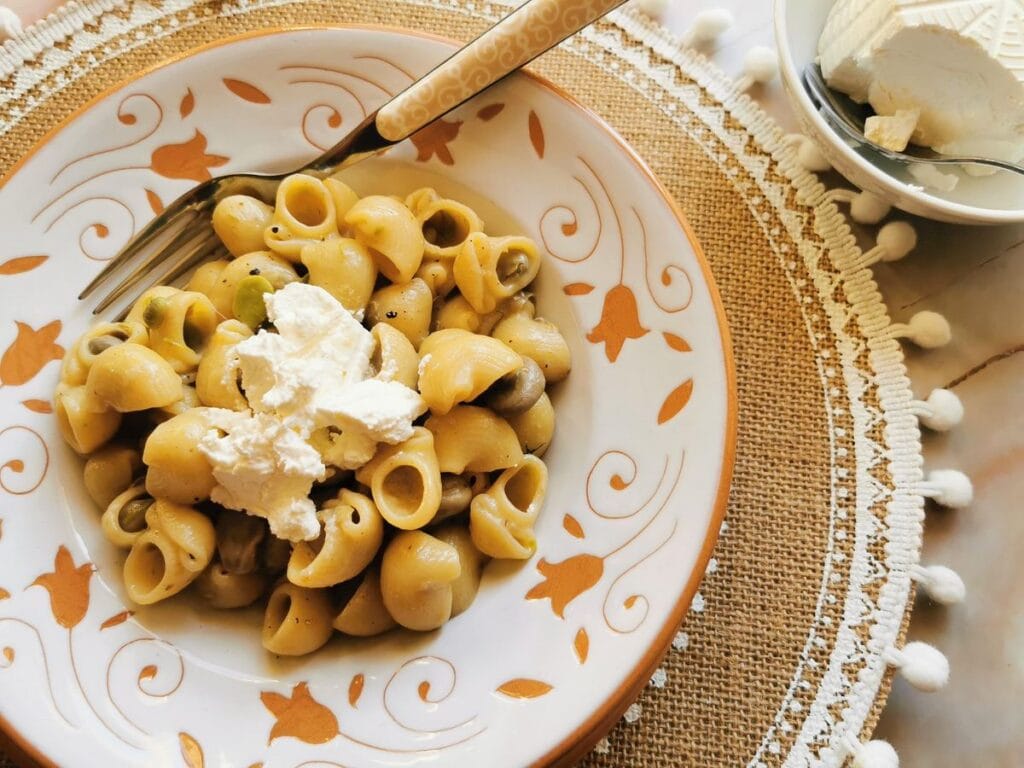 I don't like to freeze cooked pasta as it gets mushy when defrosted. This fava bean pasta can be stored in a sealed container in the fridge for 2-3 days. The pasta with be softer than when first cooked but leftovers are delicious heated in the microwave. I have also eaten leftover fava bean pasta cold with added canned tuna. Seriously good!
Pin me!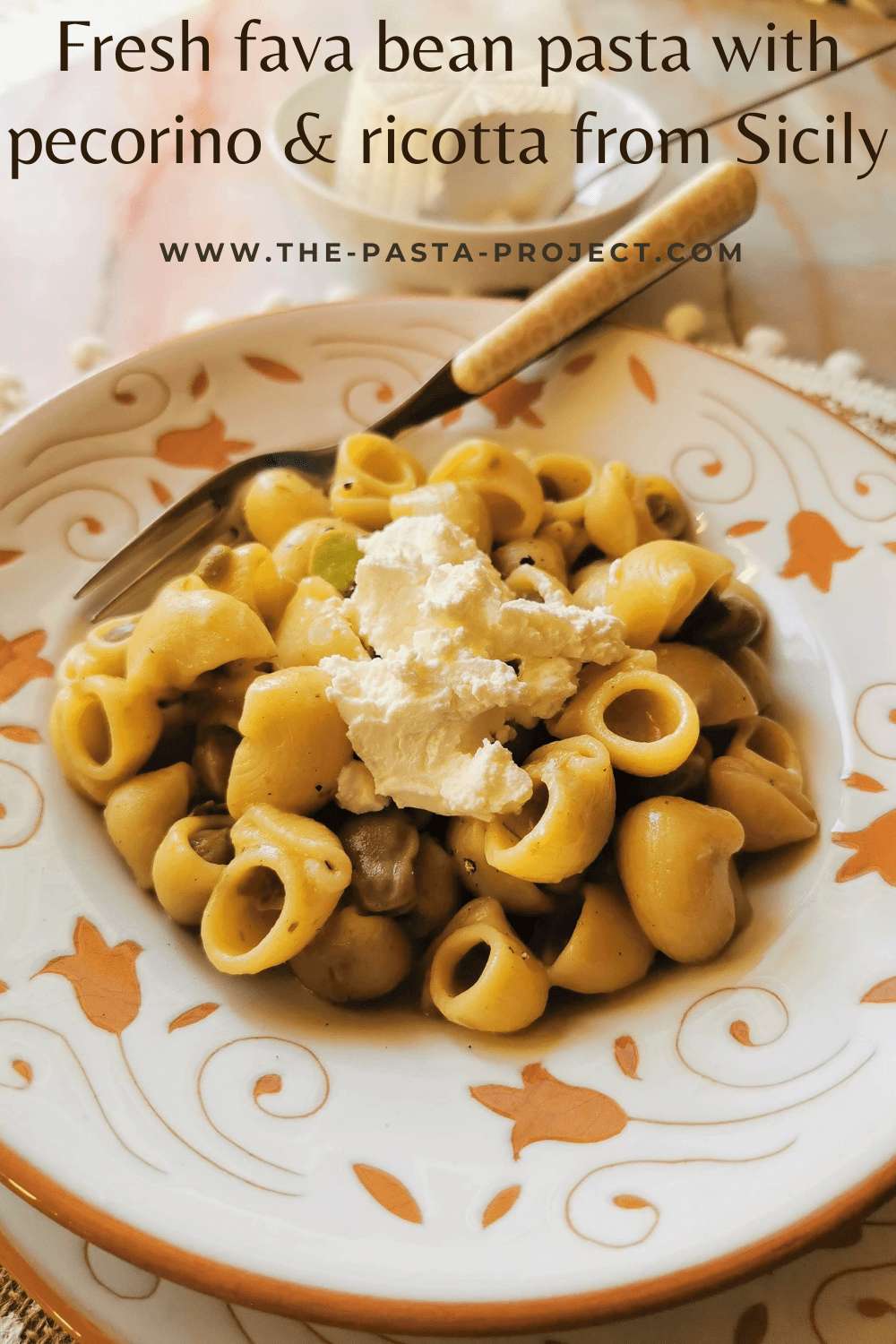 If you make this fresh fava bean pasta recipe, I'd love to hear how it turns out. Please write a comment here on the blog, email me or post a comment on the Pasta Project Facebook page.
Your feedback is really appreciated!
Buon Appetito!
Other Italian spring pasta recipes.
CHECK OUT MY SHOP PAGE.
If you are interested in learning how to make homemade pasta and different types of gnocchi, check out my shop page for some great video online courses from my friends in Rome! Nothing beats learning to make pasta from Italians! Plus while you're there why not order a copy of one of my pasta recipe cookbooks or checkout some recommended pasta making tools? All great prezzies for pasta lovers!