A Fresh Tuna Recipe from Sicily.
These delicious Sicilian fresh tuna meatballs are flavoured with mint, pine nuts and lemon zest. They are fabulous served with potatoes or as an antipasto or snack without the tomato sauce. But, I like them best with pasta!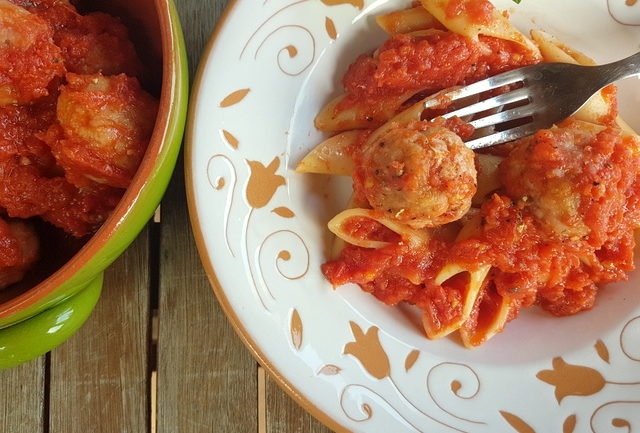 Polpette di tonno fresco con pasta.
Traditionally Sicilians eat these delicious fresh tuna meatballs as an antipasto without the sauce or as a main course with just bread or potatoes (I like them with mashed potatoes!). As with beef or pork meatballs, Italians are more likely to eat the sauce with pasta and the tuna meatballs separately. In fact, there are many traditional recipes which are divided into two courses in this way. For example orecchiette with braciole (beef rolls) or Italian braised pork ribs with pasta.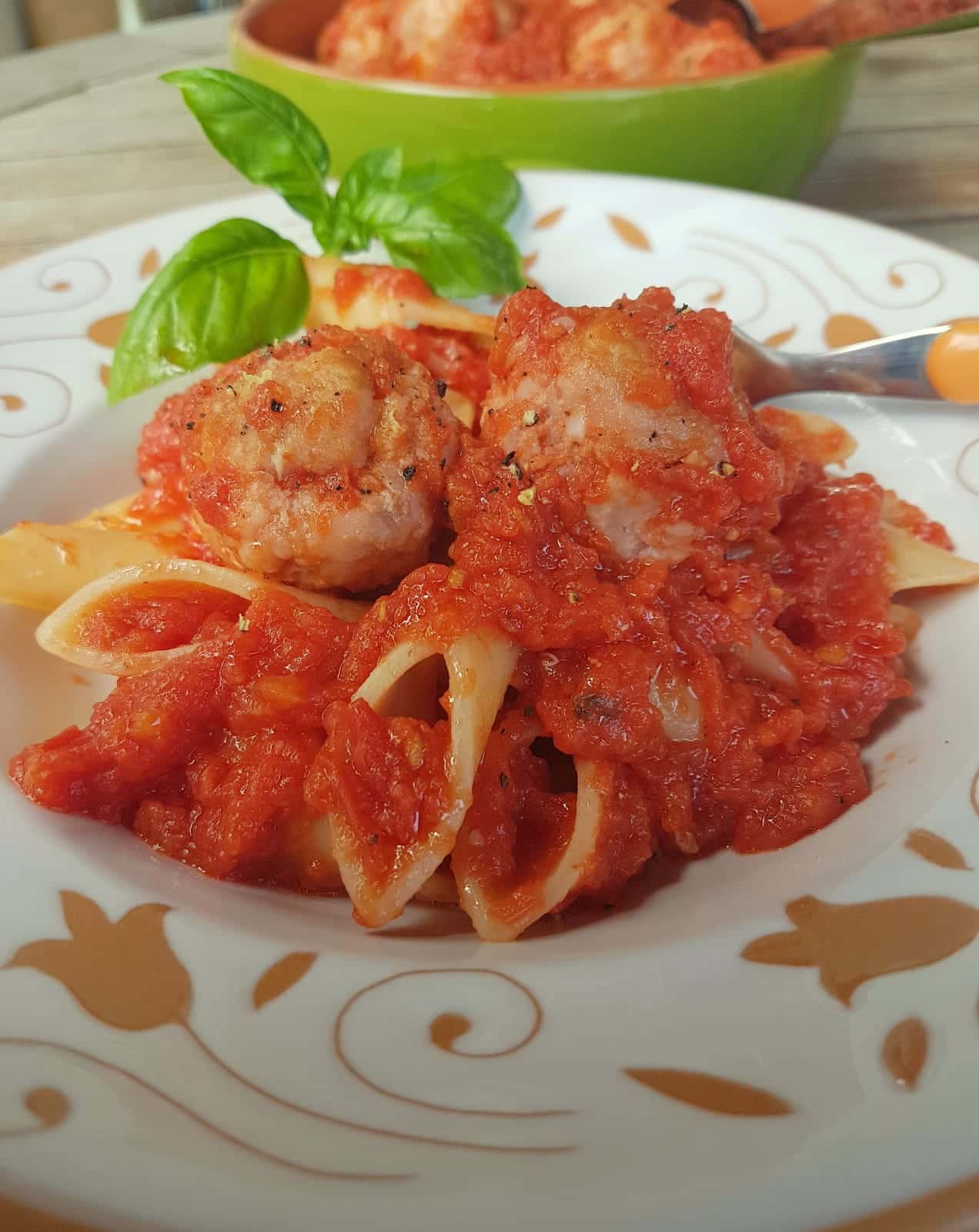 Having said that, I found a number of recipes for Sicilian fresh tuna meatballs with pasta on Italian food blogger and recipe sites. This made me happy because it meant I could add this recipe to the other fresh tuna pasta recipes here on The Pasta Project! This is a such a tasty way to serve fresh tuna. However, these tuna meatballs can also be made with canned tuna if you can't find fresh!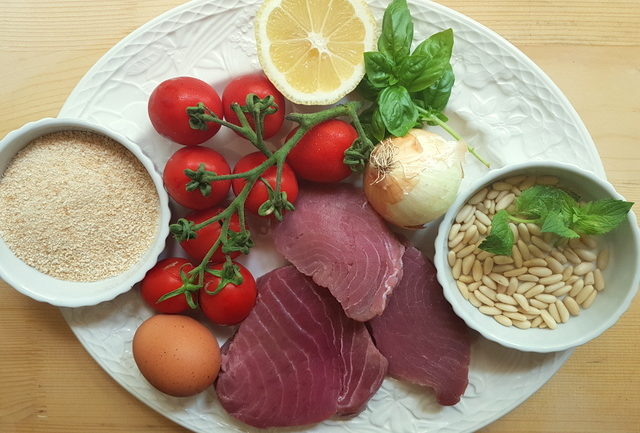 A little fresh tuna meatballs history.
Because Atlantic bluefin tuna migrate past Sicily to reach their spawning grounds in the Eastern Mediterranean (Levantine sea) and the South Tyrrhenian sea, fresh tuna has been fished and eaten in Sicily for hundreds, if not thousands of years. In fact, there is a Neolithic cave painting of tuna on the Egadi Island of Levanzo.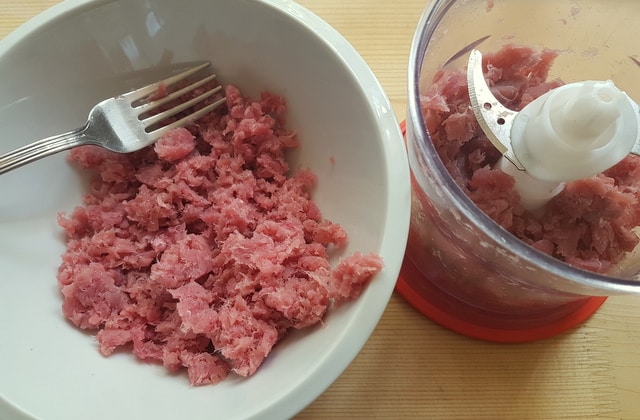 The Egadi Islands are located off the North Western tip of Sicily. Favignana, the biggest of the islands, was home to the first tuna canning plant in Europe.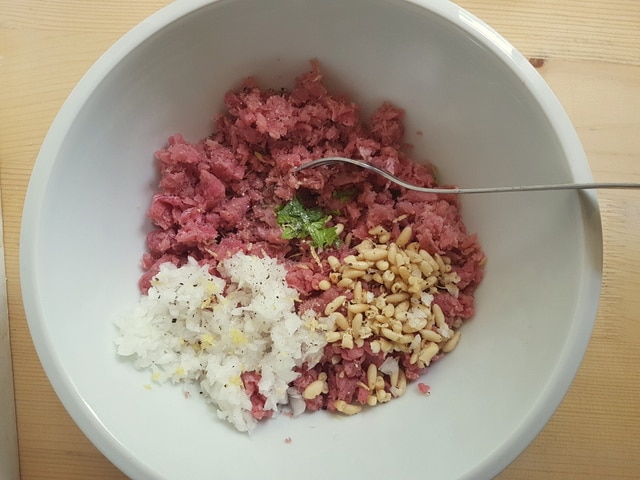 This plant was owned by the Florio family, who also bought all the Egadi islands in 1876. The Florio family's tuna netting, processing and canning tuna business (the tonnara of Favignana) actually employed practically every resident on the island. I have read that the idea of Sicilian fresh tuna meatballs was born there! Apparently, the employees were allowed to take home the tuna scraps, which the wives used to make tuna meatballs!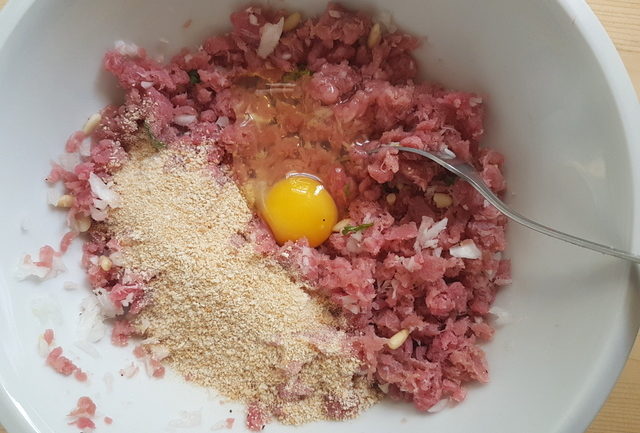 La cucina povera.
Whether that story is true or not, Italians certainly have a talent for turning leftovers into delicious meals. This aspect of Italian cuisine was born out of necessity and poverty. However, despite the fact that we live in richer times, there are still many traditional recipes from 'la cucina povera' (the kitchen of the poor) that remain popular. One I posted recently is North Eastern Italian canederli dumplings made with stale bread.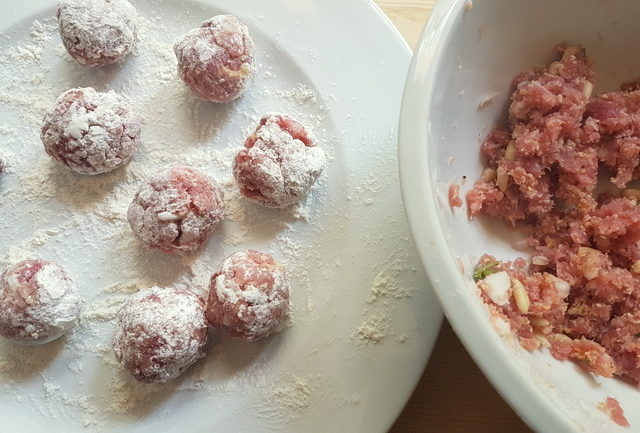 Nowadays, Sicilian fresh tuna meatballs aren't made with scraps or leftovers. In fact, they're usually made with the best quality tuna, most often bluefin. But, they do remain a typical dish in Favignana and other parts of Sicily and Calabria where tuna fishing was an important industry.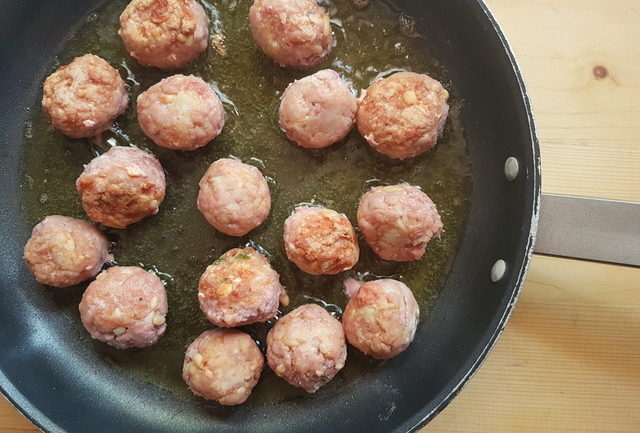 Today, there's still a tuna fishing industry in Sicily, of course, but because of a depletion in tuna populations and fishing restrictions , it's not as big as it used to be.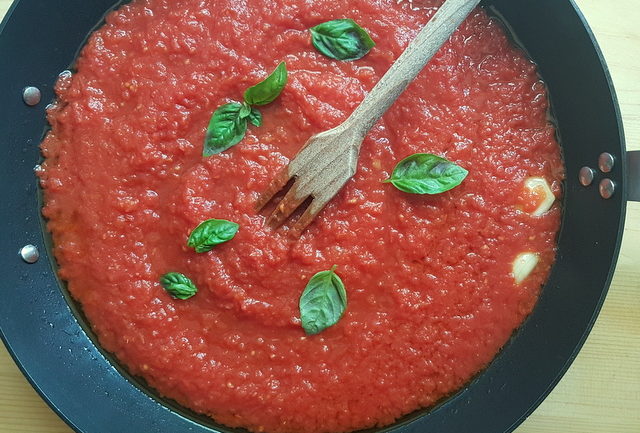 Making these fresh tuna meatballs.
Apart from the fresh tuna this recipe has just a few other ingredients. The tomato sauce is a simple classic Italian tomato sauce made with fresh peeled tomatoes, passata (ready liquidized tomatoes) or polpa (ready chopped fresh tomatoes). The only other additions to the sauce are garlic and basil.
You can make these meatballs with swordfish instead!
The tuna meatballs are ground fresh tuna, finely chopped onion, breadcrumbs, egg, pine nuts, mint and lemon zest. I fried the fresh tuna meatballs in olive oil until they were slightly browned and then cooked them for a few minutes in the tomato sauce. Some Italians use grated pecorino instead of the breadcrumbs but I'm not really a fan of tuna with cheese. As a final note on this recipe, you can make these meatballs with swordfish instead or a mixture of swordfish and tuna.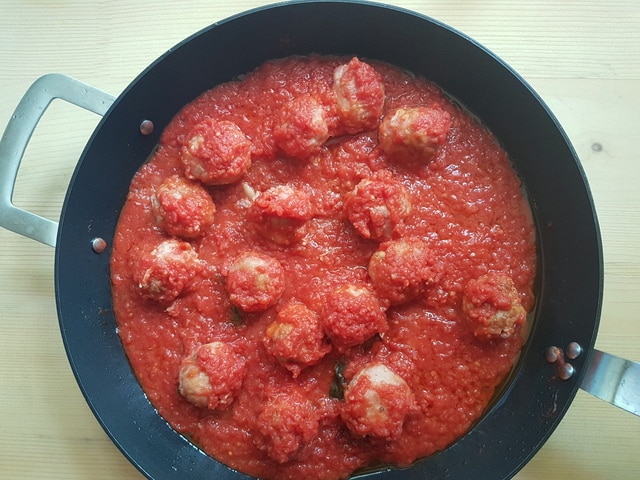 The pasta.
For this Sicilian fresh tuna meatballs recipe I used a wonderful pasta tube called genovesone. I got this pasta from pasta makers pastificio dei campi when I visited their factory in Gragnano, Naples last month. Pastificio dei campi are one of the companies that produce pasta di Gragnano IGP. You can read more about pasta from Gragnano and pastificio dei campi on my post about my visit.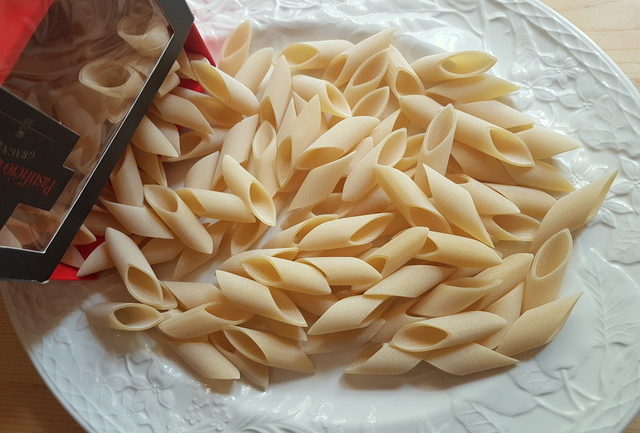 Genovesone are the larger version of a smaller pasta tube called genovesine. The latter is a popular shape with Neapolitan pasta makers. It is cut like penne but has a smooth surface and similar diameter to ziti. Genevesone are bigger but also cut like penne. Of course you can use other types of pasta for this recipe. Pasta tubes like paccheri, penne, short ziti or mezze maniche are great. But, I have seen recipes with long pasta such as spaghetti too.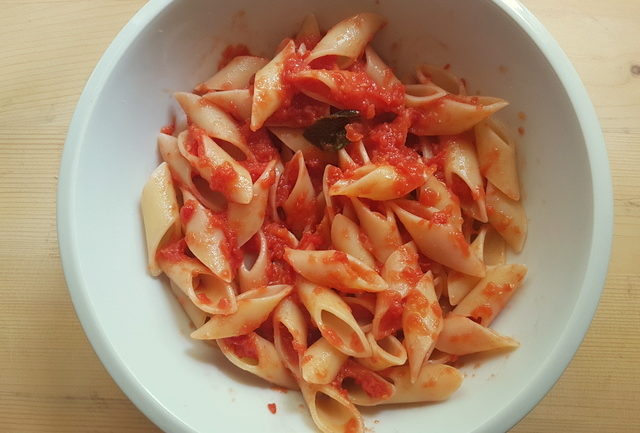 Whichever pasta you choose I'm sure you'll enjoy this Sicilian dish. If you make extra fresh tuna meatballs you can use this as a cook once eat twice recipe. Serve them with pasta one day and potatoes the next! Yum!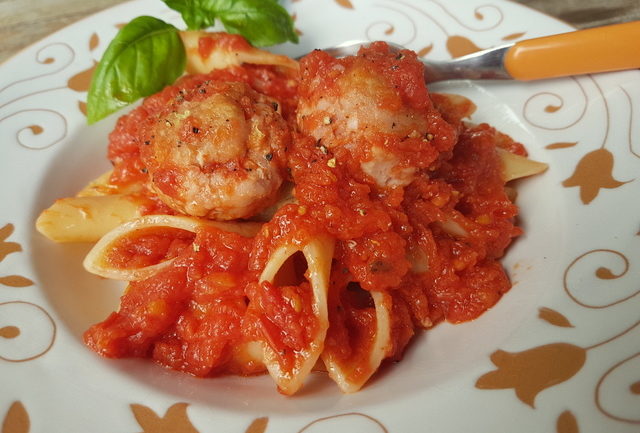 If you make this pasta recipe, I'd love to hear how it turns out and if you liked it. Please leave a comment here on the blog or on The Pasta Project Facebook page.
Looking forward to hearing from you!
Buon appetito!
Other Sicilian pasta and pasta recipes on The Pasta Project .
Save this recipe for later?
If you want to save this recipe for later, you can print it, bookmark this page or save it to Pinterest.
Pin for Later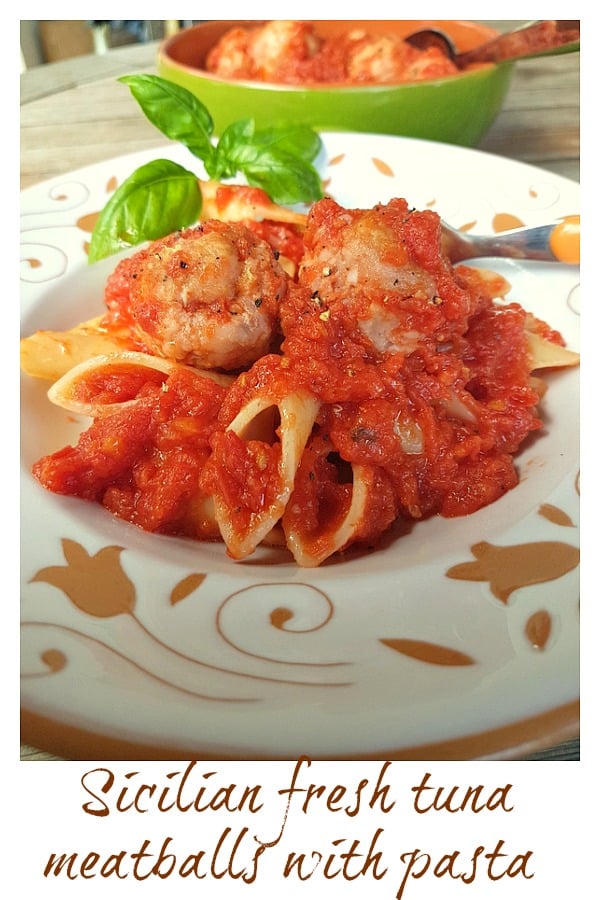 Pin for Later