Sausage and Radicchio Pasta Recipe from Northern Italy.
Sausage and radicchio (Italian chicory) is a popular combination for both pasta and risotto recipes, particularly here in Northern Italy, where most of the country's radicchio is grown. This sausage and radicchio pasta recipe has only 3 main ingredients and is super simple to make. It's also very tasty and full of authentic Italian flavour!
Pasta Radicchio e Salsiccia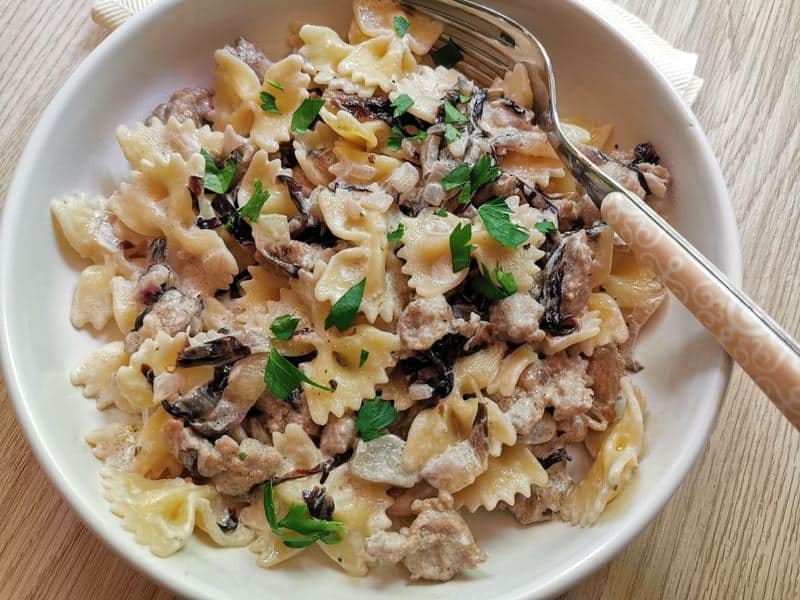 What is radicchio?
Radicchio is a leafy chicory also called Italian chicory. Although the Romans liked and ate radicchio, modern cultivation started here in Italy in the 15th century! A lot of Italy's radicchio is grown in Veneto (where I live), as well as Trentino and Friuli Venezia Giulia.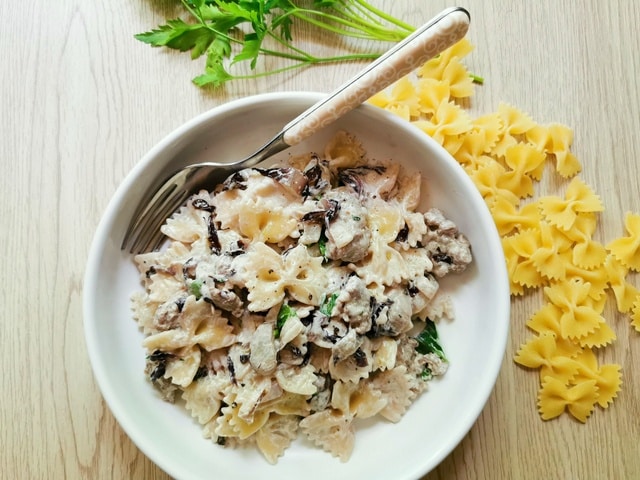 There are different types of Italian radicchio. The most common are 'radicchio di Chioggia' which is round and looks like a purple cabbage and 'radicchio di Treviso' which looks like Belgian endive. I particularly like the 'Tardivo' radicchio, which resembles flowers.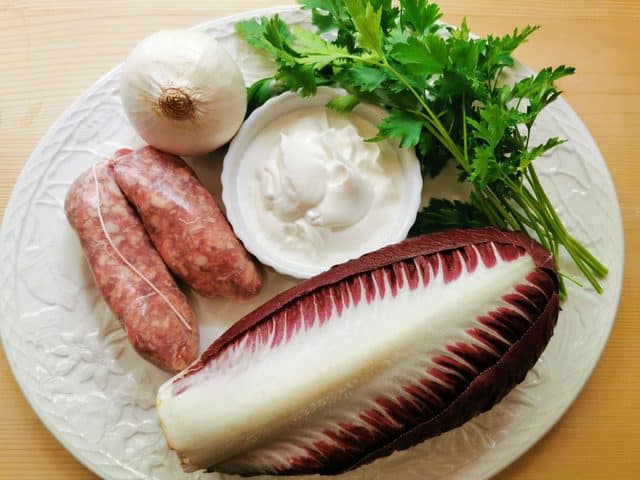 You can use any of these types of Italian chicory for this sausage and radicchio pasta. I used the one which looks like Belgian endive. Some people find radicchio a little bitter but the taste mellows when you cook it. This leaf vegetable is also very healthy. Italian chicory is full of vitamins, minerals, electrolytes and phyto-nutrients, which means it is good for the eyes!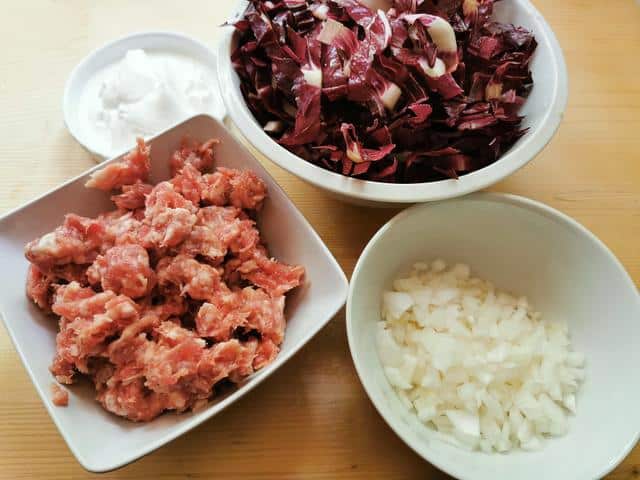 Cooking pasta with radicchio.
This sausage and radicchio farfalle is one of many pasta recipes that include these two main ingredients. Italians also like to make baked pasta, as well as lasagna, with radicchio and sausage. The lasagna version is a dish I want to make soon. I have a recipe for radicchio lasagna (pasticcio) here on the blog, but without sausage. Although, probably all I would need to do is add sausage meat to the skillet when cooking the radicchio!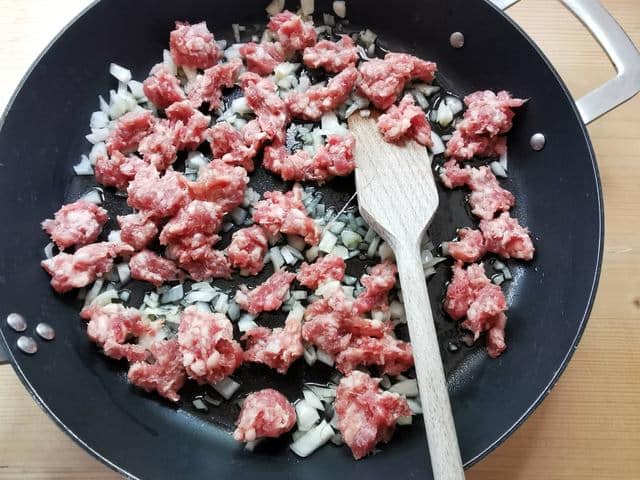 Like most sausage and radicchio pasta recipes, this one with farfalle (bow-tie pasta) is pretty simple. Apart from the pasta, sausage and chicory, all you need is some heavy cream and an onion. And, a little parsley to serve. This dish also doesn't take very long to make. In fact, it doesn't take much more time than you need to boil the water and cook the pasta!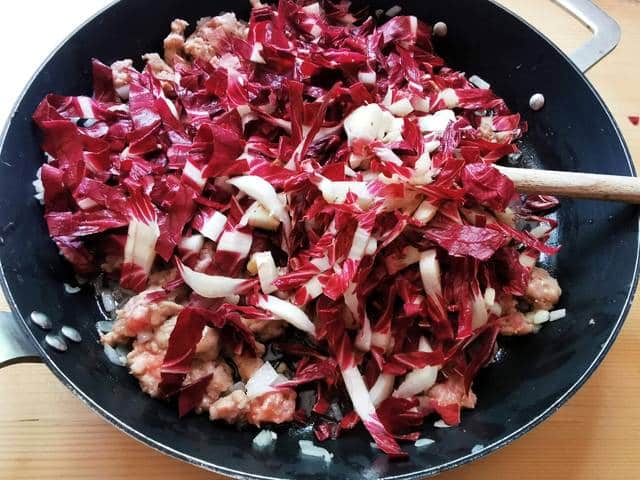 What kind of sausage should you use?
As you can imagine there are lots of different kinds of sausages in Italy. In fact, every region has its specialties and local types of sausage. Most Italian recipes for sausage and radicchio pasta call for 'salsiccia'. This usually refers to a simple fresh pork sausage made from a mixture of lean and fatty pork cuts, ground and mixed together with a little salt and wine, usually red. There are many types of salsiccia which also have spices or herbs such as fennel seed, nutmeg, black pepper, chili pepper (peperoncino) etc. But, for this recipe plain Italian salsiccia is best.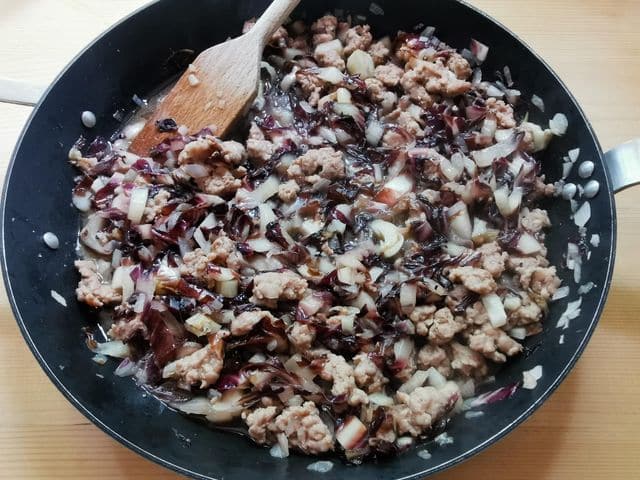 A little farfalle history.
I used farfalle or bow-tie pasta for this dish. This is actually one of the oldest pasta shapes in Italy. Farfalle, which means butterfly in Italian, was invented during the 16th century in the Northern Italian regions of Emilia-Romagna and Lombardy. In Emilia-Romagna, they also call this pasta shape 'strichetti'. Food historians say that farfalle pasta was invented as a way to use up left over pasta dough after making other pasta like filled cappelletti.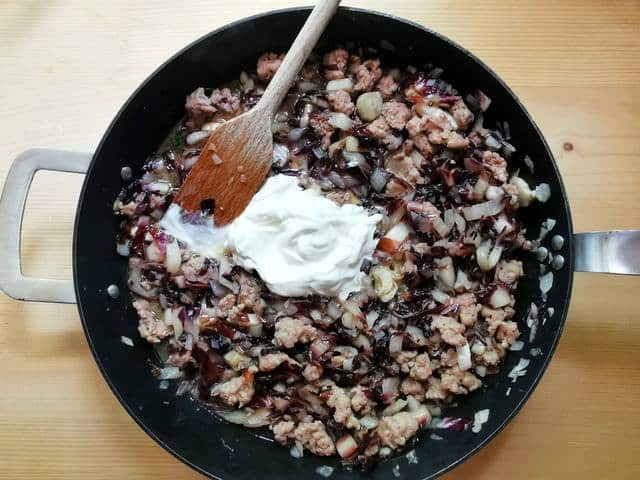 Apparently, this trend became so popular that cooks would deliberately make extra dough, so that there would be plenty leftover to make farfalle! I have also made farfalle from left over dough. I did it recently when I was making silk handkerchief pasta with pesto. It's pretty easy.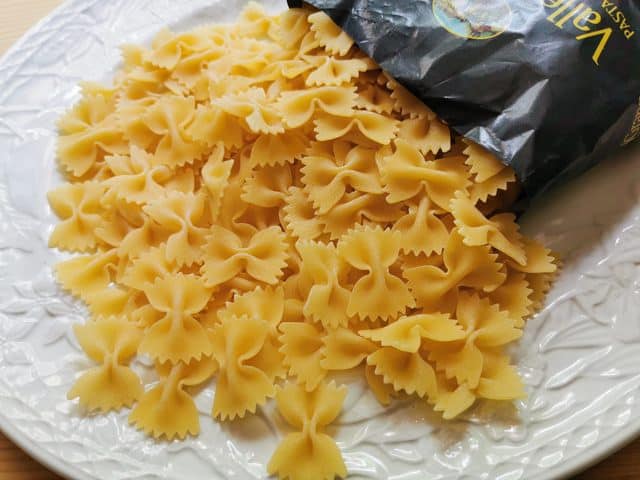 The pasta I used.
I didn't make homemade farfalle for this sausage and radicchio pasta recipe. I used dried farfalle from one of the best pasta makers in Sicily. My Sicilian hubby brought it back for me the last time he was there visiting family. This company is called Valle del Grano.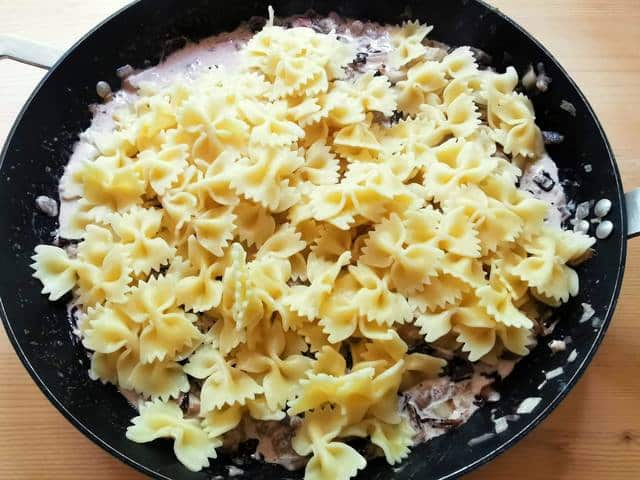 In my opinion, the best pasta in Italy is made with 100% Italian wheat (preferably organic), plus it's bronze extruded and slow dried. This brand ticks all the boxes. They make their pasta with 100% Sicilian durum wheat grown in the Dittaino valley between Catania and Enna. Durum wheat has been grown in this area since Roman times. Their pasta is also extruded through bronze dies and slow dried.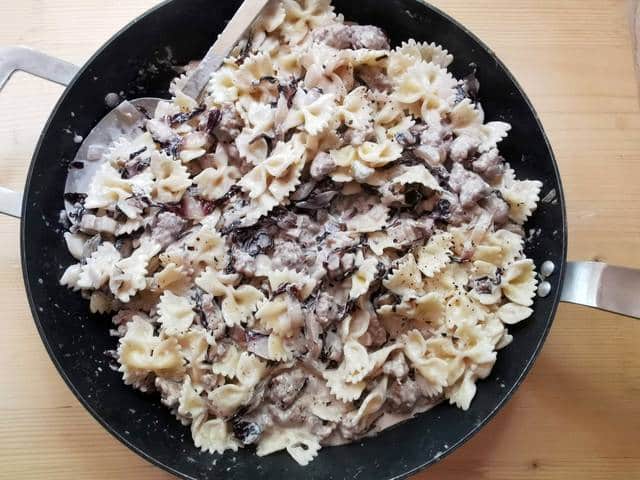 I'm not sure how much Valle del Grano export, although I know this pasta is sold in Malta. However, farfalle or bow-tie pasta is very popular in Italy and so there are many brands that make this shape both for the Italian market and for export. Other good brands that I like and are easier to find are Rummo, Garafalo, Benedetto Cavalieri, La Molisana, Girolomoni and Di Martino. Of course, you can also use other types of short pasta.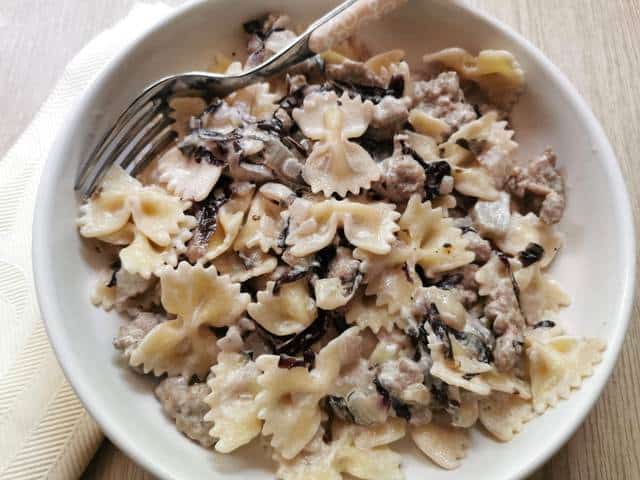 Whichever, pasta brand or shape you choose, I'm sure you'll love and enjoy the flavours of this Northern Italian recipe for sausage and radicchio pasta. It's simple enough for weeknights but special enough to serve to guests!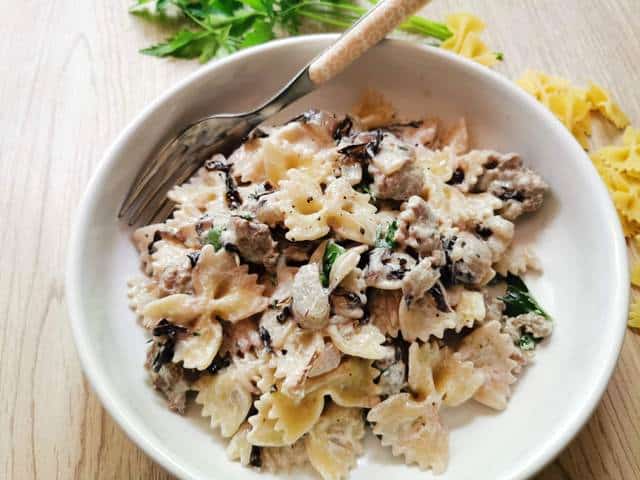 If you do make this sausage and radicchio pasta recipe, I'd love to hear how it turns out. Please write a comment here on the blog or post a comment on the Pasta Project Facebook page.
Your feedback means a lot to me!
Buon Appetito!
Other radicchio pasta recipes.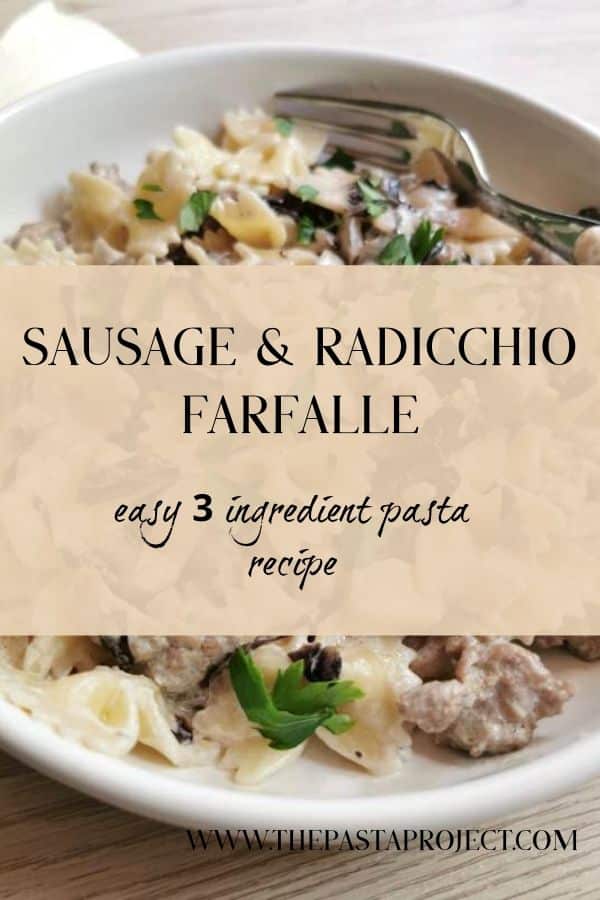 Save this recipe for later?
If you want to save this recipe for later, you can print it, bookmark this page or save it to Pinterest.
Pin for later.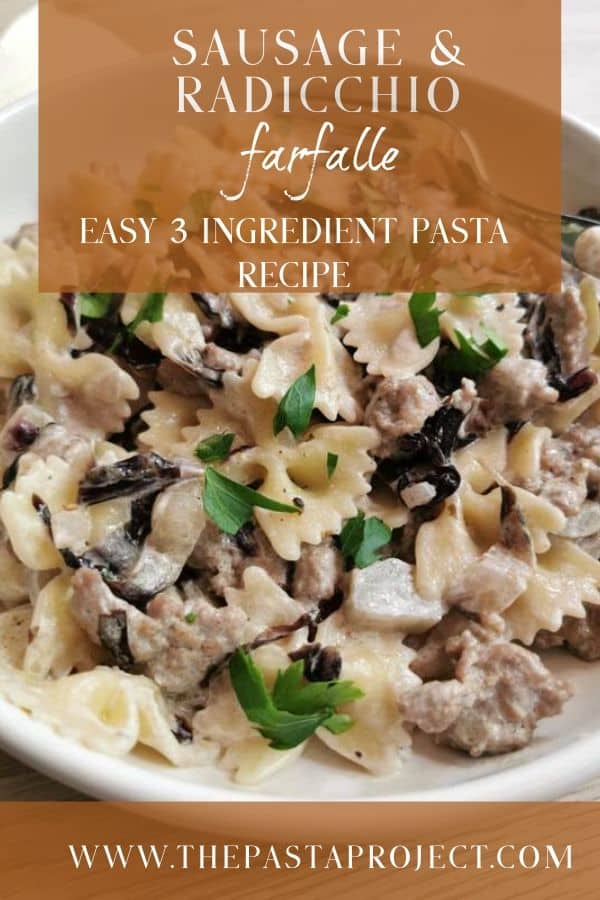 If you love pasta and sausage have a look at my favorite Italian sausage pasta recipes.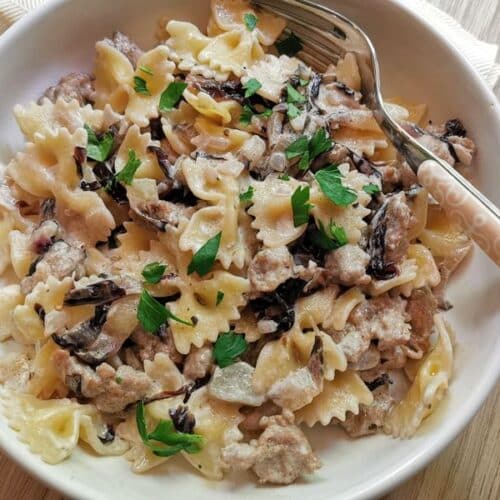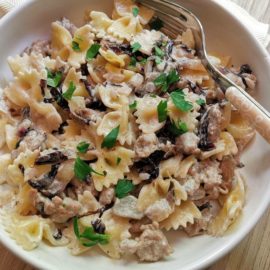 Sausage and Radicchio Pasta Recipe from Northern Italy.
This 3 ingredient Northern Italian recipe for sausage and radicchio pasta is simple enough for weeknights but special enough to serve to guests!
Ingredients
400

g

farfalle pasta

(14oz) or other short pasta

1-2

heads

radicchio

leaves separated and washed

200

g

Italian sausage

(7oz) 2-3 sausages

1

white onion

(or 2 shallots) peeled and finely chopped

200

ml

heavy cream

(7 floz) Italian panna di cucina

2-3

tbsp

extra virgin olive oil.

1

handful

fresh parsley

chopped (optional)

salt

for pasta and to taste

freshly ground black pepper.

to taste
Instructions
Prepare ingredients
Wash the radicchio leaves. Pat dry and chop into small strips. Remove the sausage meat from the casing and chop into small pieces. Peel and finely chop the onion.
Make the sauce
Put the olive oil and the finely chopped onion into a skillet or deep frying pan and cook until the onion starts to soften. Add the sausage meat and continue cooking on medium heat until the sausage is slightly browned.

Add the chopped radicchio to the sausage and onion and mix. Also add salt and pepper to taste. Continue cooking on a low heat until all the radicchio has wilted. Add the heavy cream and mix everything together well. Continue cooking for 5 minutes.
Cook the pasta
Put a pot of water onto boil for the pasta. Add salt once it starts to boil and bring to the boil again.  Cook the pasta al dente, according to the instructions on the packet. Save a little pasta cooking water and drain the pasta.
Finish the dish
If your sauce seems dry add some of the pasta cooking water to it and stir well. Add the pasta to the sauce and mix everything together. Saute for 2-3 minutes. Serve immediately with some chopped fresh parsley if using.
Notes
You can use other types of short pasta for this dish such as penne. 
Nutrition