Sagne torte with tomato sauce and strong ricotta is a simple but delicious typical Sunday lunch recipe from Salento, Puglia in Southern Italy. The pasta is a twisted flour and water tagliatelle, also known as sagne ncannulate, and the sauce usually made with fresh tomatoes or passata.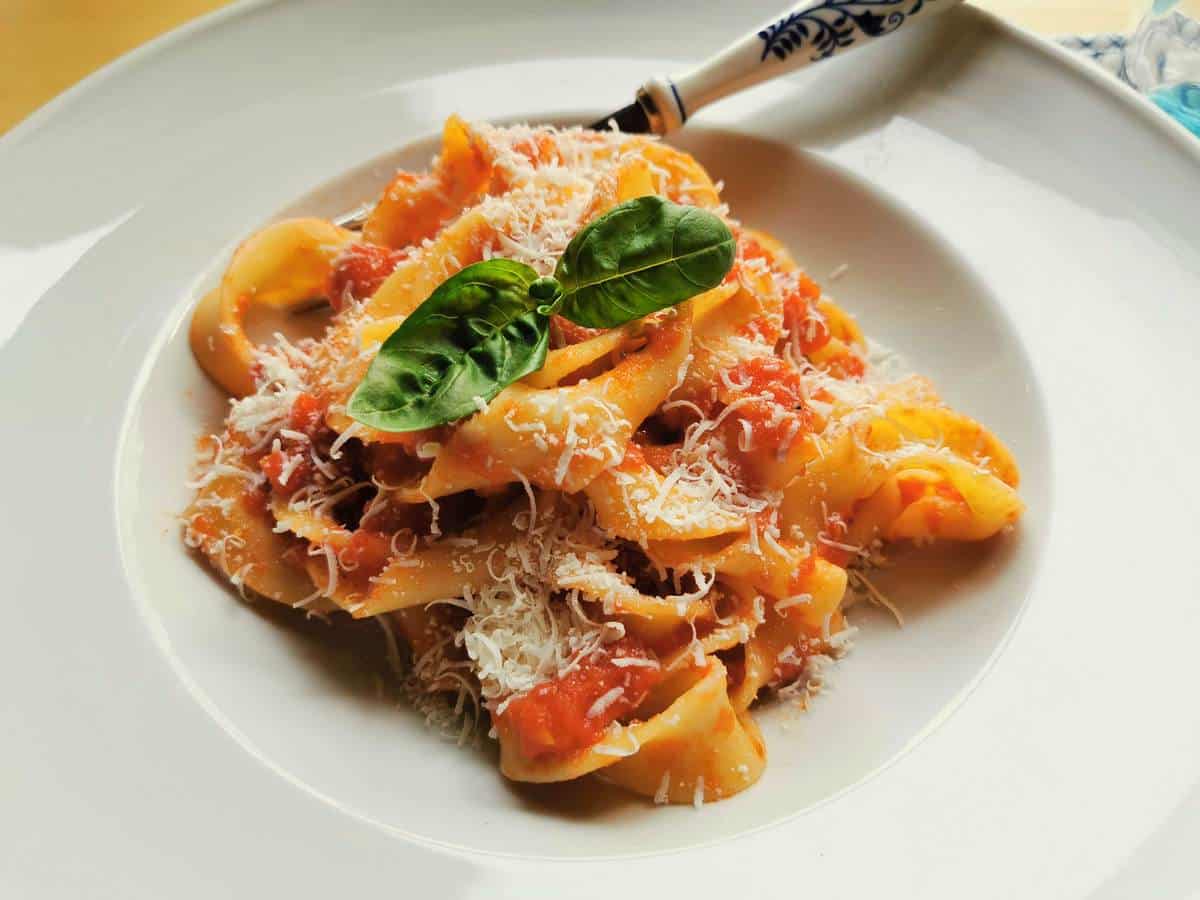 A traditional tomato sauce pasta recipe from Puglia.
Here in Italy, there are way more types of pasta than those most people are familiar with in other countries. In fact, there are hundreds! A lot of pasta types started life as a regional pasta. In other words, the shape was originally invented in a particular region, or even town, from where its popularity spread. For example, spaghetti was born in Sicily and tagliatelle in Emilia-Romagna!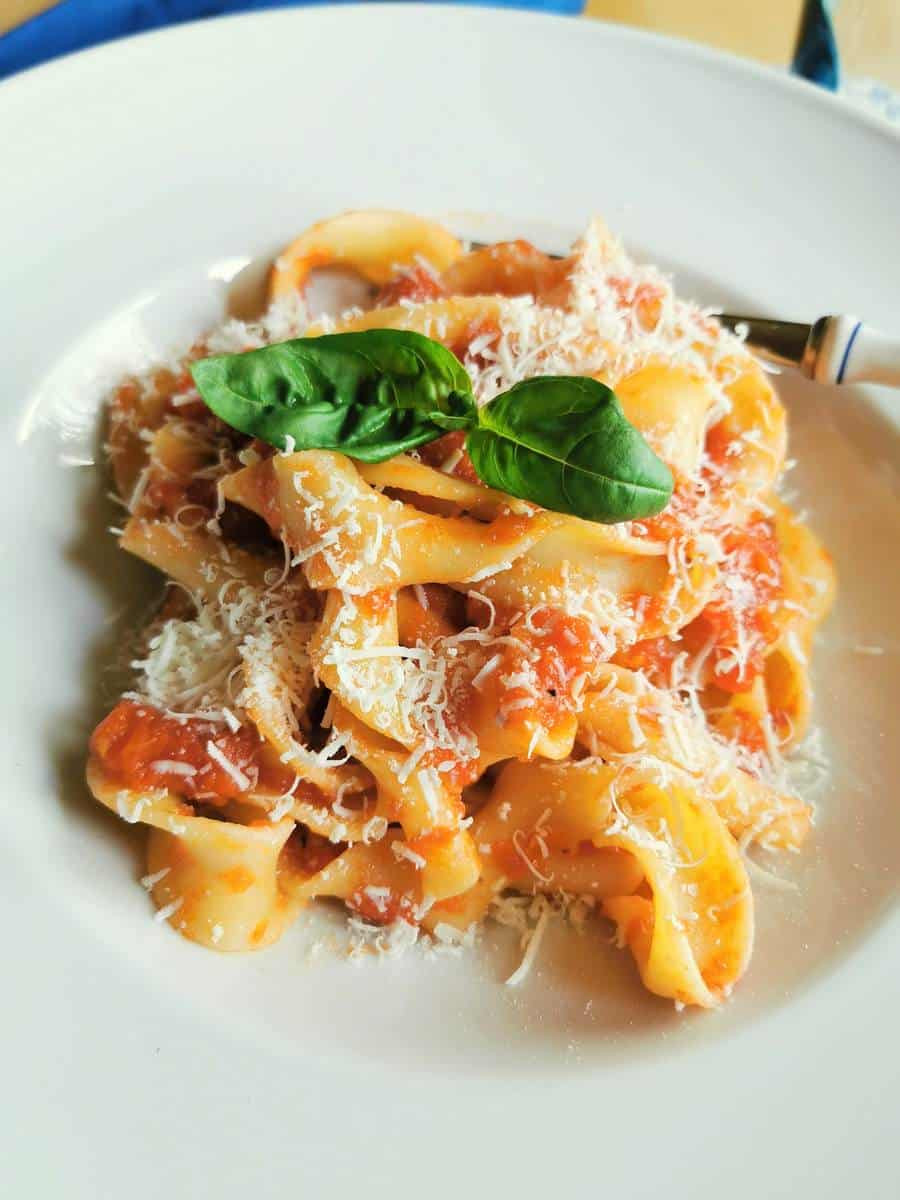 Le Sagne Ncannulate.
Some pasta types, however, never really gained popularity outside their place of origin. Consequently, these are almost exclusively made and eaten in certain parts of Italy. Examples of this are fregola from Sardinia and busiate from Sicily.
Sagne torte, also called sagne ritorte or 'ncannulate' in the local dialect, is another such pasta. This traditional twisted flour and water tagliatelle is traditional in Puglia, particularly Salento. Even though a dried version is available, it's also mostly only available in shops in Puglia.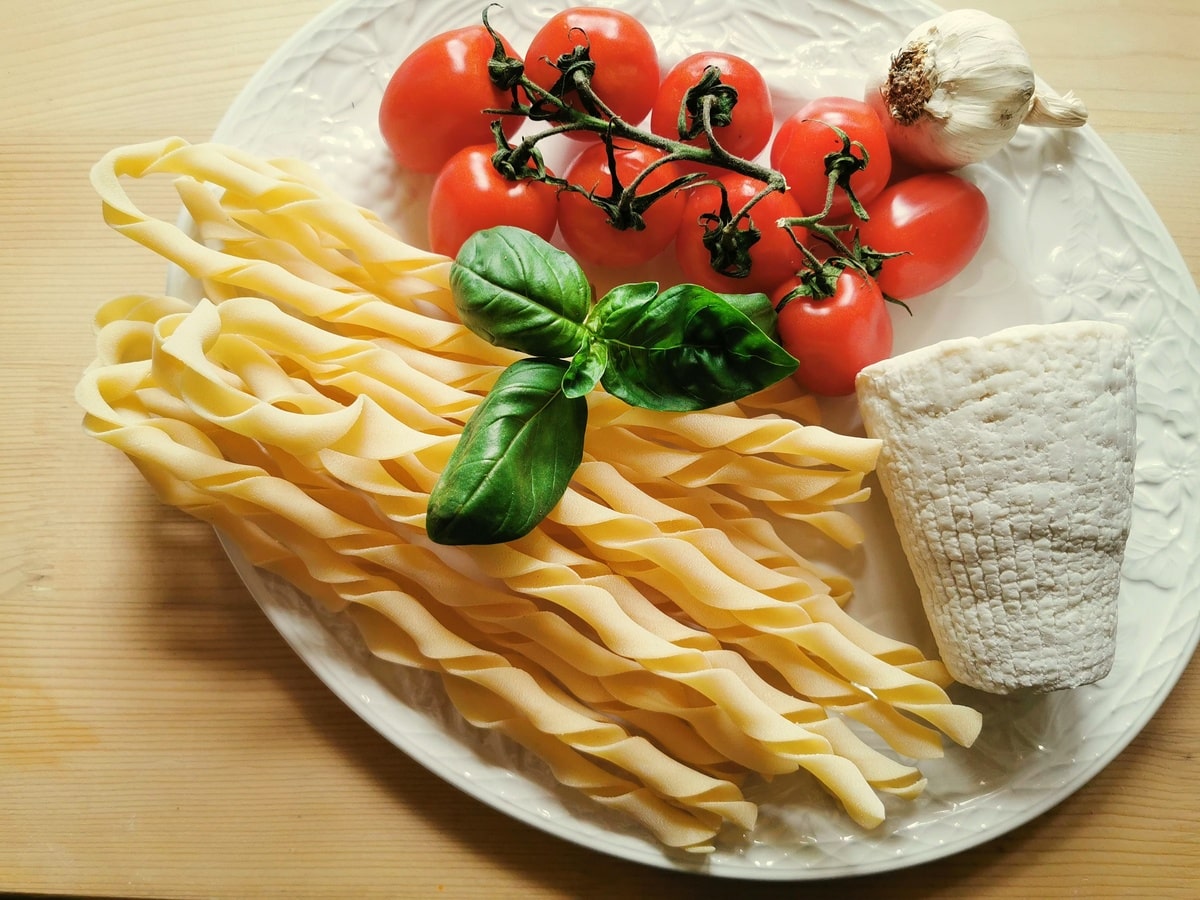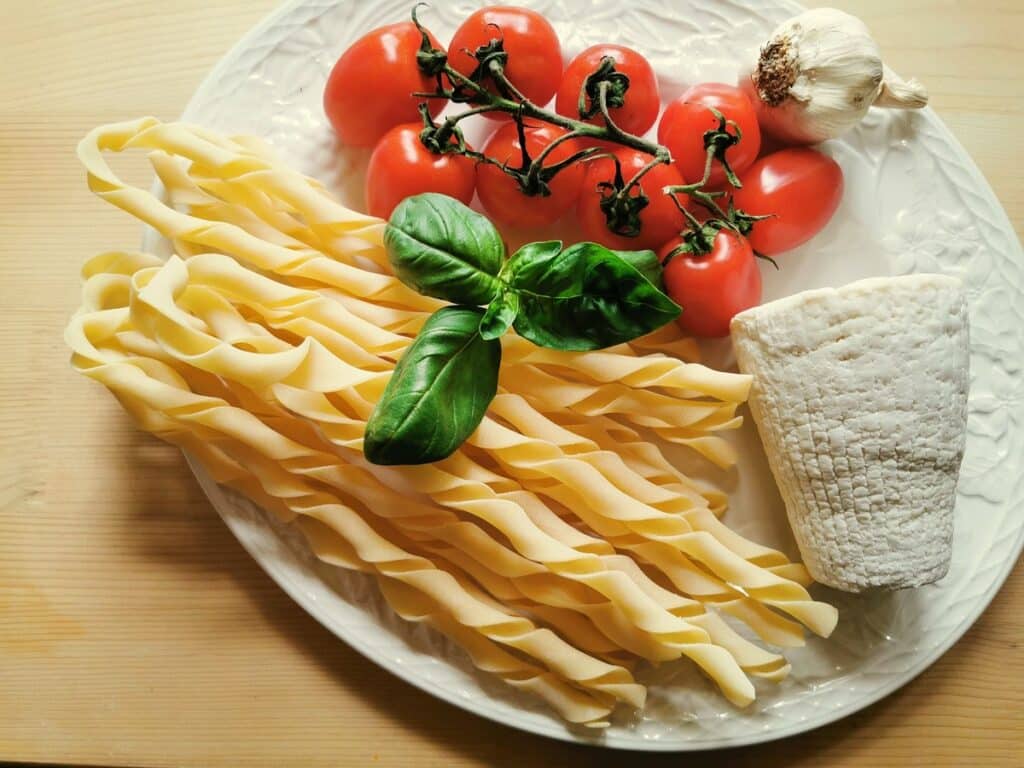 The first time I ate sagne torte was in Salento last summer. We had this pasta in a restaurant. There, they made it with swordfish and eggplant. Of course, it was seriously delicious. Before returning home, I bought some of this pasta to cook myself. So, this is what I used for this sagne torte with tomato sauce recipe.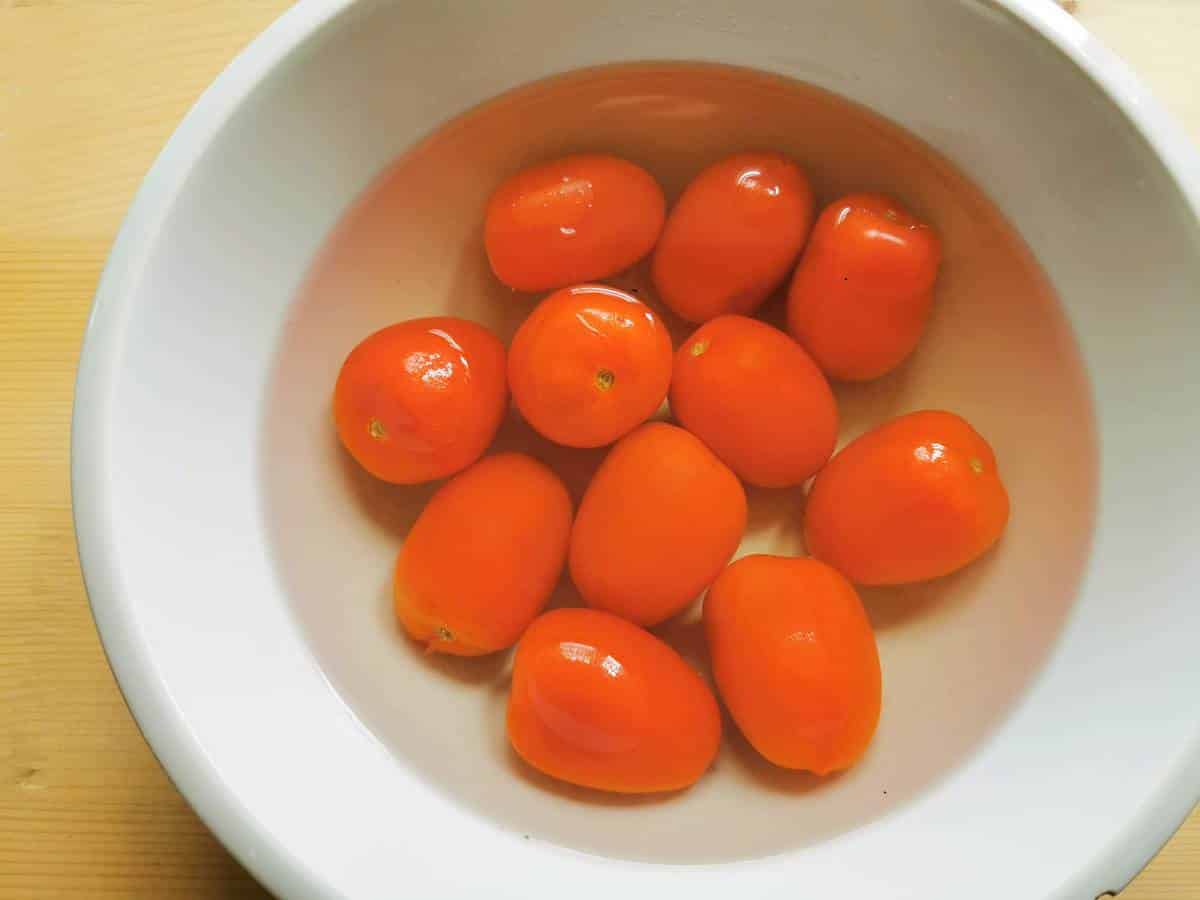 A typical Sunday lunch recipe.
This recipe is actually the most traditional one in Salento for this type of pasta. It's also a typical Sunday lunch dish because most people make the pasta at home themselves. Consequently, it's not a weekday meal, even though the sauce is pretty simple. However, it's also popular to serve sagne torte with meatballs. In addition, I have found recipes for this pasta with mussels, horsemeat ragu and with chickpeas. All of these are typical pasta condiments in this part of Italy too.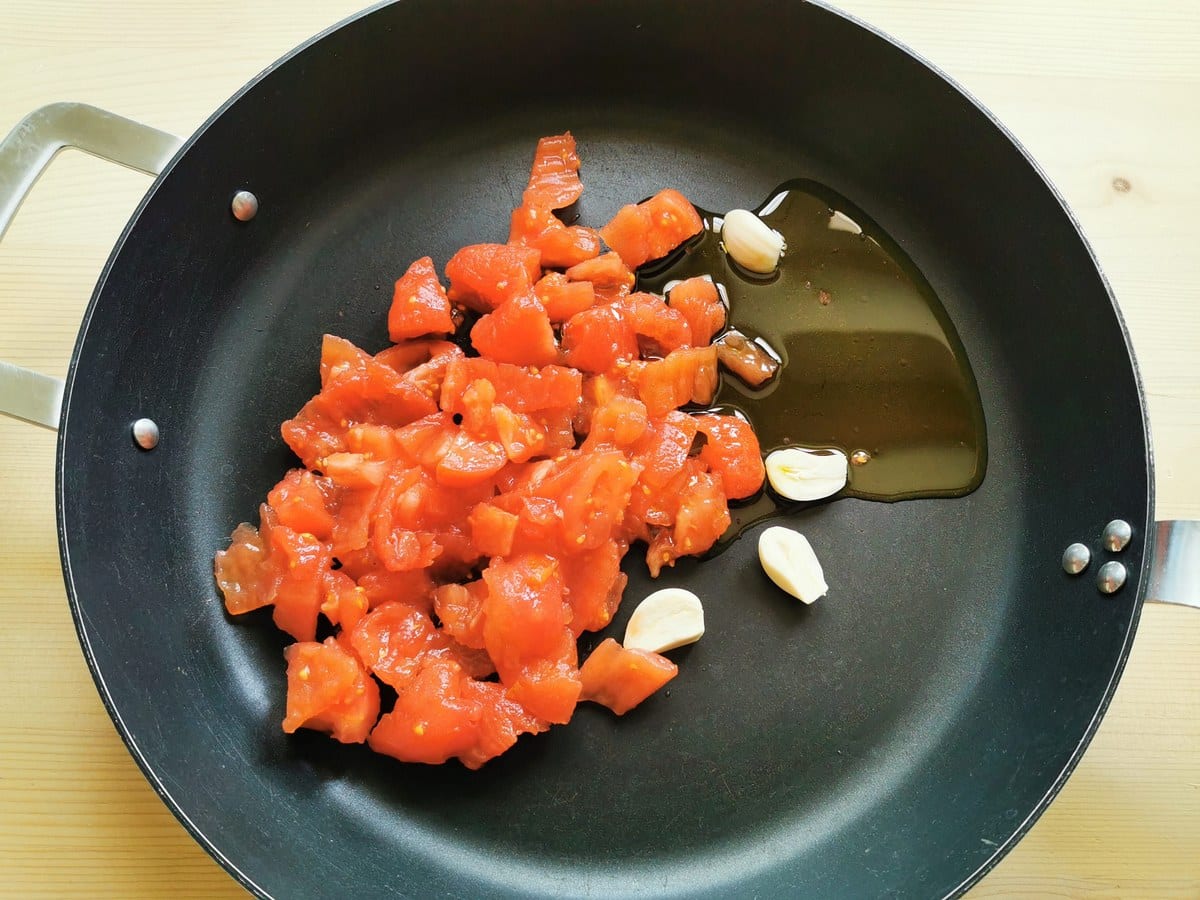 Making the tomato sauce.
I used fresh tomatoes and passata. You can choose to include one or the other or both, depending on what you have available. Apart from the tomatoes, this sauce has just some basil and garlic. Some recipes call for onion instead. But, my Sicilian hubby prefers garlic in his tomato sauce. You can use either. Italians rarely use both together in a simple sauce.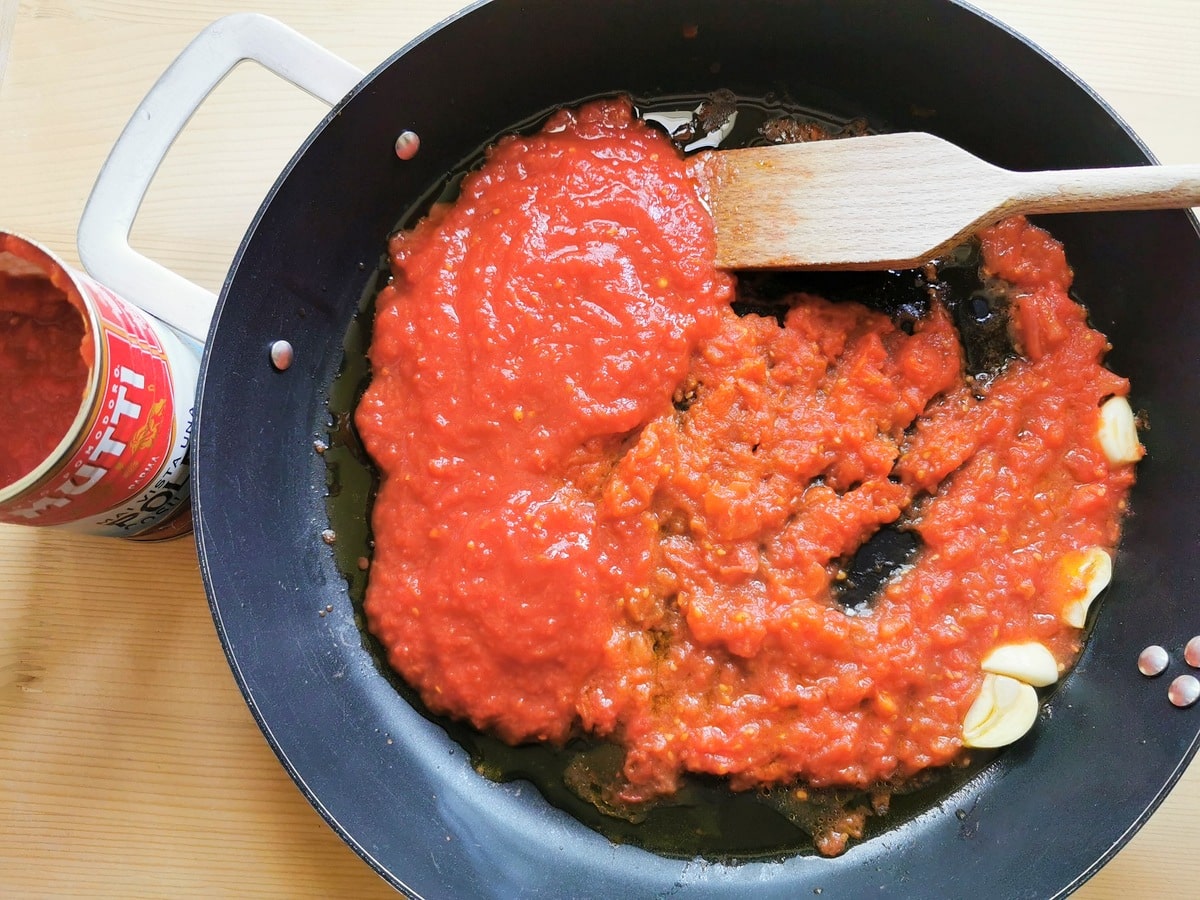 The ricotta cheese.
In Puglia, they serve this sagne torte with tomato sauce with a strong aged ricotta. Many recipes call for ricotta Marzotica. This is a typical product from the province of Lecce. It's made at the beginning of the spring, from February to April, when the herds produce the tastiest milk thanks to the tender forage.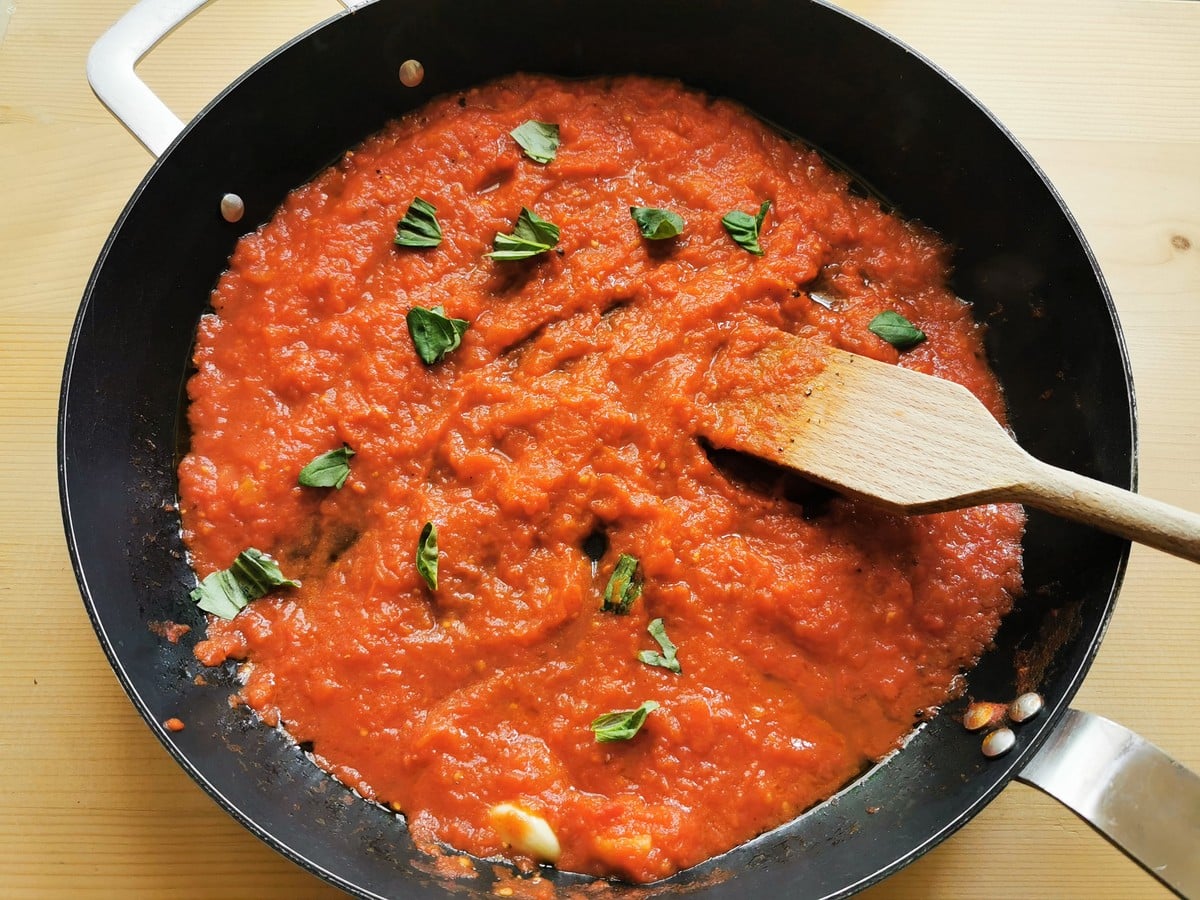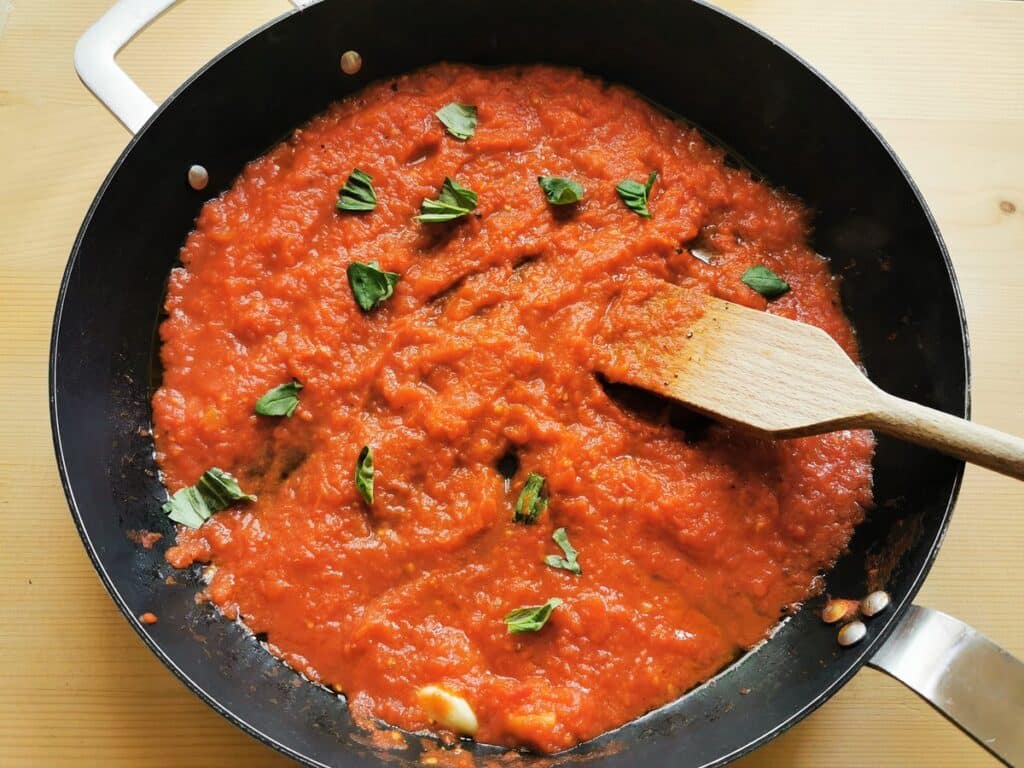 The name 'Marzotica' refers to the month during which the cheese is mainly produced. In Italian 'marzo' means March. Ricotta Marzotica is made with sheep, goat, cow's milk or a mix. It's usually cone shaped and has a soft wrinkled rind and is quite crumbly. This is the cheese I used.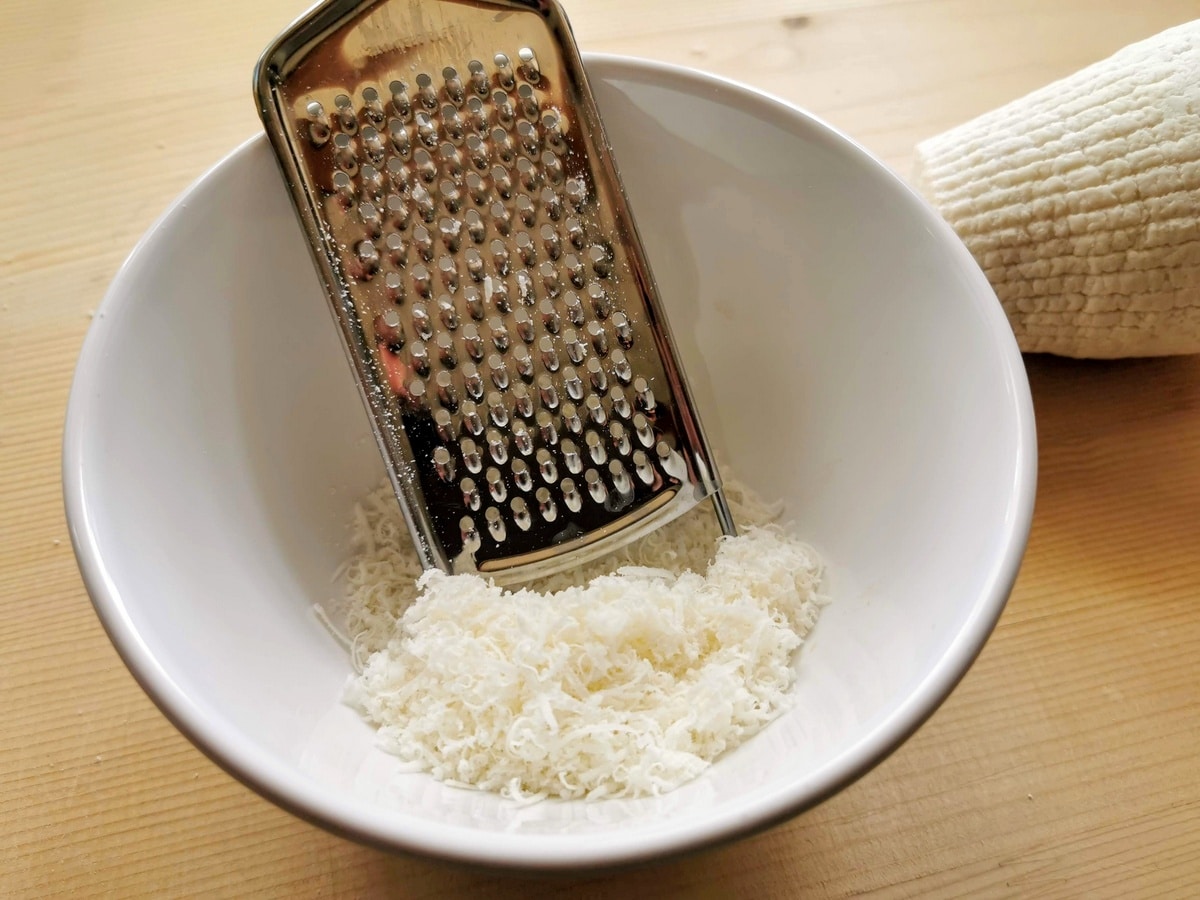 Other cheese you can use.
Another local ricotta used with this recipe is just called 'ricotta forte' or strong ricotta. This is typical throughout Puglia. It is made from October to May using sheep or cow's milk. This ricotta is creamy, pale yellow in colour, with a spicy pungent flavour and a strong odour. Ricotta salata (salted ricotta) is a third cheese from Puglia (and other parts of Southern Italy) that goes well with sagne torte with tomato sauce. However, if you can't find hard ricotta, then you can use Pecorino or even aged feta.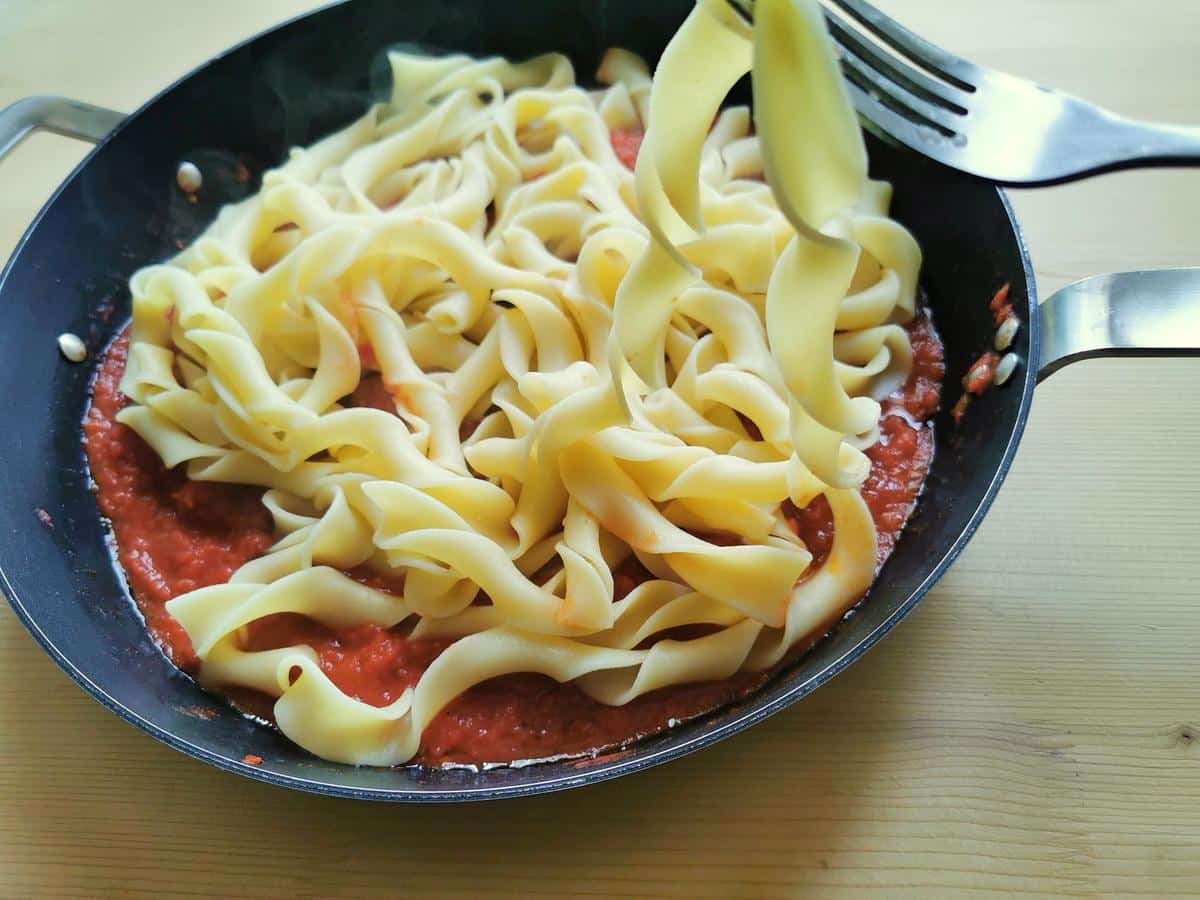 I used dried sagne torte that I bought in Salento. As I mentioned above, this pasta isn't so available outside of Puglia. So, making it myself is on my to-do list. In fact, given that there's a shortage of pasta in many places right now, I think it's a great time to start making more homemade pasta.
Lasagne sheets are the easiest to start with. Simple flour and water pasta like cavatelli are pretty easy to get the hang of as well. You can see sagne torte being made with meatballs in Puglia in the Pasta Grannies video below. I love how 'springy' this pasta is!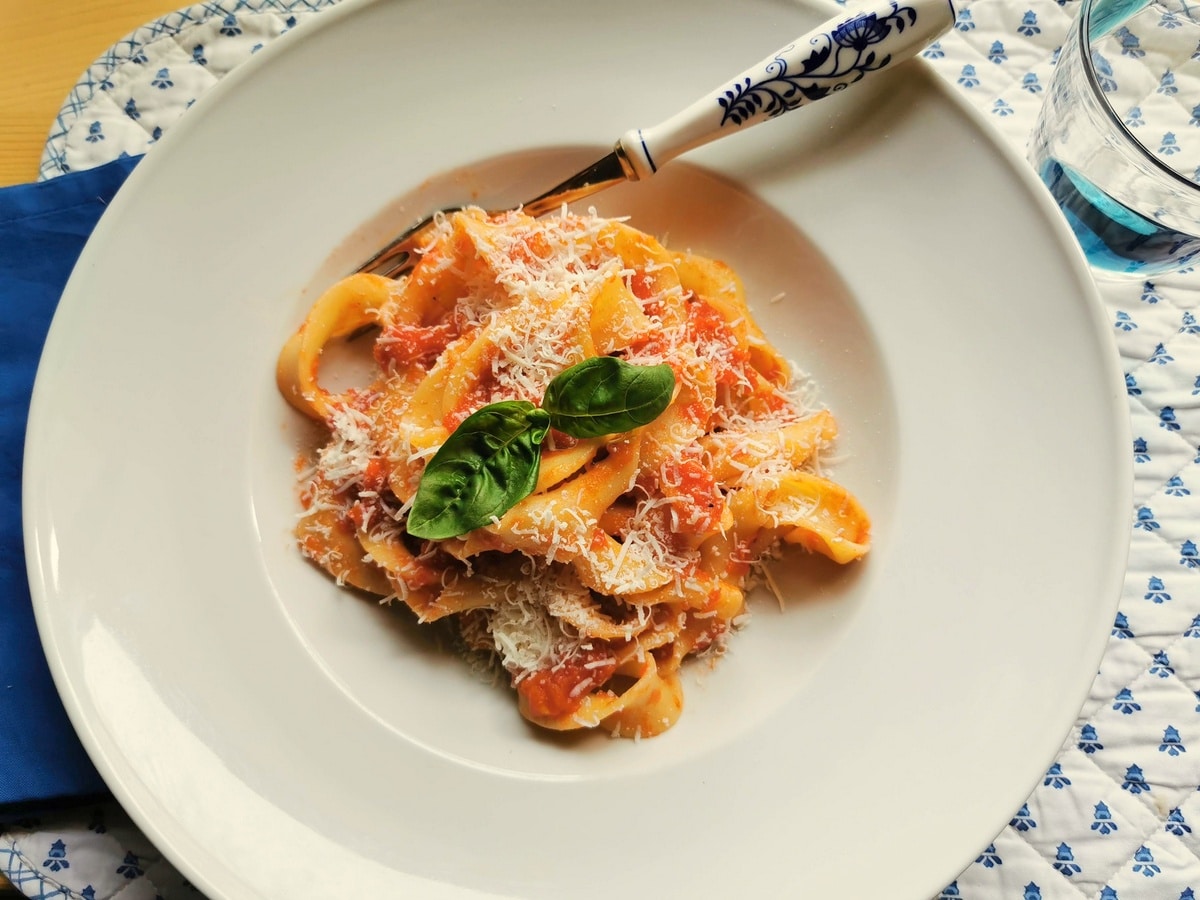 Of course, you can use other pasta types with this homemade tomato sauce. For a more authentic result, I'd go for other twisted shapes like long fusilli or busiate! However, pasta with tomato sauce is a staple here in Italy and Italians make it with all kinds of pasta!
Have a look at my other homemade tomato sauce pasta recipes for more delicious recipes like this one!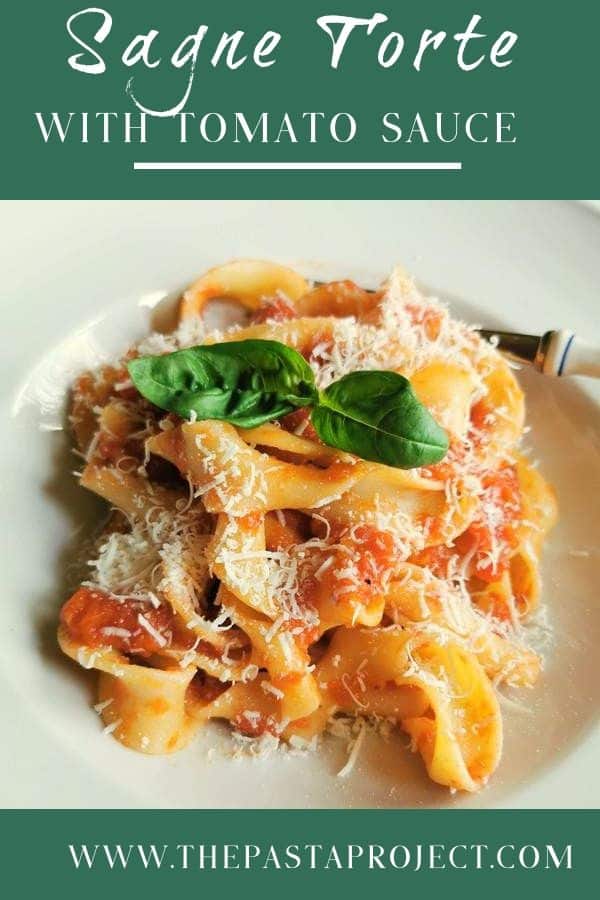 If you do make this sagne torte with tomato sauce and strong ricotta, I'd love to hear how it turns out. Please write a comment here on the blog or post a comment on the Pasta Project Facebook page.
Your feedback means a lot to me!
Buon Appetito!
Other recipes with tomatoes.
Pin for later.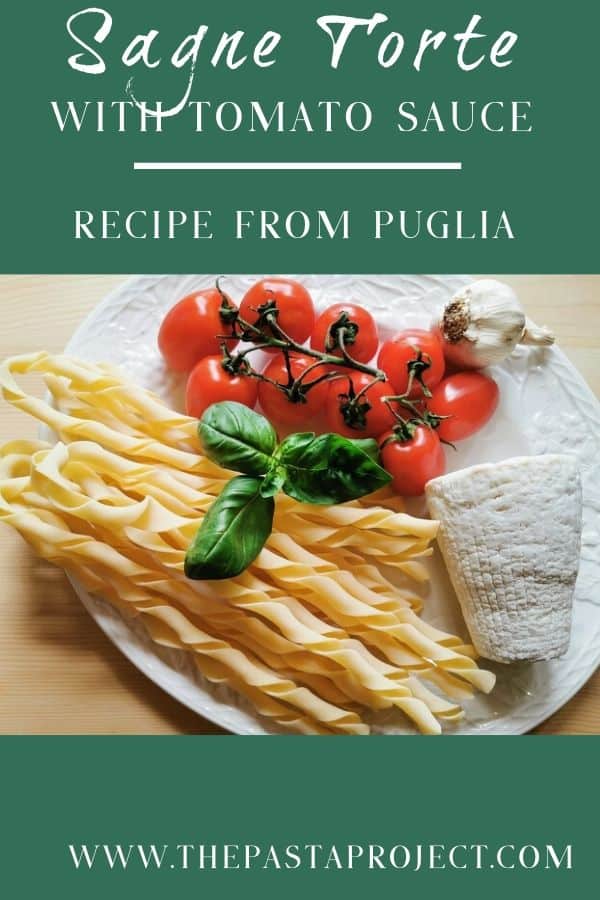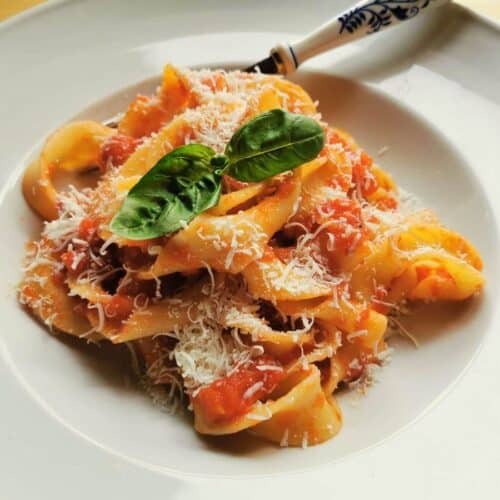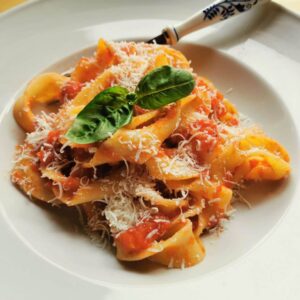 Sagne Torte with Tomato Sauce Recipe from Puglia.
Sagne torte with tomato sauce and strong ricotta is a simple but delicious typical Sunday lunch recipe from Salento, Puglia in Southern Italy. The pasta is a twisted flour and water tagliatelle and the sauce usually made with fresh tomatoes or passata. You can use other types of pasta, of course!
Ingredients
400

g

sagne torte pasta

(14oz) you can also use other long pasta like long fusilli, tagliatelle or busiate

1

kg

ripe tomatoes

(2lbs) or passata. I used half and half (tomatoes + passata)

2-3

garlic cloves

peeled

1

handful

fresh basil leaves

3-4

tbsp

extra virgin olive oil.

salt

for pasta and to taste

freshly ground black pepper.

to taste

strong ricotta

as required. I used ricotta Marzotica. You can use ricotta salata or pecorino
Instructions
Prepare the ingredients
Blanch the fresh tomatoes in hot water and then remove the peel and seeds, leaving only the pulp. Cut the pulp into pieces. Peel the garlic cloves and wash the basil.
Make the sauce
Put the extra virgin olive oil in a deep frying pan or skillet with the garlic and fry for a couple of minutes at most until the garlic softens slightly. Then add the pieces of peeled fresh tomato. Cook until the tomatoes soften and then add the passata if you are using both. Add 4-5 basil leaves torn into pieces and a little salt. Continue cooking the sauce for about 15 minutes over a low-medium heat, giving the tomatoes time to soften and form a sauce.
Finish the dish
In the meantime, put a pot of water on to boil for the pasta. Once it starts to boil add salt and bring to the boil again. Cook the pasta al dente according to the instructions on the packet. Homemade pasta will cook a lot more quickly than dried.

When the pasta is ready drain it and add to the tomato sauce. Mix everything together well and cook together for another minute.  Some people add some of the ricotta to the pasta and sauce while it's still in the pan. I added it after plating. Serve immediately with more grated ricotta and freshly ground black
Notes
This recipe can be made with other types of pasta such as tagliatelle, long fusilli or busiate. The tomato sauce can be made with just fresh tomatoes, just passata or a mixture of both as I did.
CHECK OUT MY SHOP PAGE.
If you are interested in learning how to make homemade pasta and different types of gnocchi, check out my shop page for some great video online courses from my friends in Rome! Nothing beats learning to make pasta from Italians! Plus while you're there why not order a copy of one of my pasta recipe cookbooks or checkout some recommended pasta making tools? All great prezzies for pasta lovers!