One of the simplest, fastest, and yet most delicious pasta recipes has to be this pasta with breadcrumbs and anchovies. This southern Italian classic can be on the table in 20-30 minutes and is so easy to make! Leave out the anchovies for a vegan/vegetarian version and add parsley, peperoncino or grated cheese if desired. Perfect for weeknight meals and as a midnight pasta choice!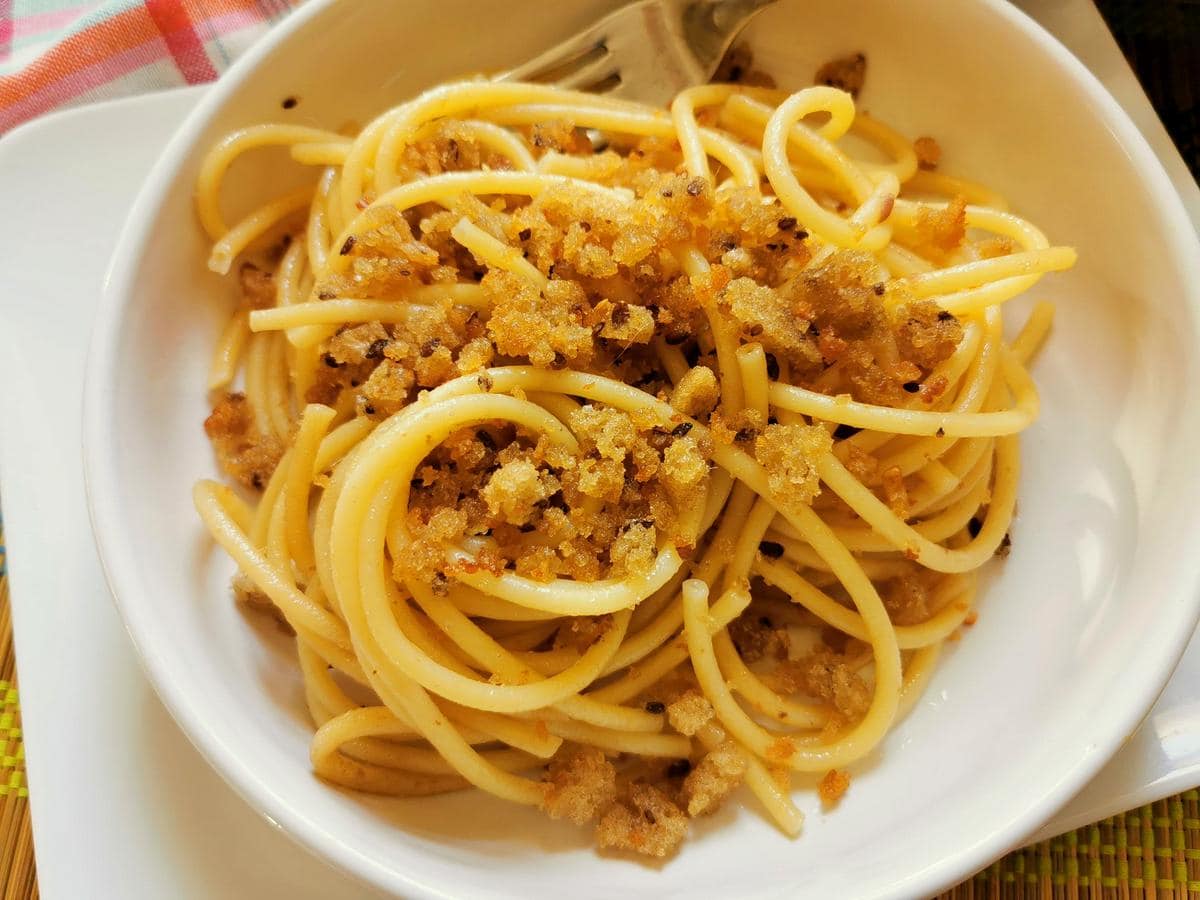 Pasta mollicata.
Pasta with breadcrumbs, or pasta mollicata, is a signature dish in the Southern Italian kitchen. Also known as pasta ca' muddica or pasta ammudicata, this simple recipe is popular and traditional in Basilicata, Sicily, Calabria and Puglia.
The origins of pasta with breadcrumbs.
According to food historians (or perhaps food legend), the first evidence of pasta with breadcrumbs dates back to the early Middle Ages to the town of Armento, in Basilicata. Apparently, in 976 A.D., this dish was made by a shepherd's wife called Rosina del Castellano to celebrate the victory of her villagers and the local Byzantine monks against Saracen invaders.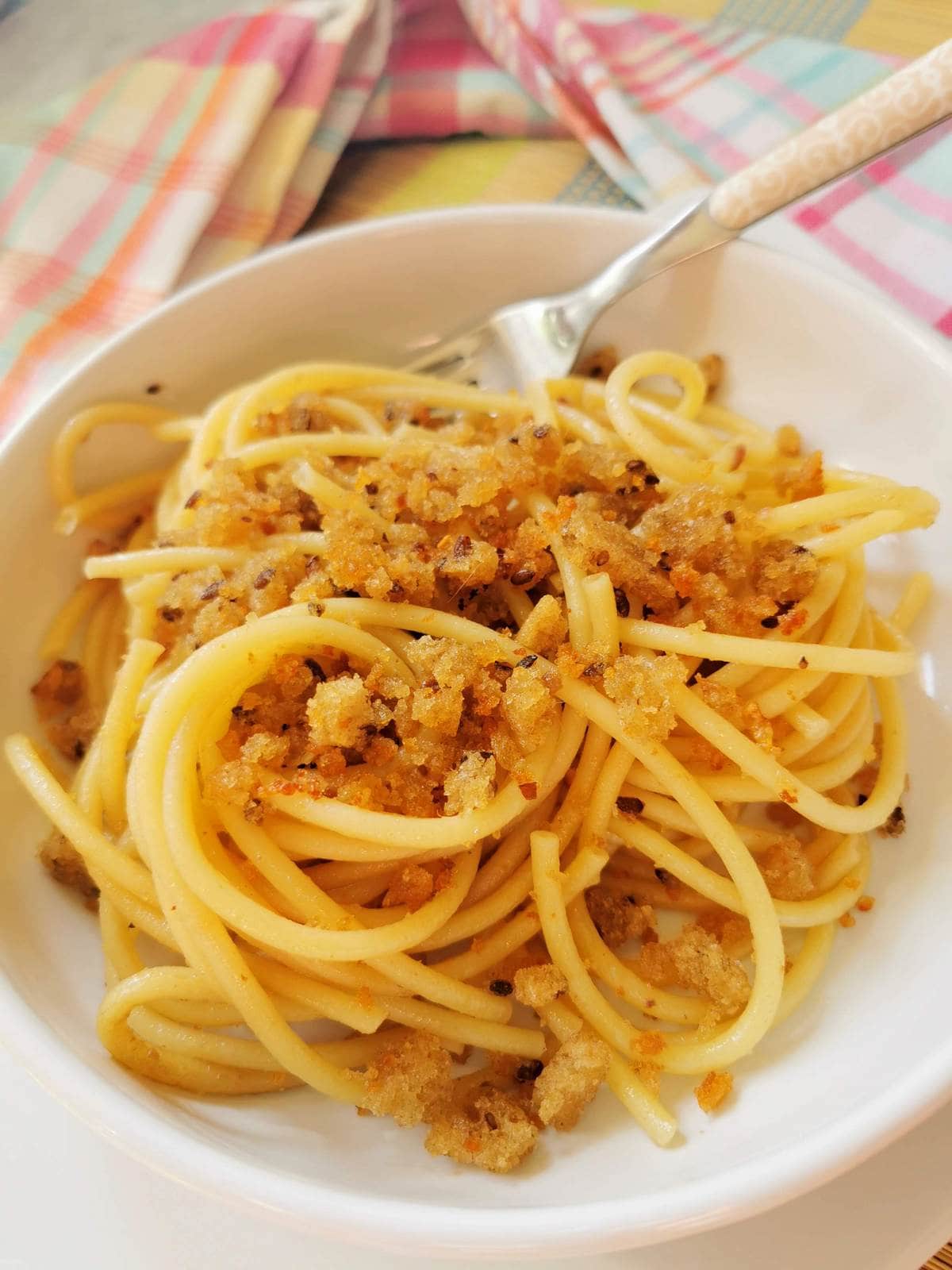 According to a story known as the legend of the ferricelli, Rosina was visited by the Virgin Mary the day before the battle. Seemingly in anticipation of a victory against the enemy, Mary gave the woman a ferretto (wire stick used to make pasta in the past) and told her the villagers would need food after the coming battle.
Rosina made a type of pasta locals call ferricelli using the ferretto. She then served the pasta with crumbs of stale bread fried in oil. Or so the story goes!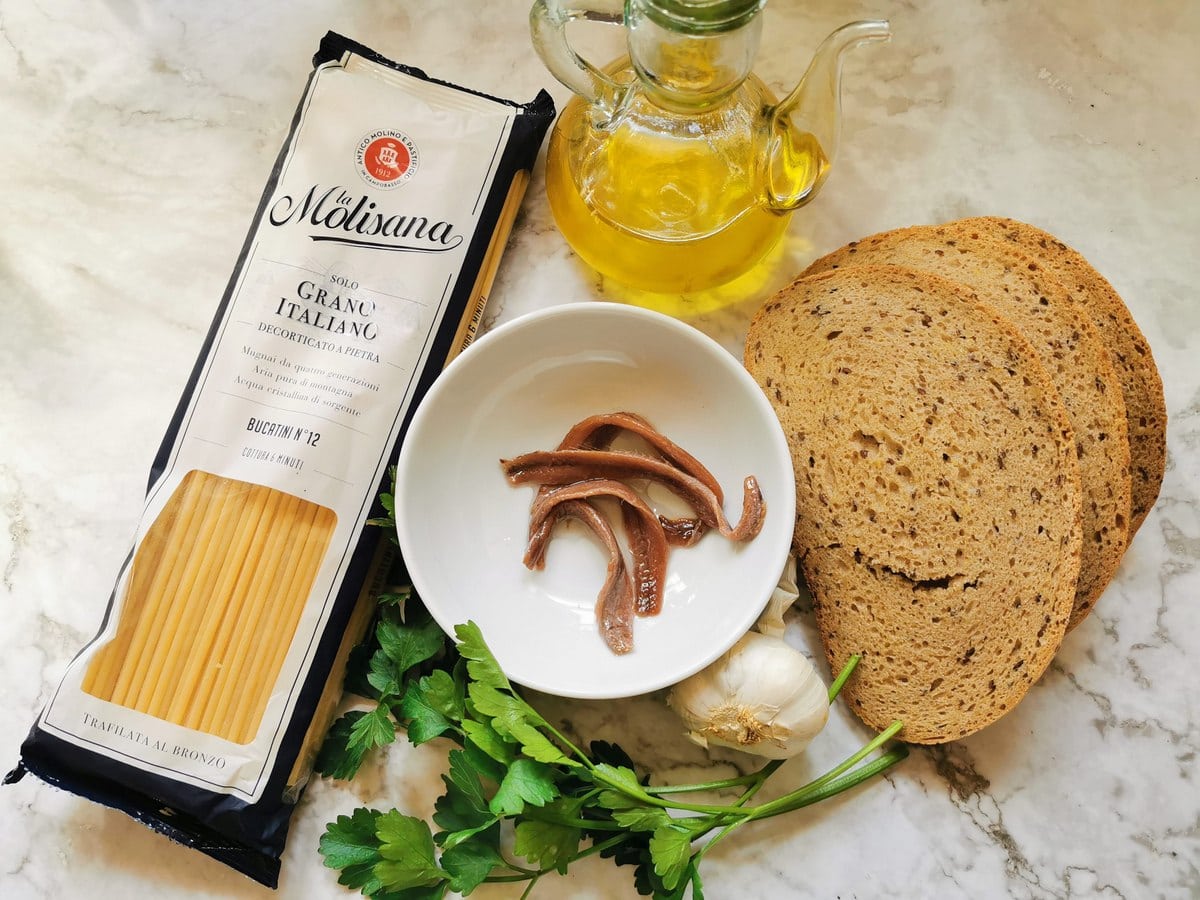 Certainly, pasta with breadcrumbs is a very ancient dish that originated, like many others, in Italy's cucina povera or peasant kitchen. It's a recipe invented to not only use up stale bread but also to add flavour and bulk to what is a very simple dish.
Breadcrumbs have long been used in Southern Italy in place of cheese. In fact, they are often called 'the poor man's cheese'!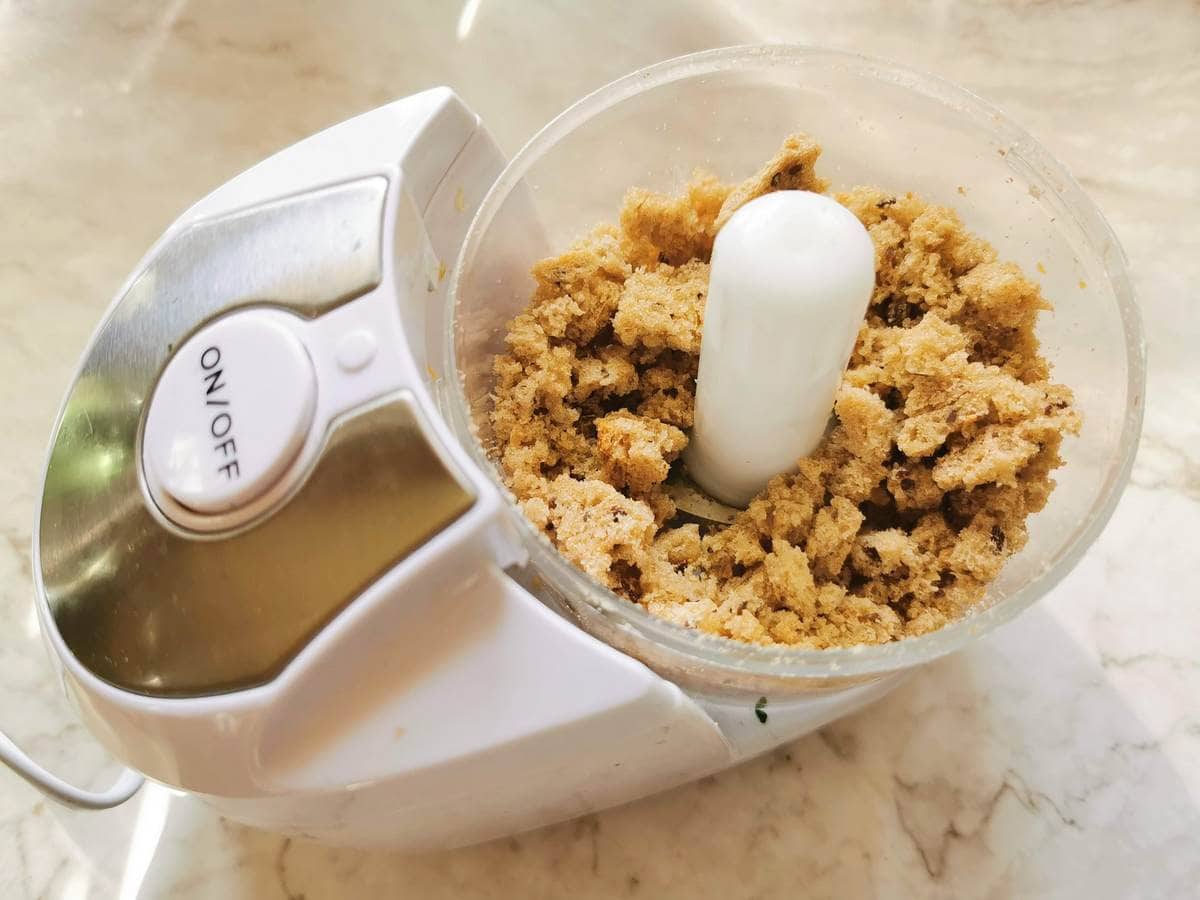 Different versions of pasta with breadcrumbs.
In Basilicata, they make the simplest version of this recipe with just breadcrumbs, olive oil and garlic. Other additional ingredients can be chopped tomatoes or even ragu, grated cheese or crushed/powdered local Senise peppers (peperone cruschi). You can also find pasta with breadcrumbs that has anchovies, raisins, or almonds.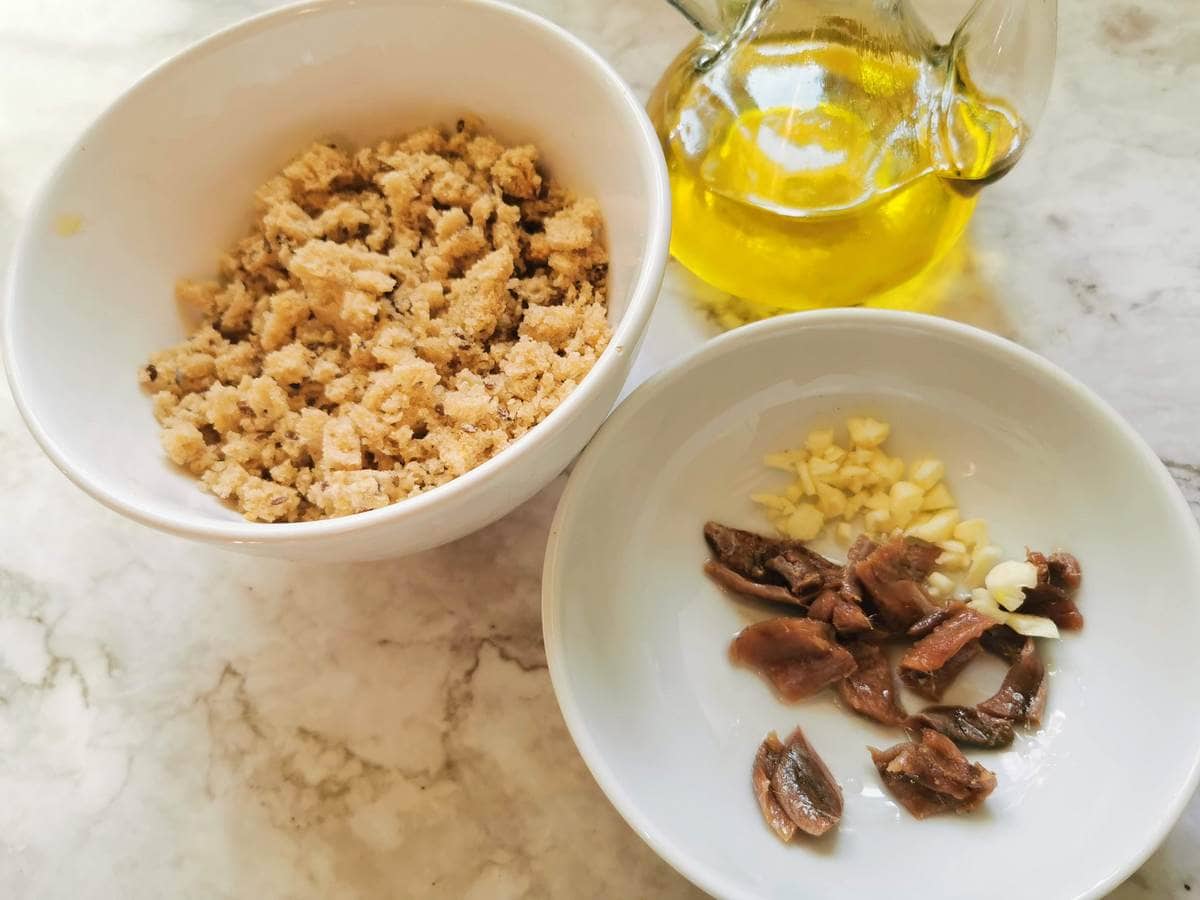 In Calabria and Sicily, they usually make pasta with breadcrumbs with spaghetti or bucatini and include anchovies. It also often has peperoncino (Italian red chilli pepper) and sometimes parsley. In Puglia (and in Basilicata), you can find orecchiette ammollicate. This is similar to the recipe below but using orecchiette pasta.
What are breadcrumbs called in Italian?
Italian recipes that include breadcrumbs refer to them as either pangrattato or mollica di pane. Pangrattato can be homemade or storebought. Originally people made it by grating stale bread and then drying it or toasting it in the oven at a very low temperature.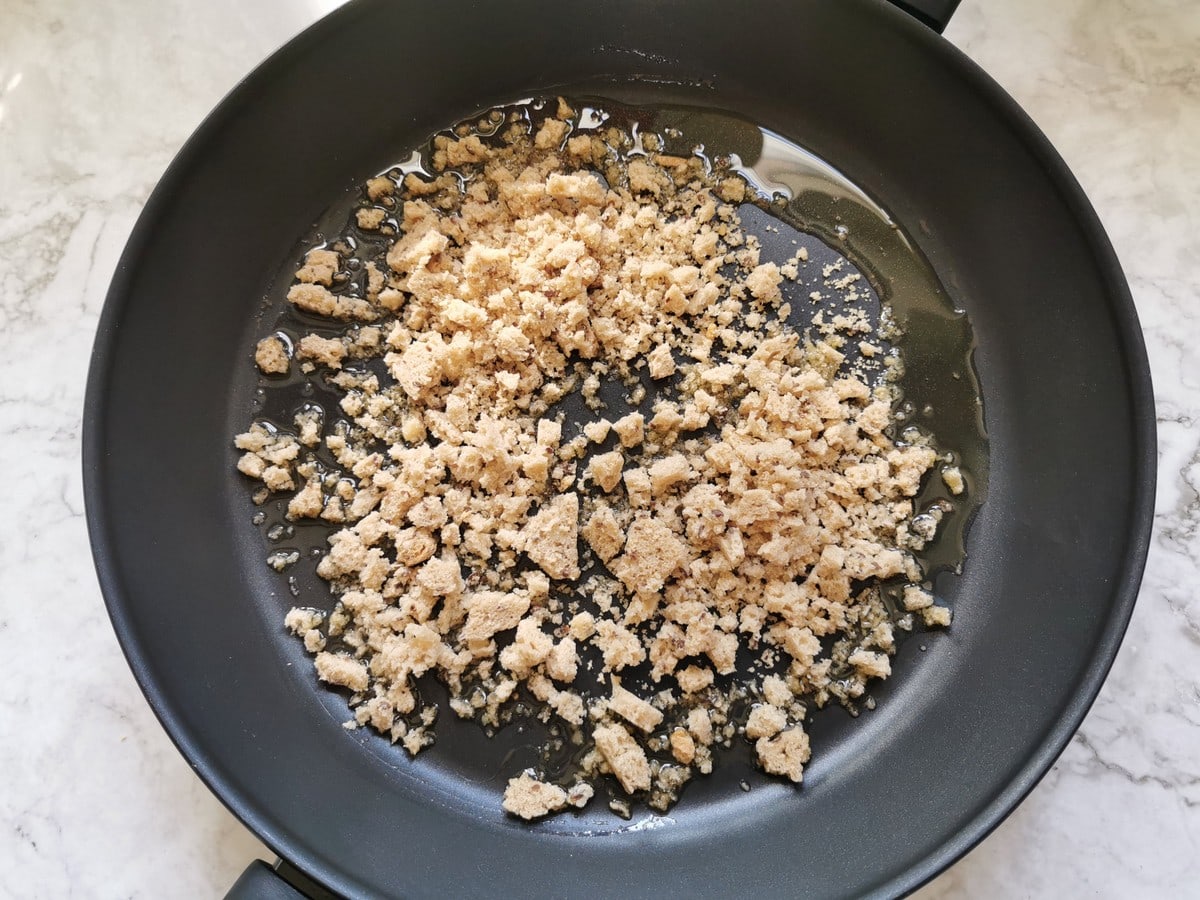 In fact, 'pangrattato' translates to grated bread. This kind of breadcrumbs is quite fine and often made using both the crust and the crumb (the inside of the bread).
Mollica di pane is breadcrumbs made with just the inside of slices of bread that are a day or two old. This is the traditional type of breadcrumbs for this pasta recipe and most kinds of Italian meatballs (polpette). However, for pasta the breadcrumbs are usually fried in olive oil until they are golden and crispy.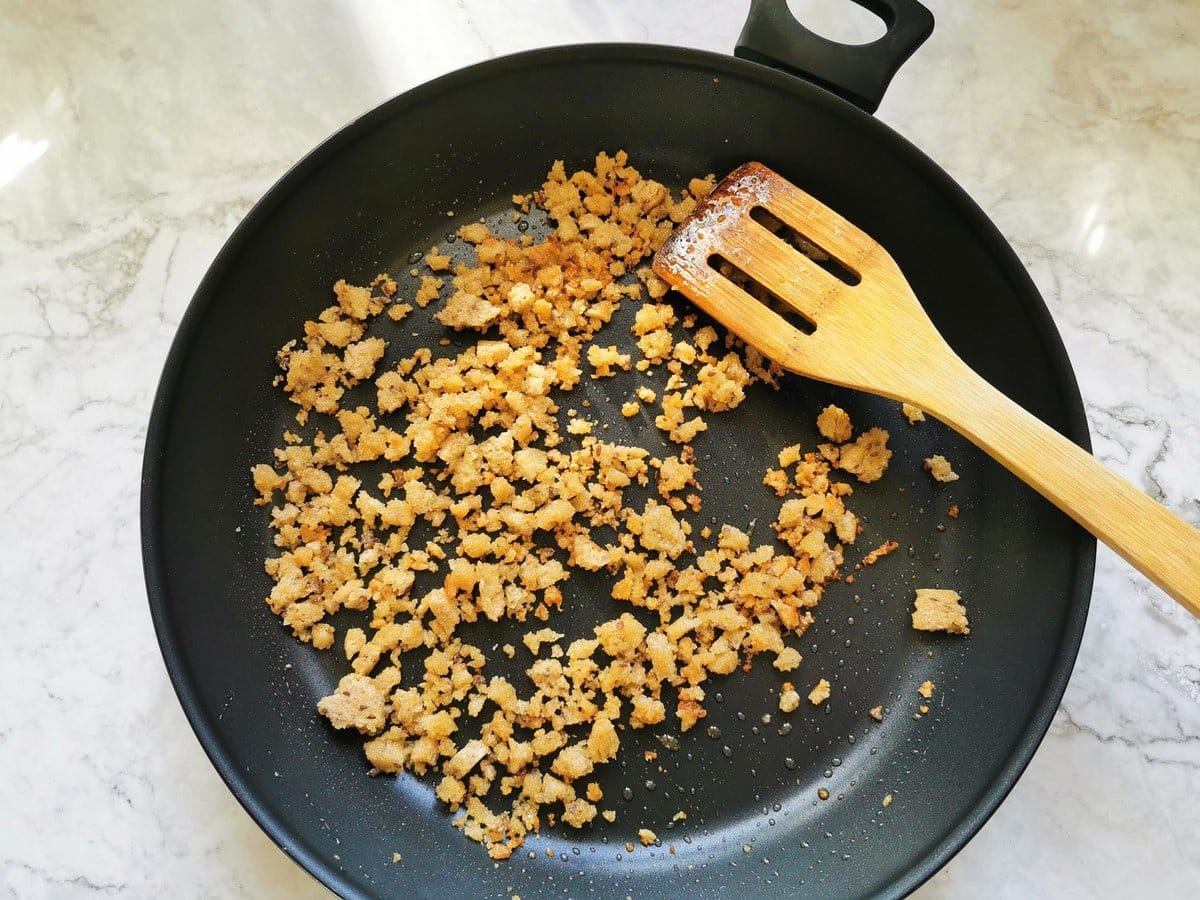 Which pasta is best with breadcrumbs.
In Italy, the type of pasta used in pasta with breadcrumbs depends on the region. You can use orecchiette like in Puglia or spaghetti or bucatini as in Sicily and Calabria. In Basilicata, they traditionally make this recipe with 'ferricelli' like in the legend mentioned above. Locally, they call this dish ferriciell cu la muddica or fusill' cu' muddia.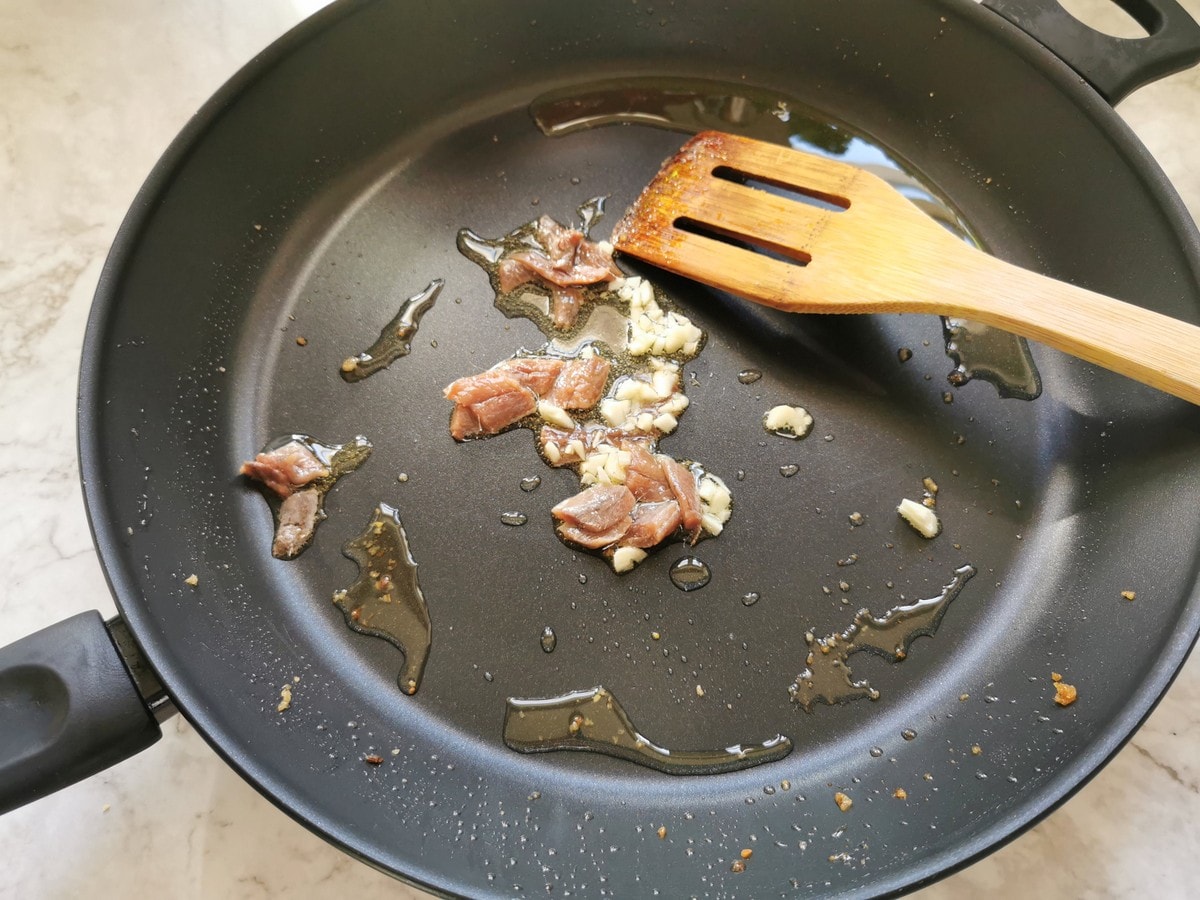 There are a number of pasta types originally made with a ferretto in Southern Italy. Fileja from Calabria and Sicilian casarecce are two examples. Like ferricelli, fileja are also sometimes called 'fusilli'.
Many believe these kinds of pasta were the ancestors of today's fusilli, although the original shape is very different to the fusilli most people buy today. In fact, both fileja and ferricelli look more like rustic short bucatini.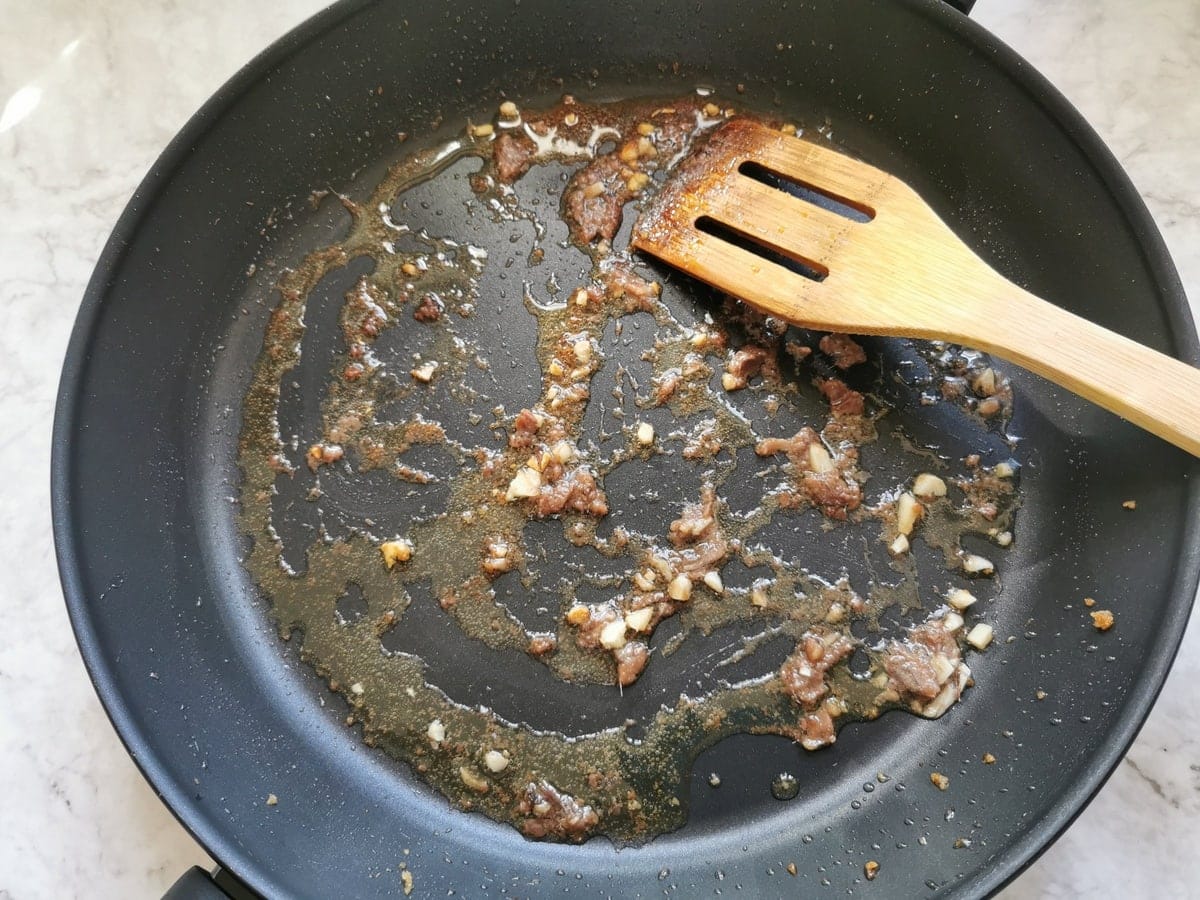 With or without anchovies?
I'm a big anchovy fan and added anchovies to my pasta with breadcrumbs. The recipe I followed is from Basilicata and calls for anchovies. Plus, my Sicilian husband prefers it that way because in Sicily, it mostly always has anchovies!
Of course, you can leave the anchovies out if you want a vegan/vegetarian version or don't like them.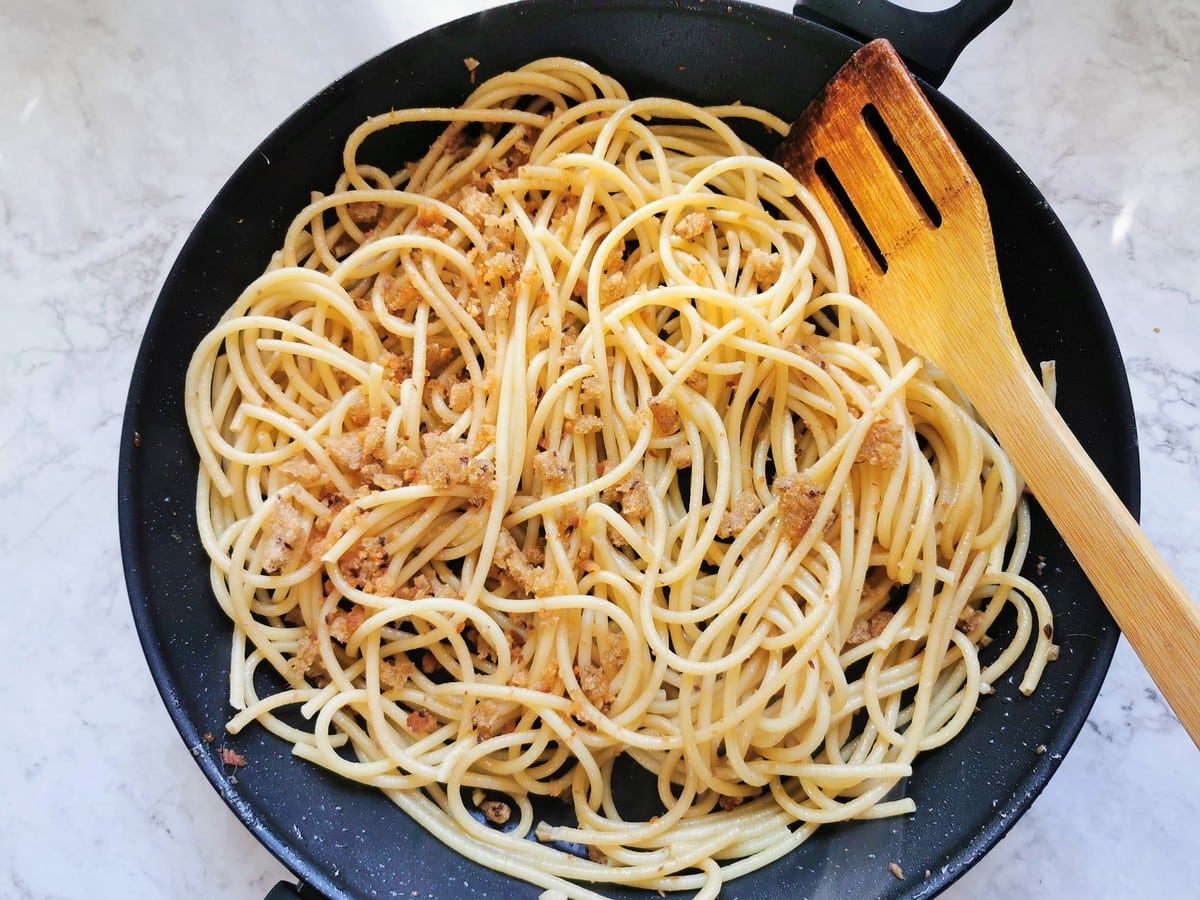 However, it's worth noting that anchovies actually melt when you sauté them in olive oil along with the other ingredients. Anchovies really don't taste fishy. When 'melted' in olive oil or a sauce they add a briny, savoury umami flavour to any dish you use them in.
They are also very nutritious and have many vitamins and minerals that provide major health benefits. Best known as a source of Omega-3 fatty acids, anchovies are loaded with protein. In addition, they are an excellent source of calcium, selenium, niacin, vitamin B12, potassium and vitamin A!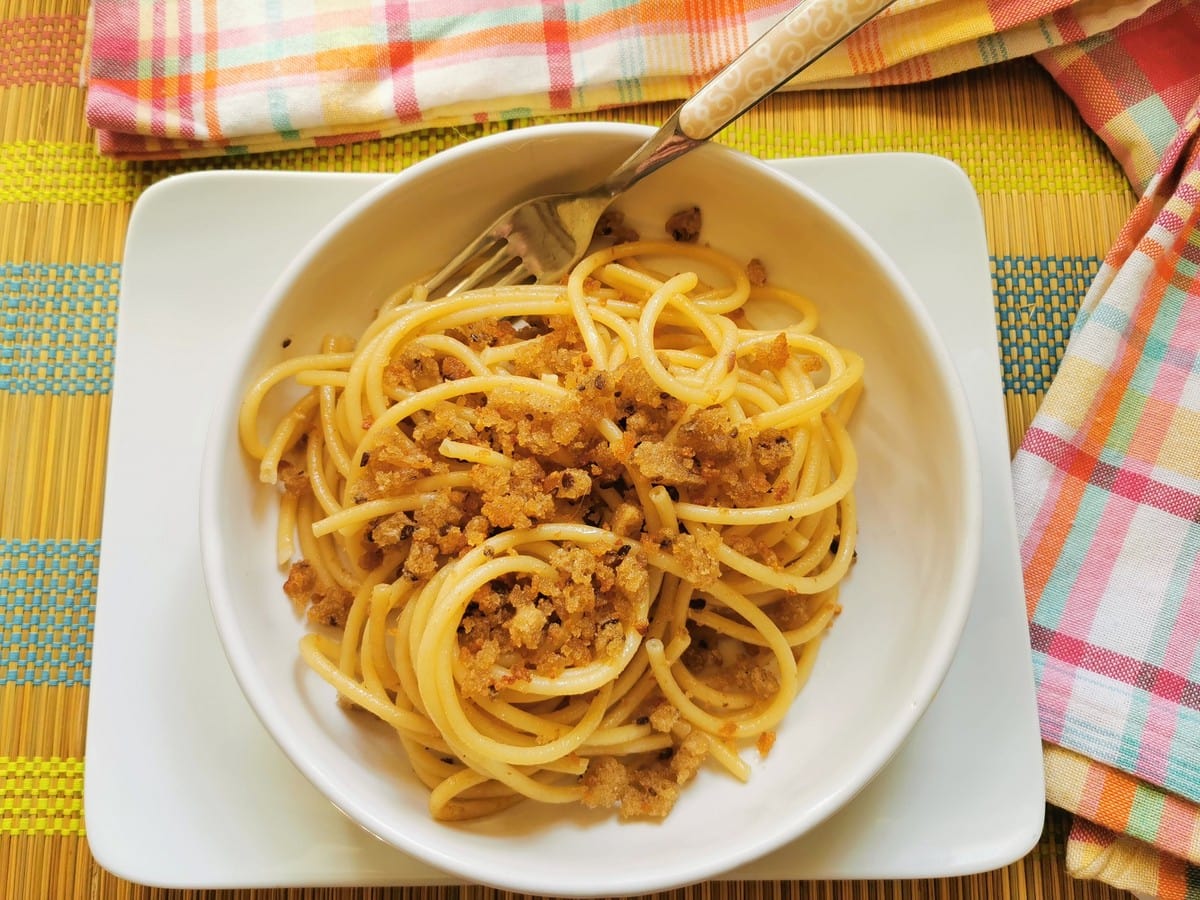 How to make this pasta with breadcrumbs and anchovies.
The only ingredients in this traditional recipe apart from the pasta and bread, are anchovies (if using), garlic, olive oil and salt. You can also add chopped parsley when serving and a bit of peperoncino if you want it slightly spicy.
The first step is to make the breadcrumbs which are definitely best homemade. Break up the inside of 2-3 slices of semi stale rustic bread into small pieces and then blend them in a food processor until they are quite small, but not fine.
Fry these breadcrumbs in heated olive oil until they are golden and crispy. Then remove them from the pan. You can add garlic to the pan if you want to have garlicky breadcrumbs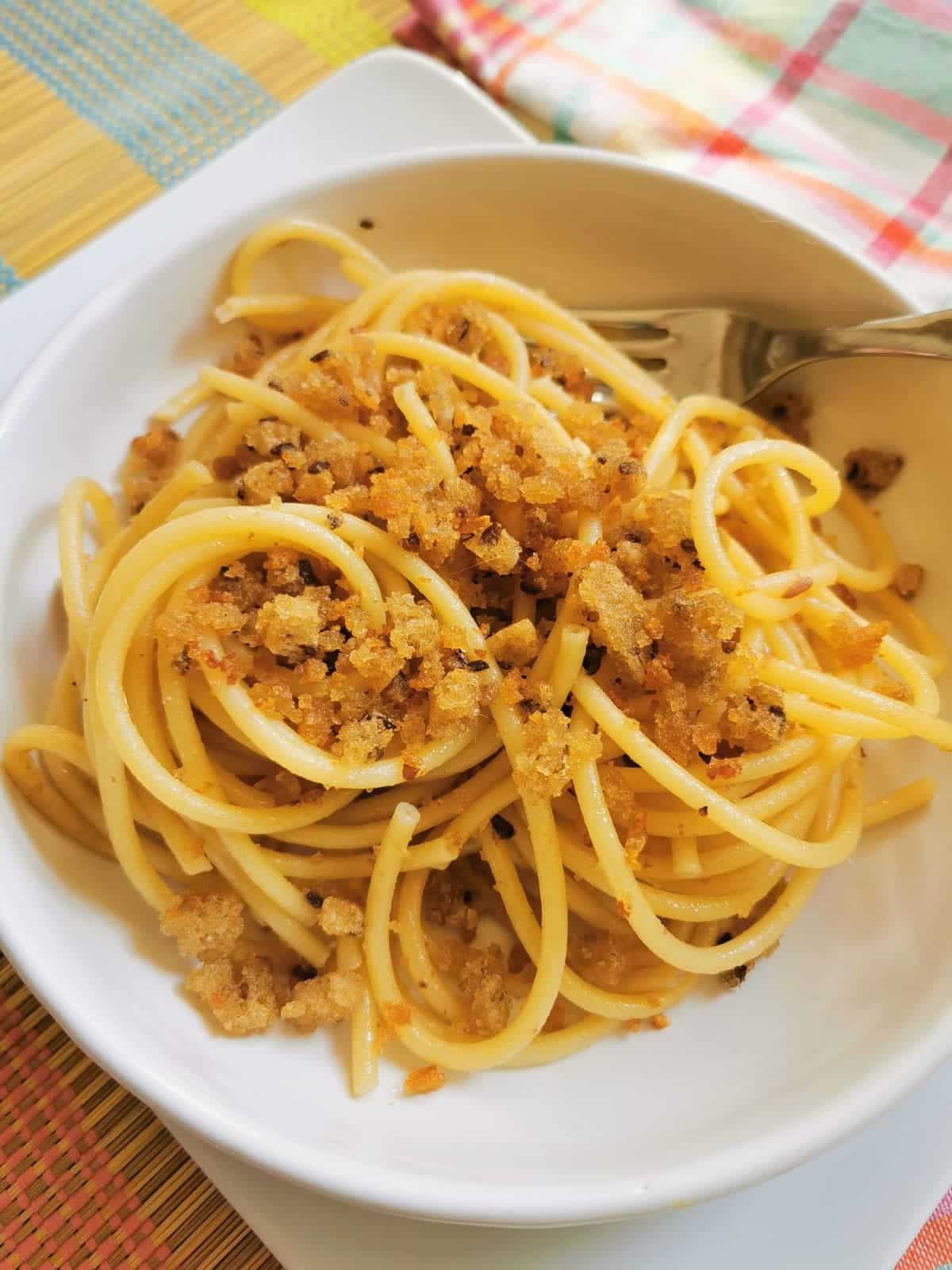 Next put a pot of water onto boil for the pasta. While the water is boiling for the pasta, sauté the chopped garlic and anchovies over a medium heat in olive oil until the latter have melted. Be careful not to let the garlic burn as it will taste bitter.
Cook the pasta al dente, save a little pasta cooking water, then drain the pasta and add it to the pan with the garlic and anchovies. Mix together well.
If the pasta seems dry, add some of that magic cooking water and stir over a low heat for a few seconds. Finally, add some of the fried breadcrumbs and mix everything again. Serve immediately with a generous sprinkling of more breadcrumbs!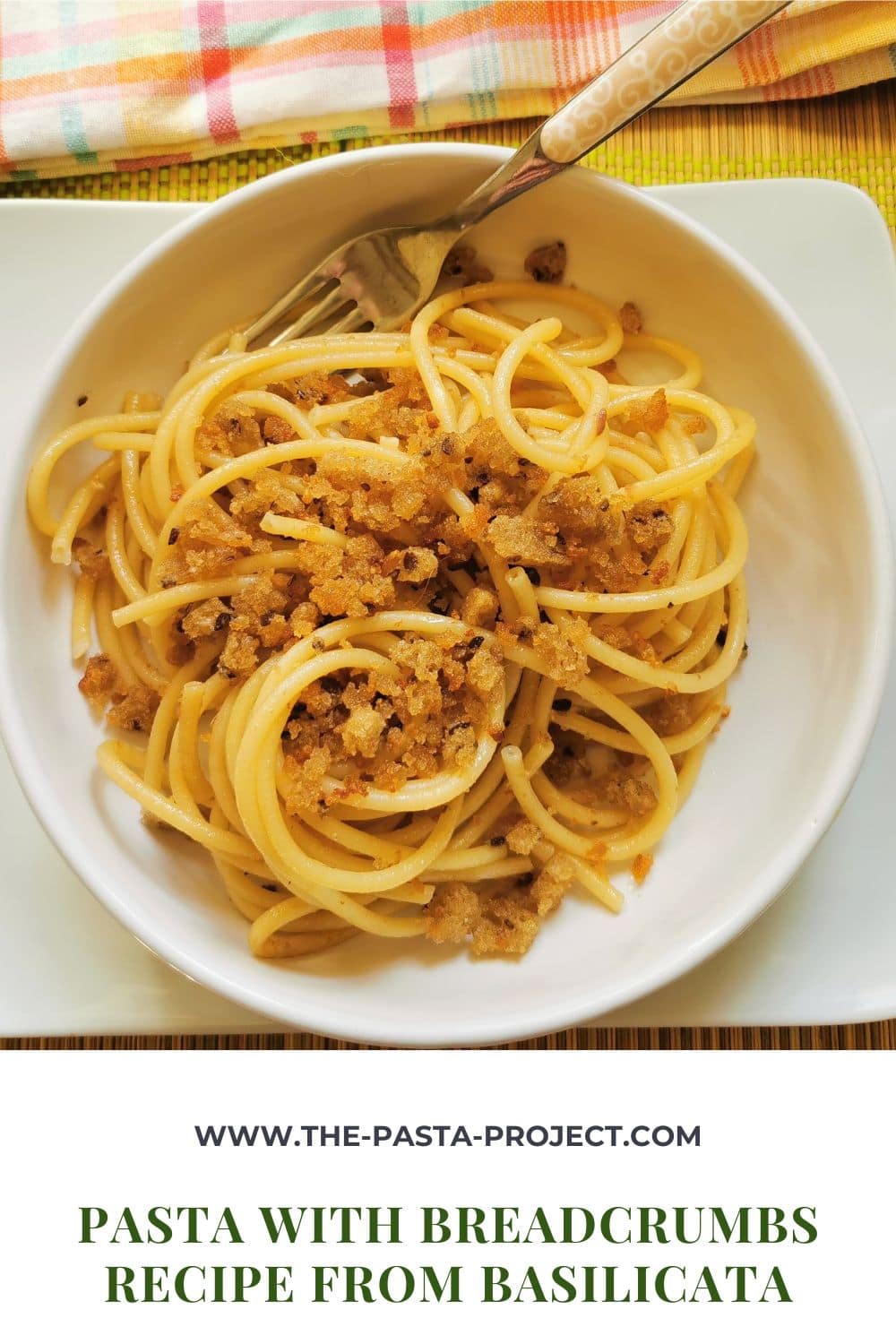 A great weeknight recipe.
This is hands down one of our favourite weeknight pasta recipes. It's also great as a midnight pasta when you're up late and feeling peckish. I'm sure, if you give this pasta with breadcrumbs and anchovies a try, you'll love it as much as most Southern Italians do!
If you do try this recipe, I'd love to know what you think of it. Please write a comment here on the blog or post a comment on the Pasta Project Facebook page.
Your feedback means a lot to me!
Buon Appetito!
Other quick and easy Italian pasta recipes.
Are you interested in learning how to make homemade pasta and different types of gnocchi? Then check out my shop page for some great video online courses from my friends in Rome! Nothing beats learning to make pasta from Italians! Plus while you're there why not order a copy of one of my pasta recipe cookbooks or checkout some recommended pasta making tools?