Spaghetti all'assassina, also known as spaghetti bruciati (burnt spaghetti), is a traditional recipe from Bari in Puglia. It is simply raw spaghetti cooked in a tomato passata (purée) broth using a method known as 'risottata'. In other words, risotto style. The result is slightly burnt, crispy caramalized spaghetti with an intense spicy tomato flavour. It's difficult to put into words how amazing this assassin's spaghetti recipe is. You'll have to try it to understand!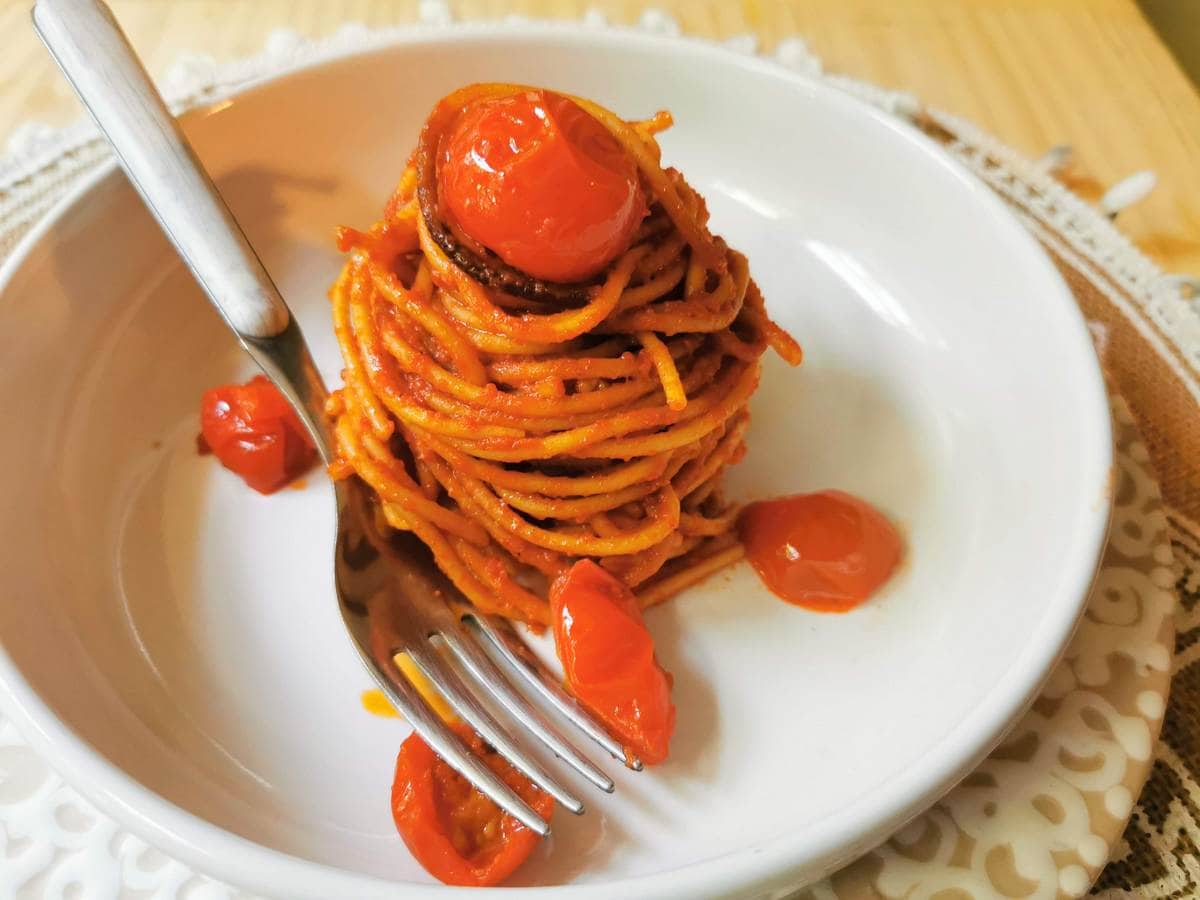 A cult recipe from Puglia.
In the Southern Italian city of Bari, spaghetti all'assassina is practically a cult recipe. It 's even the title of one of the Lolita Lobosco detective novels written by Garbriella Genisi, a writer from Bari. The novels have recently been adapted into an Italian TV series! Spaghetti all'assassina is the title of the third episode!
In Bari, they also have an organization called L'accademia dell'assassina (the academy of assasin's spaghetti) to protect and promote the authentic recipe!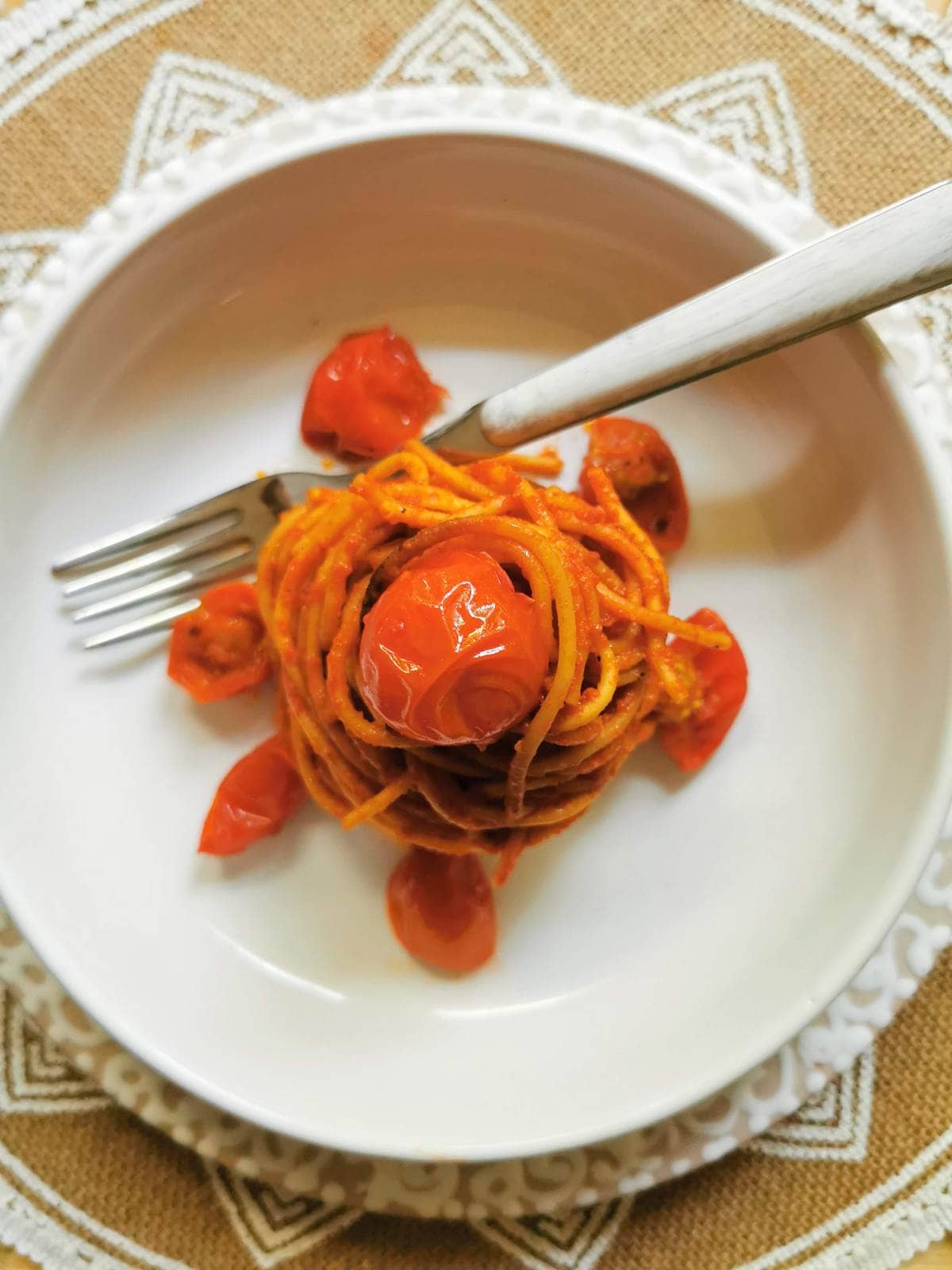 Why is it called assassin's spaghetti?
The word 'assassina' means assassin or killer in English. However, the name of this killer pasta doesn't refer to a criminal. It is most probably used as a colloquial way to say 'impressive', a bit like saying 'you killed it' to someone who's done something really well! Or, the name refers to the fact that this dish can be quite spicy!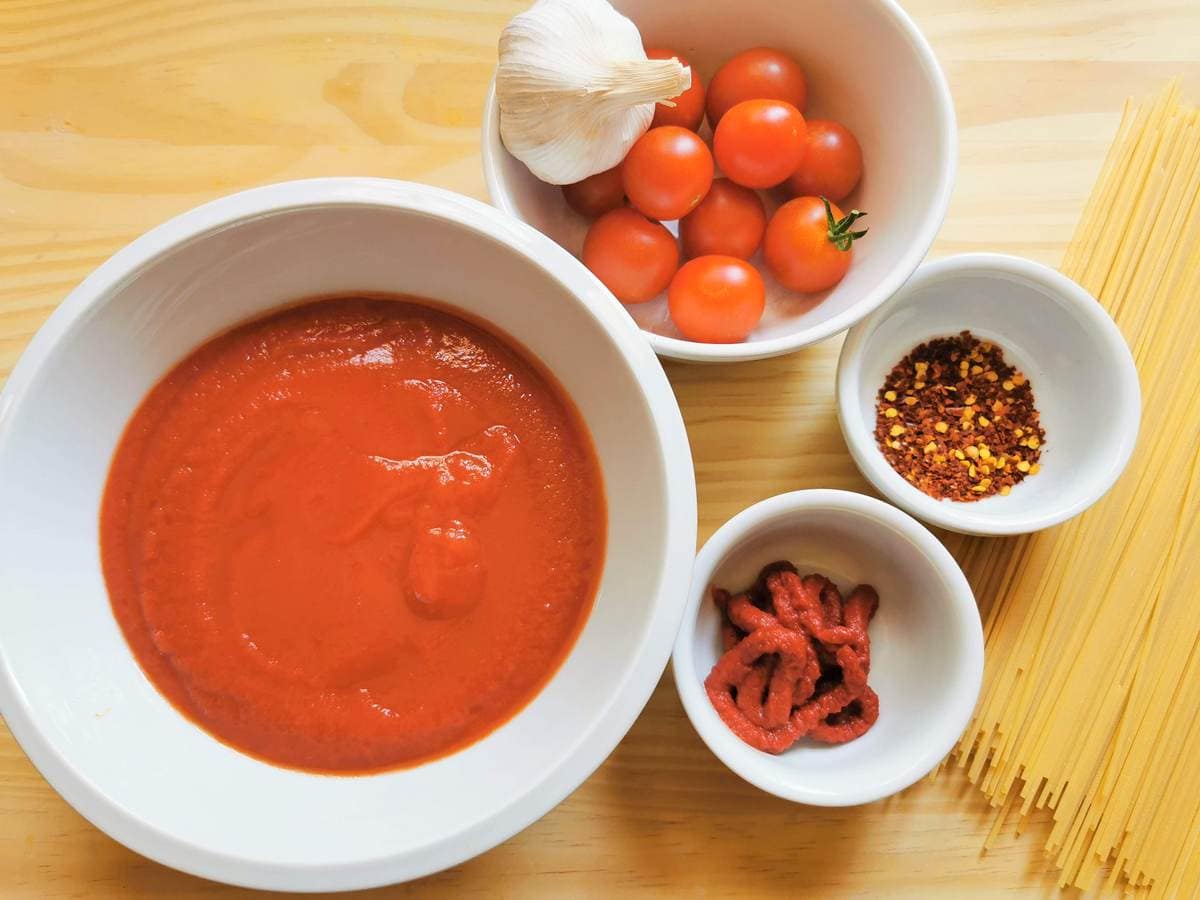 Spaghetti all'assassina history.
According to a few Italian articles I read, spaghetti all'assassina was the invention of Enzo Francavilla, a chef from Foggia. At the time, he had just opened his own restaurant in Bari. The restaurant was called Al Sorso Preferito and still exists today.
As recounted by Chef Francavilla in an interview published in 2018; one day in 1967, two Northern Italians came into the restaurant asking for a substantial and tasty pasta dish.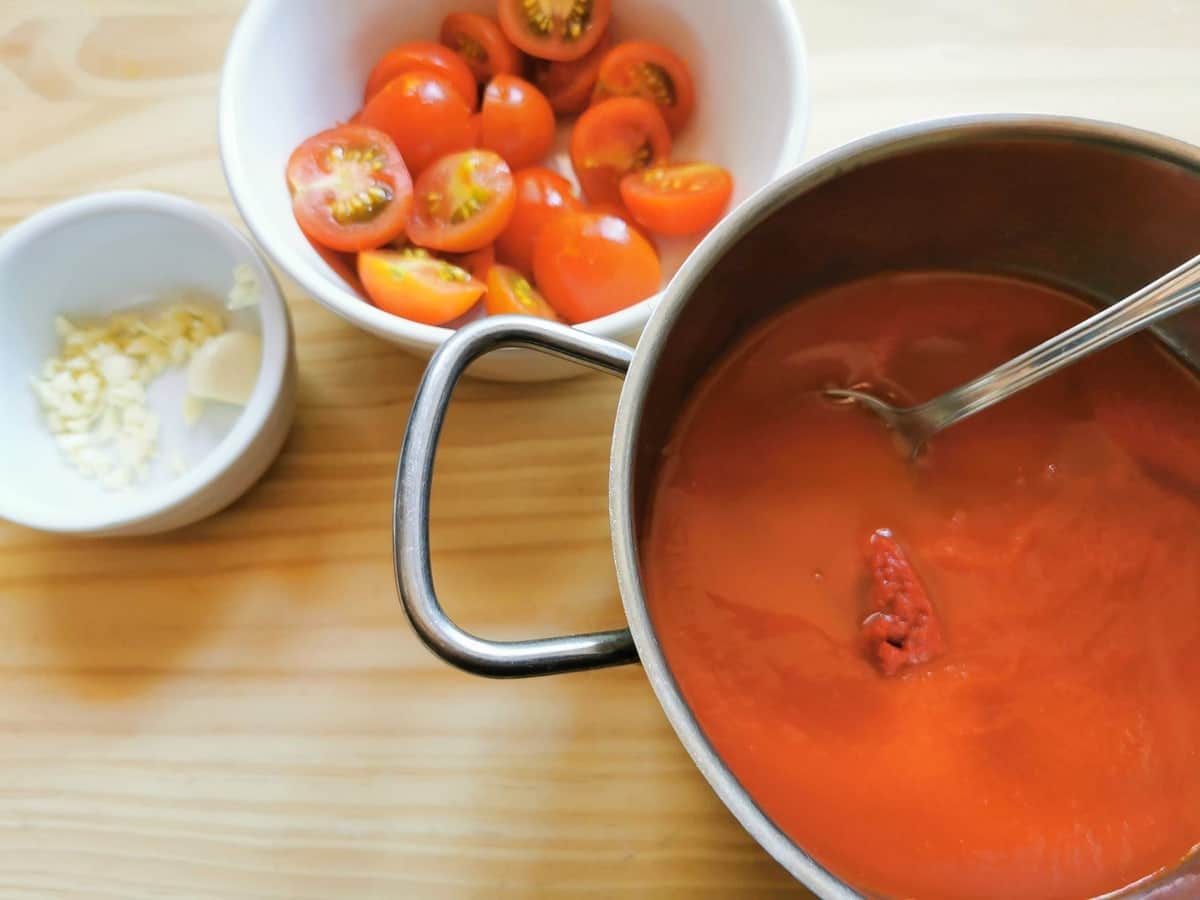 So, he invented a plate of spaghetti with a tomato sauce and a generous dose of peperoncino, prepared directly in an iron pan. After the customers had finished, chef Francavilla asked them if they had liked it. One said it was very good indeed and added that he (the chef) was a killer! And apparently that's when and how this spaghetti all'assassina got its name!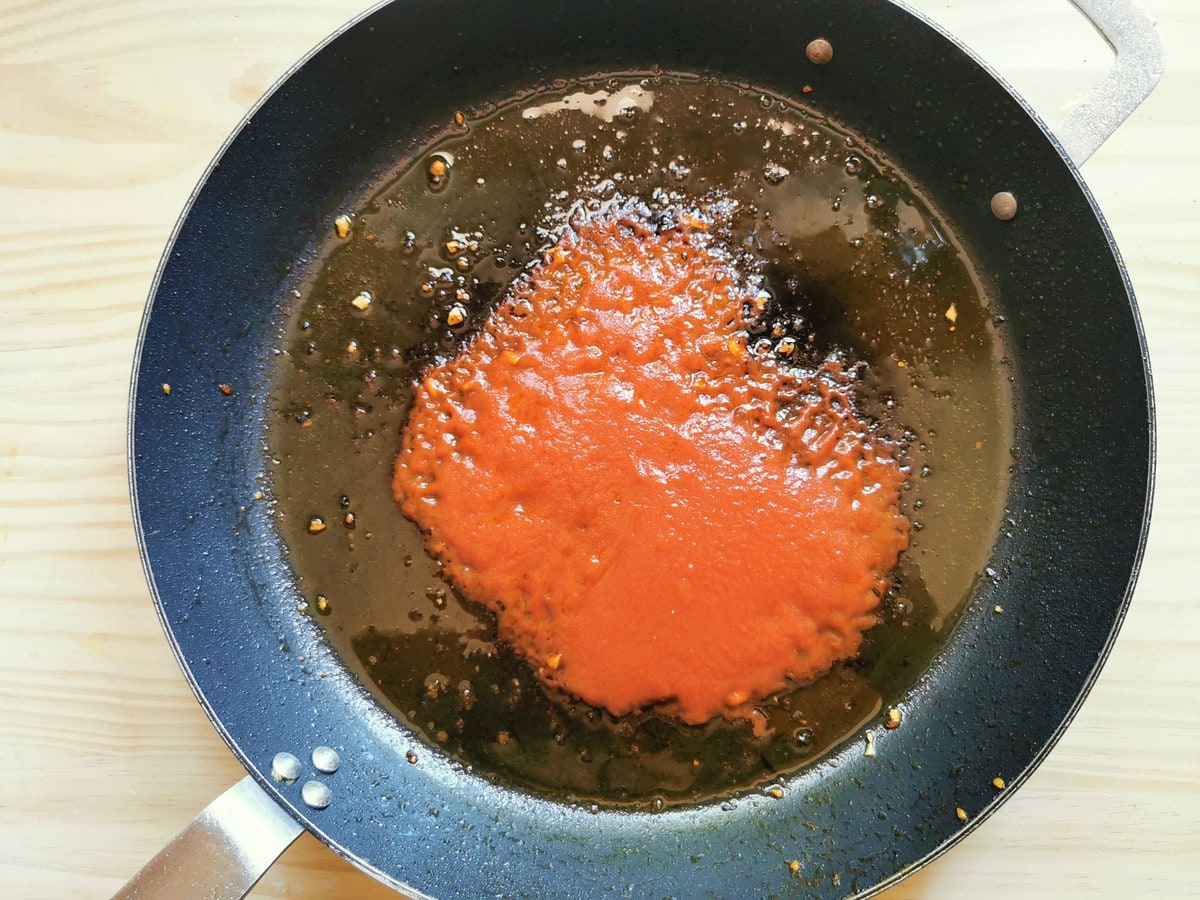 There are other theories about the origin of assassin's spaghetti. For example, Tik Tok's pasta queen claims it was invented by mistake by a chef who was distracted by a beautiful woman! However, I haven't come across that theory in any of the Italian language articles I've read about this recipe.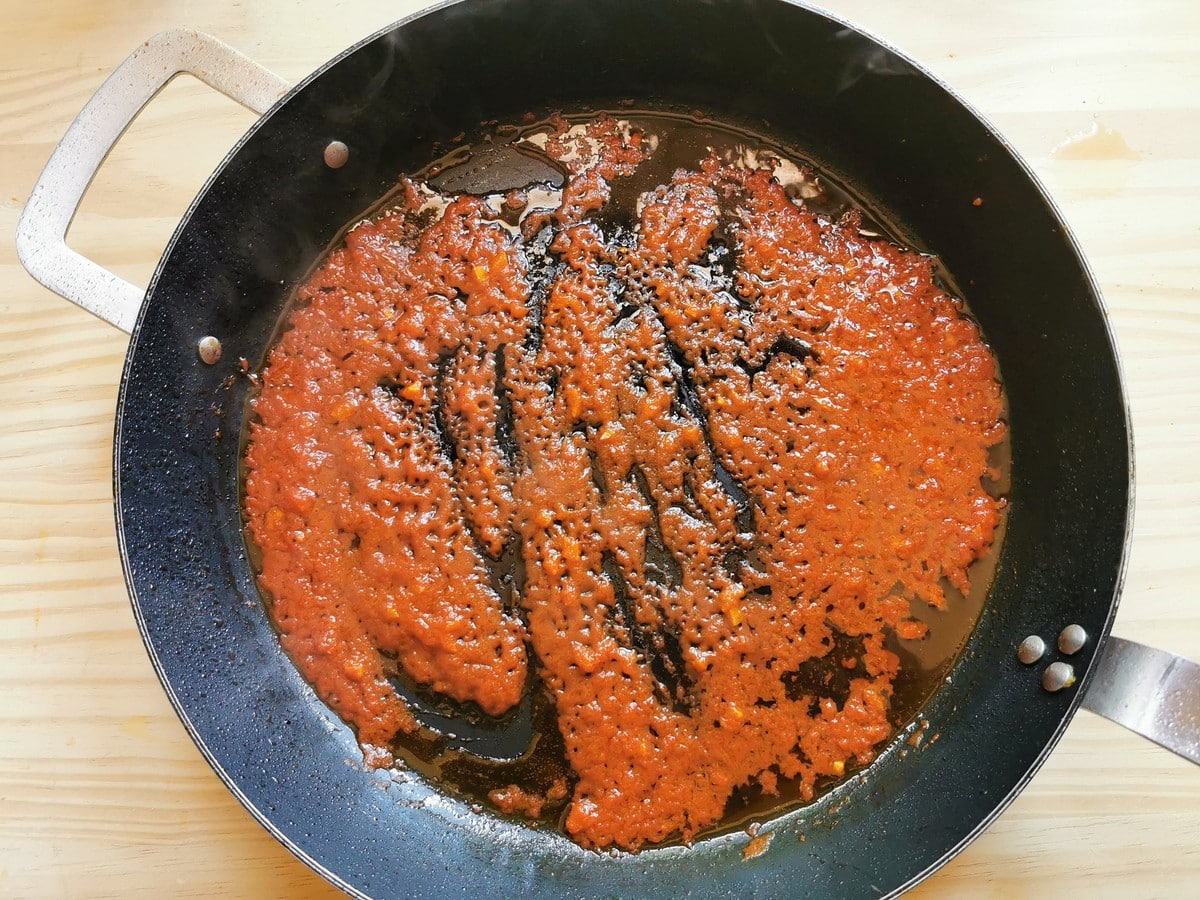 This isn't the only popular pasta recipe that started as a chef's invention. The stories behind spaghetti alla Nerano and pasta puttanesca are similar.
Why is spaghetti all'assassina different to other tomato spaghetti recipes?
As you may have gleaned from what I wrote above, spaghetti all'assassina is made in a unique way. The pasta cooks in the sauce , not in boiling salted water. Italians call this method 'risottata', meaning risotto style. There are other pasta dishes made risotto style.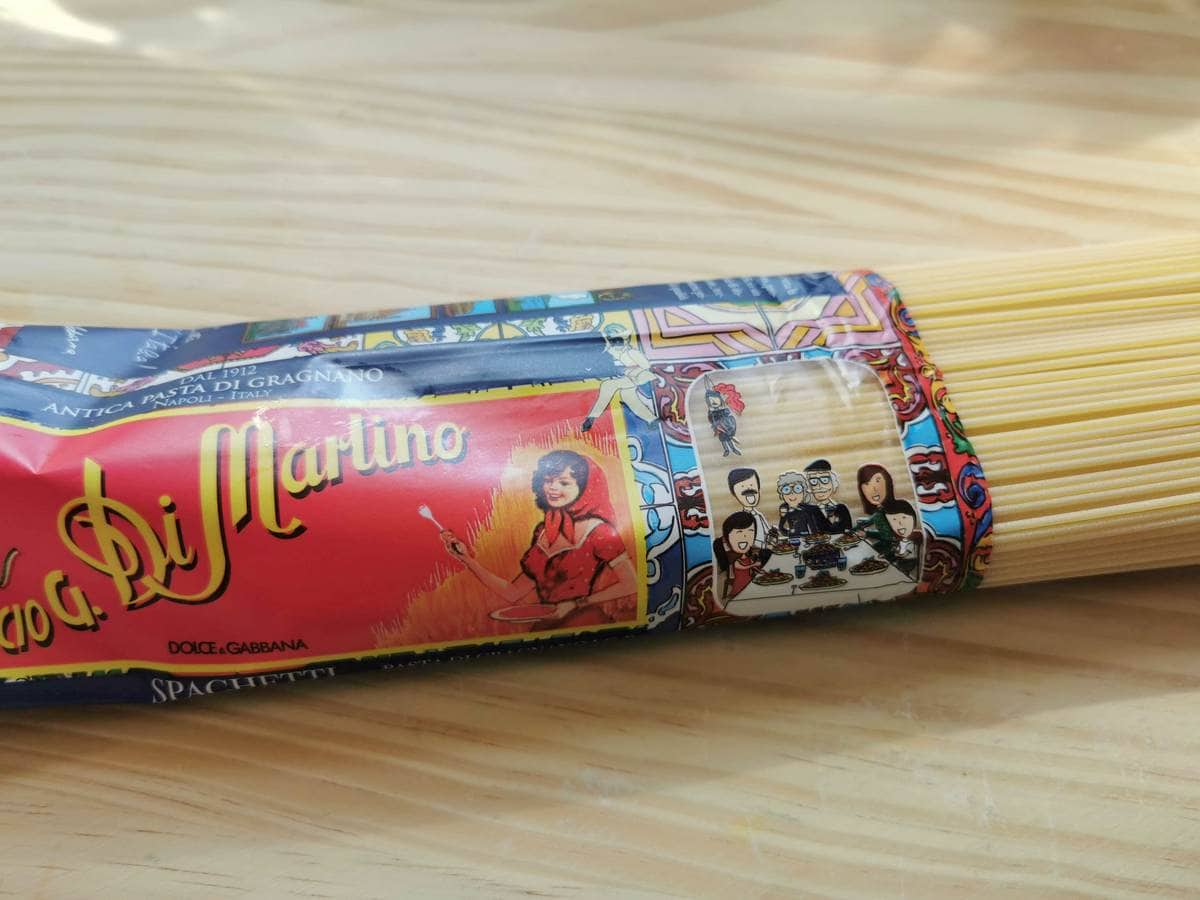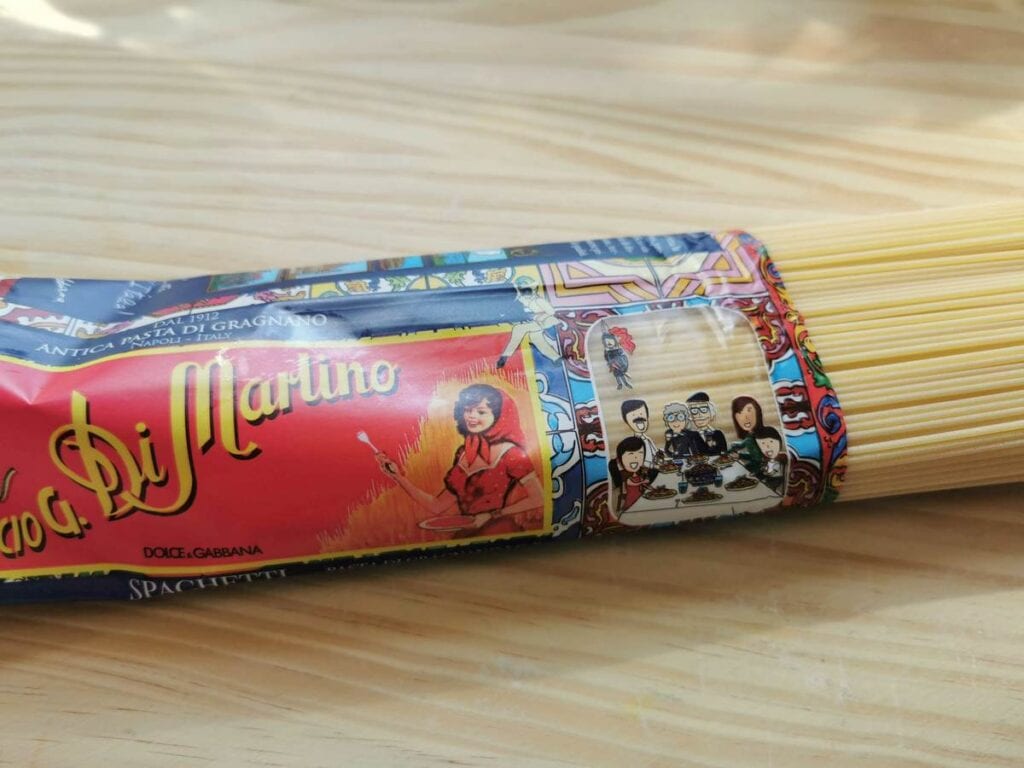 But, this recipe is a little different because the spaghetti caramelizes in a small quantity of tomato passata before the rest of the sauce is added a little at a time until the pasta is al dente.
The other two features that make this recipe unique is that, according to the Academy of Spaghetti all'Assassina, the pan should be iron. They also recommend not using bronze extruded pasta as this apparently releases more starch and interferes with the browning of the spaghetti.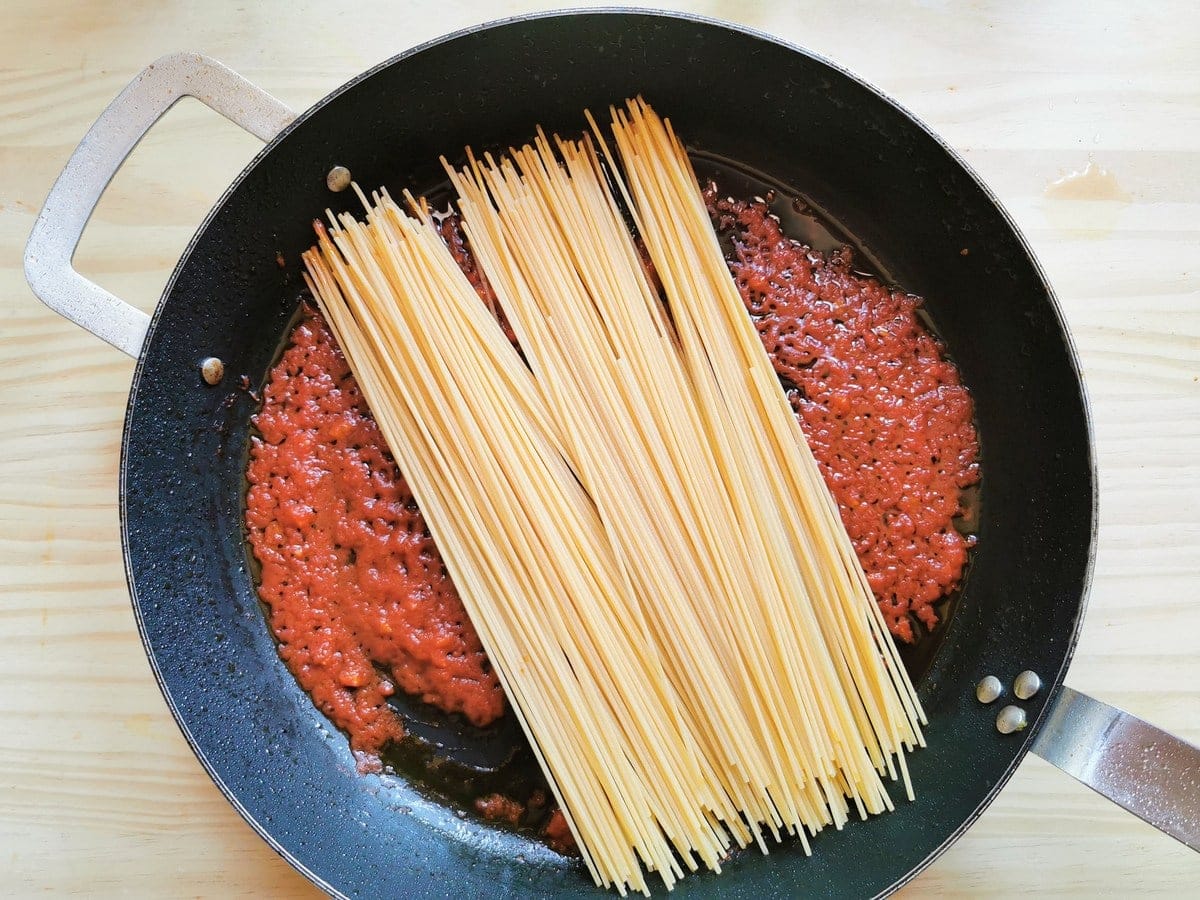 I used a non-stick iron skillet and bronze extruded spaghetti from Gragnano made by Pasta Di Martino. The latter because I don't like pasta made with Teflon dies.
What are the ingredients for spaghetti all'assassina?
You need very few ingredients to make this assassin's spaghetti. In fact, it's really just a spaghetti with spicy tomato sauce. So, the ingredients are fine spaghetti or vermicelli, tomato passata/purée (homemade or store-bought), garlic, tomato paste/concentrate, red chilli pepper (peperoncino), sugar (optional) and olive oil.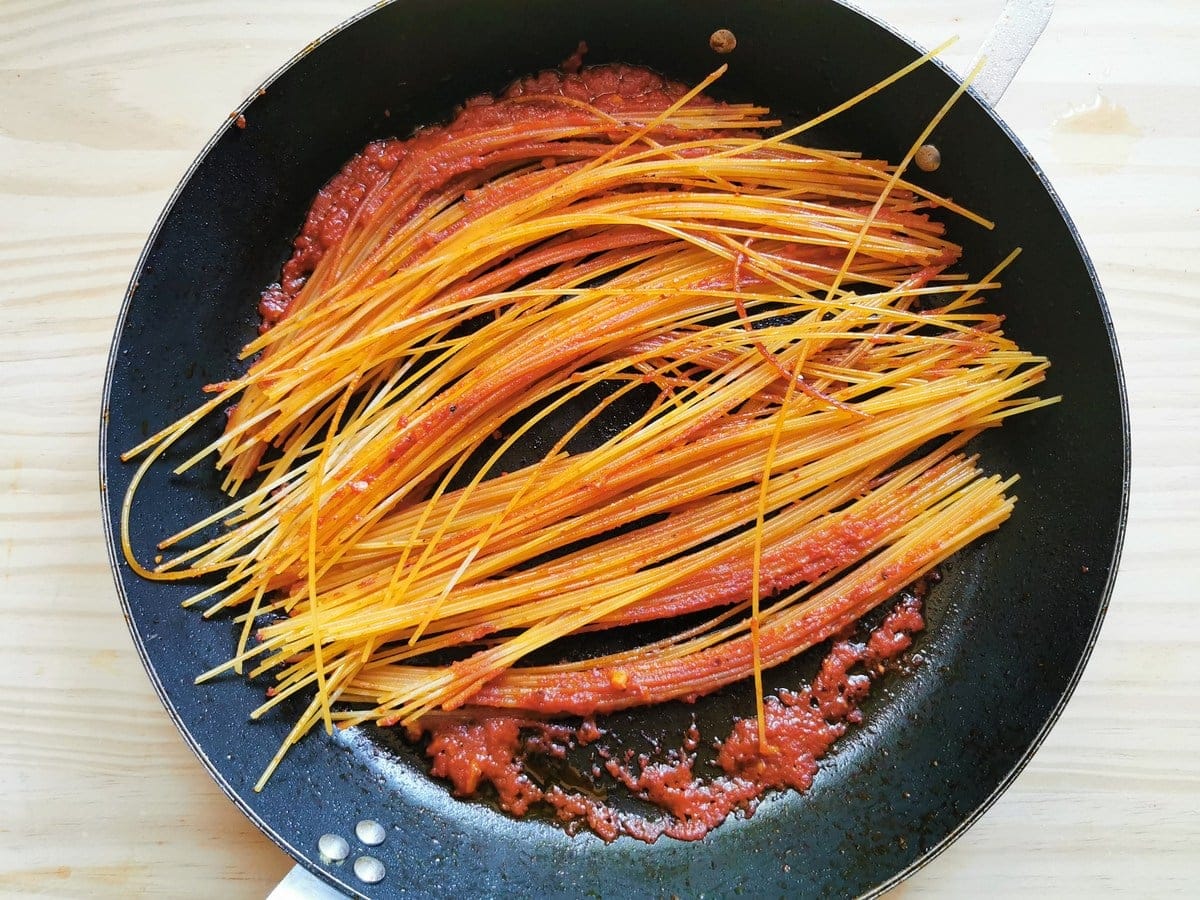 Two thirds of the tomato passata need diluting with water, although homemade may need less than store-bought. Of the 2 garlic cloves, one remains whole, and the other is chopped and the peperoncino can be fresh or dried flakes.
How to make Puglia's killer spaghetti
The first step is to make a tomato broth using ⅔ of the passata, diluting it with water (1:1) and adding in the tomato paste and some salt. Bring this to a boil, then lower the heat and simmer. This broth needs to be hot when you add it to the spaghetti, otherwise you will lower the cooking temperature for the pasta.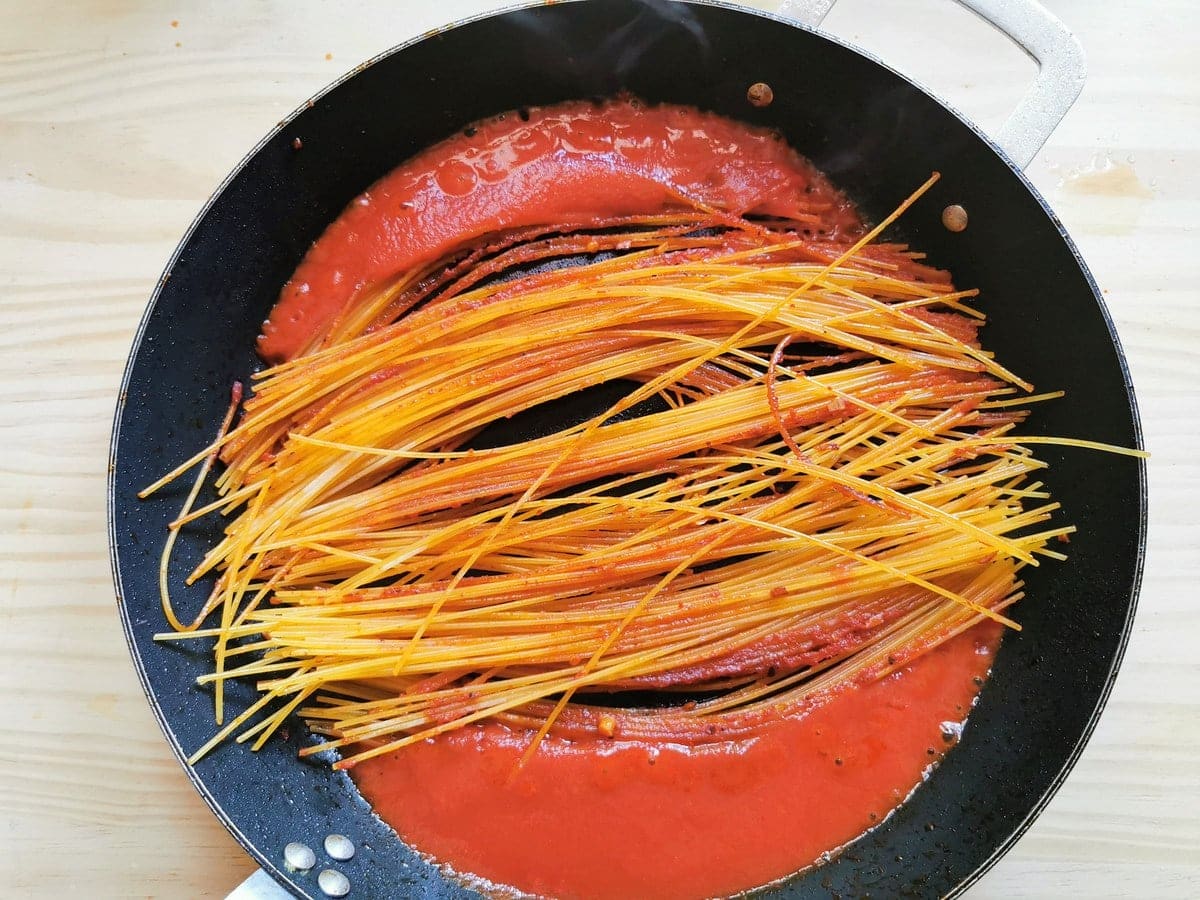 The second step is to sauté the garlic and red chilli pepper in olive oil in an iron pan. Then add the undiluted one third of passata. This is likely to spit quite a bit so be careful you don't burn yourself. Spread the passata over the pan and once it has reduced and thickened add the spaghetti. You can add some sugar to temper the acidity of the tomatoes.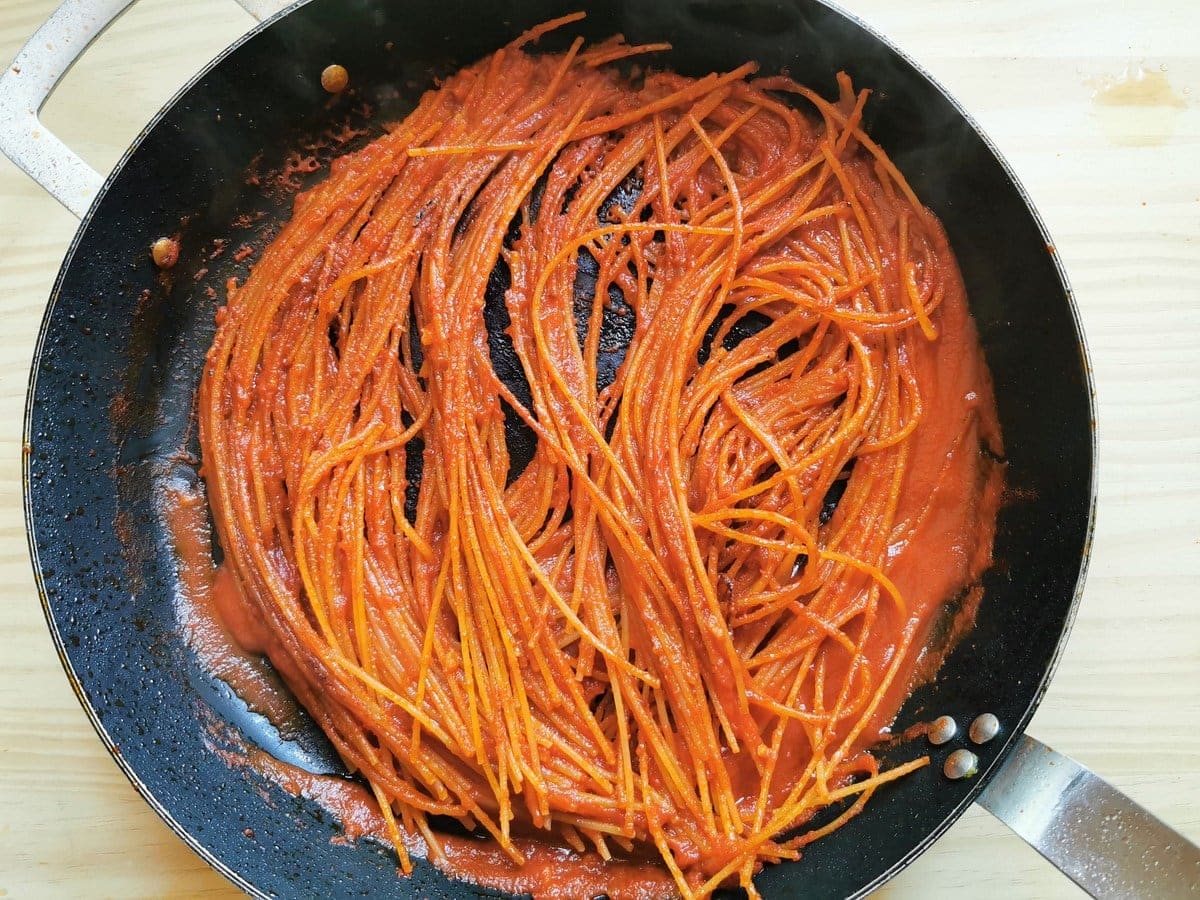 How to crisp the spaghetti.
Wait for the underside of the spaghetti to start caramelizing before turning it over. You have to do this carefully, a little at a time, using a spatula. Let the other side of the spaghetti start to crisp a little and then pour in a ladle of the hot tomato broth. It's better not to pour it over the spaghetti but to add it to the sides of the pan so the pasta will stay a little crispy.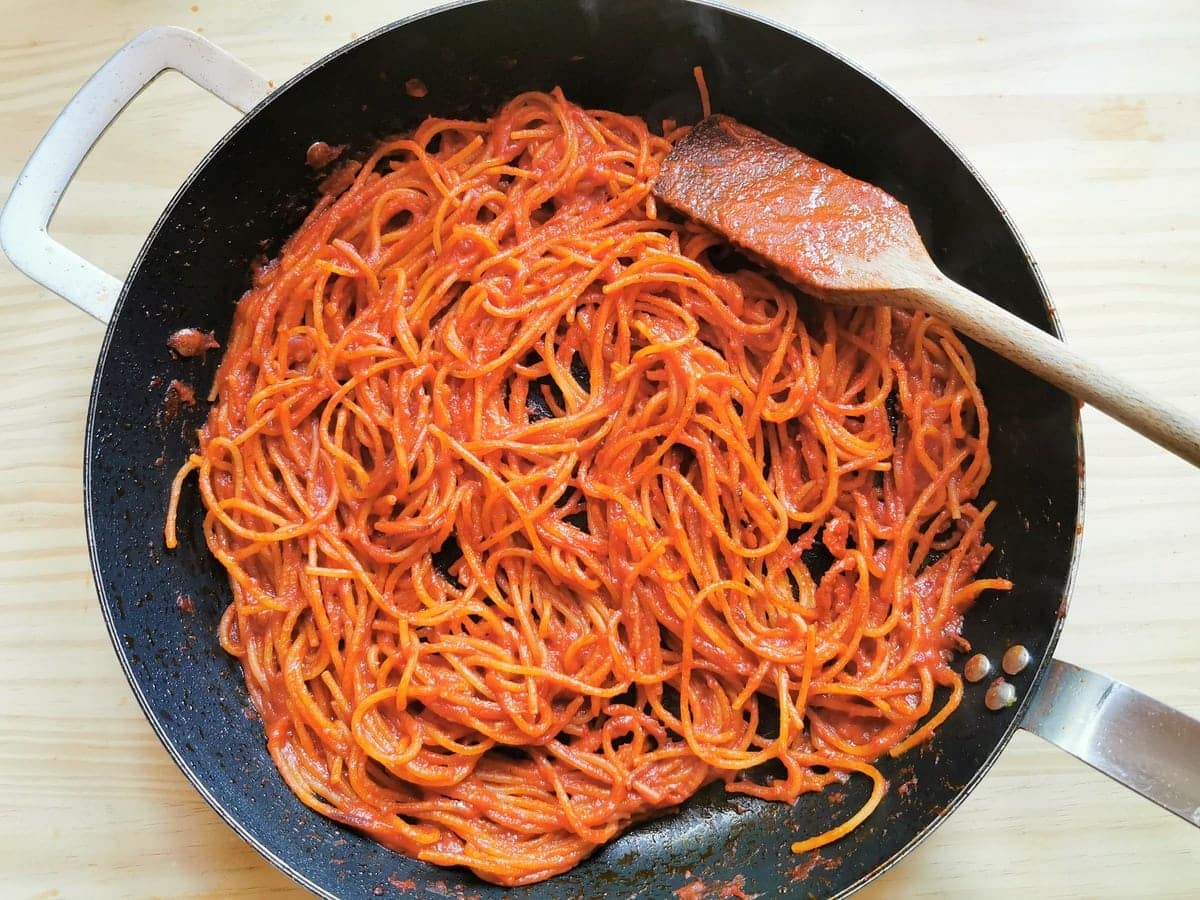 At this point the spaghetti will start to soften enough that you can stir it gently with a wooden spoon, move any pasta strands that might have stuck to the bottom of the pan and allow the tomato broth to spread and reduce. Keep repeating this step until the spaghetti is al dente. If you run out of tomato broth, you can add a little water.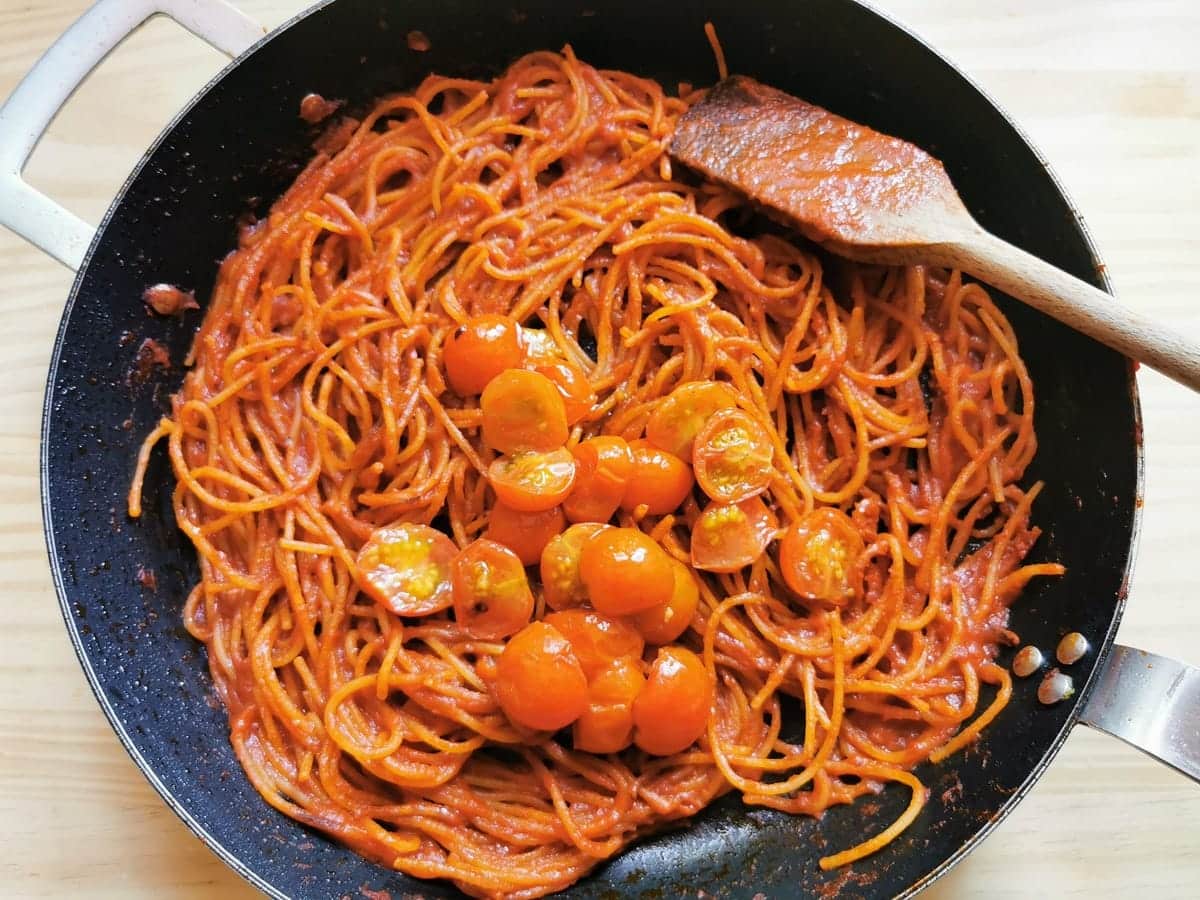 Cherry tomatoes are optional!
I added cherry tomatoes which I had first sautéed in the iron pan before starting on the pasta. I removed them from the pan and then just added them back when my spaghetti all'assassina was ready. However, the addition of cherry tomatoes isn't in the original recipe.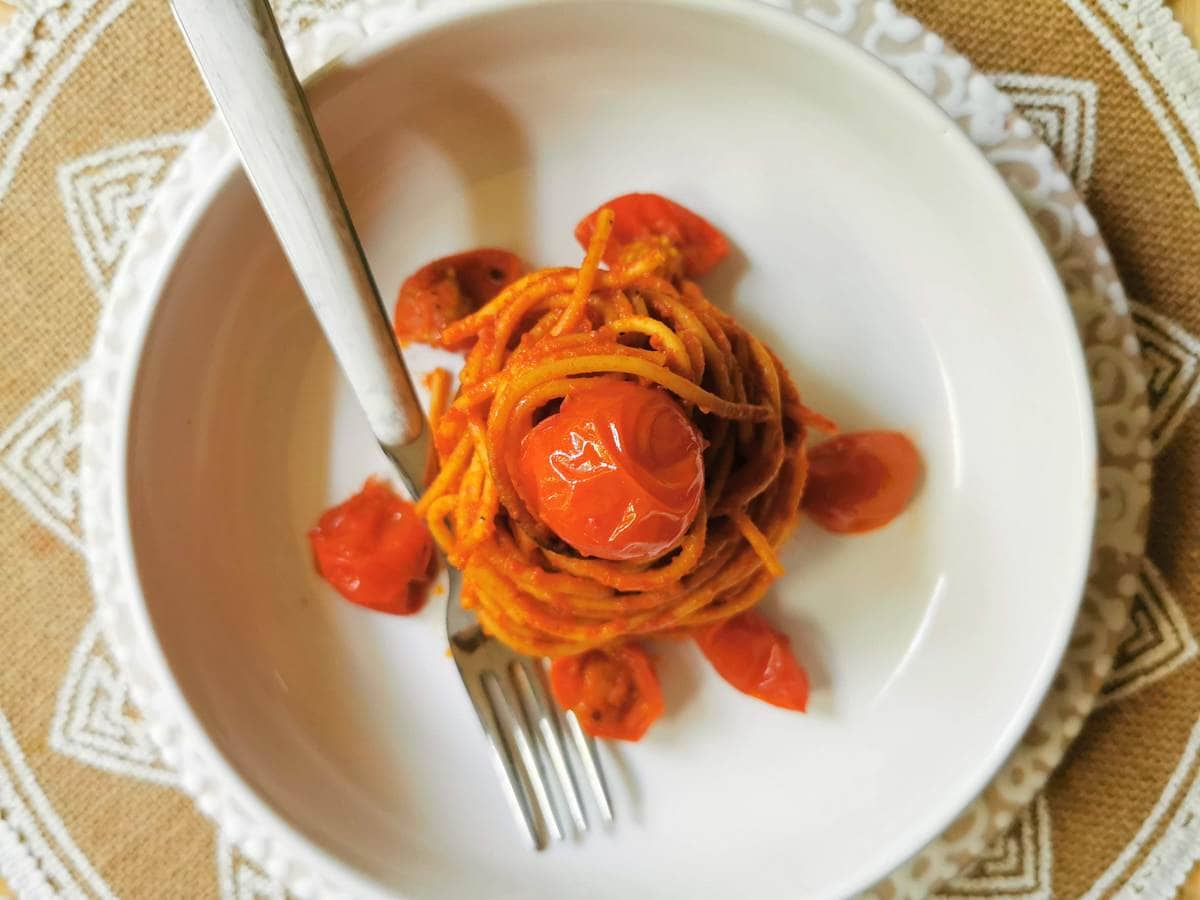 Variations of spaghetti all'assassina.
Like with many Italian recipes, traditionalists would never want to change the original killer spaghetti recipe. However, a number of chefs in Bari and even Naples are making variations. There's an assassina di rape, made with broccoli rabe and stracciatella cheese, as well as an assassina di mare with squid and prawns and another with fried nolche olives (a sweet table olive).
I like the idea of the stracciatella cheese and want to try that next time!
Pin for later.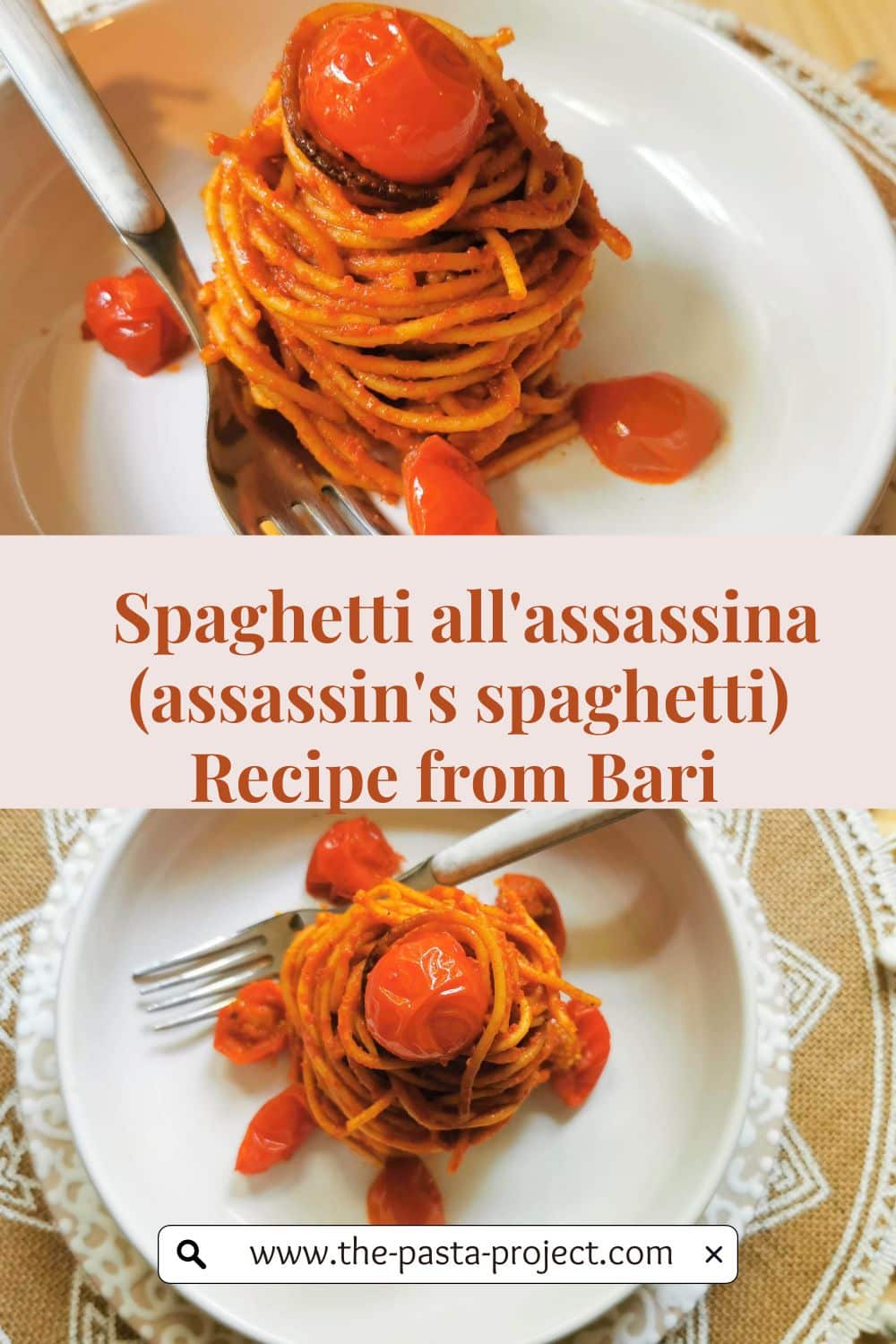 Let me know what you think.
Puglia's killer spaghetti may sound challenging to make, but mine turned out pretty amazing and I'd never made it before! So, I'm absolutely sure yours will too! Plus, you'll definitely love this recipe as much as I do. I reheated the leftovers the next day in my cast iron pan with just a little olive oil and water. It tasted exactly the same. I think you can keep leftovers sealed in the fridge for a couple of days.
If you do try this assassin's spaghetti recipe, I'd love to hear what you think. Please write a comment here on the blog or post a comment on the Pasta Project Facebook page.
Your feedback means a lot to me!
Buon Appetito!
Other pasta recipes made risotto style
If you are interested in learning how to make homemade pasta and different types of gnocchi, check out my shop page for some great video online courses from my friends in Rome! Nothing beats learning to make pasta from Italians! Plus while you're there why not order a copy of one of my pasta recipe cookbooks or checkout some recommended pasta making tools?