Silk Handkerchief Pasta with Pesto (Fazzoletti di Seta).
The Italian name for this pasta, fazzoletti di seta, literally translates to 'silk handkerchiefs'. And, it's not difficult to understand why! These homemade large fresh pasta squares are traditionally super thin and silky, like silk handkerchiefs! Silk handkerchief pasta with pesto is the oldest Italian version of pasta with pesto.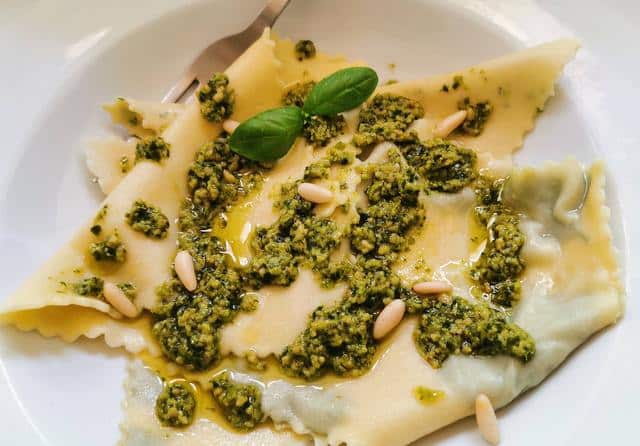 Mandilli de Saea'
Silk handkerchief pasta, also called mandilli de saea' in the local dialect, is a typical fazzoletti pasta from Genova, Liguria. It's made in a similar way to lasagne and is usually paired with the local pesto Genovese (basil pesto). Although other types of pasta such as trofie are also eaten with pesto in Liguria, this silk handkerchief pasta with pesto Genovese is probably the oldest pasta and pesto recipe.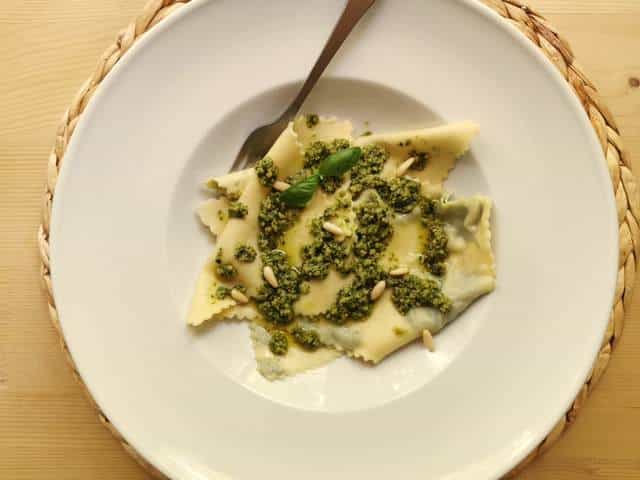 A little silk handkerchief pasta history.
Food historians say that the origin of silk handkerchief pasta is most likely linked to trade with the East. In the Middle Ages, Genova was one of the richest maritime republics in Europe. The Genovese had actually arrived in China long before Marco Polo did! From there, they established trade routes and silk was among the most traded goods. In fact, silk, its production and the commerce that ensued, enriched the coffers of the skilled Genovese traders for a long period of time.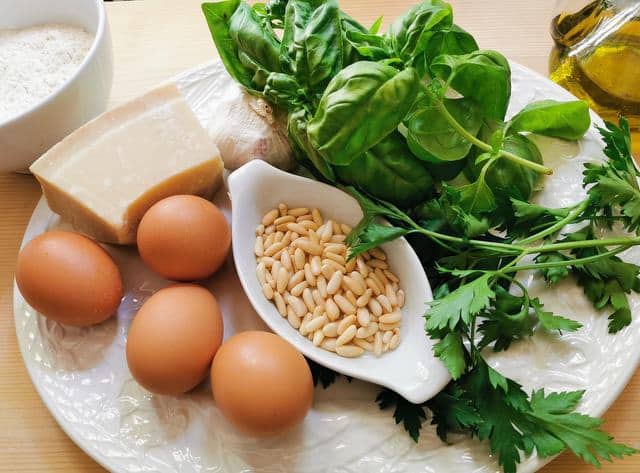 There's little doubt that silk handkerchief pasta was invented during the years of Genova's silk trade. At first, this very thin version of lasagne was seasoned with light sauces, prescinsêua cheese (a cross between yogurt and ricotta), normal ricotta and cinnamon, as well as sauces of mushrooms and hazelnuts. Then, much later, around the mid-1800s, Ligurians started to pair silk handkerchief pasta with pesto.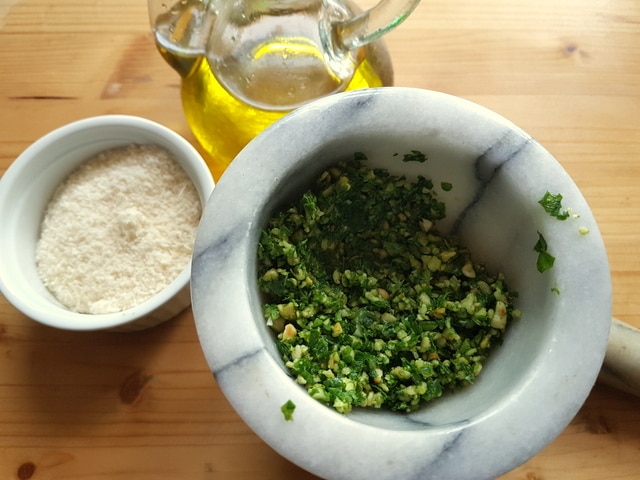 Today, silk handkerchief pasta, or as the locals call it mandilli, is increasingly rare on Genovese restaurant menus. Most probably because this pasta takes a bit of time to make and cook. The pasta squares are quite delicate and you have to cook them a few at a time. This is okay for homemade pasta meals but difficult for restaurants.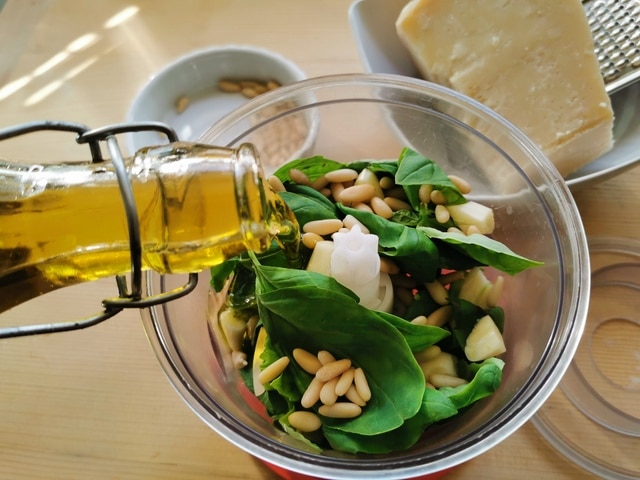 Making the pasta.
The ingredients and method for making silk handkerchief pasta are very similar to making lasagne sheets. The main difference is that the pasta squares or fazzoletti are normally much thinner than pasta made for lasagna.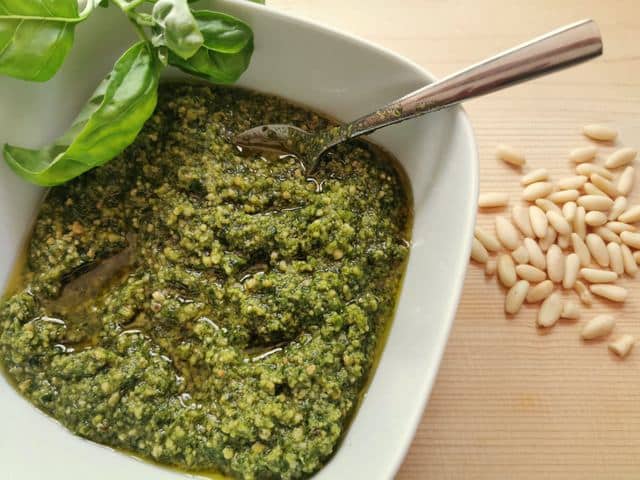 We used the same combination of flour and eggs as for our lasagne. However, some recipes call for less eggs and some water or wine and olive oil instead. For example, 300 g (10.5oz) flour, 1 egg, half a cup of tepid water and a tablespoon of olive oil. And, some people make this pasta with only egg yolks.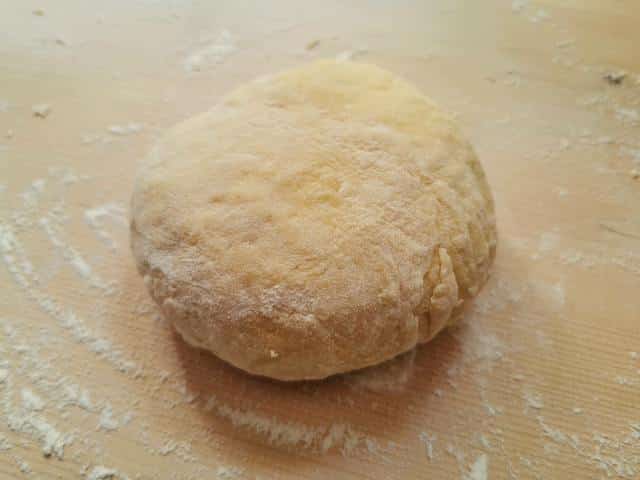 As a bit of an experiment, we also made some of our handkerchief pasta with basil and parsley leaves inside the pasta sheets. This we did by placing the leaves on one side of a ready pasta sheet and covering them by folding the sheet over the leaves and then rolling the pasta out until it was pretty thin!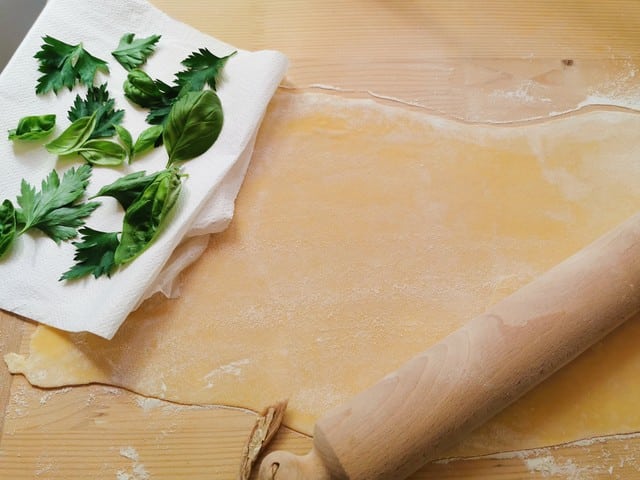 However, these sheets were a bit thicker than the plain fazzoletti. They were fun to make though and tasted great. But the plain silk handkerchief pasta were fabulous too!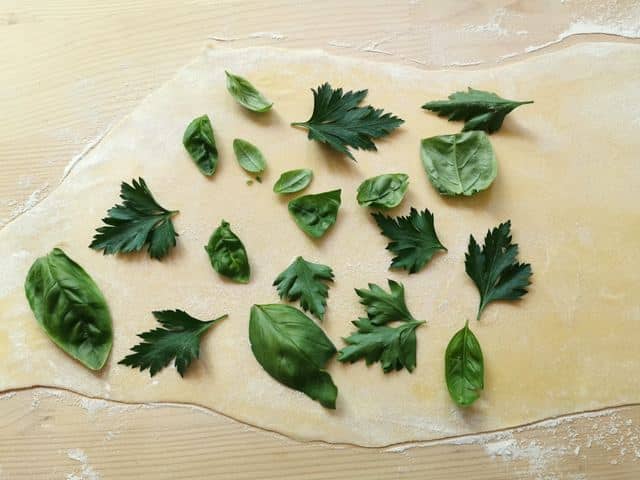 Making the pesto.
Traditionally, the people of Liguria make basil pesto with a pestle and mortar. However, you can also use a blender or food processor. I often do! Alternatively crush the pine nuts with a pestle and mortar or a hammer and use a blender for the rest. But, mix the cheese in after with a fork. This gives the pesto a more authentic texture.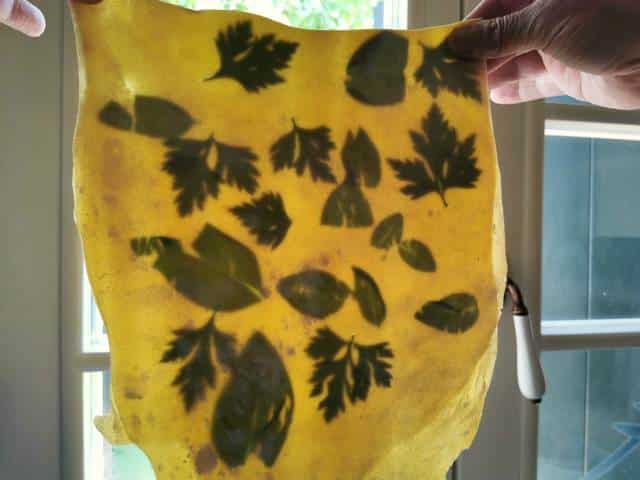 Other versions of this silk handkerchief pasta with pesto Genovese.
Some people also add green beans and potatoes to this dish like in this version with corzetti, another typical Ligurian pasta. I have also seen recipes in which they dilute the pesto with pasta cooking water to make it more of a liquidy sauce. I added pasta cooking water, but not so much.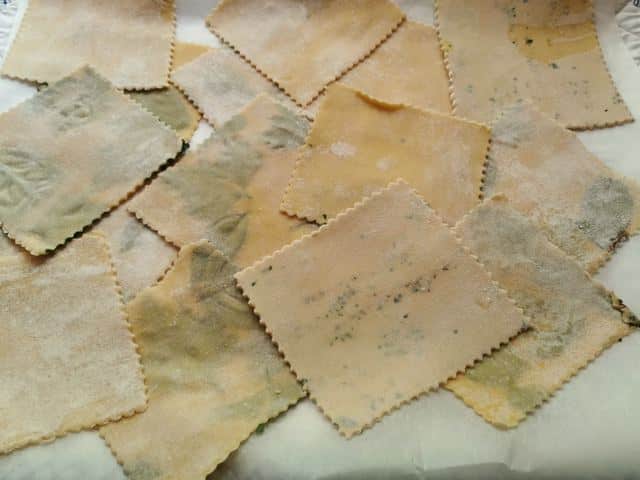 Let me know what you think.
Homemade pasta with homemade basil pesto is a fabulous combination of what are actually simple foods that have been enjoyed by Italians for hundreds of years.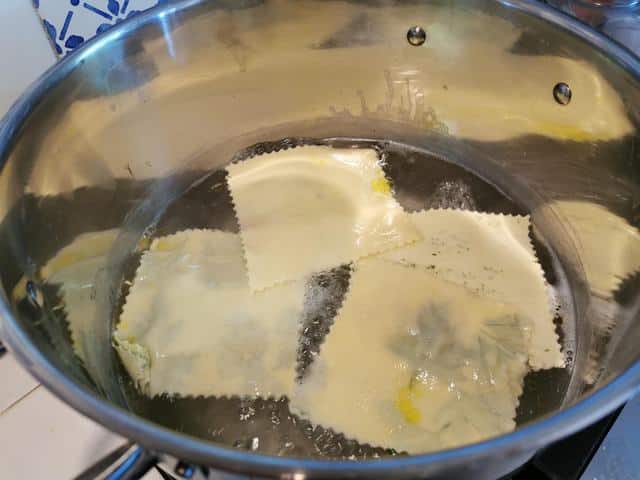 If you try this recipe, I'm sure you'll love it and the fact that you made everything from scratch makes this dish not only healthier but more satisfying too!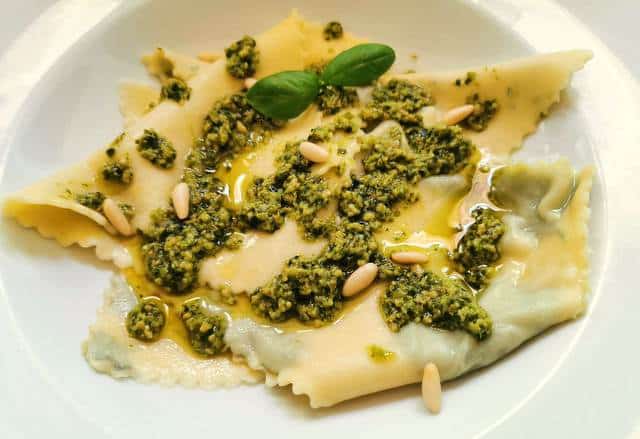 If you do make this silk handkerchief pasta with pesto recipe (fazzoletti di seta), I'd love to hear how it turns out. Please write a comment here on the blog or post a comment on the Pasta Project Facebook page.
Your feedback means a lot to me!
Buon Appetito!
Other pesto pasta recipes.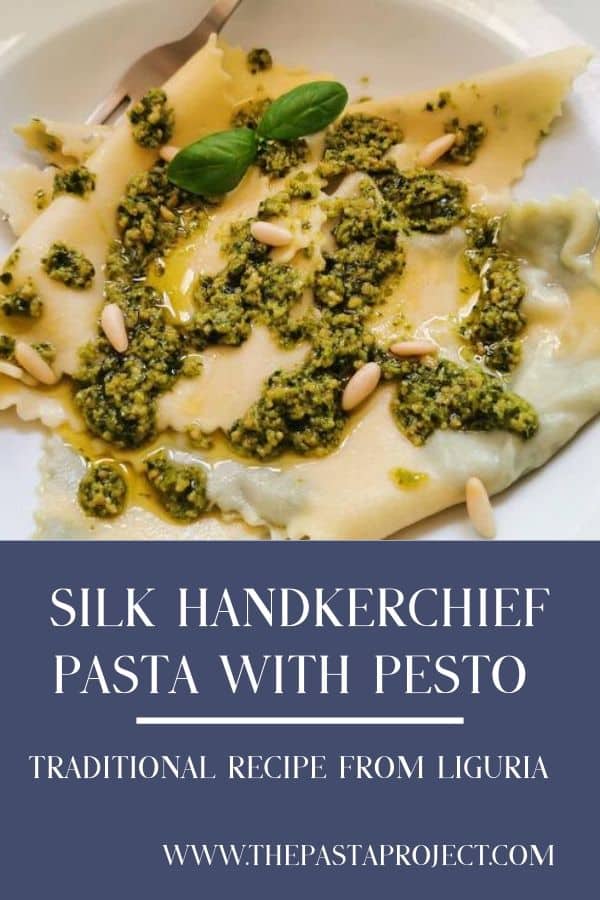 Save this recipe for later?
If you want to save this recipe for later, you can print it, bookmark this page or save it to Pinterest.
Pin for later.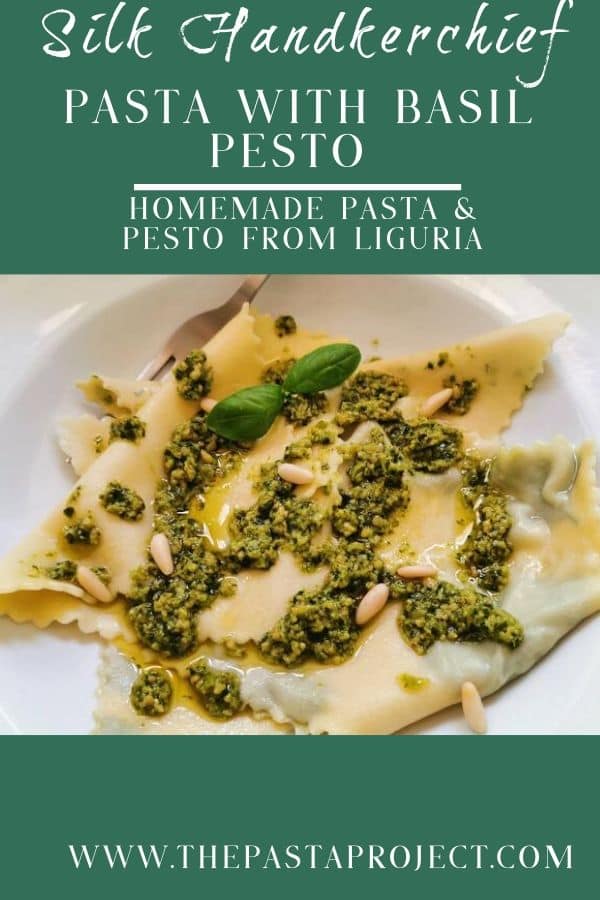 We had quite a few small pieces of pasta dough left after making all the fazzoletti. So, we made a serving of farfalle pasta with them.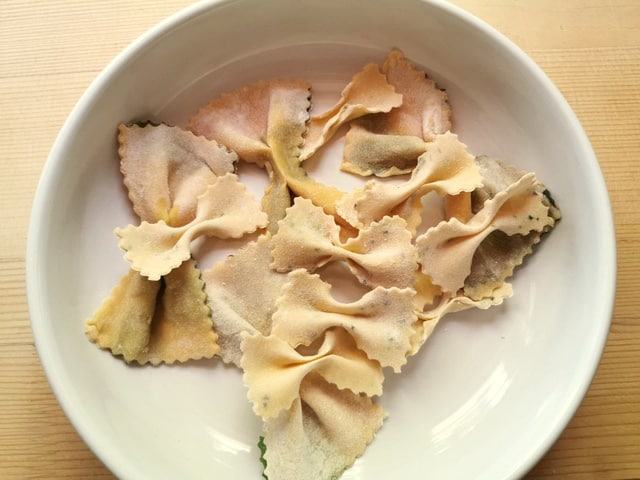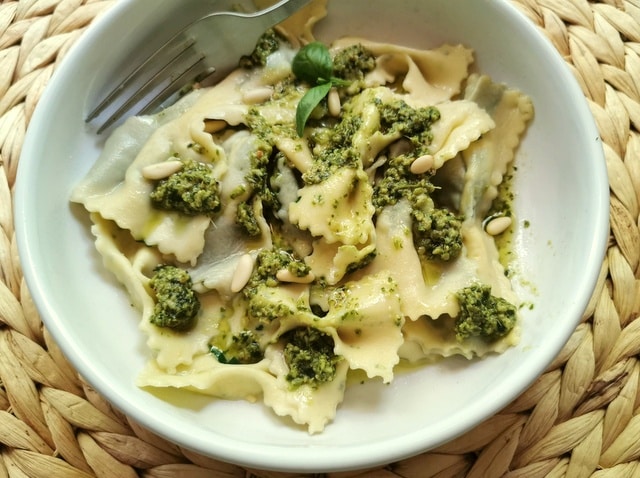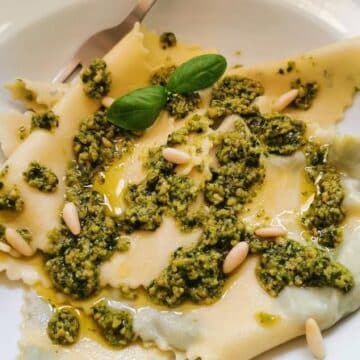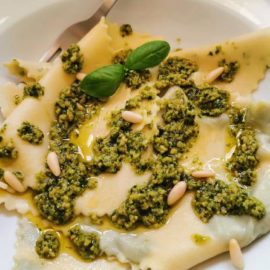 Silk Handkerchief Pasta with Basil Pesto (Fazzoletti di Seta)
This homemade fazzoletti pasta with homemade basil pesto is a fabulous combination of what are actually simple foods that have been enjoyed by Italians for hundreds of years. If you try this authentic Italian pasta recipe, I'm sure you'll love it. And, the fact that you made everything from scratch makes this dish not only healthier but more satisfying too!
Ingredients
For the pesto
4

handfuls

fresh basil leaves

60-70 g preferably young leaves (In Liguria they use Basilico Genovese D.O.P.)

30

g

pine nuts

(1oz) I like to toast mine

60

g

Parmigiano Reggiano

(2oz) grated

60

g

Pecorino Sardo

(2oz) grated

2-3

pinches

coarse sea salt

1-2

garlic cloves

peeled

extra virgin olive oil.

(as required) the best is Riviera Ligure D.O.P. This oil is sweet and fruity and enhances the aroma of the basil and seasoning
For the pasta
200

g

Italian '00' flour (7oz)

or all purpose flour (see notes)

2

eggs

(large)

1

pinch

salt

semolina flour

for dusting

1

tbsp

extra virgin olive oil.

for cooking
Instructions
Make the pesto
BASIL LEAVES If it's possible, choose medium sized young leaves (brighter green). Rinse the leaves under water and dry them with paper towels.
Basil pesto the traditional way.
Peel the garlic cloves and put them into a mortar with pine nuts.  Grind until you have a paste Then add some basil leaves, and a little coarse salt, and 3 tbsp of olive oil. Keep working with the pestle, while continuing to add more basil leaves and olive oil until the pesto is smooth. Finally, transfer to a bowl, add the cheeses and stir well.
Using a blender
Put all the ingredients in the blender and pulse a few seconds at a time until you have the right consistency. Don't keep pulsing for too long at once as the blender will heat up and this can spoil the basil.
Make the handkerchief pasta (fazzoletti)
If using a stand mixer sift the flour into the bowl of your kitchen mixer, break the eggs into the center with a pinch of salt and mix and knead until you have a soft dough that doesn't stick to the sides of the bowl. Then turn it out onto a floured wooden pastry board and finish kneading there. If the dough seems too dry and crumbly add some tepid water.
If making dough by hand
Mound your sifted flour onto a pastry board, make a well in the center and add a pinch of salt. Break the eggs into the well and whisk them a little ( you could also beat eggs in a small bowl and then add to flour). Start to incorporate the eggs and flour by slowly bringing more flour in from the inside edges of the well. You can use a fork for this. Continue mixing the flour with the eggs until they are no longer runny. Using your hands now, bring the outside edges in, forming a large mass on your board.

Begin to knead the dough as you would bread, pushing it down with the heel of your hand. Continue kneading for about 7-10 minutes.  Knead until the pasta dough is smooth, elastic, and just slightly tacky. You can dust the dough with more flour if it's too sticky. Work the dough until it is perfectly homogeneous.

Roll the dough into a ball and cover with a tea towel (or wrap it in plastic wrap) so it does not dry out and let it rest for at least thirty minutes.
Make your fazzoletti.
Cut off 1/6 of the dough. Re-wrap the rest in cling film so it doesn't dry out and roll out the piece you cut off until it is flat enough that you can pass it through a pasta machine if you are using one.

I used my pasta machine to roll out the sheets, first 3-4 times on number 6 (the widest setting on my machine) on the dial and then a couple of times on number 4. Then we continued to roll it even thinner on the pastry board. You want to get the pasta as thin as possible without breaking.

If you aren't using a machine you need to keep rolling out the dough until it is thin enough to see your fingers through it. Once your sheets are thin enough cut them into 15cm squares (15×15). Transfer the ready fazzoletti to a floured tray while you finish the rest. Repeat with the remaining dough.
Making parsley and basil herb fazzoletti
If you want to make herb fazzoletti you just need to place some basil and parsley leaves onto one end of one of the sheets of pasta. Fold the sheet over to cover the leaves and then roll together until as thin as possible. If your pasta is too dry, the two sides of the sheet may not stick together. In this case wet around the edges with a little water before folding and rolling out.
Finish the dish.
Put a pot of water onto boil for the pasta. Once it boils, add salt and a tablespoon of olive oil. Bring to the boil again. Cook the handkerchief pasta for about 4-5 minutes, 2-4 at a time depending on the size of your pot. Remove the pasta pieces from the water using a slotted spoon and then cook more of them.

Mix your pesto with a little pasta cooking water until you have the consistency you want. Put some pesto in the bottom of your serving plate. Add the cooked pasta handkerchiefs and then some more pesto and pine nuts on top. Serve with extra grated parmigiano if required.
Notes
We had quite a few small pieces of pasta dough left after making all the fazzoletti. So we made a serving of farfalle pasta with them. To make farfalle cut the remaining dough pieces into small rectangles and then pinch the centre together to create farfalle pasta. If the pasta is dry, wet your fingers before pinching.
You may need a bit more or even less than 200g of flour depending on the size of the eggs and the type of flour. If your dough seems dry add a little water or white wine. If it's too wet add a little more flour.
Nutrition
Calories:
413
kcal
Carbohydrates:
41
g
Protein:
19
g
Fat:
19
g
Saturated Fat:
7
g
Polyunsaturated Fat:
4
g
Monounsaturated Fat:
7
g
Trans Fat:
0.01
g
Cholesterol:
108
mg
Sodium:
656
mg
Potassium:
164
mg
Fiber:
2
g
Sugar:
1
g
Vitamin A:
406
IU
Vitamin C:
1
mg
Calcium:
363
mg
Iron:
3
mg
Watch silk handkerchief pasta with pesto being made in Liguria with Pasta Grannies