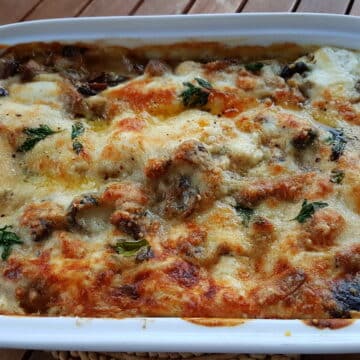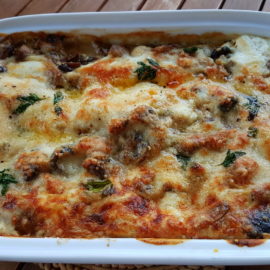 Lasagna bianca with mushrooms and burrata
A divine vegetarian lasagna baked pasta dish from Puglia.
Ingredients
500

g

lasagne pasta sheets

(17oz)

400

g

fresh burrata

(14oz)

700

ml

béchamel

(3.5 cups) homemade is best. See how in my lasagne al forno recipe.

500

g

cardoncelli (king oyster) and/ or porcini mushrooms

(17oz) I used a mix of white button mushrooms, frozen porcini and piopinni mushrooms.

100

g

Parmigiano cheese or Pecorino cheese

(3.5 oz) grated (vegetarians should use a hard cheese without animal rennet)

1-2

garlic cloves

1/2

glass

white wine

1

handful

fresh parsley

butter

salt

to taste

black pepper

to taste

2

tbsp

extra virgin olive oil
Instructions
If the mushrooms are fresh, start by cleaning them. Cut off the lower part of the stem, immerse them in water and washing them thoroughly without breaking them until clean of any soil.

Pat the mushrooms dry with a cloth and cut them into pieces (see photo on page 1).

If you are using dried porcini, you need to soak them in a bowl with warm water for at least half an hour and then drain them.

Put two tablespoons of extra virgin olive oil into a non-stick frying pan and heat

When the oil is hot add one or two peeled garlic cloves (as desired)

Add the mushrooms and let them brown a little.

Lower the flame and add the white wine, a handful of chopped parsley, salt and pepper.

Let the mushrooms cook for about 40 minutes until they are soft.

If the sauce gets too dry, add more wine or some vegetable broth.

In the meantime make the béchamel.

Add a little bit of béchamel to the mushroom sauce.

Turn off the flame and let the mushrooms marinate.

Remove the garlic from the frying pan.

Cut the outer part of burrata into small pieces in a bowl so that you can keep the stracciatella (the soft part inside of the cheese) in the bowl and put it aside.

Grease an oven dish with butter.

Fill the bottom with lasagne sheets (precooked to not quite al dente if dried)

Add some béchamel and mushrooms, cover with burrata pieces and grated cheese

Continue to layer until all the lasagne have been used and the dish is almost full

Finish by covering the last layer with the last of the béchamel, the stracciatella (the creamy mixture from inside the burrata), the remaining grated cheese and some small bits of butter

Bake at 180 ° for about 30 minutes.

When ready allow the dish to stand for 5 minutes before serving.
Notes
You can add some chopped cooked ham or sausage meat (200 gr) which has been browned in a pan with a tablespoon of oil to the

béchamel

if you prefer to have a non-vegetarian dish.
For strict vegetarians you will need to use a vegetarian cheese instead of parmigiano or pecorino.
If you want to make your own

béchamel

, see how in my lasagne al forno recipe