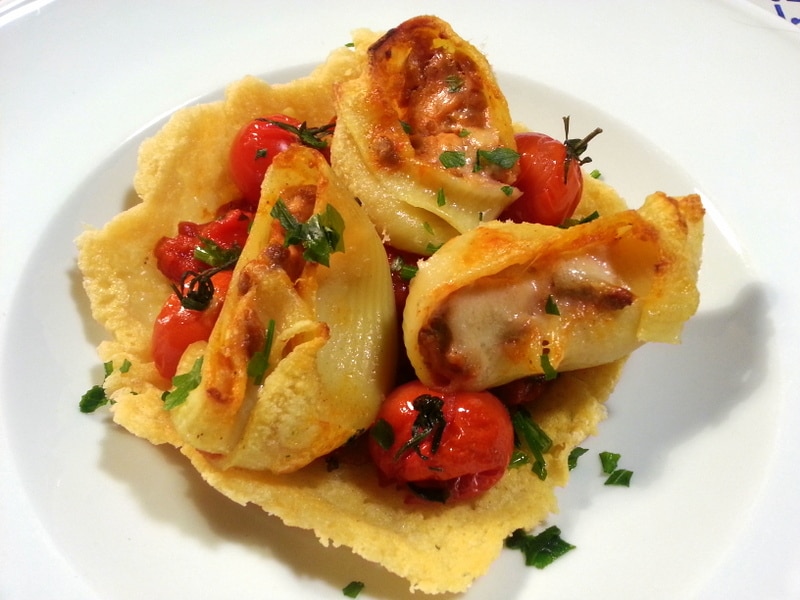 Pasta choices!
Here in Italy there are so many different pasta shapes that it's sometimes difficult to decide which to use. Of course, much depends on the type of ingredients you are planning to make use of and what type of dish you feel like eating; something light and vegetarian for those hot summer days or something more substantial in winter?
I sometimes choose the pasta type first and then find a recipe for it if I don't already know one or want something different. On other occasions, I think first about the type of dish I want to make. Like the other day, I decided I wanted to make a stuffed pasta to bake in the oven and went in search of a good pasta shape for stuffing and baking. There are a number of different pastas which can be cooked this way. Cannalloni, paccheri or conchiglioni (pasta shells) are all great. However, I found something I'd never used before, lumaconi also known as lumache (meaning snails) These lovely large pasta shells are shaped like snail shells (Hence the name!). They are big enough to take quite a lot of filling inside and can even be eaten as finger food!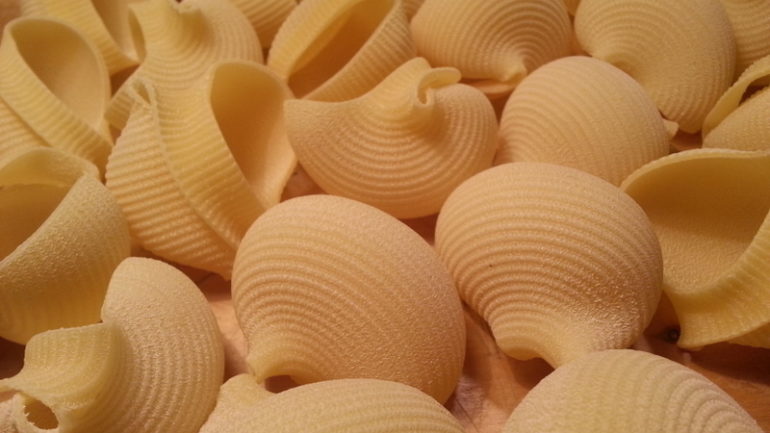 Lumaconi made from pasta di Gragnano are the best!
In addition the lumaconi I found were Pasta di Gragnano! Now Gragnano pasta is among the best pasta in Italy. The small town of Gragnano, where this pasta is produced, is historically the home of Italian dry pasta production, pasta having been produced there since the 16th century. There are many reasons why the quality of this pasta is so high, but briefly the location, climate, water and production methods of Gragnano contribute to the production of an excellent pasta that is easy to digest, nutrient-rich, artisan and delicious! If you have never eaten pasta di Gragnano, see if you can order or buy it because it is sure to become your pasta of choice from that day forward!
Anyway back to my lumaconi! I chose to fill them with quite a rich minced meat filling which also has ricotta and bechamel sauce inside, so a little time-consuming to make. (see recipe below) Of course, you can also make a vegetarian filling fo them with, for example, ricotta and spinach.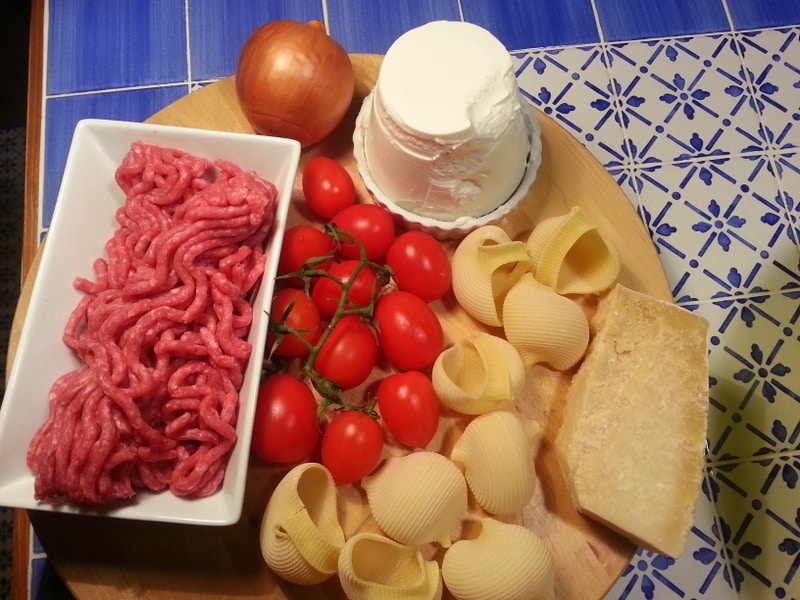 Two ways to serve the stuffed lumaconi
Since this baked pasta recipe doesn't involve a sauce apart from the filling, I decided, as an experiment, to serve the lumaconi in two different ways; on a bed of spinach and a bed of caramelized red onions and peppers with roasted cherry tomatoes. In both cases, I put the pasta and the vegetables inside a crispy cheese bowl made from grana padana! As you can imagine both were a hit with my hubby, who was the only taster on this occasion! Next time I make this stuffed pasta dish, there will have to be more guests at the table as I was eating leftovers for the next couple of days. (They are very filling!) Not that I'm complaining!
I'm sure you will love these stuffed snail shells! Take a look at the recipe on the next page and do comment and let me know how they turn out when you make them!
Buon Appetito!
(see the recipe on page 2)