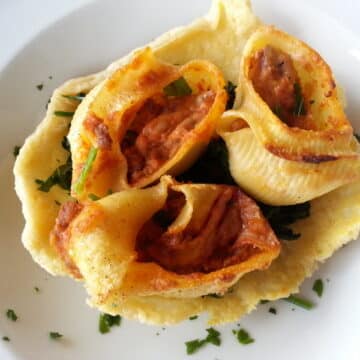 Stuffed lumaconi pasta
Large pasta shells filled with a rich meat filling perfect for special occasions
Ingredients
300

g

Lumaconi or Conchiglioni pasta

300

g

minced beef

250

g

tomato pulp / peeled tomatoes

1

onion

peeled and finely sliced

50

g

parmesan

grated

150

g

fresh ricotta

300

ml

milk

30

g

butter

nutmeg

50

g

flour

Olive oil

for cooking the meat

Salt and pepper

to taste
For caramelized red peppers and onions
2

medium red onions

peeled and chopped

2

red peppers

deseeded and cut into small pieces.

1

tbsp

brown sugar

Aged Balsamic vinegar or balsamic cream
For spinach bed
500

g

fresh spinach leaves
For cheese baskets
120

g

grana padana or parmesan

grated (for 4 baskets)
Instructions
Prepare the béchamel sauce
In a saucepan, melt the butter over a low heat, add the flour and stir until you have a white roux.

Add the milk little by little and keep on the fire until the sauce thickens.

Season with salt and nutmeg and set aside.
Prepare the meat sauce and fill the lumaconi shells
In a pan fry the finely sliced onion in oil.

Add the meat once the onion starts to become translucent,

let the meat brown and add the tomato sauce.

Cook for about 20 minutes, season with salt and pepper

When the two sauces (béchamel and meat) have cooled slightly mix them and add the ricotta.

Mix everything together well and allow to cool further.

Cook the pasta al dente in boiling salted water, drain it and quickly run cold water over it.

Using a teaspoon fill each pasta shape and arrange them in a baking dish.

Put them in a hot oven (180°) to brown for a 5-10 minutes. Serve immediately .
If you are going to serve the pasta shells on a bed of spinach,
cook the spinach before and then just reheat with a little butter and nutmeg before serving.
For bed of red onions and red peppers
Fry the peppers first for 5 minutes.

Add the onions.

When the onions start to become transparent sprinkle with brown sugar, lower the heat and simmer covered for 15-20 mins.

Add a few drops of aged balsamic vinegar or balsamic cream a couple of minutes before the end of cooking. Stir well and serve.
For grana padana baskets
I used ready grated cheese. I got 3 baskets from one 90 grm packet of cheese

Heat a 10" skillet over medium-high heat.

Sprinkle cheese (I just used what seemed to look right, didn't really measure) into a disk shape in pan

Allow cheese to get golden underneath, then carefully turn it over using a spatula.

As soon as the other side starts to turn golden quickly remove the cheese and drape it over an upside-down glass or small bowl and form into a bowl.

Allow to cool completely. Repeat instructions until you have the number of baskets needed.
Recipe Notes
I also added roasted cherry tomatoes to the dish with caramelized red onions and peppers. Just roast a handful of cherry tomatoes with a little olive oil and rosemary until the skins start to darken.