Gnocchi alla Bava; Recipe from the Val d'Aosta.
Soft and delicate pillowy potato gnocchi go so perfectly with the stronger flavor of rich and creamy Fontina cheese in this gnocchi alla Bava recipe; a fabulous example of typical hearty mountain food from Northern Italy.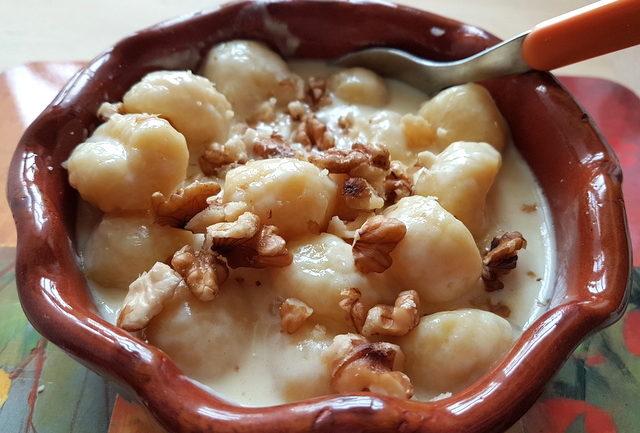 Gnocchi alla bava is a traditional recipe and first course (Italians say primo) from the Val d'Aosta (Aosta Valley) and Piemonte (Piedmont). This creamy and nutritious dish can be prepared with classic potato gnocchi or, as per the tradition of the Aosta Valley, with gnocchi made with buckwheat flour. I used potato gnocchi this time, but am planning to make some buckwheat gnocchi very soon!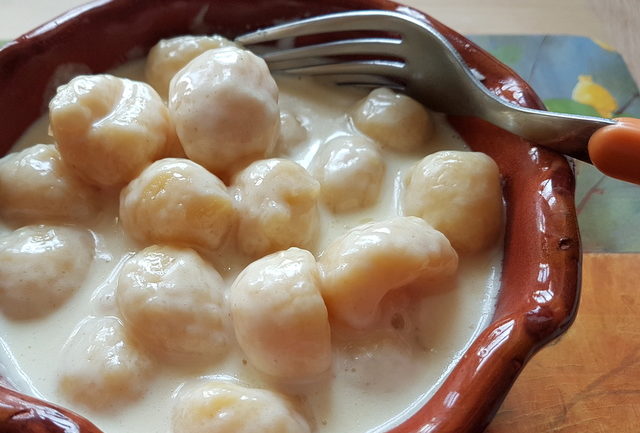 A little gnocchi alla bava history.
According to food historians, Giovanni Vialardi, the famous head chef of Kings Carlo Alberto and Vittorio Emanuele II, included this recipe in his 1854 book of gastronomy, The Treaty of Cooking and Pastry. However, at that time, the royal kitchens were much influenced by French cuisine. Vialardi called this recipe 'chenelli alla savoiarda' from the French term 'quenelle' and with reference to Savoy, the historical region where the Italian royal family originated.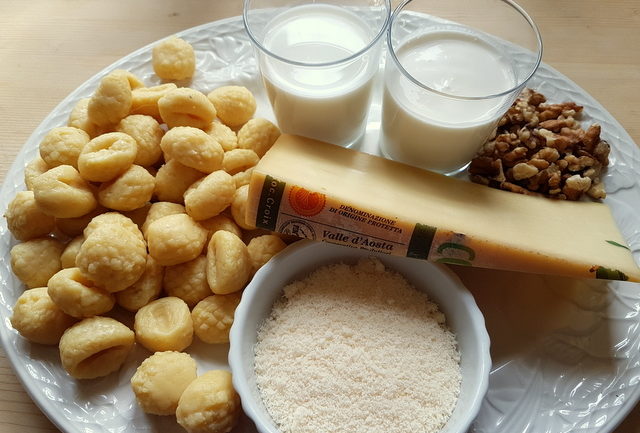 The cheese.
In the Val d'Aosta, the cheese that is used in gnocchi alla Bava is traditionally Fontina DOP, the most loved and well-known cheese of that tiny Northern Italian region. Fontina is an excellent fresh cheese, but especially popular in cooked recipes. It is a fabulous melting cheese that Northern Italians use in their version of cheese fondue (fonduta).
Fontina has a strong and decisive flavor, which goes so well with the delicate taste of the gnocchi. The sauce in this gnocchi alla bava recipe is probably the best cheese sauce ever! So, if you can find Fontina, I really recommend you use it to make this dish!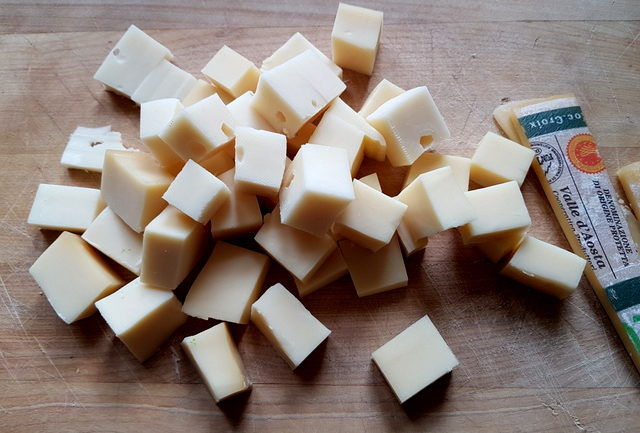 Other cheeses.
If you can't find Fontina, there are other cheeses from this part of Italy that are and can be used in this recipe. In Piemonte, they often make gnocchi alla bava with Toma. Other popular cheeses are Raschera, Gorgonzola, Maccagno or Castelmagno. You can also use Emmental or Gruyère.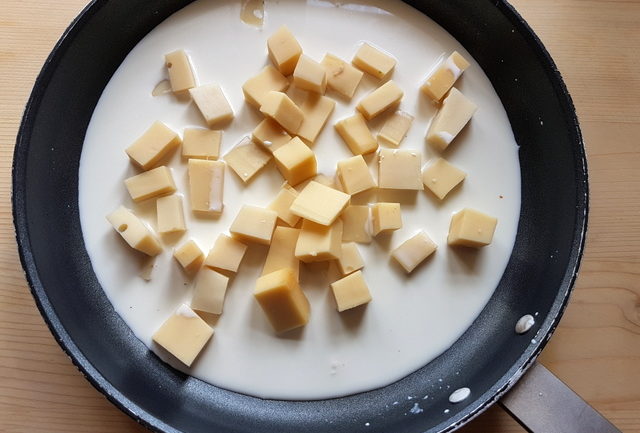 Making this gnocchi alla Bava recipe.
Like so many other pasta dishes, gnocchi alla bava is super simple to make. You can use homemade potato gnocchi, which will mean it takes a little longer to prepare. However, good quality ready-made gnocchi work well too! I usually prefer to make my own potato gnocchi. If you want to do the same, click here for my Italian potato gnocchi recipe.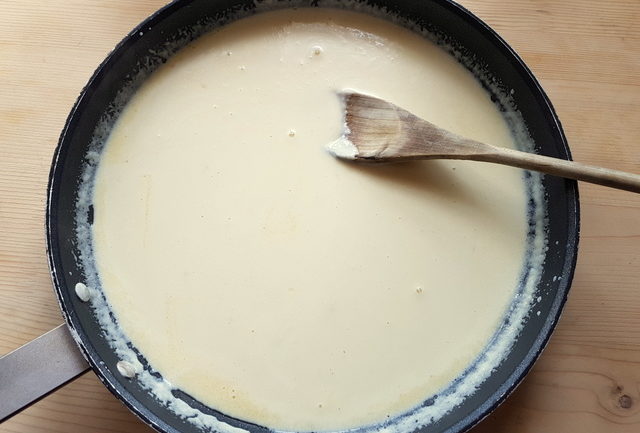 Other possible ingredients.
In the basic, original recipe the sauce for potato gnocchi alla bava contains only Fontina cheese, fresh cream and milk. It takes just minutes to prepare! However, there are versions of this recipe that add nutmeg or black pepper to the sauce. I didn't. What I did was add some chopped walnuts to the dish before serving. I love the combination of walnuts with cheese and gnocchi.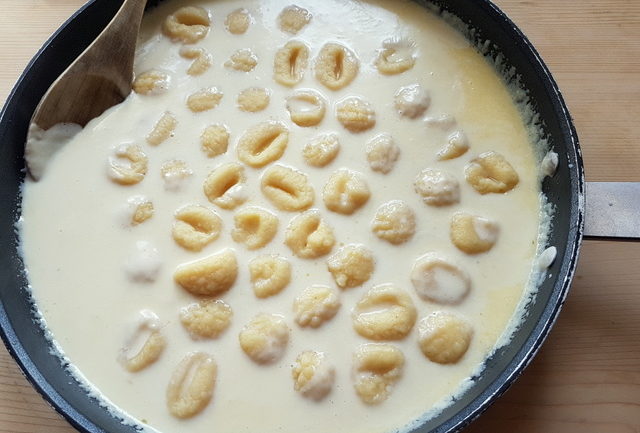 I think it's also possible to add some crispy pancetta or chopped ham if you want a bit of meat or perhaps some cooked spinach to make it more nutritious! Some people also bake gnocchi alla bava with a sprinkling of cheese, such as grated parmigiano, on top before serving. I did this with the leftovers and it was delicious.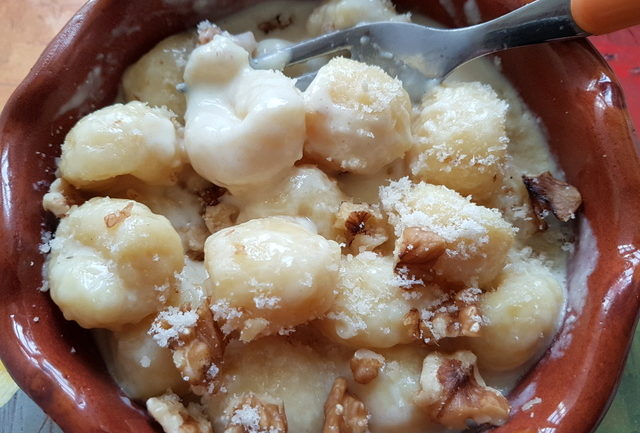 However you decide to serve this gnocchi alla bava recipe, it will definitely be a winner with both guests and family. In Italian, the word 'sbavare' means to drool! Although I don't know the exact origin of the name of this gnocchi recipe, it is definitely drool worthy! Perfect comfort food for those cold winter days when we really need our food to warm us up!
If you do try this gnocchi alla bava recipe, I'd love to hear what you think. Please write a comment here on the blog or post a comment on the Pasta Project Facebook page.
Your feedback means a lot to me!
Buon Appetito!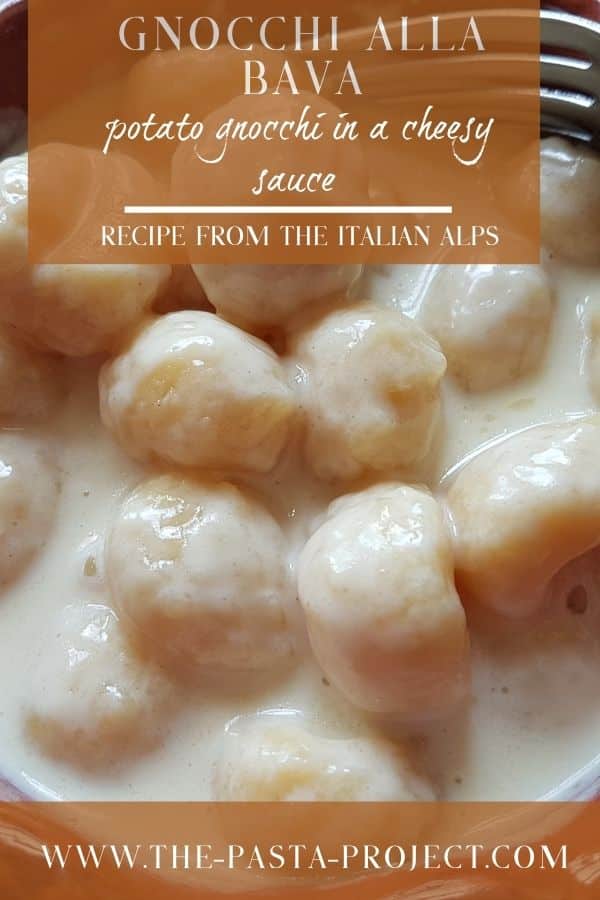 Some other gnocchi recipe on The Pasta Project
Save this recipe for later?
If you want to save this recipe for later, you can print it, bookmark this page or save it to Pinterest.
Pin for later.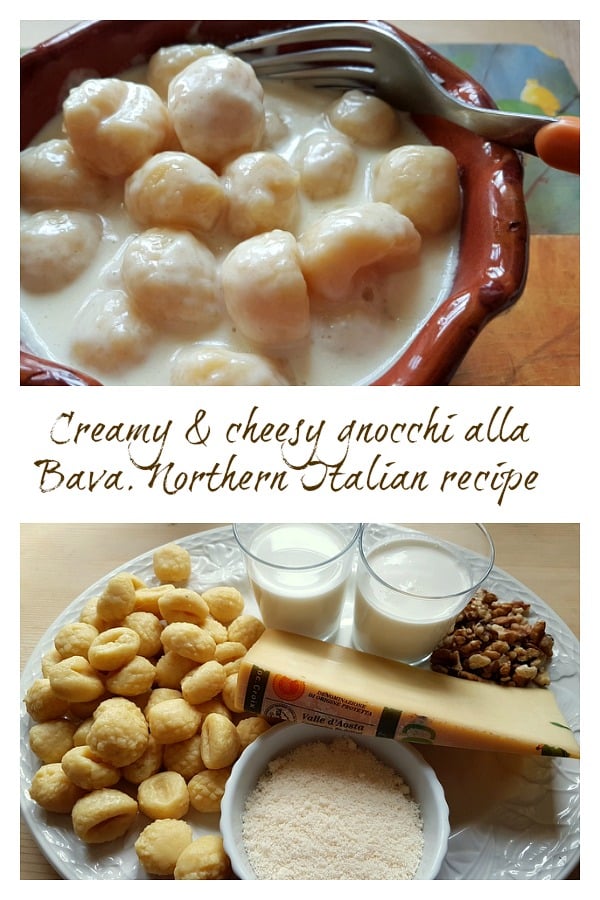 Pin for Later