Homemade Ricotta Gnocchi with Mushrooms Recipe from Piemonte.
This homemade ricotta gnocchi with mushrooms is a divine recipe from the mountains of Piemonte (Piedmont), in North West Italy. Traditionally made with Piemontese ricotta and fresh porcini, this vegetarian recipe is just as delicious with other types of ricotta and mushrooms.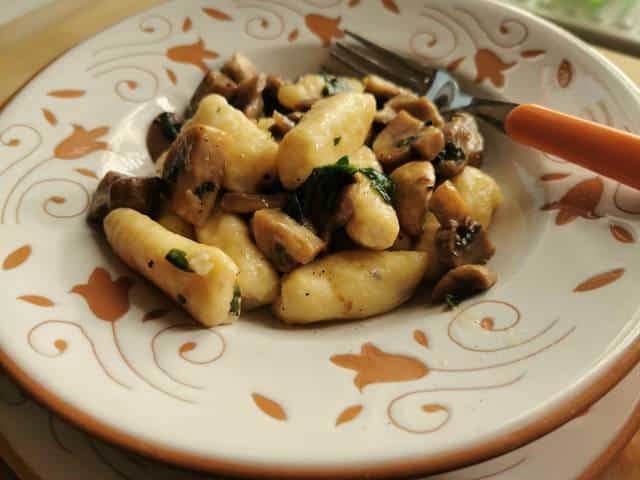 Gnocchetti di ricotta con funghi trifolati.
Ricotta is definitely one of my absolute favourite ingredients, after pasta of course! I've been using it quite a lot in pasta recipes recently and just love how well these two Italian staples work together! Apart from ricotta being used by Italians as a pasta condiment or filling, it's also used to make gnocchi, or Italian dumplings. This ricotta gnocchi recipe from Piemonte is a fabulous example of how delicious ricotta dumplings can be!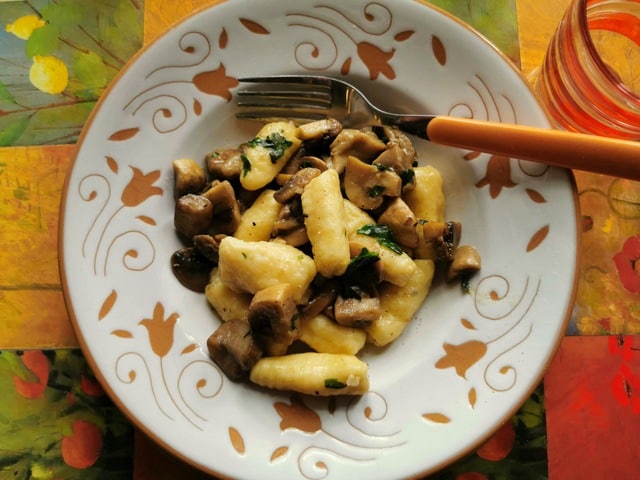 Different types of gnocchi.
Italians eat gnocchi in the same way as pasta. In other words, they usually serve them as a 'primo' or first course, followed by the main course. Here in Italy, they say 'secondo' to mean main course. In addition, gnocchi are traditionally eaten with sauces that are used on pasta too. Plus, many Italians like to have them with broth or baked, also popular ways to eat pasta.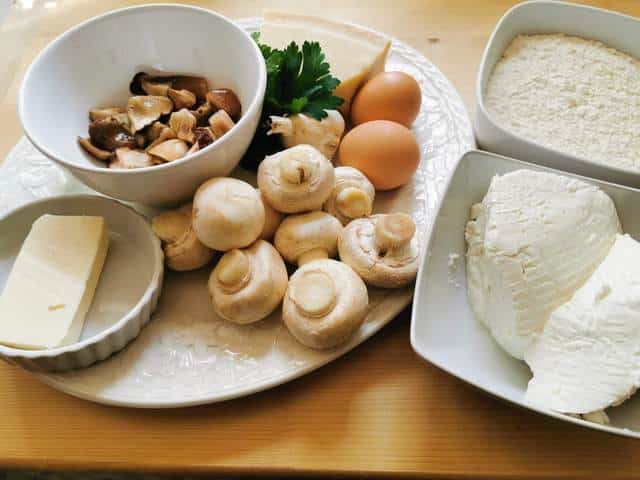 Like pasta, there are many different types of gnocchi. Maybe not as many different types as pasta, but certainly quite a few! You can find them made in the classic way with potatoes, or potatoes plus another veg such as pumpkin. There are also bread gnocchi, semolina gnocchi and like in this recipe, ricotta gnocchi.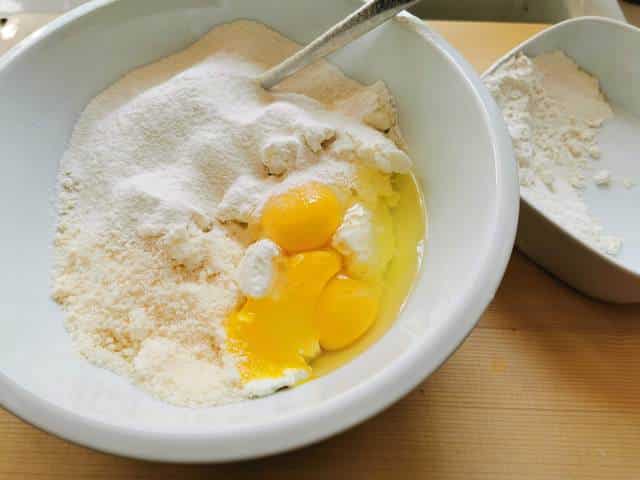 Gnocchi also come in various sizes and shapes. The largest are probably canerdeli, which are bread dumplings traditional in the mountainous Trentino-Alto Adige region. When gnocchi are a little smaller than usual, Italians call them 'gnocchetti' meaning little gnocchi!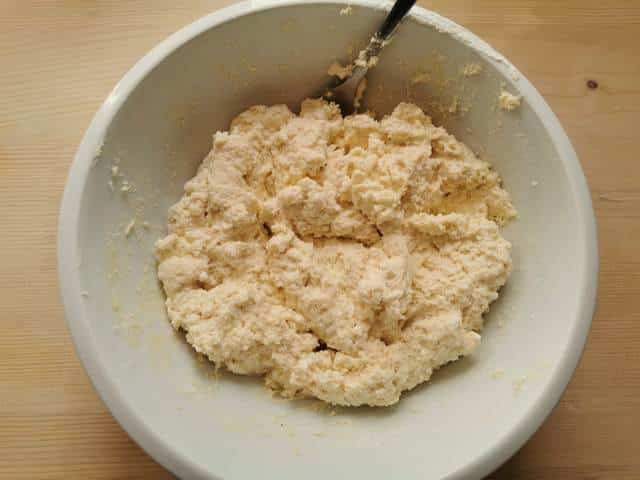 Ricotta from Piemonte.
As I mentioned above, this ricotta gnocchi with mushrooms is based on a recipe from Piemonte. The gnocchi or gnocchetti are traditionally made with a unique ricotta called Seirass. The name of this cheese is the local dialect word for ricotta. This is a very light, smooth and fresh ricotta to which cream is often added at the end of the processing. It, therefore, has a more buttery flavor than normal ricotta. It is also very creamy and a bit sweet. Although this cheese is called ricotta, they actually make it from milk not whey.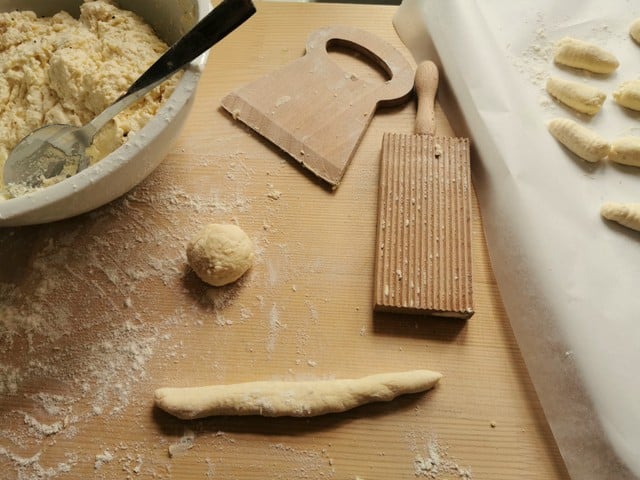 Sounds amazing, doesn't it? Unfortunately, Seirass isn't easy to come by these days, especially outside of Piemonte. So, this ricotta gnocchi recipe can, of course, be made with other types of ricotta. I used a fresh sheep ricotta.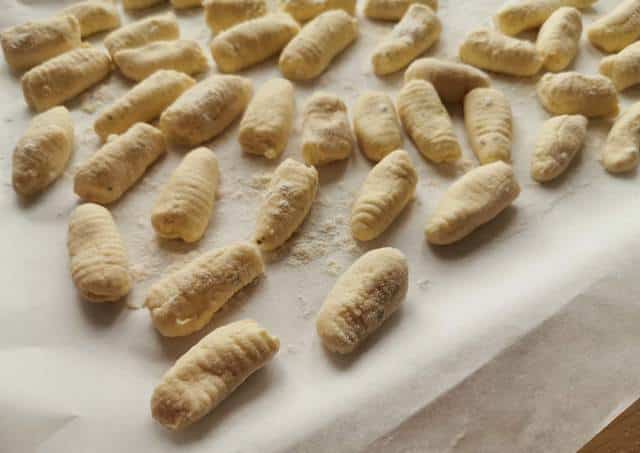 Making the gnocchi.
Ricotta gnocchi are actually pretty easy to make. All you need to do is mix the ricotta with eggs, flour and grated parmigiana or grana. The dough is then left to rest in the fridge for about 30 minutes. Unlike other gnocchi dough or pasta dough, this is quite 'wet' so you'll need to use a well-floured board to form the gnocchi. Once they are ready, just cook them in boiling salted water. When they rise to the surface, strain them and add to the sauce.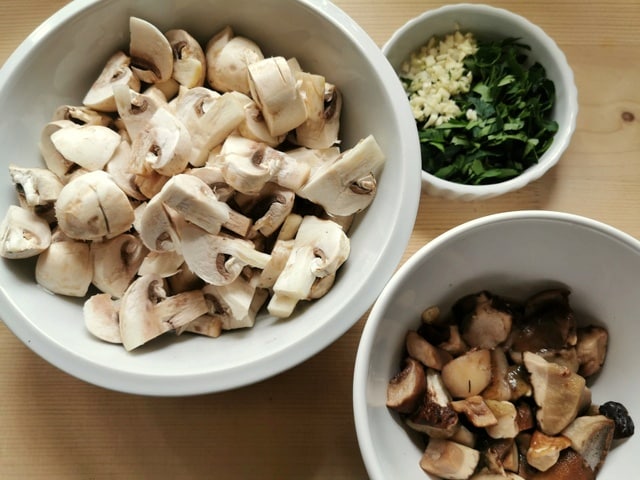 Making the mushroom sauce.
In Italian, 'funghi trifolati' is basically sautéed mushrooms. This is a way of cooking fresh, often foraged, mushrooms that is very traditional in Piemonte. The mushrooms are cooked in olive oil and butter with garlic and parsley. Funghi trifolati is eaten as a side dish or with polenta, risotto, or pasta.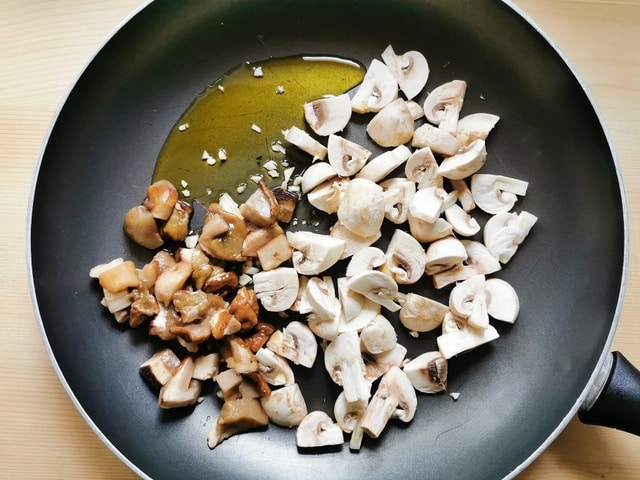 For this ricotta gnocchi recipe, the mushrooms would traditionally be fresh porcini. But, when these are not available, different kinds of mushrooms are used. I used frozen porcini and normal white champignon (button mushrooms). You can also use dried porcini. If you do, don't forget to soak them for 20-30 minutes before cooking.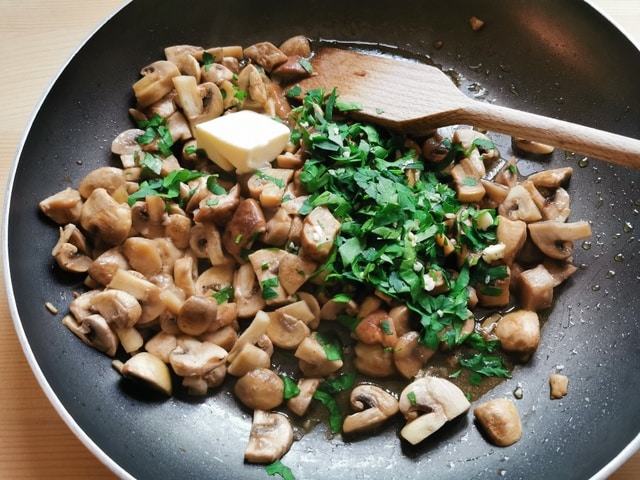 You can cook the mushrooms, while the gnocchi dough is resting in the fridge. Once you have added the cooked gnocchi to the mushrooms, just sauté them all together for a couple of minutes and serve.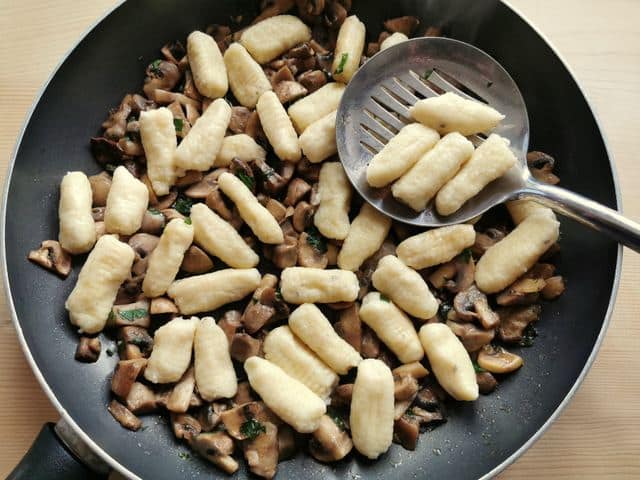 Making this recipe strictly vegetarian.
Most ricotta is made without animal rennet, so it's vegetarian. However, Parmigiano and Grana are made with animal rennet, so you will need to substitute with a vegetarian hard cheese.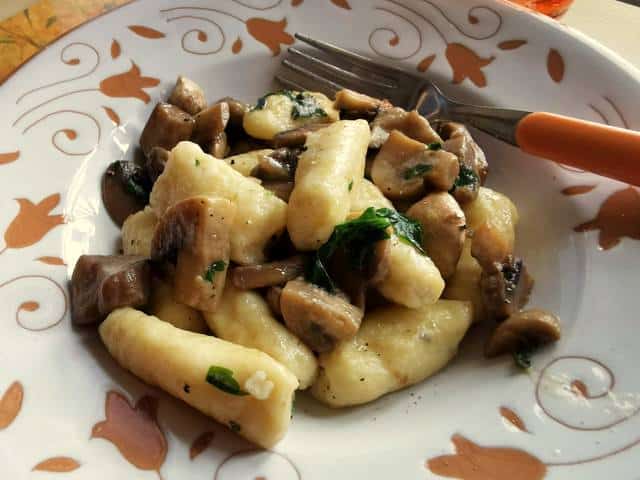 If you do try this homemade ricotta gnocchi with mushrooms, I'd love to hear what you think. Please write a comment here on the blog or post a comment on the Pasta Project Facebook page.
Your feedback means a lot to me!
Buon Appetito!
Pin for later.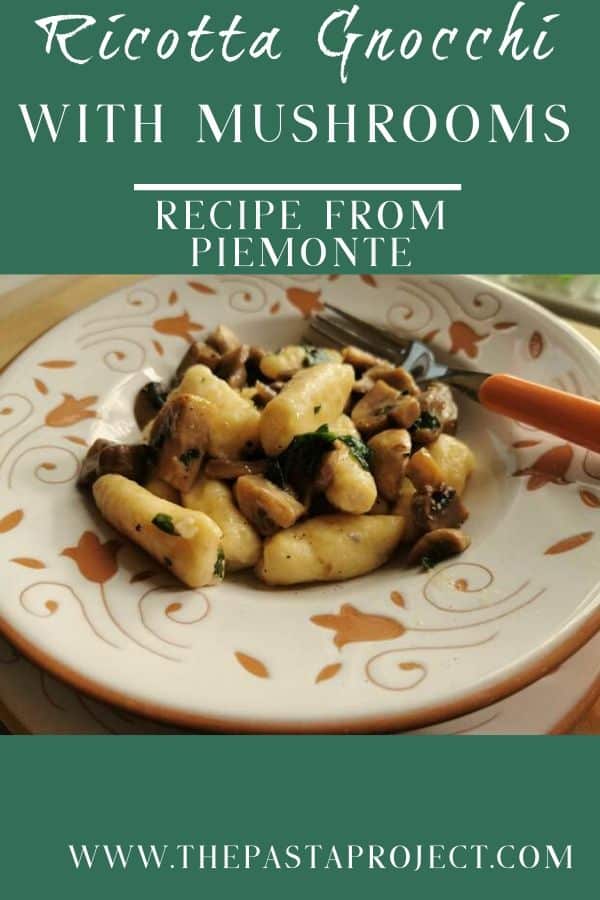 Other pasta with ricotta recipes.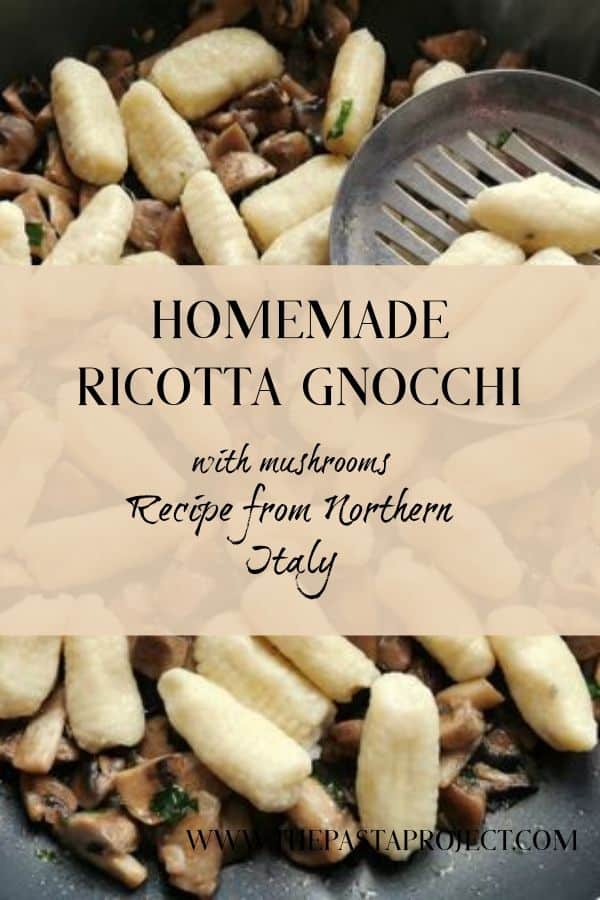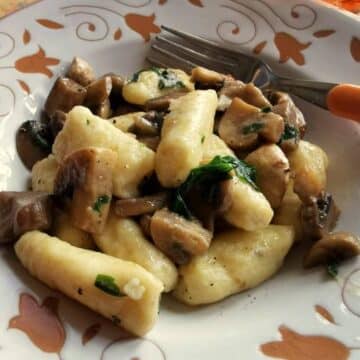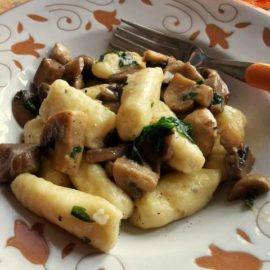 Homemade Ricotta Gnocchi with Mushrooms
This delicious Piemontese recipe for homemade ricotta gnocchi served with sauteed mushrooms is pretty easy to make and a fabulous dish for meatless Mondays and vegetarians.
Ingredients
Ingredients for gnocchi
500

g

ricotta

(1lb) fresh sheep or cow's milk ricotta or Seirass

200

g

all-purpose flour

(7oz) I used Italian '00' flour. You can also use Italian type 1 flour (not as fine as '00')

60

g

Parmigiano Reggiano or grana

(2oz) vegetarians should use hard cheese without animal rennet.

3

eggs

2 whole, 1 yolk

1

pinch

salt
Ingredients for mushroom sauce
500

g

mushrooms

(1lb) I used 60 g (2oz) frozen porcini and white champignon button mushrooms. you can use dried porcini.

2-3

garlic cloves

peeled and finely chopped

1

handful

fresh parsley

washed and chopped

2-3

tbps

extra virgin olive oil.

2-3

tbps

butter

salt

to taste

freshly ground black pepper.

to taste
Instructions
Start to make the gnocchi dough
Mix and knead all the gnocchi ingredients together ( I did it in a bowl). First using a fork and then by hand. Put the dough in the fridge covered with plastic wrap for half an hour.
Make the mushroom sauce
While the dough is resting prepare and cook the mushrooms. If using dried porcini, soak them in warm water for 20-30 minutes first. Then drain them but keep a bit of the water to add to the sauce. Clean the other mushrooms and cut into slices. Peel the garlic and chop finely. Was the parsley and chop finely.

Heat the olive oil and half the butter in a frying pan or skillet. Add the garlic and cook until it starts to soften. Add the mushrooms and continue cooking until they start to brown slightly. Add more butter if they start to dry out. When the mushrooms are almost cooked add the parsley and the rest of the butter. Add salt and black pepper to taste. Cook for another 5 minutes.
Make the ricotta gnocchi
Put a pot of salted water on to boil. In the meantime, with the help of plain flour or semolina, take a tablespoon of the dough and roll it between your hands into a ball (you will probably need to flour your hands. Then roll the ball out into a rope/snake on a floured board. Cut the pasta into gnocchi of about 2cm in length and roll them across a fork or gnocchi board if you have one to create ridges. You can also leave them without ridges.
Finish the dish
Add a little olive oil to the boiling water and then carefully put a few gnocchi at a time into the boiling water. They will sink to the bottom and rise to the surface when cooked. Once they rise, remove them from the water using a slotted spoon and add them to the mushrooms. You will probably have to cook the gnocchi in batches.

Sauté the gnocchi and mushrooms together for a couple of minutes. If the sauce seems dry add some of the gnocchi cooking water or more butter. Serve immediately with a little more chopped parsley and grated cheese.
Notes
This recipe can be made with different types of fresh ricotta, cow's milk, sheep ricotta or a mixed ricotta. The original recipe is made with Seirass, ricotta from Piemonte.
The traditional version of this recipe is for fresh porcini but you can use a mixture of fresh mushrooms of your choice plus dried or frozen porcini.