Baked pasta comes in many forms here in Italy, especially in the Southern regions. This wonderful looking Neapolitan tagliolini pasta pie is pretty easy to make. It's also a tasty alternative way to serve tagliolini or tagliatelle.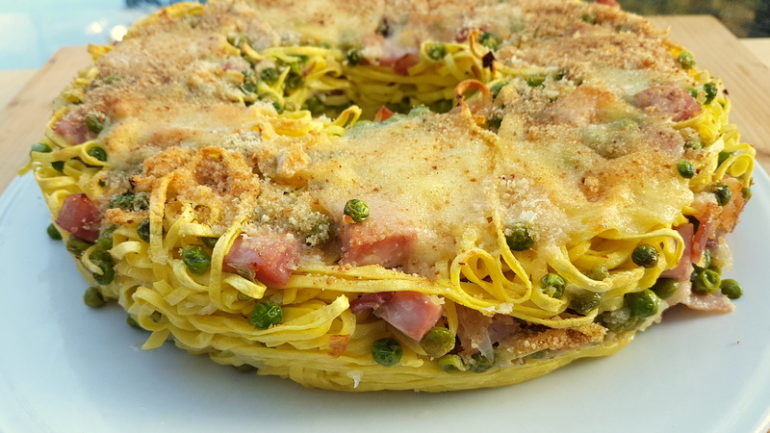 Crostata di Tagliolini
When you think about baked pasta, what comes to mind? For most people baked pasta usually means baked pasta tubes like rigatoni or tortiglioni al forno or lasagna al forno. Traditionally both are made with a meat ragu, white béchamel sauce and lots of cheese! However, there are vegetarian versions too.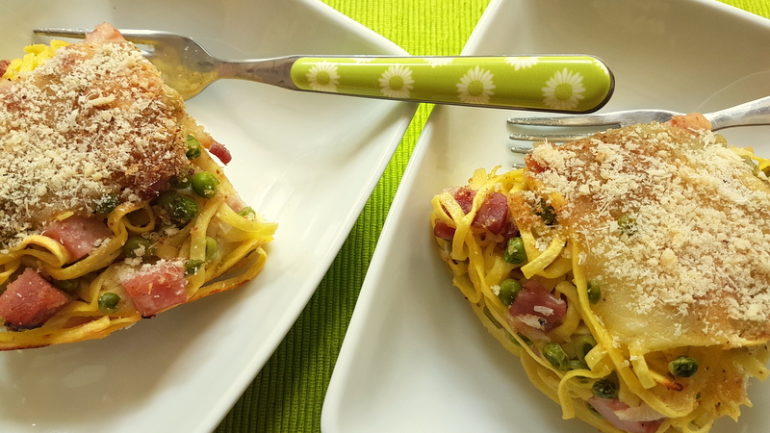 These dishes are the ultimate in comfort food and much loved in Italy and abroad. But actually, Italians bake pasta in so many different ways. Some, like this tagliolini pasta pie, are quite easy to make. Others are very complicated and require a lot of stages of preparation.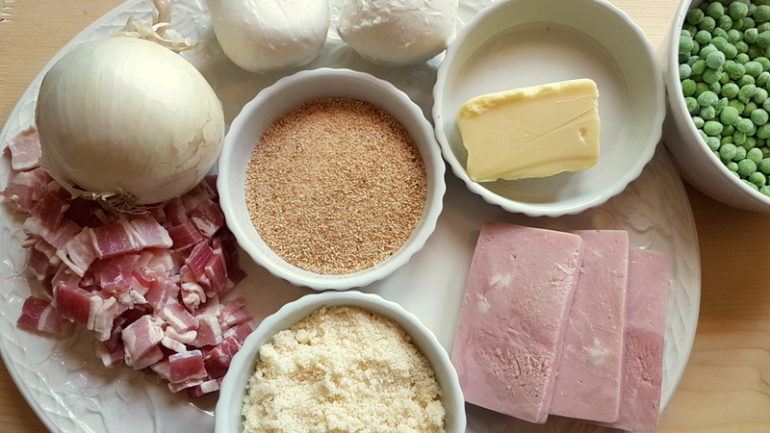 Crostata and Timballo
Pasta pies are especially popular in the south of Italy, where they are often eaten on feast days and holidays. There are 2 main types of pasta pies, 'crostata' and 'timballo'. Of course, each of these has many versions depending on local culinary traditions and ingredients.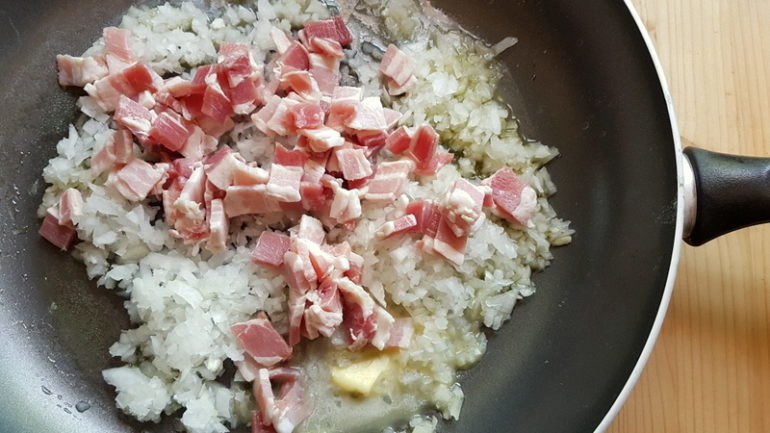 Pasta crostata, like this tagliolini pasta pie, are open pies made with or without a pastry base. Italians also use crostata to refer to open fruit pies or tarts made with chunks of fruit. In timballo, the pasta, sauce and other ingredients are usually encased in pastry or breadcrumbs or wrapped in a vegetable, usually eggplant. Take a look at my recipe and post for parmigiana timballo and read about the history of timballo recipes in Italy.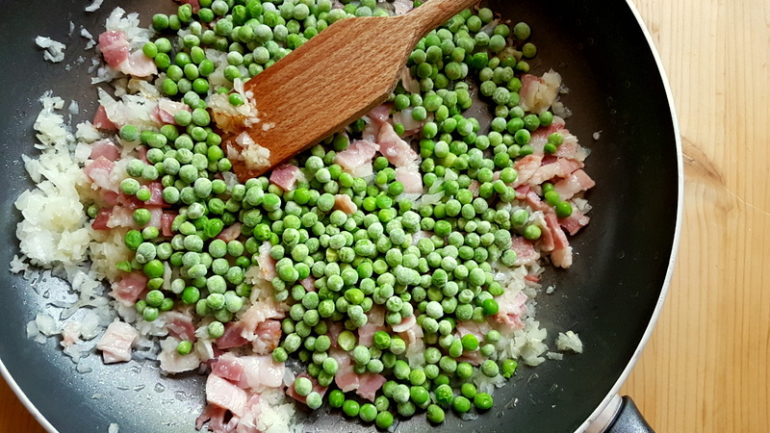 Crostata or timballo made with pastry (usually puff pastry or shortcrust) can be pretty complicated to make. These are more likely to be served on holidays and are particularly traditional at Easter. I guess one of the most famous versions of a timballo pasta pie is the 'timpano' (Neapolitan dialect for timballo) from the 1996 film Big Night. Have you seen it?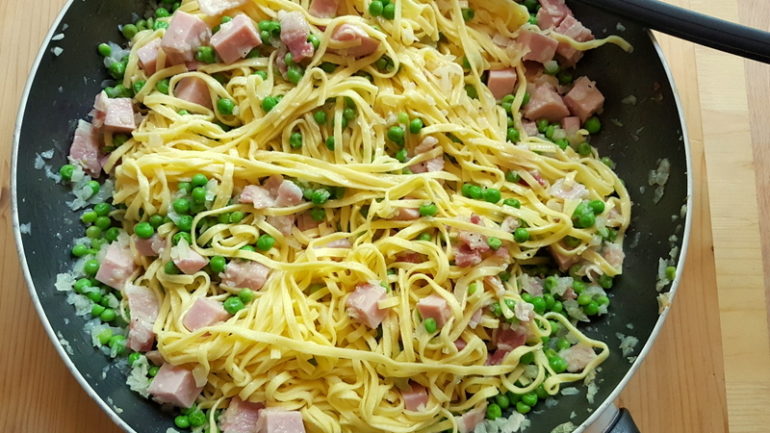 Different versions of tagliolini pasta pie
This tagliolini pasta pie recipe comes from Campania and like other similar recipes has many versions. It can be made with béchamel or tomato sauce. Some people also add eggs or a meat ragu. I would say this is one of the simplest tagliolini pasta pie recipes. However, it looks beautiful, tastes great and isn't so time-consuming!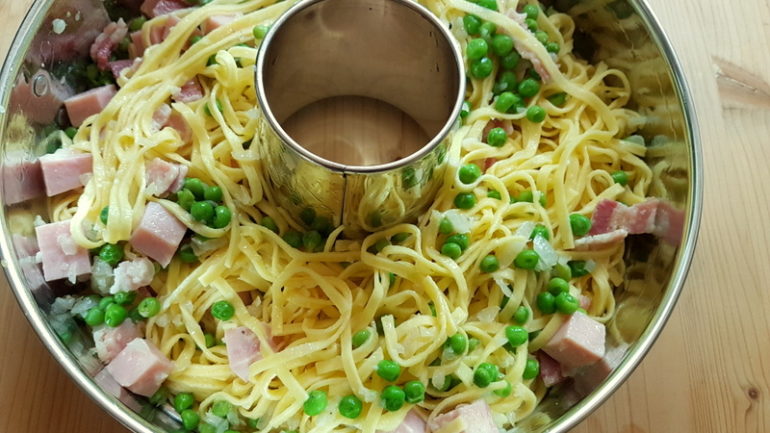 Making this pasta pie
I used a cake ring tin but you can also use a normal spring form cake tin. This pasta pie doesn't actually need to be turned out so you can also just cut slices from it whilst it's still in the tin or baking dish. Using a ring cake tin meant I had to turn it twice to get the crispy part on top. This is a bit risky! But, I felt the finished version looked so nice, it was worth it!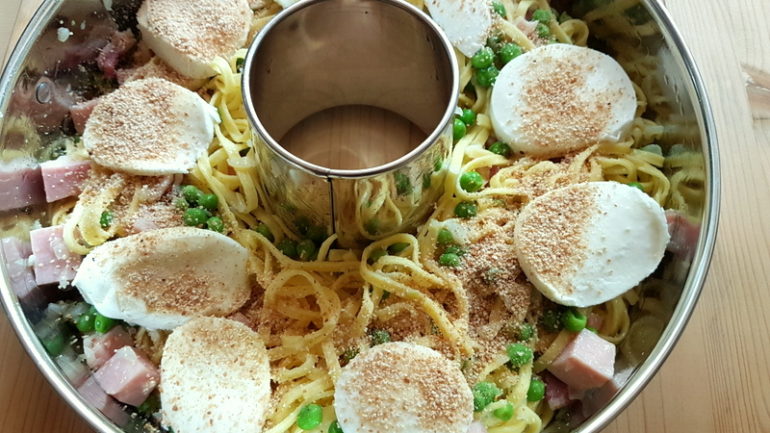 The secret is to let the tagliolini pasta pie stand for about 20 minutes before turning it out. This also allows time for the cheese to solidify slightly so you don't get stringy mozzarella and it helps hold the pie together. These pasta pies are usually eaten tepid rather than very hot. However, you can stick the pie back in the oven for 5 minutes after slicing it, if you prefer to eat it hotter.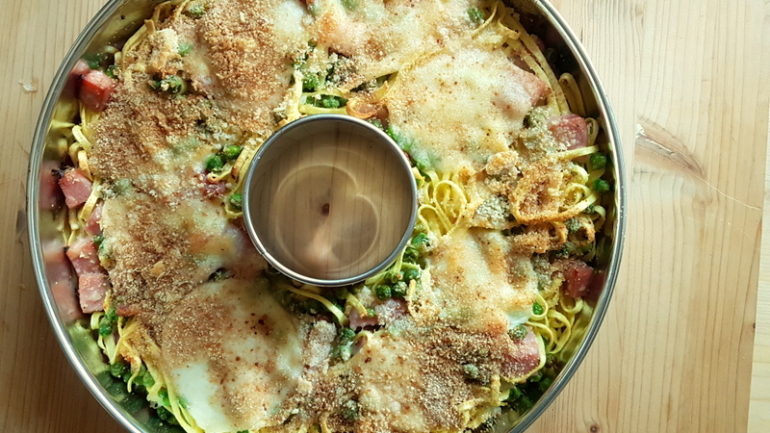 The next pasta crostata recipe I want to make is one with pastry! In the meantime I do hope you'll give this one a try. I'm sure you'll love it! And, if you make this tagliolini pasta pie recipe I'd love to hear how it turns out and if you liked it. Please leave a comment here on the blog or on The Pasta Project Facebook page.
Looking forward to hearing from you!
Buon appetito!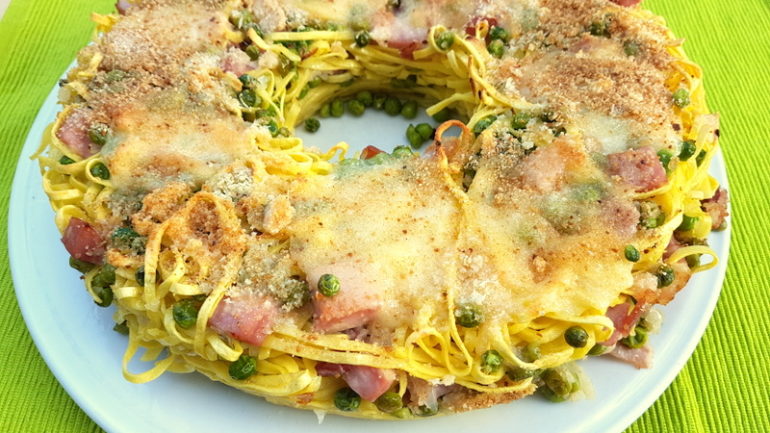 Save this recipe for later?
If you want to save this recipe for later, you can print it, bookmark this page or save it to Pinterest.
Have a look at my other tagliolini recipes for more delicious recipes like this one!
Pin for Later