The best pork short ribs ever!
Italian braised pork ribs with pasta is a classic dish enjoyed throughout Italy. This particular pork short ribs recipe comes from Emilia-Romagna. The ribs are cooked in a tomato sauce until succulent and fall off the bone tender.
Traditionally, this dish is served on Sundays and holidays as two courses. But, you can also make it into two meals or eat it as a one plate dish!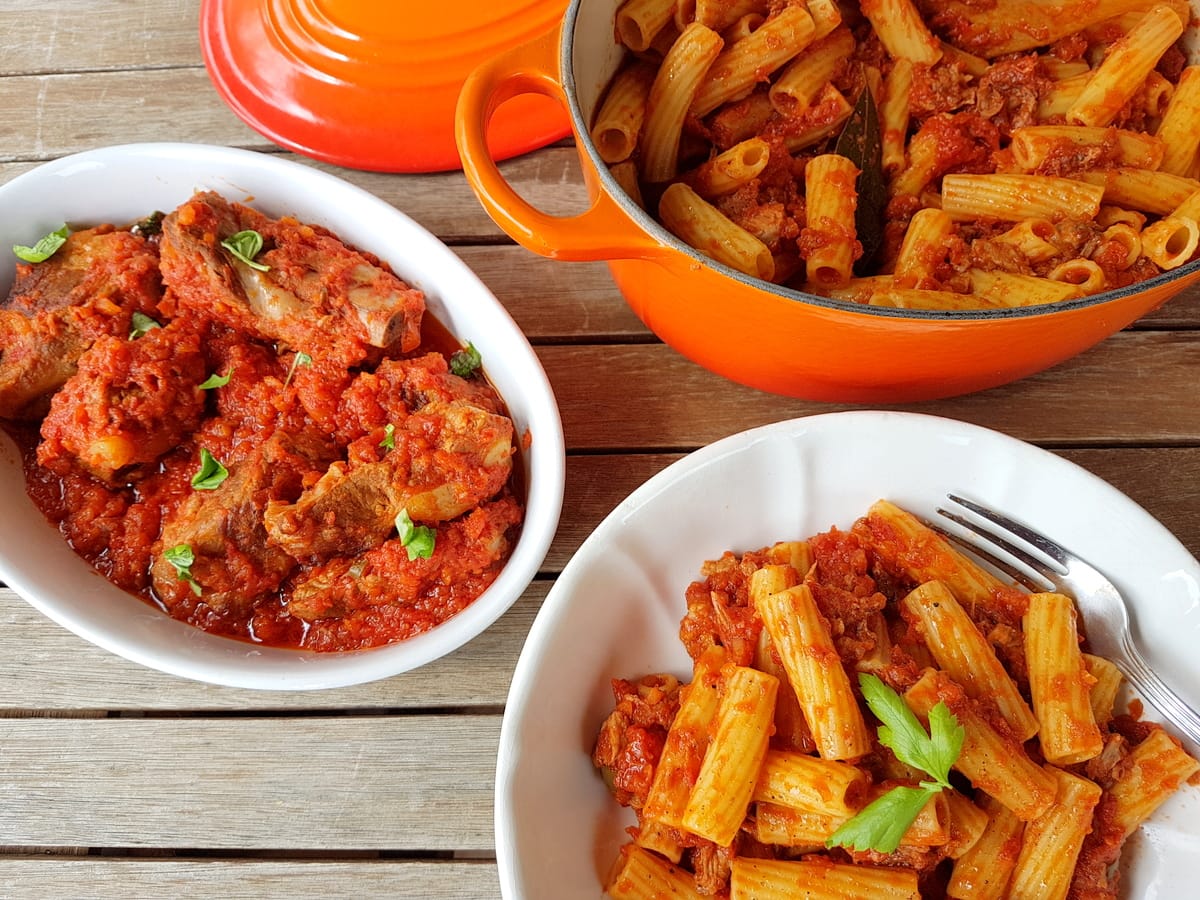 Elicoidali pasta con costine di maiale.
Like many nationalities, Italians love to eat grilled pork ribs. However, their favourite way to cook ribs is braised in a rich tomato sauce. In fact, you can find variations of this recipe throughout Italy. Traditionally, like other similar slow-cooked meat pasta recipes, this Italian braised pork ribs is served as 2 courses.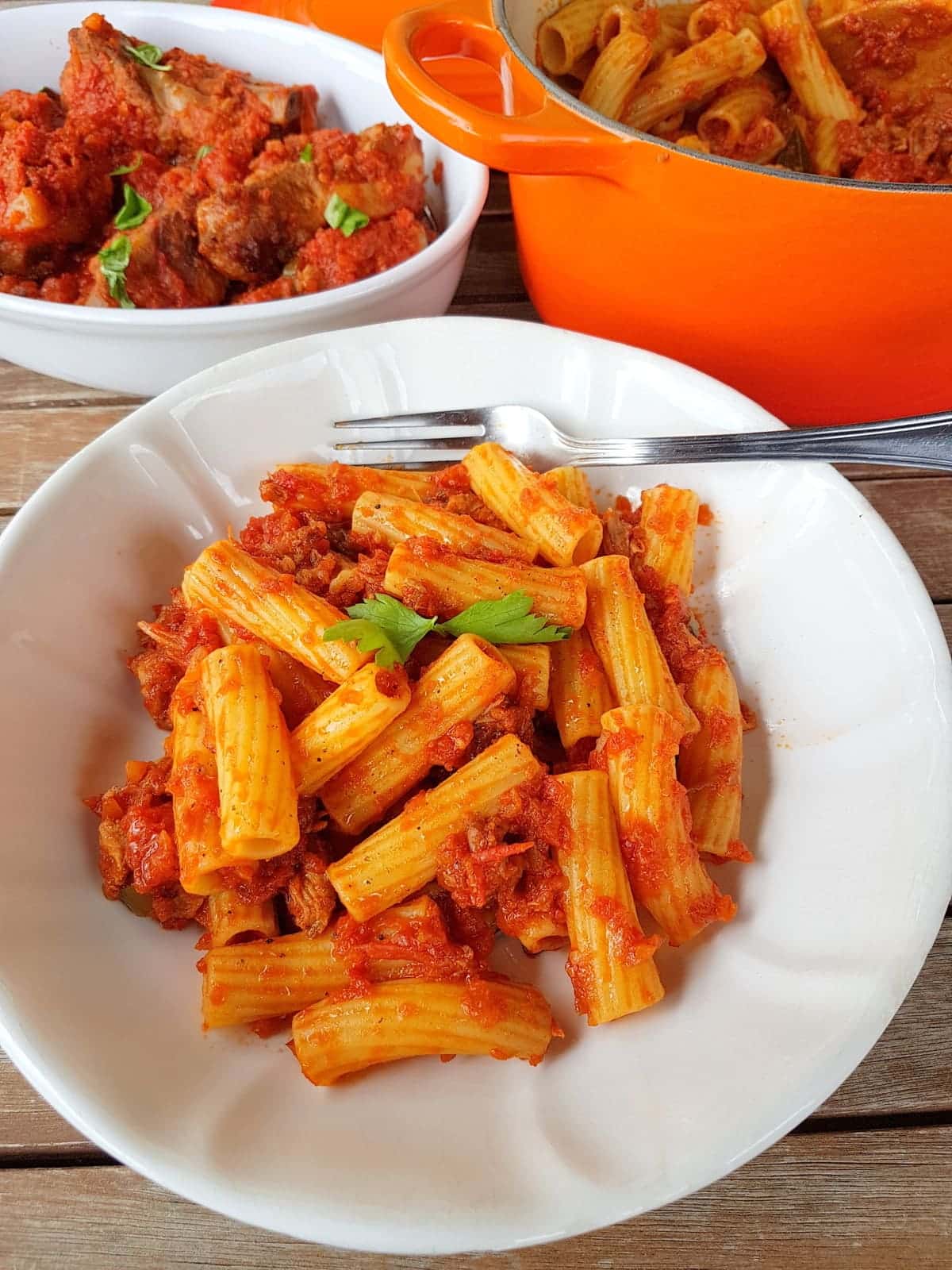 Cook once eat twice!
I say 2 courses because Italians usually eat pasta as a first course or 'primo' on Sundays, holidays and special occasions (sometimes 2 or 3 different pasta dishes!). The pasta is then followed by a main course of meat or fish.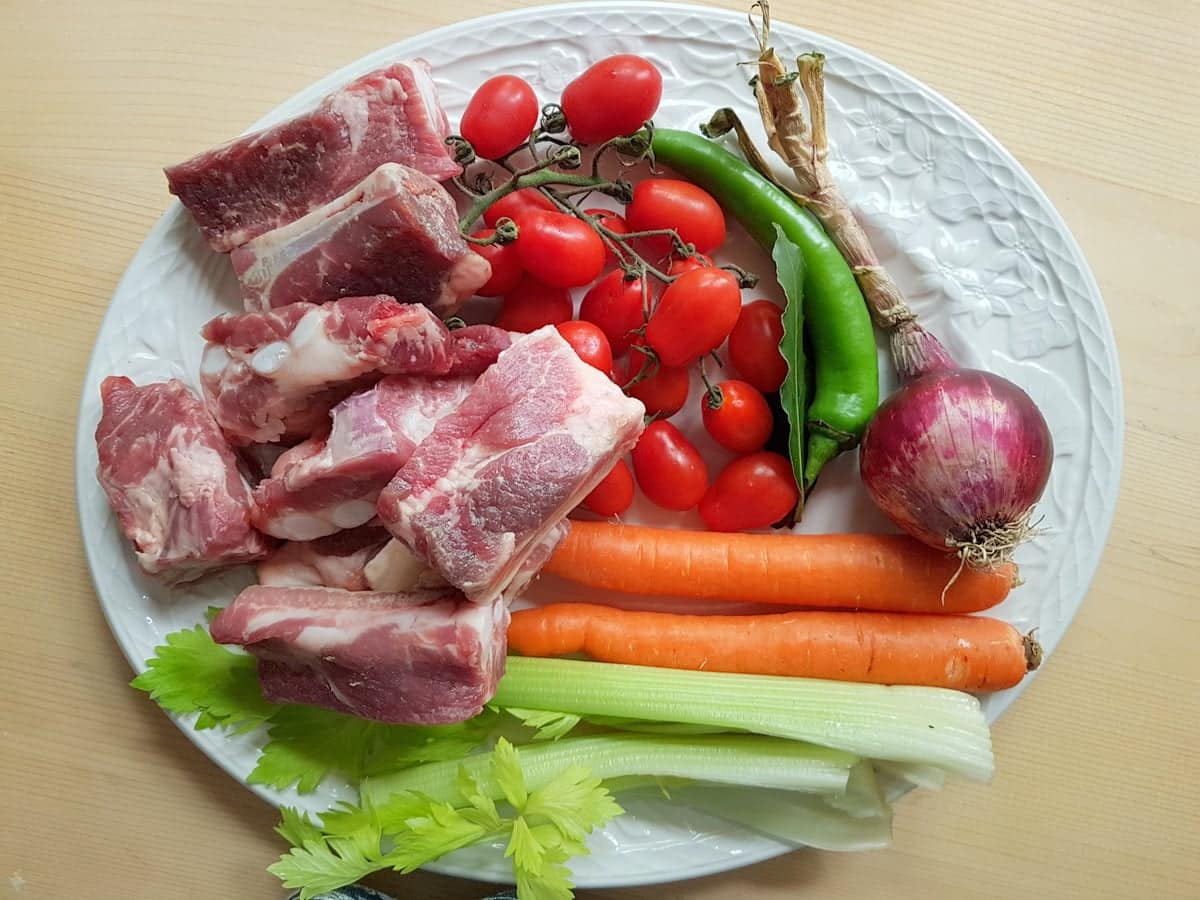 In Central and Southern Italy in particular, there are many recipes in which cuts of meat are slow cooked in a sauce (usually tomato based). The sauce is then used as a pasta condiment and the meat eaten as the main course. This is actually how most Italians eat meatballs (not the pasta and meatballs together).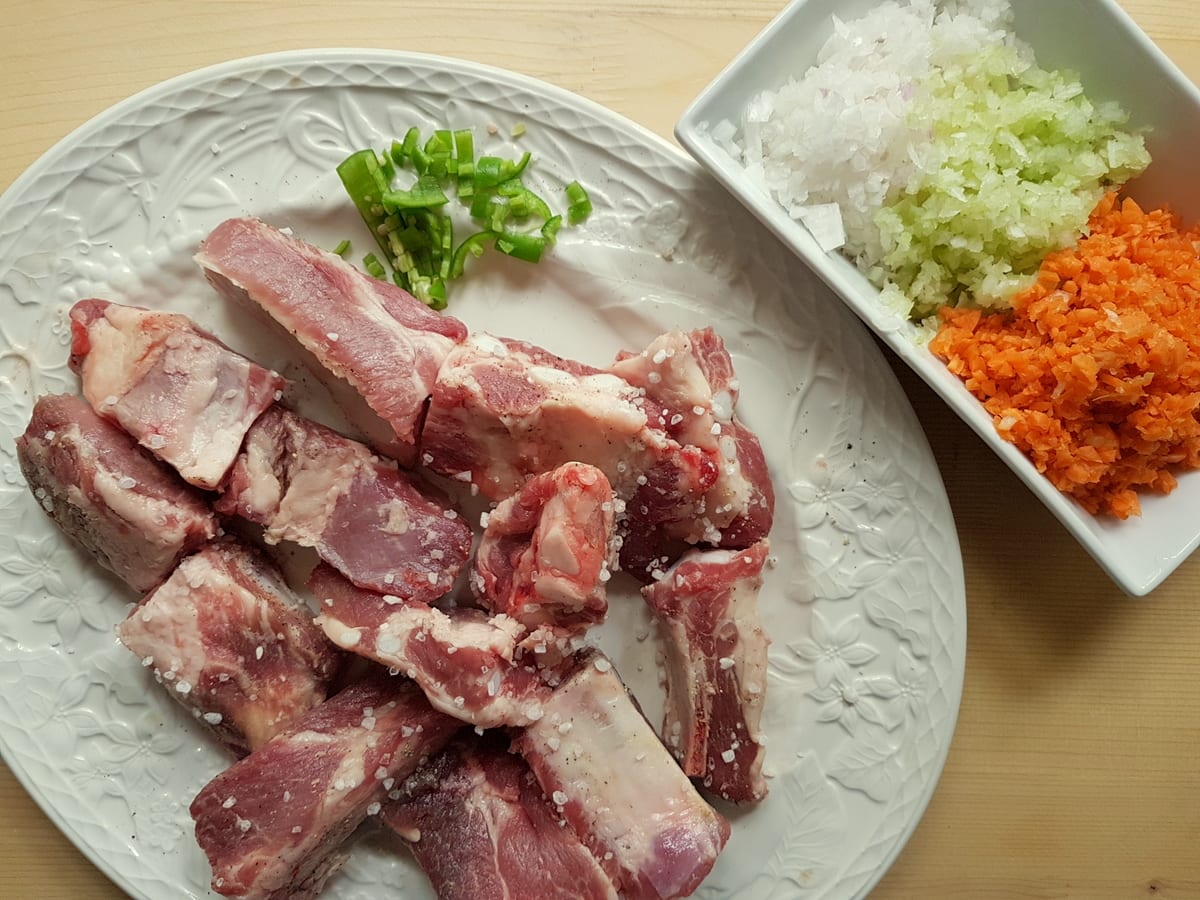 You can find links to other similar recipes at the end of this post. I often prefer to use this type of dish for 2 meals! I love these cook once eat twice recipes! You can use these recipes on 2 consecutive days or freeze the sauce for another day.
Different versions of Italian braised pork ribs.
This recipe for Italian braised pork ribs with pasta comes from Emilia- Romagna. However, there are very similar recipes in other parts of the country. In Tuscany, they use pork ribs called 'rosticciana'. These have been grilled first.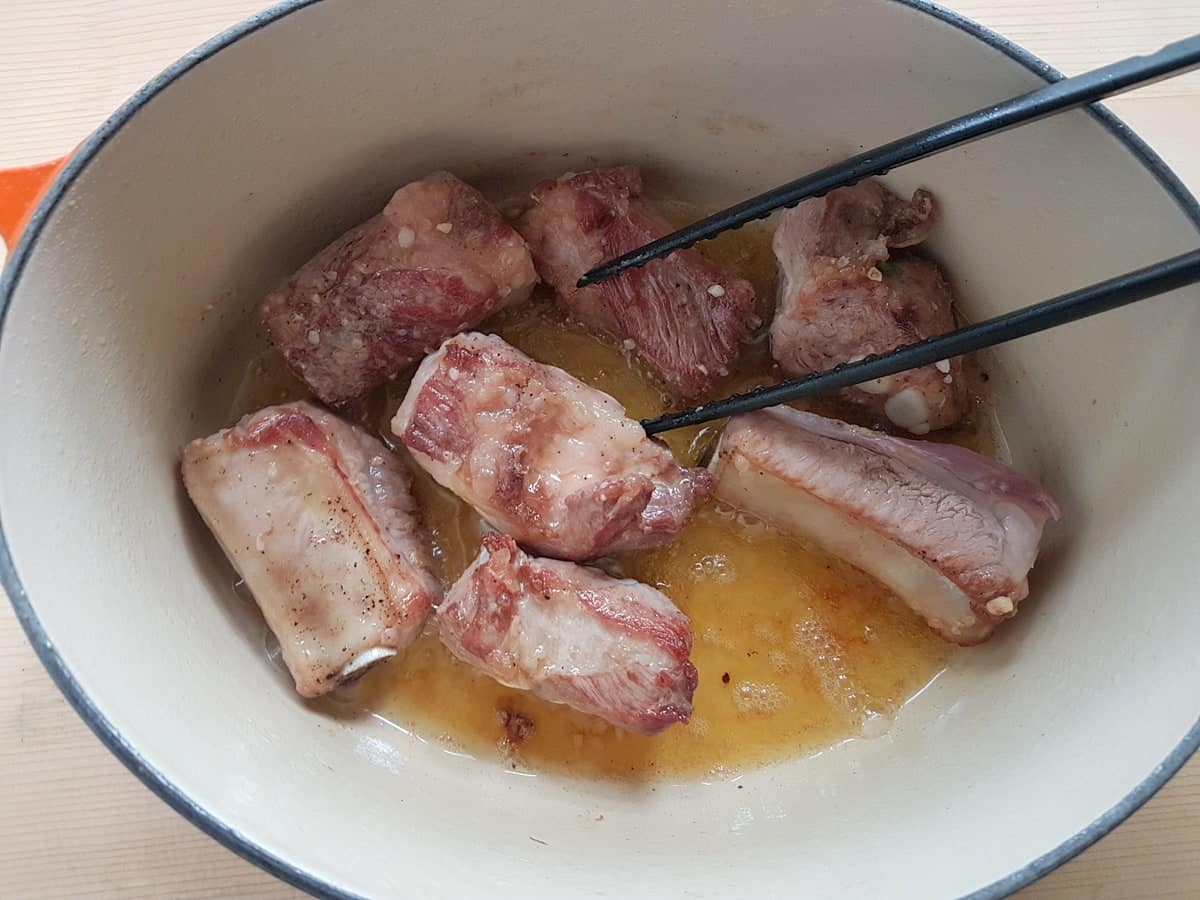 In Calabria as well as Campania, you are more likely to find basil, garlic and/or peperoncino in the sauce rather than onions, celery and carrots. I also added peperoncino to satisfy my Sicilian hubby's love for a bit of spice. But, it's optional. Some people add pancetta or sausages to their braised pork ribs as well.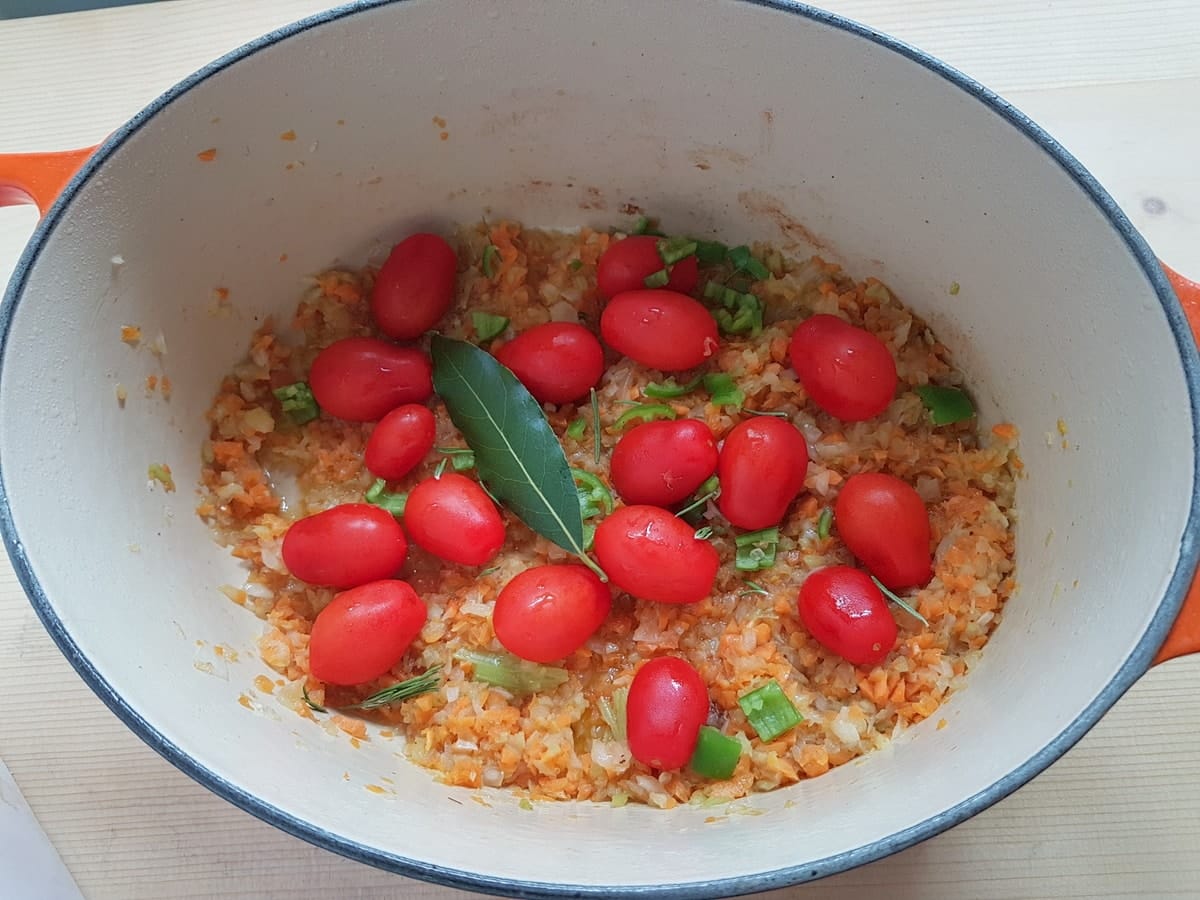 The pasta.
In Emilia-Romagna, the pasta for this braised pork ribs recipe is often garganelli, little pasta tubes made by rolling squares of egg pasta dough around a stick and over a ridged board. You can read more about this pasta in my garganelli post.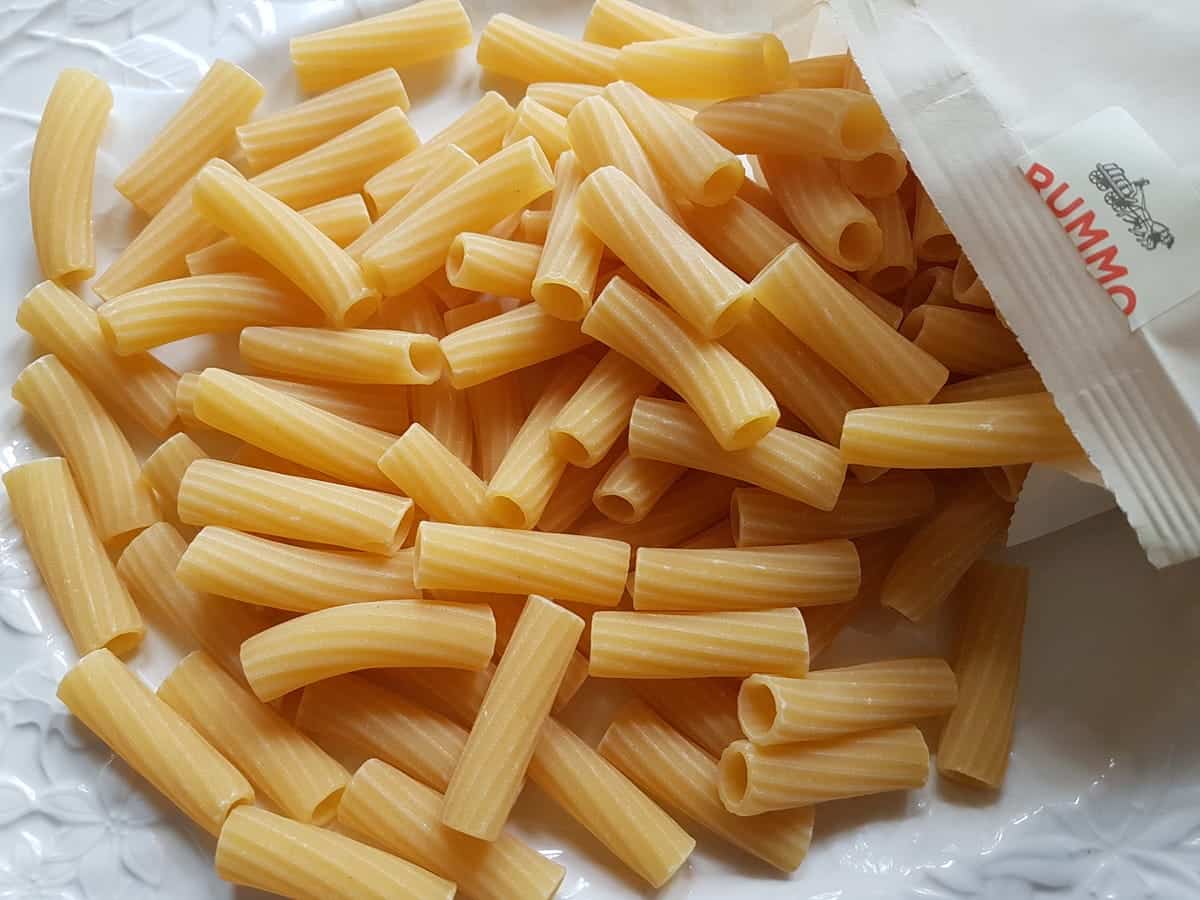 I used elicoidali, a medium sized pasta tube with spiraling ridges on the outside. Elicoidali are very similar to rigatoni or tortiglioni. Grooved pasta tubes are great for chunky sauces like in this braised pork ribs recipe. The sauce sticks to the grooved surface and even gets inside each piece of pasta! I bought elicoidali made by Rummo, a company in Campania. Their pasta is very good quality and widely available outside of Italy.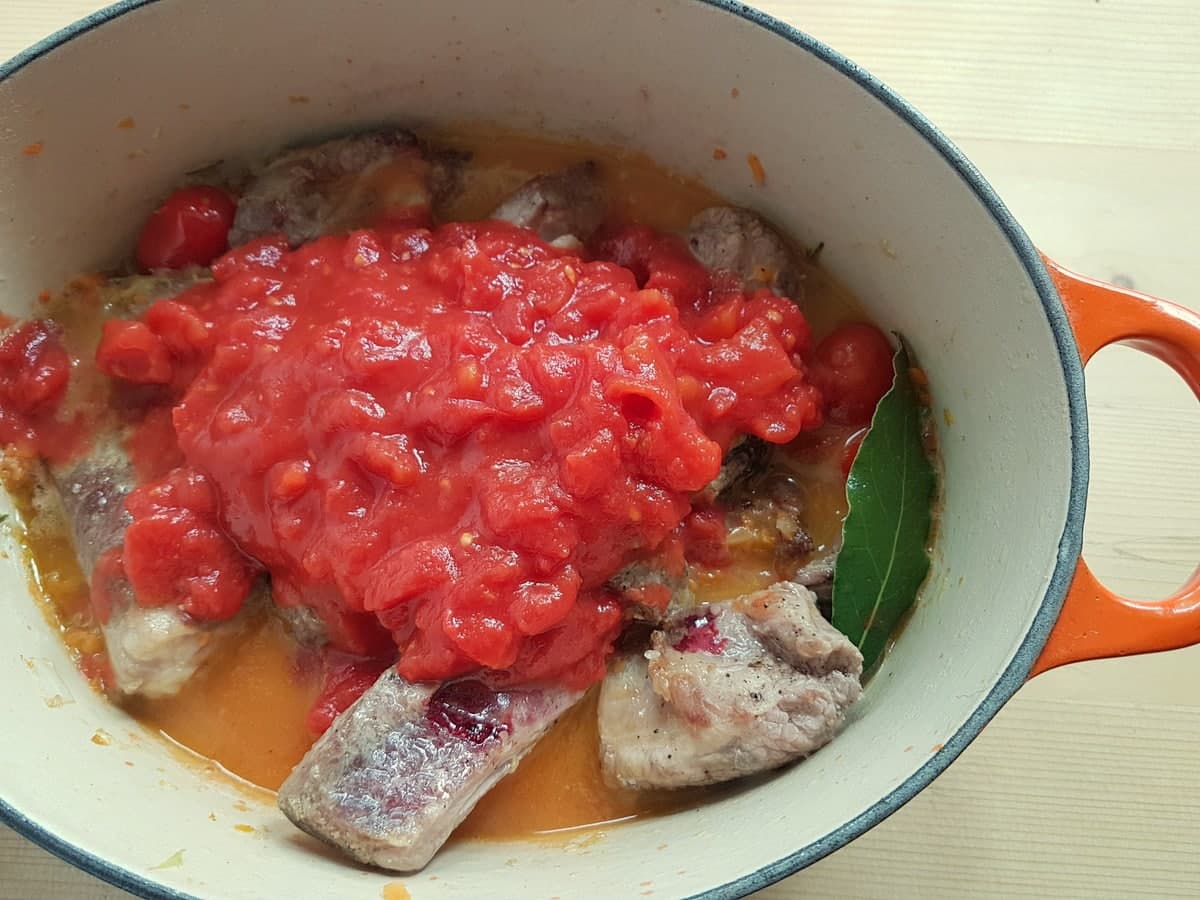 Making this Italian braised pork ribs with pasta.
This recipe takes between 2 and 2.5 hours to make, so not a week night option for most of us. However, The sauce actually tastes better made in advance so you can make it the day before or in the morning.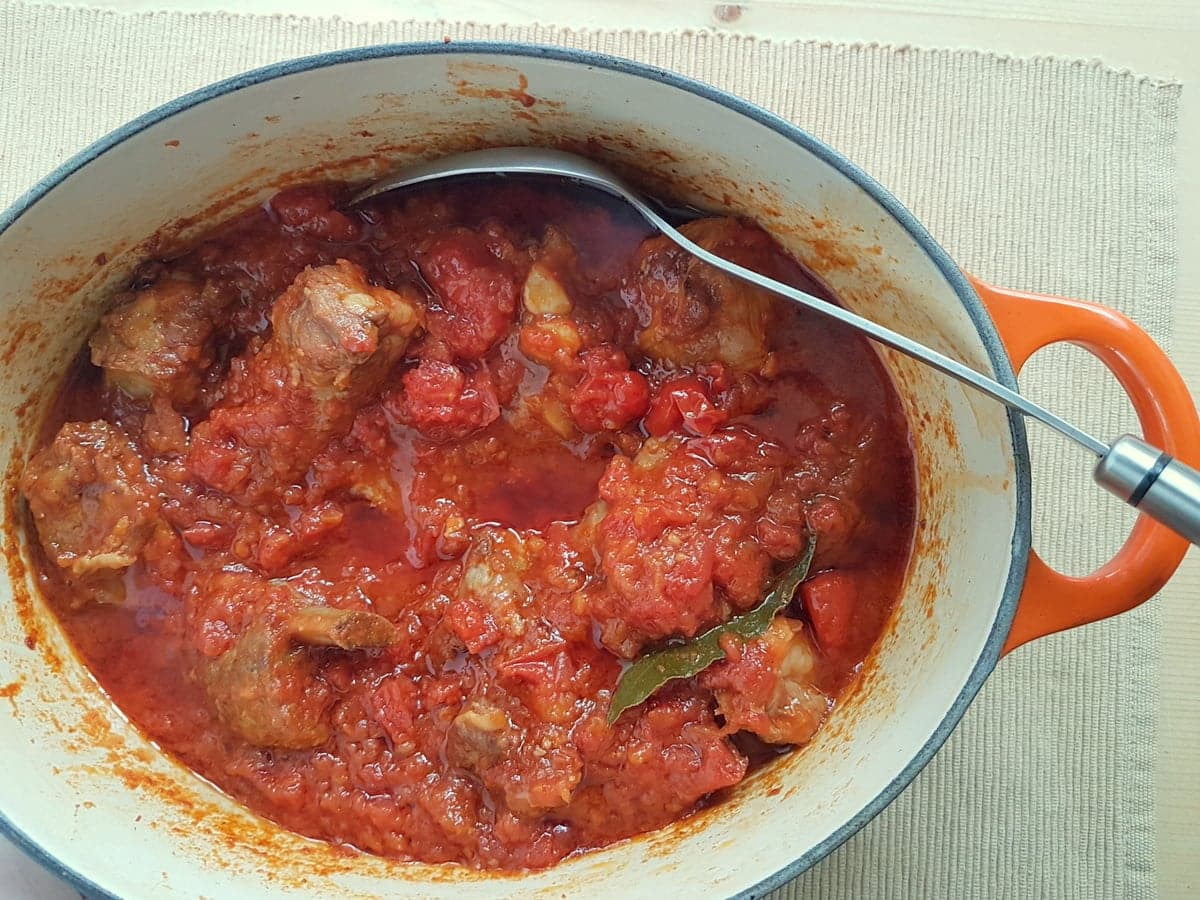 Like the Italians, you can remove most of the short ribs and a little sauce from the pot and serve them as a main course or the next day. These braised pork ribs are so delicious with mashed potato and a lot of Italians also eat them with polenta.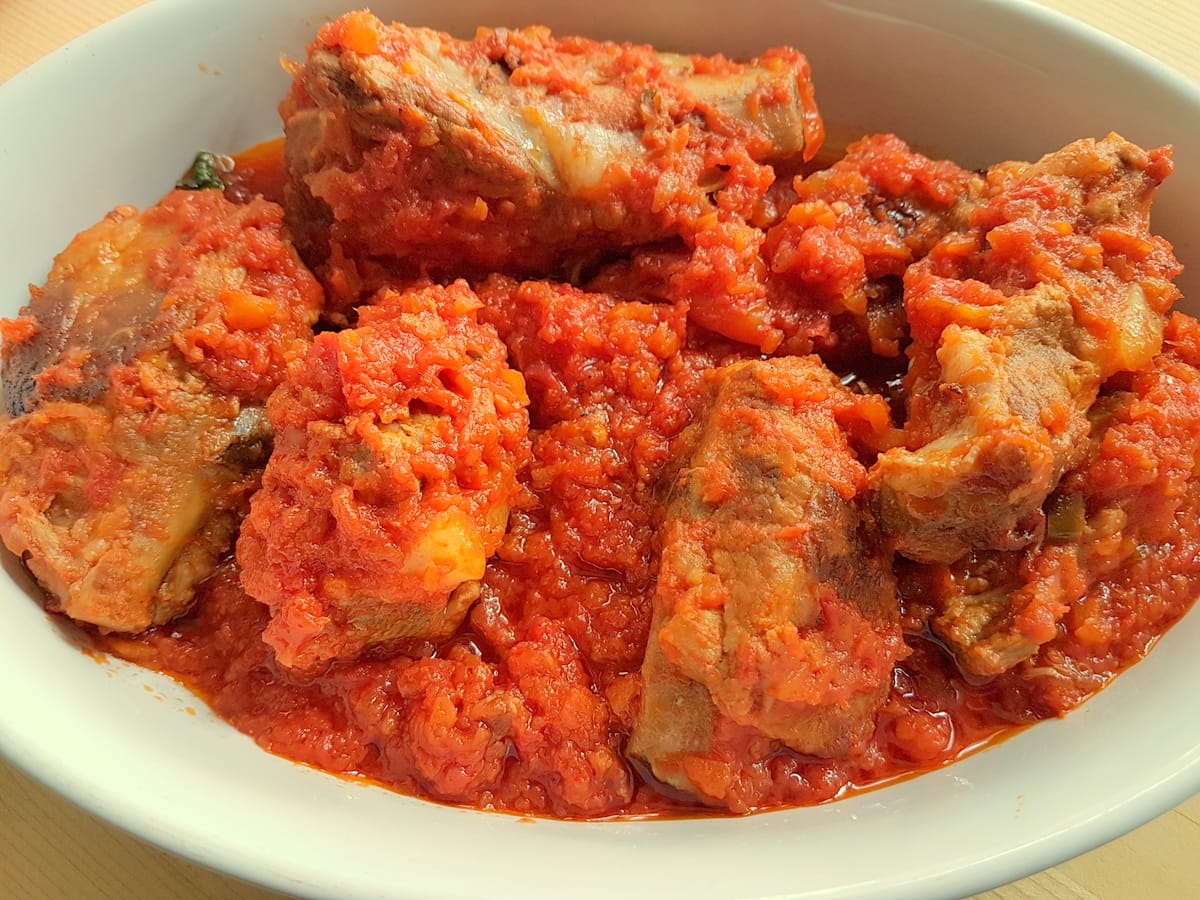 Whether you serve these Italian braised pork ribs with pasta or something else, I'm sure you are going to love this dish. The sauce is rich and full of flavour and the meat just falls off the bone. Despite the slightly long cooking time, this is a pretty easy recipe to make! It's also the best pork short ribs recipe ever!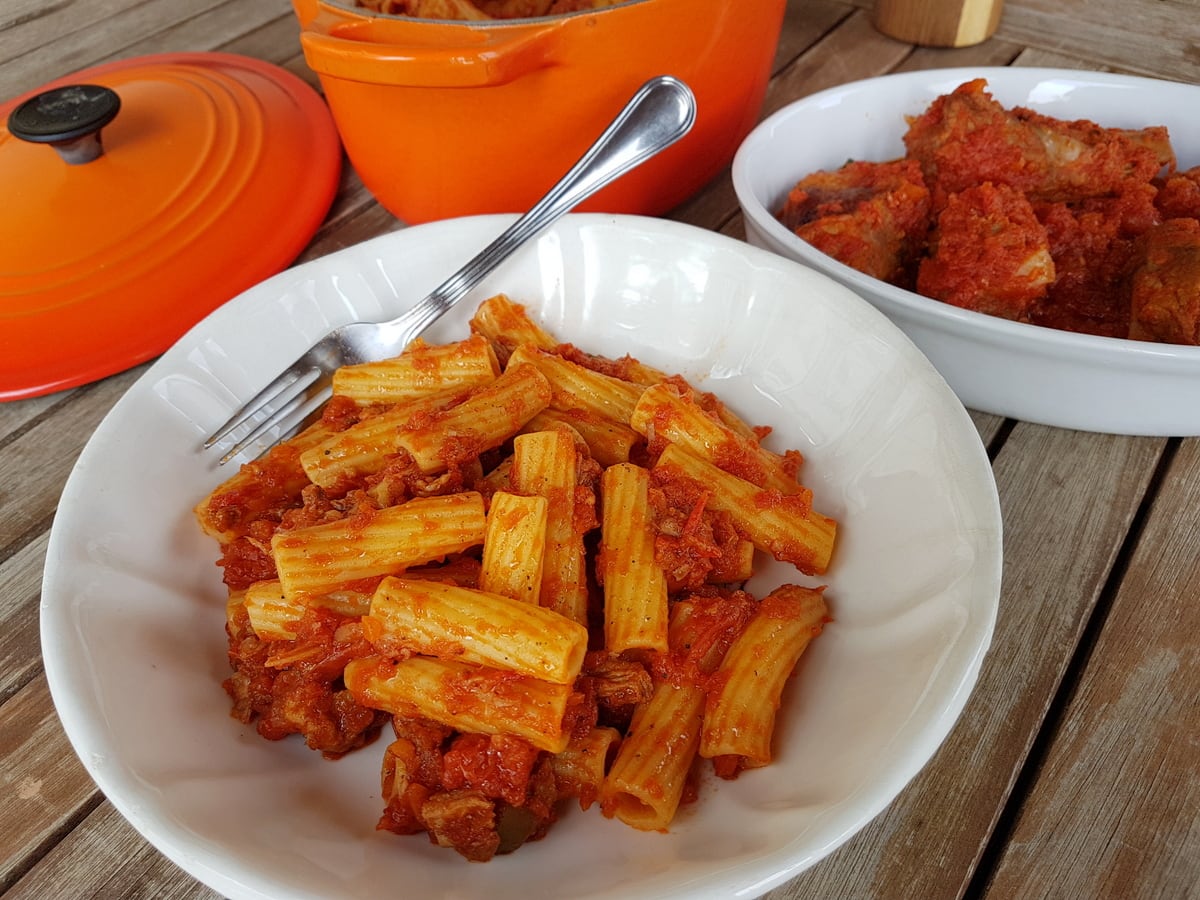 If you do try this recipe, I'd love to hear what you think. Please write a comment here on the blog or post a comment on the Pasta Project Facebook page.
Your feedback means a lot to me!
Buon appetito!
Save this recipe for later?
If you want to save this recipe for later, you can print it, bookmark this page or save it to Pinterest.
Other traditional recipes that can be 2 courses or 2 meals.
Pin for Later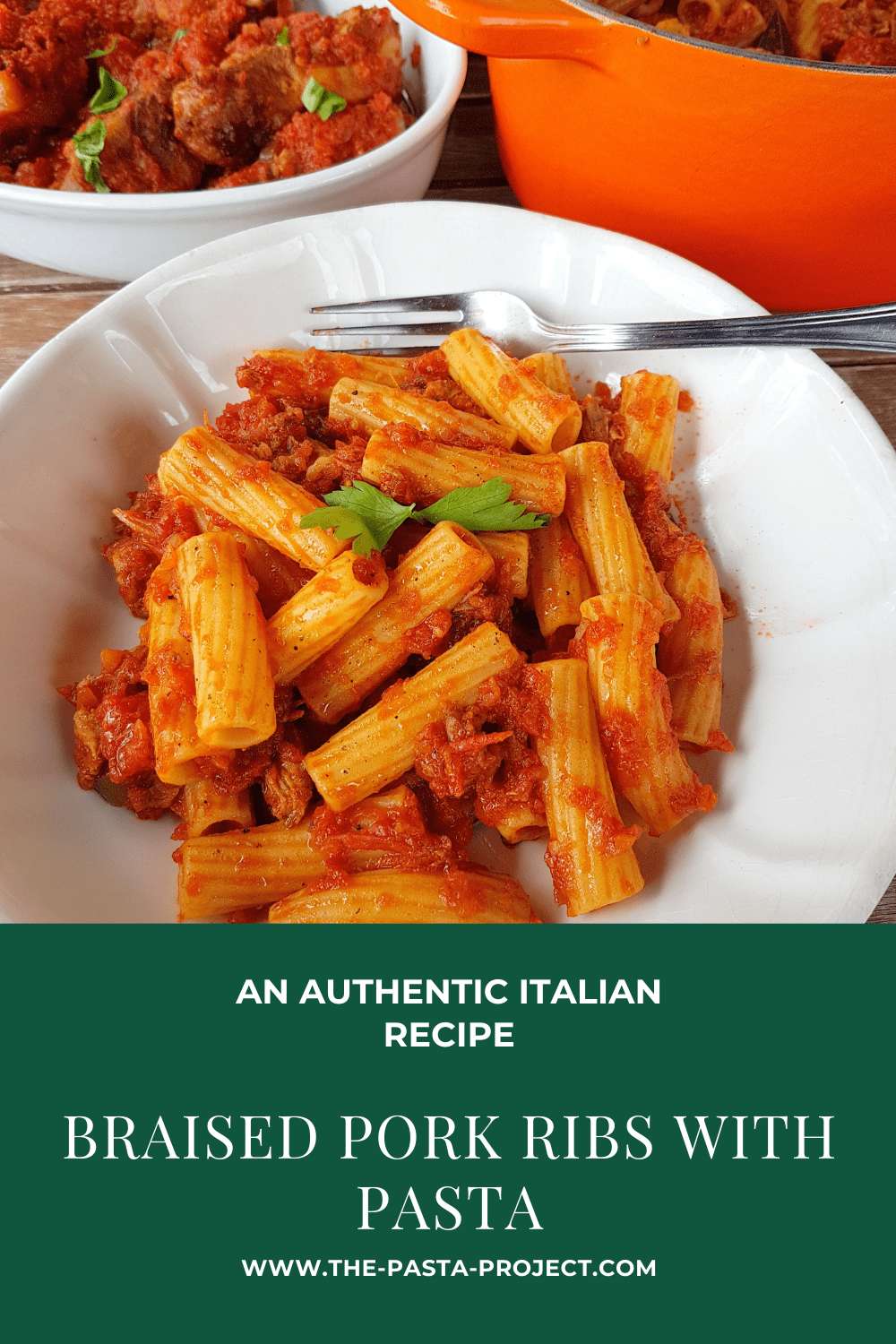 If you are interested in learning how to make homemade pasta and different types of gnocchi, check out my shop page for some great video online courses from my friends in Rome! Nothing beats learning to make pasta from Italians! Plus while you're there why not order a copy of my autumn/winter pasta recipes cookbook!?