Creamy bow-tie pasta with smoked salmon & zucchini.
This creamy flavourful farfalle pasta with smoked salmon and zucchini is a super easy to make yet elegant Italian dish. It's perfect for special occasions like Mother's Day or even just for a light lunch or dinner.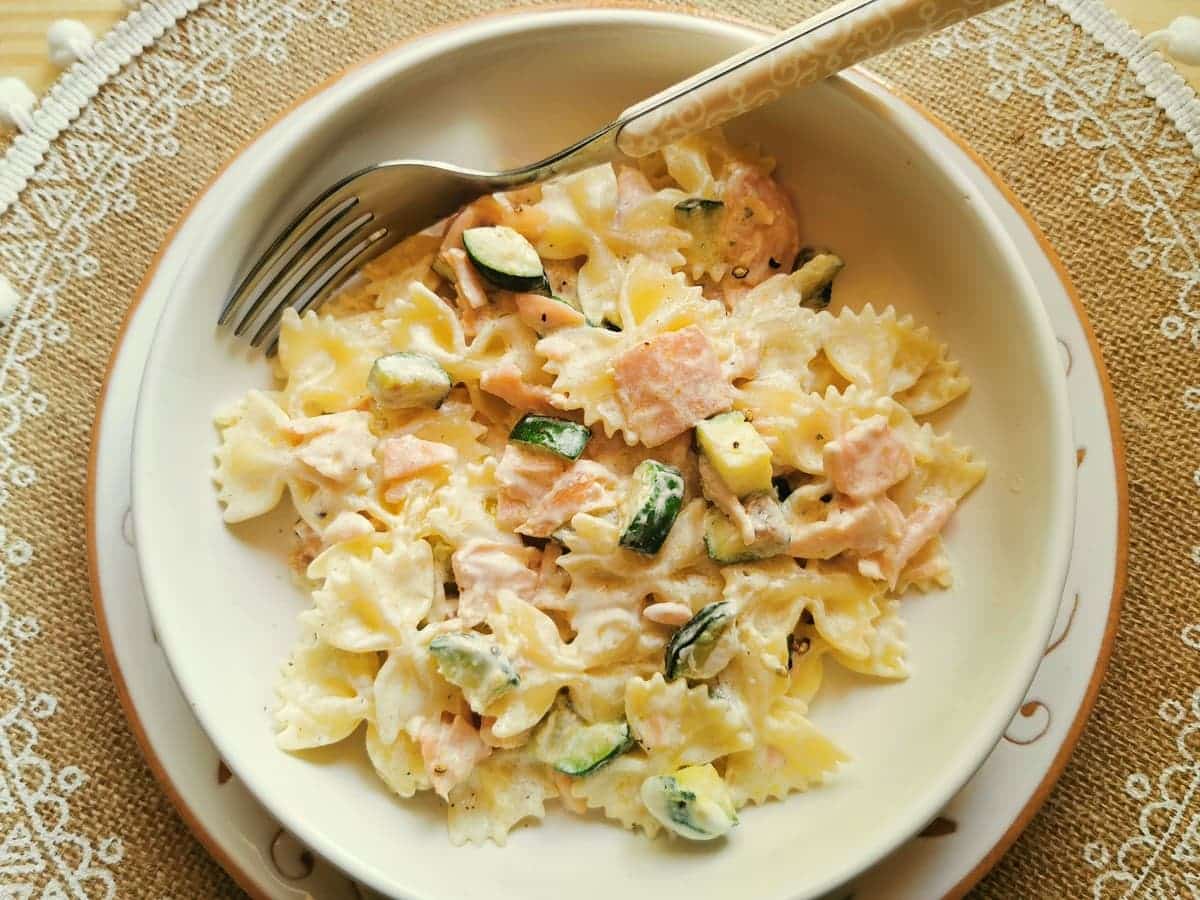 I love the combination of farfalle pasta with smoked salmon, don't you? Here in Italy, although there are many other recipes for farfalle, when it comes to using salmon, (smoked or fresh) this is one of the most commonly used pasta shapes. Penne is another.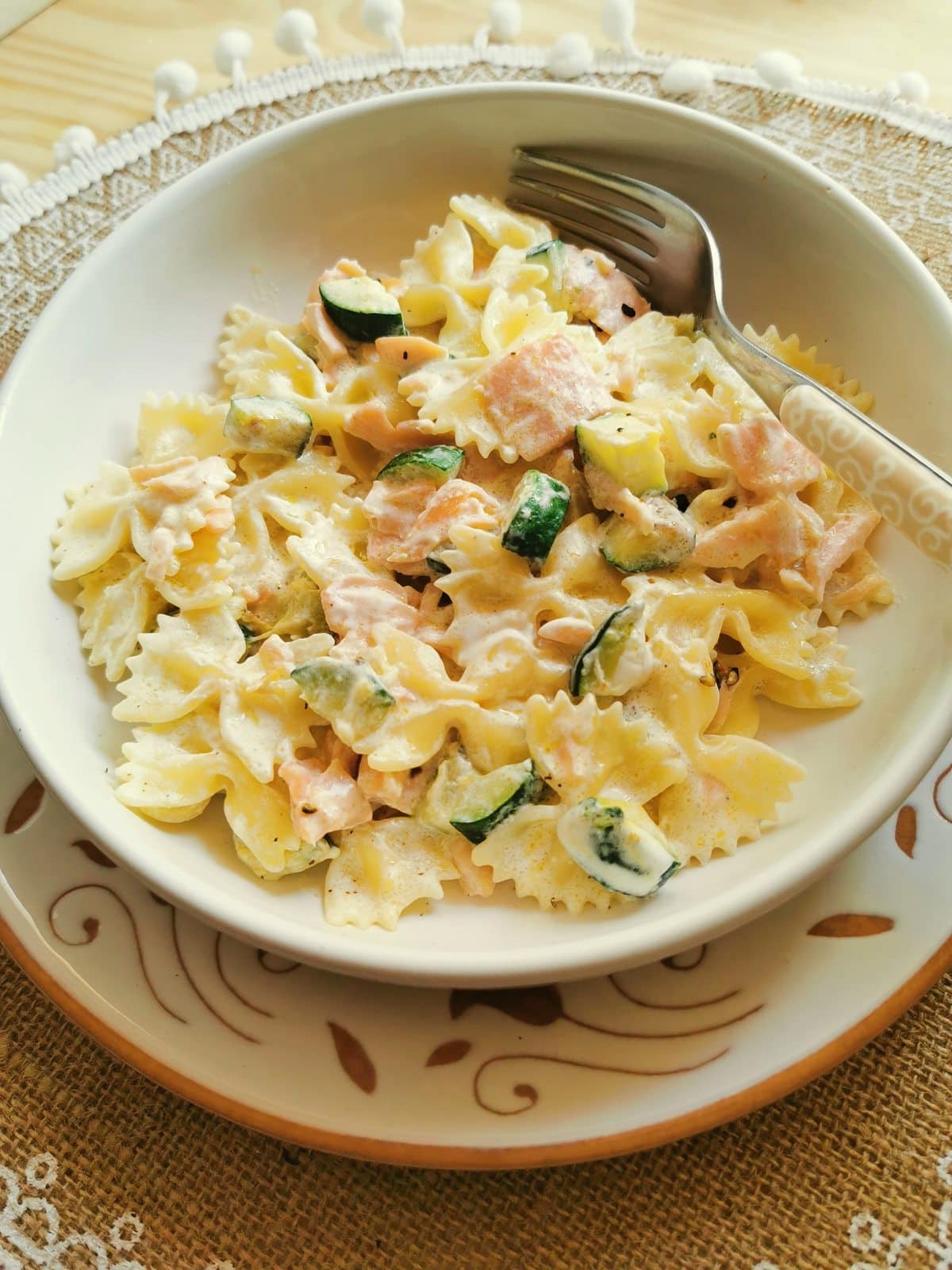 A little farfalle pasta history.
Also known outside of Italy as bow-tie pasta, farfalle is actually one of the oldest types of egg pasta. According to food historians, this pretty butterfly shaped pasta was invented during the 16th century in Lombardy and Emilia-Romagna. In the latter region they also call it 'strichetti'. It seems that in Emilia, housewives invented strichetti (today's farfalle) as a way to use up the pasta dough they had left over after making filled cappelletti.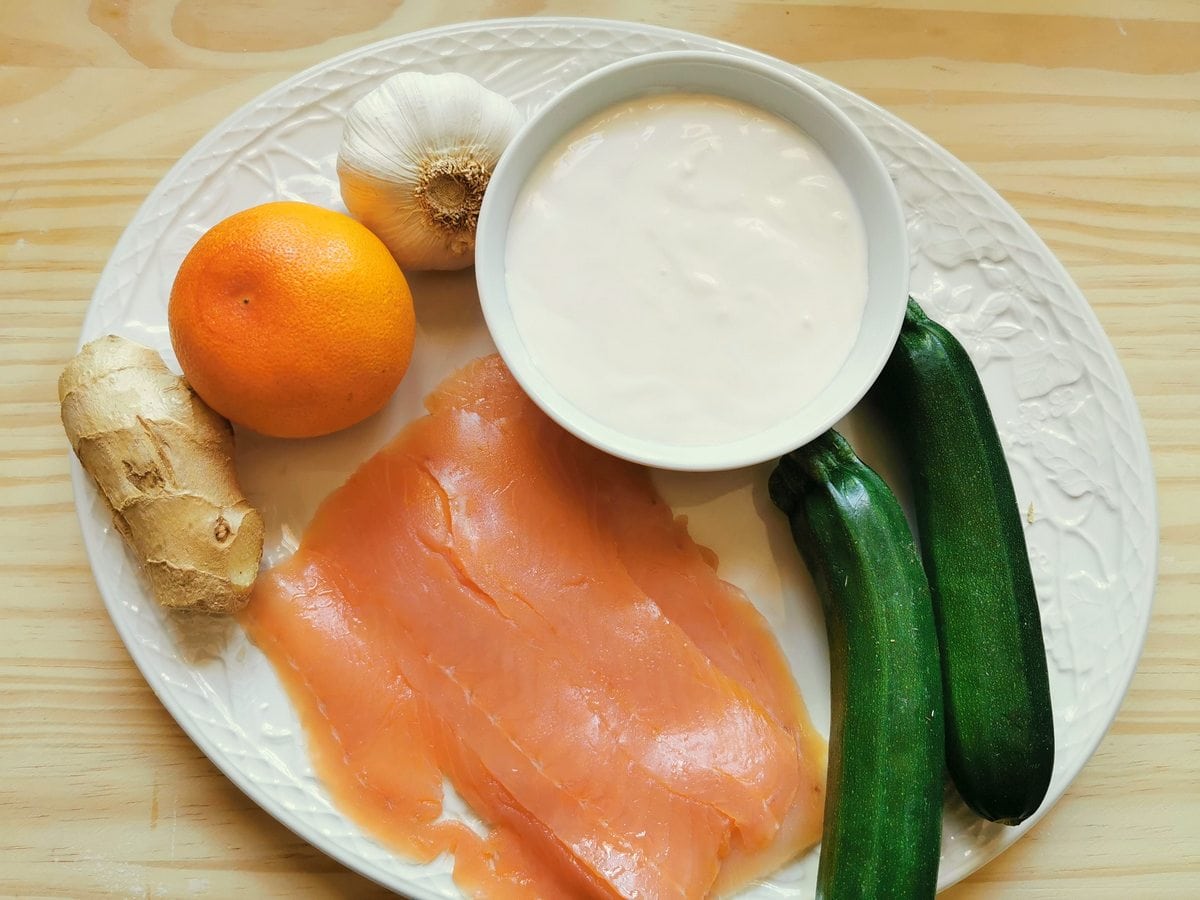 Apparently, once the filling for the cappelletti had finished, the women of the region used the remaining dough to make farfalle. This pasta became so popular that they would actually make sure they had extra dough so there would be enough to make farfalle too!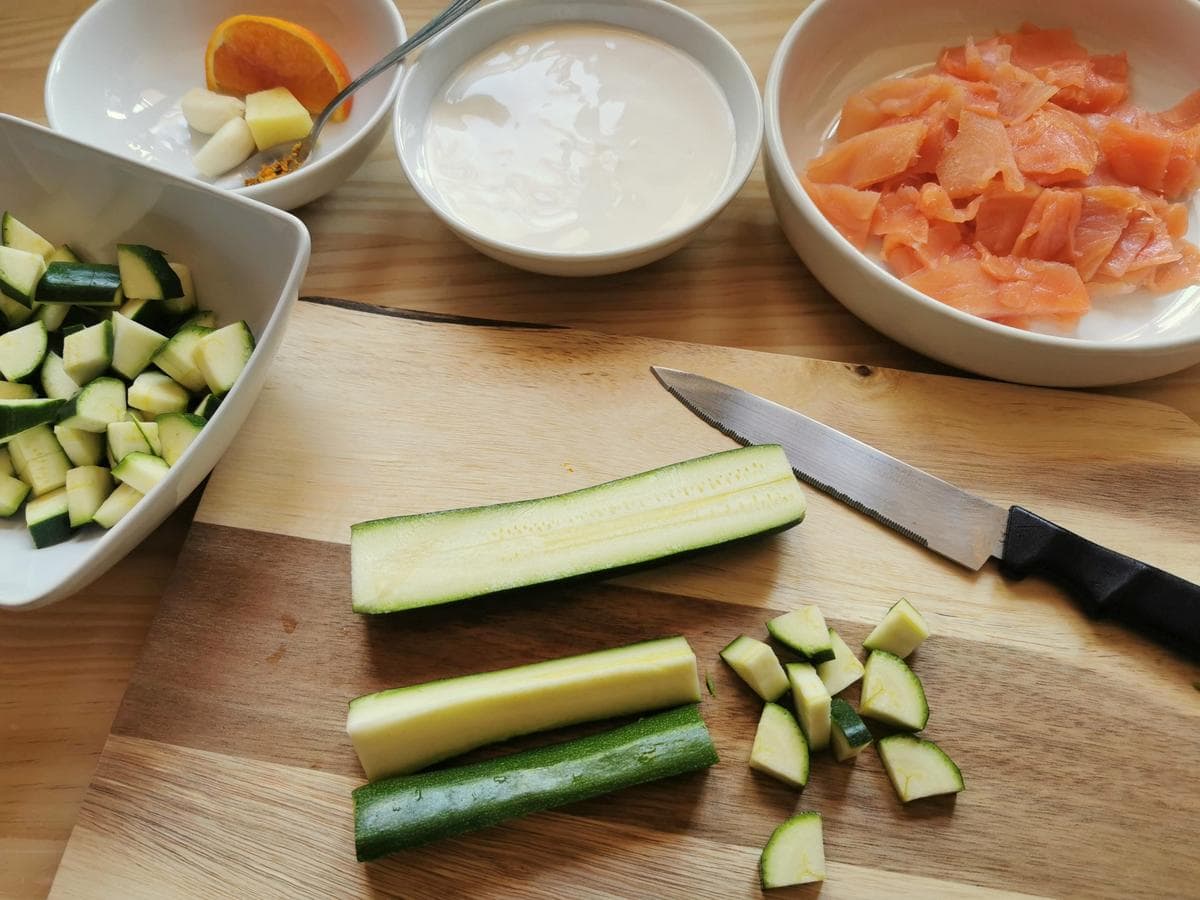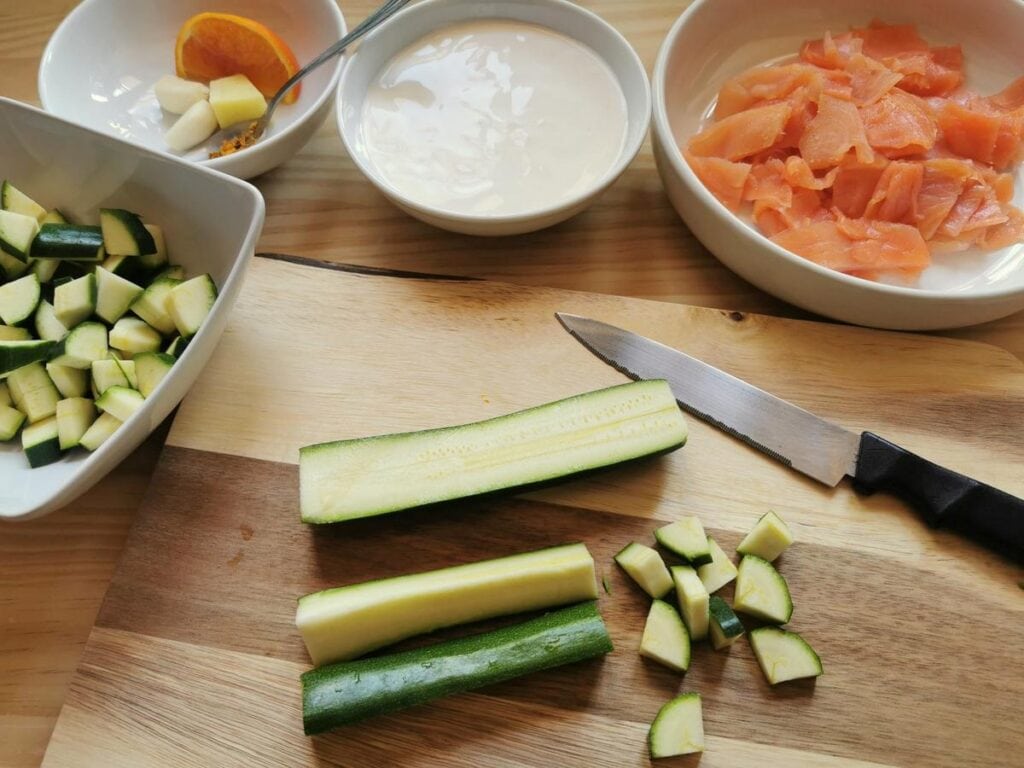 We have also made farfalle (bow-tie) pasta alongside other types of homemade fresh egg pasta with the same dough. I have used the dough from lasagne sheets or fazzoletti or even ravioli, although I usually end up with extra filling instead of dough.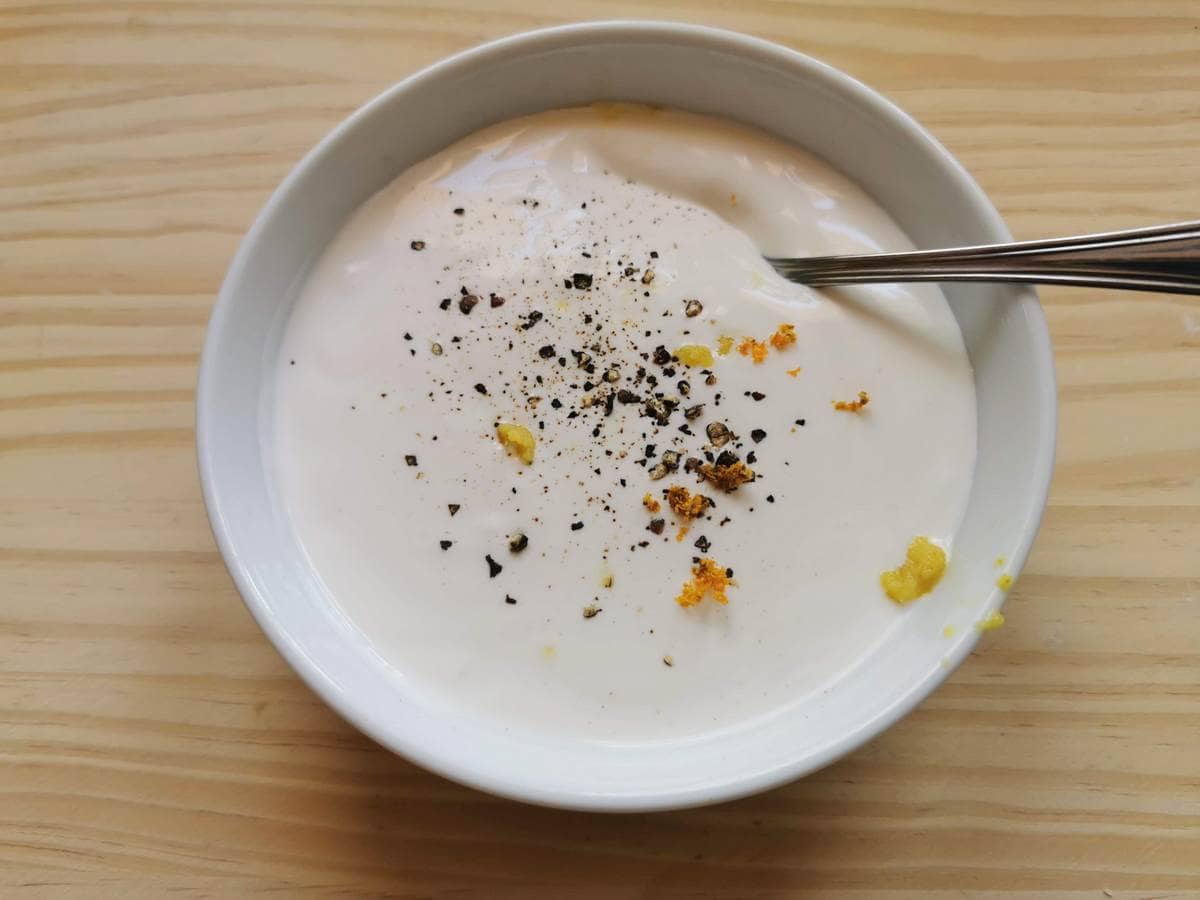 Smoked salmon in Italy
Smoked salmon is not a traditional Italian product. But, it has grown in popularity, particularly since the 80s. In fact, nowadays, there are quite a number of companies smoking salmon here in Italy. However, the salmon itself usually comes from Scotland or Norway.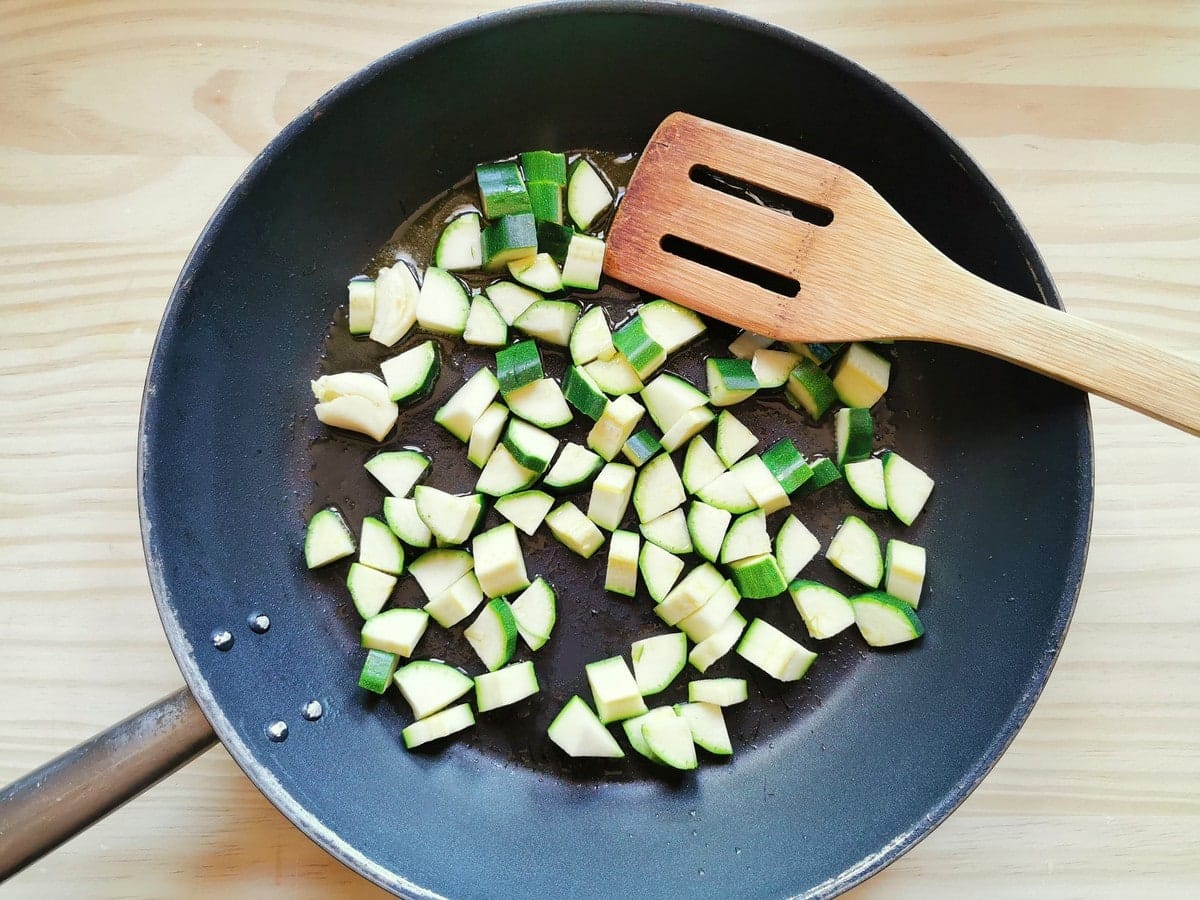 Italians don't often serve or eat smoked salmon on bread as is popular in other countries. They prefer to eat it as an antipasto (starter) , in salads, in frittata or in savoury tarts or quiches. However, the most popular way is with pasta like in this farfalle with smoked salmon recipe.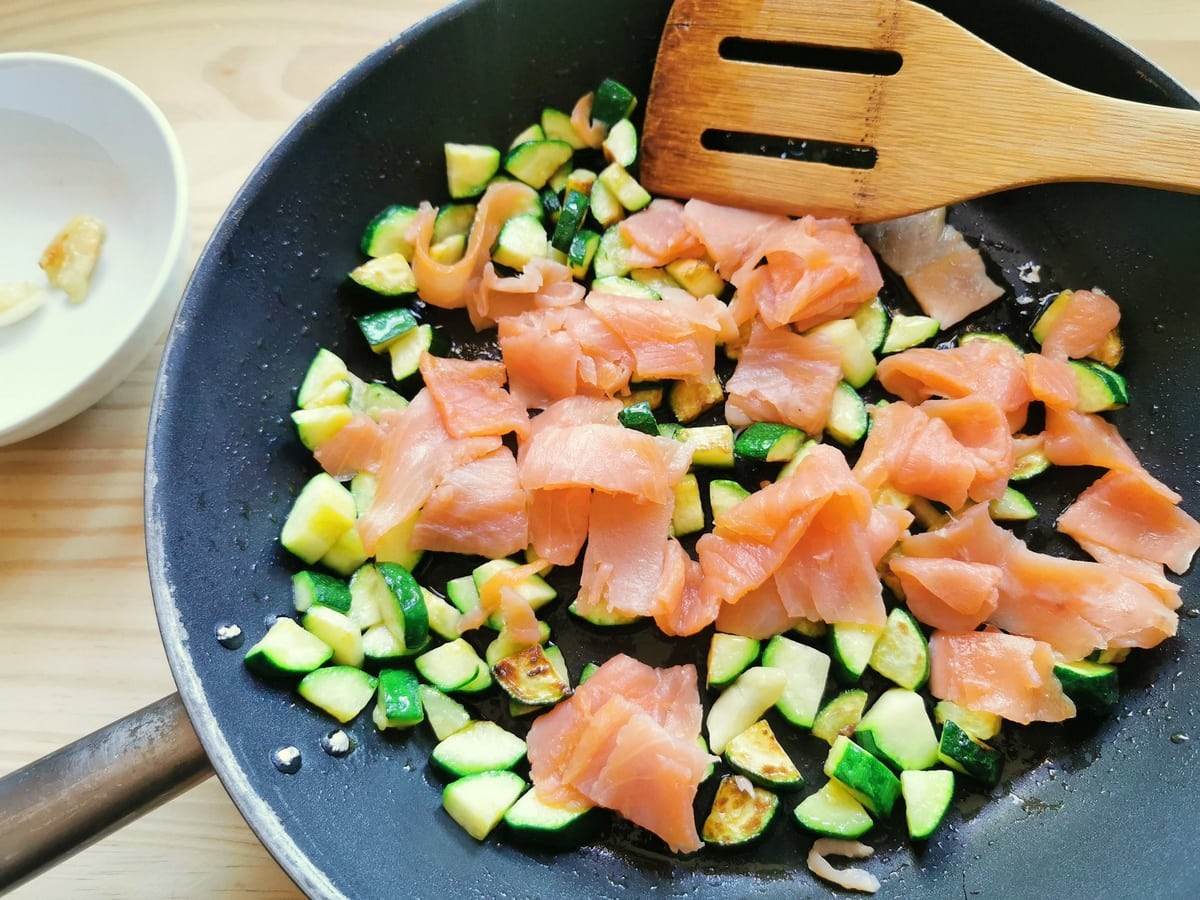 The other thing Italians don't traditionally do is combine cream and fish. But, this recipe, like many others, originated in the 80s when cream was fashionable on everything. In fact, pasta recipes such as pasta alla vodka and penne al baffo are from the same era when cream and tomatoes was also in vogue.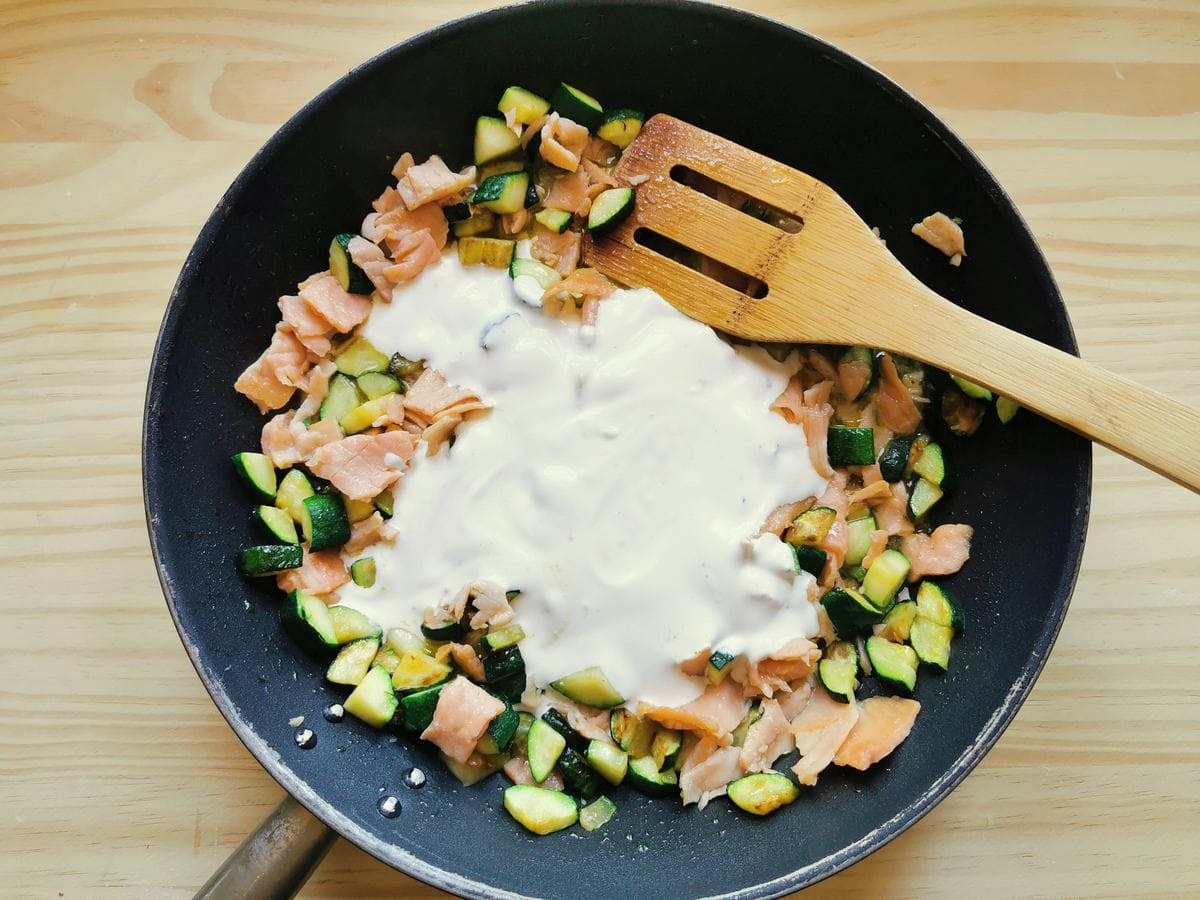 This farfalle with smoked salmon recipe.
When researching farfalle pasta with smoked salmon on Italian recipe and cooking sites, I came across many many recipes. Most include cream and some kind of spirit such as vodka or cognac, others were with tomato sauce and many are made with the addition of vegetables, mostly zucchini or peas.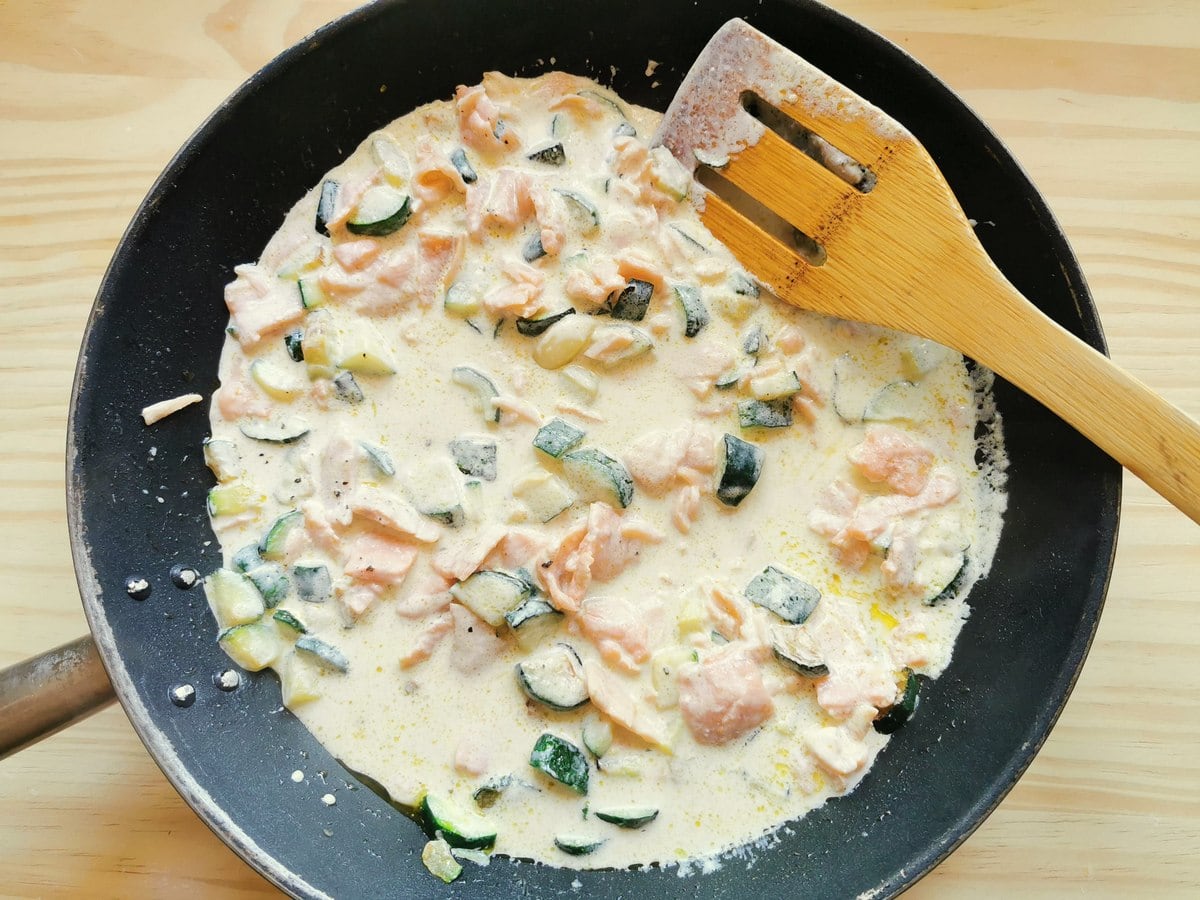 I decided on this recipe which has zucchini, cream and smoked salmon but with the addition of grated fresh ginger. I also decided at the last minute to add some orange zest which I have to say really made the dish extra special. I'm sure if you try it, you will agree with me.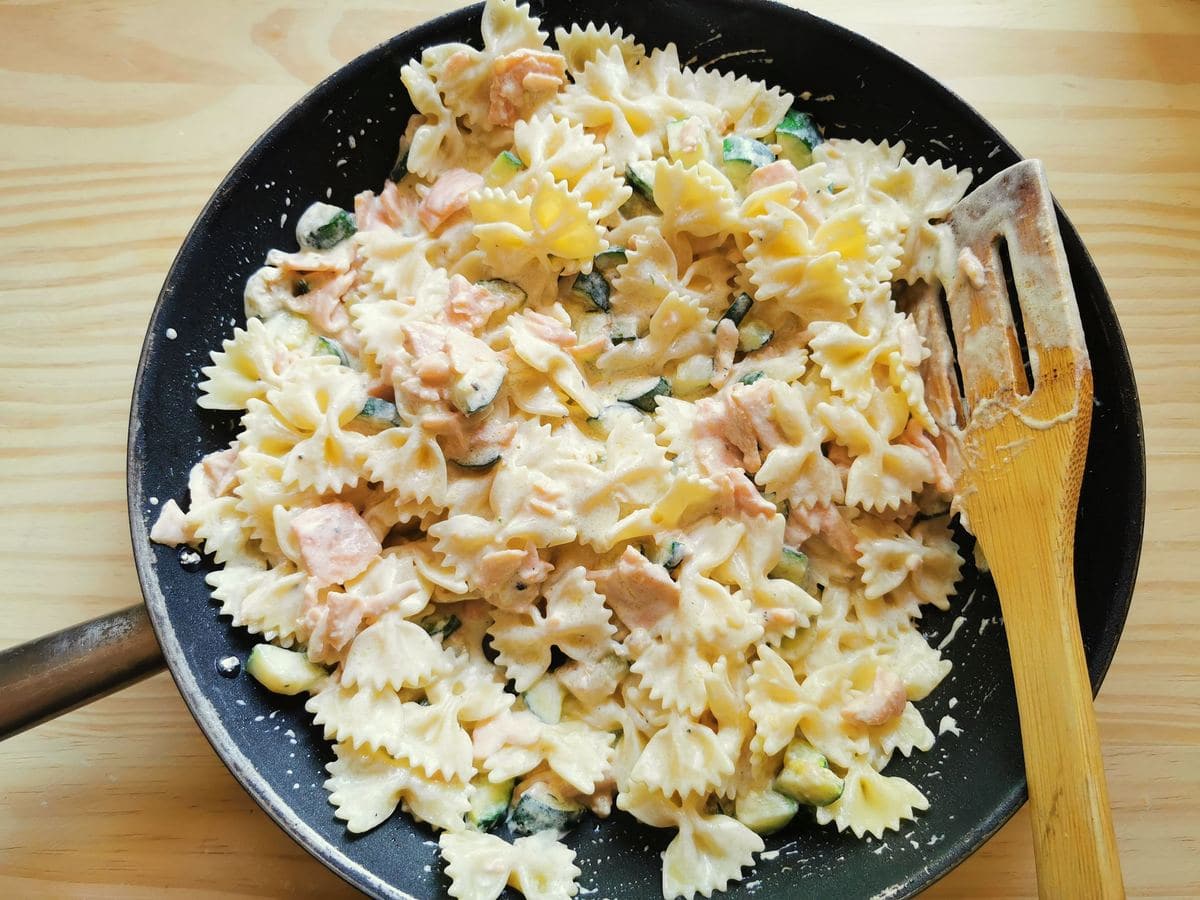 If you make this farfalle pasta with smoked salmon recipe, I'd love to hear your opinion of it. So, please do leave a comment below or write something on The Pasta Project Facebook page.
Looking forward to hearing from you.
Buon Appetito!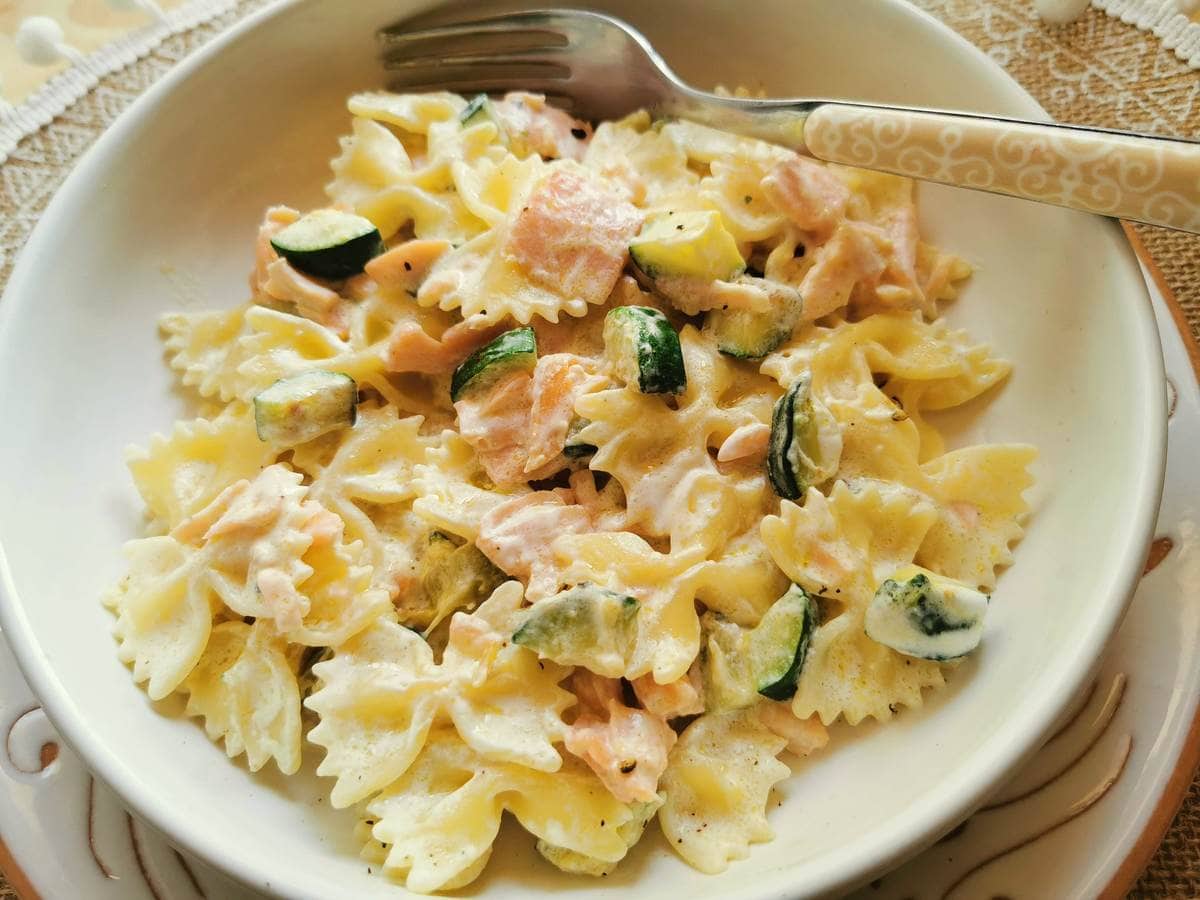 Other farfalle recipes on the Pasta Project.
This recipe was orginally published in 2017 but has been updated with new photos and text.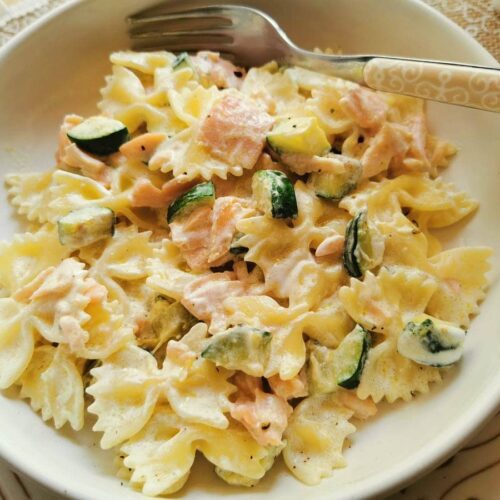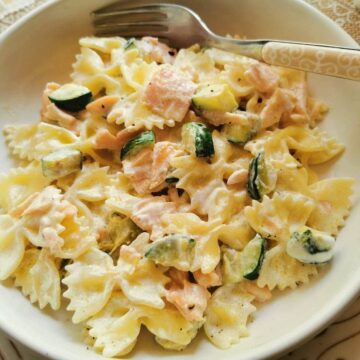 Farfalle pasta with smoked salmon and zucchini
This divinely delicious contemporary Italian pasta recipe for farfalle with smoked salmon and zucchini has a delicate creamy flavour enhanced by the addition of a little grated fresh ginger and orange zest. It's easy to make yet elegant enough for special occasions!
Ingredients
400

g

farfalle (bow tie) pasta (14oz)

150

g

smoked salmon (5.5oz)

1-2

zucchini

2

garlic cloves

peeled and crushed

200

ml

heavy cream (7floz)

Italian panna di cucina or thick double cream

2-3

tbsp

olive oil

1/2

tsp

fresh ginger

grated

1

tsp

orange zest

salt

for pasta and to taste

black pepper

to taste
Instructions
Put a large pan of water onto boil for the pasta. When it starts to boil add some salt and bring to the boil again.

In the meantime, wash the zucchini, pat dry and cut off the ends. Cut the zucchini lengthwise in 4 parts. Cut each quarter in two and cut into cubes.

Put the cream in a bowl and mix in the grated ginger, a little orange zest and some black pepper. Set aside.

Heat a little olive oil in a frying pan or skillet and add the crushed garlic cloves.

As soon as the garlic begins to soften, add the zucchini and sauté for a couple of minutes.

As soon as the zucchini become translucent, add the smoked salmon in pieces. Remove the garlic.

Cook the salmon with the zucchini for a couple of minutes then add the cream mixture.

Turn down the heat, stir well and allow to cook for 5 minutes. Add salt and pepper to taste.

Cook the pasta al dente according to the instructions on the packet. When the pasta is ready, save a cup of the cooking water, drain the pasta and add it to the sauce. Mix well. If it seems dry, add a little of the pasta cooking water.

Serve immediately with a sprinkling of orange zest, and pepper if required.
Notes
If you can't find farfalle pasta you could also use penne or other small pasta tubes.
You can also use other vegetables instead of zucchini such as peas or asparagus
Nutrition
Save this recipe for later on Pinterest.
If you are interested in learning how to make homemade pasta and different types of gnocchi, check out my shop page for some great video online courses from my friends in Rome! Nothing beats learning to make pasta from Italians! Plus while you're there why not order a copy of one of my pasta recipes cookbook!?