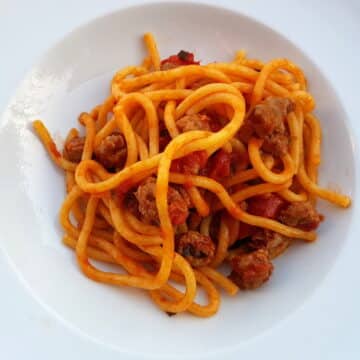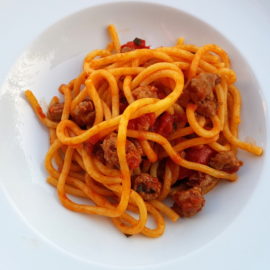 Bigoli pasta with Luganega sausage
A very tasty and easy to make pasta with sausage ragu recipe from Veneto, which the family is sure to love!
Ingredients
400

g

bigoli pasta

14oz (you can also use bucatini, thick spaghetti or short pasta like penne)

250

g

luganega sausage

9oz (or other fresh Italian pork sausage)

1

white onion

peeled and finely chopped

3

tbsp

extra virgin olive oil.

1

handful

fresh parsley

chopped

1

cup

stock

( i used 1 classic Knorr stock cube)

1/2

glass

dry white wine

400

g

fresh cherry tomatoes and or tomato pulp/passata rustica

14oz (I like to use half fresh tomatoes and half passata

1

tsp

peperoncino flakes

(optional)

salt

for pasta and to taste

black pepper

to taste

30

g

parmigiano, grana or pecorino

1oz (optional)
Instructions
Remove the skin from the sausage and break the meat into small piece with your hands or a knife. You want the sausage pieces to be quite small but not as fine as minced meat.

Heat the olive oil in a frying pan or skillet. Add the peeled and chopped onion and peperoncino flakes (if required). Cook until the onion starts to soften.

Add the sausage meat to the frying pan and brown it.

Add half a glass of white wine and turn up the heat. When the alcohol has evaporated add the chopped parsley, tomato pulp and/or halved fresh tomatoes and the stock.

Simmer uncovered on a low to medium heat for 20-25 minutes. Stir occasionally. Add salt and pepper to taste.

While the sauce is cooking, boil a pan of water for the pasta. Add salt once the water starts to boil and bring to the boil again.

Cook the pasta al dente according to the instructions on the packet.

When the pasta is cooked, drain it and add it to the pan with the sausage ragu. Mix the pasta and the sauce together.

Serve immediately with grated Grana or Parmigiano if required.
Notes
If you cannot find bigoli pasta this dish is just as delicious with short pasta such as penne or thick spaghetti or bucatini.
There are a number of companies in UK, Ireland, Australia and US that make Italian luganega (lucanica) sausages however, if you can't find this sausage you can also use other types of fresh Italian pork sausage. Some of these will probably be flavoured with fennel, which adds a slightly different but tasty flavour to the sauce. For this recipe I wouldn't use sausages with chili in them but rather add some fresh or dried chili when making the sauce if you want it a little spicy.
SAVE THIS RECIPE FOR LATER?
If you want to save this recipe for later, you can print it, bookmark this page or save it to Pinterest.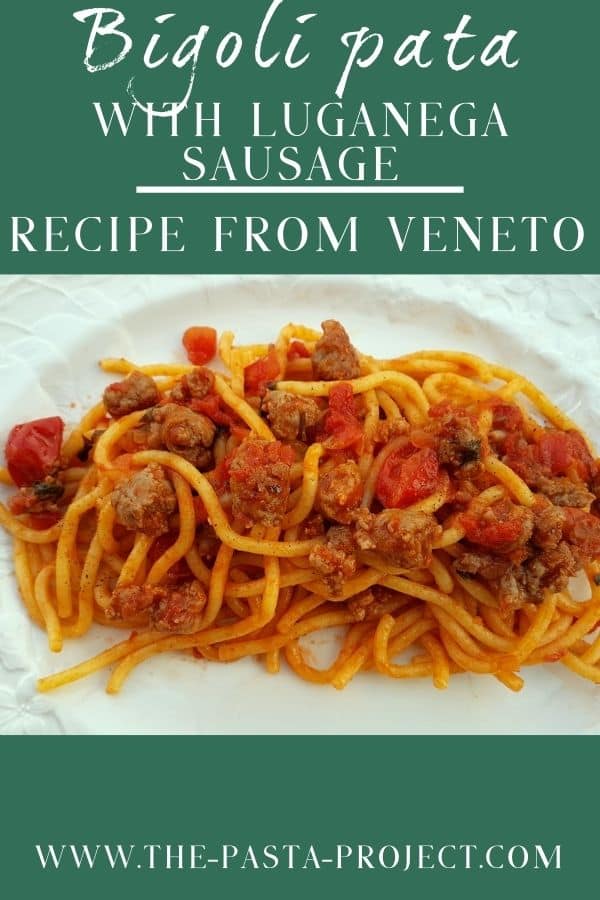 Want to know more about my life in Italy? Go to the homepage and subscribe to my newsletter. New subscribers get a free recipe e-book series too! https://www.the-pasta-project.com