This rich and hearty wild boar ragu recipe comes from Tuscany. However, wild boar ragu with pasta is popular in a number of other Italian regions too, including where I live in Veneto. In fact, we often see wild boar near our house! But, of course, we don't hunt them!

Pappardelle con ragu di cinghiale alla toscana.
To many people, wild boar ragu sounds rather exotic and luxurious! But, actually, wild boar has been hunted and eaten by humans for thousands of years. In fact, it is used in traditional recipes in many parts of the world.

Here in Italy, wild boar are hunted and farmed throughout the country. The meat is used to make salami and sausages and cooked in various ways, although mostly braised or stewed. One of the most well-known wild boar dishes is this pappardelle with wild boar ragu, which comes from Tuscany There, it is often thought of as 'the' regional dish!

Wild boar in Tuscany.
Wild boar are widespread in Tuscany. I have read that there are around 150,000 wild boar in the region. Many of these animals can be found in the Maremma area, a beautiful unspoiled part of Southern Tuscany, which is home to a large national park of the same name.

Hunting wild boar is a tradition and a passion in Tuscany and there are many Tuscan specialities made with wild boar. The region hosts about 10 annual wild boar festivals in different towns and villages, where visitors can taste some of these foods.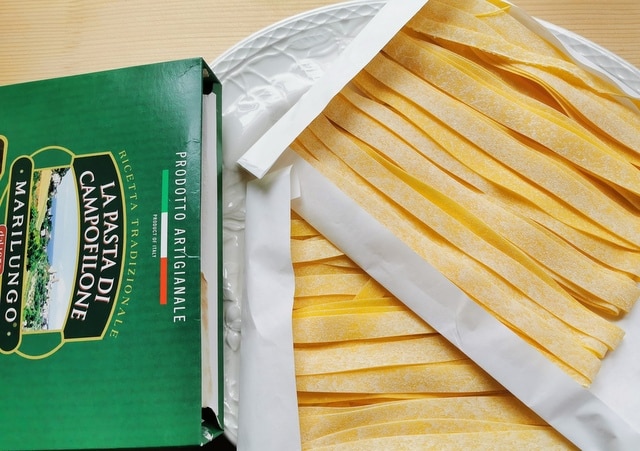 Wild boar is a very healthy meat!
Whether farmed or hunted, wild boar is a very healthy meat. It is lower in calories, fat, saturated fat and cholesterol than normal pork. It's also higher in protein than pork, beef, lamb and chicken. When farmed, the animals are kept in a free-range environment and aren't given any antibiotics or growth hormones. This is true not only in Italy, but also the US.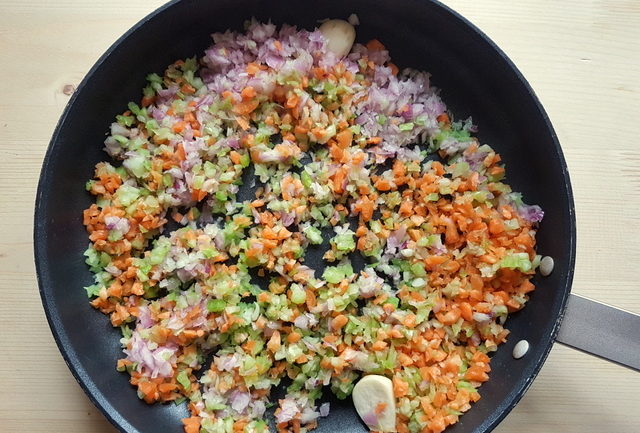 Apart from being a healthier meat option, wild boar is also very tasty. It falls somewhere between pork and venison. Although, the older the animal, the stronger the flavour. Older animals also have tougher meat. Here in Italy, the meat for wild boar ragu is traditionally marinated in red wine to not only tenderize it, but also to add flavour! This is what I did for this Tuscan wild boar ragu recipe and the meat was melt in your mouth soft!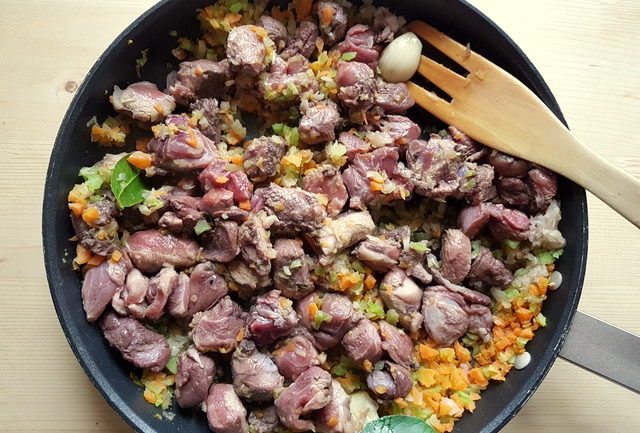 Marinating the wild boar meat makes it tender.
As I mentioned above, wild boar meat has to be marinated in red wine with herbs and vegetables for 12 hours before cooking. I used a Chianti, of course! Some people leave it for 24 hours! So, you will need to take that into account when planning to prepare this dish. However, apart from the marinating and cooking time, Tuscan wild boar ragu is pretty easy to make. Cooking times can vary depending on the meat.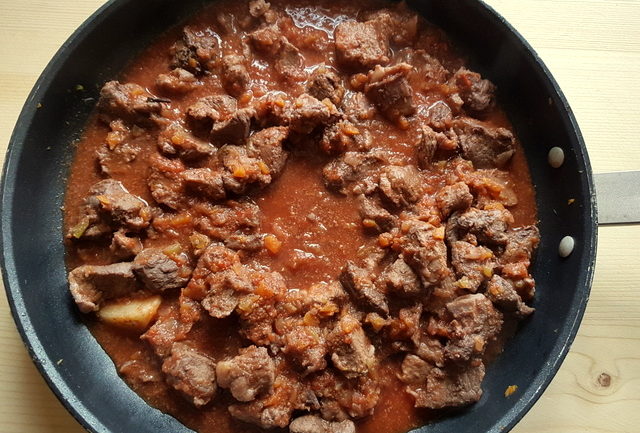 I found recipes with widely different recommended cooking times (from one hour to 4 hours!). So, I suggest it's best to be prepared to cook as long as necessary for the meat to be tender rather than just to follow the stated cooking times. As I said before, the older the animal the tougher the meat. So, meat from a young animal will require less cooking time than that of an older boar. Mine took about 2 hours.

Other ingredients for your wild boar ragu.
The other ingredients are similar to those in other ragu recipes; onion, carrot, celery, peeled tomatoes and herbs such as rosemary and bay leaves, as well as juniper berries. Some recipes call for sage instead of rosemary, or both. I didn't use sage. Some recipes suggest using the marinating veggies in the sauce. But, I peeled and chopped fresh ones as I didn't like the idea of using the wine soaked ones.

Wow your guests with wild boar ragu!
Nowadays wild boar meat is quite widely available and can even be bought online. Here, I can buy it frozen all year round already cut into chunks. Needless to say, wild boar is more expensive than pork. But, now and again, I think it's great to try new foods and this is very much a special occasion dish, even in Italy. It's sure to give your meal a wow factor and impress your guests. It would be perfect for a holiday meal at Christmas or New Year.

The pasta for wild boar ragu.
Wild boar ragu is nearly always served with pappardelle, or sometimes tagliatelle. I used dried pappardelle that I got earlier this year on a visit to Campofilone in Le Marche region. Campofilone is famous for its fine egg pasta called maccheroncini di Campofilone. However, many of the pasta makers there also make other types of egg pasta. This pappardelle came from a company called Pasta Marilungo.

If you don't have pappardelle or tagliatelle, you can use different pasta! You can also serve this Tuscan wild boar ragu with polenta or mashed potatoes. Both are yummy, although I prefer with pasta, of course!
If you do try this Tuscan wild boar ragu recipe, I'd love to hear what you think. Please, write a comment here on the blog or post a comment on the Pasta Project Facebook page.
Your feedback means a lot to me!
Buon Appetito!
Other recipes from Tuscany on The Pasta Project.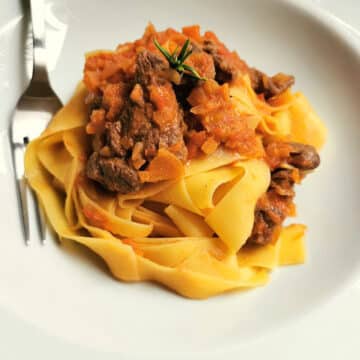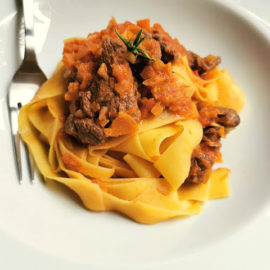 Tuscan wild boar ragu with pappardelle pasta
This rich and delicious Tuscan wild boar ragu recipe with pappardelle is probably the most well-known and popular way to eat wild boar in Italy. Wow yout guests with this authentic Italian pasta recipe from Tuscany.
Ingredients
500

g

wild boar

(1.1lbs) you can also use pork

400

g

pappardelle pasta

(14oz)
for Marinade
1

onion

peeled and halved

1

carrot

washed and cut into large pieces

1

celery stalk

washed and cut into large pieces

2-3

bay leaves

2

tsp

juniper berries

2

cloves of garlic

peeled

1

sprig

rosemary

1

lt

red wine

(4-5 cups)

ground black pepper
For the sauce
500

g

tomato passata or peeled tomatoes

(1.1lbs)

1

onion

peeled and finely chopped

1

carrot

washed and finely chopped

1

celery stalk

washed and finely chopped

2

bay leaves

2

garlic cloves

peeled

3-4

tbsp

extra virgin olive oil

1

glass

red wine

salt

for pasta and to taste

black pepper

to taste
Instructions
Wash the wild boar meat, cut it into chunks and put it in a large bowl.

Add the onion (peeled and cut in half) and the carrot and the celery in large pieces, the 2 peeled cloves of garlic, the bay leaves, the juniper berries, the rosemary and some black pepper.

Cover with red wine and mix.

Cover the container with plastic wrap or a lid and allow to stand in the refrigerator for 12-24 hours.

Once the necessary time has passed, drain the meat and eliminate the vegetables and herbs. You can cut the meat into smaller pieces if preferred.
Make the ragu
Heat the extra virgin olive oil in a large frying pan or skillet and fry the garlic, carrot, celery and onion slightly Add the bay leaves

Add the wild boar meat and brown it on all sides.

Add the red wine and let the alcohol evaporate.

Lower the flame and cook for about 10 minutes.

Add the tomato pulp/ peeled tomatoes and a pinch of salt and pepper and cook with the flame reduced to a minimum for about 1.5-2 hours (depending on the size of the pieces of wild boar and how old it is). Stir occasionally and add some beef stock or water if the sauce seems dry.

While the ragu is cooking put a pot of water onto boil for the pasta. Add salt once it starts to boil and bring to the boil again. When you are ready to serve your wild boar ragu, cook the pasta al dente according to the instructions on the packet. Once ready, save a cup of the cooking water and drain the pasta.

If you are reheating the ragu and it seems dry add some of the pasta cooking water. Remove the bay leaves and garlic cloves and add the pasta to the ragu and mix together carefully. You don't want to break the pasta ribbons.

Serve immediately. (Italians don't normally add grated cheese to this dish or chopped parsley)
Notes
Cooking times don't include marinating for 12 hours.
This dish can also be eaten with tagliatelle or other pasta of your choice.
If you can't find wild boar, this recipe can be made with pork shoulder. Cooking times may differ as will nutritional values. 
Nutrition
This recipe was originally published in 2018. It has been updated with new photos and text.