Tuscan Pomarola Tomato Sauce with Mixed Pasta (pasta mista).
Tuscan pomarola is a traditional homemade tomato sauce from Tuscany. It can be made with a combination of different types of fresh tomatoes or with just one type. In this recipe, I have paired my Tuscan pomarola tomato sauce with mixed pasta (pasta mista). This is a brilliant and economical way to use up leftover dried pasta. Although, here in Italy, you can also buy packets of pasta mista.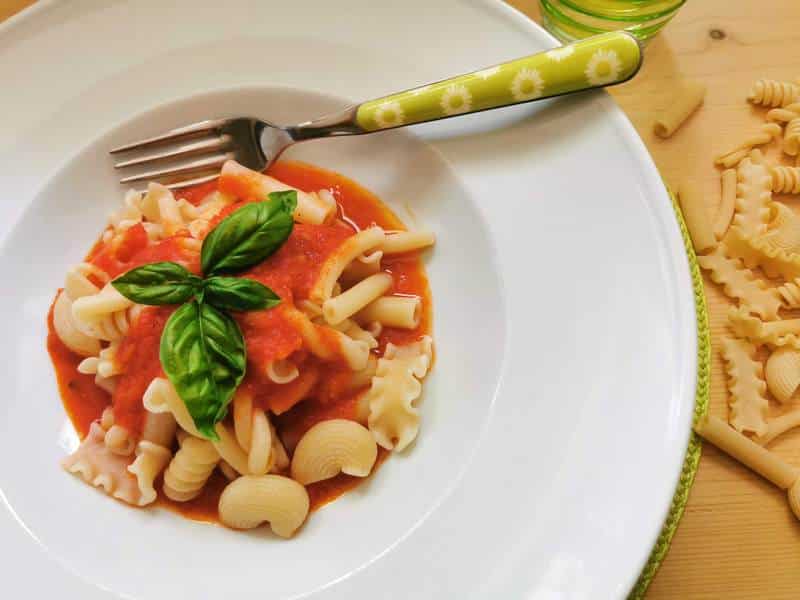 Homemade tomato sauce.
Making homemade tomato sauce during the summer is still a popular Italian food tradition, practiced by many families and home cooks. Those who have their own vegetable gardens or plots, obviously use their homegrown tomatoes. Others buy cases from farmer's markets and even supermarkets.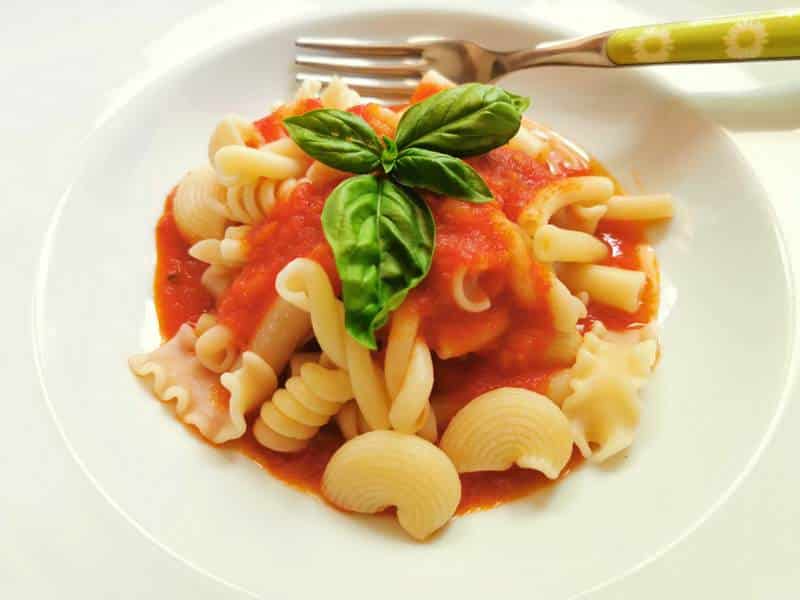 This tradition dates back to the times when tomatoes weren't available year round. It assured the Italians that they could still have their favourite summer ingredient even in the winter! And, although, nowadays it's possible to find tomatoes throughout the year, summer tomatoes are definitely the best for taste!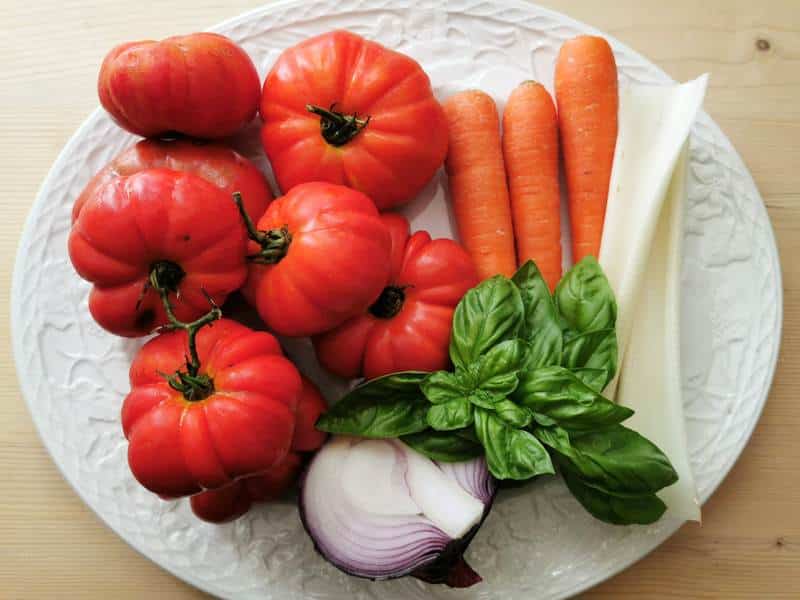 Different kinds of homemade tomato sauce.
Tomatoes are the main ingredient in many Italian pasta recipes. In fact, pasta with tomato sauce is a staple dish for many Italians, kids and adults alike! However, not all tomato sauces are the same. And, the type of pasta used can also change the whole depth and character of what is essentially the simplest of pasta dishes.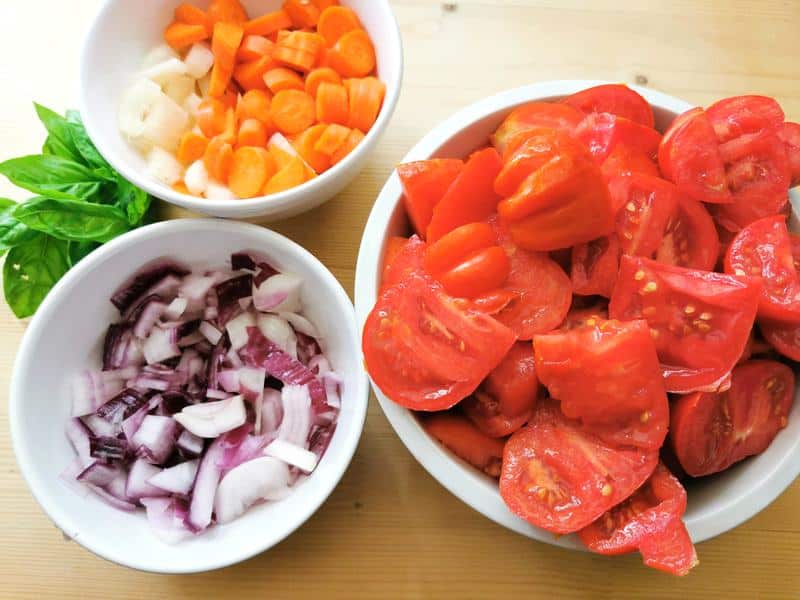 Italians conserve their summer tomatoes in different ways. They make passata, which is peeled, cooked and pureed tomatoes sometimes with added salt and herbs. They make tomato concentrate which is actually reduced passata. And, they make tomato sauce which is usually cooked and pureed tomatoes with added ingredients. These can be garlic, onions, carrots, celery, herbs and maybe sugar if the tomatoes are too acidic.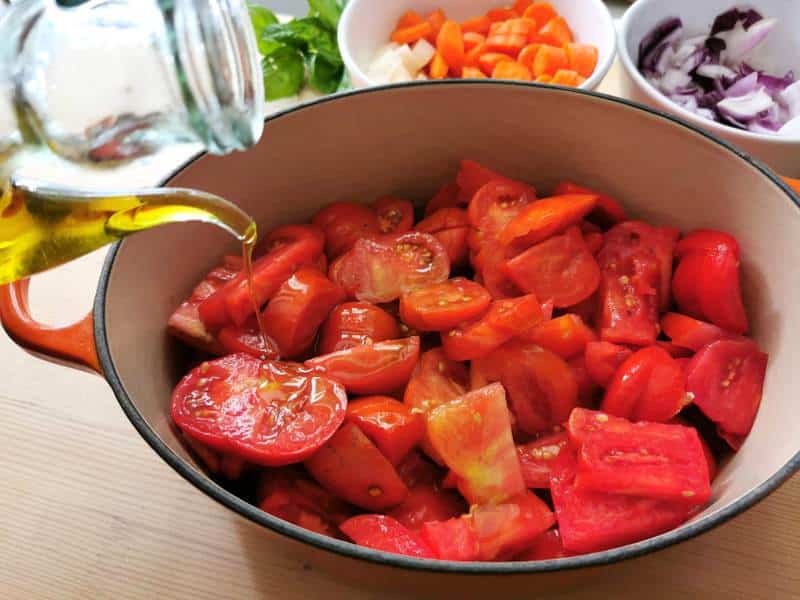 Pomarola is a homemade tomato sauce. Tuscans make it with a mixture of different types of tomatoes or one type. The most popular being San Marzano or beautiful ribbed heirloom tomatoes like Cuore di Bue or Costoluto Fiorentino. I used the latter from my vegetable garden. Apart from the tomatoes, Tuscan pomarola has onion, carrot, celery and basil in it. It is lighter than some other sauces because the ingredients aren't fried.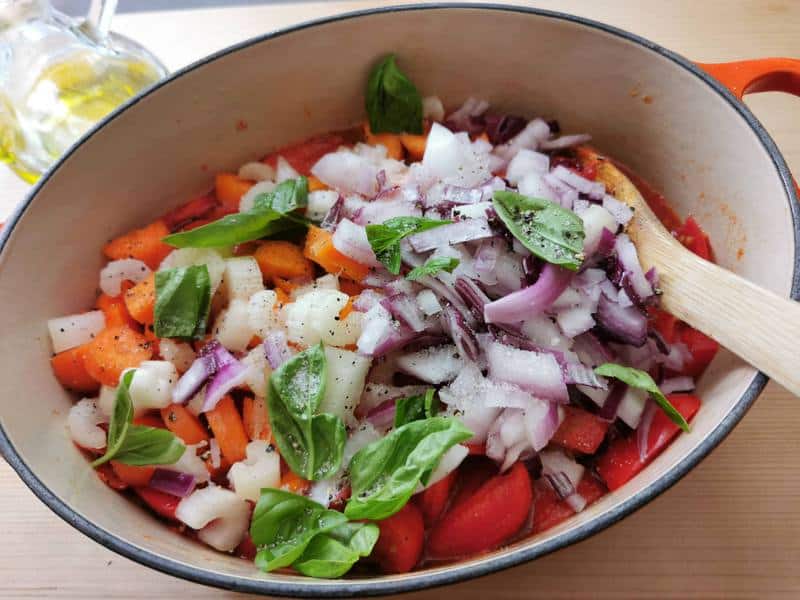 What are Costoluto Fiorentino tomatoes?
Costoluto Fiorentino is a large heirloom beefsteak tomato variety from Florence. These tomatoes are delicious eaten raw, roasted or cooked. They are very juicy and make a fantastic tomato sauce. This is probably why they are a favourite tomato for Tuscan pomarola.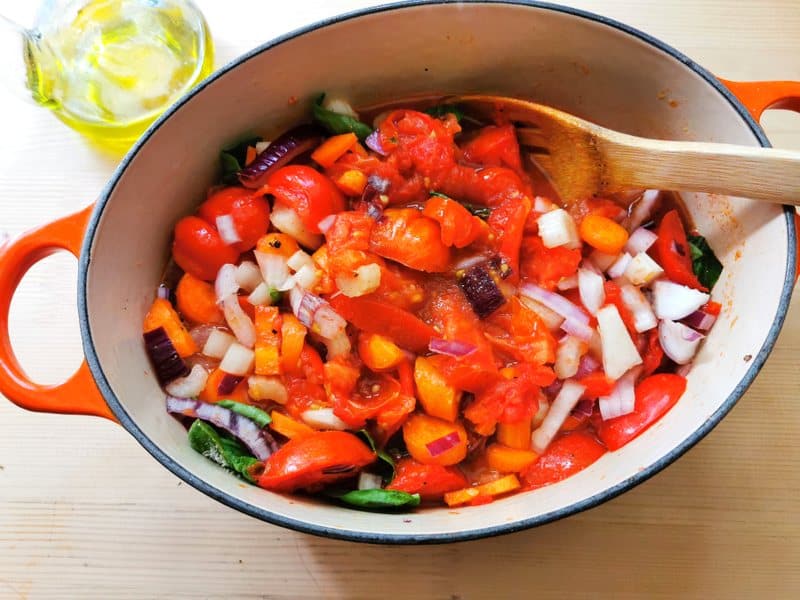 We had a great harvest of these tomatoes this year. Apparently, they also grow well in UK and most areas in the USA. But, if you don't have Italian beefsteak tomatoes, you can also use San Marzano or other sauce tomatoes.
Making Tuscan pomarola tomato sauce.
As I mentioned above, Tuscan pomarola tomato sauce is made without frying the base ingredients. Many Italian sauces start with what is known as 'soffrito'. This is usually finely chopped onions, carrots and celery which are sautéed in olive oil before the rest of the sauce ingredients are added.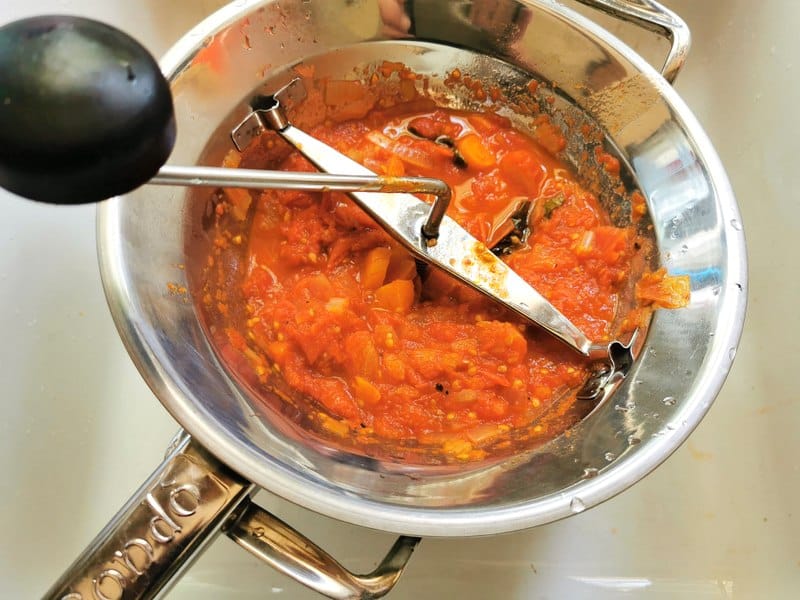 In this recipe, you chop the tomatoes and add them to the pot first. Then cook them over a medium heat until they start to release liquid. The next step is to season with salt and add the onions, celery, carrots and herbs. Most versions of Tuscan pomarola include basil. Others also have parsley and, sometimes, other herbs or even garlic. I just used fresh basil from the garden.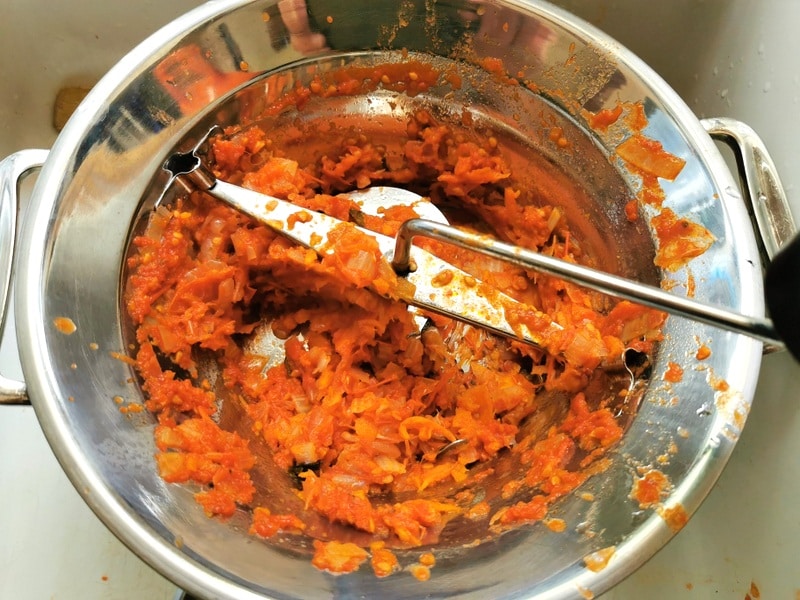 Once the tomatoes have produced enough liquid to cover all the vegetables, you need to turn down the heat and simmer for 45 minutes to one hour. Before pureeing your homemade Tuscan tomato sauce, it's best to taste and adjust seasoning accordingly. If it's a little acidic, you can add some sugar.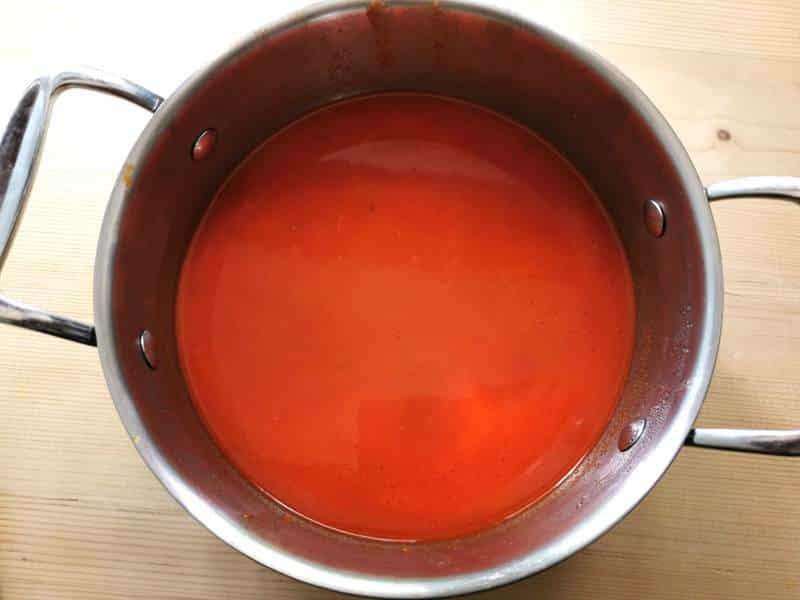 Using a passaverdura.
Traditionally, like passata, Tuscan pomarola is pureed by passing the ingredients through a passaverdura or food mill! This old-world kitchen utensil dates back to the days before we had electric food blenders and processors. However, it's still the best tool for making traditional passata or tomato sauce. This is because it separates unwanted fibres, seeds and chunky bits, while turning the vegetables into a silky, smooth sauce.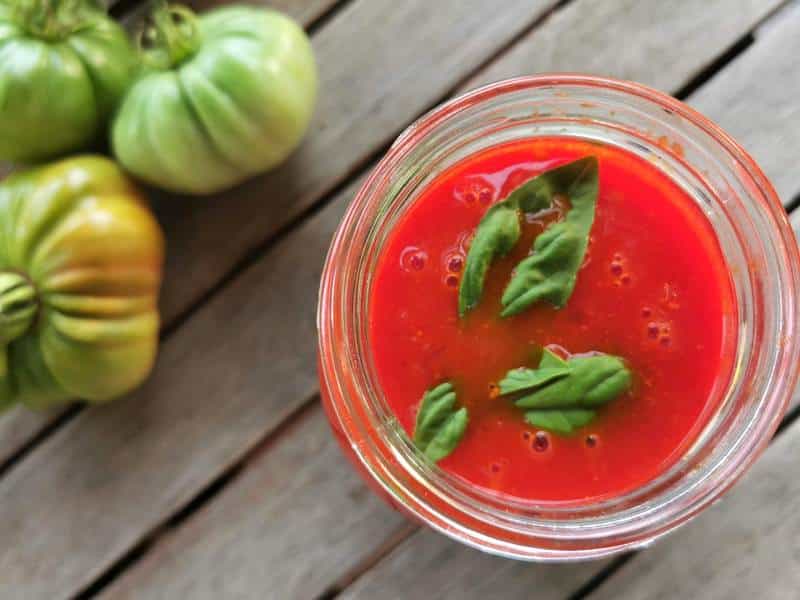 If you don't have a food mill, you can also use a fine sieve to separate the larger pieces and seeds from the rest of the sauce. However, it will be harder work! If your sauce seems too liquid, you can return it to the stove to simmer and thicken.
Conserving Tuscan pomarola sauce.
If you are going to use your Tuscan pomarola up in a few days you can just keep it sealed in the fridge. But, if you want to conserve your homemade tomato sauce you will need to pour it into sterilized glass preserving jars while it is piping hot. Put a little fresh basil and some olive oil over the top and close the lid tightly. As it starts to cool you should hear the 'pop' of the lid sealing. You can store it in a cool dry place through the winter!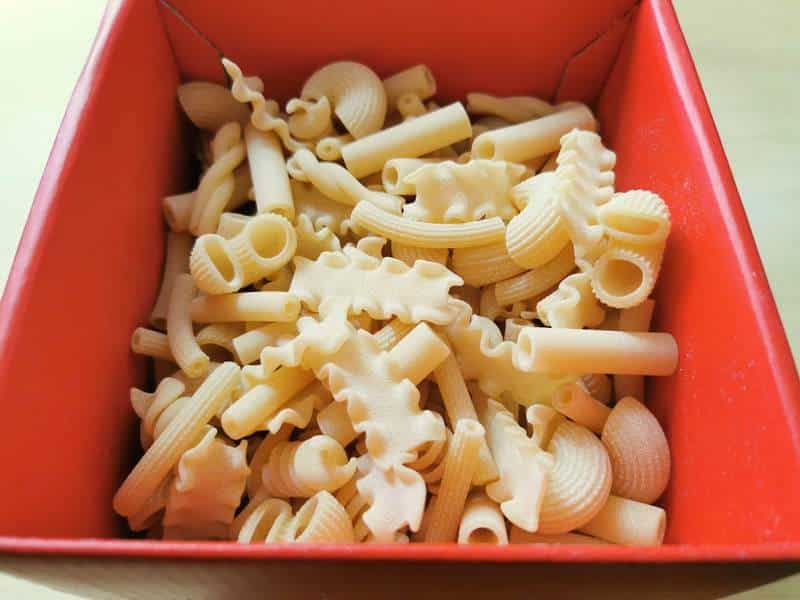 Which pasta is best for homemade Tuscan tomato sauce?
Italians eat tomato sauce with all kinds of pasta from spaghetti to short pasta tubes like penne. So, in reality, you can use whichever pasta you prefer. For this homemade Tuscan tomato sauce recipe, I used pasta mista (mixed pasta) from one of my favourite pasta companies, Pastificio dei Campi. I visited this company last year when I went to Gragnano near Naples. Gragnano is home to some of the best dried pasta producers in Italy. You can read more about Pastificio dei Campi and Gragnano in my post about my visit there.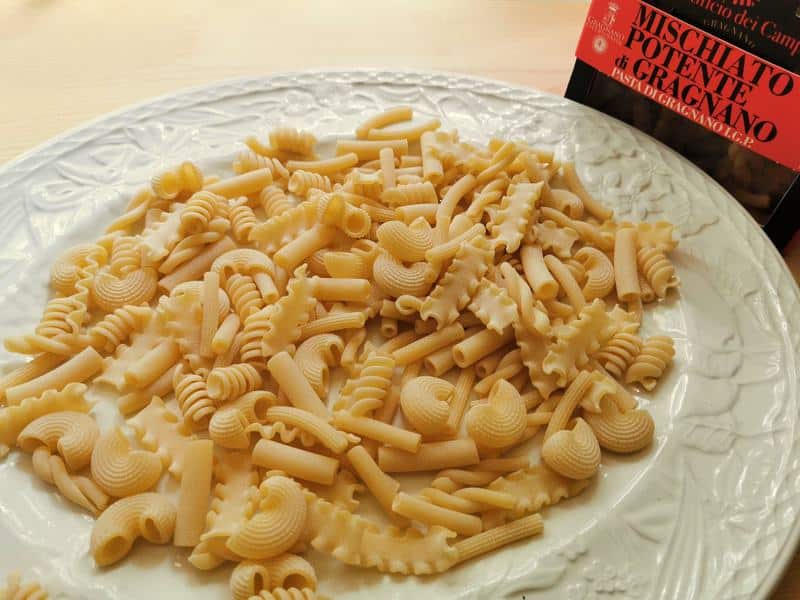 What is pasta mista?
Pasta mista or mixed pasta was originally food for the poor. Known as 'pasta ammiscata' in the Neapolitan dialect, it was a staple for the poorer residents of Naples and the surrounding areas. The first commercial pasta makers would collect all the leftover scraps and pieces of different pasta types in a large bin called a 'cuoppi'. This mix of pasta scraps was sold by weight to those who couldn't afford the more expensive types of pasta.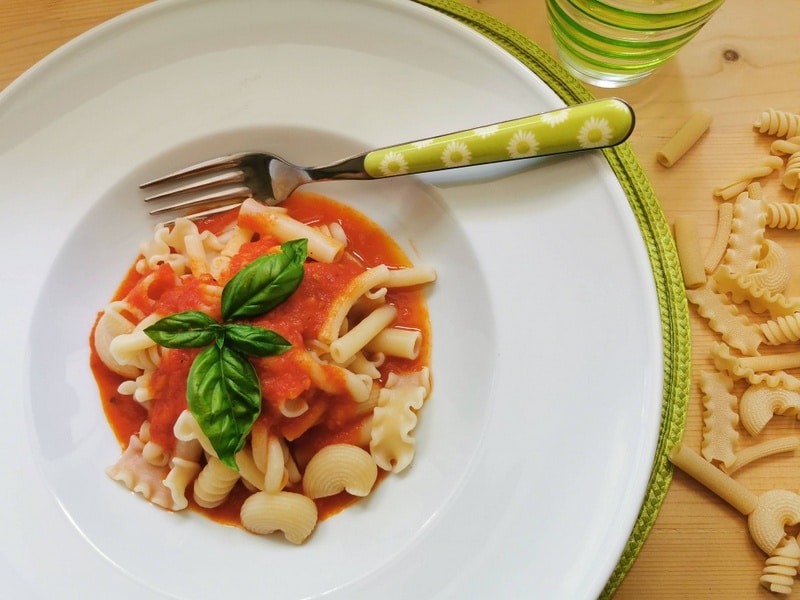 The same thing happened in shops where pasta was kept in drawers and sold loose, rather than in packets. Shopkeepers would sell the bits at the bottom of the drawer at a reduced price. Even in the homes of the less affluent members of society leftover pasta shapes were used up together.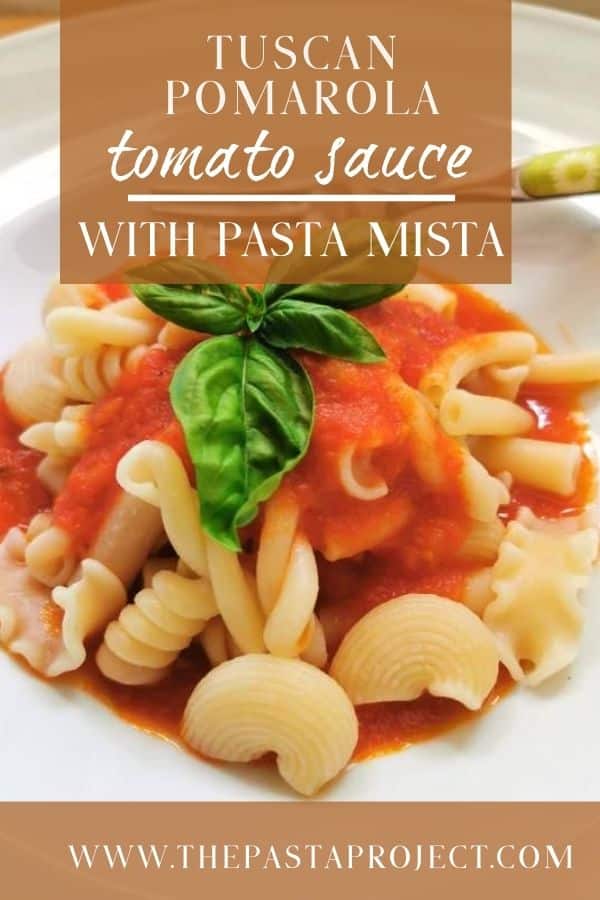 Overtime, pasta mista became a traditional ingredient in many Neapolitan vegetable or legume soup dishes such as pasta e fagioli (pasta and beans) and pasta and potatoes. These days packets of pasta mista can be found on supermarket shelves alongside other pasta types. In fact, many of the best pasta producers sell it.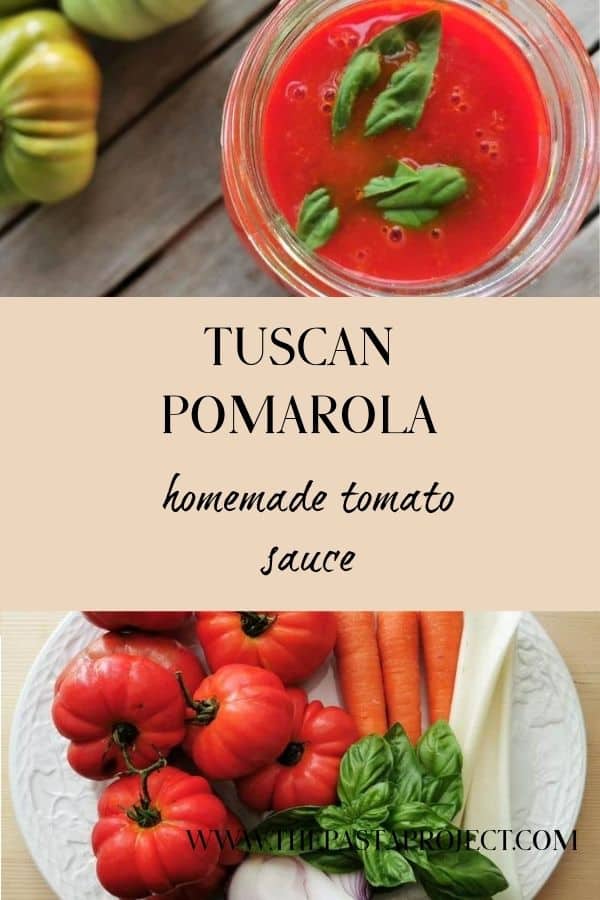 Of course, you can also make your own mixed pasta. Obviously, it's best to use shapes that are similar in size and subsequently require the same cooking times. I have done it myself on occasion! Here in Italy, pasta is sold in 500g packets and most recipes call for 100g per person. So there's always leftover uncooked pasta whether you cook for 2 or 4!
Let me know what you think.
Pasta mista goes really well with Tuscan pomarola tomato sauce. I just love the different shapes of pasta in one dish. It really changed the whole texture of the dish! However, whether you use one type of pasta or mixed pasta, I'm sure you'll love this simple traditional homemade Tuscan tomato sauce.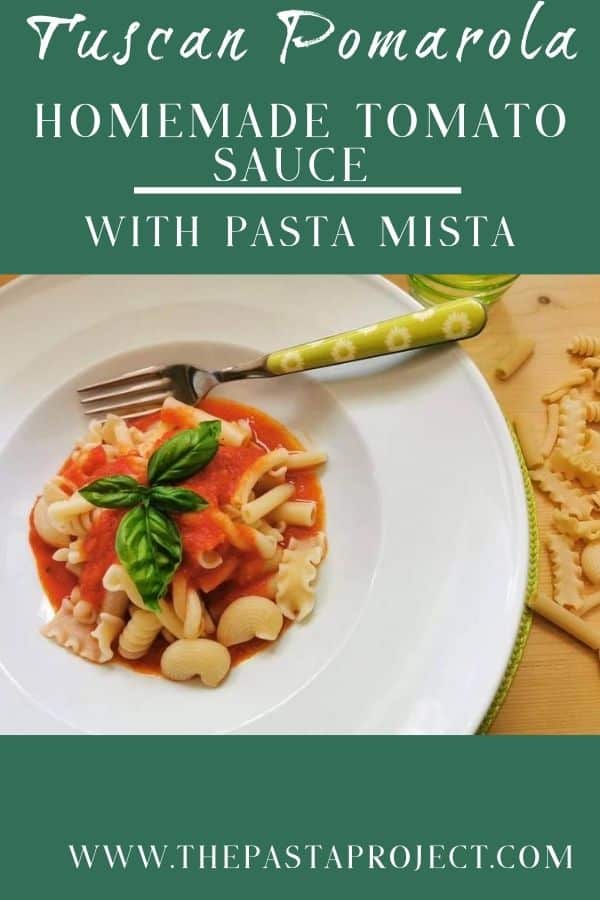 If you make this Tuscan pomarola I'd love to hear how it turns out and if you liked it. Please leave a comment here on the blog or on The Pasta Project Facebook page. Looking forward to hearing from you.
Buon appetito!
Other homemade tomato sauce recipes worth trying.