Easy ricotta pasta from Sicily (2 ways)
Pasta with ricotta is one of the simplest of Italian pasta recipes. My Sicilian hubby says it was one of his favourite dishes when he was a child. In Southern Italy, ricotta with pasta is a popular go-to recipe when mothers don't know what to cook or haven't had time for shopping. Kids love it! I'm sure you and your family will love these Sicilian ricotta pasta recipes too!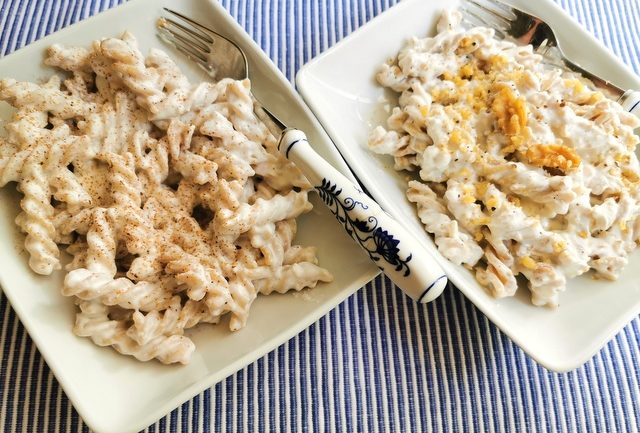 There are, of course, a number of versions of simple pasta with ricotta. But, the basics are often the same, fresh ricotta creamed with the pasta cooking water plus the addition of one or two other possible ingredients. In Sicily, they often add nutmeg (which I did) or just lots of ground black pepper. Walnuts (like in my second version) are also a popular addition, as are pistachios or almonds.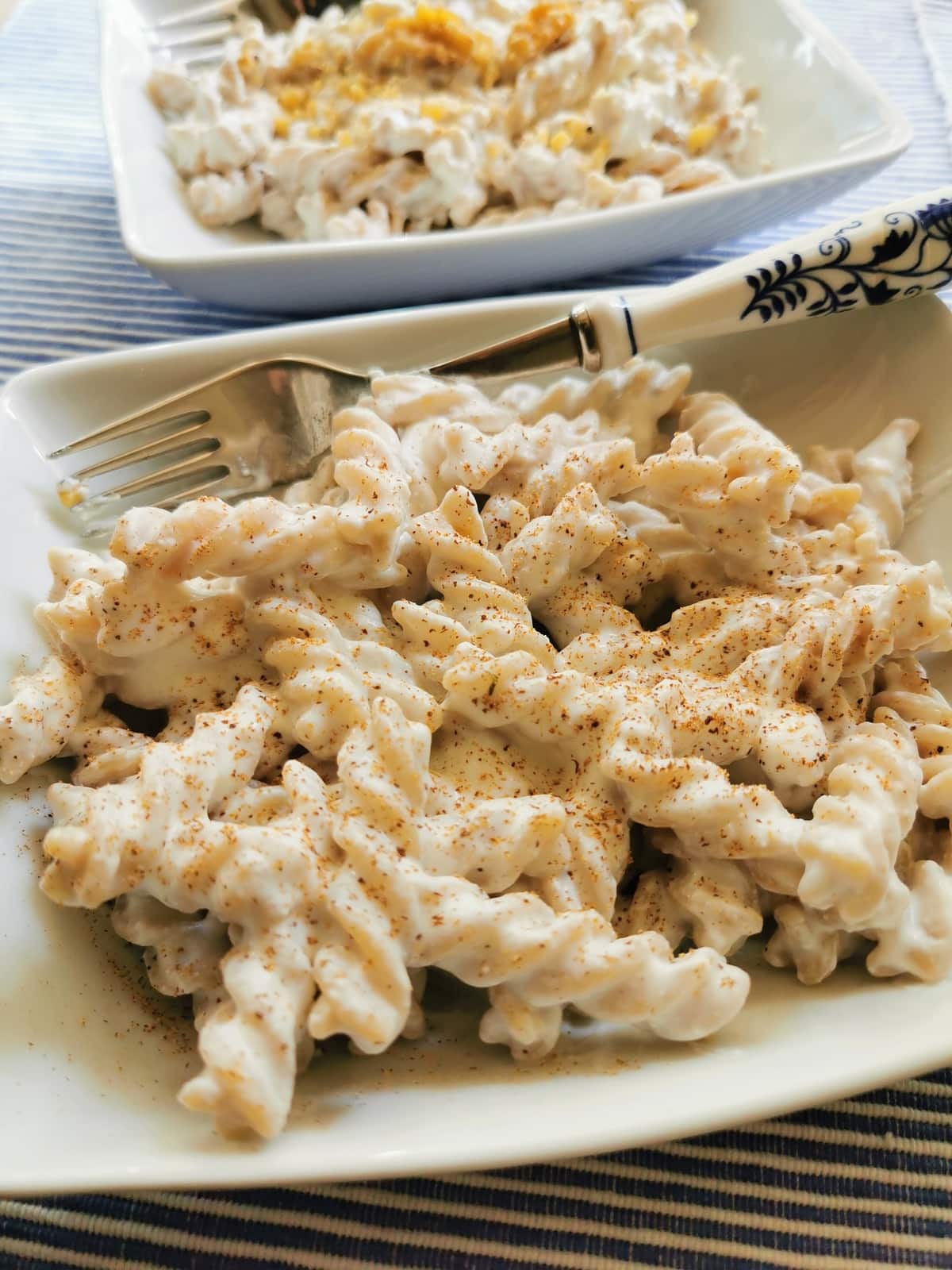 Among my favourite simple ricotta pasta recipes already here on The Pasta Project are spaghetti with lemon, basil and ricotta and a divine Sicilian pasta with ricotta and pistachio pesto. These simple pasta with ricotta recipes are mostly no-cook dishes, meaning you only have to cook the pasta, not the sauce! Of course, there are many other Italian pasta with ricotta recipes that do need some cooking.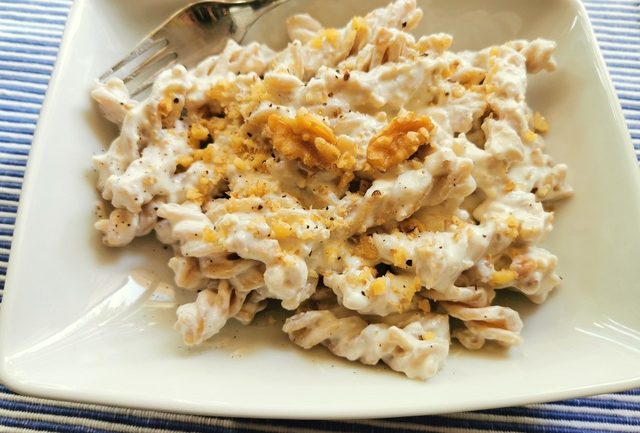 So what is ricotta?
Some people say ricotta isn't really a cheese. In Italian, they often call it a 'latticino' which means a dairy by-product. In short, ricotta is made from whey, the watery liquid that remains after making cow, sheep or goat cheese. Making ricotta is actually quite simple. The whey is left to ferment for a day or two so it becomes more acidic. Then, it's heated to almost boiling. In fact, the word 'ricotta' means recooked! After heating, the curds are filtered through a cloth and the result is ricotta!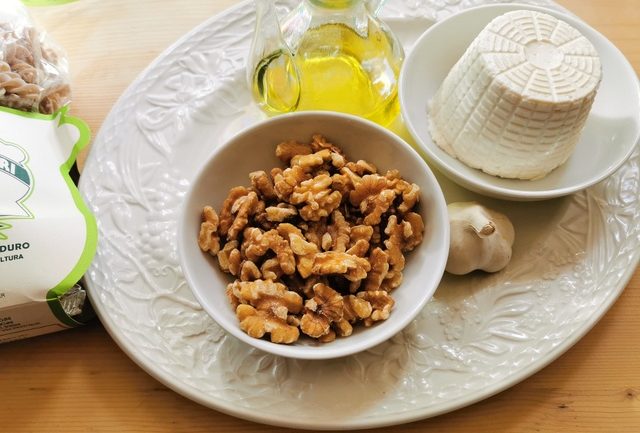 Ricotta in Italy.
Ricotta has been made in Italy for centuries. The ancient Romans made it! Of course, there are different types of ricotta. There is ricotta made from cow's milk as well as from goat, sheep and Italian water buffalo. I also like ricotta 'mista' which is a mix of cow and sheep milk ricottas. Cow's milk ricotta is more widely used here in the north of Italy. Sheep ricotta is more popular in the south.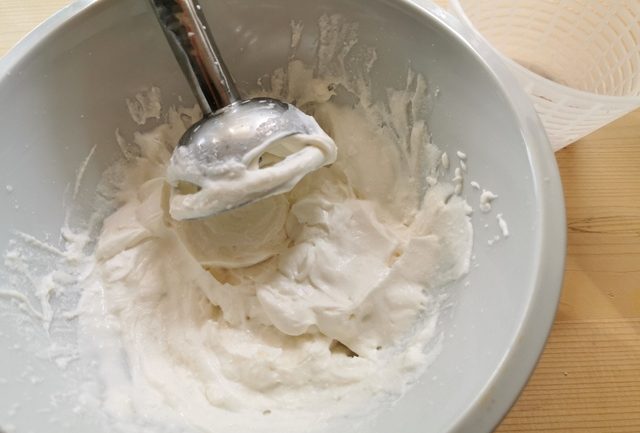 The ricotta I used in these Sicilian ricotta pasta recipes.
Traditionally, most simple pasta with ricotta recipes come from Southern Italy, where they prefer to use sheep ricotta. However, cow's milk ricotta is good too, especially when it comes straight from the farm!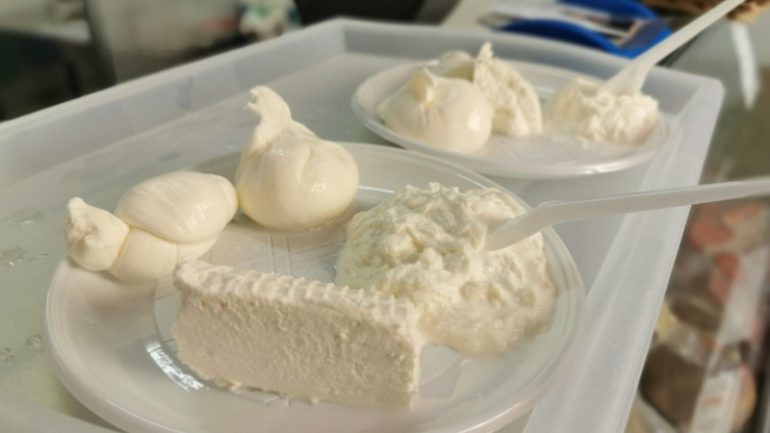 I recently visited a wonderful dairy farm near Padua (Padova) called La Bolzonella. This dairy farm is rather special because they make cheese with their own milk! In fact, La Bolzonella not only has dairy cows, but they also grow the cereals and fodder for the cows in their own fields.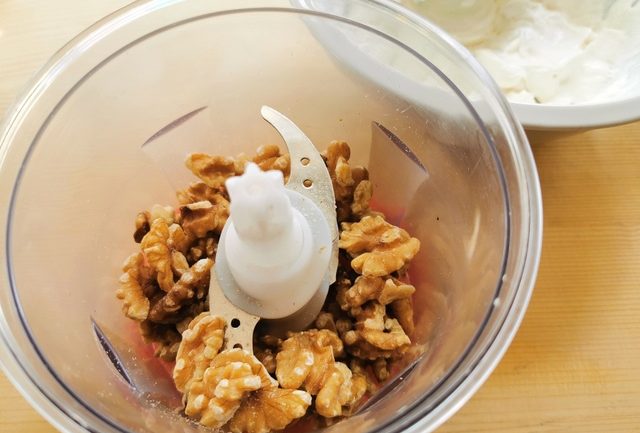 I was pretty excited about eating cheese at a dairy farm where they also grow the cows' food! And, I have to say the cheese was unbelievably good! I have actually never tried ricotta that tasted so fresh, like a glass of creamy fresh milk!! Of course, I took some home. In fact, I made these 2 wonderful Sicilian pasta with ricotta recipes with it.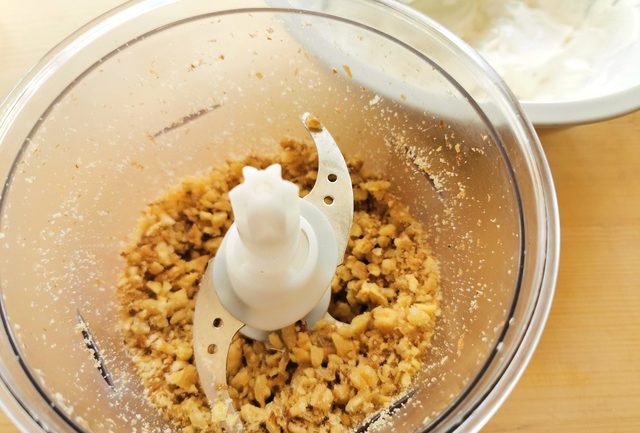 La Bolzonella produce a number of different cheeses, all from their own cow's milk. Apart from ricotta, they also make mozzarella, burrata, stracciatelle, caciocavallo, scamorza, primosale and canestrato Veneto, as well as their own label Bolzonella and Cittadella cheeses. The latter is named after the medieval town of Cittadella close to where the farm is located. If you are ever in the Padova area you might want to visit to try/buy their cheese. They also have accommodation! https://www.labolzonella1656.it/en/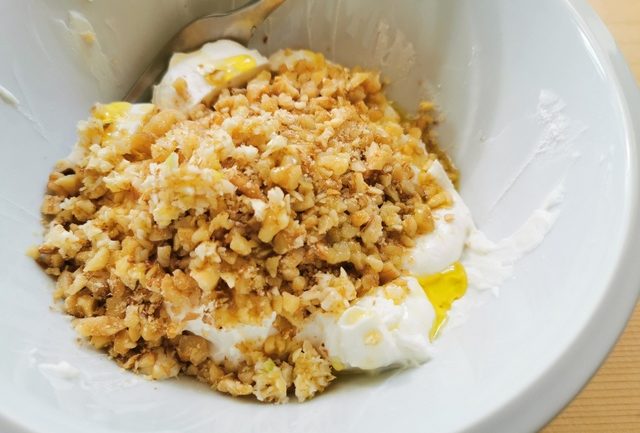 Nowadays ricotta is made in many countries and there is some very good commercial ricotta on the market. You can make either of these Sicilian ricotta pasta recipes with sheep's ricotta, cow's milk ricotta or a ricotta mista (cow and sheep mixed together) .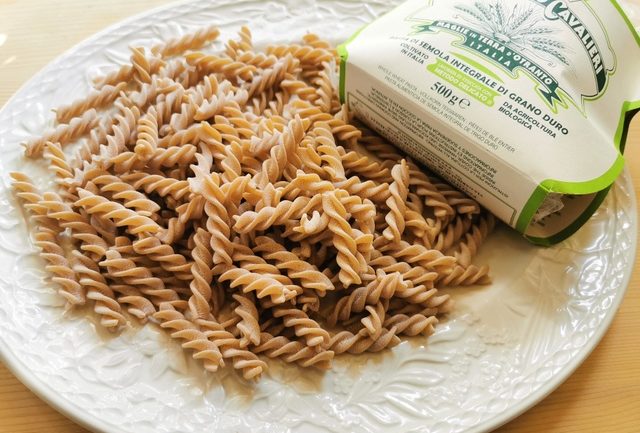 The pasta
Sicilian pasta with ricotta is made with different types of pasta. However, the most popular cuts are short pasta tubes or spaghetti. I used organic fusilli made by a company I visited whilst in Salento, Puglia back in September. Benedetto Cavalieri have been making pasta in Maglie, Salento since 1918. However, even before they started making pasta, the Cavalieri family were durum wheat farmers and millers.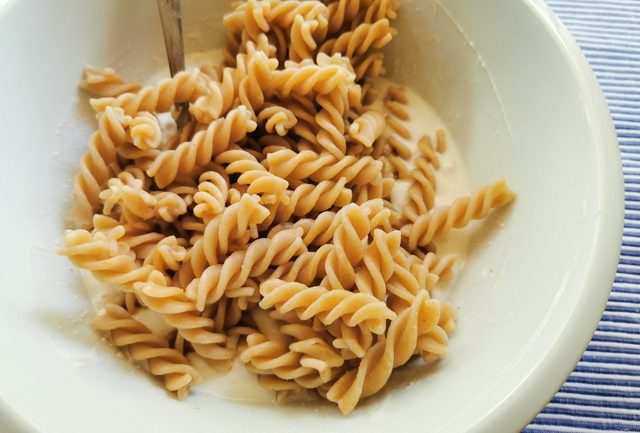 The present owner Benedetto, who I met when I visited, is the founder's grandson. Cavalieri make their pasta with durum wheat grown in Puglia and Basilicata using a production process called 'metodo delicato'. This method involves long kneading of the dough and slow pressing, drawing and drying at low temperatures.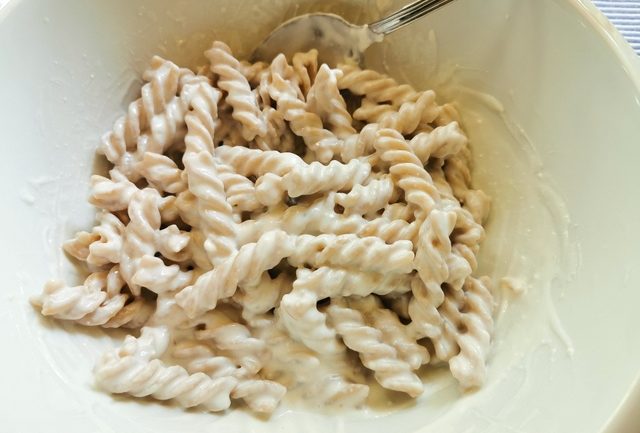 Benedetto Cavalieri have 2 lines of pasta production. Their traditional award winning artisan pasta is available in 32 shapes. It's a popular pasta among chefs and in high end restaurants in Puglia. In fact, we came across it a number of times in restaurants during our holiday. Their relatively new organic whole wheat pasta is available in 6 shapes. The fusilli I used for this pasta with ricotta was from this organic range.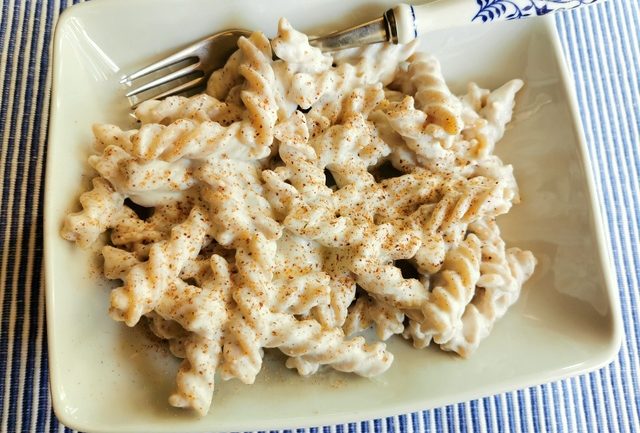 Organic whole wheat pasta is obviously a much healthier choice than many other types of commercial pasta. Cavalieri's organic whole wheat pasta has a wonderful consistency and a warm wheaty taste. Of course, you can used other pasta brands and shapes but I would recommend this pasta if you can find it.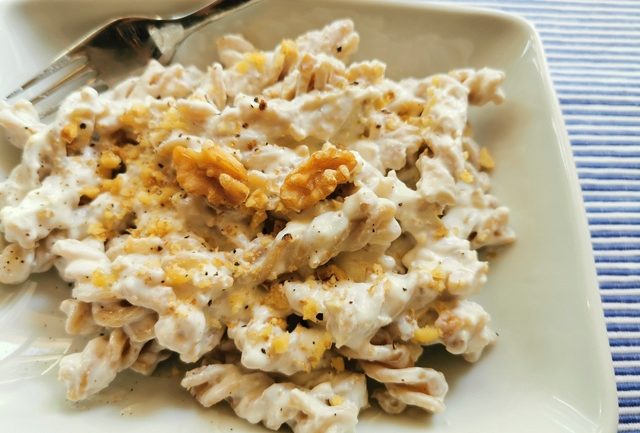 A very quick and easy recipe.
As I mentioned above, making simple pasta with ricotta requires no cooking, except for the pasta. I made 2 slightly different versions of Sicilian ricotta pasta, one with nutmeg and the other with chopped walnuts. For the first version, apart from the pasta, ricotta and nutmeg all you need is some grated parmigiano (parmesan) or grana. Vegetarians will want to use a vegetarian cheese as both Parmigiano Reggiano and grana contain calf rennet. If you make the version with walnuts, you'll also need a little garlic and olive oil.
Pin for later.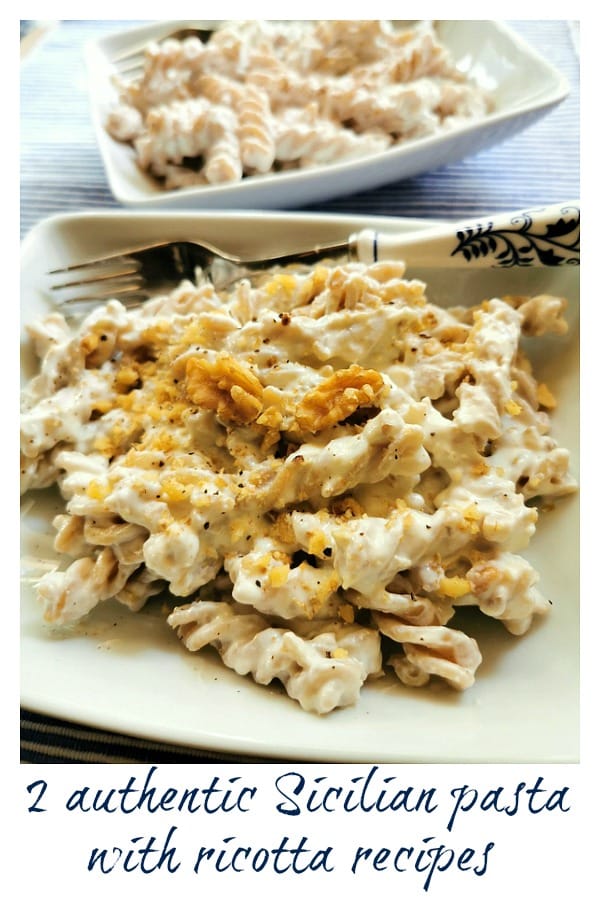 Whether you make this pasta with nutmeg or walnuts, I'm sure you'll love these simple Sicilian ricotta pasta recipes.
If you do try these ricotta pasta recipes, I'd love to hear what you think. Please write a comment here on the blog or post a comment on the Pasta Project Facebook page.
Your feedback means a lot to me!
Buon Appetito!
Save this recipe for later?
If you want to save this recipe for later, you can print it, bookmark this page or save it to Pinterest.
Pin for later.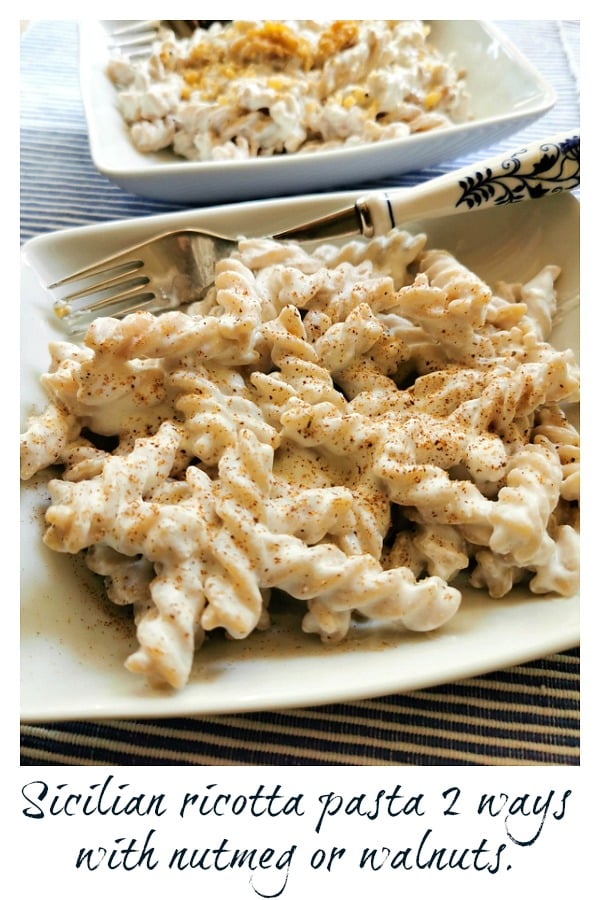 Have a look at my other ricotta pasta recipes for more delicious recipes like this one!
Before you go check out these other ricotta pasta recipes.