Mezze Maniche Pasta with Zucchini and Prawns.
This mezze maniche pasta with zucchini and prawns is a really tasty and elegant Italian seafood pasta recipe made with very thinly sliced zucchini and delicious spicy garlicky prawns. This is a simple, easy to make recipe that's perfect for weeknights, as it takes no time at all to prepare!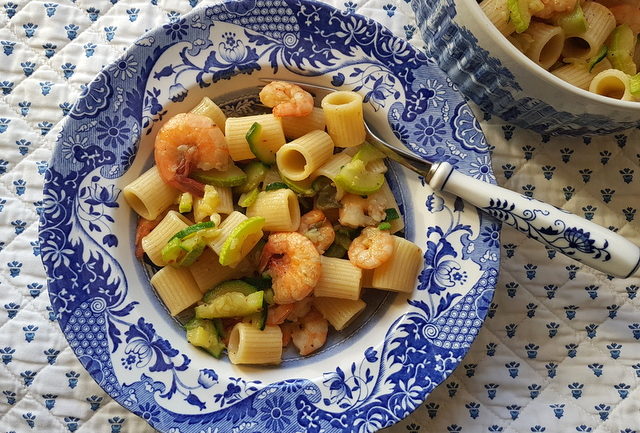 Mezze maniche con gamberi e zucchine.
Zucchini is a great summer vegetable that can be found in so many Italian recipes. Italians use this veg (which is actually botanically a fruit) in soup, sides, frittata, fritters and pasta, like this pasta with zucchini and prawns recipe. In fact, zucchini are used in lots of pasta recipes especially vegetarian ones or those with salmon and prawns. One of the most popular recipes here on The Pasta Project is farfalle with smoked salmon and zucchini!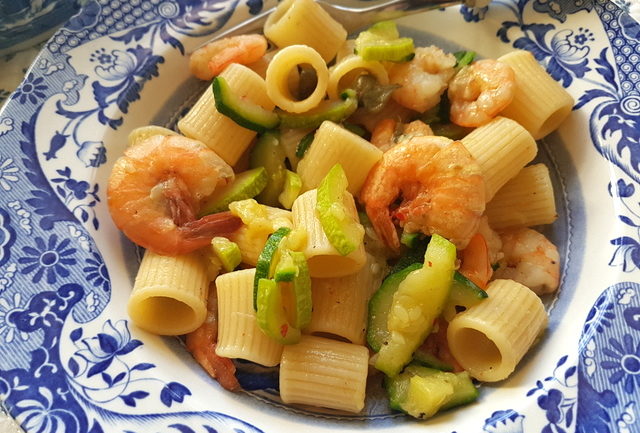 A little zucchini history!
Although the French and British call them courgettes and some refer to them as baby marrows, zucchini are most well-known as..well zucchini!! As you may imagine the word 'zucchini' is Italian! The word comes from the Italian 'zucca' which means squash or pumpkin and the suffix 'ini or ina (= one zucchina) is used for the diminutive form to mean 'little'. So, little squash.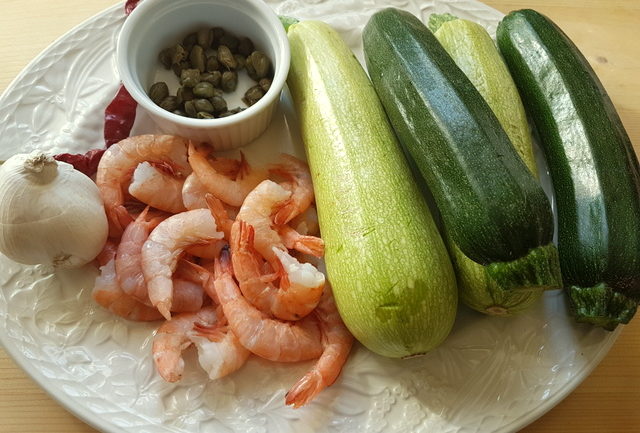 Although squash and pumpkins originally came to Europe from the Americas in 16th century, zucchini were first developed in Italy in 19th century. They didn't reach the US until the 1920s. Apparently, it was Italian immigrants who took zucchini seeds with them to the US and cultivated the vegetable there!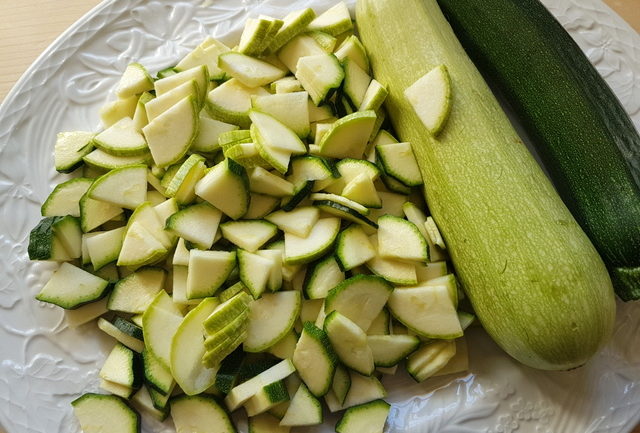 I used two types of zucchini in this recipe, the common dark green ones and what Italians call zucchine 'bianche' (white zucchini). Here in Italy, there are a number of different types of zucchini including round ones. Those are great for stuffing and baking! You can also just use the darker green ones.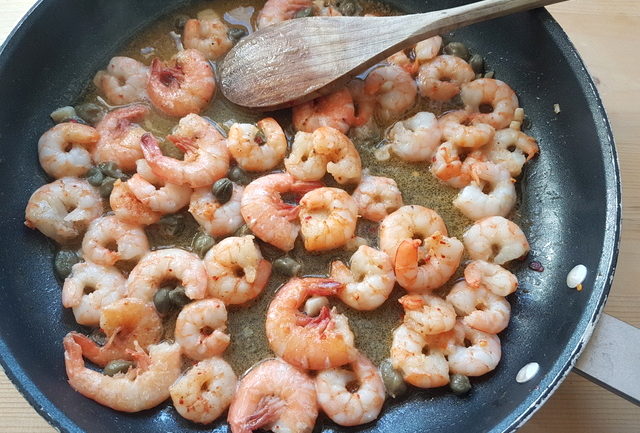 The pasta
I made this recipe with mezze maniche pasta tubes. But, of course, you can use other pasta tubes like penne or even spaghetti or linguine. Mezze maniche are a type of pasta tube said to originate in Northern/Central Italy. This pasta is made by most well-known pasta makers and look like small wide rigatoni.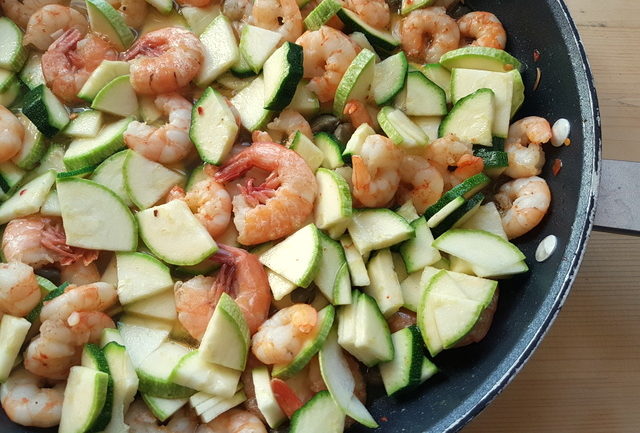 Although there aren't many old traditional recipes for this usually dried pasta, Italians use it in lots of different pasta recipes. You can find recipes here in Italy for mezze maniche pasta with meat, vegetables or seafood, or vegetables together with seafood like this pasta with zucchini and prawns recipe.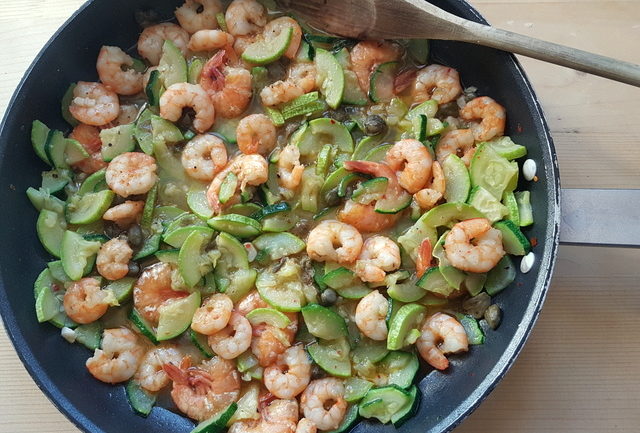 The prawns or shrimps.
You can use prawns or shrimps to make this pasta with zucchini and prawns. I usually prefer fresh prawns, but my fishmonger didn't have any. So, this time round I bought frozen uncooked prawn tails (without heads). Whether using fresh or frozen, uncooked is best as the prawns flavour the sauce better. If you have whole fresh prawns, don't remove the heads or peel from all of them. Leaving some whole will add more flavour and make the finished dish look more sophisticated!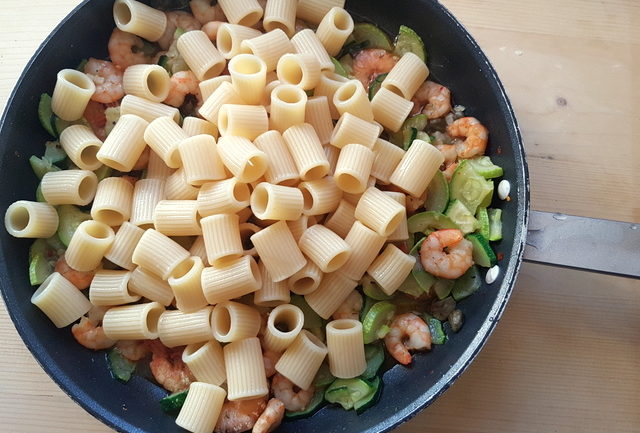 Making this pasta with zucchini and prawns.
Pasta with zucchini and prawns or shrimps is a popular summer pasta dish. Of course, there are different versions of this recipe. Some include ingredients like saffron or cream or tomatoes or other veggies. This version is a very simple one. But, simple doesn't mean bland. It's really tasty and pretty easy recipe to make.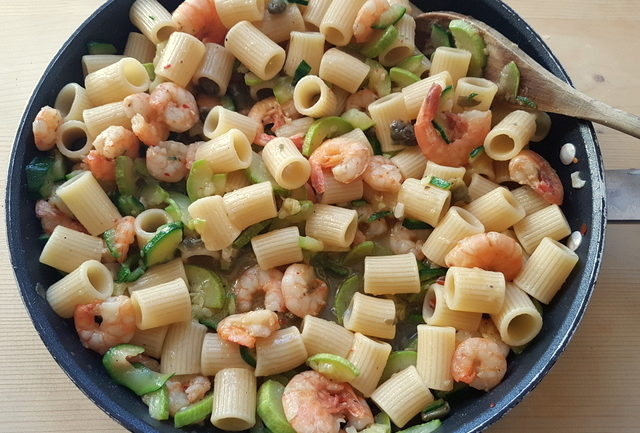 This pasta dish is light and summery. And like many light Italian pasta recipes, it doesn't have a lot of 'sauce'. However, the ingredients meld together to coat the pasta with lots of flavour. I think you could also eat it cold as a pasta salad! I added some peperoncino to give the dish a bit of a kick, but if you don't like your food spicy you can leave it out.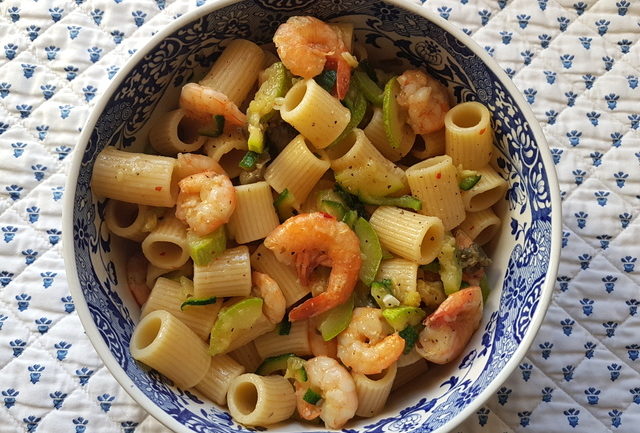 If you do try this mezze maniche with zucchini and prawns recipe, I'd love to hear what you think. Please write a comment here on the blog or post a comment on the Pasta Project Facebook page.
Your feedback means a lot to me!
Buon Appetito!
Other pasta with zucchini recipes on The Pasta Project
Save this recipe for later?
If you want to save this recipe for later, you can print it, bookmark this page or save it to Pinterest.
Pin for later.