Save this recipe for later?
If you want to save this recipe for later, you can print it, bookmark this page or save it to Pinterest.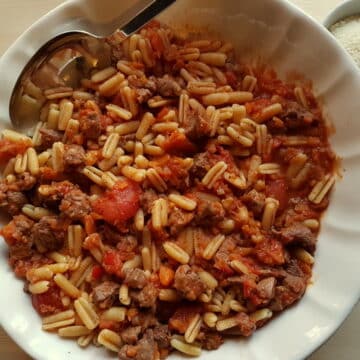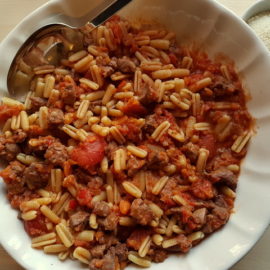 Malloreddus with lamb ragu (Sardinian gnocchi with lamb)
This delicious pasta and lamb dish from Sardinia is bound to be a winner with family and friends. It's rich and flavourful and not that difficult to make.
Ingredients
400

g

Sardinian gnocchi (malloreddus)

You can also use cavatelli or tagliatelle

400

g

boneless shoulder or leg of lamb

(I cut the meat off large chops)

400

g

Fresh tomatoes (San Marzano are good) or tomato passata

I also use half fresh tomatoes and half passata rustica

2

garlic cloves

peeled

2

bay leaves

1-2

carrots

finely chopped

1-2

celery stalks

finely chopped

1

onion

peeled and finely chopped

50

g

pecorino Romano

grated

1/2

glass

red or white wine

3-4

tbsp

extra virgin olive oil

salt

for pasta and to taste

black pepper

to taste

1/2

fresh peperoncino (red chili pepper)

optional

2

ladles

stock (you can use a stock cube dissolved in a cup of boiling water)
To make broth
1

carrot

1

celery stalk

1

onion

1

bay leaf

lamb bones
Instructions
Cut the meat into small pieces, removing most of the fat if necessary and season with salt and pepper.

Chop the vegetables finely (onion, carrot and celery) and peel the garlic.

If using fresh tomatoes, immerse them in boiling water for 2 minutes then rinse and peel them. Cut the peeled tomatoes in half and remove the seeds

Heat the olive oil in a frying pan or skillet. Add the bay leaves and garlic.

Once the garlic starts to soften, add the peperoncino if you are using it and the meat. Brown the meat over a high flame for 5 minutes.

Remove the meat from the pan and add the chopped onions, celery and carrot with more oil if necessary. Once they start to soften return the meat to the pan and mix everything together well.

Add the wine and let the alcohol evaporate then season with salt and pepper.

Add the peeled tomatoes cut in half with the seeds removed (or the passata) and the broth, cook for about 1 hour on a very low flame or until the lamb is very tender. Stir occasionally and add more broth, passata or water if the sauce seems dry.

In the meantime, put a pot of water on to boil for the pasta. Add salt once it starts to boil and bring to the boil again.

Cook the malloreddus al dente according to the instructions on the packet. Drain the pasta and add it to the pan with the sauce. Sprinkle over some of the grated pecorino and mix everything together well. Serve immediately with extra grated pecorino if required.
For stock if you have lamb bones.
If you want to make your own stock peel the onion and cut it in half. Wash and cut the celery and carrot into 2-3 pieces. Put the cleaned lamb bones, vegetables and bay lef in a pot. Add enough water to cover the ingredients and simmer for at least 1 hour half covered. You can skim off the fat that rises to the top before using this stock in the ragu.
Notes
Traditionally this recipe is made with malloreddus or fregula. However, many different pastas would go well. For example tagliatelle or cavatelli.
If you like lamb with pasta, take a look at these other scrumptious recipes.
Pin for Later