Sausage and Mushroom Baked Stuffed Paccheri.
Here in Italy, Sunday isn't Sunday without a baked pasta dish on the table. The problem is, there are so many delicious ways to make an Italian pasta bake, it's difficult to choose. But, one of my favourites is definitely baked stuffed paccheri. It takes a little more work than the classic mixing the cooked pasta with sauce, adding cheese on top and baking. However, it's so worth it.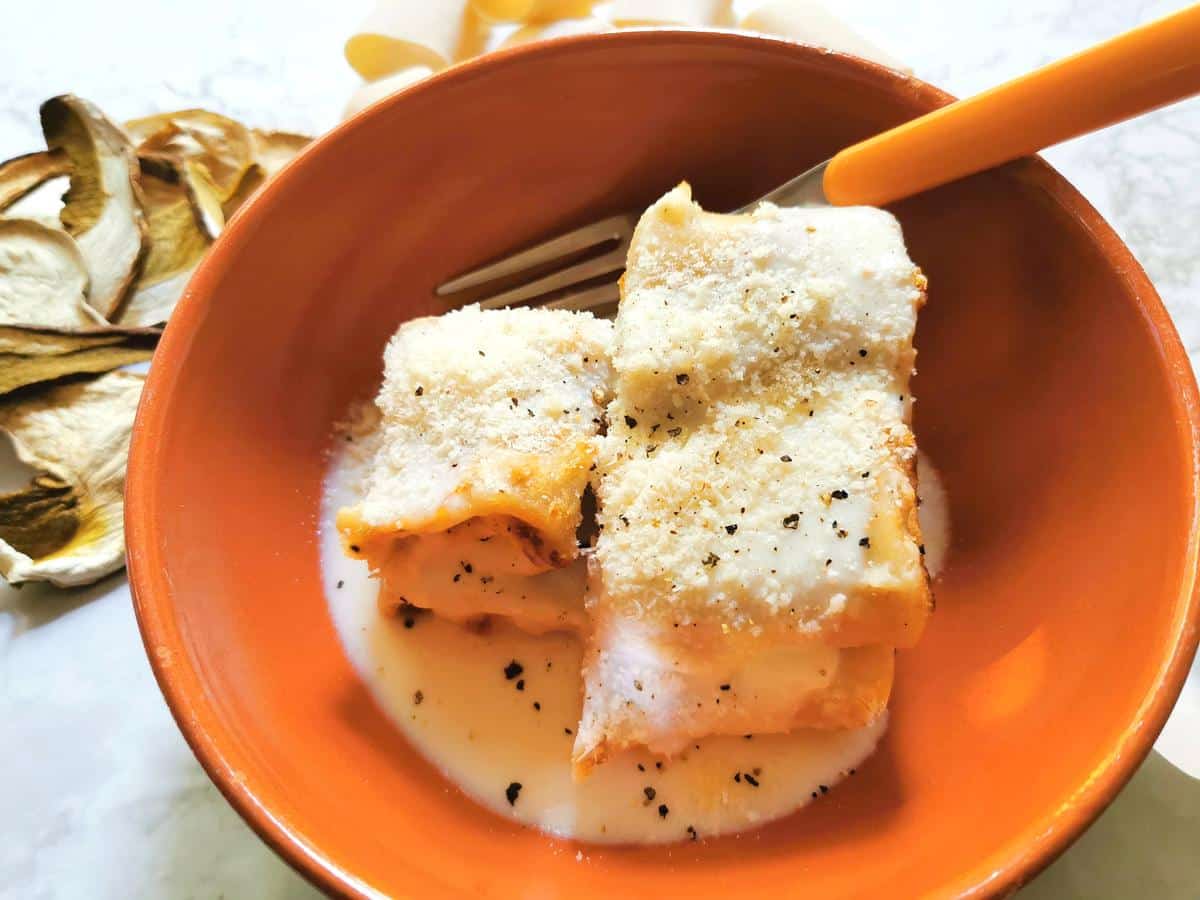 Paccheri ripieni con salsiccia e funghi
This baked stuffed paccheri with sausage and mushrooms is made with large pasta tubes called paccheri or schiaffoni. The pasta is stuffed with a delicious creamy porcini, sausage and ricotta filling and then baked in a cheesy béchamel. Sounds amazing, doesn't it? In fact, I think this dish is exceptional enough to serve at special occasions or when you just want to treat yourself and your family to something superlative!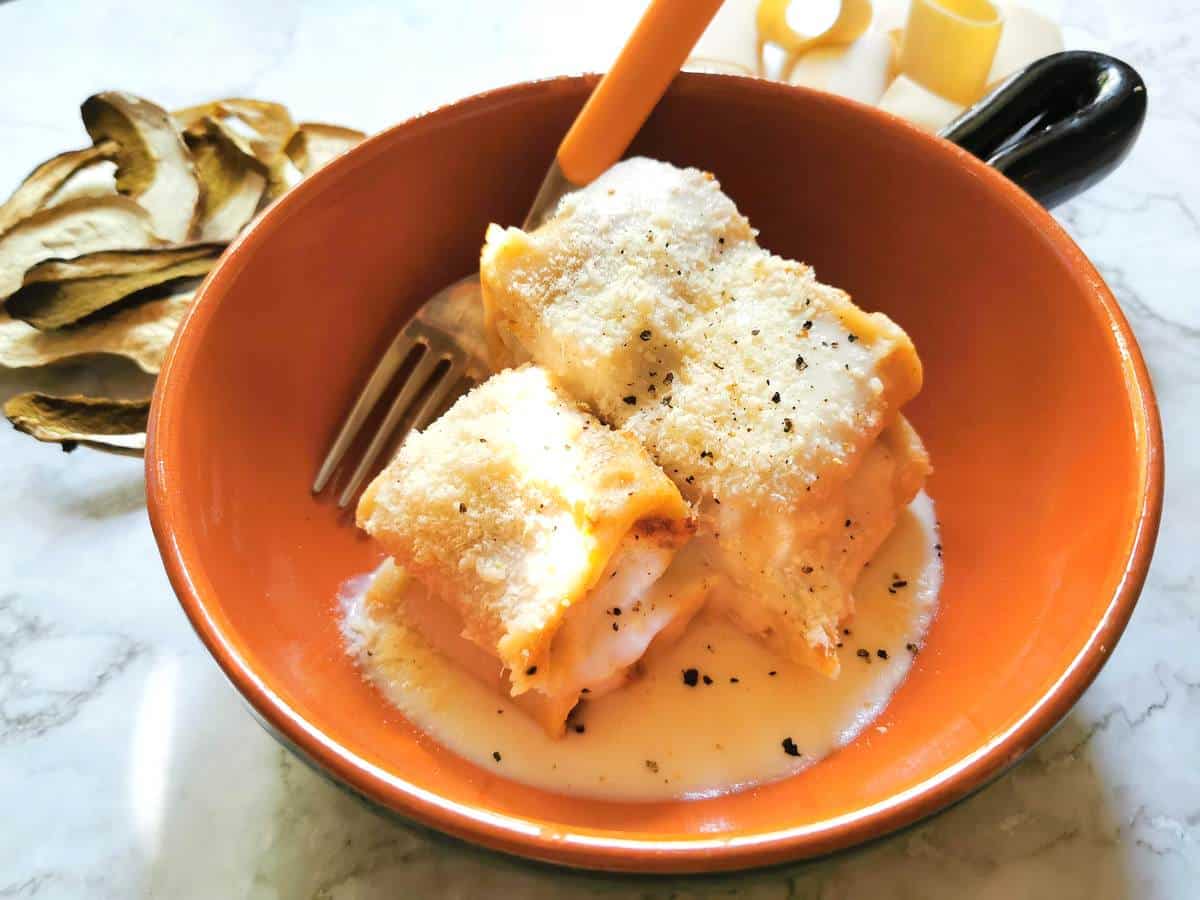 What is paccheri pasta?
Paccheri, also called schiaffoni, is a traditional pasta from Naples. These large pasta tubes are popular throughout Italy, but particularly the South. In Italian, the word 'schiaffo' means slap and many believe that this pasta is so called because the noise made when pouring sauce onto the pasta resembles a slap! In Neapolitan, dialect 'una pacca' also means slap, hence the name paccheri!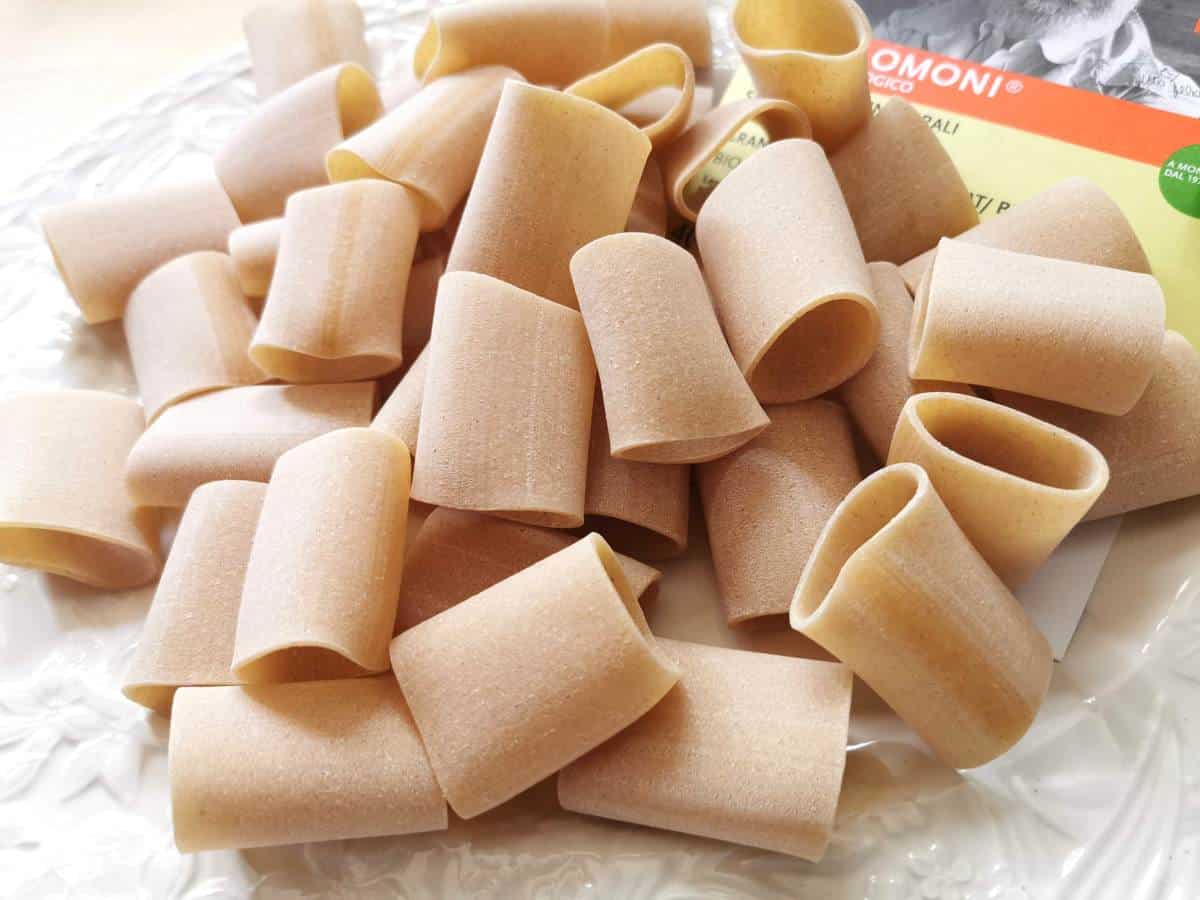 In general, paccheri pasta is quite wide pasta tubes. You can find it in both a smooth (lisce) and grooved (rigate) version. The latter is often called paccheri millerighe, meaning a thousand lines! There is also a smaller size called mezzi paccheri which are about half the size of the original one. You can read more about these pasta tubes in my paccheri post.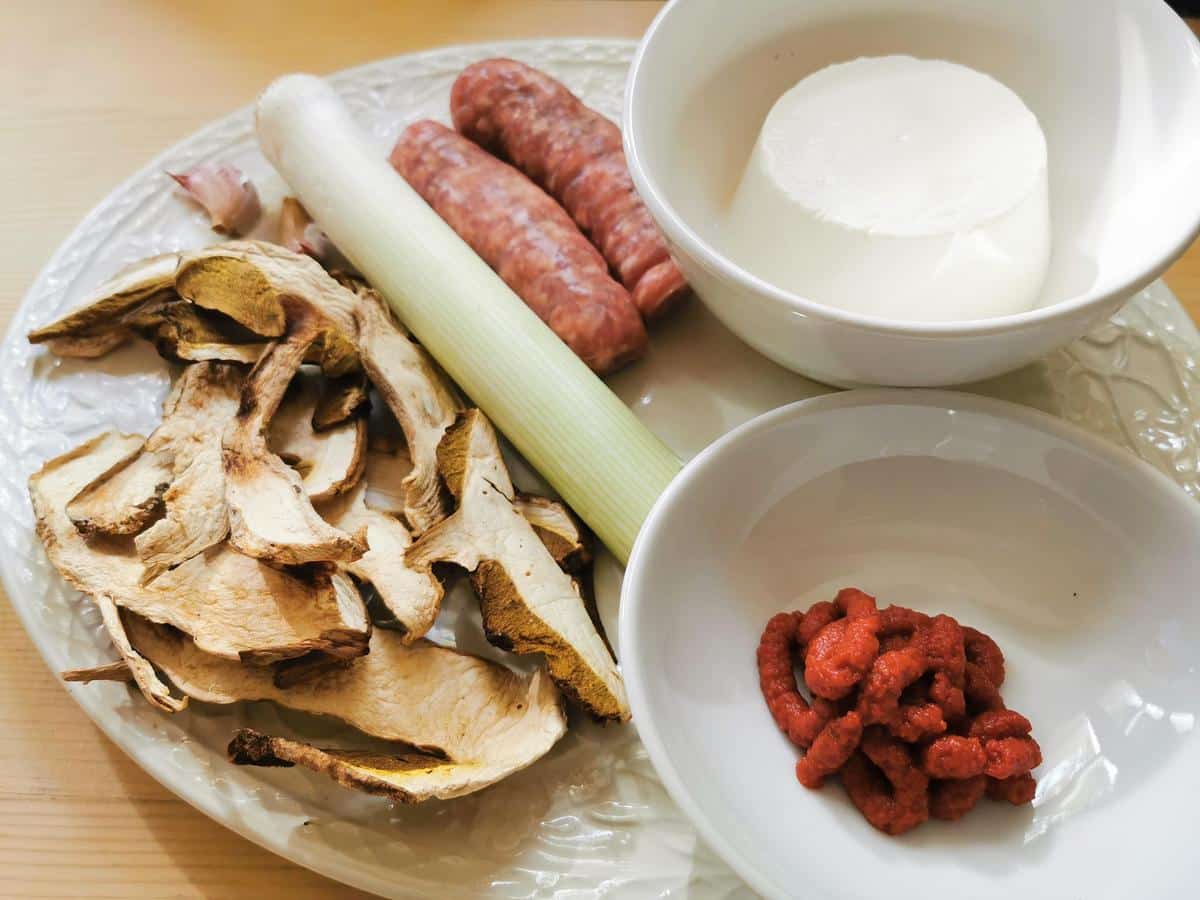 Paccheri is a very versatile pasta because you can serve it with just a sauce or you can stuff it and serve with sauce. You can also bake it, stuffed or not. Italians like to bake stuffed paccheri placed vertically (standing up) in a round baking pan. The end result looks like a pasta cake!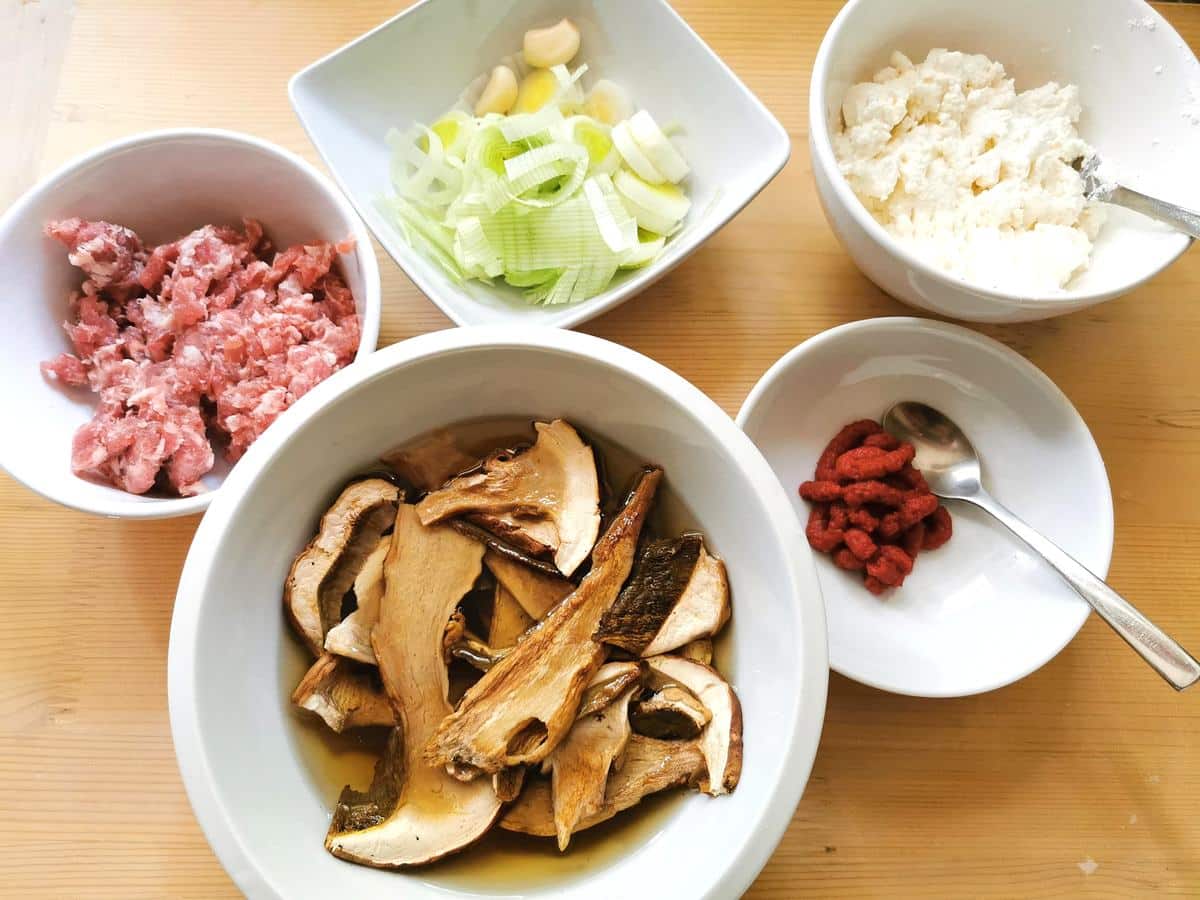 I also made this mushroom and sausage baked stuffed paccheri by standing the pasta up in a round oven dish. However, because of the cheesy béchamel the pasta doesn't hold its vertical position when served. Although that doesn't matter as it tastes amazing anyway!
The paccheri I used.
To make this divine baked stuffed paccheri, I used a semi-whole wheat organic paccheri that was given to me by a pasta maker in the Marche region when I visited them in October. Girolomoni is a unique company in the world of Italian pasta.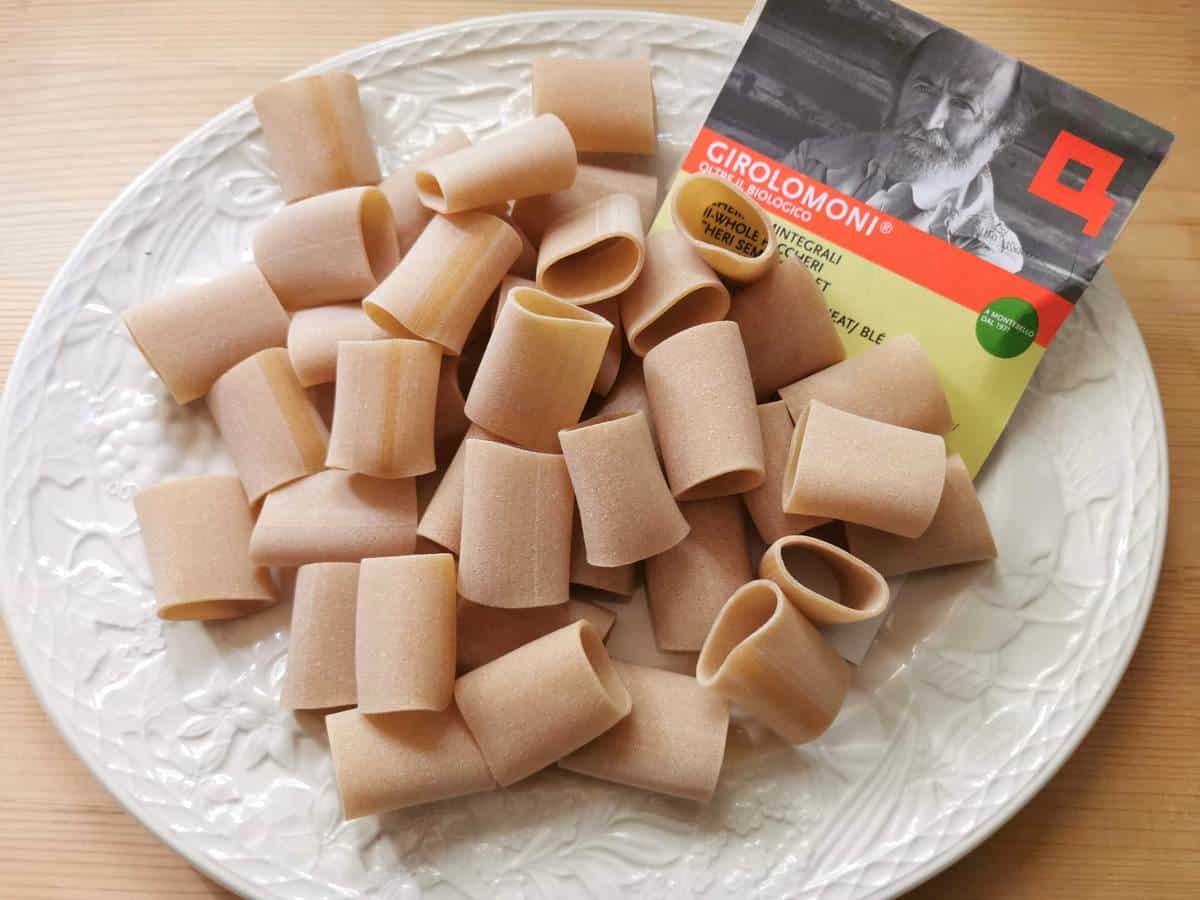 Firstly, they produce only organic pasta made with 100% Italian durum wheat flour or heritage grains. In fact, they were probably one of the first companies to do so. Secondly, they are actually a cooperative rather than a privately owned company. You can read more about Girolomoni in my post about my visit.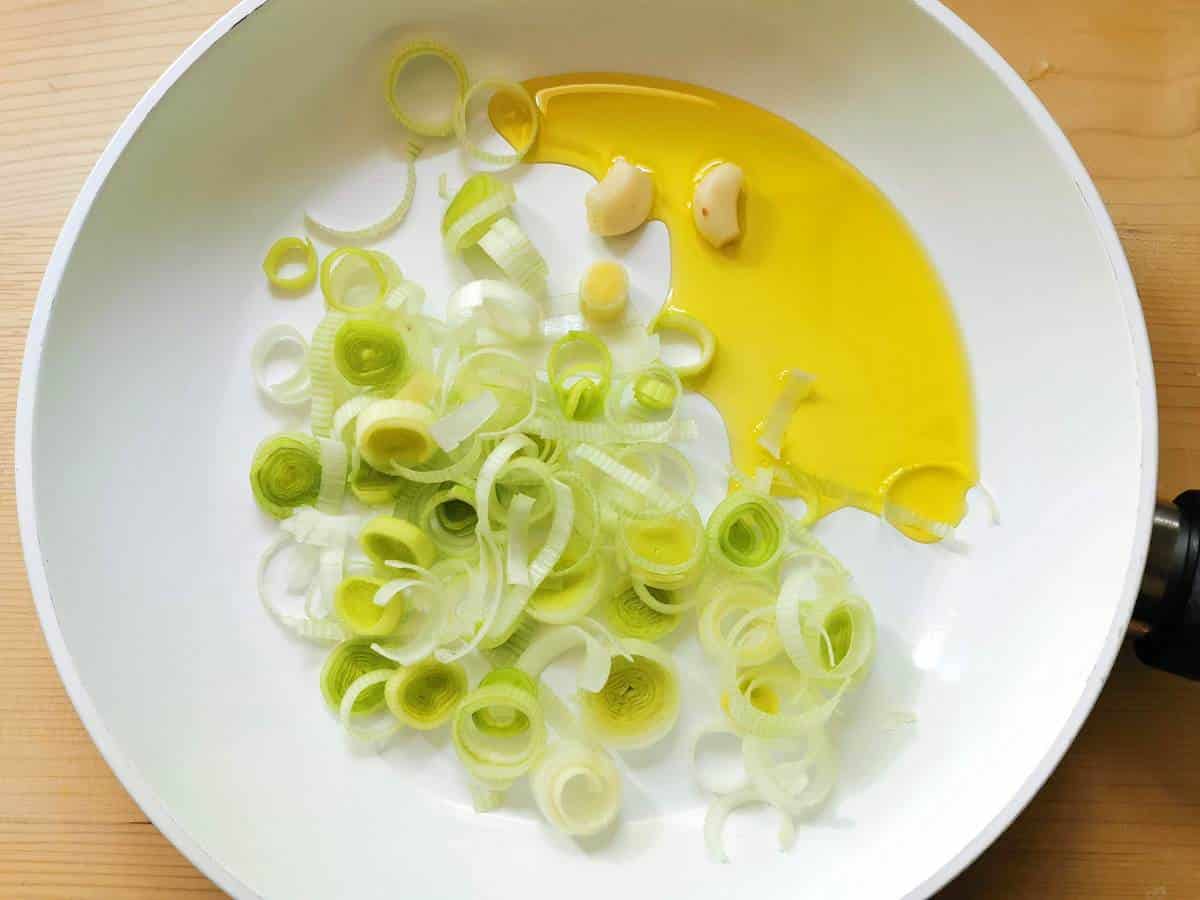 Outside of Italy, Giromoloni pasta is also sold in some countries under the brand name Montebello (USA & France) or other private brand names such as Artisan Tradition (Canada) Rapunzel (Germany) Himneskt (Iceland). If you come across it, I would highly recommend giving it a try.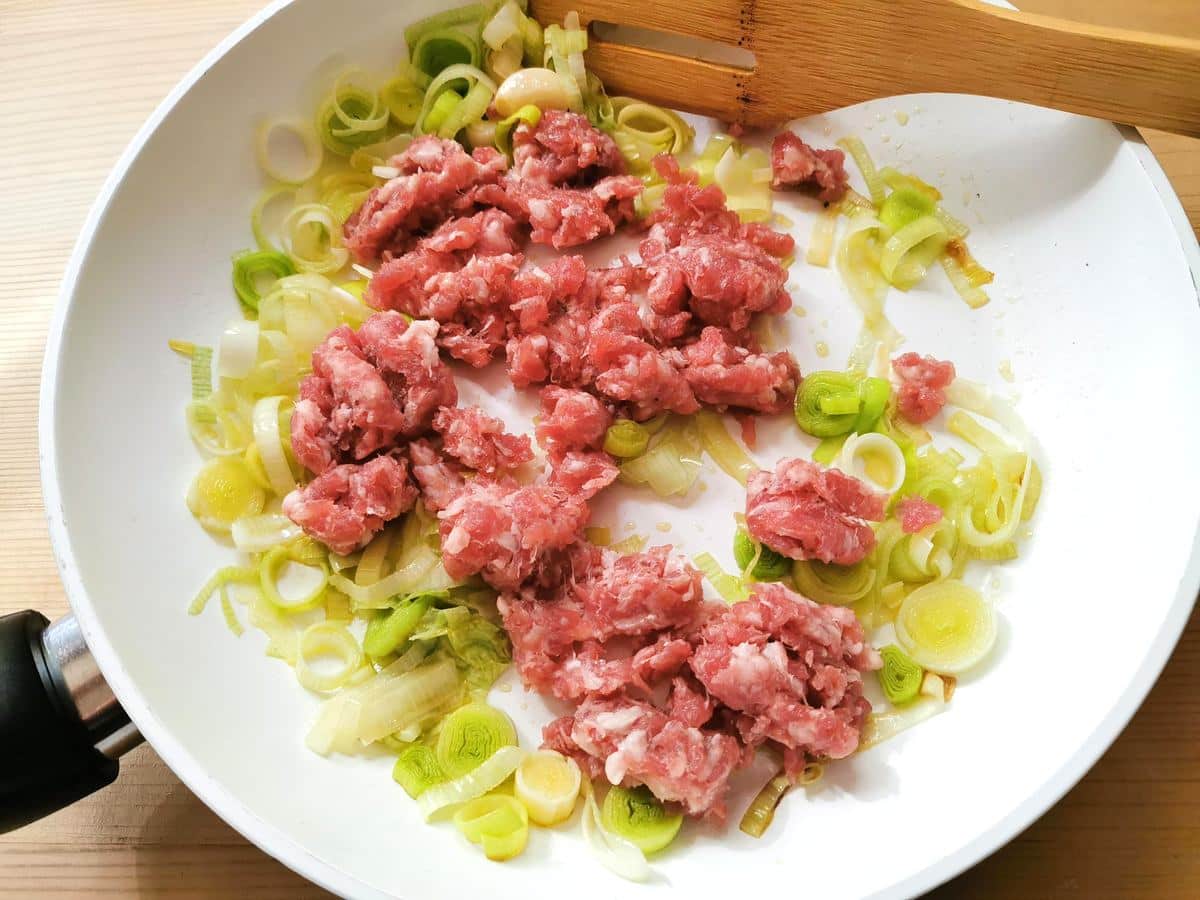 Of course, there are many companies that produce paccheri (schiaffoni). Many of these are producers from Gragnano near Naples, where paccheri is traditional and popular. They have been making dried pasta in Gragnano for more than 500 years and it is home to some of the best pasta makers in Italy. Among my favourites are Garofalo, Pastificio dei Campi, Afeltra, Di Martino and Gentile. But, of course there are more!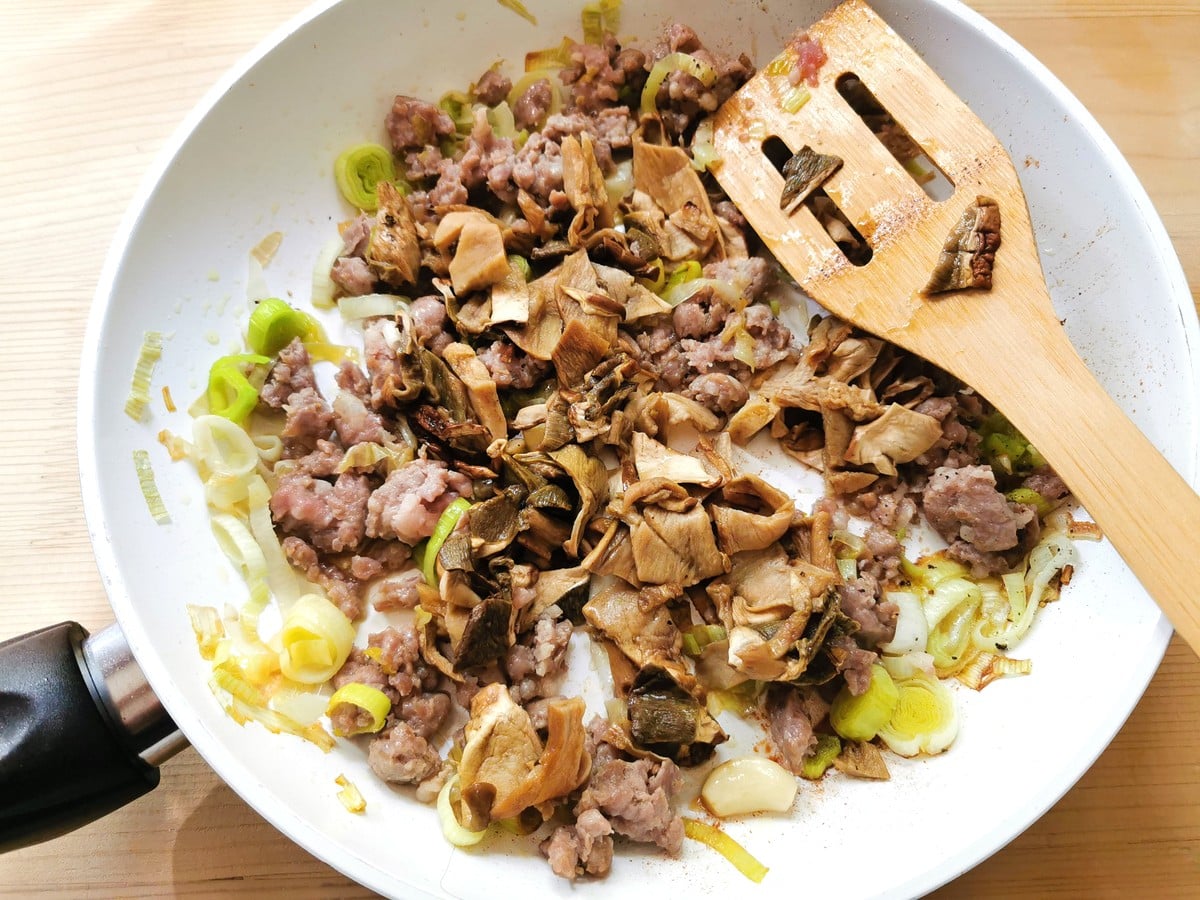 What are the other ingredients for this baked stuffed paccheri?
As I mentioned above this baked stuffed paccheri is filled with porcini, sausage and ricotta. I used dried porcini because I bought some in Calabria last month which are so good. Normally I prefer fresh or frozen porcini. But, of course, these aren't always available.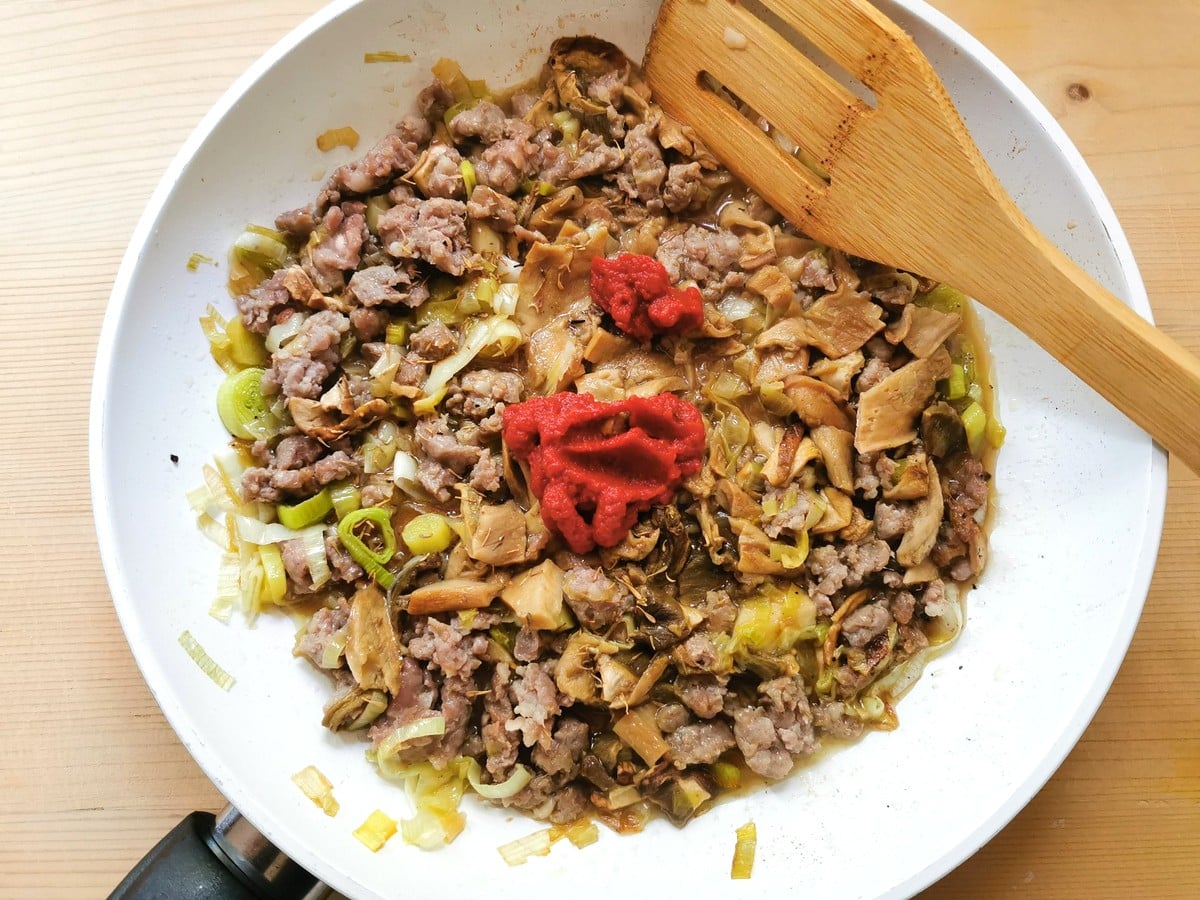 You can also use other mushrooms for this recipe. Normal white button mushrooms or cremini would work well too. If you do use dried porcini, don't forget to soak them in warm water for about 30 minutes before cooking. And save the water you soak them in. You can add a little to the sauce for a more intense porcini flavor.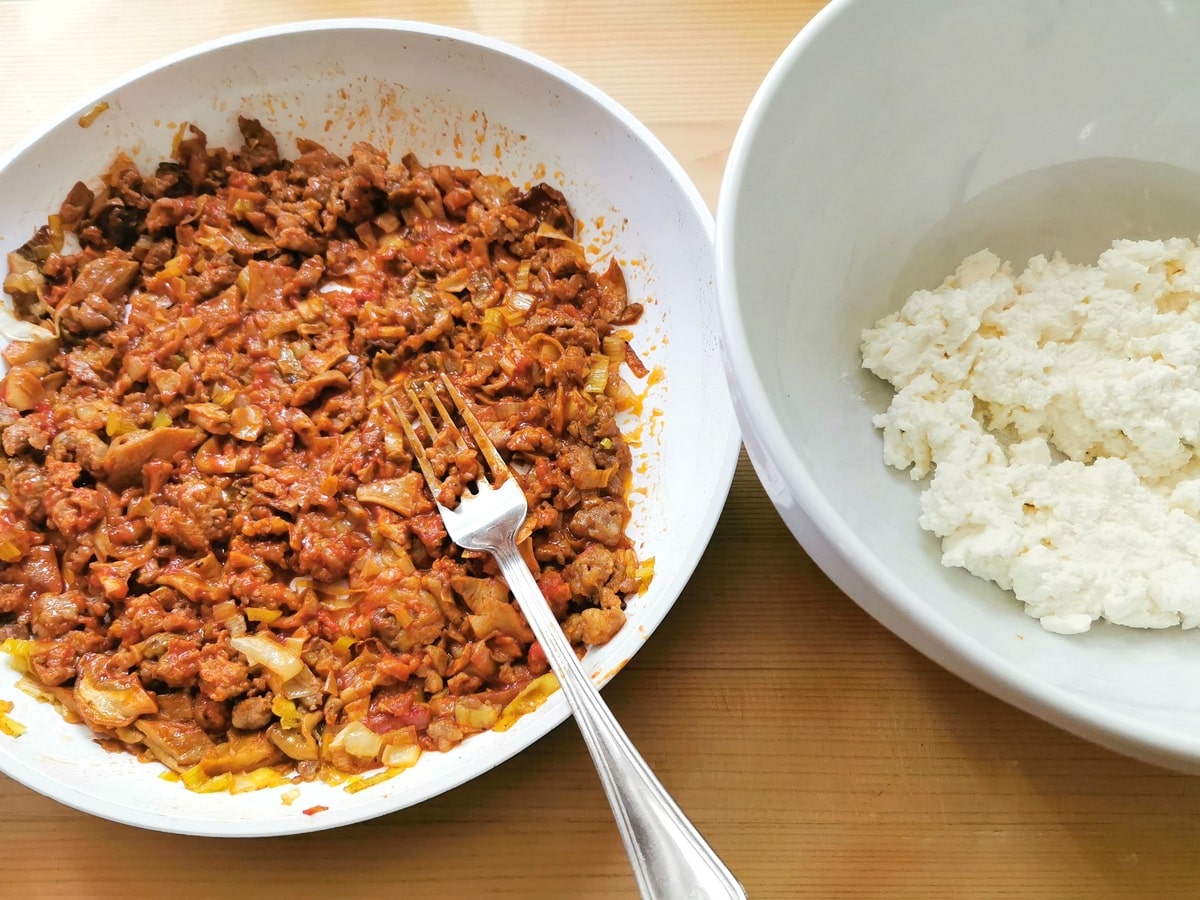 For the sausage, I used plain Italian salsiccia. These are fresh pork sausages with no added spice or herbs. I wouldn't use spicy sausages in this dish as they would overpower the other flavours. But, sausages with rosemary, thyme or garlic in them would go well too.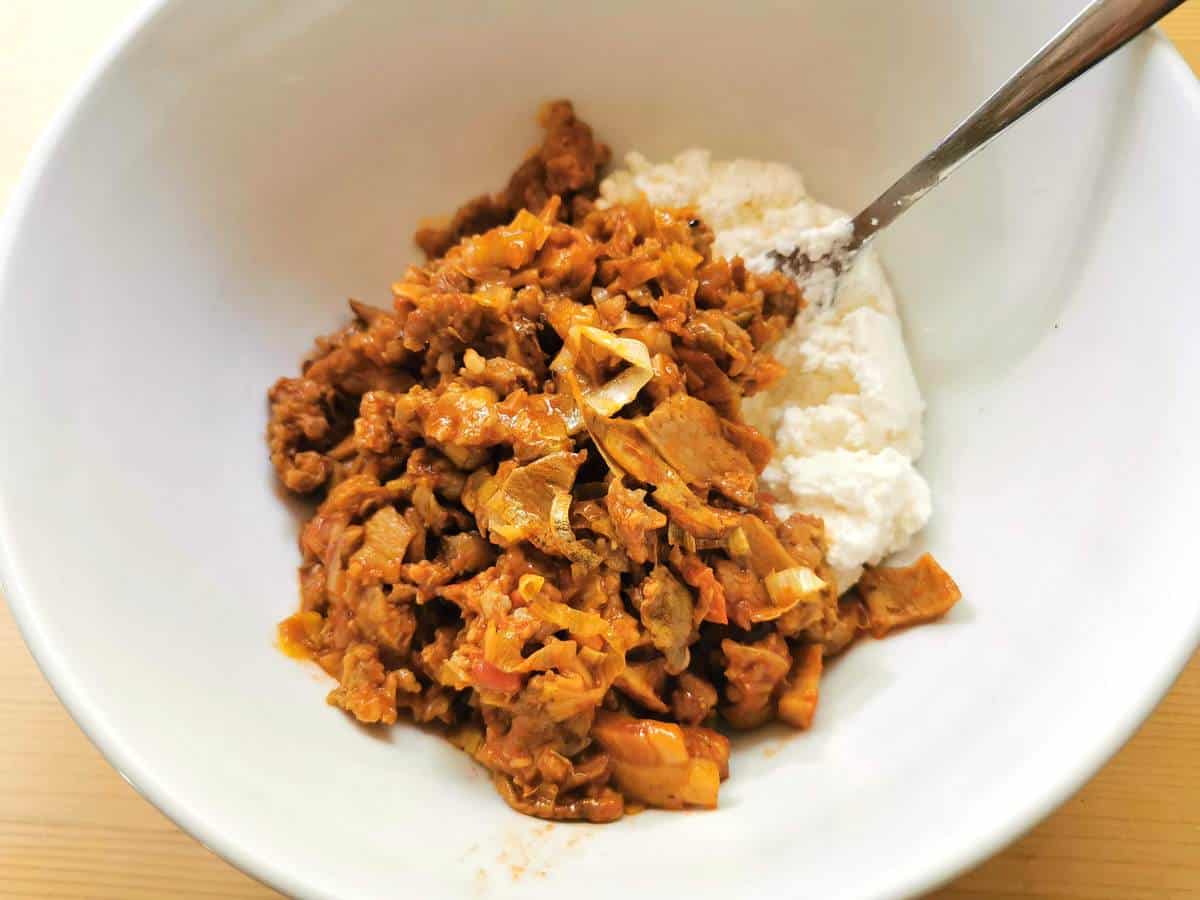 This stuffed baked paccheri calls for fresh cow milk ricotta. But, you could also use sheep ricotta which is very traditional in Southern Italy or a mix of the two.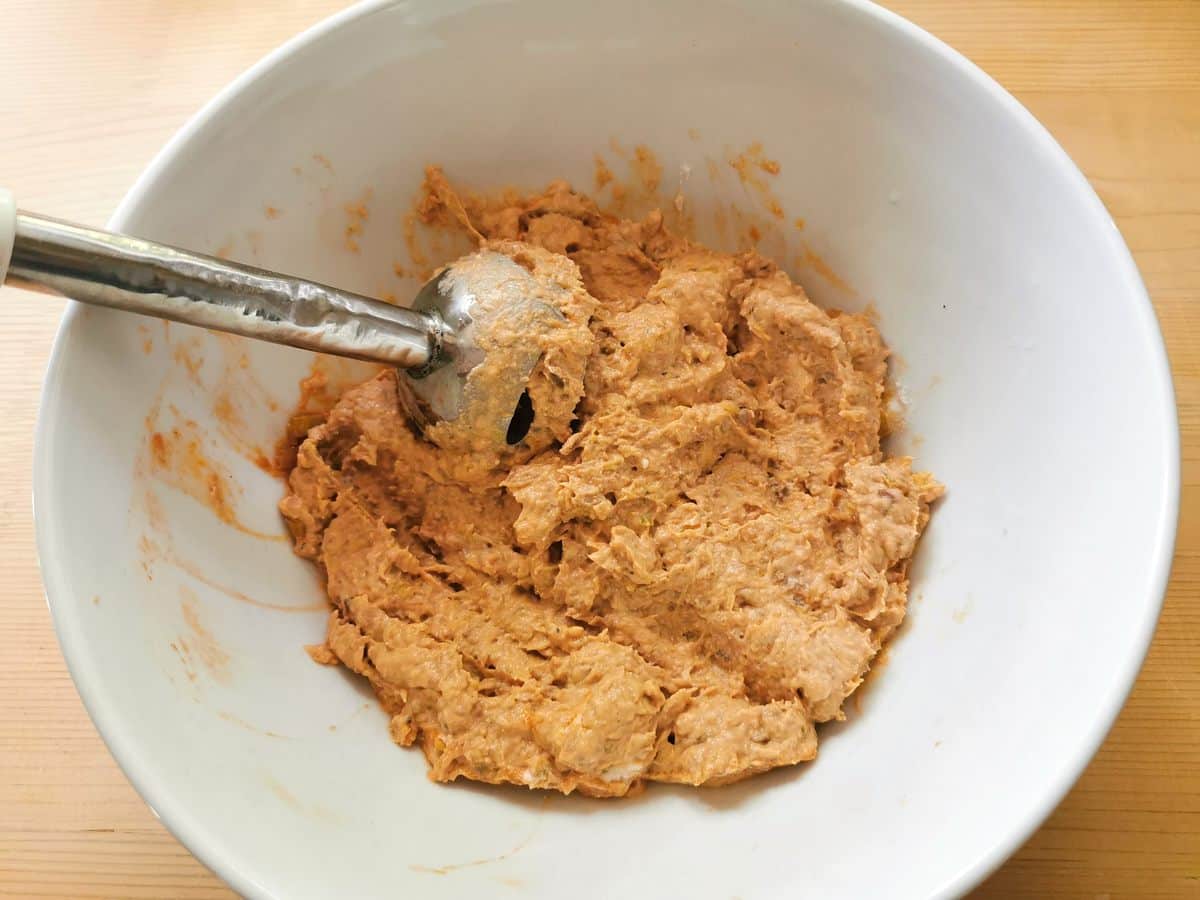 Making this mushroom and sausage stuffed baked paccheri.
This rich and delicious baked paccheri recipe requires a number of steps. So, it isn't really suitable for a quick weeknight meal. But, it's perfect for Sunday lunch and special occasions.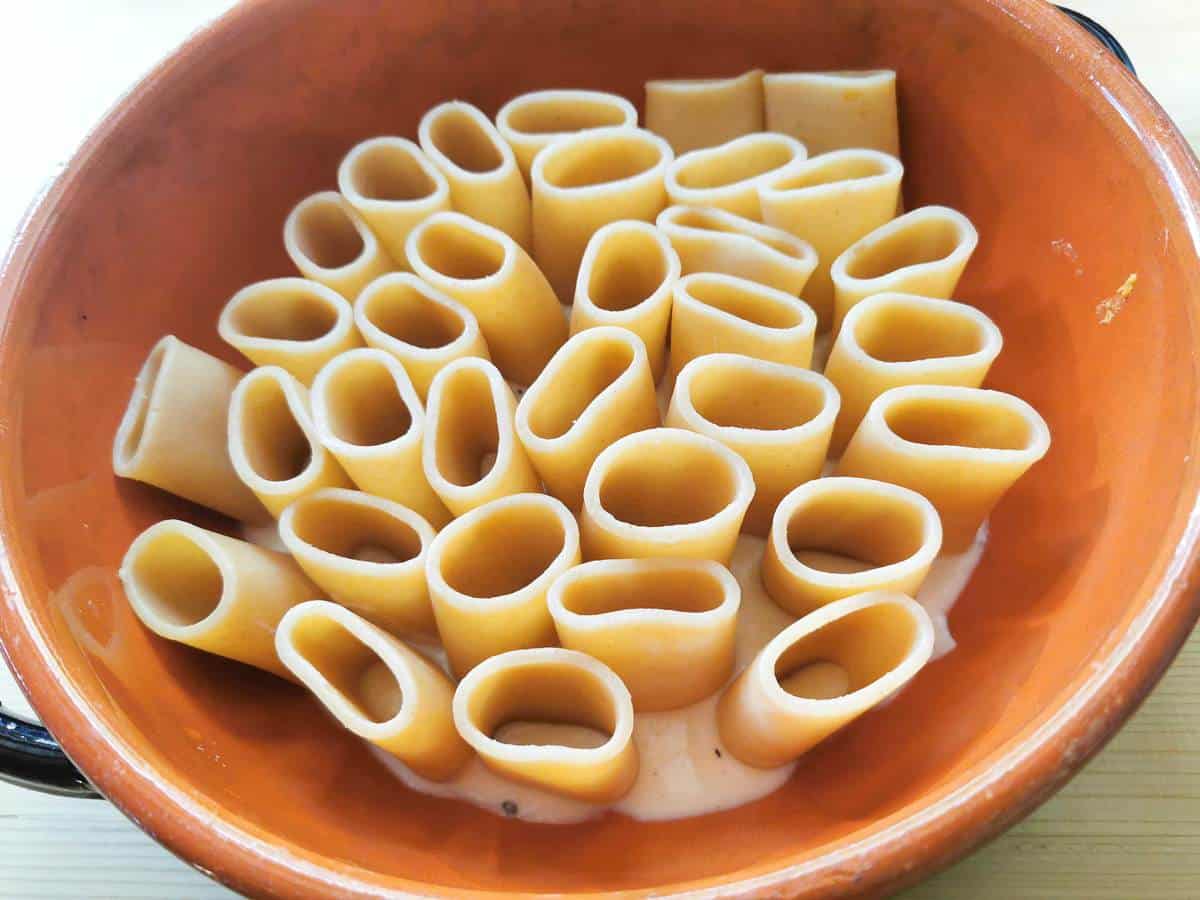 To make the filling you need to soak the dried porcini (if using), remove the sausage meat from its casing and clean and slice the leeks. Then cook the leeks with peeled garlic in olive oil, add the sausage meat and when it's browned add the chopped mushrooms and tomato concentrate. Let the sauce simmer while you parboil the pasta and make some béchamel.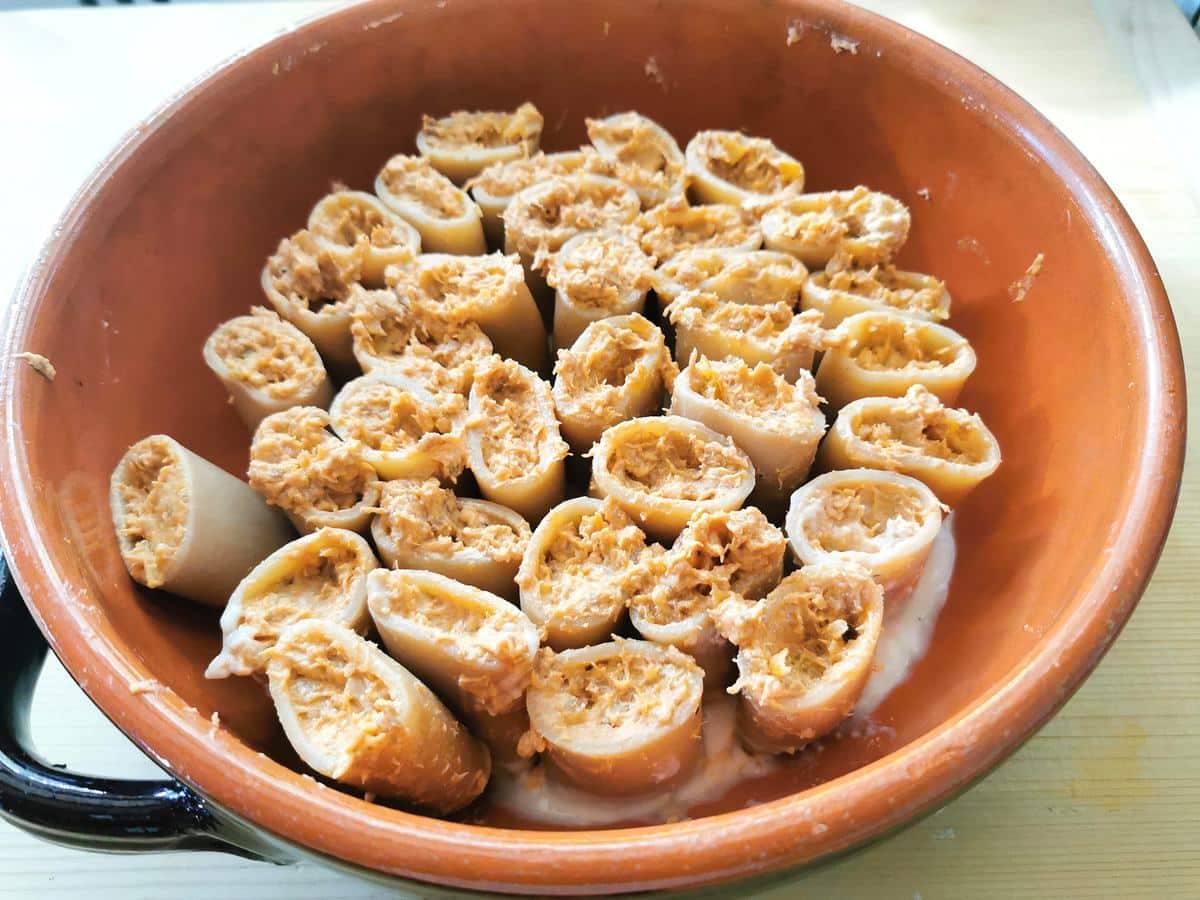 Once everything is ready, finely chop the sausage sauce and ricotta mixture by hand or in a food processor, fill the pasta tubes with it and stand them up in your oven dish. Finally cover with the cheesy béchamel and some grated parmigiano and bake until the top is golden!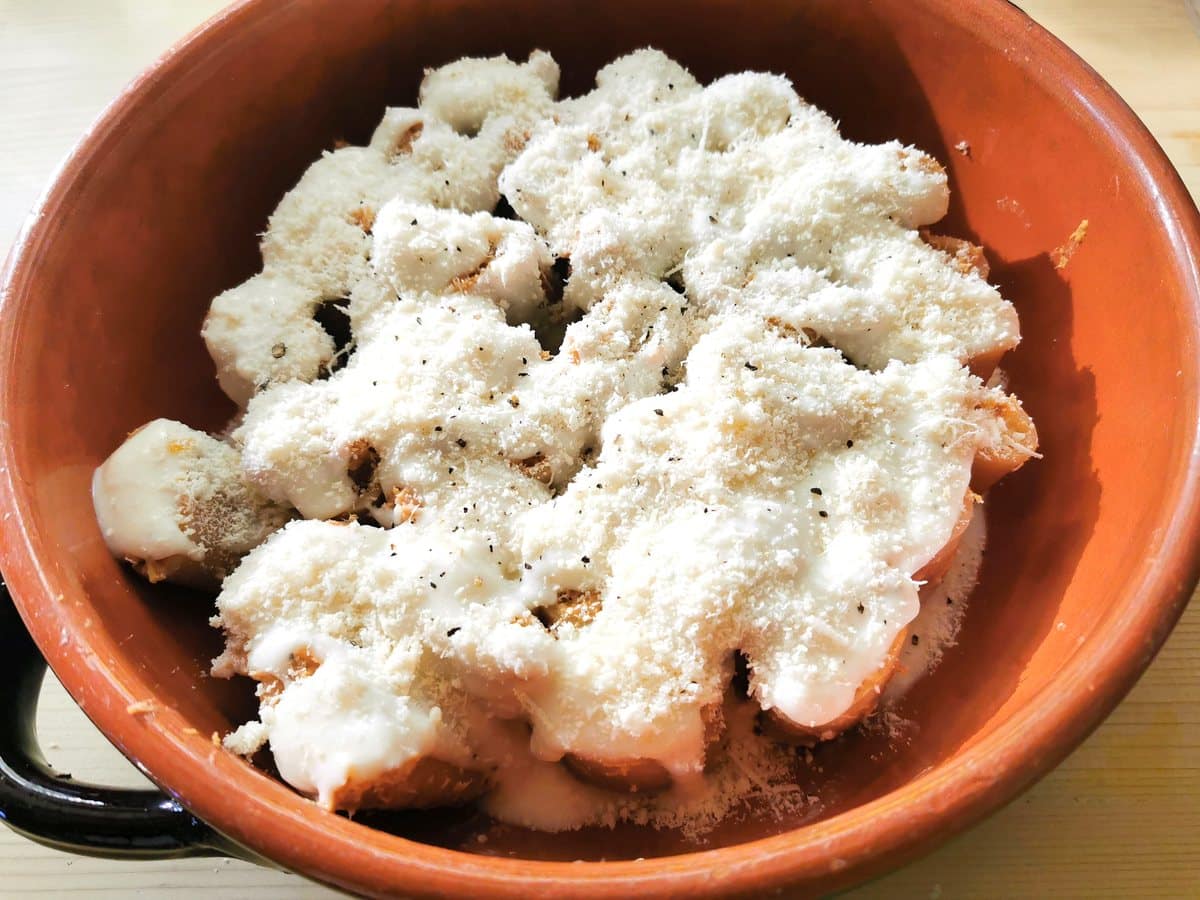 Whether it's for a dinner with friends or a Sunday lunch with the family, this baked stuffed paccheri with sausage and mushrooms will be the star of your menu and I am sure that everyone will ask you for the recipe.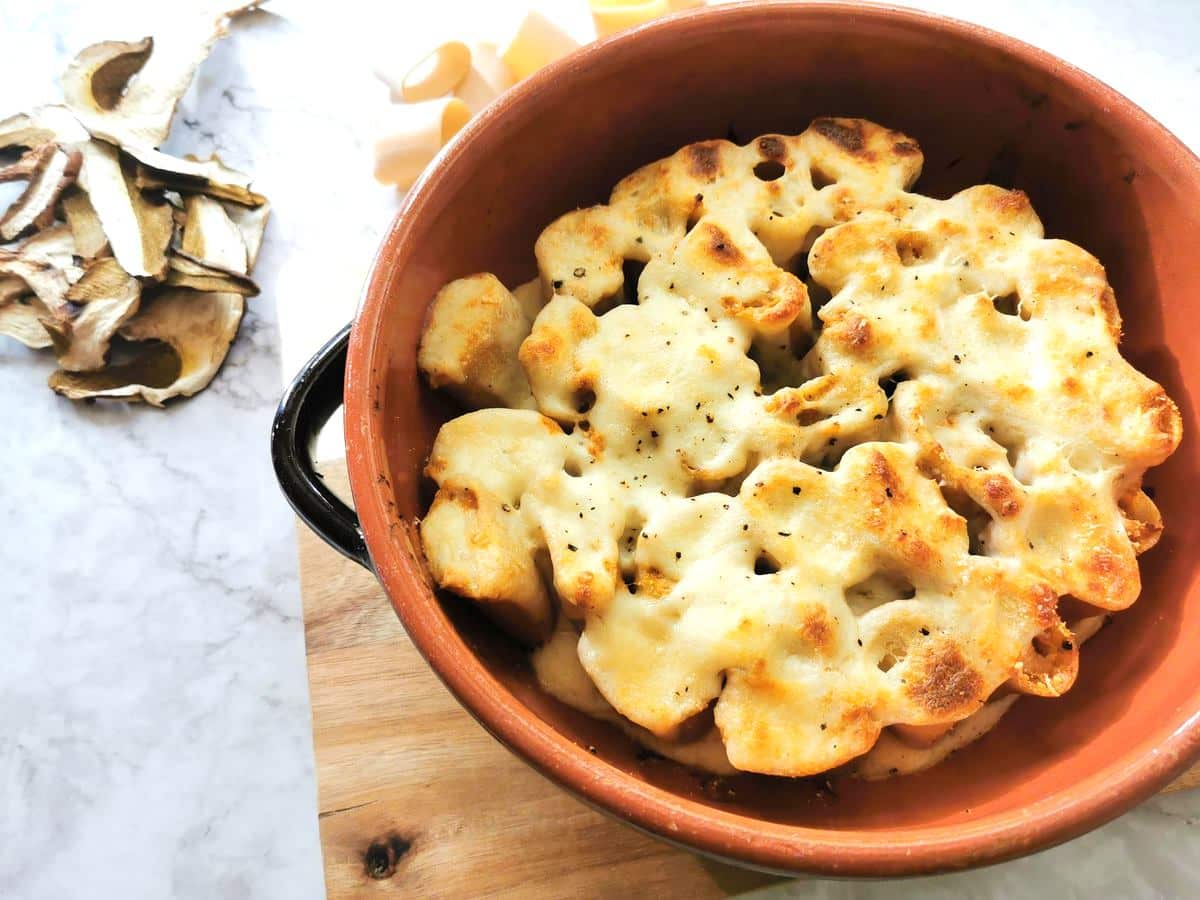 If you make this baked stuffed paccheri with sausage and mushrooms, I'd love to hear how it turns out and if you liked it. Please leave a comment here on the blog or on The Pasta Project Facebook page.
Looking forward to hearing from you!
Buon Appetito!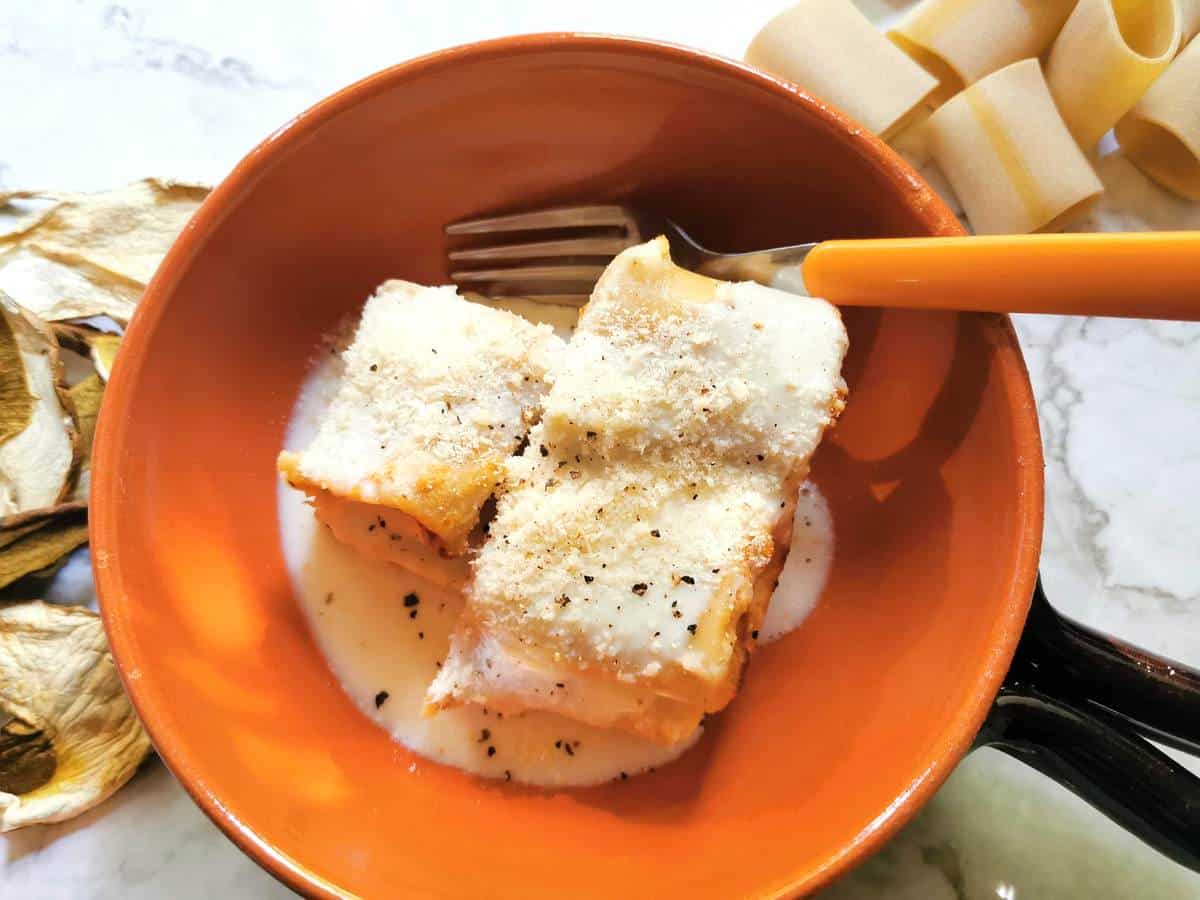 SAVE THIS RECIPE FOR LATER?
If you want to save this recipe for later, you can print it, bookmark this page or save it to Pinterest.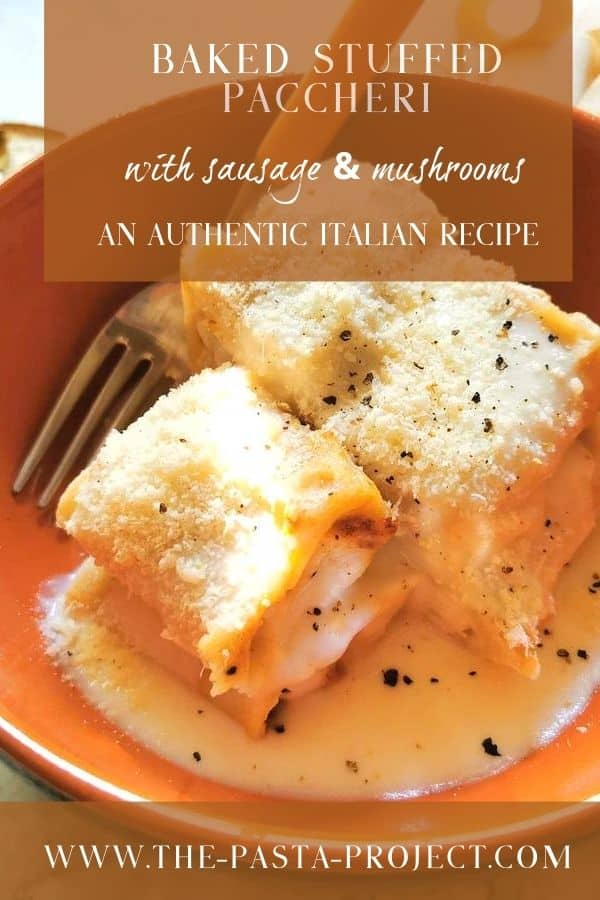 Other paccheri (schiaffoni) recipes to try.
Don't forget to pin for later!