Spicy pasta arrabbiata from Rome
There are two very well-known spicy pasta dishes in Italy. One is pasta with nduja from Calabria, made with a soft spicy salami. The other is this vegetarian recipe called all'arrabbiata or just arrabbiata from Rome.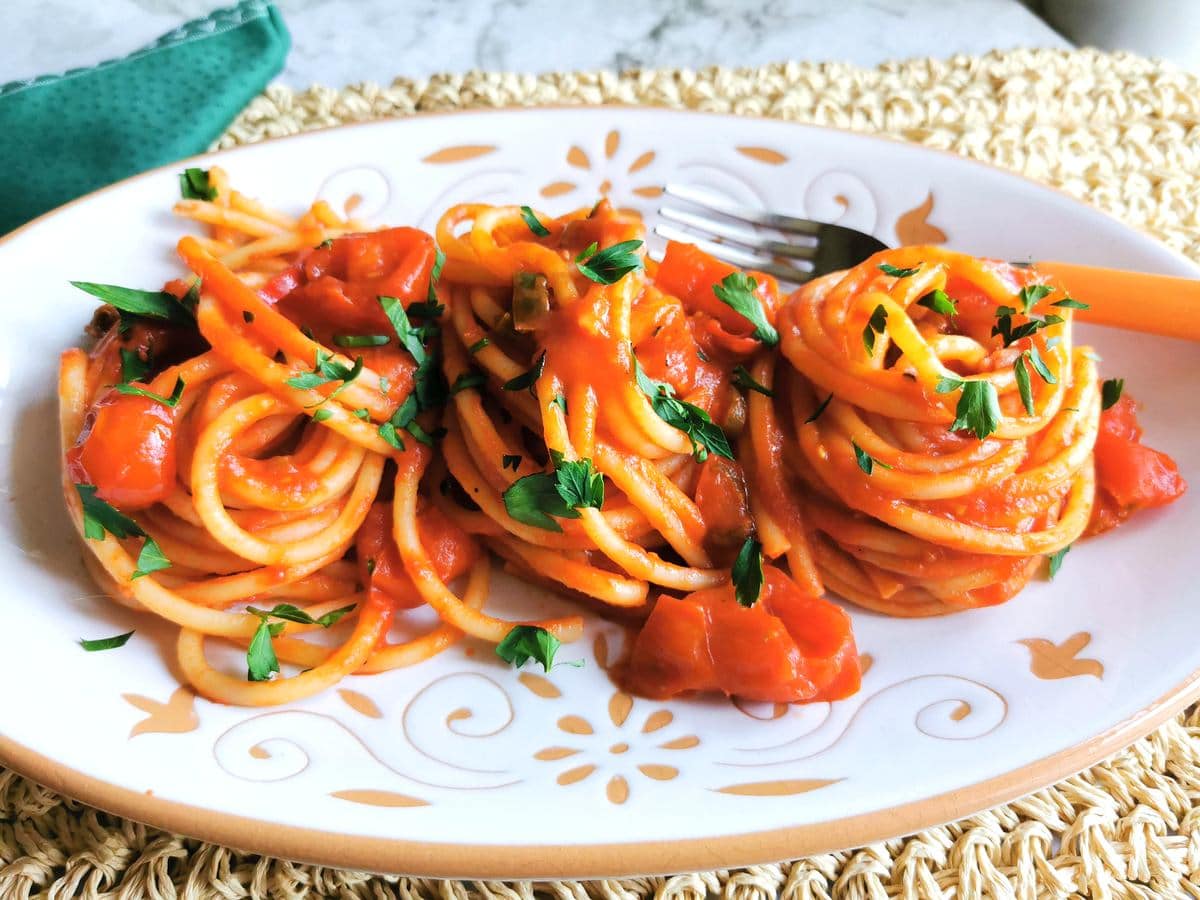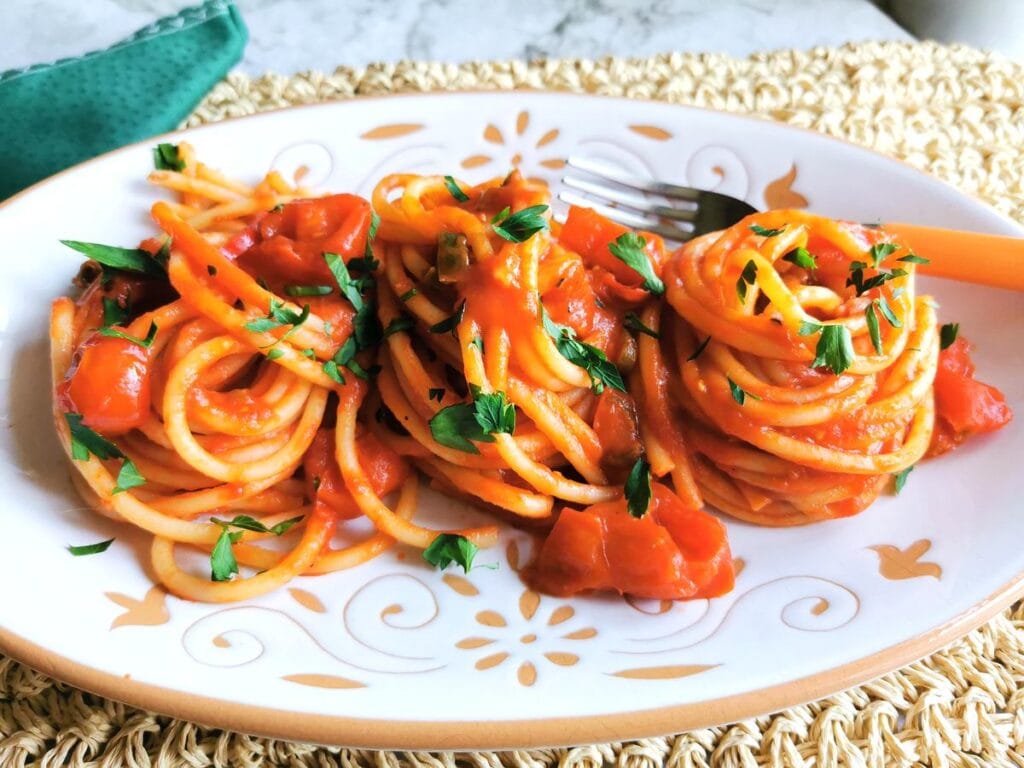 Although known as a Roman recipe, all'arrabbiata originated in Rieti province In fact, it actually comes from Ponte Basso, a small village that is part of the municipality of Castel Sant'Angelo, in the Rieti area. However, its popularity soon spread to the capital, and then throughout the region. Today arrabbiata is considered a classic Roman dish.
Arrabbiata is good for you!
In general, Italian food can't be described as spicy. However, in Southern Italy especially, they love to use Italian red chilli peppers (peperoncino) in many dishes. Interestingly, the Southern Italians believe that peperoncino is not only good for your heart, but that it is also an aphrodisiac!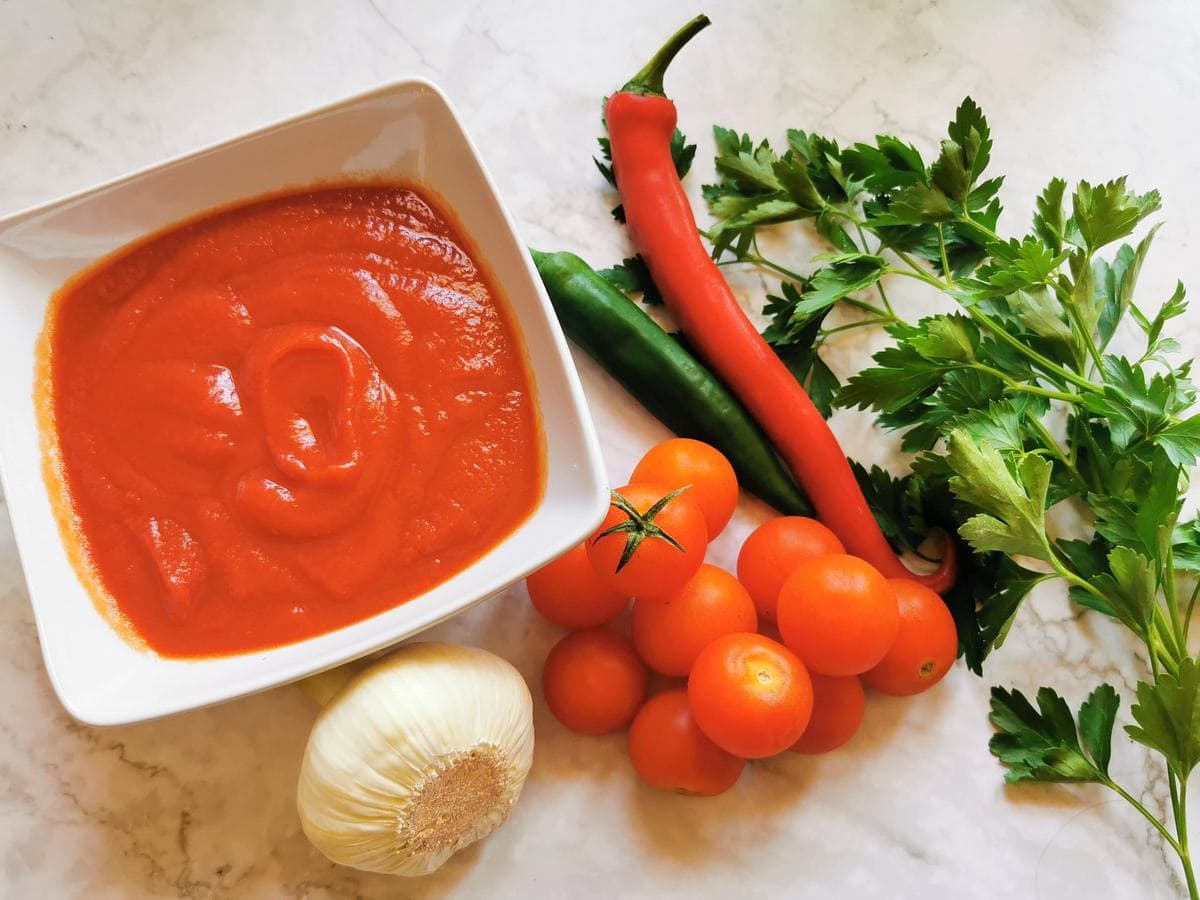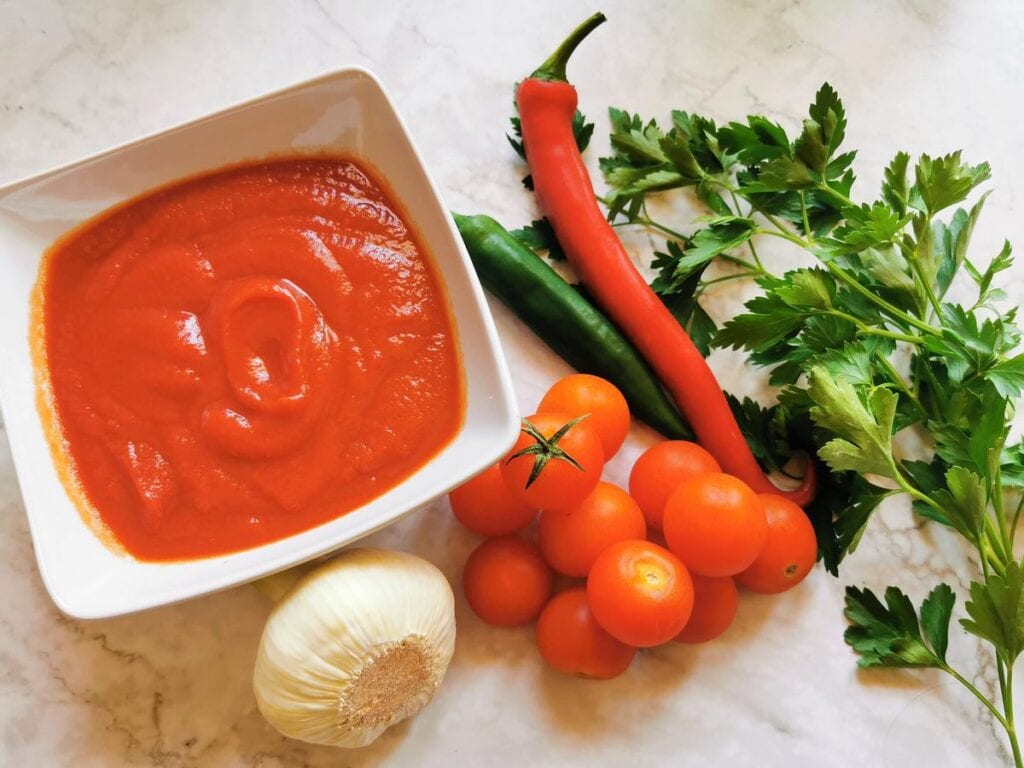 What does 'arrabbiata' mean?
The word 'arrabbiata' means angry! Apparently, the name derives from the fact that eating this dish may turn you red in the face because of the chilli! Just like when someone gets angry!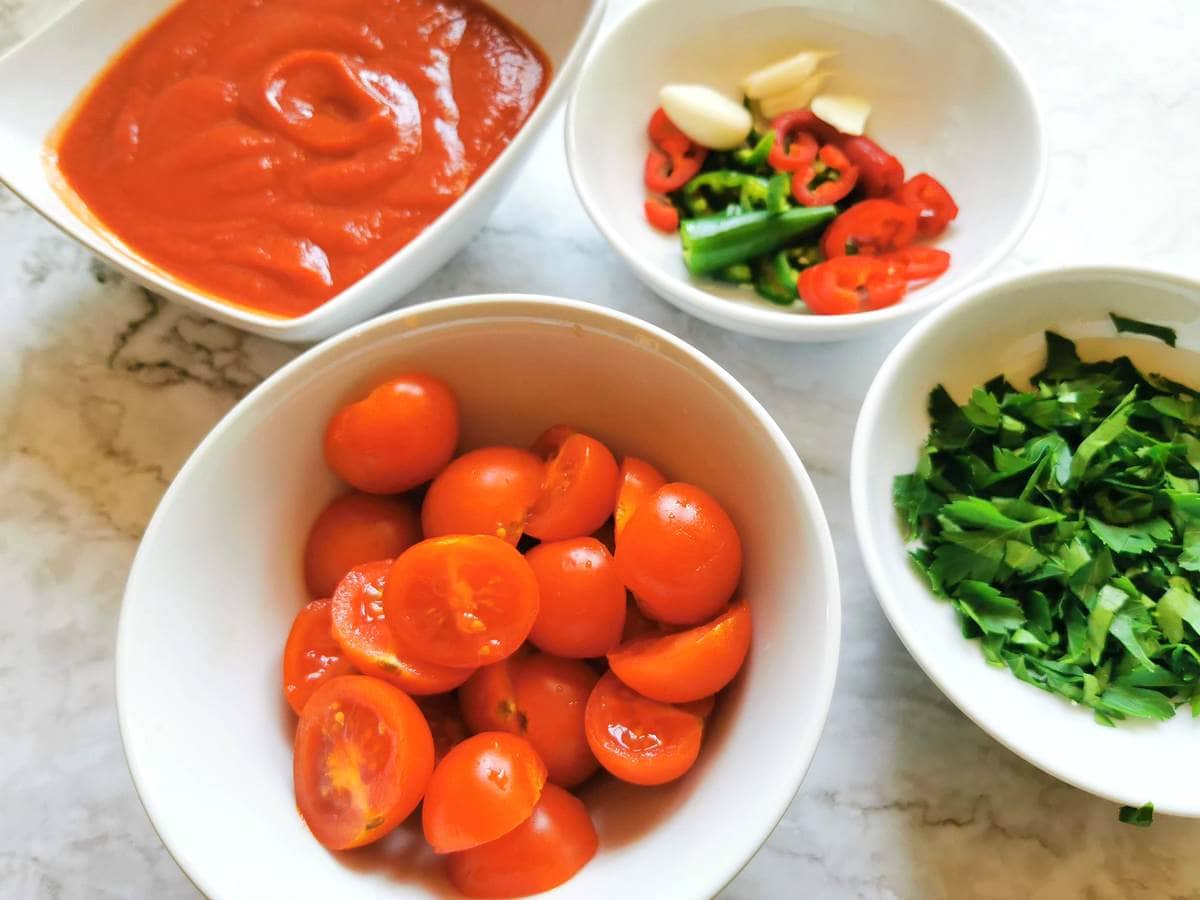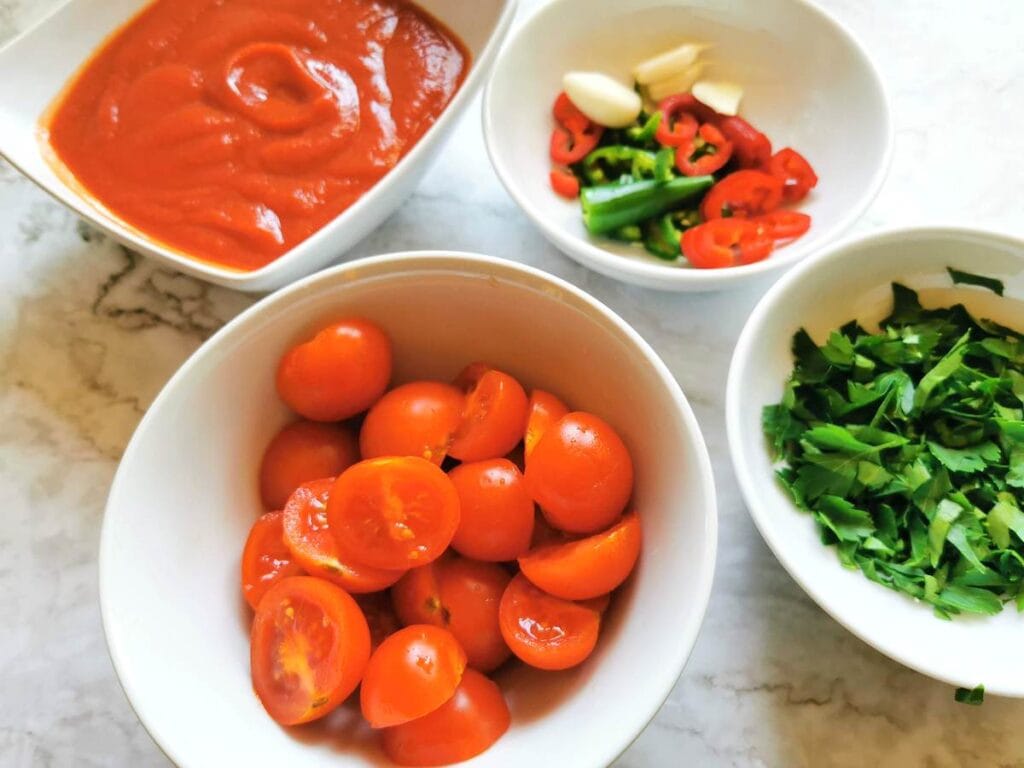 Arrabbiata is an as-spicy-as-you-want-to-make-it flavorful pasta dish which is very simple to put together and requires very few ingredients. It is quite a famous dish in Italian cuisine, having been immortalized by Italian films such as The Great Abducted (La grande abbuffata) by Marco Ferreri, Rome by Federico Fellini and Seven Kilos in Seven Days (7 chili in 7 giorni) with Carlo Verdone.
Although popular in restaurants in the 80s, nowadays arrabbiata is most often cooked at home. However, you can also find it in trattorias offering low cost and fast workers' lunch menus.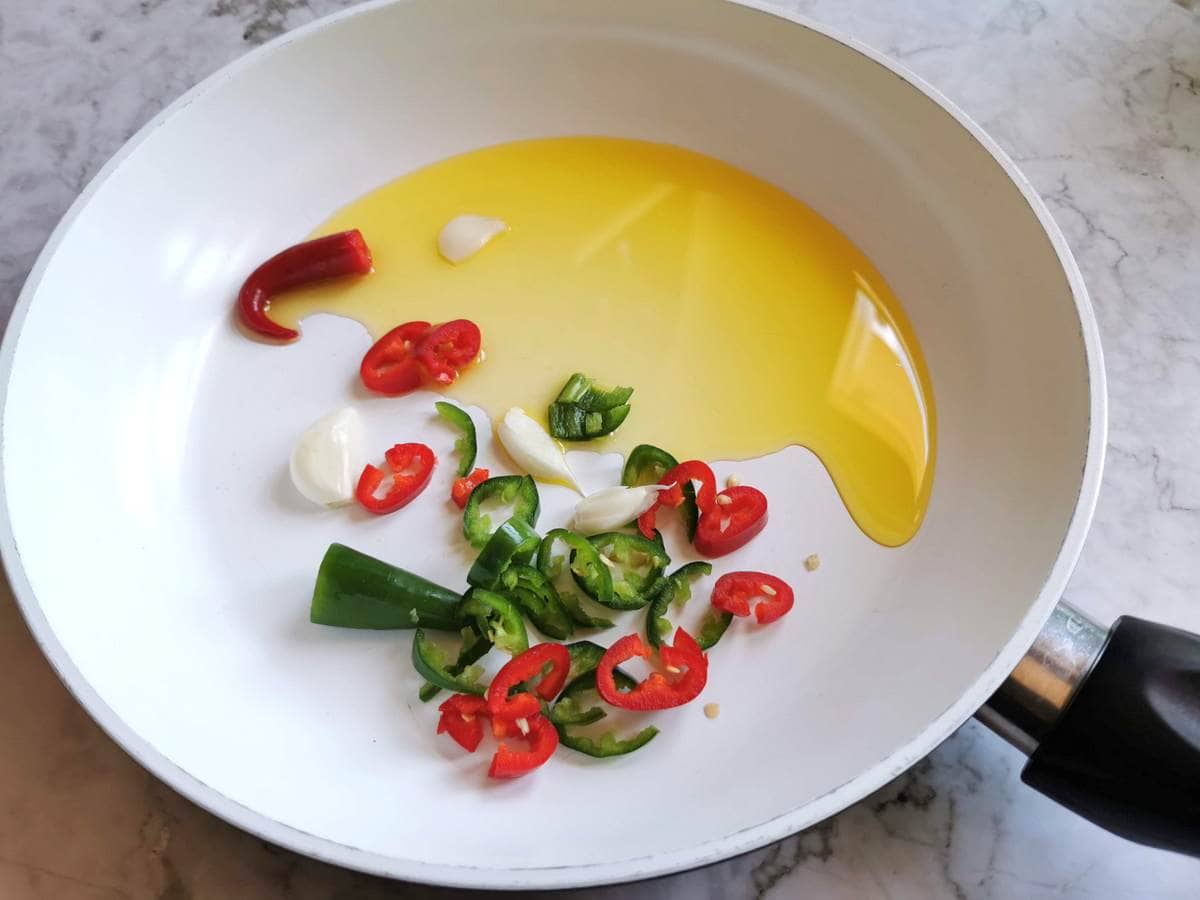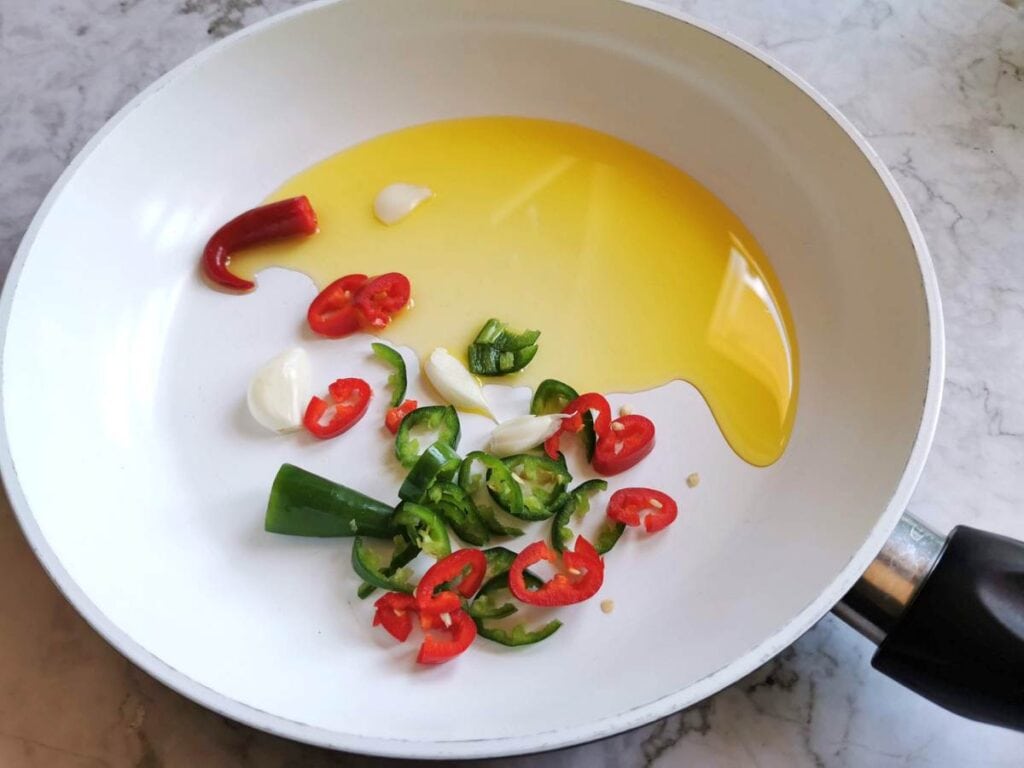 Arrabbiata is very easy to make!
The main ingredients for this traditional Roman recipe are peeled tomatoes, pecorino Romano, garlic, chili pepper, parsley, salt and extra virgin olive oil.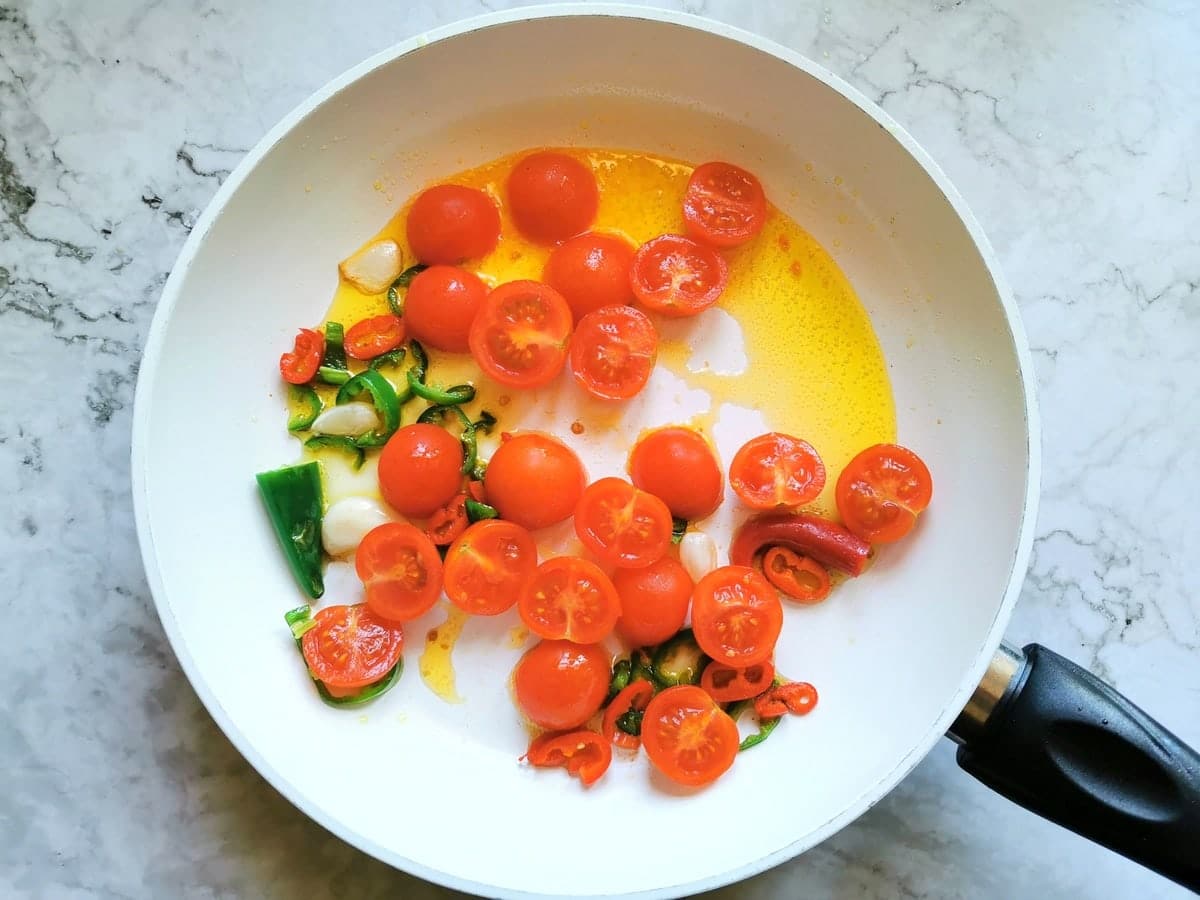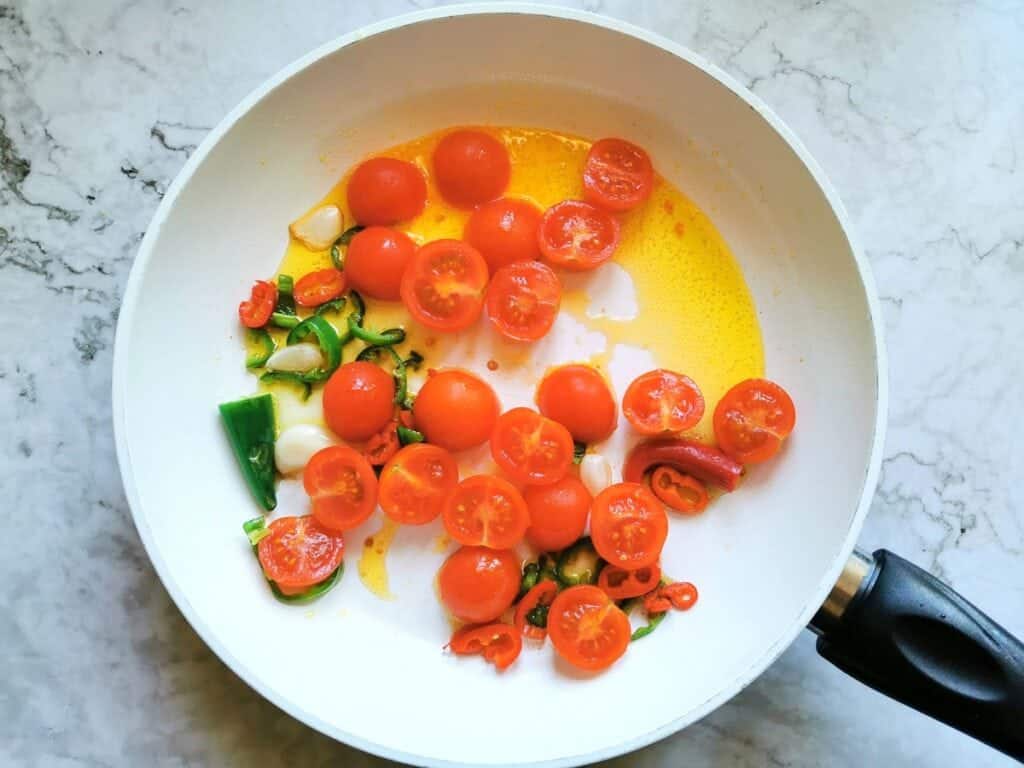 All you need to do to make all'arrabbiata is to fry garlic in some olive oil, add fresh chilli (peperoncino) and then peeled tomatoes cut into pieces. Season with salt and pepper and cook uncovered for about 15 minutes. Prepare the pasta, add it to the sauce and serve with a sprinkling of fresh parsley and lots of grated Roman pecorino. That's it!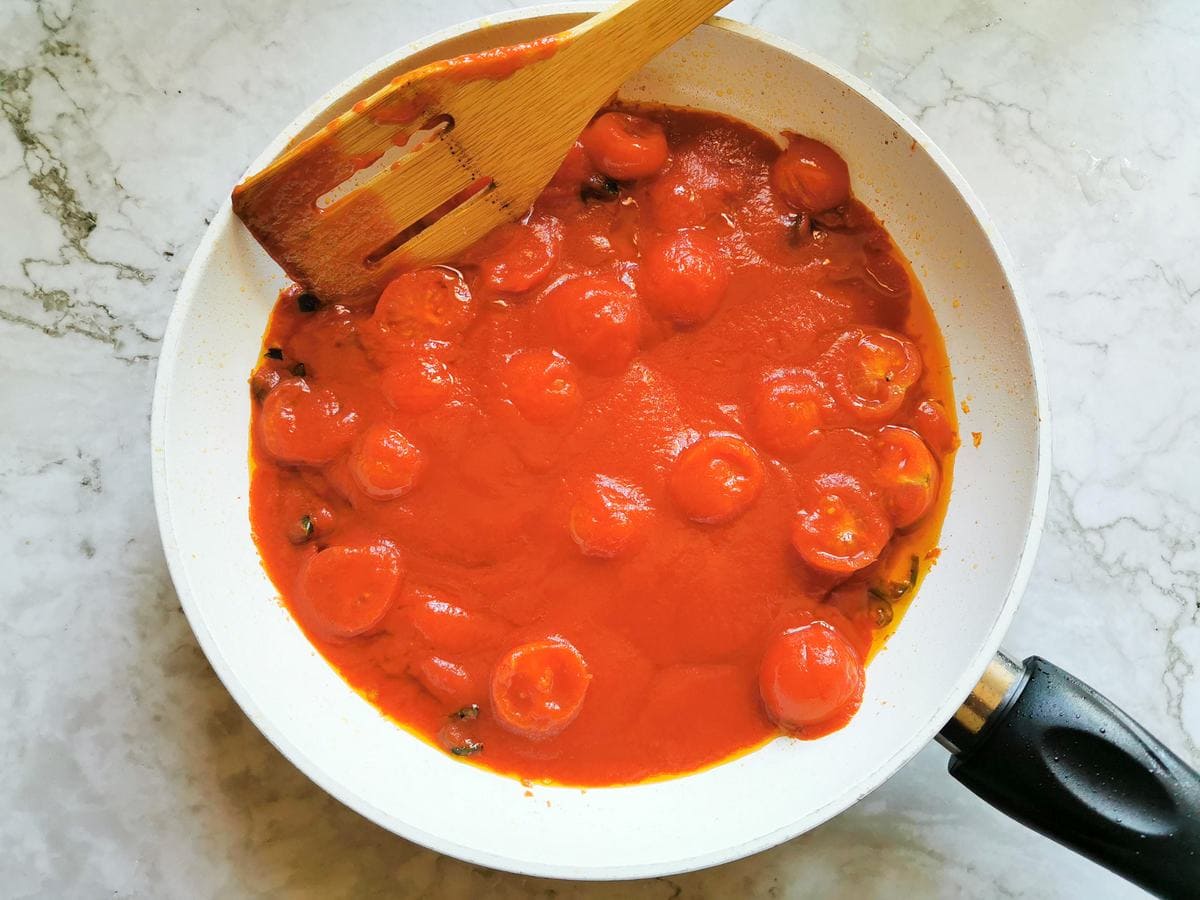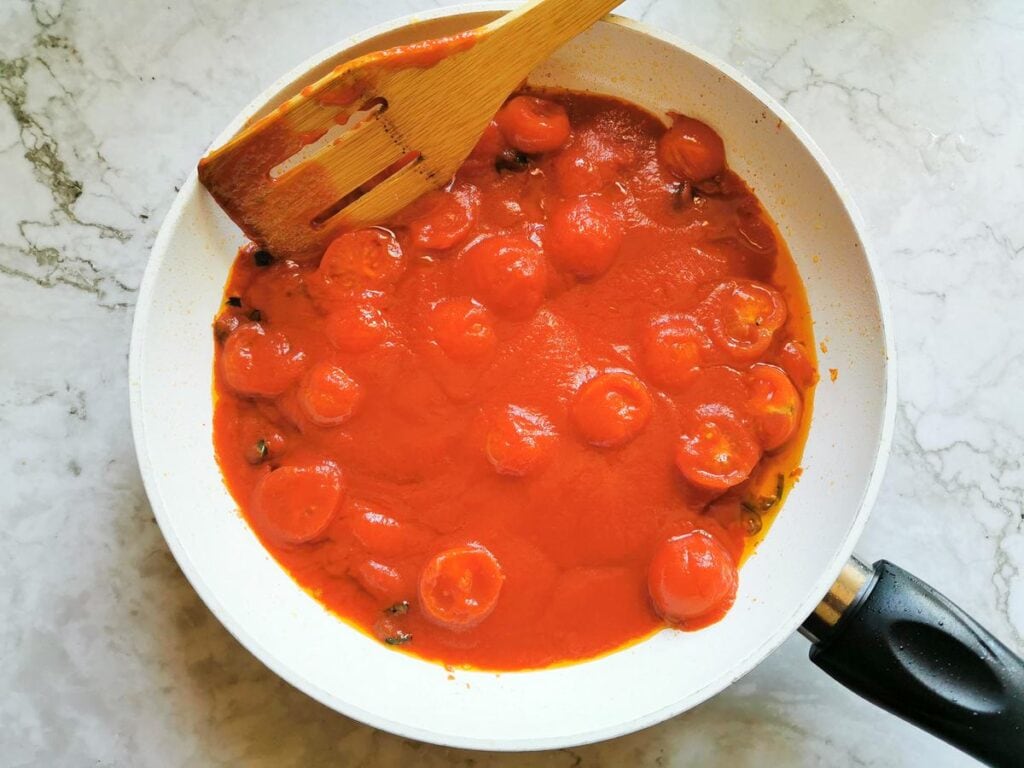 The tomatoes in arrabbiata.
The original recipe for arrabbiata calls for peeled and chopped fresh tomatoes. I altered this a bit. I decided to use fresh cherry tomatoes and some tomato passata (my favourite is Cirio passata rustica). You can also use a tin of peeled tomatoes. I would, however, suggest that you use a good Italian brand. Because this is such a simple recipe, the quality of the ingredients makes a difference to the end result.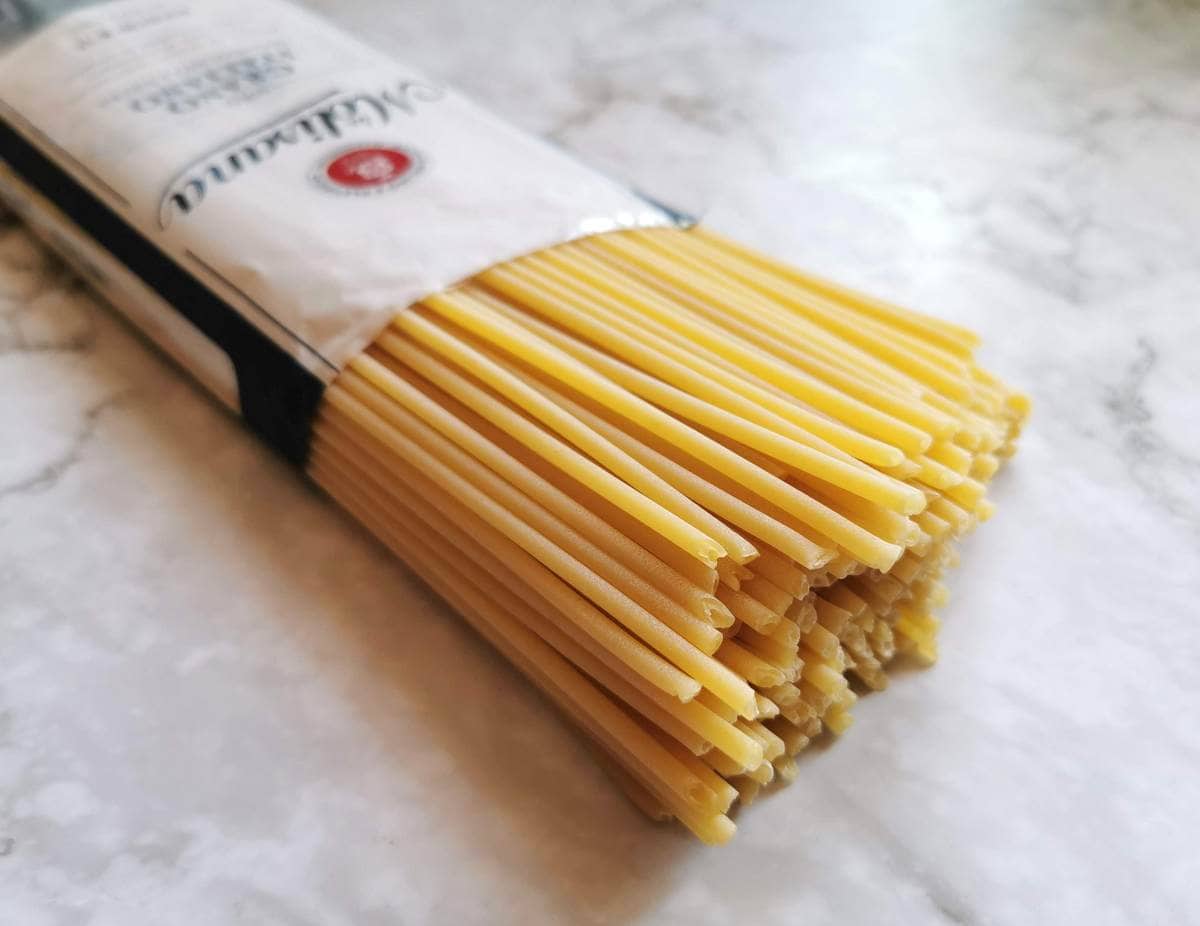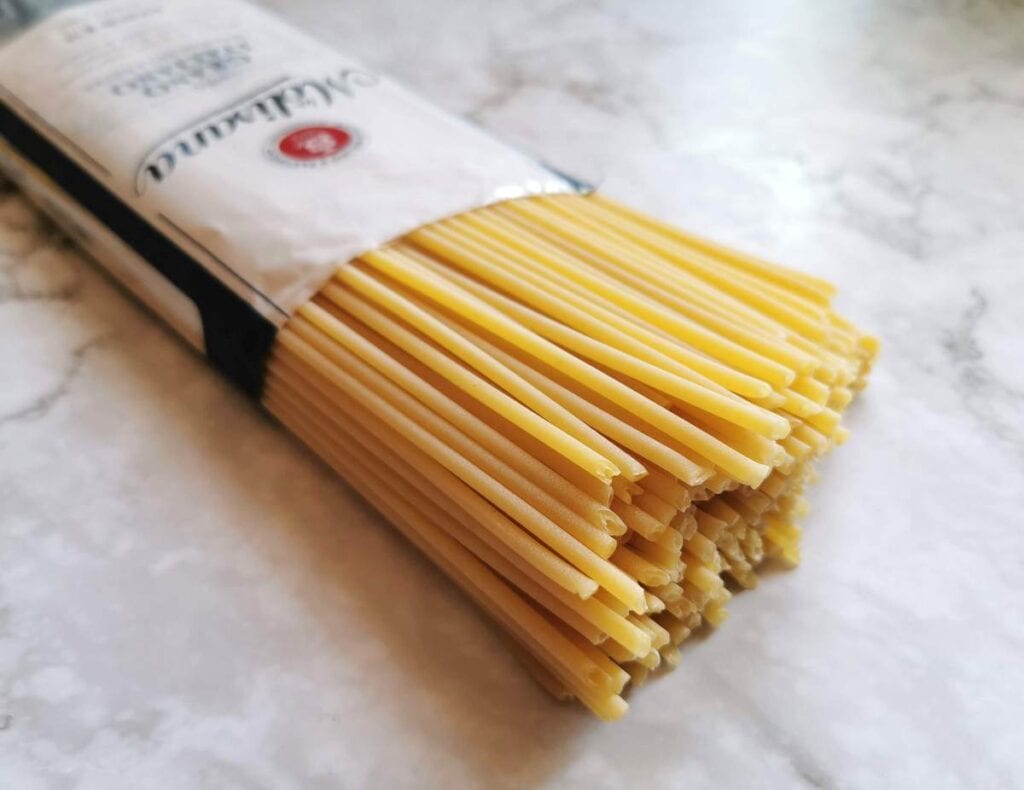 The pasta for arrabbiata.
Traditionally, Italians eat arrabbiata with penne pasta but many people also serve it with spaghetti or bucatini. I used bucatini from a company in Molise that makes very nice pasta with 100% Italian wheat. Called, La Molisana, this pasta maker is one of the top ten 'supermarket' pasta brands in Italy.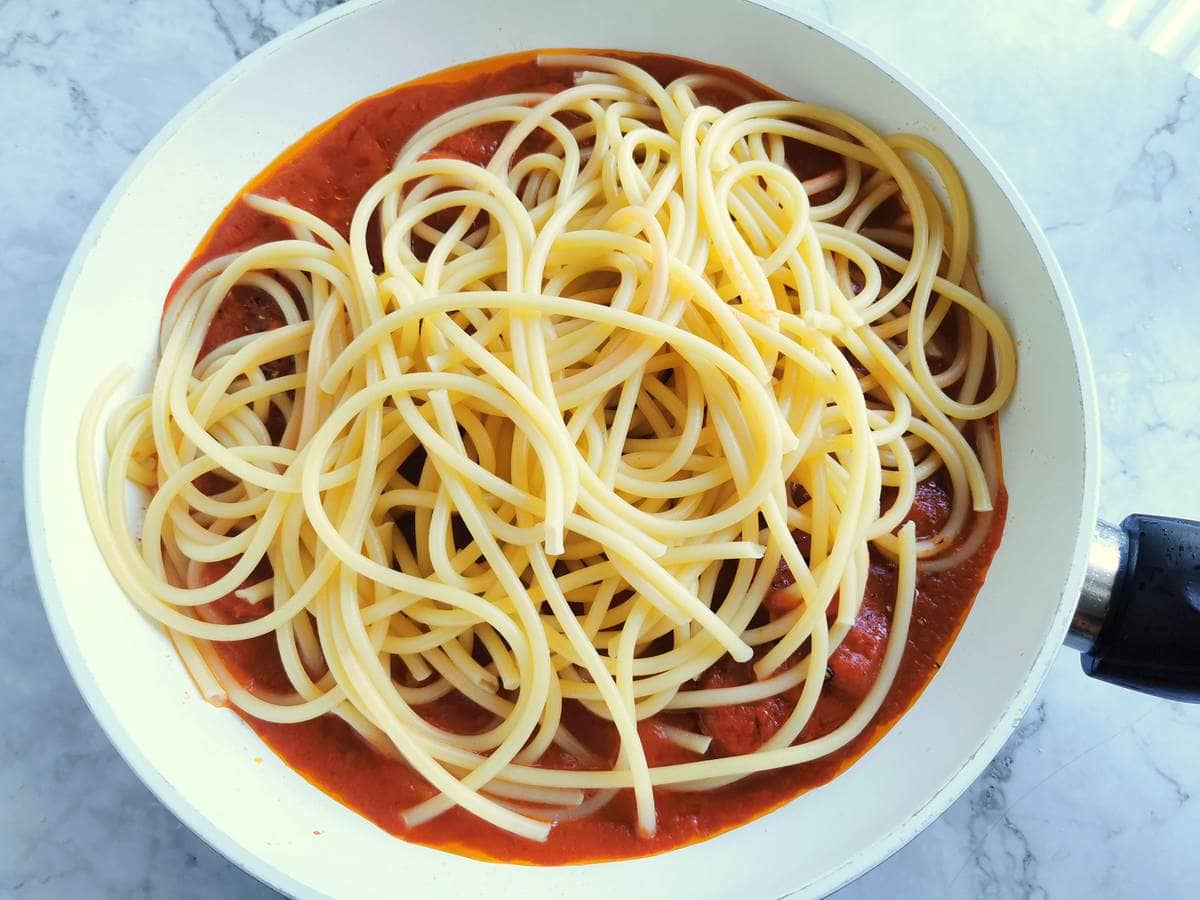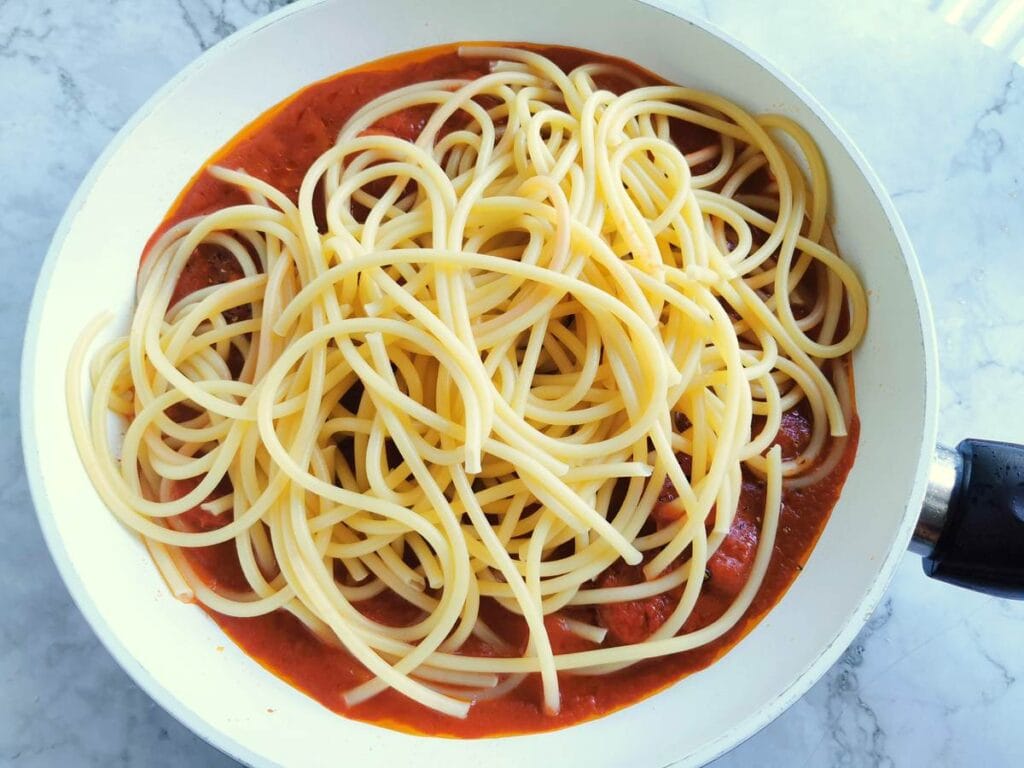 In Rome, throughout Lazio and in other regions, Italians use arrabbiata sauce not only to season pasta but also to flavor dishes, such as lamb, chicken or other meats, as well as pizza or focaccia and even seafood. So, if you make extra sauce, you can use it for a second meal.
Let me know what you think.
If you do try this all'arrabbiata pasta recipe from Rome, I'd love to hear what you think. Please write a comment here on the blog or post a comment on the Pasta Project Facebook page.
Your feedback means a lot to me!
Buon Appetito!
This recipe was originally published in 2017 but has been updated.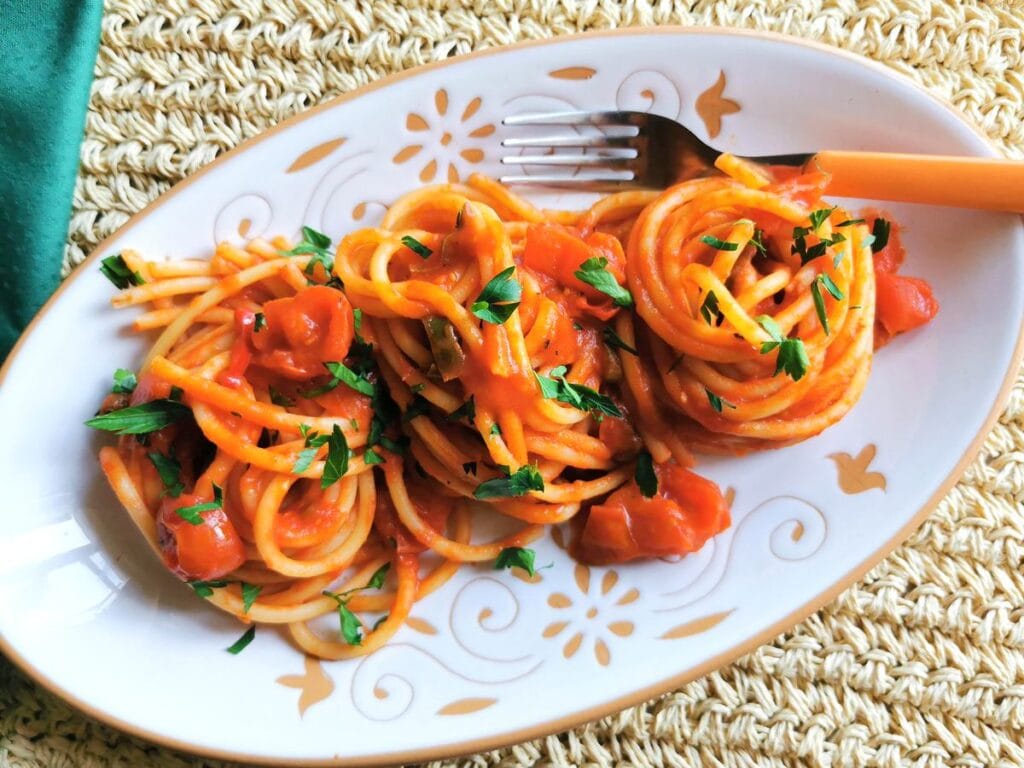 Other recipes from Rome on The Pasta Project.
Save this recipe for later?
If you want to save this recipe for later, you can print it, bookmark this page or save it to Pinterest.
Pin for later.
Want to know more about my life in Italy? Why not subscribe to my newsletter? New subscribers get a free series of recipe e-books too!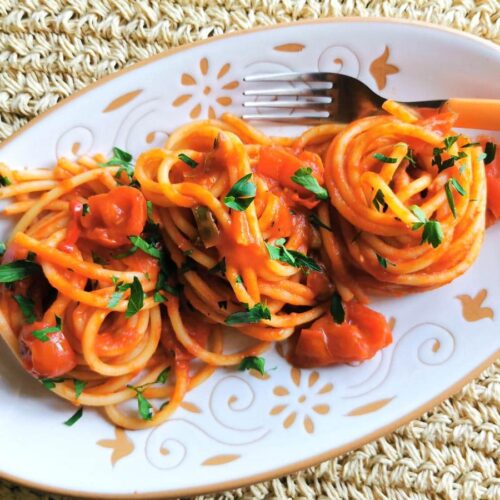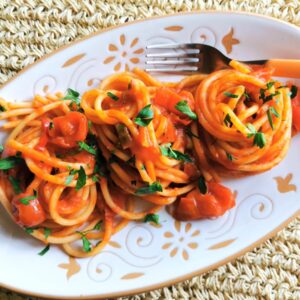 Bucatini all'arrabbiata
A delicious spicy classic vegetarian/vegan pasta dish from Rome that's very quick and easy to make. All you need is garlic, chilli peppers, tomatoes, parsley and pasta. Ready in 30 minutes!
Ingredients
400

g

bucatini

(14oz) or penne rigate

2

garlic cloves

peeled

3-4

tbsp

extra virgin olive oil

100

g

pecorino Romano (optional)

(3.5oz) or vegetarian/vegan parmesan grated

2

fresh chilli peppers

peperoncino. I red, 1 green or 2 red

1

handful

fresh parsley

chopped

400

g

ripe tomatoes

(14oz) peeled or 12 cherry tomatoes and 350 g passata rustica

salt

for pasta and to taste

ground black pepper

to taste
Instructions
Put a pot of water on to boil for the pasta. Once it starts to boil add salt and bring to the boil again.

If you are using fresh tomatoes, rinse them in cold water. Then remove the stalks and cut an X into the top of each tomato. This makes peeling them easier. Put them in a bowl and pour boiling water over them. After a couple of minutes, immerse them in cold water and peel them. Cut them in half and remove the pips. If using cherry tomatoes just wash and halve them

Peel the garlic. Take the chilli peppers, cut them in half and remove the seeds and then cut them into small strips. Be careful not to touch your eyes or mouth while you do this and wash your hands well afterwards. If you don't have fresh chilli you can used 2-3 teaspoons of peperoncino flakes.

Heat the olive oil in a non-stick frying pan or skillet.

Add the garlic cloves (whole or finely chopped as you prefer) and the chilli pepper to the pan and cook for a minute or two, stirring with a wooden spoon to prevent them from burning.

Then add the peeled tomatoes cut into cubes or the cherry tomatoes and cook for a few seconds at a high heat.

Lower the heat and add salt and pepper to taste.

If you are using cherry tomatoes and passata, add the passata now.

Stir well and then simmer the sauce uncovered for 15 minutes.

Cook the pasta al dente in the boiling salted water according to the instructions on the packet.

When the pasta is cooked, drain it and add it to the sauce. Mix everything together well.

If your garlic cloves are whole ( which is what I prefer to do) remove them.

Serve the pasta with a sprinkling of fresh parsley and grated pecorino Romano (optional).
Notes
I used bucatini but penne is the most typical pasta used in this dish. Strict vegetarians will need to replace the pecorino Romano with a vegetarian cheese, as its made with animal rennet, or leave the cheese out. Alterntively use a vegetarian or vegan parmesan.
If you are interested in learning how to make homemade pasta and different types of gnocchi, check out my shop page for some great video online courses from my friends in Rome! Nothing beats learning to make pasta from Italians! Plus while you're there why not order a copy of my autumn/winter pasta recipes cookbook!?