Many Italian soup recipes include pasta. Putting pasta in soup adds healthy carbs, protein, fibre, and other essential nutrients. In fact, if the soup also has protein and veggies too, it's nutritionally a complete and healthy meal! Below, you can find examples of authentic Italian minestrone, broths, vegetarian and vegan soups and soups with meat and seafood.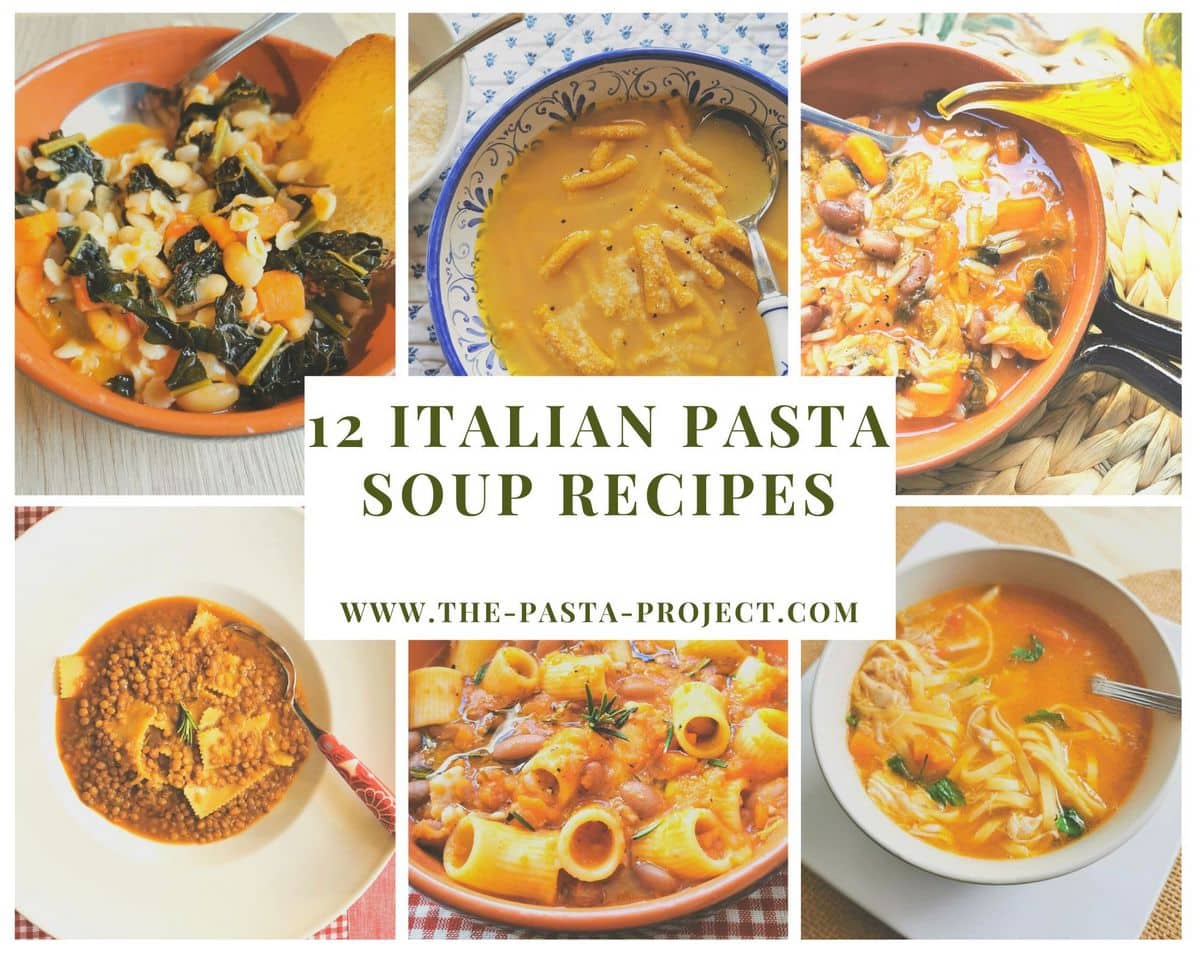 A little pasta with soup history.
Did you know that one of the earliest ways Italians served pasta was in soup, well broths? Back before tomatoes were brought to Europe from the New World, along with a number of other veggies, pasta sauces as we know them didn't really exist. Pasta was served in broth or with just cheese and butter or with spices, or sugar or early types of pesto like agliata (garlic, walnuts and bread).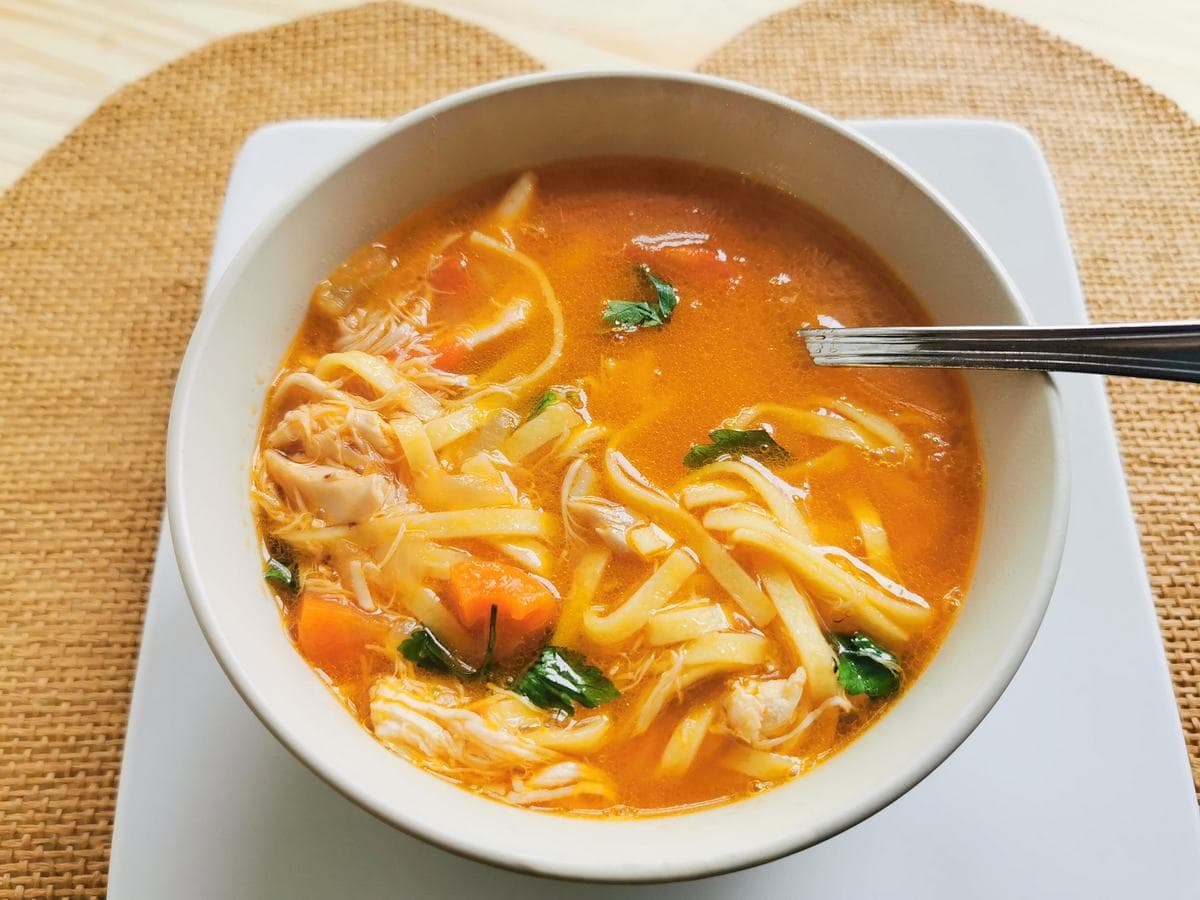 Early Italian soups were also often a lot simpler than they are nowadays. Soup with veggies and legumes was originally more common in the kitchens of the rural and peasant population. They made them with what they could grow or forage and very often with ingredients that had passed their prime or required long cooking. Meat was a luxury many could not afford to put in soup. When there was meat, it was usually off-cuts. People added pasta to their soup to make it more filling.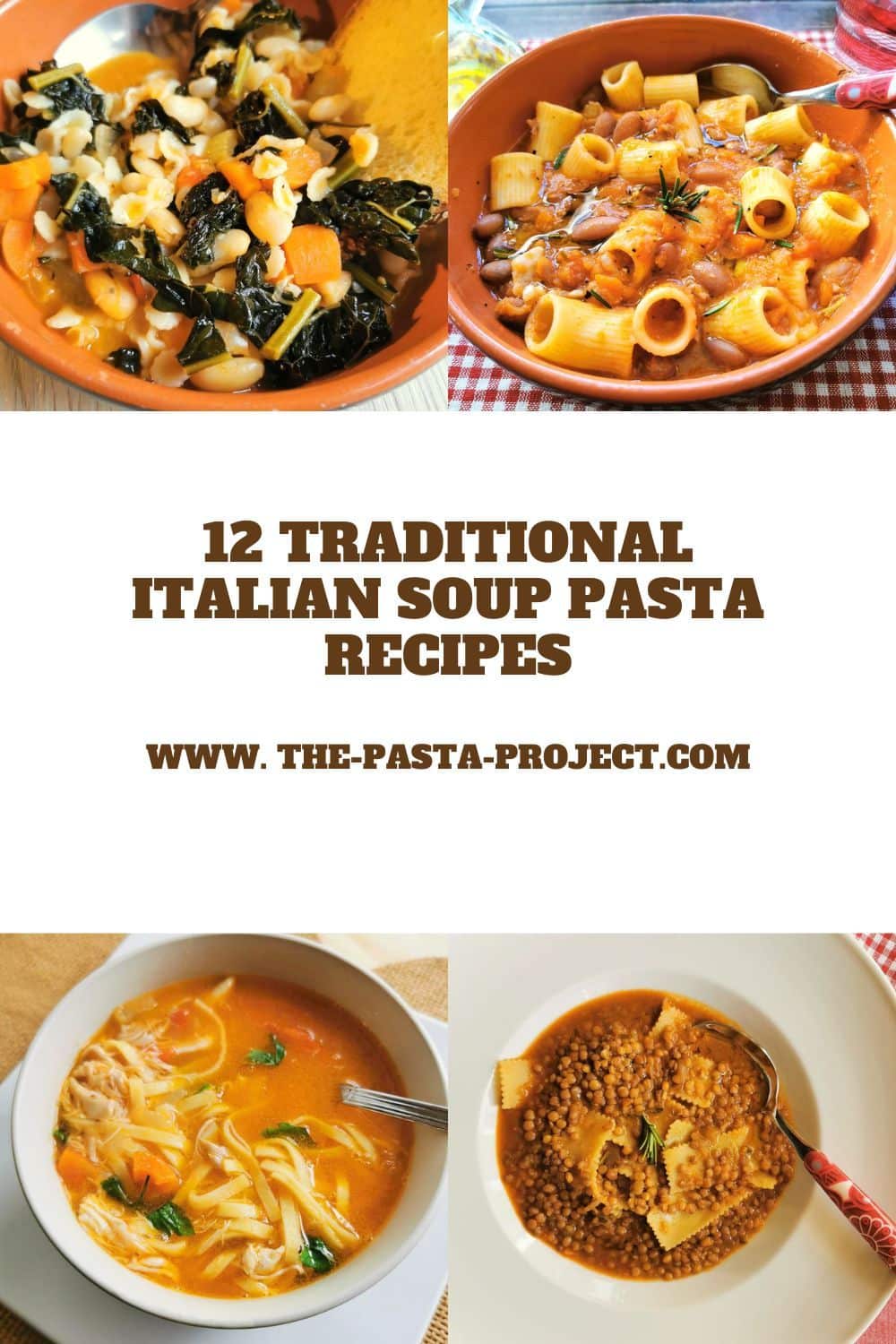 Filled pasta like ravioli, tortellini, cappelletti were first invented and served in broth back in the 1500s and then only at the tables of the nobility. The ingredients used to fill the pasta and make the broth weren't affordable for the poorer population. Today, however, these dishes are popular fare in many parts of Italy, particularly in the North and traditional on holidays and Sundays.
Click the recipe names to learn more!
Vegetarian/vegan Italian soup recipes with pasta.
Although many Italian soup recipes do call for meat or seafood, these ingredients were often added for flavour and nutritional value rather than being the main ingredients. However, there are many delicious traditional vegan or vegetarian Italian soups without any animal derivatives. These are often soups with legumes or lots of vegetables or both.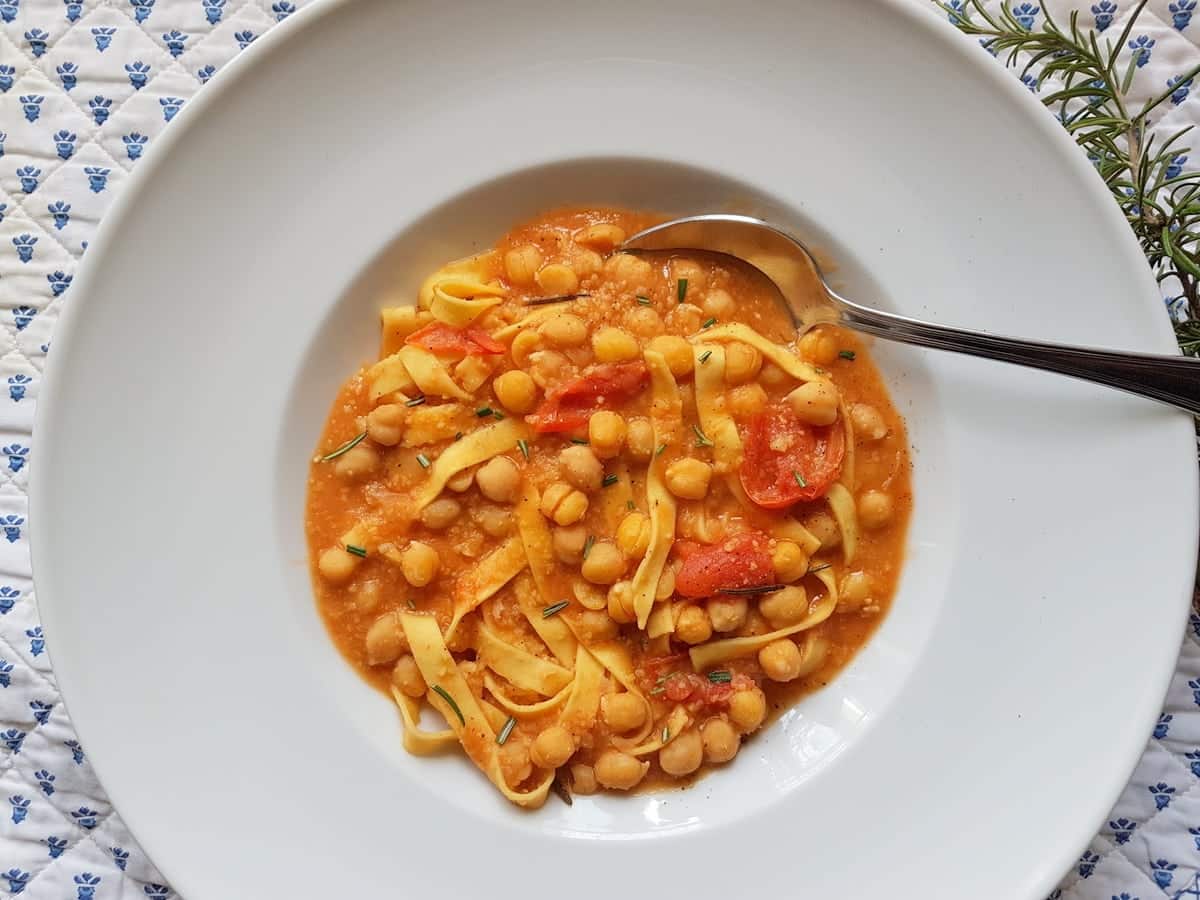 Pasta with chickpeas is a delicious and nutritious traditional recipe in many parts of Central and Southern Italy. Most versions are a soup, but some are more sauce like. One of the oldest authentic versions, lagane with chickpeas, dates back to Ancient Rome. This recipe comes from Tuscany, where they use tomatoes, dried chickpeas and egg pasta ribbons like tagliatelle. To make this recipe vegan, you will need to use a flour and water pasta.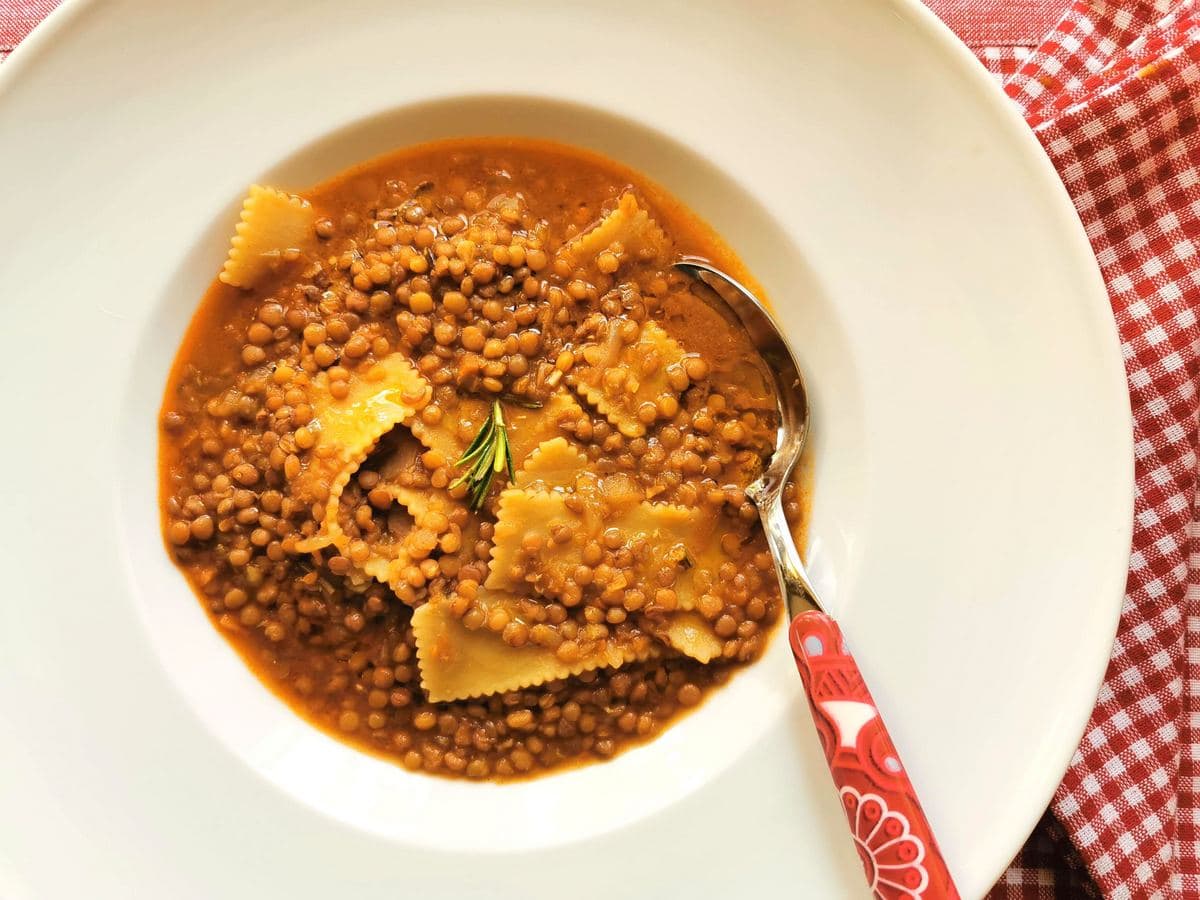 This recipe from Umbria in Central Italy is made with the region's famous small mountain lentils, considered to be the best in Italy. However, you can use other types of small green/brown lentils such as puy lentils from France. Apart from the lentils and pasta, you need onion, carrots, celery, garlic, rosemary, tomato paste and vegetable stock to make this one pot nutritious vegan/vegetarian Italian soup with pasta.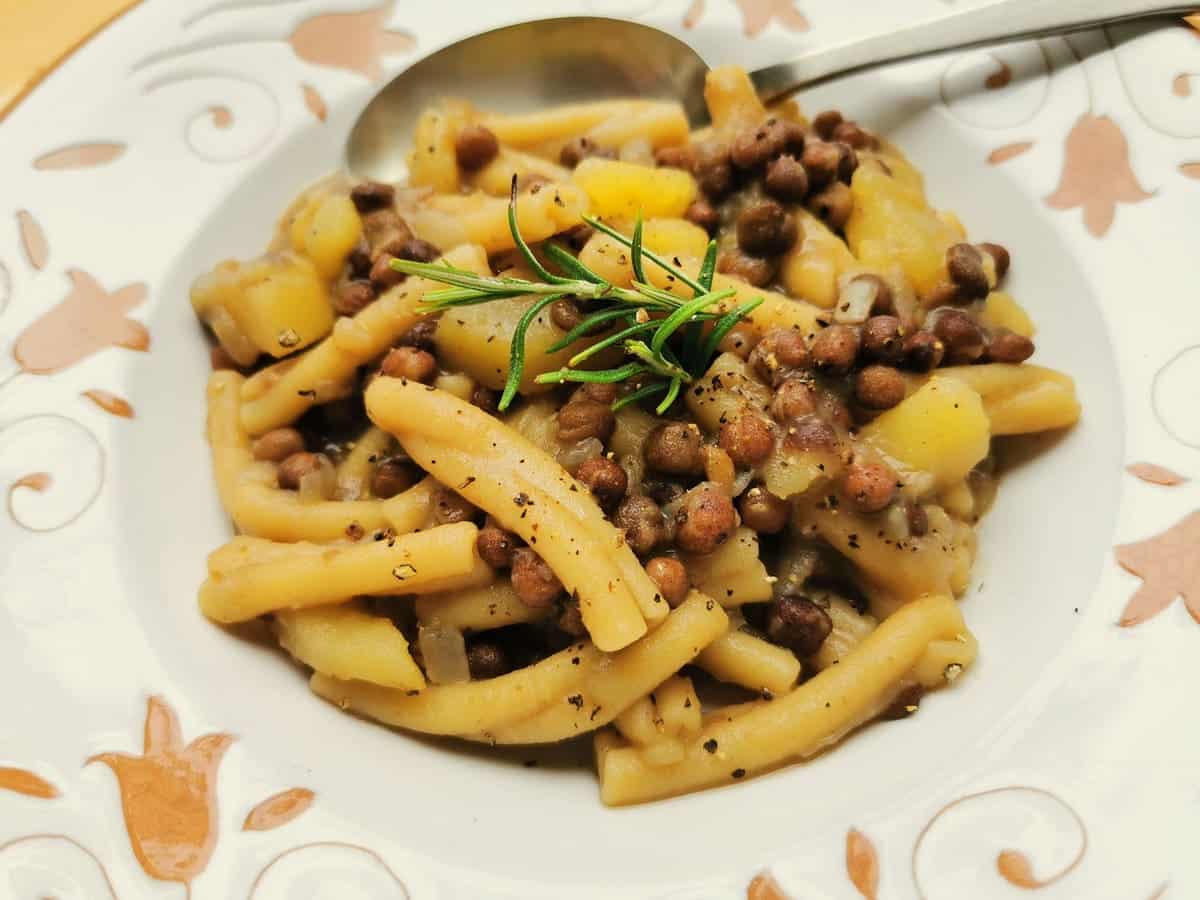 Umbria is famous for its legumes, beans and cereals. This second Umbrian soup with pasta is made with a relatively rare legume, roveja a type of wild pea. Roveja peas are believed to have originated in Asia. Once upon a time, they were wild harvested or grown on high altitude terrain in the Sibillini mountains in Umbria and Le Marche and were a part of the staple diet of the local shepherds and farmers.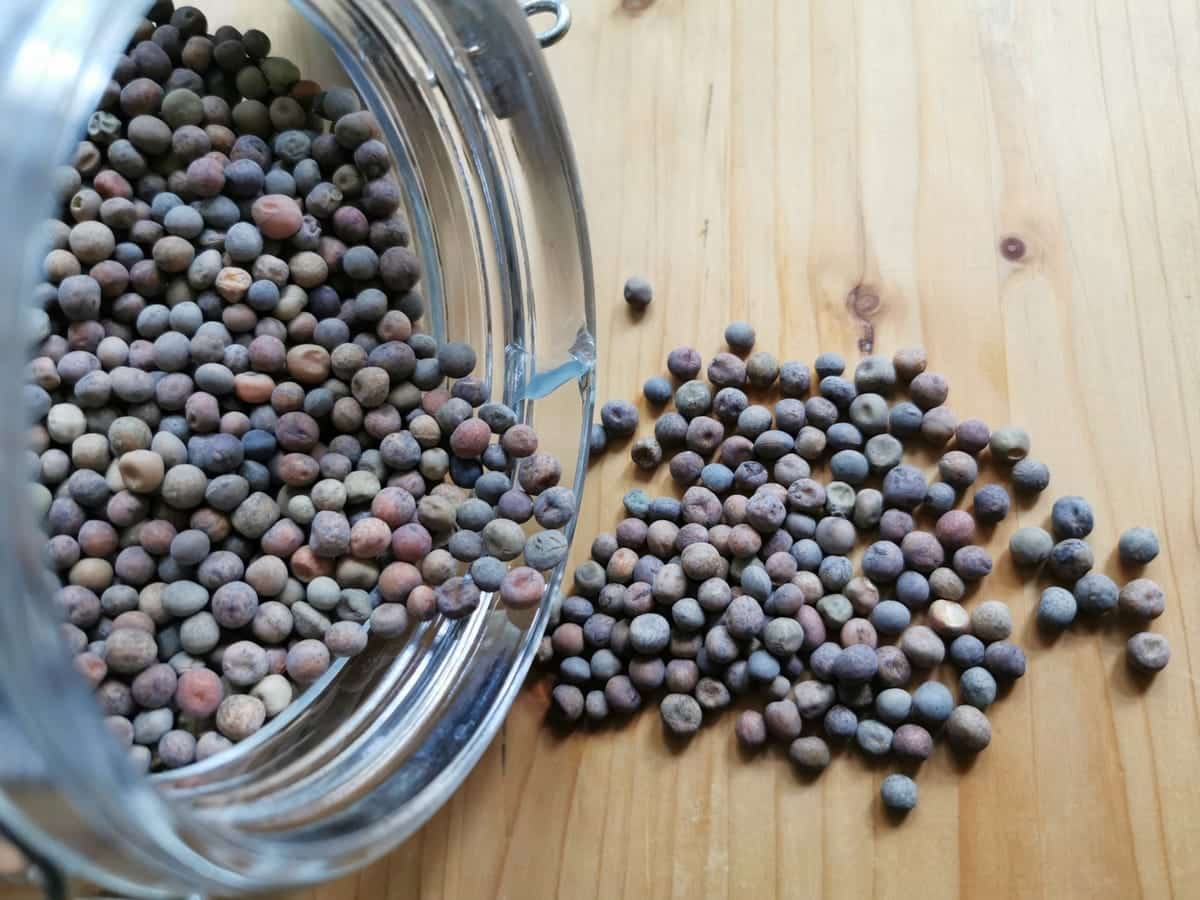 After almost completely disappearing from local tables, the Roveja pea is today enjoying a resurgence through a Slow Food Ark of Taste status that encourages its use and preservation. This recipe can also be made with chickpeas, lentils or beans.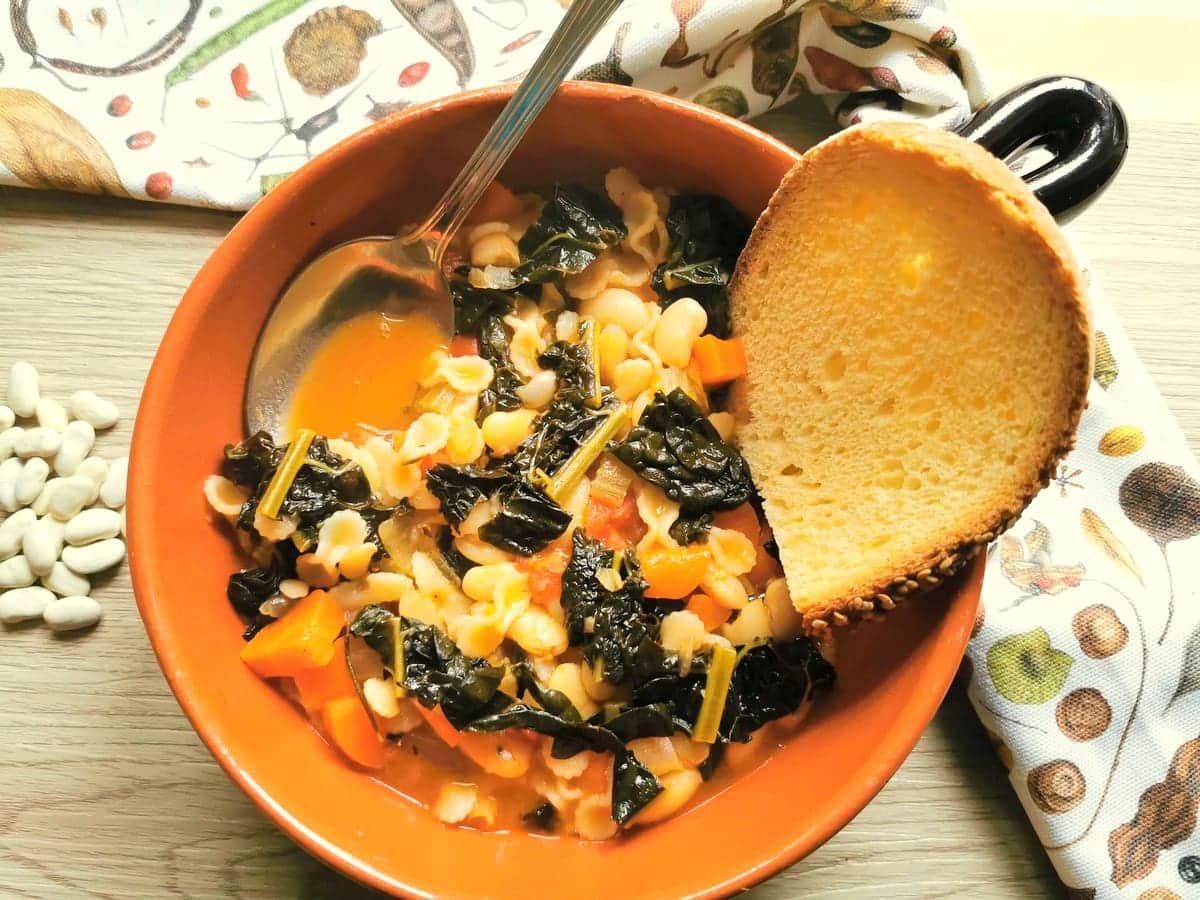 Tuscany is another Italian region famous for its legume and bean recipes, including soups. In fact, the traditional Tuscan kitchen is very rustic, and the people of Tuscany are often referred to as 'mangiafagioli', meaning bean eaters because they eat so many beans! Kale and white bean soup is a classic Tuscan recipe. This version with pasta is super healthy and nutritious, a complete meatless meal that's perfect for the cold weather months!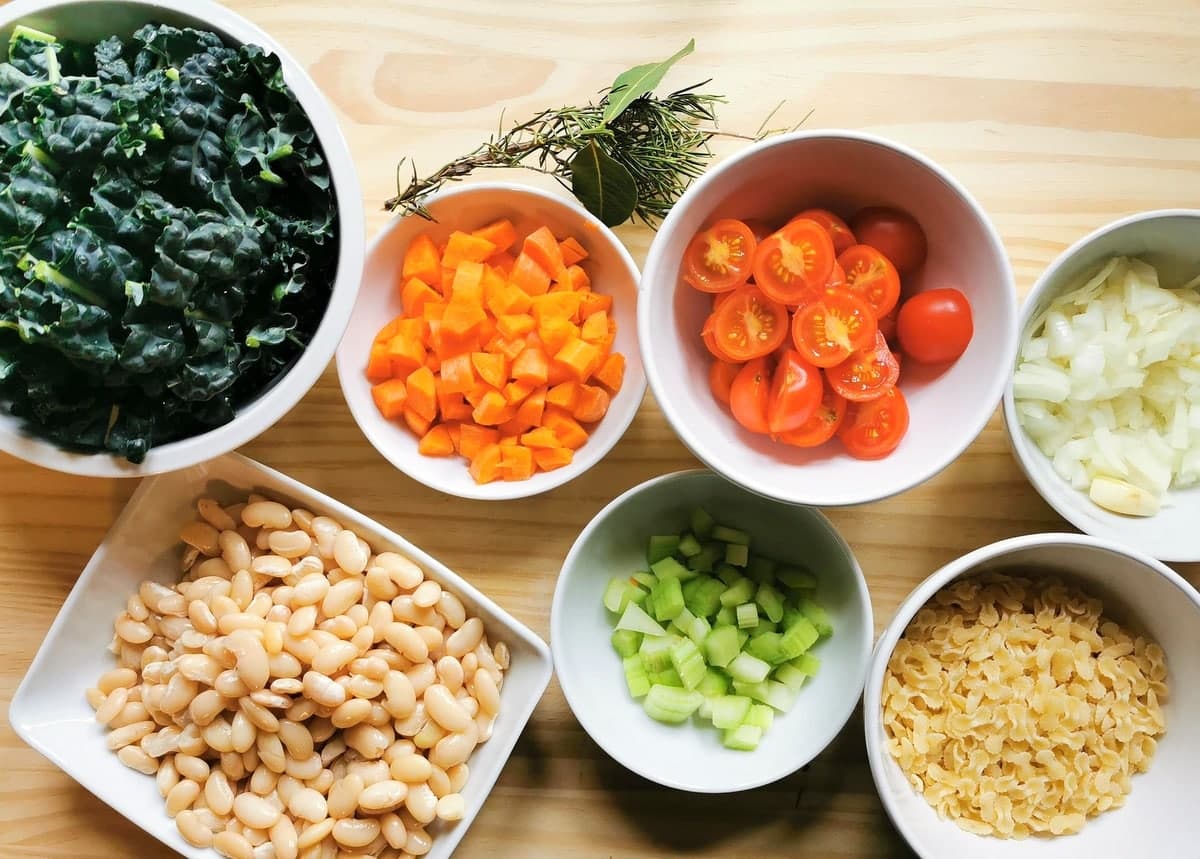 Minestrone with pasta.
There are many types of minestrone in Italy. It's not just one recipe. In general, authentic minestrone is a seasonal vegetable soup which normally includes some thickening plant-based ingredients such as squash, potatoes or legumes. Plus, it has different veggies cut into small pieces and rice, pasta or grains.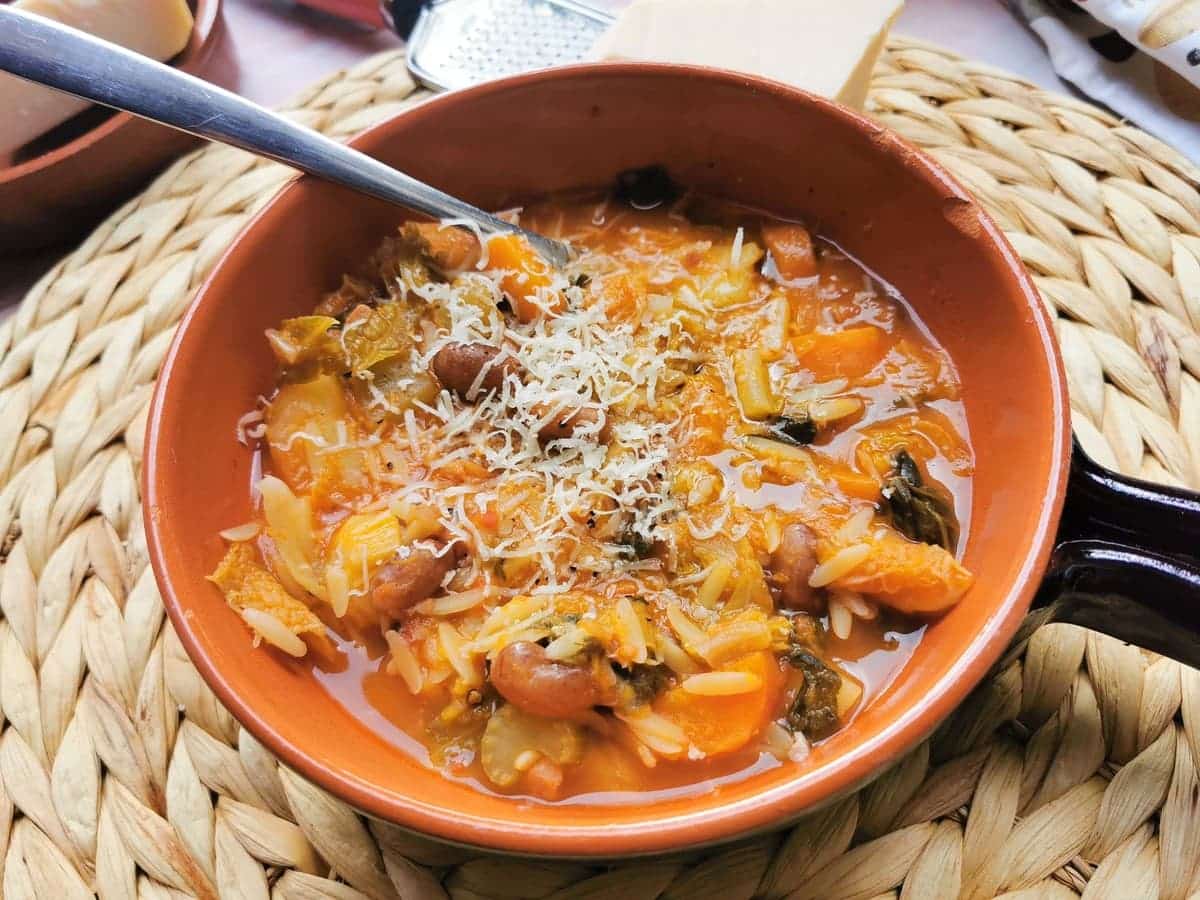 This second soup recipe from Tuscany is a minestrone with pasta. In Tuscany, minestrone is a traditional autumn/fall dish, so the veggies are usually what's seasonal then. Apart from beans and pasta, this recipe has potatoes, squash, carrots, onions, Swiss chard, Savoy cabbage, leeks, celery and tomato passata. A warming soup for the start of the cold weather!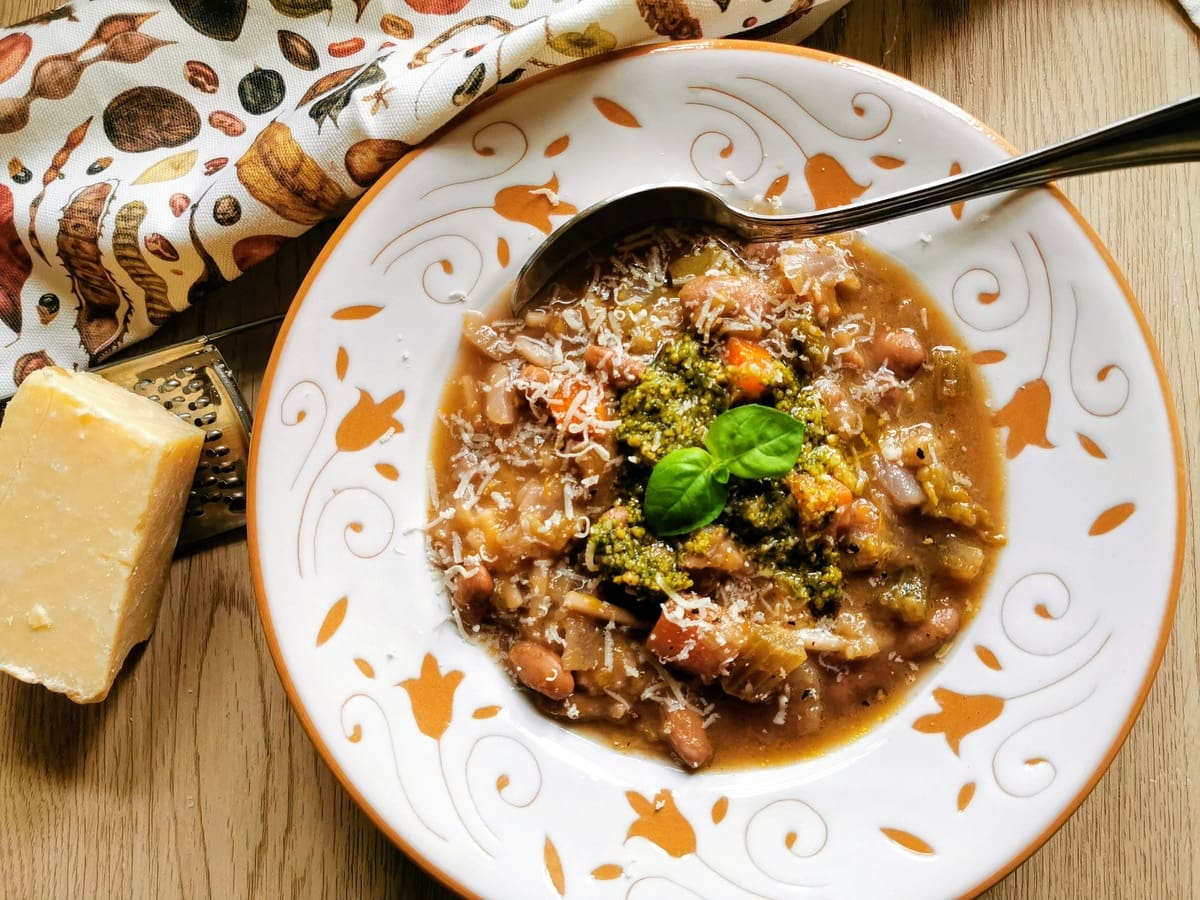 This minestrone with pesto from Liguria in Northwest Italy is one of my favourite Italian soup recipes. Not only is it full of fresh seasonal vegetables, but the addition of the local basil pesto Genovese really makes it uniquely flavourful. Like other minestrone recipes, the types of vegetables in this version depend on the season. Ligurians also add a Parmigiano cheese rind to the soup for flavour.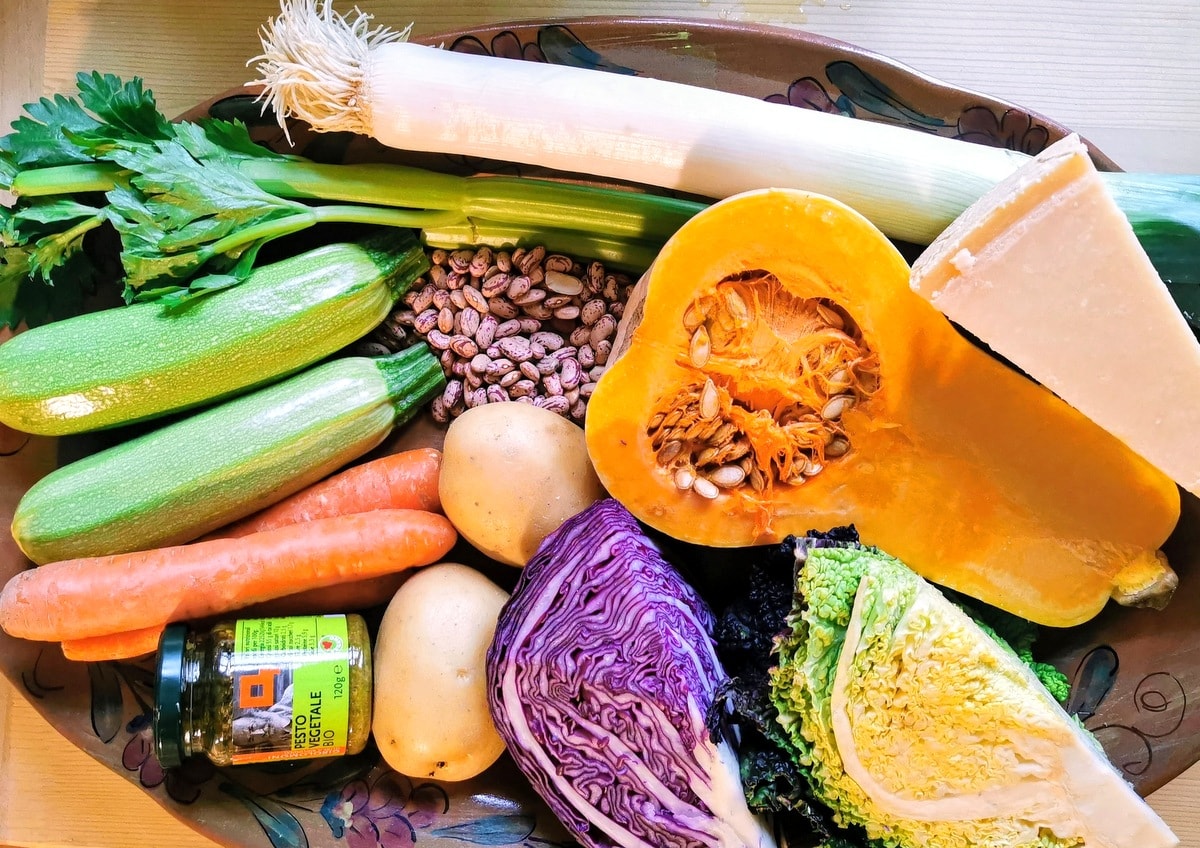 This recipe isn't vegetarian as is because of the cheese in the pesto and in the soup. To make this recipe vegetarian or vegan you need to use a cheese-free pesto and not add the cheese rind to the soup. Italian Parmigiano Reggiano and Pecorino Romano are made with animal rennet.
Italian pasta in broth recipes.
Homemade broth is traditionally a staple in the Italian kitchen. It is used to make other dishes or soups or is eaten with pasta. Even nowadays, many Italians make their own broth, and I would think it's de rigueur in most restaurant kitchens.
Italian children grow up on pasta in broth dishes, particularly those with small soup pasta (pastina). Plus, many types of filled pasta or dumplings are served in broth.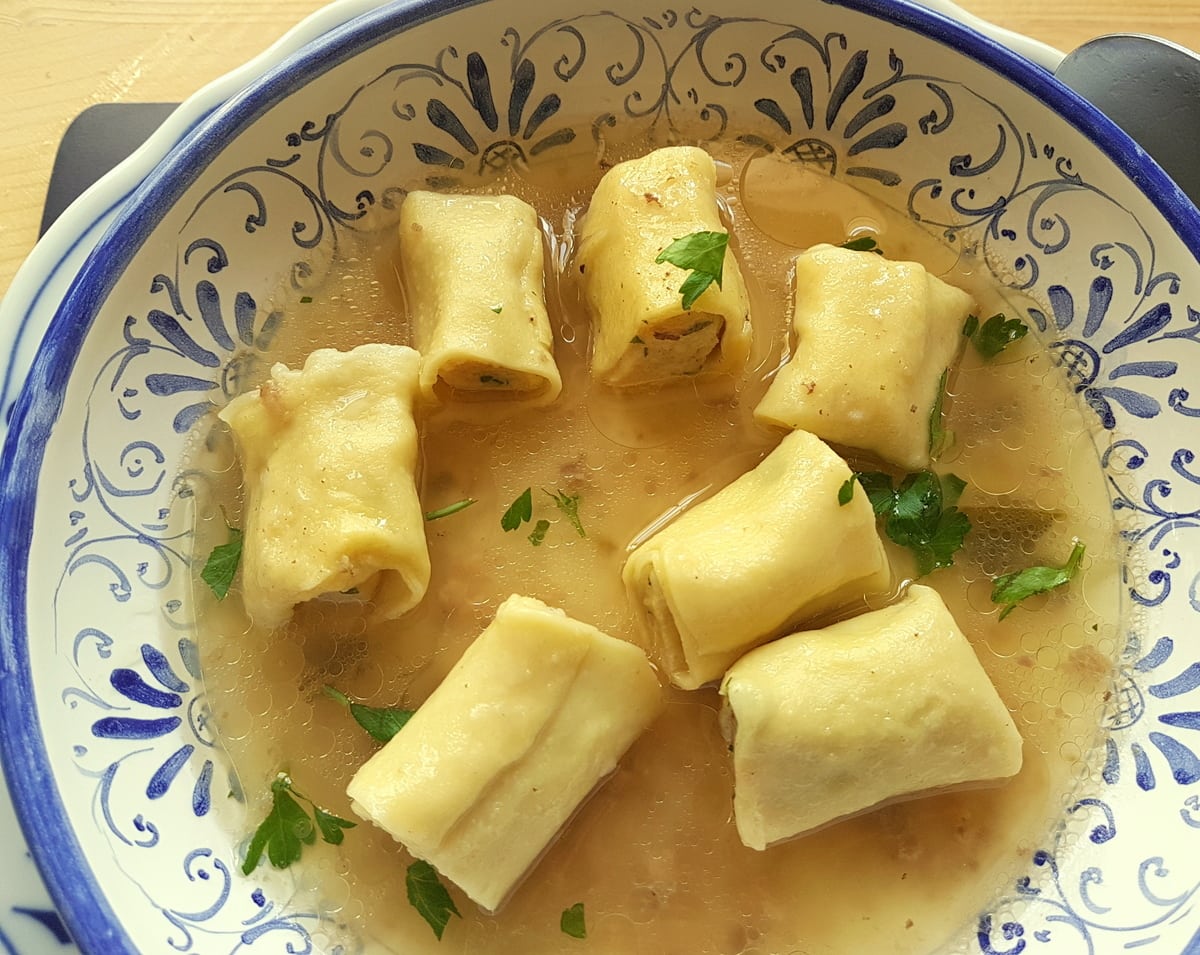 This divine stuffed mezze maniche in osso buco broth is based on a traditional Christmas recipe from Piacenza in Emilia Romagna. Traditionally the stuffed pasta would be served in a meatless broth. However, I made the broth with veal osso buco which was just out of this world. This recipe is a little bit time consuming to make but so worth the effort! I'm sure you have never tasted such delicious pasta in broth!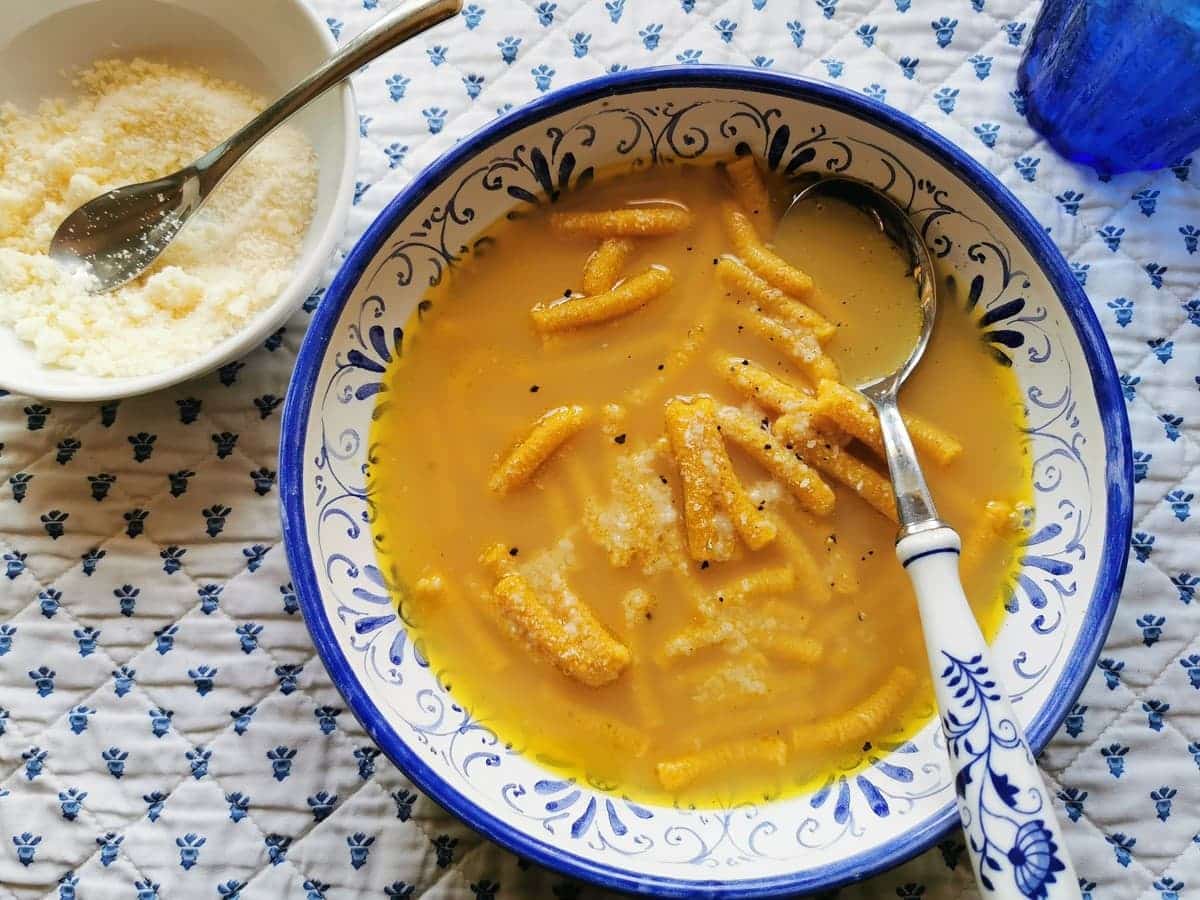 Although passatelli is not made with flour, it is still classified as a type of pasta. These soft, normally homemade strands of breadcrumbs, grated Parmigiano cheese and eggs are an ancient tradition in both Emilia Romagna and Marche.
Like other similar foods, passatelli was invented in the rural low-income areas, where leftovers and simple foods like stale bread, cheese and eggs were used often to create tasty dishes. Traditionally passatelli is cooked and served in a capon or chicken broth but you can serve it with other types of broth too.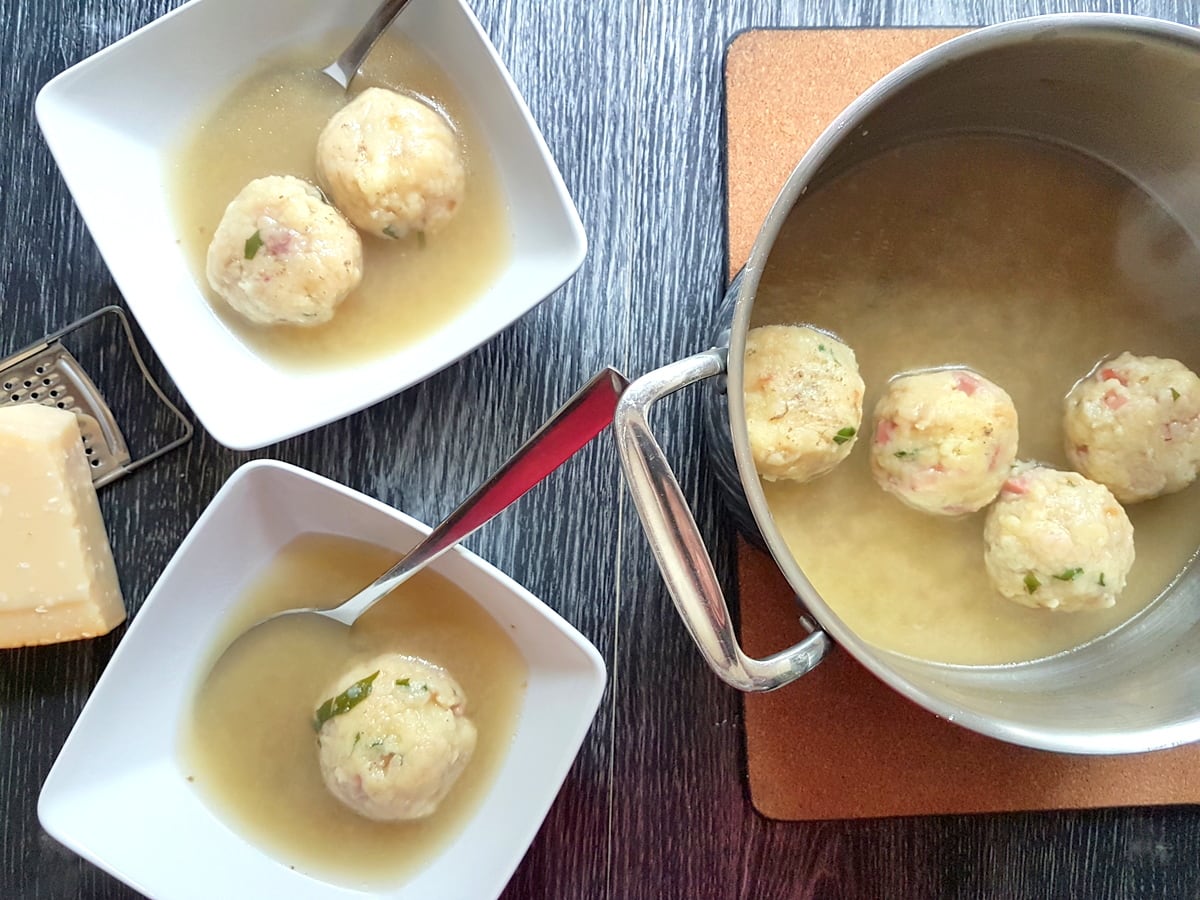 Canederli are large round dumplings made from a mixture of stale bread, flour, eggs and milk. These bread dumplings are traditional in Trentino-Alto Adige, the Alpine region in Northeast Italy that borders with Austria.
There are both sweet and savoury types of canederli, which Italians also call bread gnocchi. Italians usually cook and eat these bread dumplings in a clear homemade broth. This broth can be beef, chicken or vegetable. I used homemade beef broth for this canederli recipe.
Italian soup recipes with fish or meat.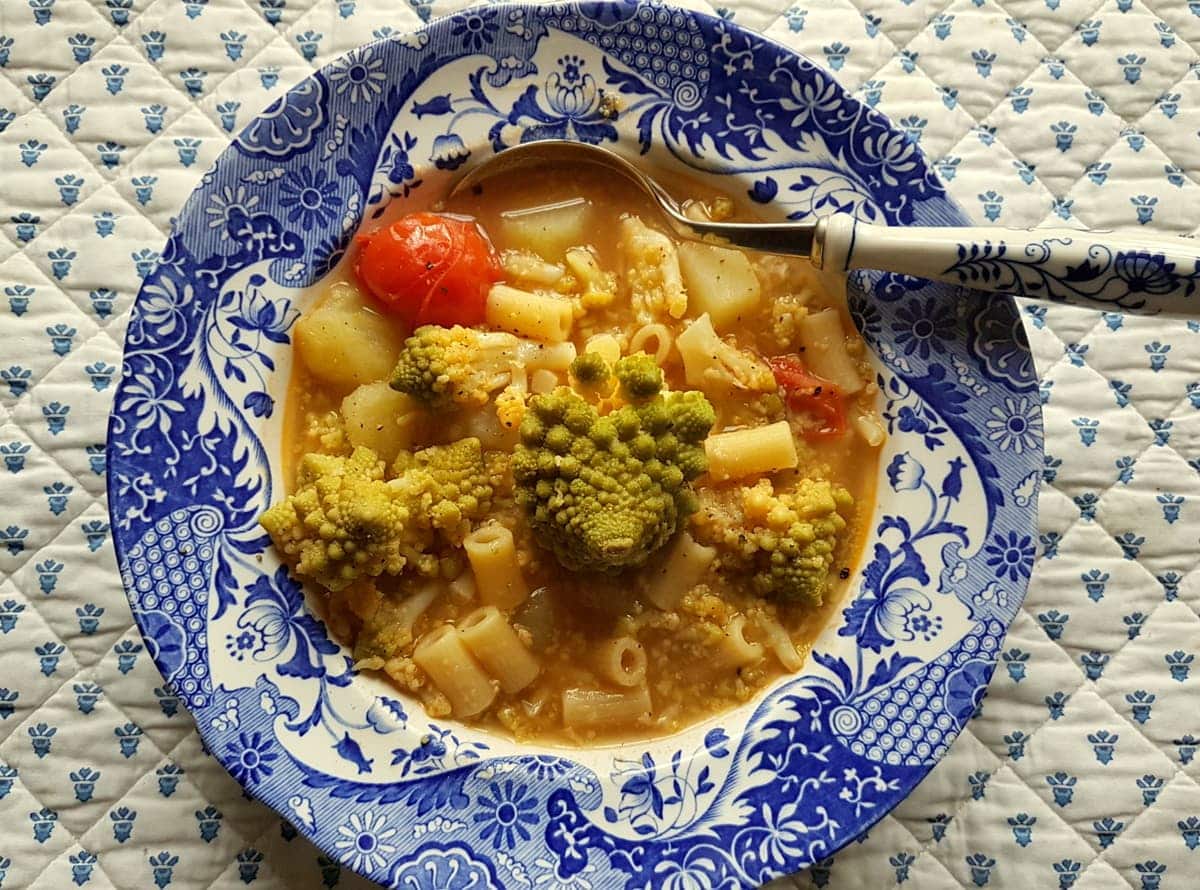 The original recipe of this Romanesco broccoli soup from Rome dates back to the times when Friday was a day of fasting. In poorer households, housewives traditionally made a soup with the week's leftover dried pasta (often a mix of different kinds) and skate or ray, which was a cheap and unappreciated fish. However, skate is still not a popular fish and also not widely available. So, many people use just anchovies instead.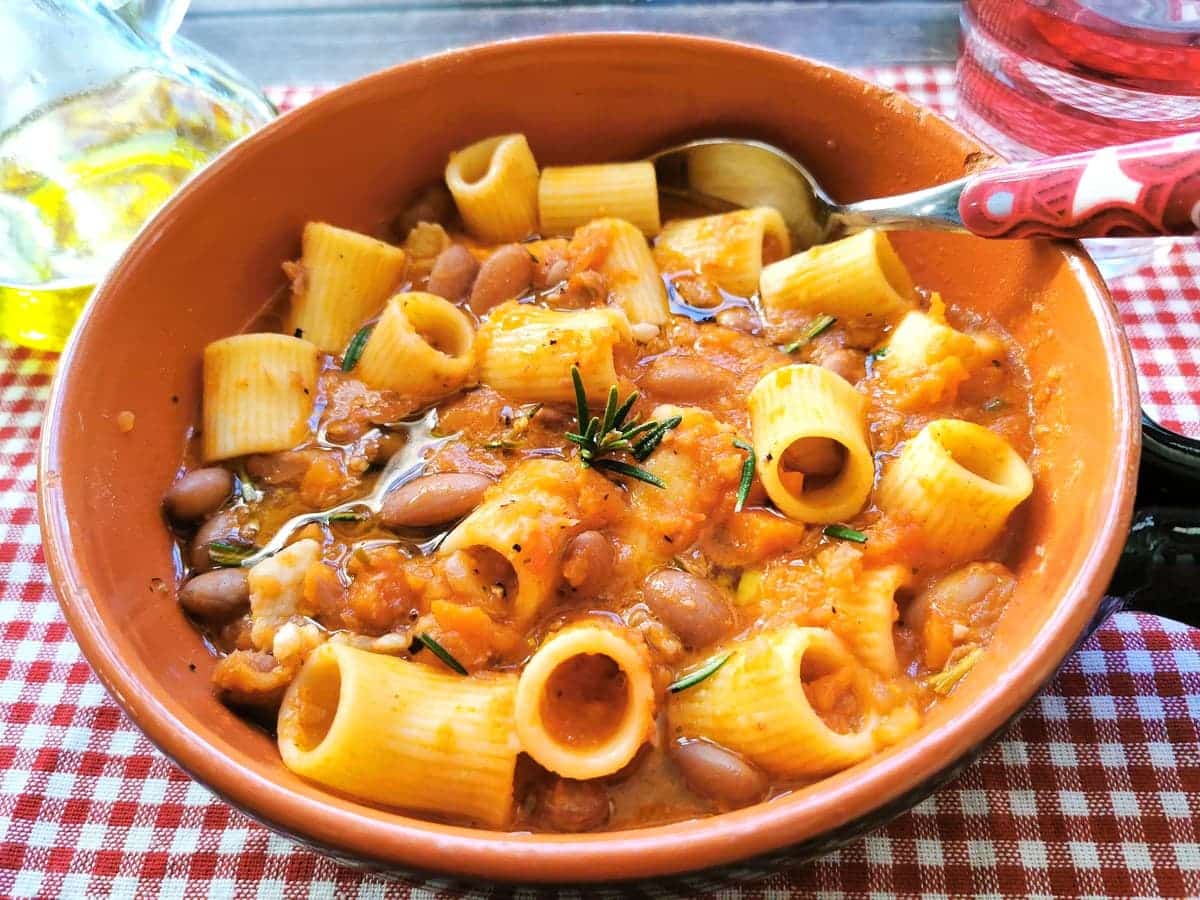 Pasta e fagioli is probably the most well-known Italian soup with pasta outside of Italy. It's very popular in Italy too and many regions have their own version. This version is from Veneto where pasta e fagioli became a traditional autumn/fall soup because this was the time of year families slaughtered their pigs! Pork rind and bones were once used to flavour this soup.
Today, of course, we don't need to slaughter a pig to make it. We also don't usually add bones and rind! Some good pancetta or guanciale is all you need to make this Italian classic!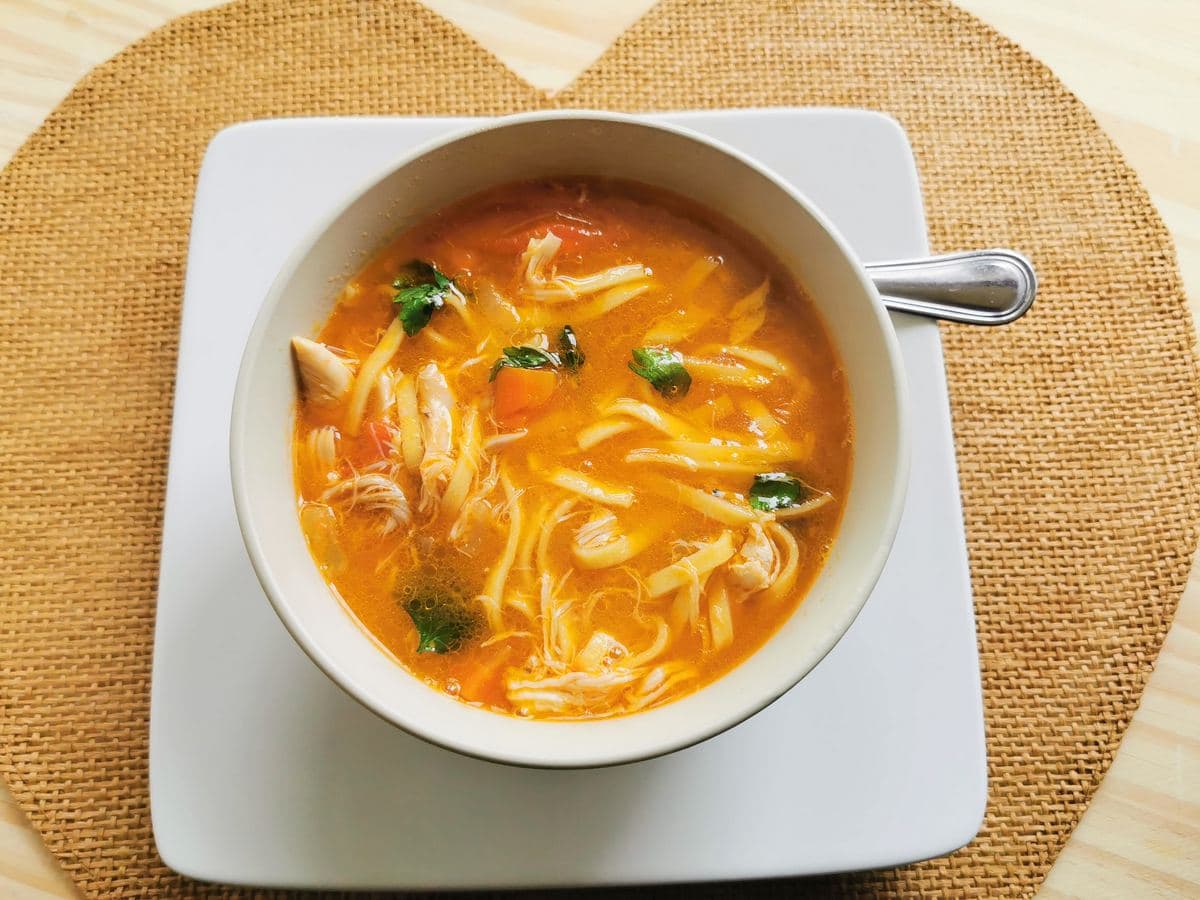 Once upon a time, Italians used chickens, roosters or capons mostly to make a clear broth to serve with filled or fresh pasta or pastina. Over time, chicken soup (minestra or zuppa di pollo) with the meat and veggies in it also became popular. This version of Italian chicken noodle soup is extra nutritious and delicious because the chicken is a fresh organic bird and even the broth is homemade.
Let me know what you think.
Of course, there are many more Italian soups to discover, with or without pasta. However, all of the above are authentic recipes, made the way Italians make them. So, why not bring a taste of Italy to your table this soup season and make your family some warming and nutritious pasta soup?
If you do try any of these 12 Italian soup recipes with pasta, I'd love to hear what you think. Please write a comment here on the blog or post a comment on the Pasta Project Facebook page.
Your feedback means a lot to me!
Buon Appetito!