Romanesco broccoli pasta soup; recipe from Rome.
This Romanesco broccoli pasta soup had me at the first spoonful! It is tasty healthy and warming. So perfect for the never-ending winter we are experiencing at the moment in Northern Italy!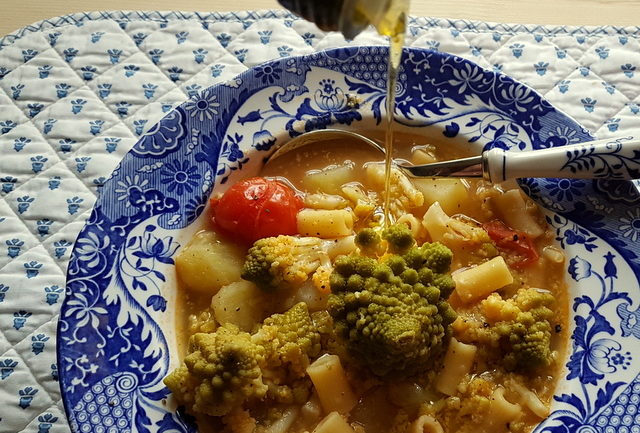 Minestra di pasta e broccoli romani.
Once again Italian cuisine shows it's mastery in taking simple seasonal ingredients and turning them into a dish you just can't get enough of! I confess I had 2 bowls of this Romanesco pasta soup, one after the other. I would have had more, had there been room in my tummy!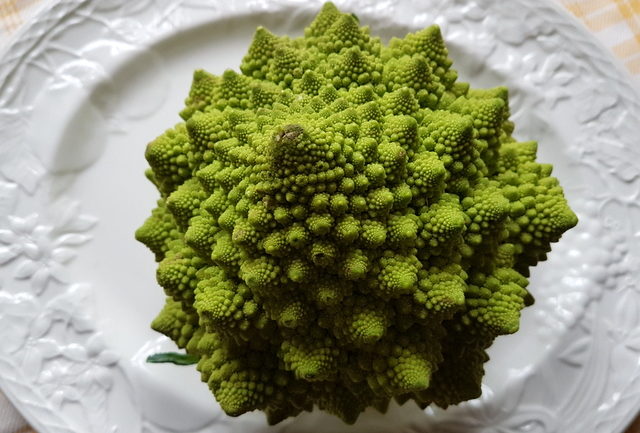 An authentic pasta soup recipe from Rome.
This recipe comes from Lazio, particularly Rome, where traditionally it includes skate. This is a fish that's not so easy to find here in Veneto, so I made it without, which many people do. However the original recipe dates back to the times when Friday was a day of fasting. In poorer households, housewives would make a soup with the week's leftover dried pasta (often a mix of different kinds) and skate, which was a actually a cheap and unappreciated fish. I have read that Romanesco broccoli was added to the soup to give it more taste!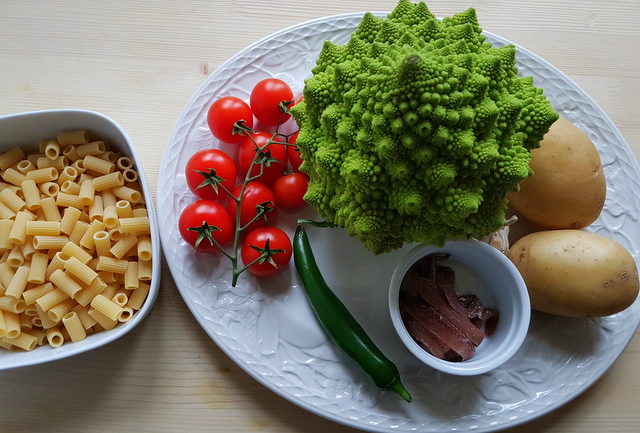 What is Romanesco broccoli?
Romanesco broccoli, also known as Roman cauliflower, has actually been grown in Italy since the 16th century. So it's not, as some people think, a cross between a cauliflower and broccoli. The fabulous bright chartreuse colour and baroque 'design' described as a natural self-similar fractal make this member of the brassica family a really beautiful vegetable.
What is a self-similar fractal you may ask! In simple layman's terms, it's the same pattern repeated over and over again in different sizes in something that each part looks the same as the whole object. You can read more on fractals in Wikipedia but in short Romanesco broccoli is a natural work of art!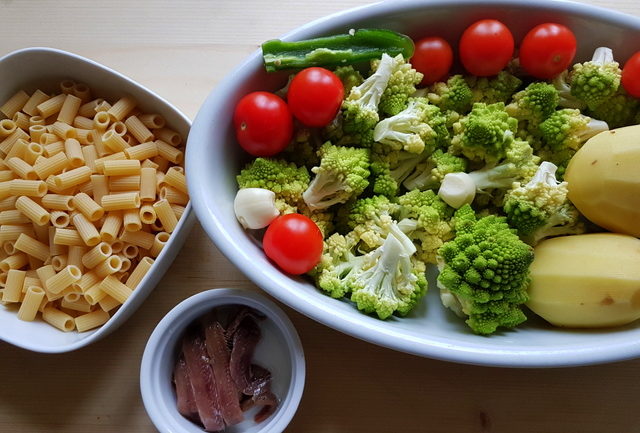 However, Romanesco broccoli isn't just good looking. It has a delicious slightly nutty and delicate flavour and tastes a bit like something between cauliflower and broccoli. This also means it is great in both cauliflower and broccoli recipes. Here in Italy, Romanesco broccoli is served as a side dish with main courses or eaten with pasta or made into soup. It's also used in soup with pasta together, like in this recipe for Romanesco broccoli pasta soup!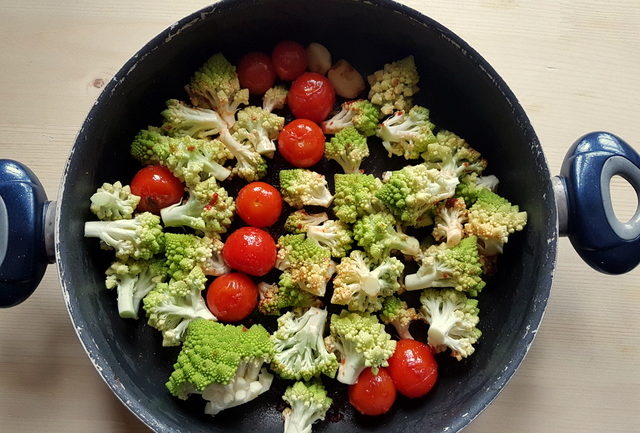 The Pasta.
Nowadays the pasta used in this soup is either broken up spaghetti or soup pasta such as ditalini, which is what I used. However, you can use any small pasta. In the days when this soup was traditional Friday fare, pasta was often sold loose, not in packets. The leftovers were used in soups like in this recipe. Today pasta is sold in packets, but most Italian pasta makers also sell packets of mixed pasta (pasta mista) which is popular for soups.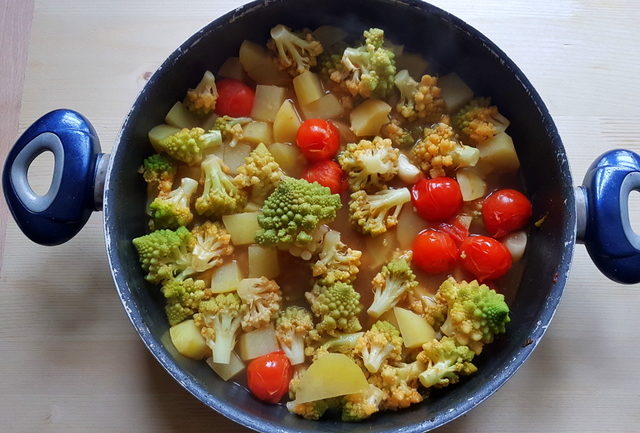 Other ingredients for Romanesco broccoli pasta soup.
Apart from the pasta and the Romanesco broccoli, this recipe has only a few other ingredients. There are slightly different versions of this soup, as there are with many old Italian recipes. Generally, when made with skate this soup also includes carrot, celery and onion which are used with the skate to make a broth first. In this much simpler version, the only other ingredients are potato, anchovies, fresh chili pepper, garlic and tomatoes. The pasta can be cooked in the soup or separately. I cooked it in the soup which I think also makes the soup slightly thicker because of the starch from the pasta.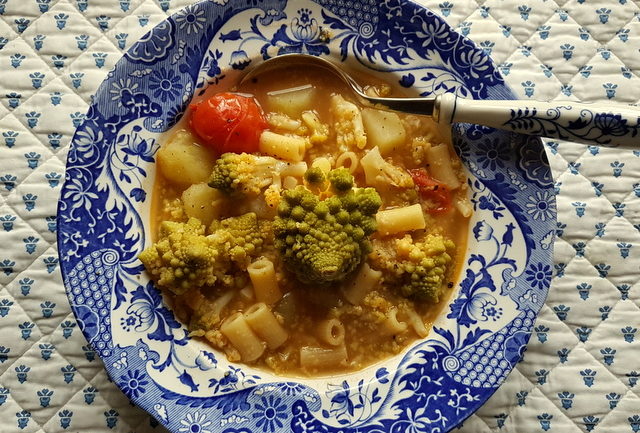 If you have never eaten this unusual vegetable, then this Romanesco broccoli pasta soup is a great introduction to it. Although another great way to eat it is raw as a crudité. It makes for a great conversation starter as most guests are unlikely to have eaten it before! Then you can show off your knowledge and explain fractals to them!

If you do try this Romanesco broccoli soup recipe, I'd love to hear what you think. Please write a comment here on the blog or post a comment on the Pasta Project Facebook page.
Your feedback means a lot to me!
Buon Appetito!
Save this recipe for later?
If you want to save this recipe for later, you can print it, bookmark this page or save it to Pinterest.
Pin for later.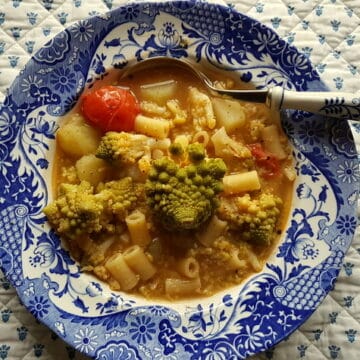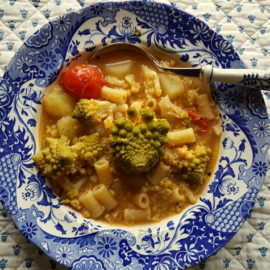 Romanesco broccoli pasta soup
A delicious traditional soup from Rome made with beautiful Romanesco broccoli. This soup is tasty, healthy and warming.
Ingredients
200

g

spaghetti or ditalini

(7oz) spaghetti needs to be broken into pieces

1

medium

Romanesco Broccoli

washed and cut into florets

2

garlic cloves

peeled

1/2

fresh red or green chili pepper (peperoncino)

cleaned of seeds and chopped into small pieces

5

anchovy fillets

you can use salted or preserved in oil

2

potatoes

peeled and cut into cubes

2

cups

vegetable stock

200

g

cherry tomatoes

(7oz) washed

3-4

tbsp

tomato passata

You can use more passata if you don't have fresh tomatoes

salt

to taste

fresh parsley

optional

30

g

parmesan or grana cheese grated

optional

black pepper

to taste
Instructions
Heat two to three tablespoons of oil in a deep frying pan or skillet, add the peeled garlic cloves and let them soften.

Add the anchovy fillets cut into pieces and let them melt, then add the chili pepper (peperoncino) cut into small pieces, cherry tomatoes and Romanesco broccoli florets. stir and cook for 5 minutes

Add the potato pieces and tomato passata and two to three cups of water or vegetable stock.

Continue to cook covered for 10 minutes and then add salt and pepperto taste and the pasta.

Cook until the pasta and Romanesco broccoli are both still a little al dente (firm). Remove the garlic.

Serve hot with a dash of extra virgin olive oil, grated Parmesan or grana, black pepper and chopped parsley as required.
Notes
Traditionally this soup is made with spaghetti broken into pieces or ditalini, but you can also use other types of soup pasta.
For a vegetarian version leave out the anchovies.They are there for their umami flavour. You can substitute them with umeboshi paste. Also use a vegetarian cheese as Parmigiano and grana are made with animal rennet.
Other recipes from Rome on The Pasta Project.