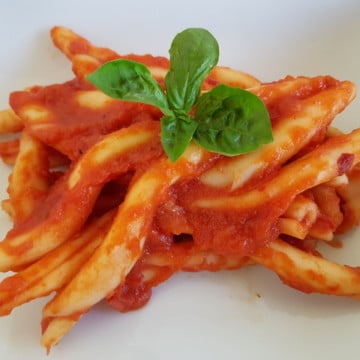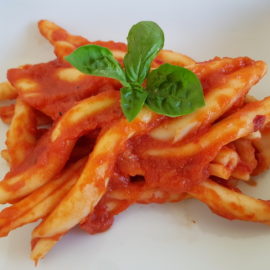 Pasta with Nduja
A unique spicy pasta recipe from Calabria, perfect for anyone who likes spicy food!
Ingredients
100

g

Nduja soft salami

(3.5oz)

400

g

Fileja Pasta

(14oz) you can use other short pasta such as maccheroni or penne, or spaghetti

1

large red Tropea onion

peeled and chopped

400

g

Tomato pulp or peeled and chopped fresh tomatoes

(14oz) datterini are good

Extra virgin olive oil

50

g

Parmigiano cheese.

(2oz) grated or Pecorino

Salt

to cook pasta and to season

pepper

to season
Instructions
Put a pan of salted water on to boil for the pasta.

Remove the Nduja from the skin, put it in a bowl and mash it with a fork to soften it.

Heat some extra virgin olive oil In a non-stick skillet

Add the onion and cook over a low heat for a few minutes.

When the onion is translucent add the Nduja in small pieces. (The amount you use depends on how spicy you want the dish. Start with 100grms and see how you go)

Leave the Nduja for two minutes on a low heat so it melts. Add a little hot water to make it more liquidy if necessary.

Add the tomato pulp/peeled tomatoes.

Turn up the heat for 2 minutes until the water from the tomatoes evaporates.

Cook for another 10-15 minutes over medium heat, so that the sauce thickens and reduces a little.

Season with salt and pepper as required.

Cook the pasta "al dente" and then drain it and toss it in the pan with the sauce and mix everything together well.

Sprinkle with Parmigiano or Pecorino cheese and serve immediately.

Buon Appetito!
Notes
Nduja can be bought as a whole 'sausage' or in jars. We usually buy the sausage here in Italy but if it comes from Calabria I would assume the Nduja is good from a jar too. Nduja is typically eaten with short pasta such as fileja, maccheroni, penne, fusilli etc or spaghetti. This recipe can be used with any of these types of pasta.