A Traditional Braised Onion and Tomato Sauce from Bologna.
Traditionally this intensely favourful braised onion sauce from Bologna takes hours to make even though it has very few ingredients. However, Il friggione is definitely worth the wait!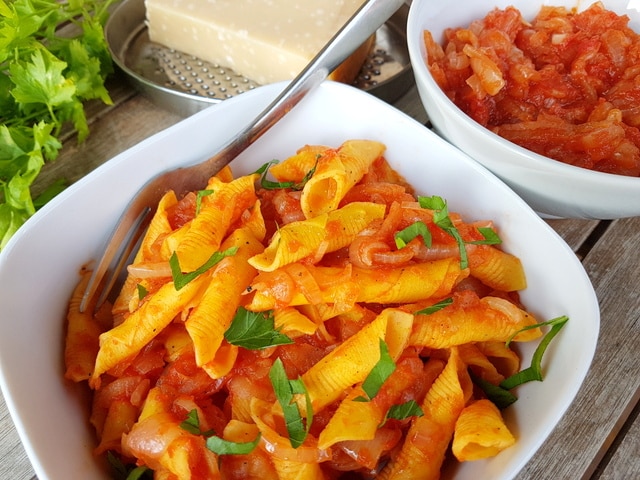 Il Friggone con pasta.
Il Friggione, also called frizòn or frizàn in the local dialect, is a sauce from Bologna, Emilia-Romagna made with slow cooked white onions and peeled tomatoes. It is a really seriously tasty dish traditionally served as a side dish with meat or as an antipasto with bread. However, nowadays it is eaten with pasta too.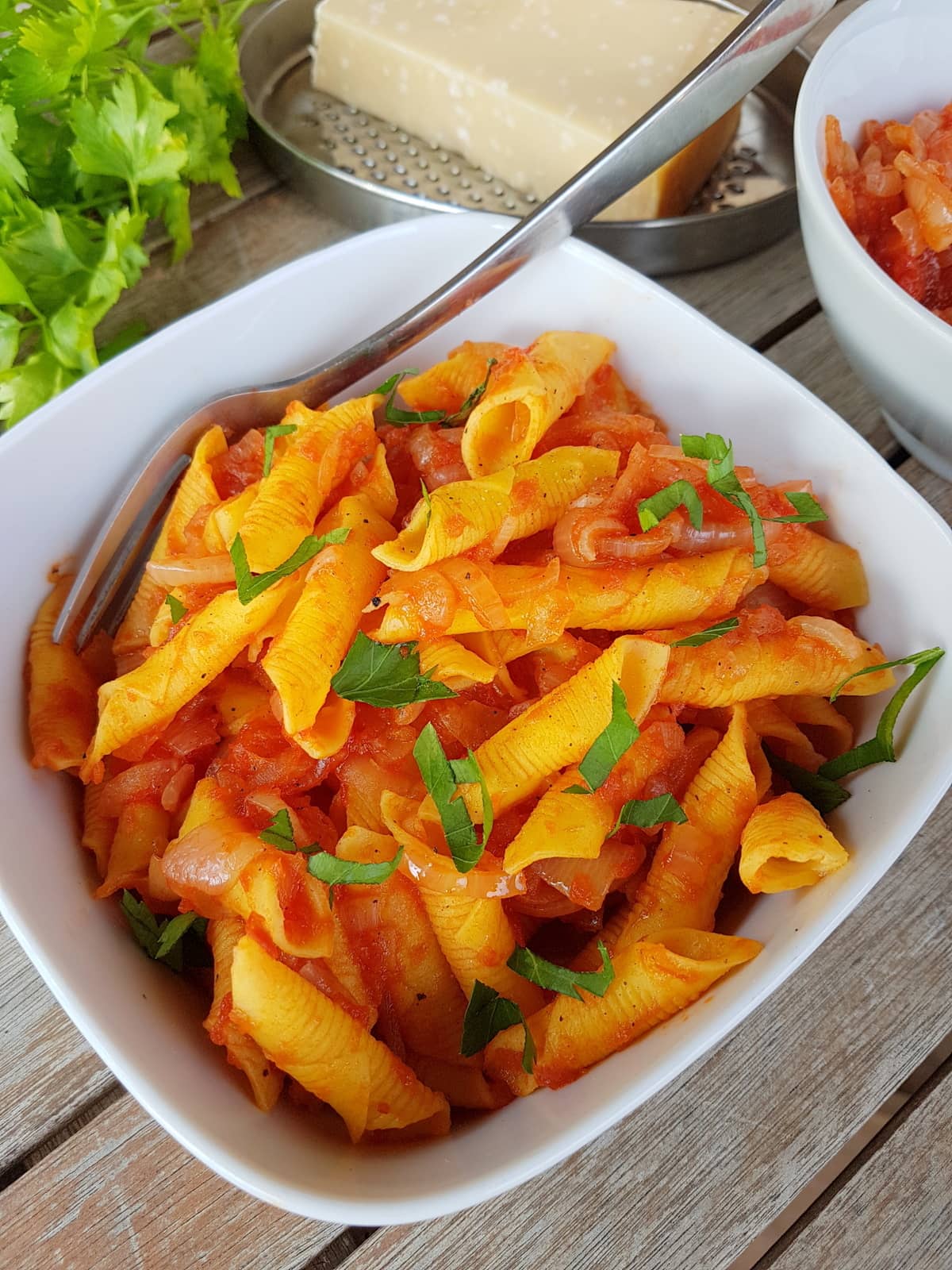 A simple dish with lots of flavour!
This Italian braised onion sauce is simple to make, but takes a rather long time to prepare when made the traditional way. This is because the onions need to macerate in a bowl of salt and sugar for about 4 hours, although some recipes say 2 hours are enough! The onions are then sautéed on a low heat with lard (or olive oil) and tomatoes for another couple of hours! You can cut cooking/preparation times but the longer you cook this sauce, the more flavourful it will be. It's definitely worth the wait!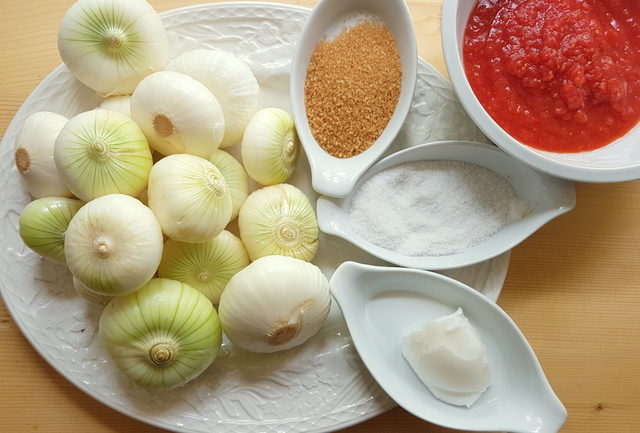 The original il friggione recipe was invented in 1886 by a woman called Maria Manfredi Baschieri. Today, like tagliatelle Bolognese and tuna Bolognese, this recipe is registered as a traditional dish at the Academy of Italian Cuisine and at the Bologna Chamber of Commerce. There is also a second official version which includes pancetta and peperoncino (red chili pepper).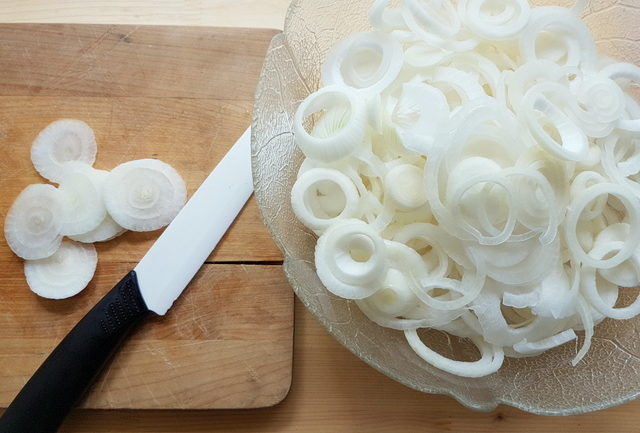 The onions.
Onions have been cultivated in Italy for hundreds, if not thousands, of years and are an important ingredient in Italian cuisine. In fact, onions are one of the three main ingredients in what Italians call a 'soffritto'. This is the finely chopped carrots, celery and onions that form the base of many dishes and sauces!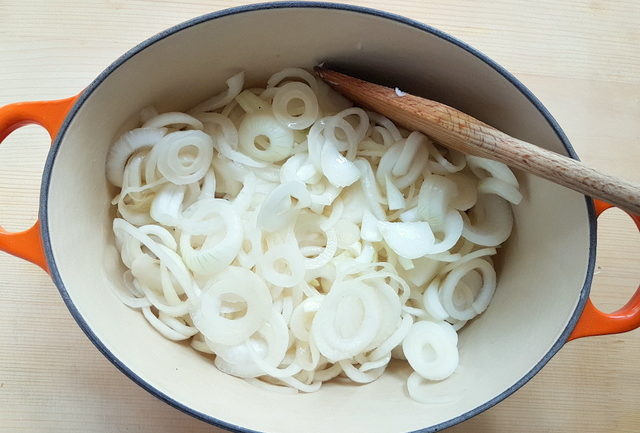 There are a number of different types of onions grown throughout Italy. Many are particular to a certain area or region, like red Tropea onions from Calabria. One of the characteristics of traditional Italian recipes is that they include, or are based on, locally grown produce. So, in Calabria, there are many recipes for Tropea onions like onion jam or this Elicoidali pasta with Tropea onions and cheese recipe.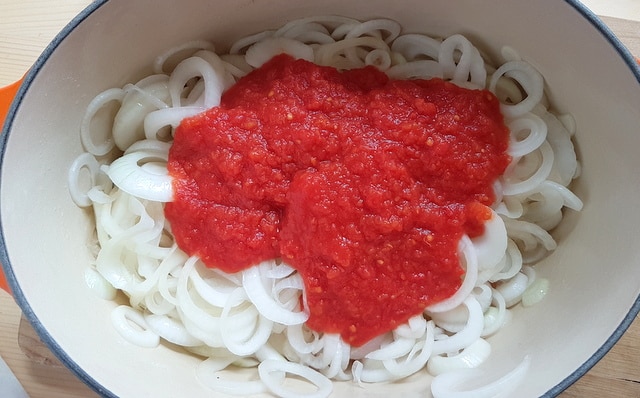 As I mentioned above, this braised onion sauce recipe is from Bologna so, the onions typically used are local too. This sauce is usually made with 'Cipolle di Medicina IGP' (Medicina onions). These are onions from Medicina, a town about 20 kms from Bologna. Onions have been grown there since the 16th century.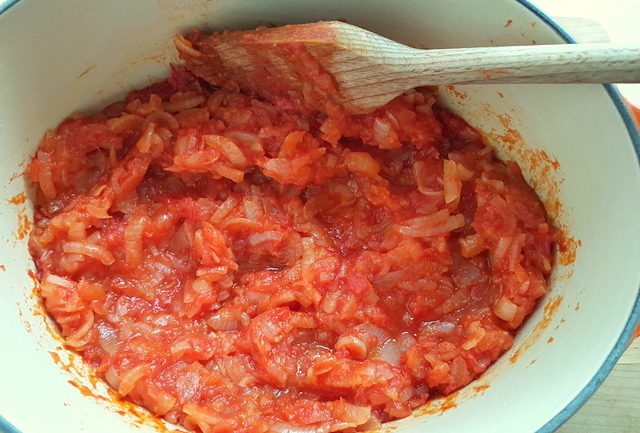 Of course, outside of Italy, it's very difficult to find the exact same onions. In theory, you can use any onion, red, white or yellow. However, I think the best would be white onions with a fairly pungent, but not overwhelming, flavour. That way your braised onion sauce will taste more authentic.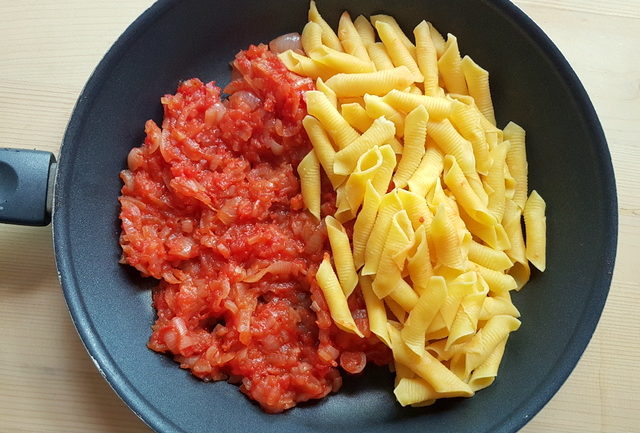 Il friggione is good with everything!
In the local dialect of Bologna, they say 'al frizan le bòn con tot' (il friggione is good with everything). I can attest to that! This braised onion sauce is not only fabulous with pasta but it's a great side dish, especially with red meat. I like to serve it at bbqs. Some Italians also eat it with polenta. However, the absolute favourite is just with bread.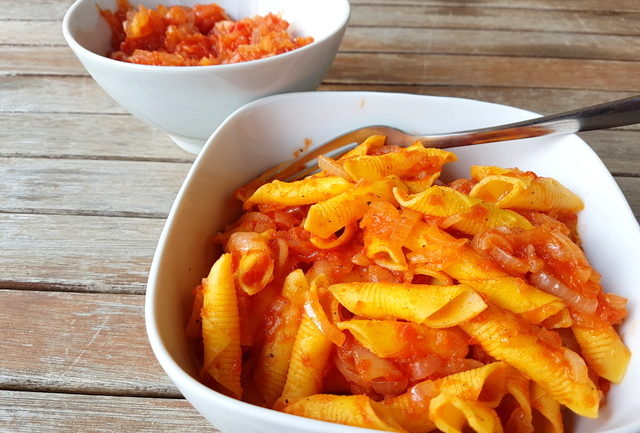 Other ingredients in this Italian braised onion sauce.
Apart from the onions, this recipe has only tomatoes, lard (or olive oil), salt and pepper. The tomatoes can be freshly peeled and chopped sauce tomatoes or canned peeled tomatoes. I used a ready made tomato pulp (Italians say 'polpa'). This is finely chopped tomatoes. The traditional Il friggione recipe calls for lard. However, many Italians use extra virgin olive oil instead. Olive oil is obviously the way to go for a totally vegetarian recipe.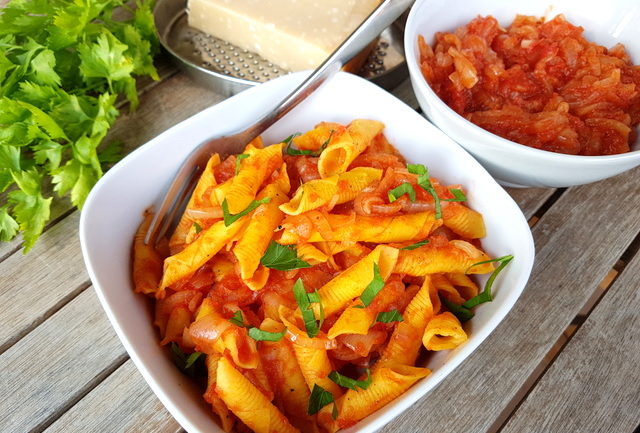 Cook once, eat twice!
When making Il friggione, people from Bologna often make double the quantity they need. This makes sense because of the time it takes to make. But, in addition, this braised onion sauce can be kept sealed in the fridge for up to a week. Of course, this means you can cook it once but eat it in different ways twice or even three times. I love cook once eat twice recipes, don't you?
If you make this Italian braised onion sauce with pasta recipe, I'd love to hear how it turns out and if you liked it. Please leave a comment here on the blog or on The Pasta Project Facebook page.
Looking forward to hearing from you!
Buon appetito!
Save this recipe for later?
If you want to save this recipe for later, you can print it, bookmark this page or save it to Pinterest.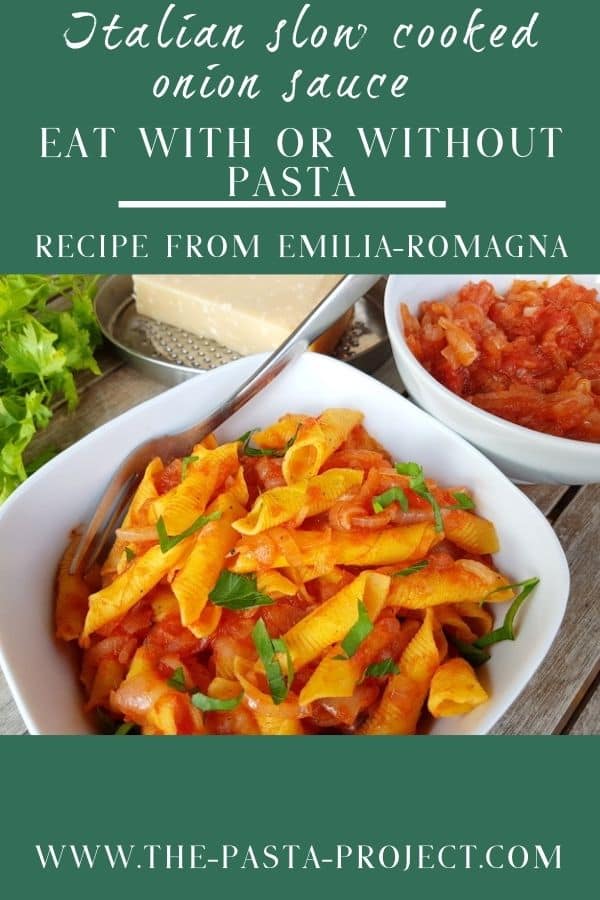 Pin for Later