Bigoli with Duck Ragu from Veneto.
Bigoli with duck ragu is a traditional dish here in Veneto where I live. In fact, if you are visiting the region you are bound to find it on offer in many restaurants. It is also often cooked by the Venetians on holidays or feast days. I have eaten duck ragu many times, but this was my first time cooking it!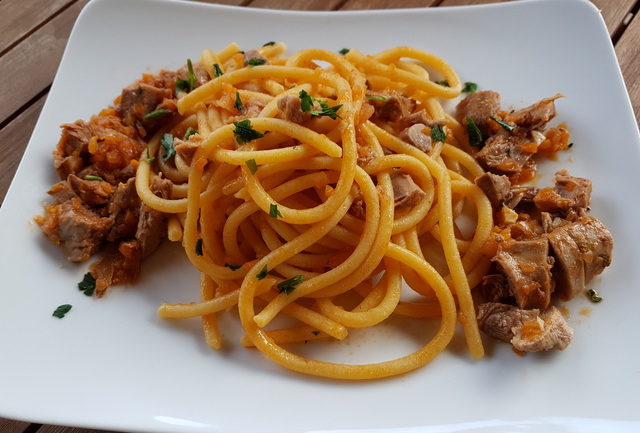 I bigoli con l'anatra.
Bigoli is a usually fresh pasta, mostly eaten in Veneto. It's made with flour, eggs (often duck eggs), salt, water or milk and sometimes butter. It looks like very thick spaghetti and is about 3-4mm in diameter. Traditionally this pasta was made with a press called a torchio or bigolaro which had to be wound by hand as the pasta dough passed through the holes in the bottom. I have written more about the history of bigoli and the bigolaro in another post.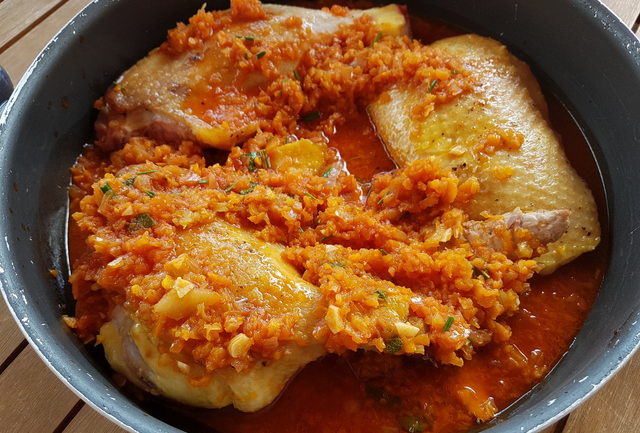 Traditional bigoli with duck ragu.
Bigoli is most often eaten with various fat-rich sauces, the most well-known bigoli recipe is duck ragu. In the past, the traditional recipe for this ragu involved cooking the pasta in a fatty broth in which a young duck had been boiled. The Venetians then made a sauce with flavored butter and the offal of the duck, which they ate with the bigoli. The duck itself was eaten after.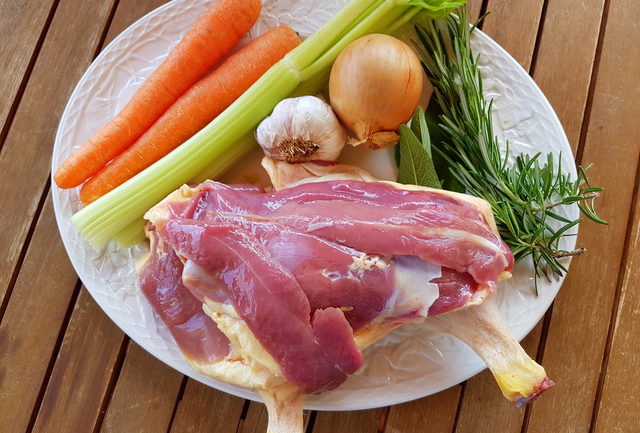 A bigoli with duck ragu festival!
This duck pasta dish used to be traditionally cooked in September and October during the hunting season. Even today, in the small town of Zane near Vicenza, a 'bigoli with duck' festival is held on the first Sunday of October. At the feast, bigoli is first served with duck meat sauce and then the duck is served separately. In keeping with tradition, they also cook the pasta in the duck broth, rather than in water. I've never tried it this way but, apparently, this makes the whole dish a lot tastier.
Nowadays many people use ground duck meat to make a sauce very similar to normal meat ragu, but usually without tomatoes. That recipe is, of course, extremely lean and obviously healthier! However, to be honest I feel it's cheating a bit and doesn't have the same flavour as other methods of making duck ragu.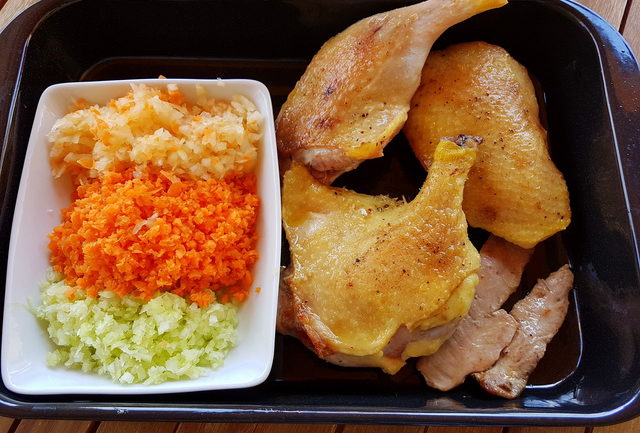 Different ways to make the duck ragu!
There are a number of other ways of preparing duck ragu. Some people roast a whole bird, then add the meat to the sauce. Others use only the breast which has been finely chopped and cook it in the sauce. I decided to use duck pieces (2 legs and a breast). A whole quartered duck can be cooked the same way. I browned the duck and then cooked it in the sauce for 2 hours. Once it was ready, I removed the duck, allowed it to cool and then cut the meat into very small pieces. Before returning the meat to the pan, I also skimmed most of the fat from the sauce.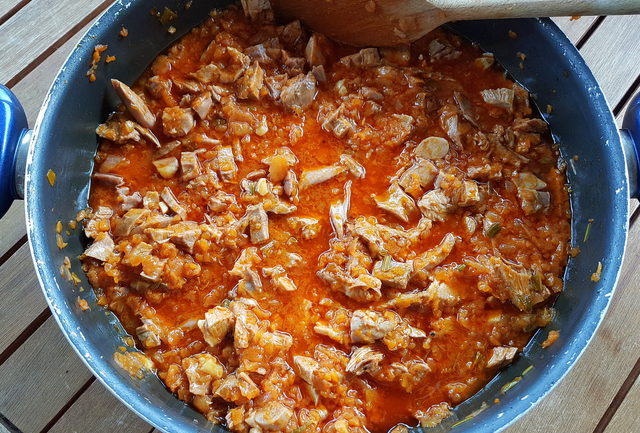 The best duck ragu my hubby has ever eaten!
It turned out to be a long process, although it's possible to get on with other things whilst the sauce is simmering! However, it was well worth the time spent as it turned out a lot tastier than many of the versions I have eaten made with minced duck or just duck breast. My hubby, who comes from Sicily but has lived in Veneto for more than 30 years, told me it was the best bigoli with duck he'd ever eaten and he's eaten it many many times! So I'm feeling pretty chuffed right now! Check out this traditional bigoli recipe below and enjoy!
If you make this duck pasta recipe, I'd love to hear how it turns out and if you liked it. Please leave a comment here on the blog or on The Pasta Project Facebook page.
Looking forward to hearing from you!
Buon appetito!
Another delicious bigoli recipe you may like is Bigoli with sausage ragu. Click this link to check it out. Recipe Bigoli with luganega sausage
If you like this recipe you may also like Bigoli with farmyard ragu made with duck, guinea fowl and stewing hen!
(This recipe post was first published in 2017, but has been updated)
Save this recipe for later?
If you want to save this recipe for later, you can print it, bookmark this page or save it to Pinterest.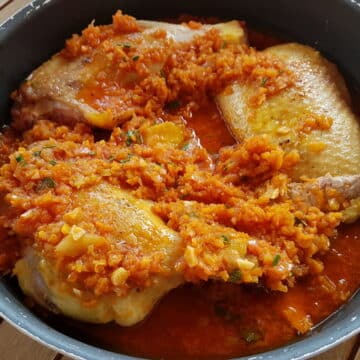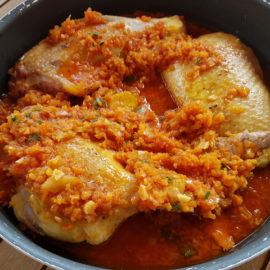 Bigoli with Duck Ragu
A delicious traditional pasta dish from Veneto, Italy made with slow cooked duck.
Ingredients
1

duck

cut into quarters or duck pieces (I used 2 legs and a breast)

2

celery stalks

peeled and finely chopped

1

small onion

finely chopped

2

carrots

finely chopped

2

garlic cloves

finely chopped

1/2

cup

white wine

1

cup

chicken broth

I used 1 stock cube

3

tbsp

tomato concentrate

1

tbsp

fresh sage

chopped

1

tbsp

fresh rosemary

chopped

1

fresh bay leaf or 1/2 tsp dried

3-4

tbsp

extra virgin olive oil

500

g

fresh bigoli

(1.1 lbs) or thick spaghetti

Freshly grated parmigiano or grana cheese

for serving

salt

for pasta, to season duck and to taste

black pepper

to season duck and to taste
Instructions
Heat the oil in a heavy-duty pot or deep frying pan.

Season the duck pieces with salt and pepper and place them skin side down in the pot.

Sear until the skin is browned and crisp.

Turn the pieces over and brown the other sides

Remove the duck and pour off all but about 1 tablespoon of the rendered fat and discard

Reduce the heat to medium low and add the celery, onion, and carrot.

Cook, stirring frequently until the vegetables are softened.

Add the garlic and cook for about 1 minute.

Pour in the wine and increase the heat to high.

Boil until wine is reduced by 1/2, then reduce the heat to medium.

Add the broth, tomato concentrate, sage, rosemary and bay leaf, stirring to combine.

Return the duck to the pot and bring the liquid to a boil.

Reduce the heat to low, just enough to maintain a gentle simmer.

Cover the pot and simmer until the meat is tender, approx 1.5 to 2 hours. Be careful not to let the duck dry out.

If the sauce starts to dry out add more white wine or chicken broth.

Remove the duck from the pot and set aside until cool enough to handle.

Skim the excess fat from the top of the sauce with a large spoon.

If the sauce seems thin, continue simmering until thickened to desired consistency.

Discard the duck skin and cut the meat off the leg bones.

Shred or cut all the duck meat into very small pieces

Add the meat to the sauce.

Let the sauce simmer gently for 10 minutes.

Remove the bay leaf and season to taste with salt and pepper.

When ready to serve, bring a large pot of salted water to a boil over high heat.

Cook the bigoli al dente according to the instructions on the packet if store bought. 6-8 minutes if homemade

Reserve about 1 cup of the cooking water and then drain the pasta.

Return the pasta to the pot and toss it with some of the ragù, adding a little of the pasta cooking water if it seems dry.

Serve the pasta with more ragù spooned over the top, sprinkled with the grated cheese.
Notes
This ragu tastes even better if made in advance 2-3 hours or even the day before. It can be refrigerated in an airtight container for up to 3 days or frozen for up to 3 months.
It can also be eaten with other types of long pasta such as tagliatelle, thick spaghetti or bucatini
Nutrition
Calories:
917
kcal
Carbohydrates:
68
g
Protein:
27
g
Fat:
59
g
Saturated Fat:
18
g
Polyunsaturated Fat:
8
g
Monounsaturated Fat:
29
g
Cholesterol:
98
mg
Sodium:
312
mg
Potassium:
654
mg
Fiber:
4
g
Sugar:
5
g
Vitamin A:
3750
IU
Vitamin C:
8
mg
Calcium:
58
mg
Iron:
5
mg
Pin for Later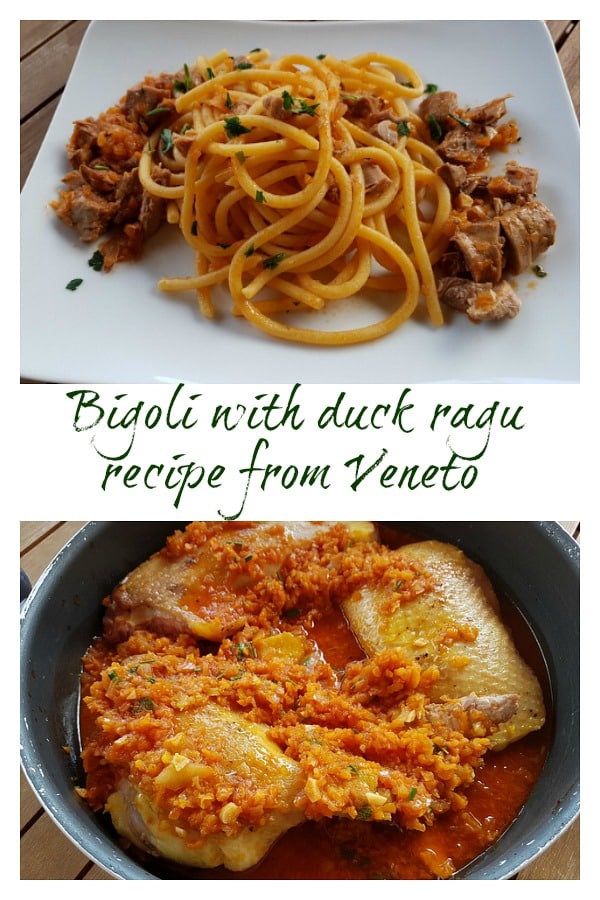 Don't forget to pin before you go!