Fresh seafood and homemade pasta are a match made in foodie heaven! If you are a fish and seafood lover, this baked fish ravioli from Liguria in Northern Italy is an absolute must-try! It's perfect for special occasions like Valentine's Day, birthdays and holidays such as Christmas and New Year.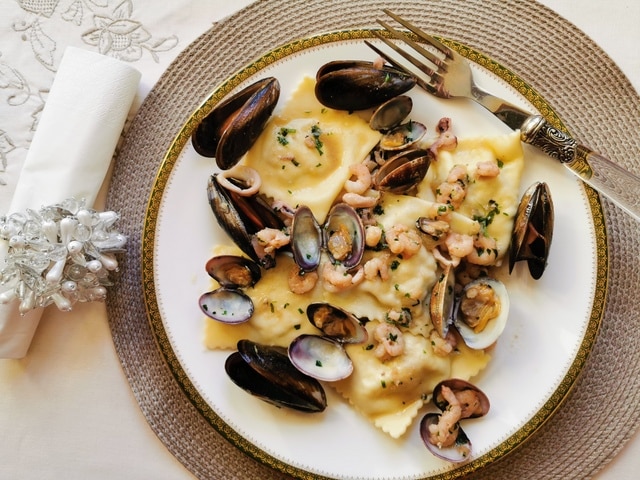 Ravioli di mare.
One of my New Year's resolutions was to make more fresh pasta at home! To this end, my hubby and I spent a recent Sunday making ravioli! We actually made two kinds. One was a sweet ravioli called cjarsons from Friuli filled with ricotta, prunes and figs! Absolutely divine. The second was this baked fish ravioli from Liguria. Also pretty amazing!
A little ravioli history.
Although there are other contenders for the title of inventor of ravioli, some food writers believe that ravioli were actually invented in Liguria by a chef whose surname was 'Ravioli'! In fact, there are still families with this surname in the region. However, even though there is no concrete evidence of Mr. Ravioli, certainly this type of filled pasta was eaten in Liguria as early as the 12th and 13th centuries. From there its popularity spread to other parts of Northern Italy.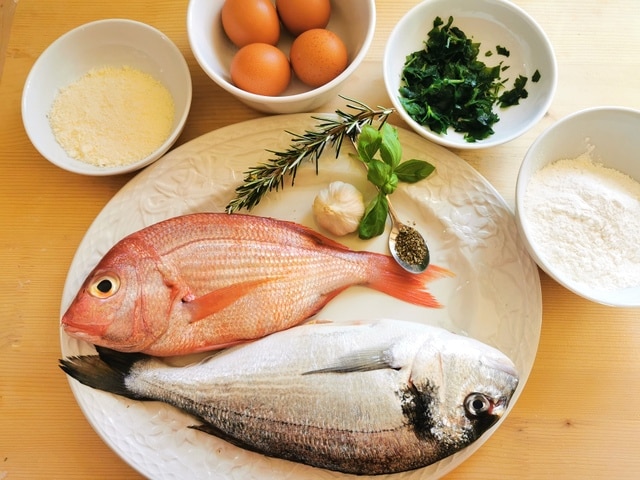 Since seafood is a main ingredient in the Ligurian kitchen, it's not surprising that fish ravioli is very traditional. However, so too is ravioli with meat. The most famous meat ravioli is served with a sauce known as 'al tocco di carne'. This is a fantastic slow cooked meat sauce that I have used in a recipe for typical Ligurian pasta, corzetti, but have yet to use for ravioli. It's on my to-make list!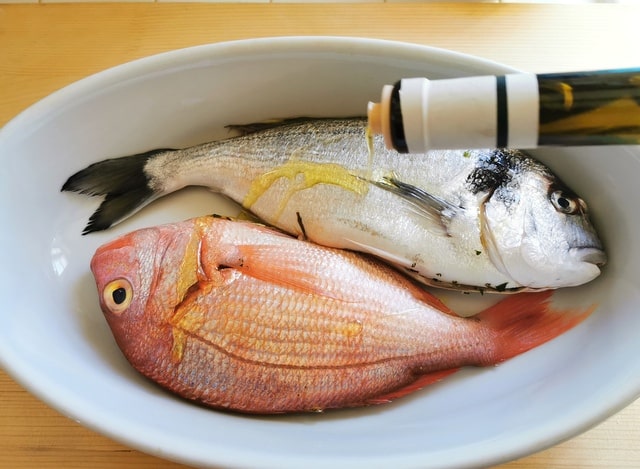 I found this recipe for baked fish ravioli from Liguria in a book I got for Christmas! It's called 'La Cucina, the regional cooking of Italy'. Published by the Academy of Italian Cuisine (L'Accademia della Cucina Italiana), this is one of the best Italian cookery books I have come across. And, to make life easier, it's in English!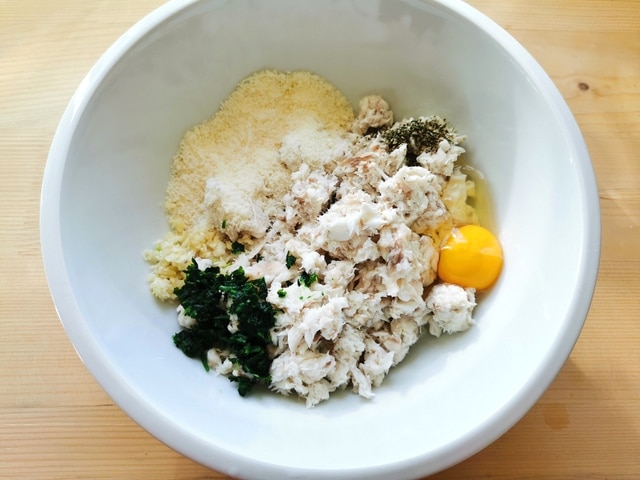 What fish can you use?
When I find a recipe, I always search online on Italian sites for other versions and some more info about it. Needless to say, there are a number of different ways to make both homemade fish ravioli and the sauce for it. But, in general, the fish is usually sea bass, bream, grouper or snapper. Some people use fish fillets, others whole fish. We used a small bream and a small snapper. The whole fish can be poached or baked. We baked our fish as per the recipe we followed.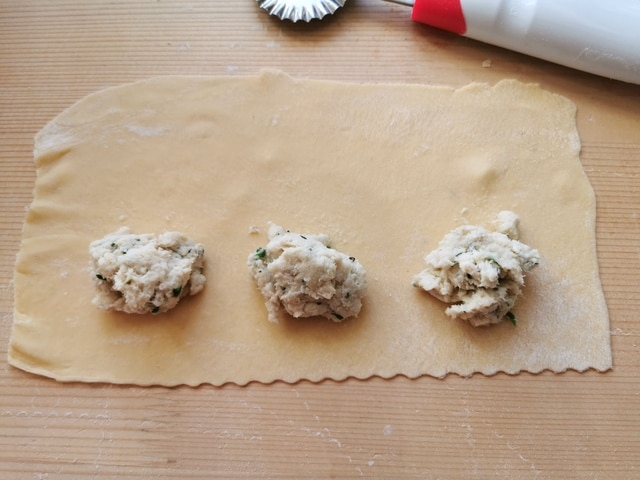 What are the filling ingredients?
As you can imagine, the filling ingredients differ too. In fact, some recipes call for ricotta and others include borage or spinach. This homemade fish ravioli recipe has neither of those. Apart from the fish; the filling consists of eggs, garlic, marjoram, parsley, olive oil and grated Parmigiano Reggiano. So, it's relatively simple compared to some other recipes.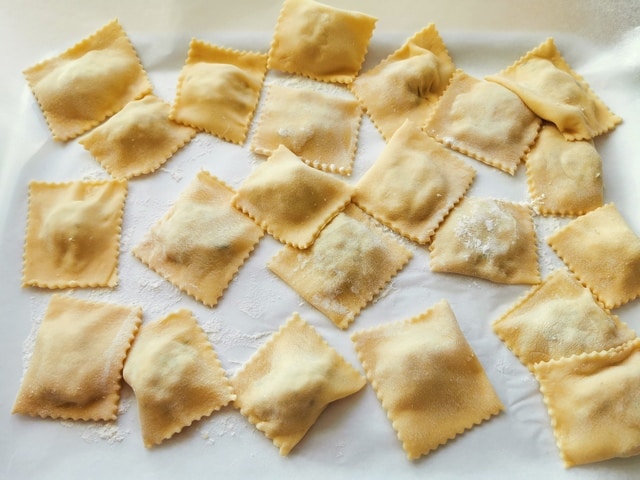 Making the pasta dough.
The ravioli pasta dough is made with Italian 00 soft wheat flour, salt and eggs. I used my kitchen stand mixer to make the dough. However, we always like to finish the kneading by hand. We then rolled out the pasta sheets using a pasta maker. Of course, you can do everything by hand too!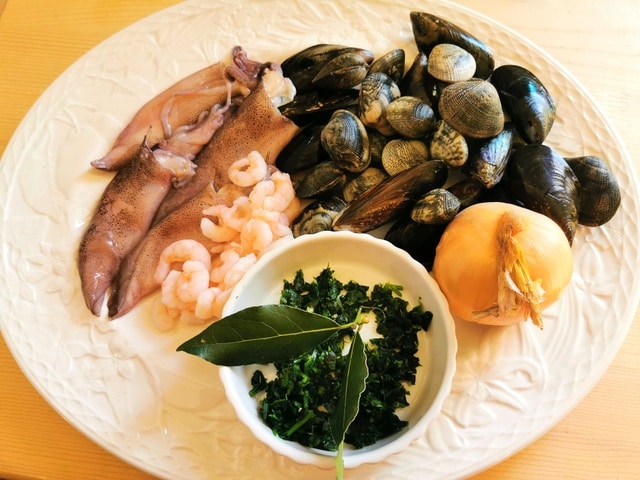 What's in the seafood sauce?
My recipe book doesn't specify the type of sauce to serve the baked fish ravioli with. In fact, it just says serve hot with a sprinkling of fresh marjoram. However, I found a recipe for a seafood sauce from the website of a restaurant in Genova called Antica Hosteria Pancetti. They make their fish ravioli almost the same way as in this recipe and serve it in the sauce I have used.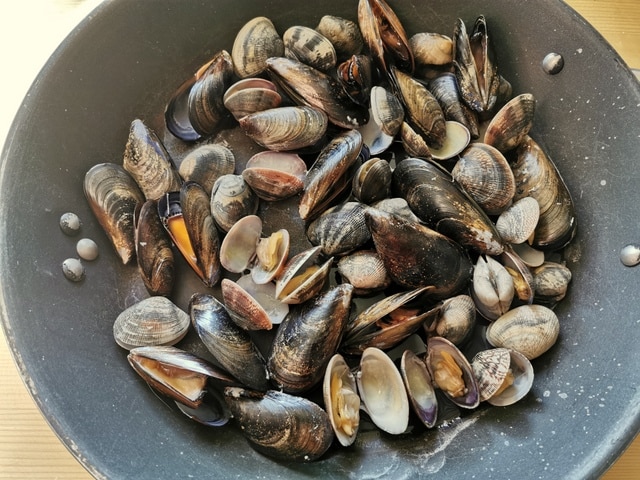 This sauce has calamari, clams, mussels and shrimps. It's a veritable feast! However, it takes a bit more time and money to make than a simple tomato sauce, which would go well too!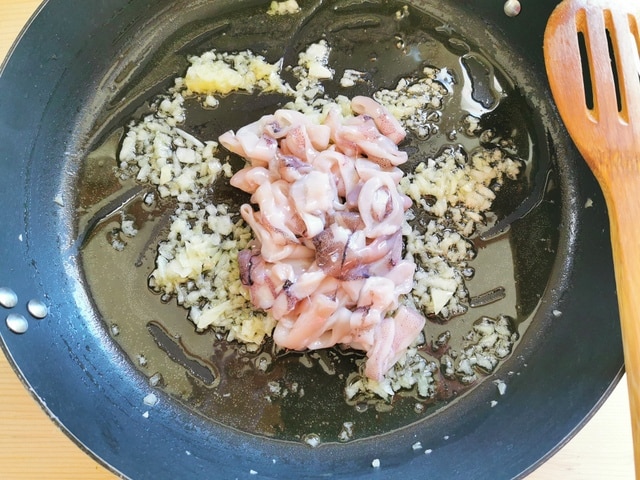 Making this baked fish ravioli from Liguria.
Given that this baked fish ravioli recipe requires a number of steps, of course, it's not a mid-week meal. You need to bake the fish, make the pasta dough, make the sauce and fill and cook the ravioli. However, this is a great recipe for special occasions such as Valentine's day, special Sunday lunches and other important occasions. Here in Italy, this would be a popular choice for the Christmas table, particularly Christmas Eve when Italians traditionally abstain from meat!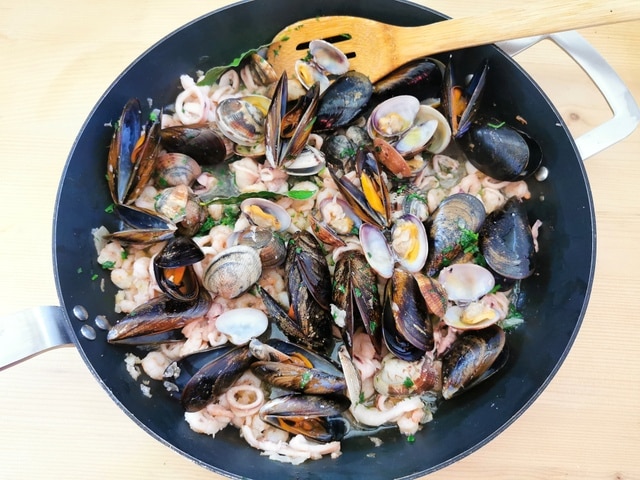 This is a dish that will impress your partner, family or guests no end. You can even make some parts in advance. The uncooked filled ravioli can be made and frozen, then you can cook it from frozen. The cooked seafood sauce can also go in the freezer. In fact, I have both in my freezer for another occasion because I made too much! Of course, you don't want to leave them in the freezer too long. A month is probably long enough.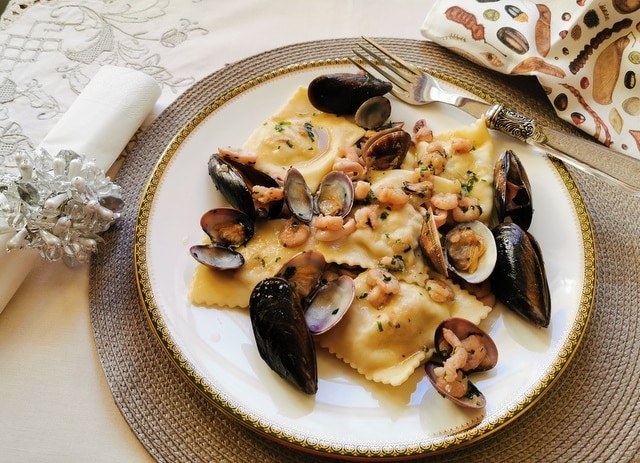 Having said that, I really believe that all dishes taste better when eaten freshly made! This baked fish ravioli was divine. In my opinion 5 star restaurant worthy! I'm sure if you make it, you and your guests will think the same!
Pin for later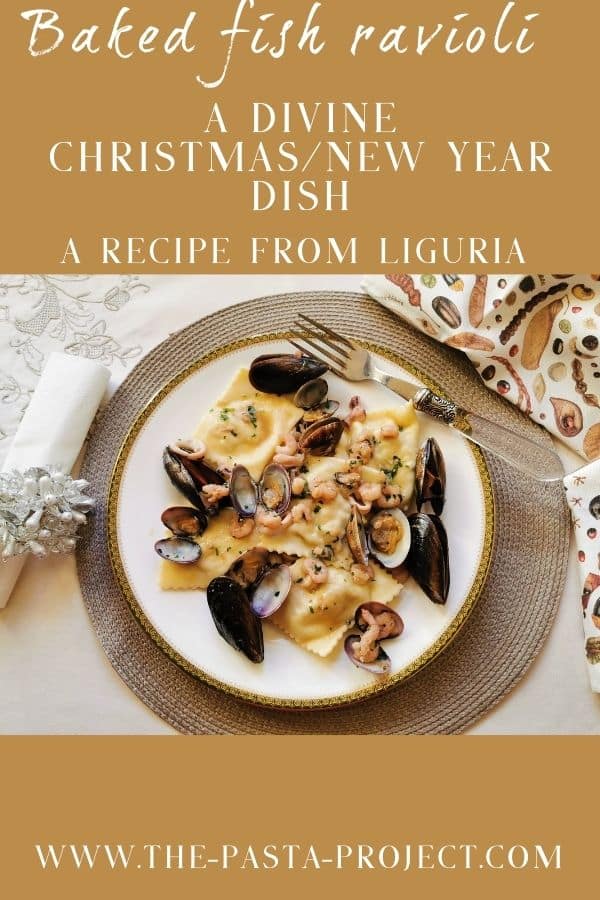 If you make this baked fish ravioli recipe, I'd love to hear how it turns out and if you liked it. So, please leave a comment here on the blog or on The Pasta Project Facebook page.
Looking forward to hearing from you!
Buon appetito!
Other pasta types and recipes from Liguria.
Pin for later.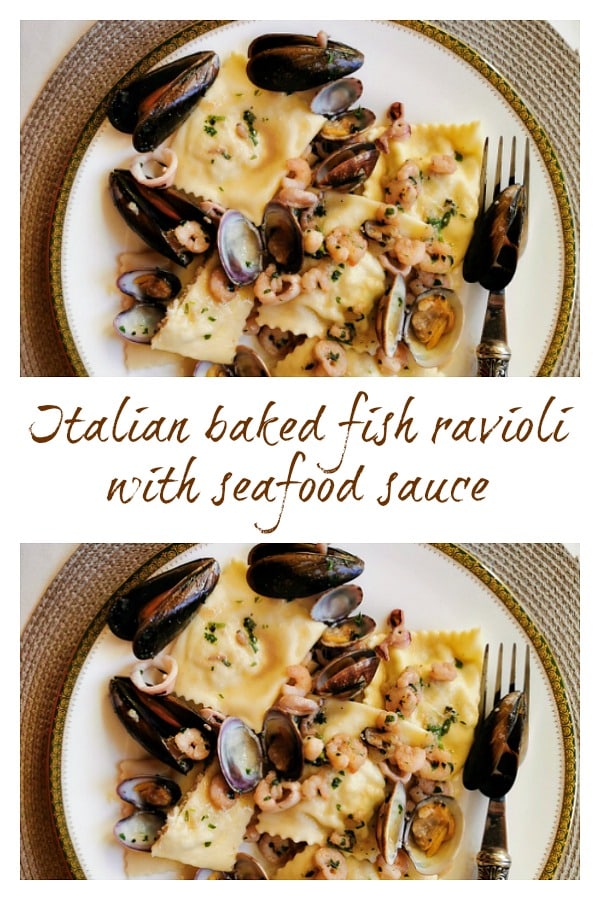 If you are interested in learning how to make other kinds of homemade pasta and gnocchi, check out my shop page for some great video online courses from my friends in Rome! Nothing beats learning to make pasta from Italians!
Save this recipe for later?
If you want to save this recipe for later, you can print it, bookmark this page or save it to Pinterest.
Have a look at my other homemade ravioli recipes for more delicious recipes like this one!
Pin for later.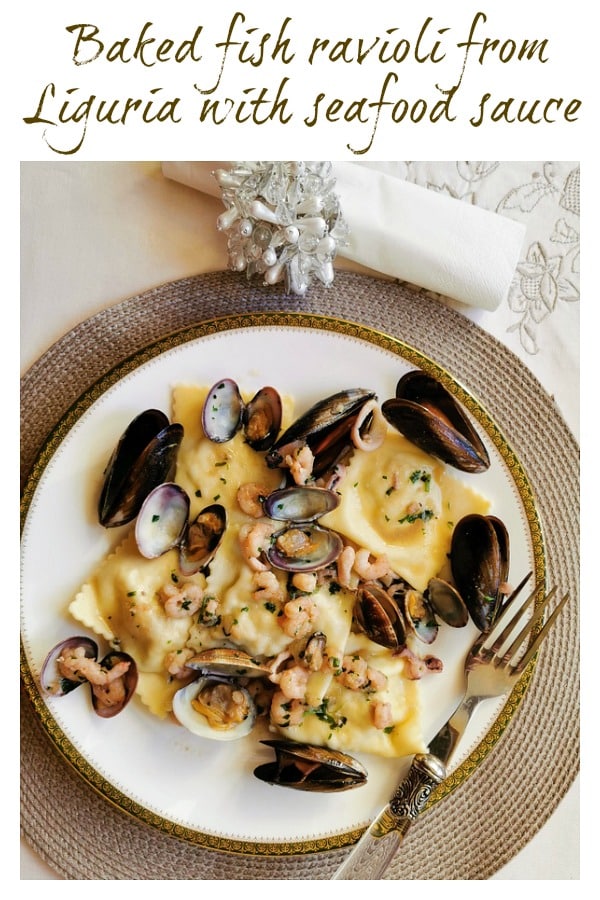 My sister-in-law's tea towels!
I don't know if you noticed the tea towel in one of my photos above. It's designed by my sister-in-law in UK, Rachel Pedder-Smith. She's a botanical artist who worked at London's Kew gardens. The tea towel in my photo is of a painting that was exhibited in the Tate Gallery. I think she's so talented! Don't you? Check out her site if you're interested in learning more or buying her tea towels. She also makes lovely ceramic mugs and scarves. Rachel's site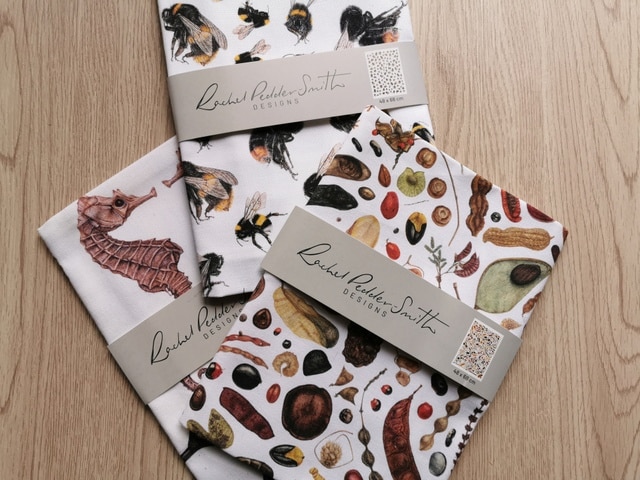 Disclaimer: I don't earn any money if you purchase from Rachel. I mentioned her products just because I really like them!