Vegetarian Umbrian Lentil Soup with Pasta
At the end of last year, friends came to stay who live in Cascia, Umbria. Cascia is in a part of Umbria known as the Valnerina. This area is famous for a number of crops including small lentils, other legumes and saffron. So I was thrilled that they brought me some of their famous lentils (as well as other goodies!). I used them in this Umbrian lentil soup with pasta recipe. Definitely the best lentils I have ever tasted!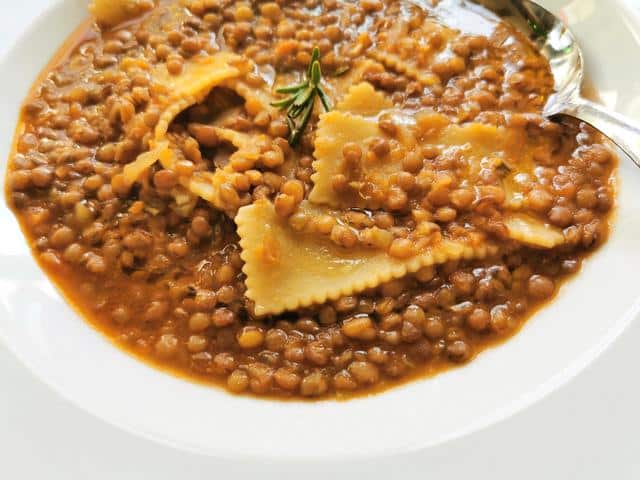 Minestra di lenticchie con pasta.
Did you know that lentils are the oldest pulse crop in the world? People have been cultivating them for thousands of years. The Ancient Egyptians, Greeks and Romans all grew and ate lentils. Of course, there are many different types of this tiny legume and they come in various colours, with red, brown and green being the most popular.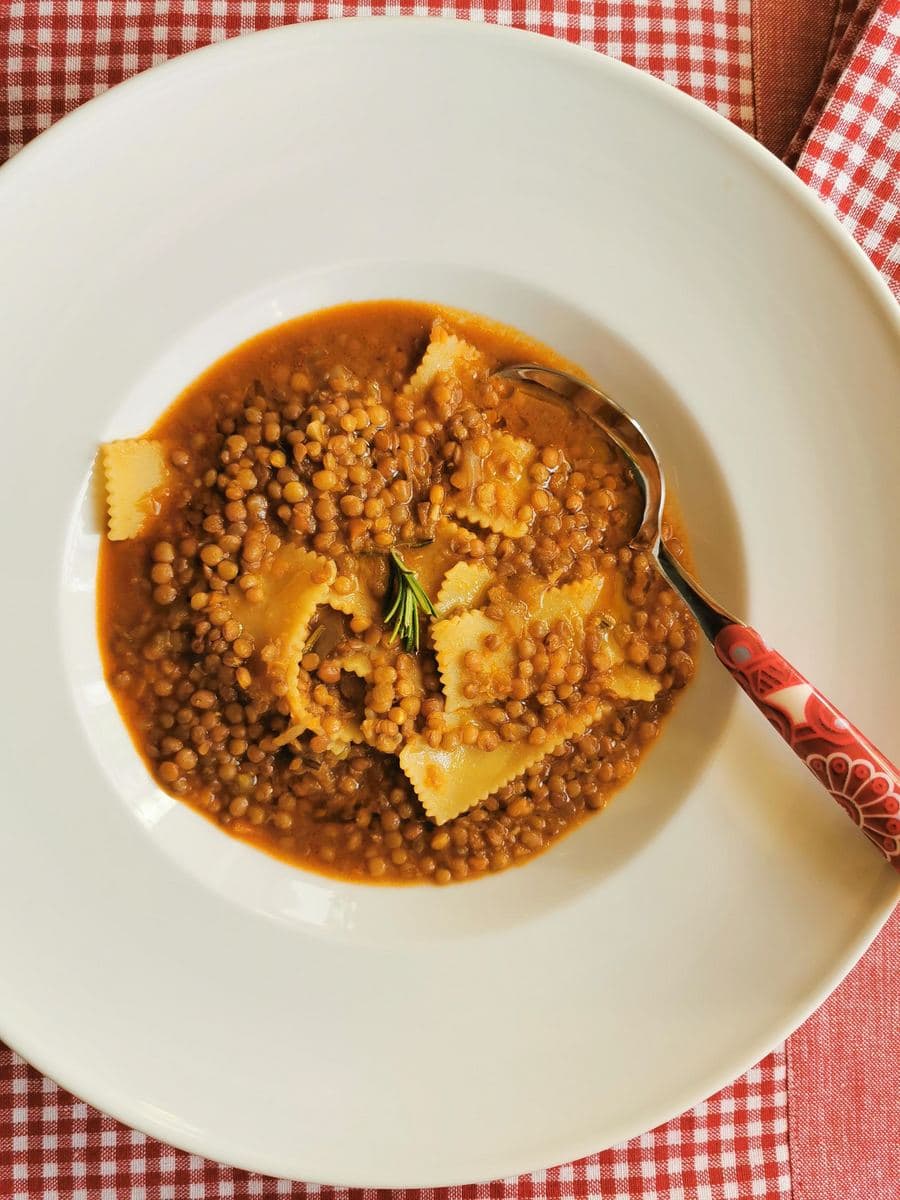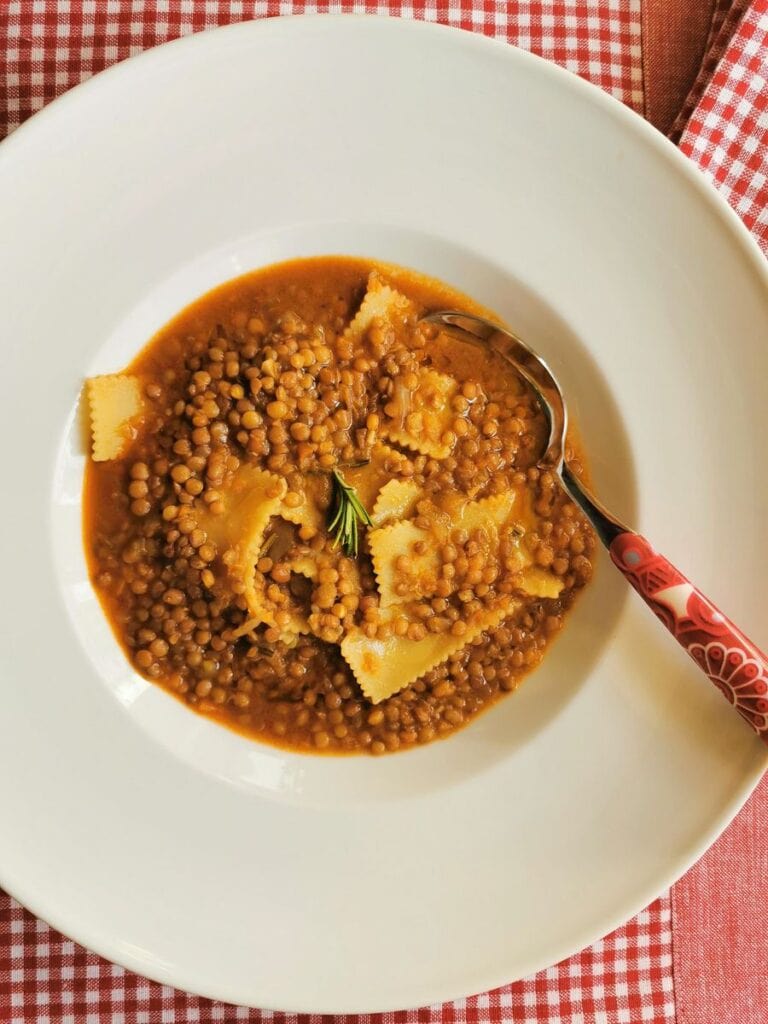 Lentils in Italy.
Here in Italy, lentils, as well as other legumes, were an important staple for the poorer and peasant population, especially in the Central and Southern regions. This was particularly true in the winter. The most popular way to eat lentils was (and probably still is) with pasta. There are many traditional lentil and pasta recipes in the regions where these legumes are cultivated. In some, the lentils are made into a sauce. In others, the dish is more like this Umbrian lentil soup.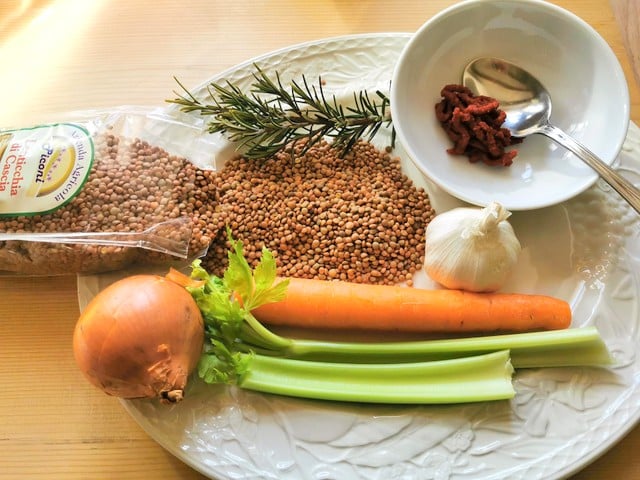 I'm not sure when the tradition started, but, nowadays Italians eat lentils on New Year's Eve at midnight! The lentils are usually served with cotechino, a rich seasoned pork sausage. According to tradition, people eat large quantities of lentils because they are believed to bring prosperity in the year to come. Perhaps, because lentils look like little coins.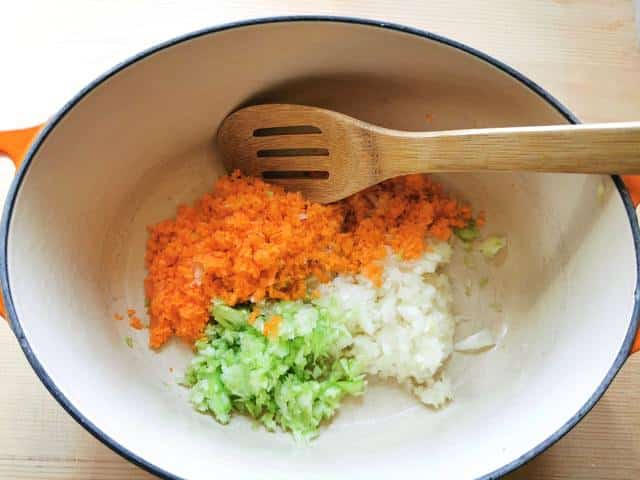 The health benefits of lentils.
Lentils were also the most popular substitute for fish for poorer Catholics during periods of fasting and abstinence, such as Lent. I always find it interesting that in the past, people understood the nutritional value of certain foods, even though I don't think they understood words like carbohydrates, proteins etc!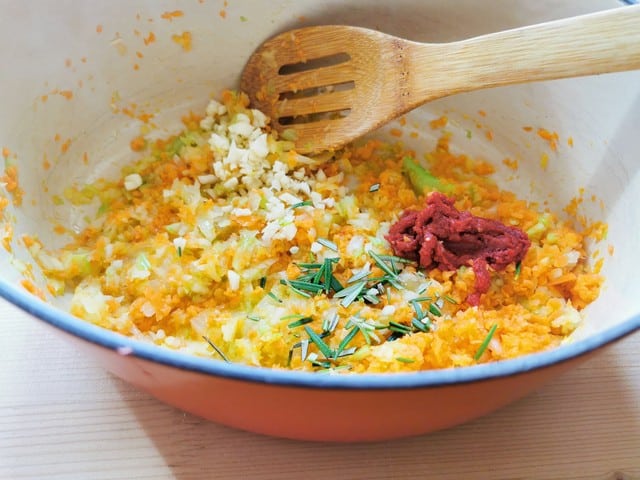 Today we know that lentils add essential vitamins, minerals, and fiber to the diet. They also provide protein and are an excellent replacement for meat in meals. They are one of the best food sources of potassium and have folic acid, calcium and magnesium. So, really a super food that is also economical and easy to prepare.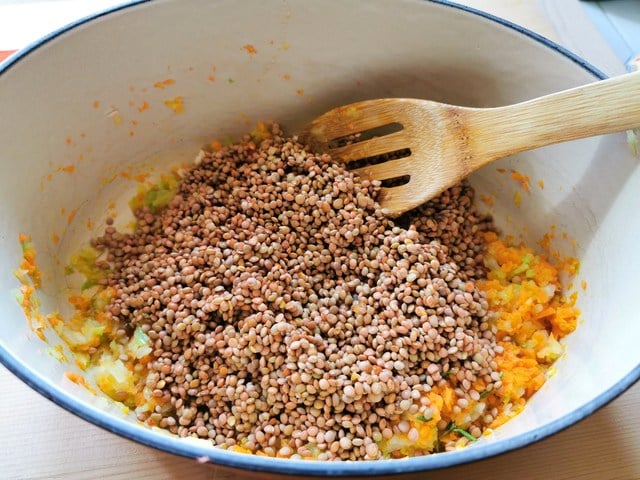 Lentils from Umbria.
The best and most well-known lentils in Italy come from Umbria, particularly those grown in the Nera Valley known as the Valnerina. As I mentioned, these are the ones I have used in this Umbrian lentil soup with pasta. Apart from lentils, this area is also famous for farro, roveja wild peas, grass peas (chickling vetch), saffron, black truffles, pork products from the town of Norcia and trout from the Nera river!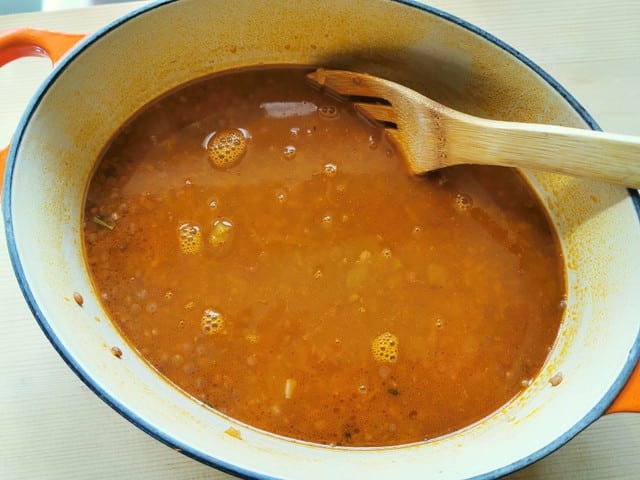 In fact, a visit to the Valnerina is on my to do list this year. I particularly want to go to Castellucio di Norcia, where the most prized lentils are cultivated on a large 16 square kilometer plateau more than 1,400 mt above sea level. Apparently the flowering season there is a wonder to see. Thousands of flowers bloom the plateau, filling it with shades of colours that range from yellow to red and from violet to white.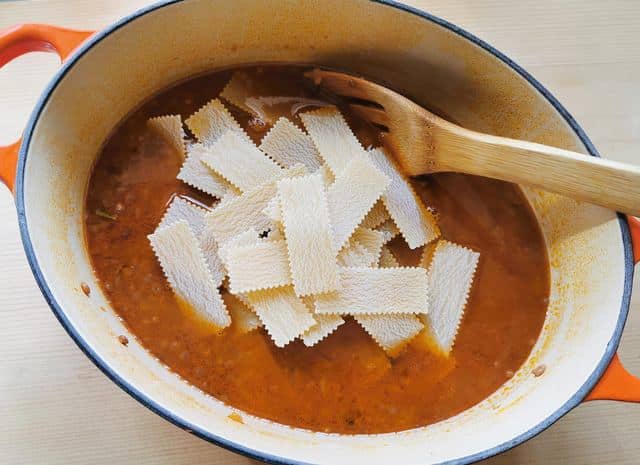 Apart from the lentils, I have read there are dwarf gentians, poppies, narcissus, violets, asphodel, Eugenia violets, clover, oxalis and many more. Check out the bellaumbria.net site to learn more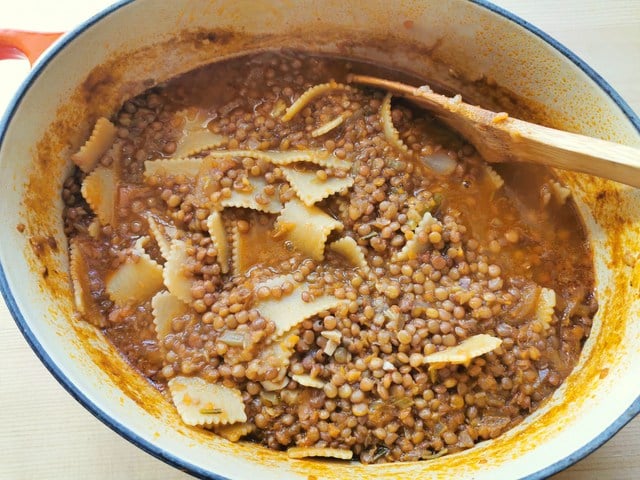 Lentil cultivation in this part of Umbria is totally organic and sustainable. Farmers raise the crops using the same methods as their grandfathers and great grandfathers did. The only difference being that nowadays some harvesting is done by machine instead of by hand! However, the lentils are grown using a 3 year group rotation method, meaning one year lentils, one year wheat and one year fallow.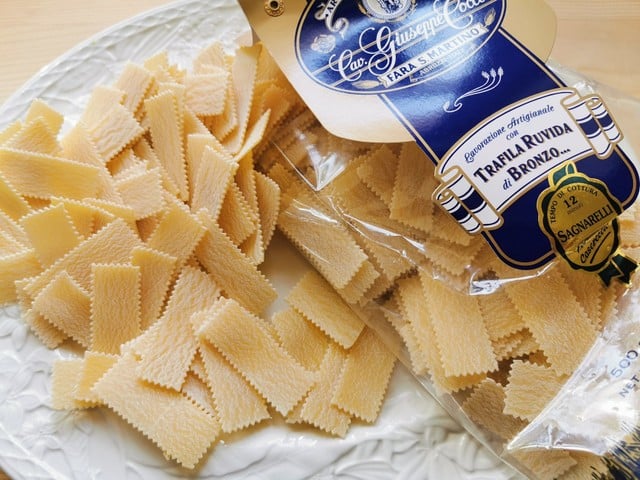 Making this Umbrian lentil soup with pasta.
Umbrian lentils are tiny, similar to the French green lentils from the Puy region of France. They don't need to be pre-soaked and require just 20-30 minutes simmering to soften. When ready, they have a nice creamy texture and rich nutty taste. So, you don't necessarily need a lot extras to make them flavorful. In fact, this recipe for Umbrian lentil soup with pasta is pretty simple.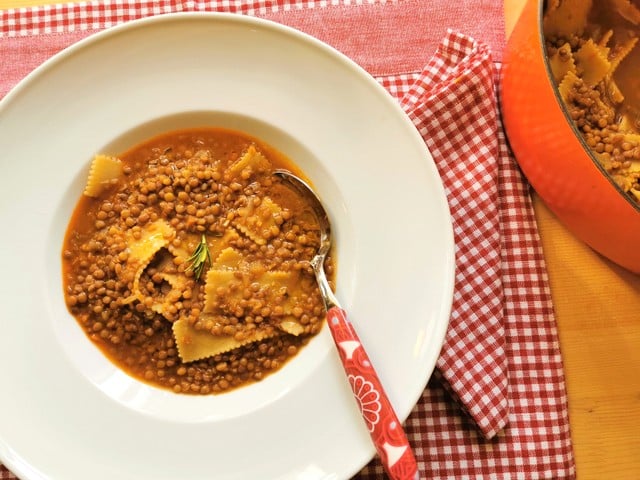 If you don't have Umbrian lentils, you can use any small lentils in this Umbrian lentil soup recipe. However, better not to use the larger red lentils which can become mushy when cooked.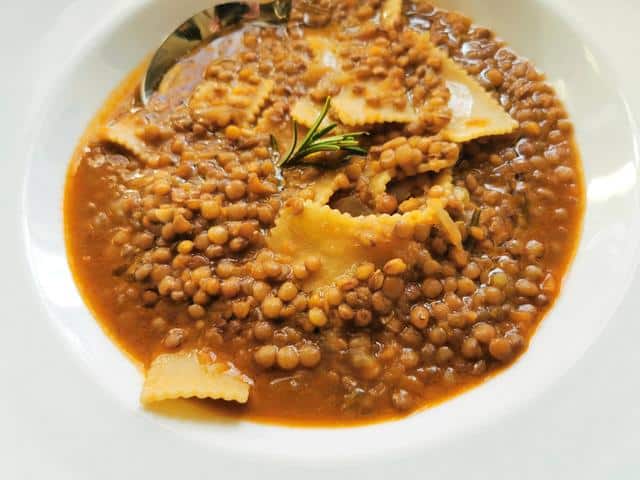 Apart from the legumes, this Umbrian lentil soup and pasta recipe has only a few other ingredients. You will need celery, carrots, an onion, garlic, rosemary and tomato concentrate for the soup, plus pasta. This recipe is both vegan and vegetarian. There are versions that include meat such as small cubes of pancetta or guanciale or sausage. Of course, you can add one of those if you like. I'd suggest browning the meat with the onions, celery and carrots.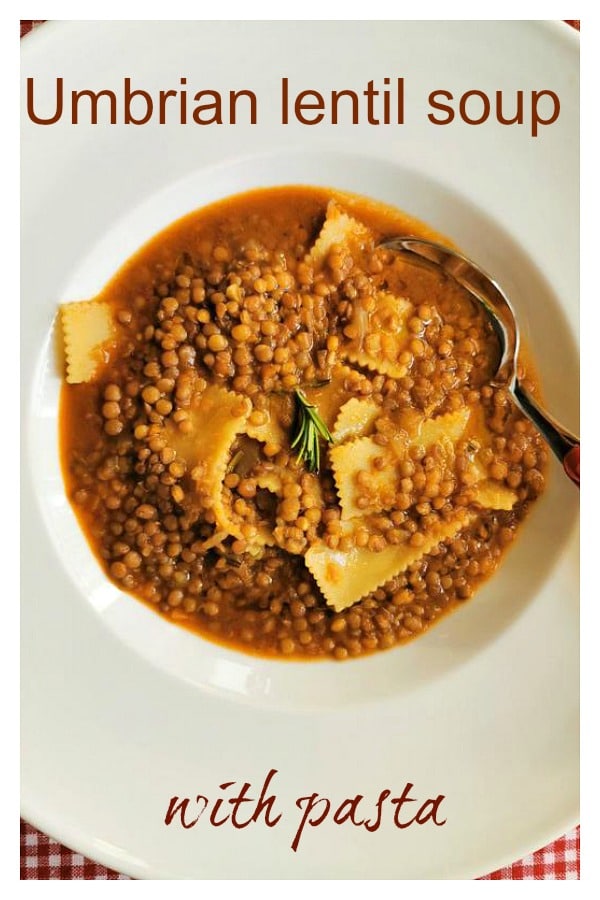 Some people prefer to make this dish 'drier. I like it with more liquid. However, the pasta and lentils will absorb the liquid even after you have finished cooking. So, leftovers tend to be 'drier'.
What pasta is best?
In Italy, the most popular pasta used with lentil soup is ditalini. However, some Italians use broken spaghetti or linguine or a type of flat maltagliati. In Abruzzo, sagne is popular. In fact, the pasta I used for this Umbrian lentil soup is from Abruzzo. It's a dried pasta called sagnarelli which looks something between sagne and the larger sagne a pezzi, both typical and traditional pasta shapes in Abruzzo.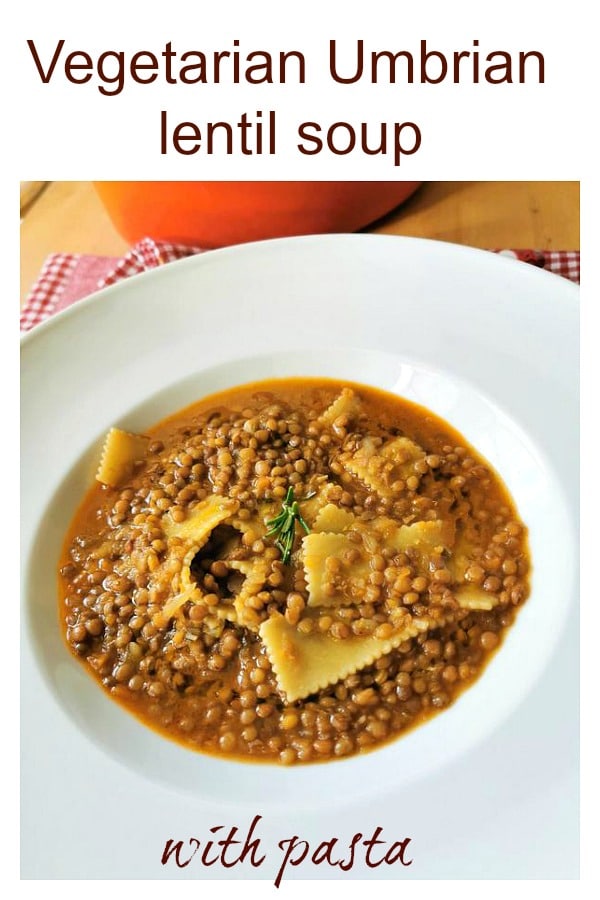 This pasta was made by a company in Abruzzo called Giuseppe Cocco. This was actually the first type of pasta I have tried from this company. But, it won't be the last. I really liked this pasta. It's bronze extruded and made with natural spring water. I know this company exports to US and US readers can buy it online from https://www.supermarketitaly.com/ I'm not sure where else they export to.
Whichever pasta you choose to make this warming and nutritious Umbrian lentil soup with, I'm sure you will enjoy it!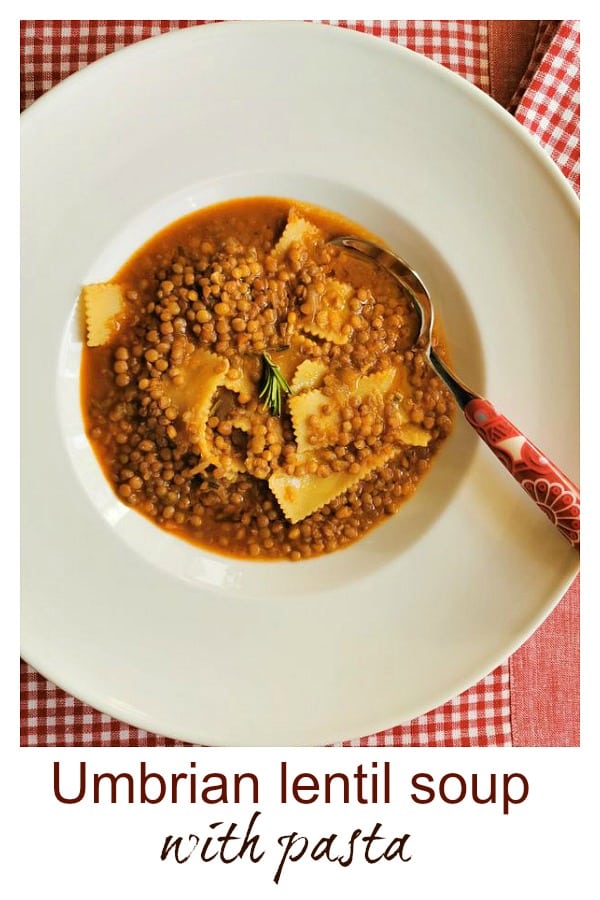 If you make this Umbrian lentil soup with pasta recipe, I'd love to hear how it turns out and if you liked it. So, please leave a comment here on the blog or on The Pasta Project Facebook page.
Looking forward to hearing from you!
Buon appetito!
Other recipes from Umbria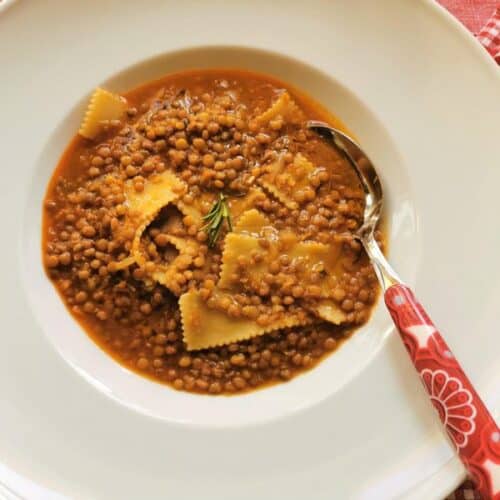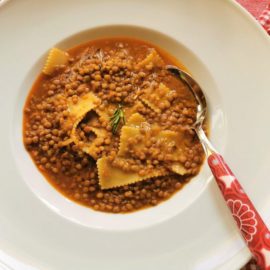 Umbrian Lentil Soup with Pasta
An easy and nutritious traditional one-pot vegetarian/vegan pasta and lentil soup recipe from Umbria in Central Italy. An authentic Italian pasta recipe.
Ingredients
200-250

g

small green/brown lentils

(7-9oz) I used Umbrian lentils from Cascia. You can use French puy lentils

250

g

pasta

(9oz) You can use ditalini, broken linguine, maltagliati or sagnette. I used sagnarelli

1

onion

peeled and finely chopped

2

stalks

celery

finely chopped

1-2

carrots

finely chopped

2

garlic cloves

peeled and chopped

1

sprig

fresh rosemary

chopped leaves

3-4

tbsp

extra virgin olive oil.

1

tbsp

tomato concentrate

1

lt

warm water or vegetable stock

(33floz) I used half and half

salt

to taste

Freshly ground black pepper.

as required
Instructions
Peel and finely chop the onion and garlic. Wash and finely chop the celery and carrots. Wash and chop the rosemary leaves. Rinse the lentils under running water to remove any impurities (like stones). Umbrian lentils don't need pre-soaking. If you use another kind, check the packet to see if you have to soak them first. Small lentils are better. Red lentils not so good as they get mushy.

Saute the onion, carrots and celery with the olive oil in a deep heavy pan or Dutch oven (I used my Dutch oven). When the veggies start to soften add the garlic, rosemary and tomato concentrate. Mix everything together. Let it cook for another minute and then add the lentils and cover with warm water and vegetable stock. (I used half and half). Let the soup simmer for about 20-30 minutes.

Add salt to taste and then add the pasta. Continue cooking until the pasta is ready.  Stir every now and again to prevent sticking. Serve with a little olive oil and ground black pepper as required.
Notes
The pasta cooking time will depend on the type of pasta you use. Check the packet for cooking instructions. You can use ditalini, broken spaghetti or linguine, sagne or maltagliati. I used sagnarelli from Giuseppe Cocco.
I used small Umbrian lentils that don't need soaking. You can use any small lentil but I wouldn't use red lentils as they can get mushy. Check the packet to see if they need pre-soaking
Nutrition
Calories:
527
kcal
Carbohydrates:
83
g
Protein:
22
g
Fat:
12
g
Saturated Fat:
2
g
Polyunsaturated Fat:
2
g
Monounsaturated Fat:
8
g
Sodium:
66
mg
Potassium:
805
mg
Fiber:
19
g
Sugar:
5
g
Vitamin A:
2719
IU
Vitamin C:
7
mg
Calcium:
65
mg
Iron:
5
mg