Pasta with fava beans and pancetta is based on a traditional spring recipe from Le Marche in Central Italy. Known as 'fave in porchetta', fava or broad beans are traditionally cooked with pancetta or guanciale, garlic and wild fennel. They are delicious eaten as a side dish or with pasta.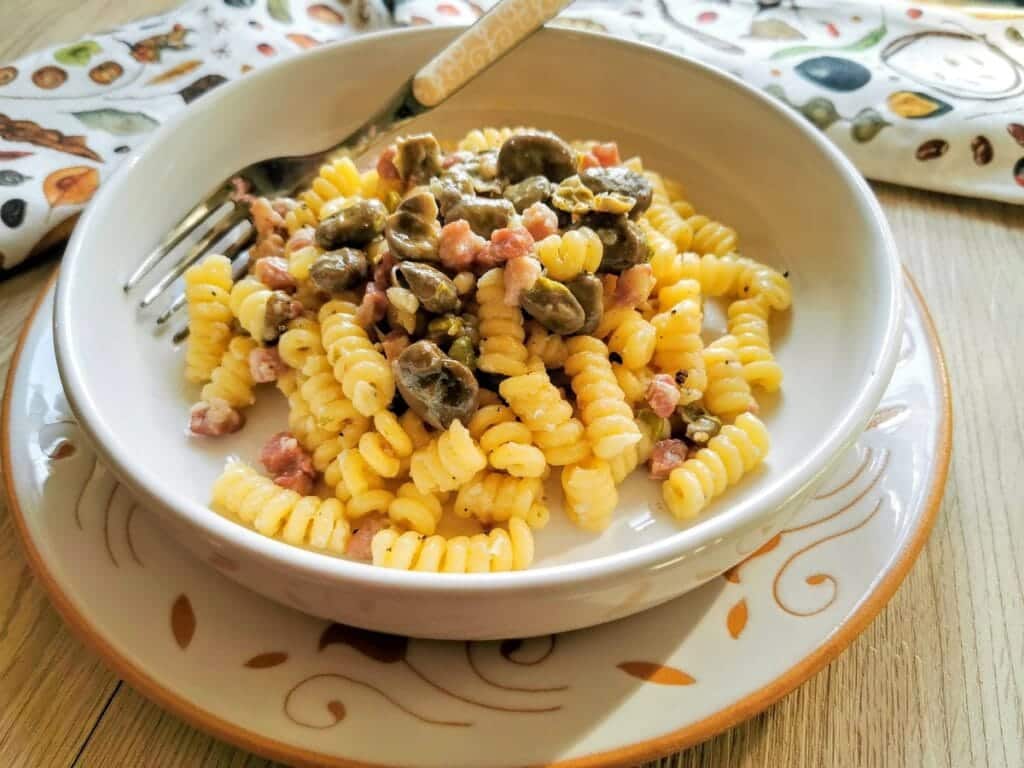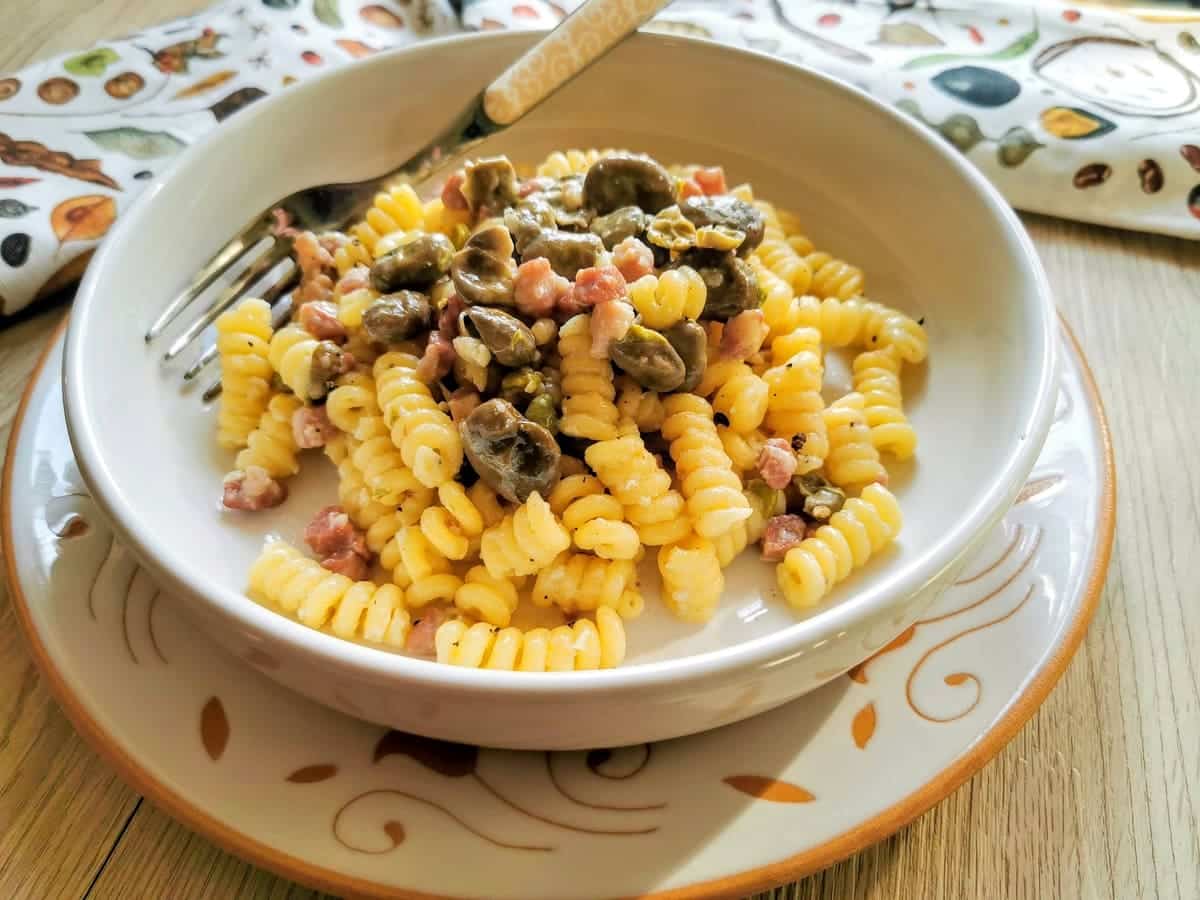 Spring veggies are the best!
There are many reasons to like the spring; flowers, trees in blossom, warmer weather and more sunshine to name the most obvious. But, as a foodie, one thing that gets me excited is the appearance of fresh spring veggies.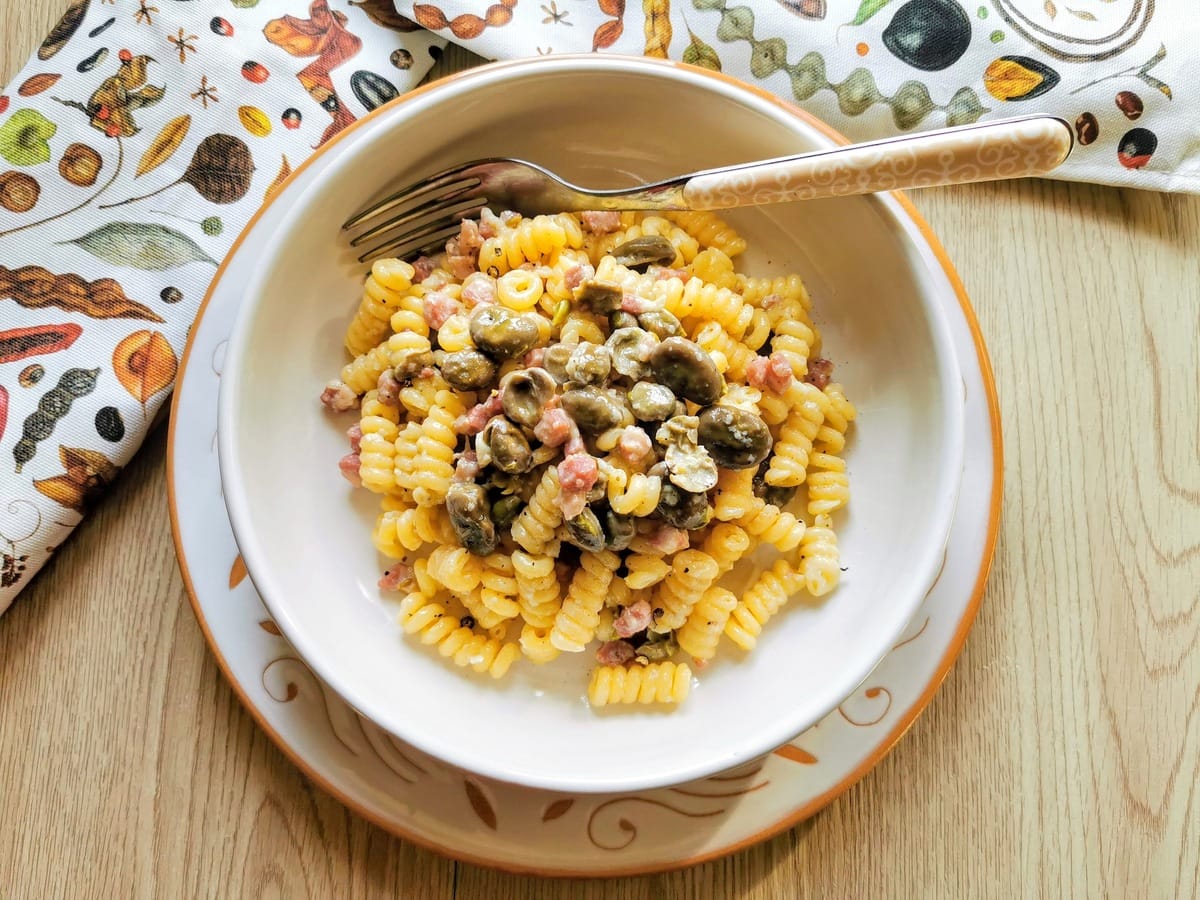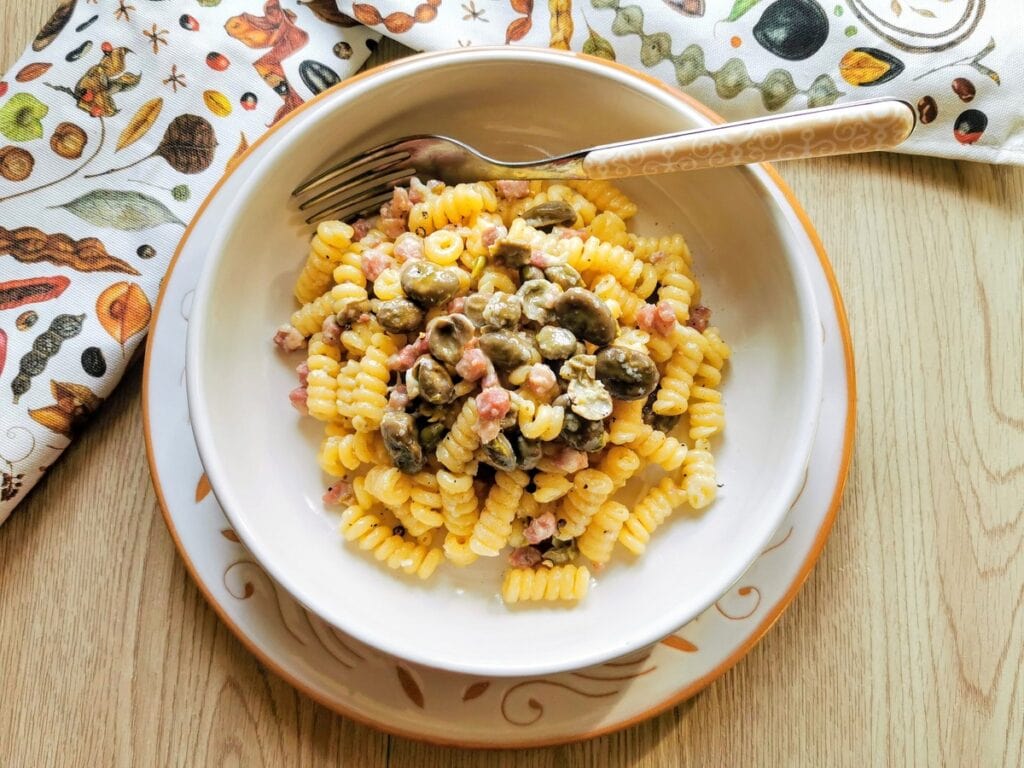 Nowadays we can buy a lot of fruit and veg throughout the year because produce is either cultivated in greenhouses or imported. However, there are some vegetables we particularly associate with the spring because that's still the only time you can find them. Or, it's when the season starts but they aren't available year round. I'm talking about veggies such as fresh peas, asparagus, new potatoes, artichokes, zucchini flowers and fava beans, the star of this recipe!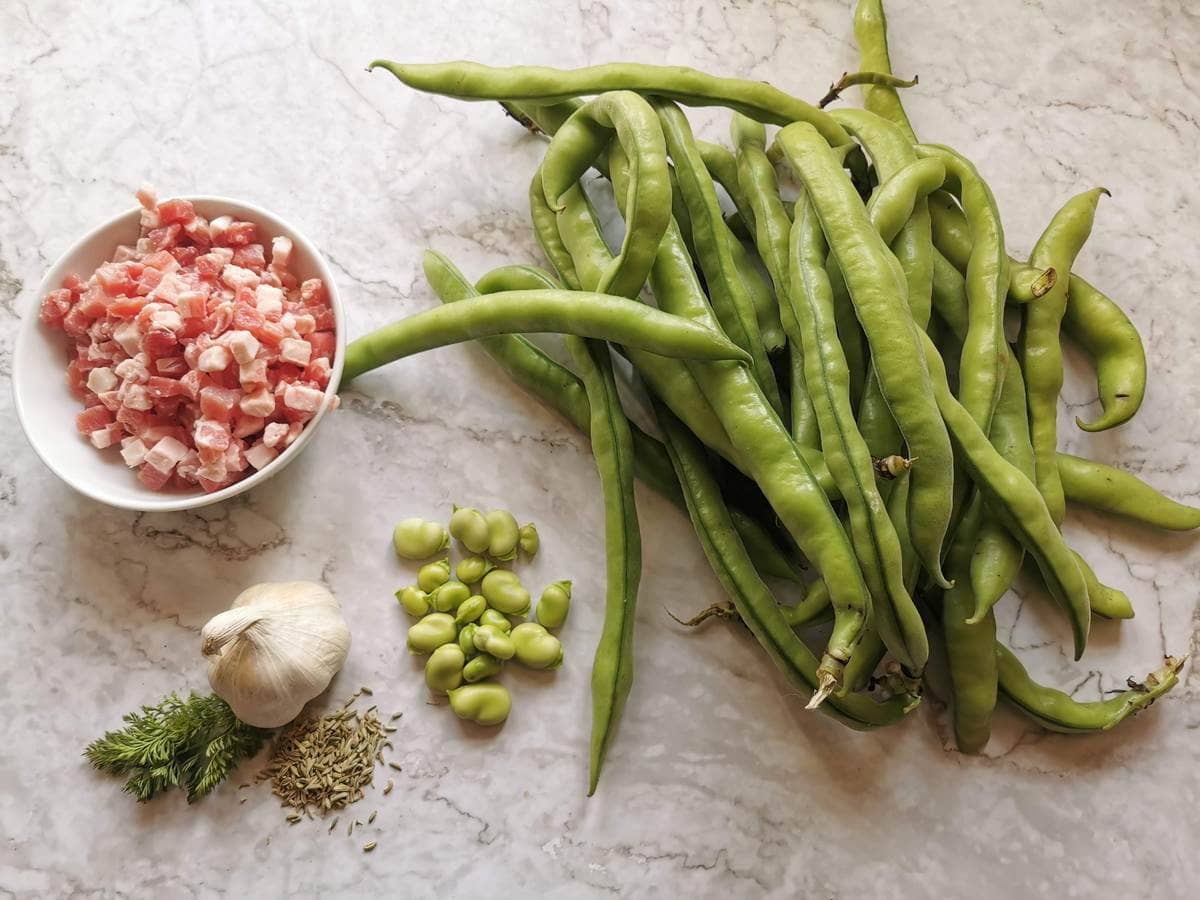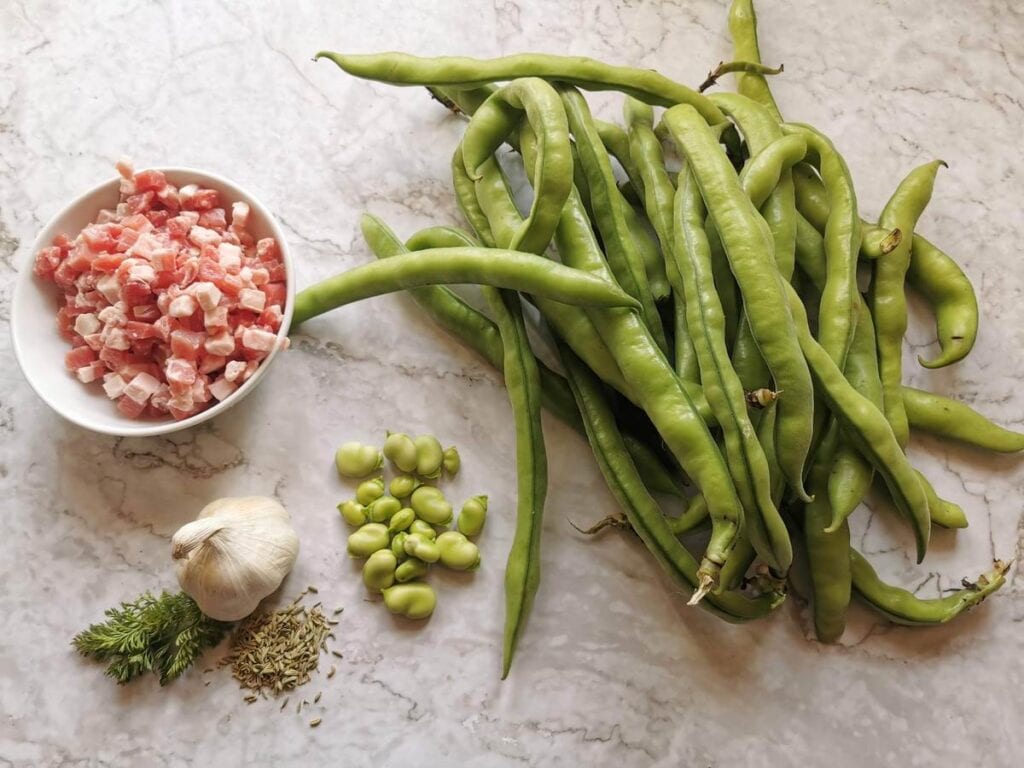 What are fava beans?
Also known as broad beans, fava beans are a species of flowering plant in the pea and bean family, Fabaceae. Like other types of beans, these are seeds found inside of pods. The pods are green when quite young. In fact, they look a bit similar to pea pods. However, they become blackish-brown as they mature.
Fava beans are usually eaten when still young, so when the pod is still green. Very young fava can be eaten whole, pod and all. And, even small beans can be eaten raw without having to remove the outer skin. The latter becomes tougher as the beans mature.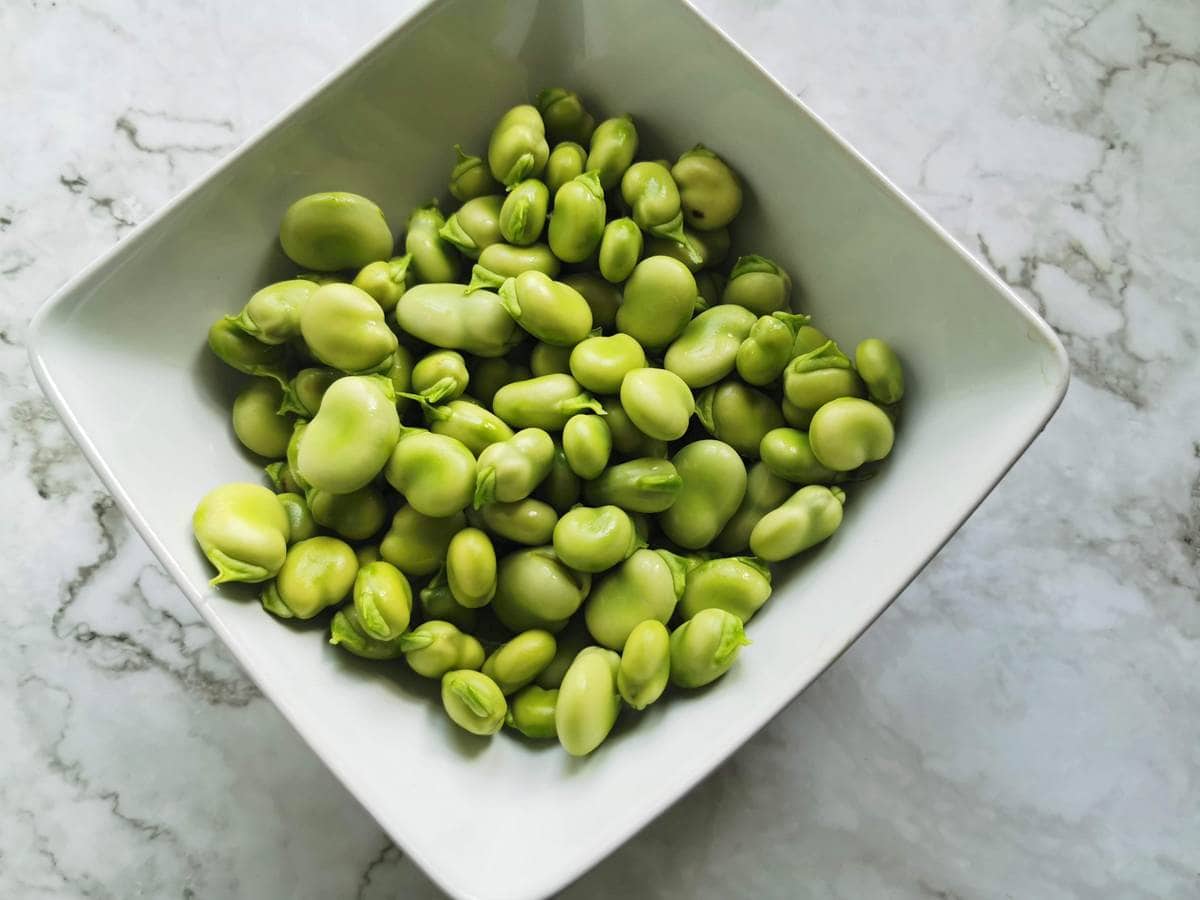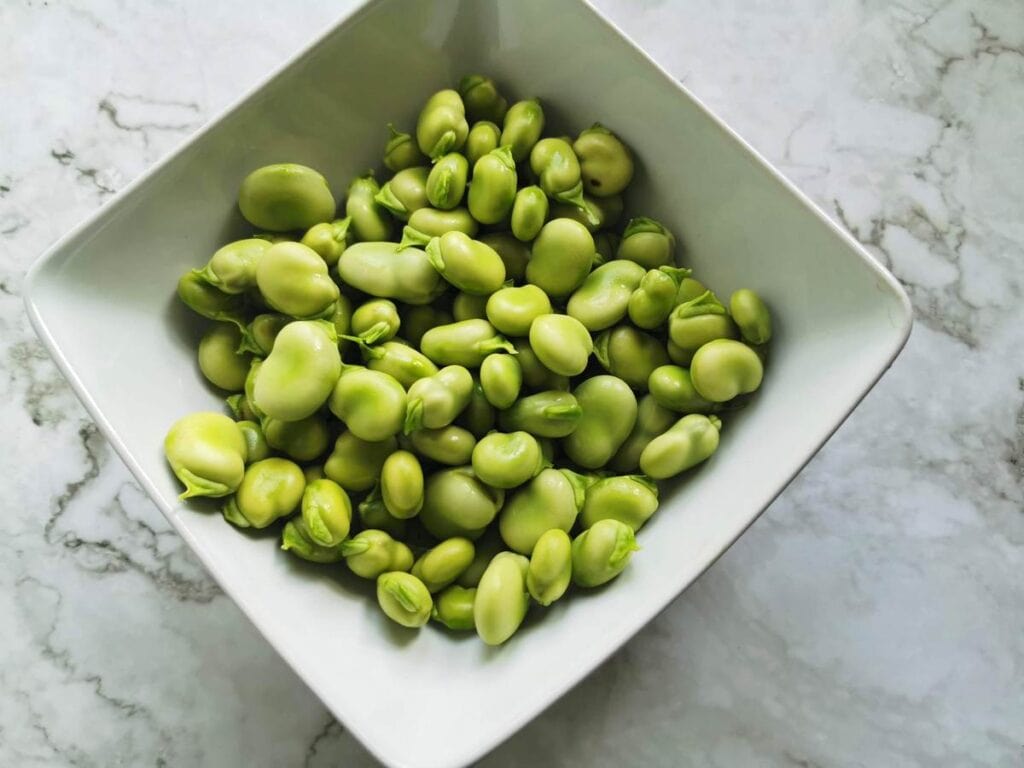 Italian recipes for fava beans.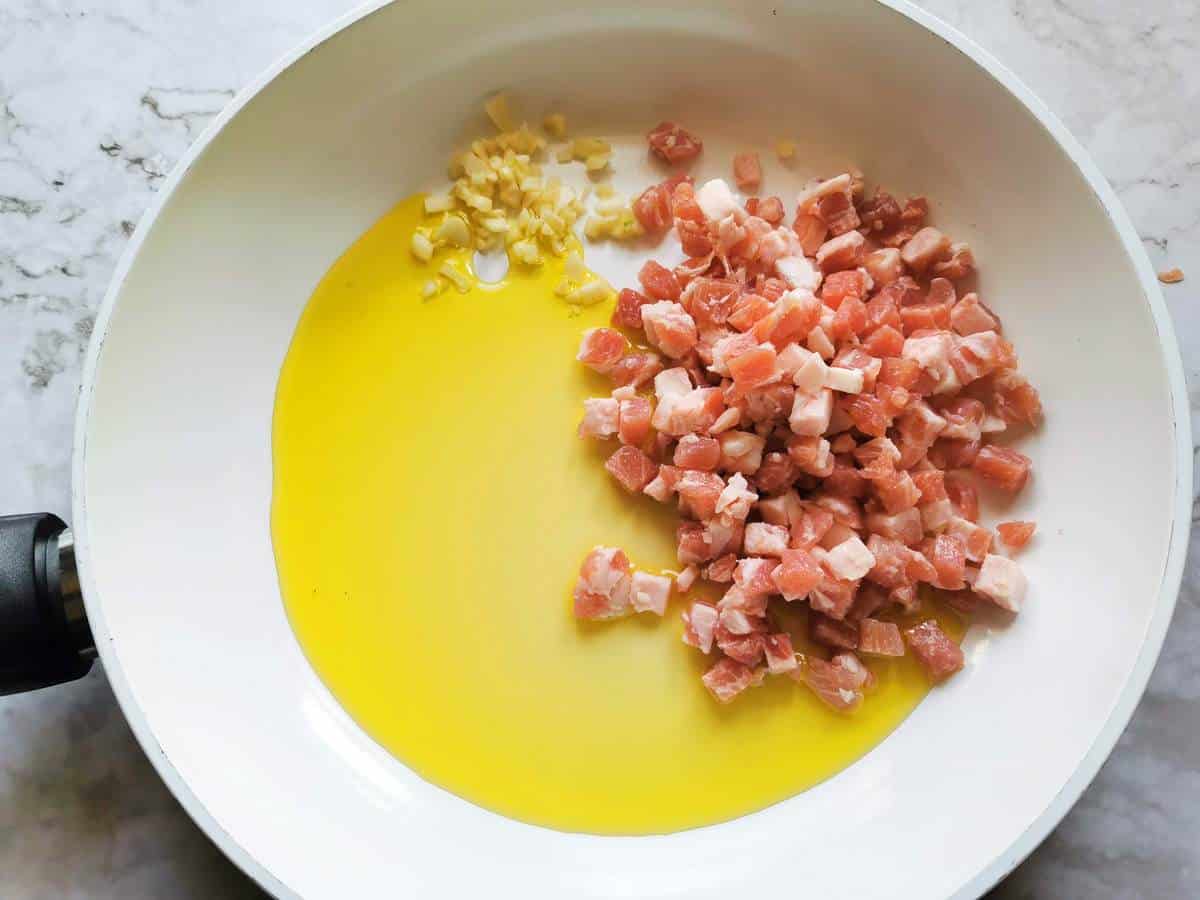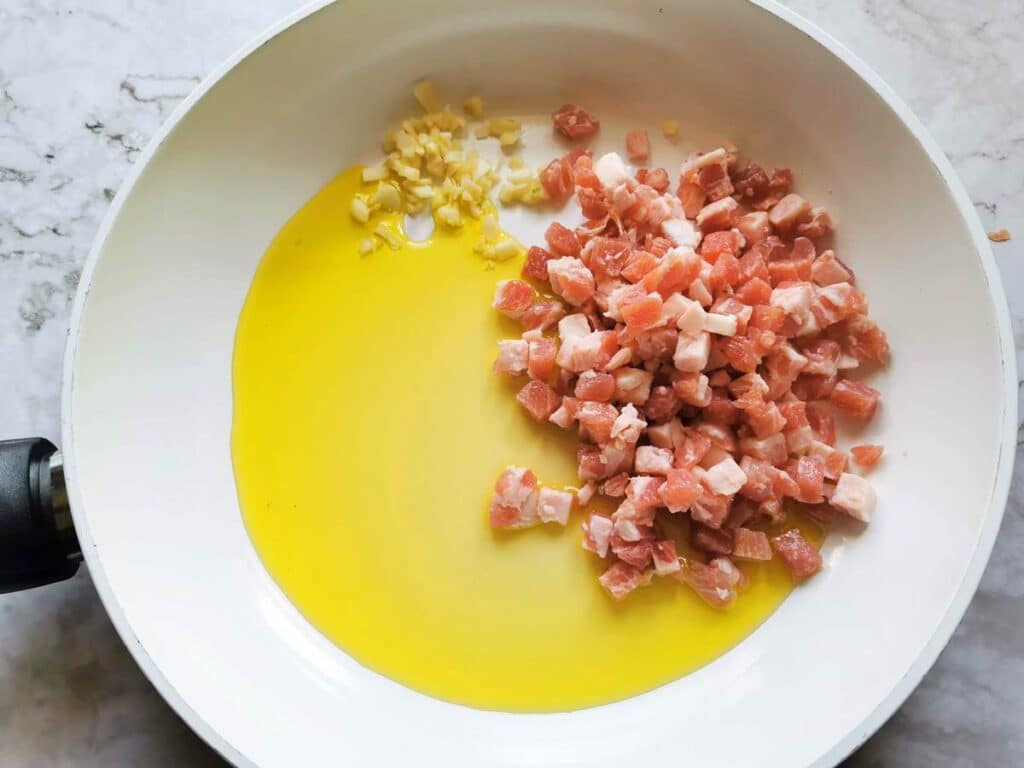 This recipe for pasta with fava beans and pancetta.
Known as 'fave in porchetta' in Le Marche, fava beans and pancetta is traditionally a side dish made with mature broad beans. It was originally a way to use up beans that were no longer suitable to eat raw. Nowadays, you can also find recipes like this one which combine the fave in porchetta with pasta to make it a one plate meal or first course (Italians say primo piatto).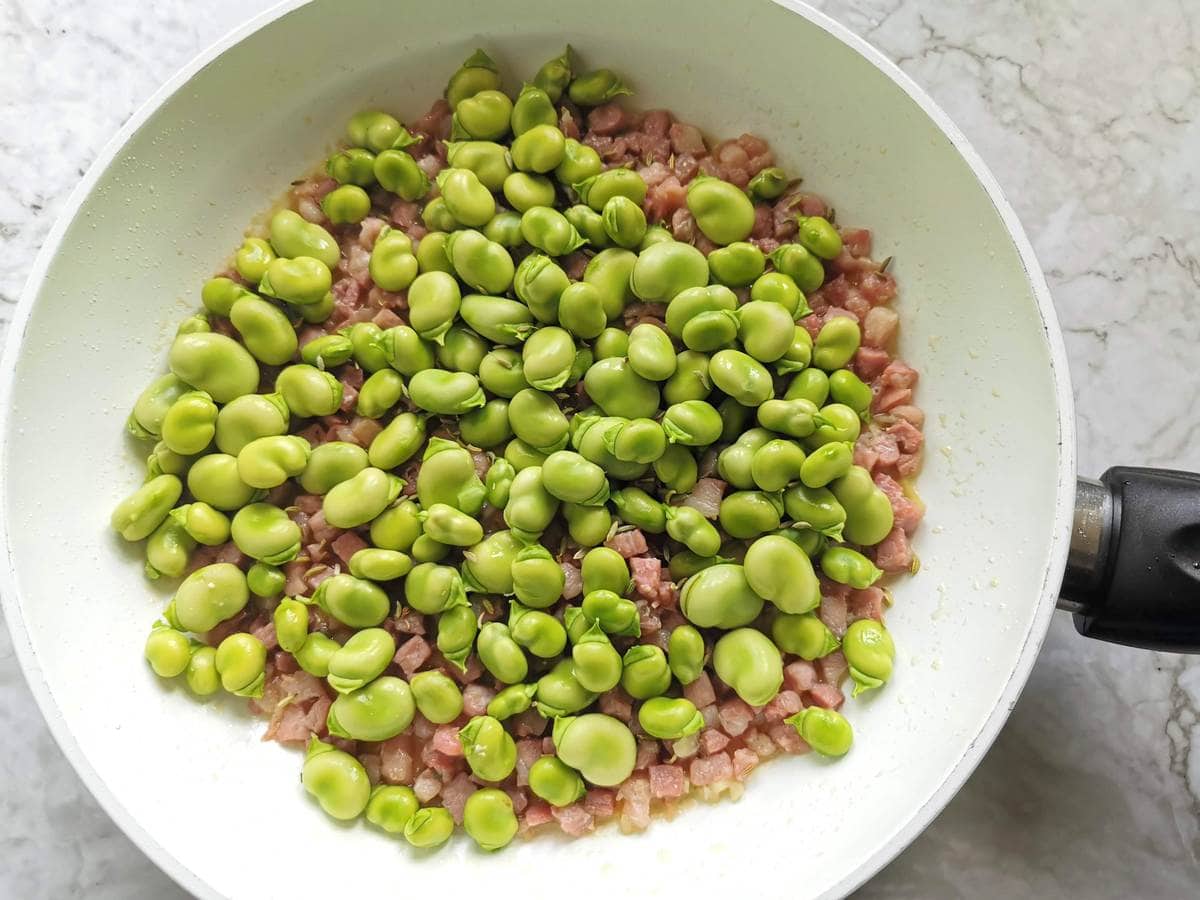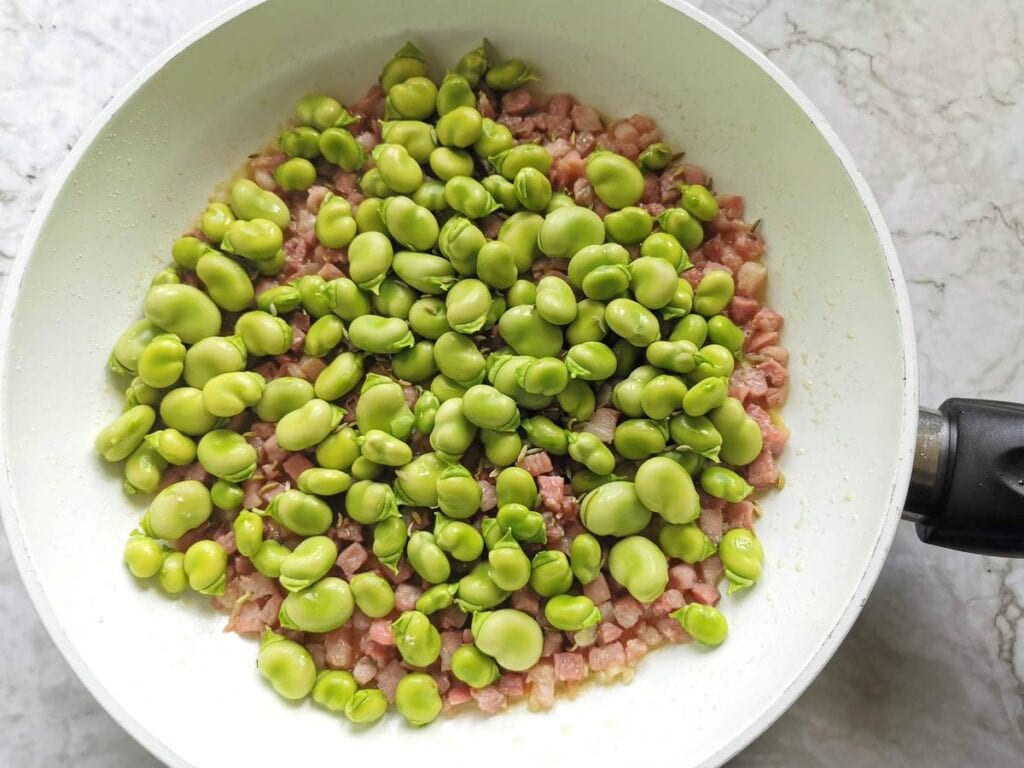 What does 'in porchetta' mean?
Porchetta is an Italian whole rolled boneless pork that has been filled with liver, different herbs, garlic and wild fennel and spit roasted over wood for about 8 hours! It's typically made in Central Italy but, is popular throughout the country as a street food. It's the Italian version of pulled pork or roast pork sandwiches. In fact, porchetta is usually sold from food trucks and eaten in panini!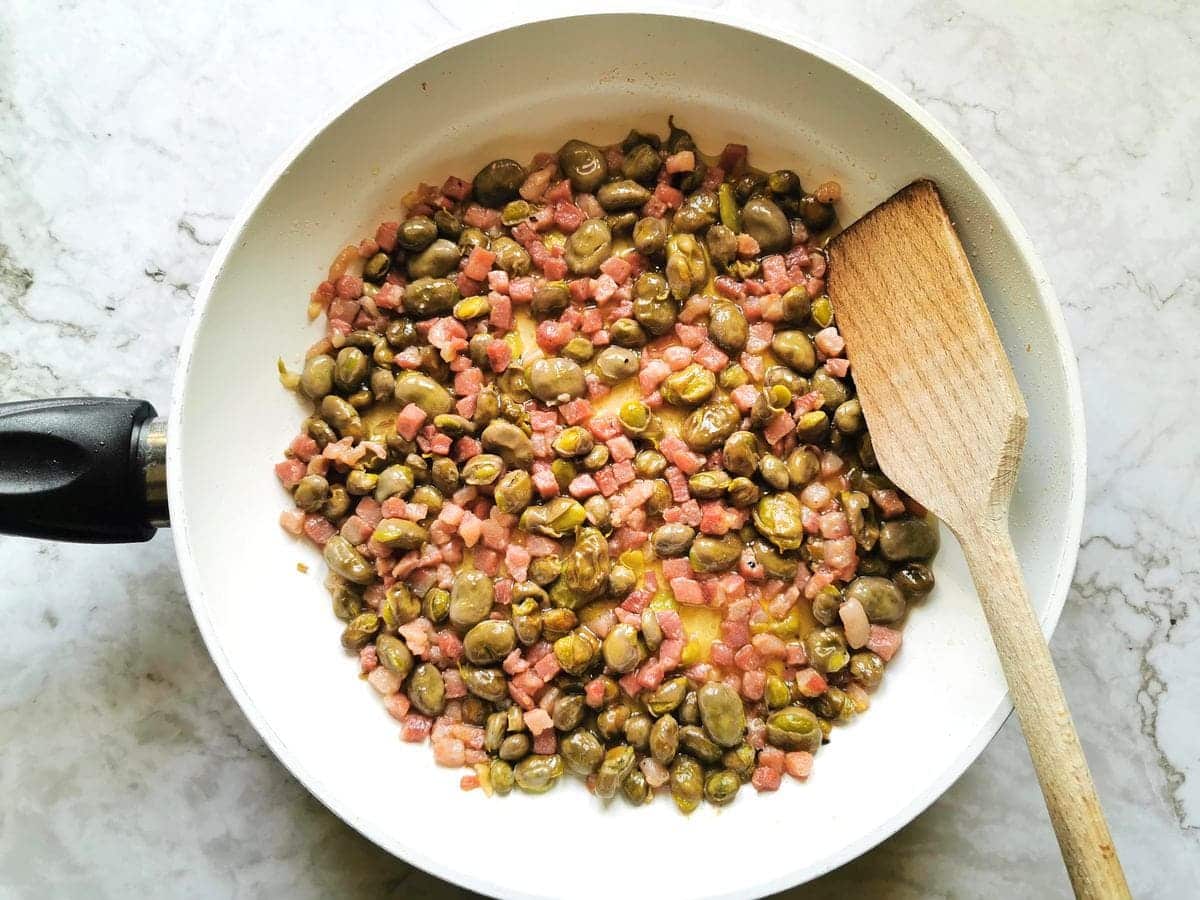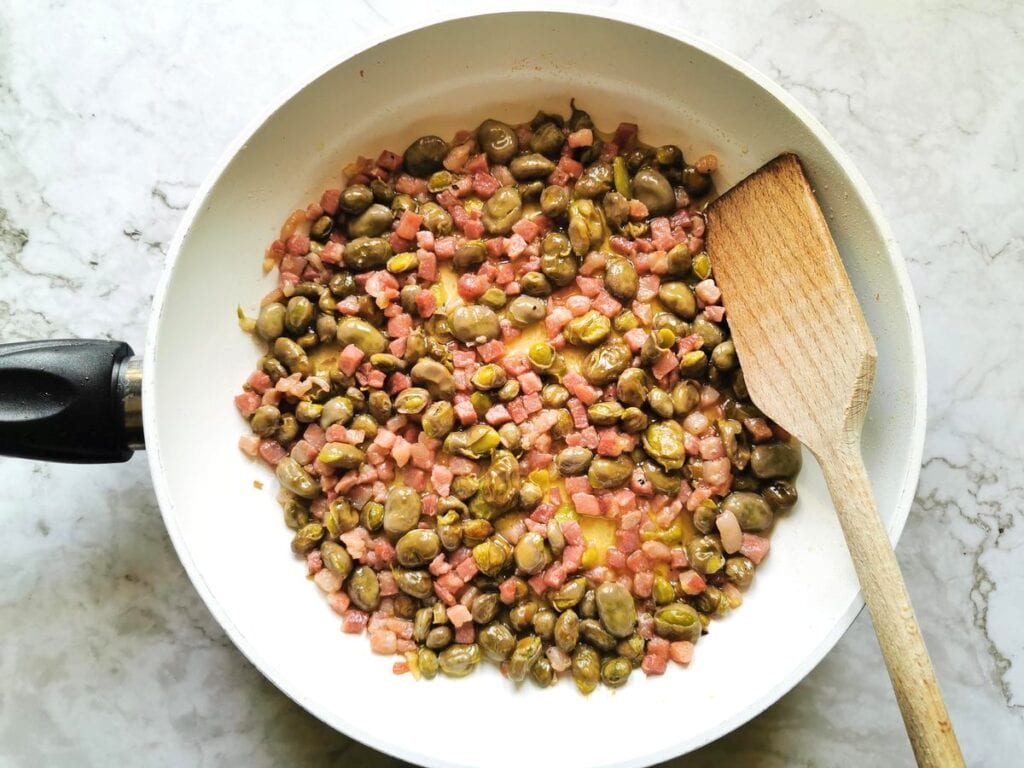 There are a number of traditional dishes called 'in porchetta' in Central Italy. You can find rabbit in porchetta, chicken in porchetta, duck in porchetta and even carp in porchetta. Plus, of course, fave in porchetta.
What all these dishes have in common is they are flavoured with the same ingredients as porchetta, particularly wild fennel and garlic. Some, like the rabbit are also deboned. They normally include a kind of fatty pork such as lardo, guanciale or pancetta, even the carp! And they are usually roasted, although not the fava beans of course.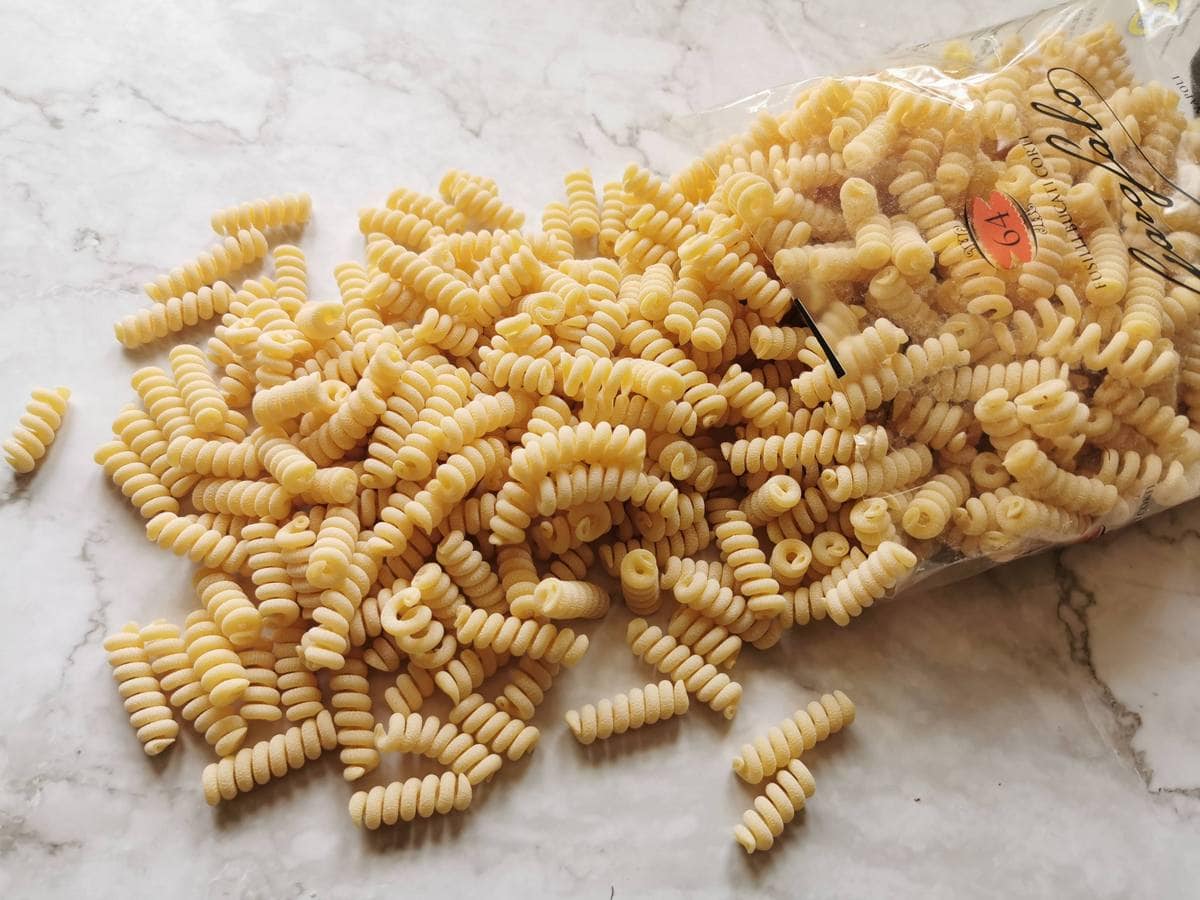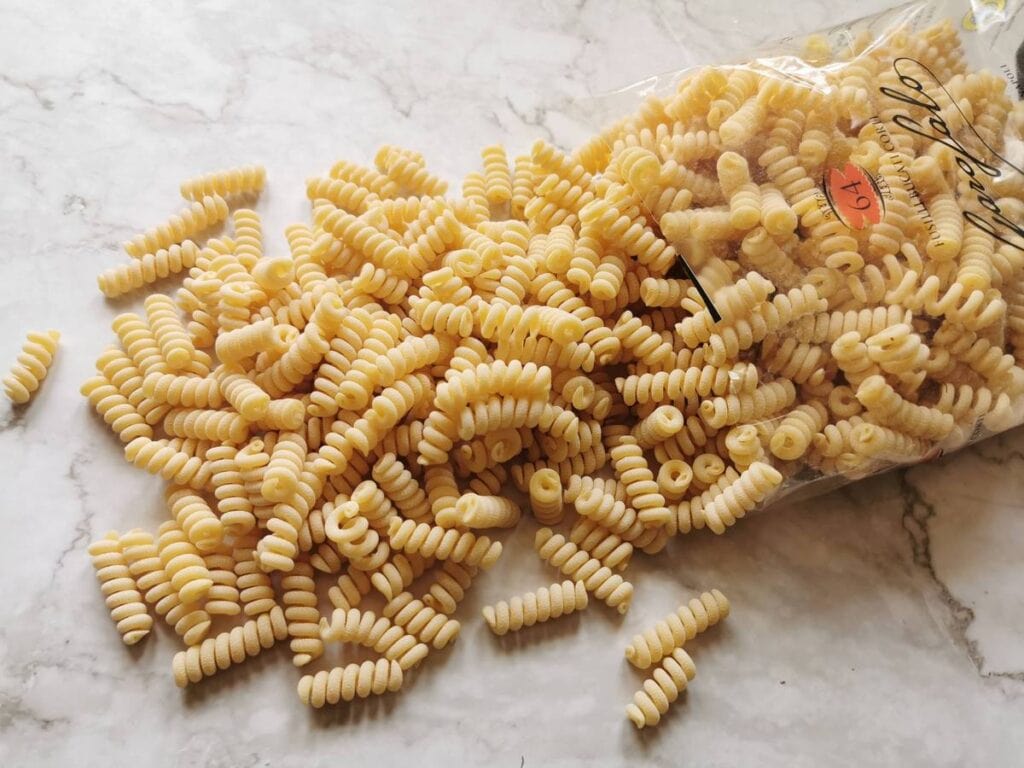 Other ingredients in this pasta with fava beans.
As I mentioned above, this fava beans recipe includes ingredients similar to those used in Italian porchetta. The beans are cooked with guanciale or pancetta, garlic, wine and wild fennel. Of course, the latter isn't easy to find. But, you can substitute it with dill or fennel seeds. I used wild fennel seeds that I bought in Calabria.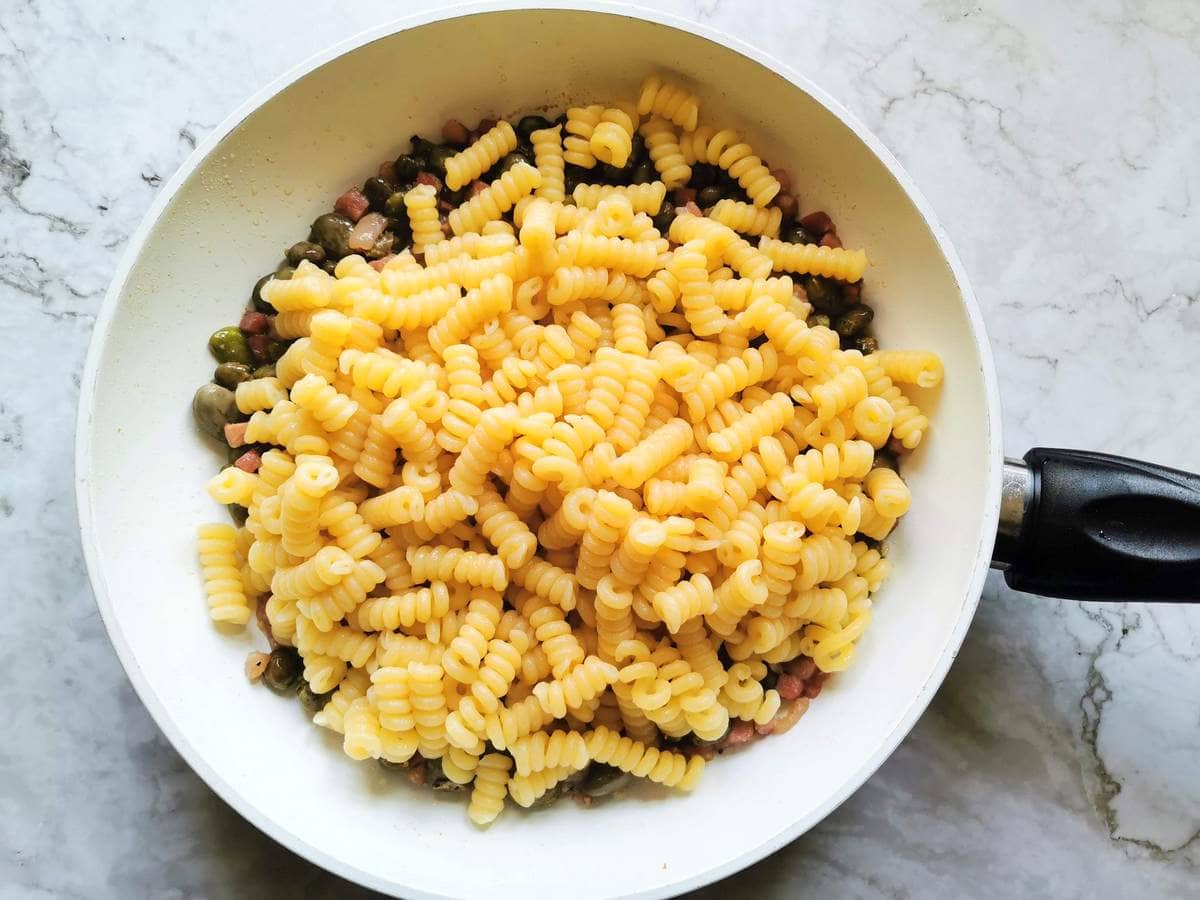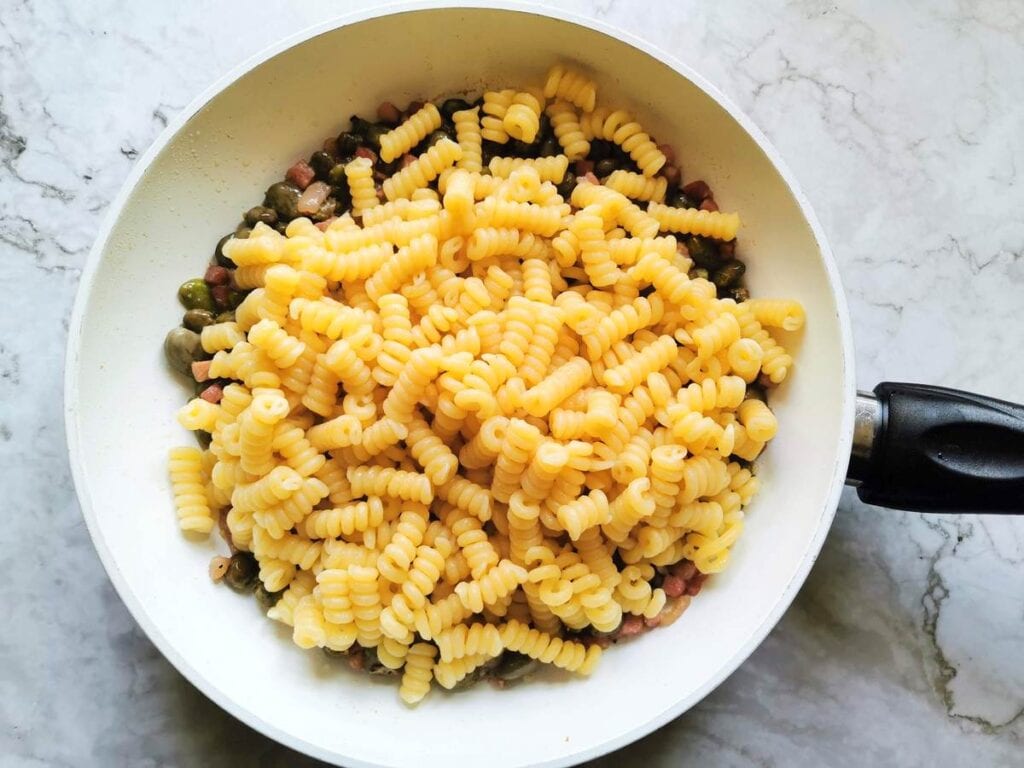 Wild fennel grows all over Central and Southern Italy. You can find it in the countryside, in ditches, along roadsides and even abandoned gardens! The peak season is during March. But, it's possible to plant a bit in a pot and as long as you give it a little water you will be able to have wild fennel for months. Unfortunately, it isn't available here in the North. That's why I used wild fennel seeds. But I'm planning to plant some of those seeds and hopefully grow my own.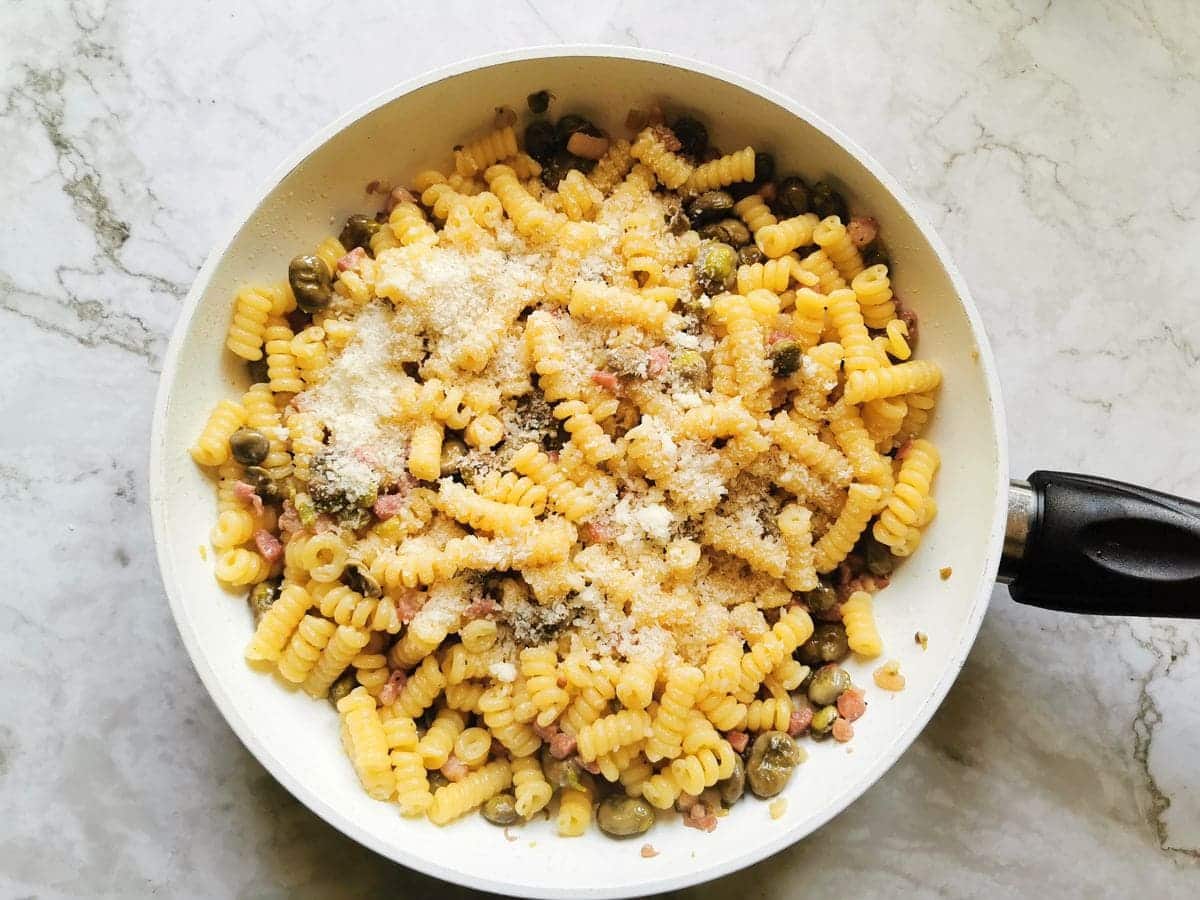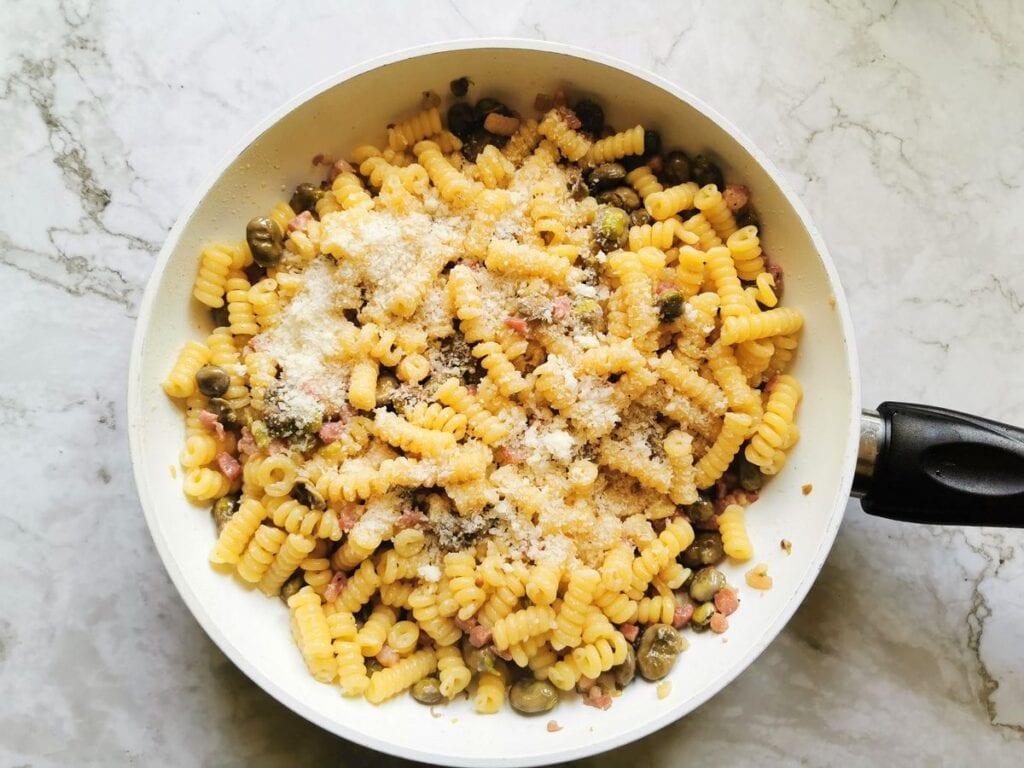 Cooking the fava beans.
I made this recipe with very fresh young fava beans. So, all I had to do was shell them and add them to the sauce. Most Italian versions of this recipe don't include blanching and peeling the beans before cooking them. However, a few do. In my opinion, fava beans don't need to be peeled unless they are really big. And, in that case, they're better dried! By removing the skin of each bean, you also unquestionably remove much of that very earthy flavour that makes these beans so tasty. Plus, you give yourself so much more work!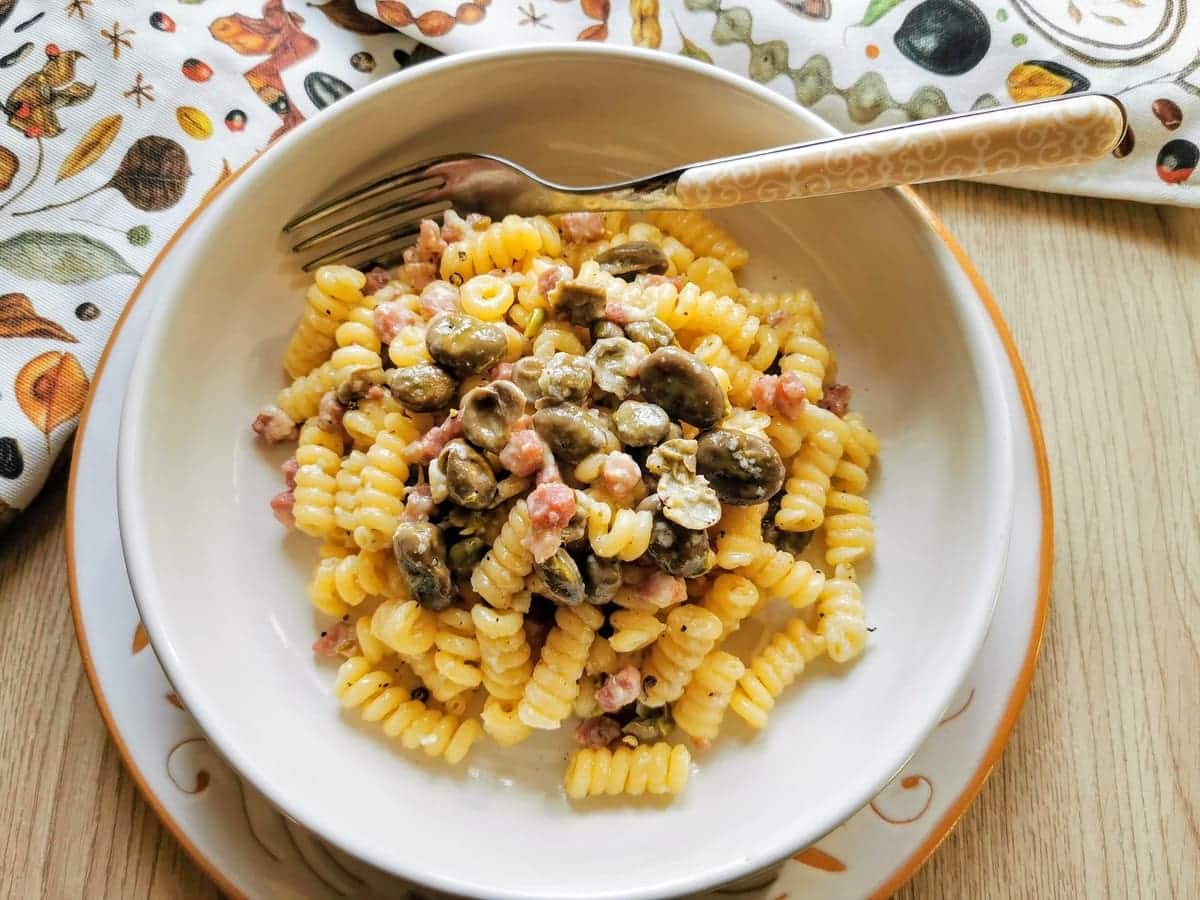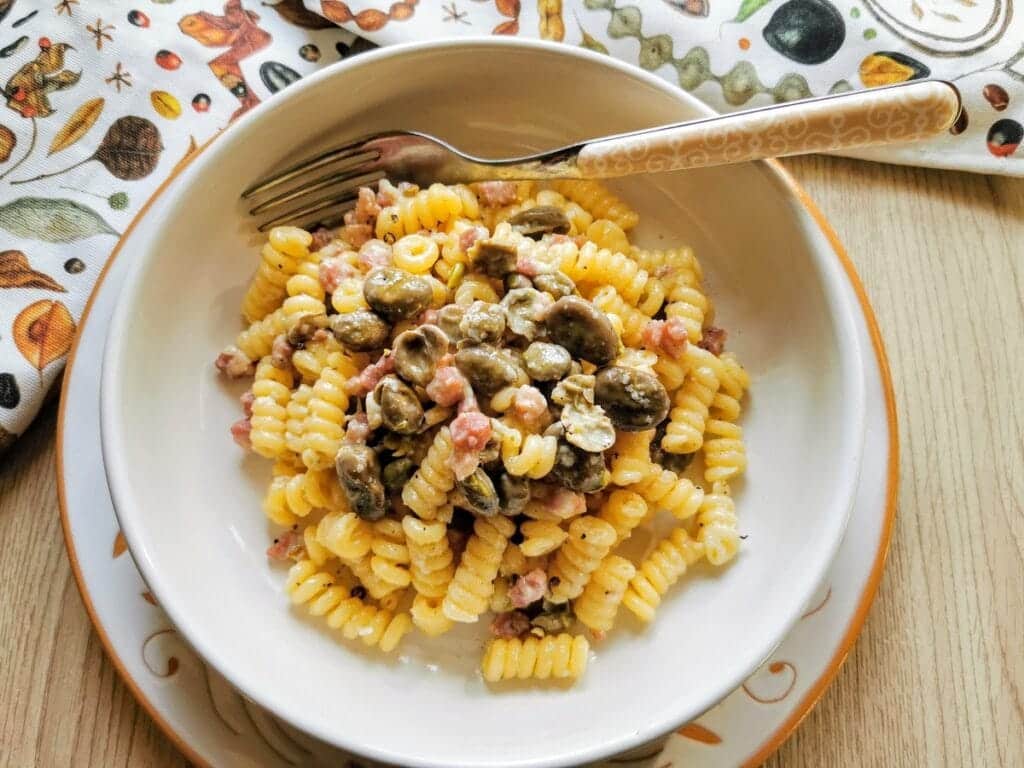 Although this recipe is best with fresh fava beans, those aren't available all through the year. So, you can also use rehydrated dried beans or canned or frozen fava beans.
The pasta.
The recipes I have found for pasta with fava beans and pancetta used tagliatelle or tagliolini. Personally, I think this dish is better with short pasta. So, I used short fusilli bucati. That's short fusilli with a hole! It turned out so well. Such a great pasta for all kinds of veggie or meat pasta recipes. Of course you can use your favourite pasta, long or short.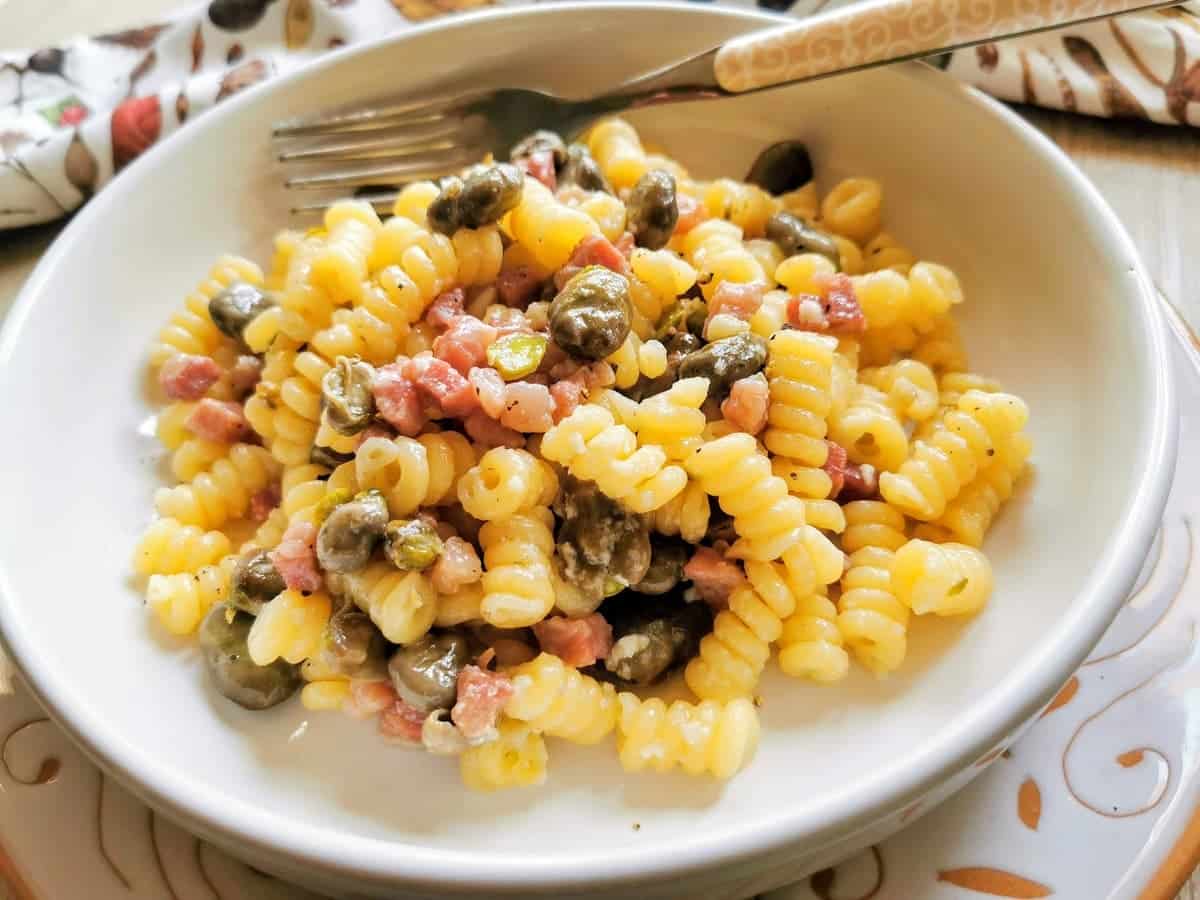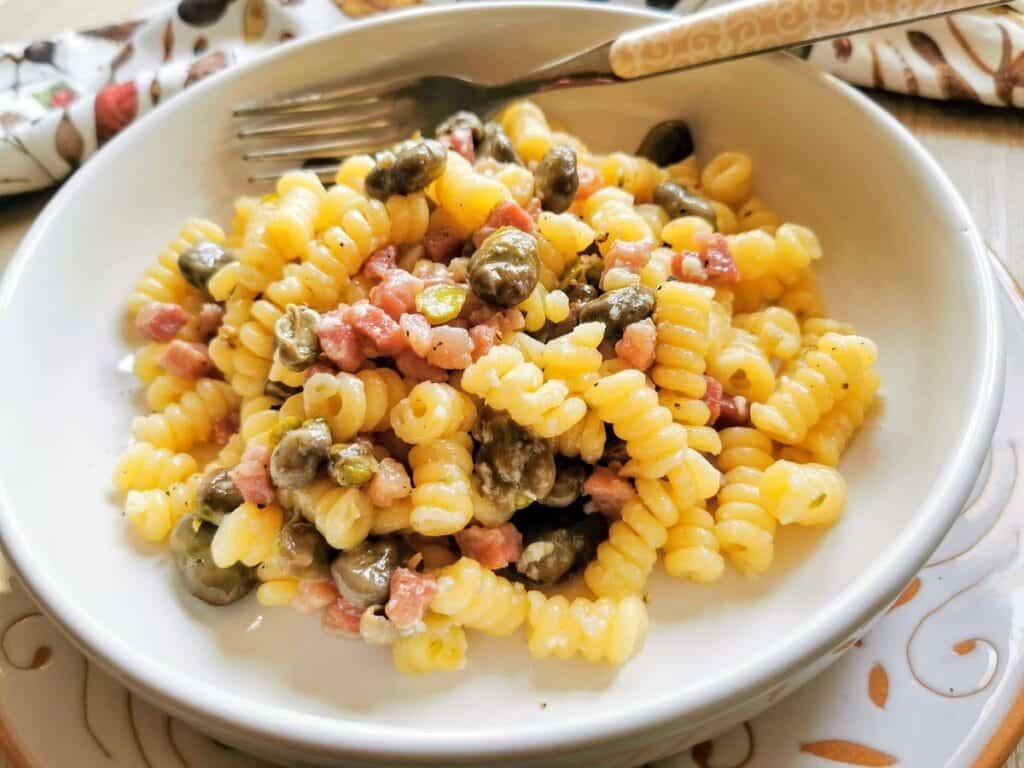 Let me know what you think.
Whichever type of pasta you use, I'm sure you'll love this traditional way of cooking fava beans. You can also make extra beans to serve as a side dish.
If you do try this pasta with fava beans and pancetta, I'd love to hear what you think. Please write a comment here on the blog or post a comment on the Pasta Project Facebook page.
Your feedback means a lot to me!
Buon Appetito!
SAVE THIS RECIPE FOR LATER?
If you want to save this recipe for later, you can print it, bookmark this page or save it to Pinterest.
Other spring pasta recipes to check out!
Want to know more about my life in Italy? Why not subscribe to my newsletter? New subscribers get a free series of recipe e-books too!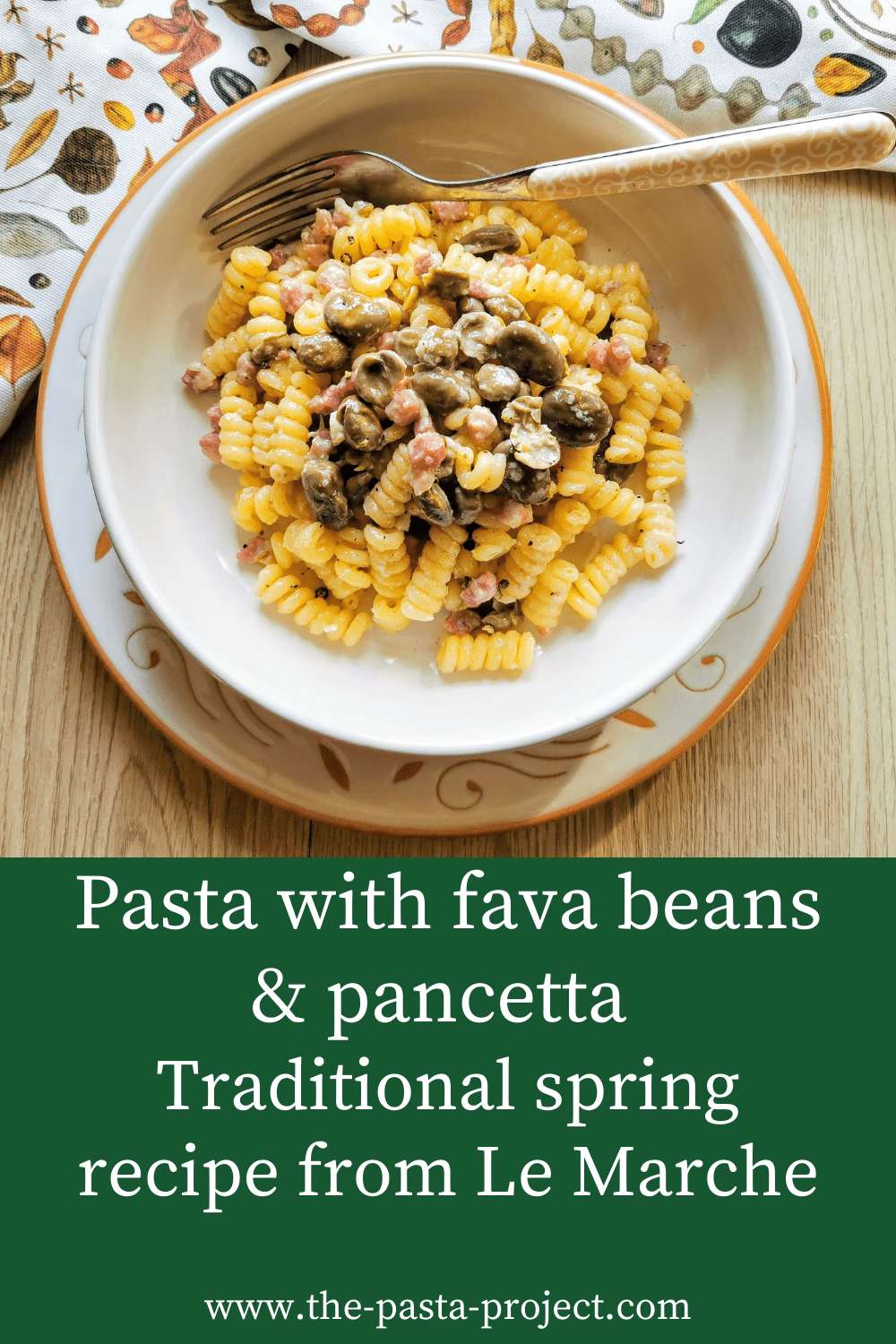 If you are interested in learning how to make homemade pasta and different types of gnocchi, check out my shop page for some great video online courses from my friends in Rome! Nothing beats learning to make pasta from Italians! Plus while you're there why not order a copy of my newly published autumn/winter pasta recipes cookbook!?