If you have ever been to Sardinia, you may have come across this delicious seafood dish. Fregola with clams is probably the most well-known Sardinian seafood pasta recipe. It's unique to the island, so not a dish you would usually come across anywhere else in Italy.
It's probably more simple than you think to make too! Many people think of clams as something to eat in a restaurant. But, actually, clams and mussels aren't difficult to cook and they don't leave a fishy smell in your kitchen.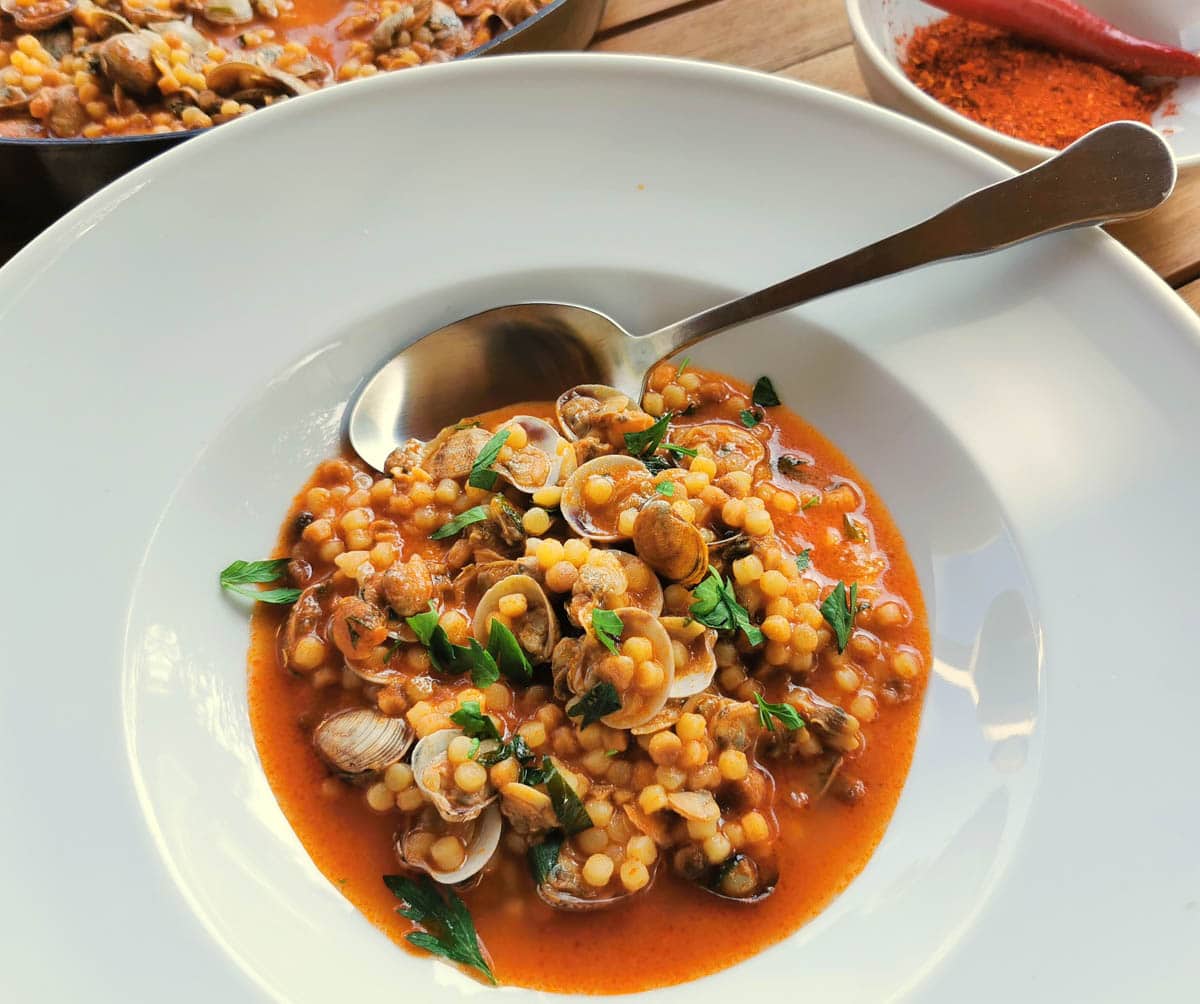 The history
Fregola with clams, also known as "fregola con arselle" or "fregola con vongole," is a traditional Sardinian dish originating from the Italian island of Sardinia. The recipe combines fregola, a type of small, round, toasted pasta similar to couscous, with clams cooked in a flavorful broth.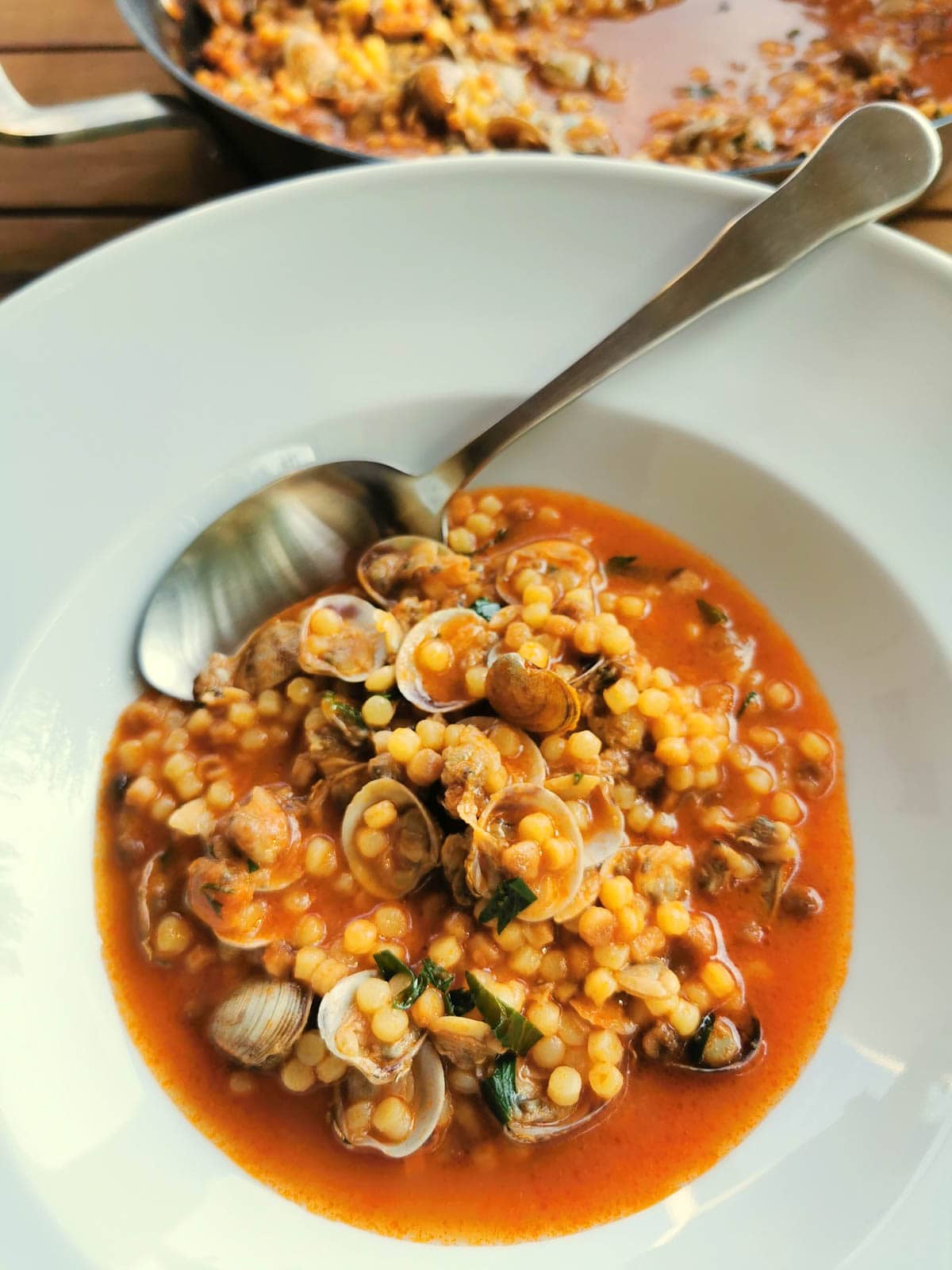 Fregola is an ancient Sardinian pasta, possibly dating back to the 10th century. However, the first historical document to mention it is a 14th century statute of the millers of Tempio Pausania, a town in Northern Sardinia.
The recipe for fregola with clams is believed to have been inspired by Sardinia's abundant seafood resources, which have been a staple of Sardinian coastal cuisine for thousands of years.
Ingredient notes
Apart from the clams and the pasta, this fregola with clams recipe has only a few other ingredients. All you need is some garlic, olive oil, tomato concentrate and parsley! Yes that's it.
Fregola: You can use either fresh or dried fregola in this recipe. Fresh fregola tends to cook a bit faster than its dried counterpart, but both will deliver delicious results.
Clams: Choose fresh, live clams with tightly closed shells or those that close when tapped. Discard any with cracked shells or that don't respond to tapping, as they may not be fresh. The fresh clams should have a mild, briny, ocean-like smell and not fishy.
Garlic: Look for firm garlic with intact skin and no dark spots; fresh garlic will add a delicious, aromatic flavor to the dish.
Olive oil: Use good-quality extra virgin olive oil to enhance the dish's flavor; it adds much more depth and richness than regular cooking oils.
Tomato concentrate: Pick a high-quality tomato concentrate like Mutti or Cirio, as it will impart a rich and intense tomato flavor to the dish, enhancing its overall taste.
Parsley: Use fresh parsley and not dried parsley. Fresh parsley adds a vibrant, fresh notes to the dish; choose bright green, crisp leaves for the best flavor and appearance.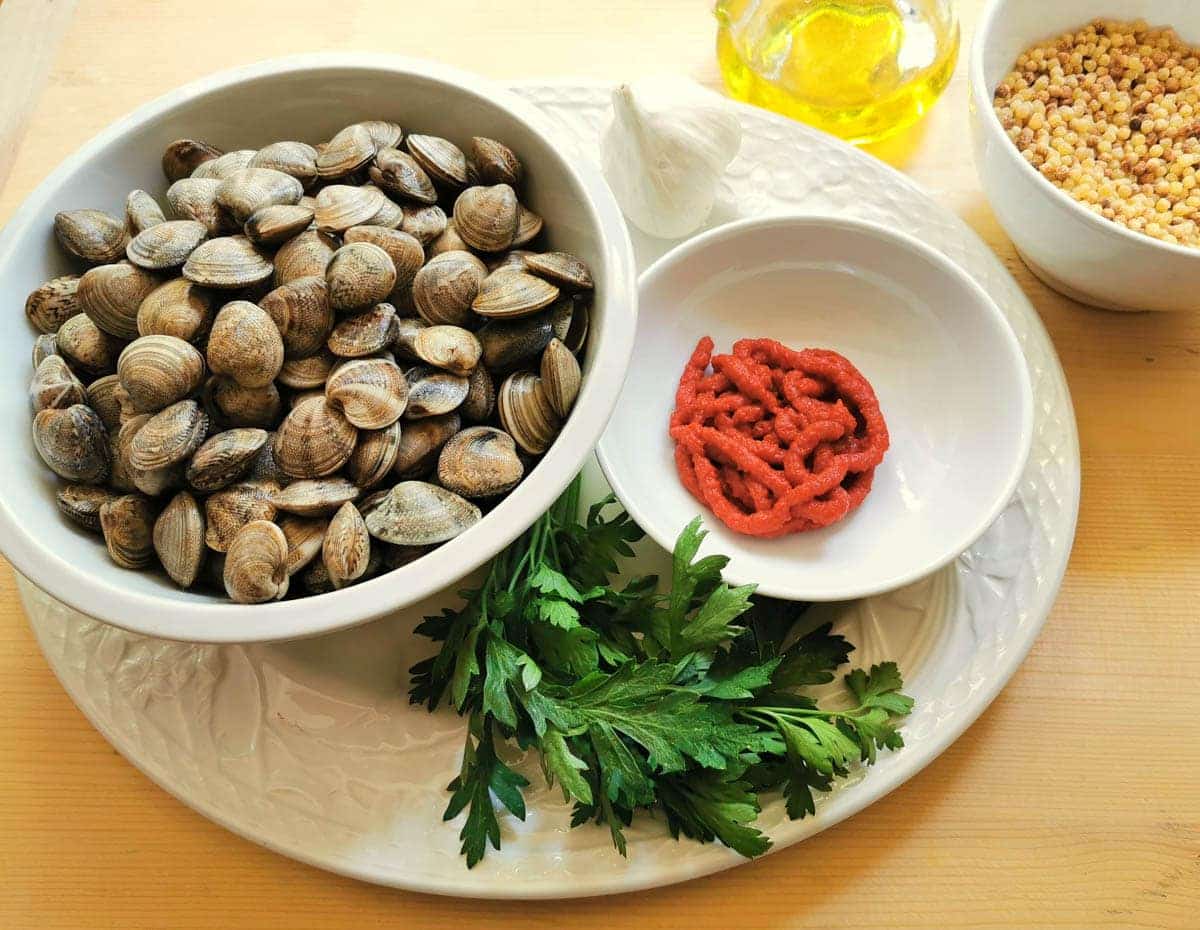 The clams
Traditionally, Sardinians make this fregola with clams recipe using clams they call 'arselle'. These are small clams known as wedge clams in English. This mollusk is native to the Mediterranean and the Atlantic coast of Western Europe.
I made this fregola with clams recipe with a type of small clam that Italians call lupini or lupini di mare. These are a variety of small clam (striped venus clams in English) which are a popular choice for Italian pasta with clams. In US, littlenecks would work too. They are the same family as the striped venus clam.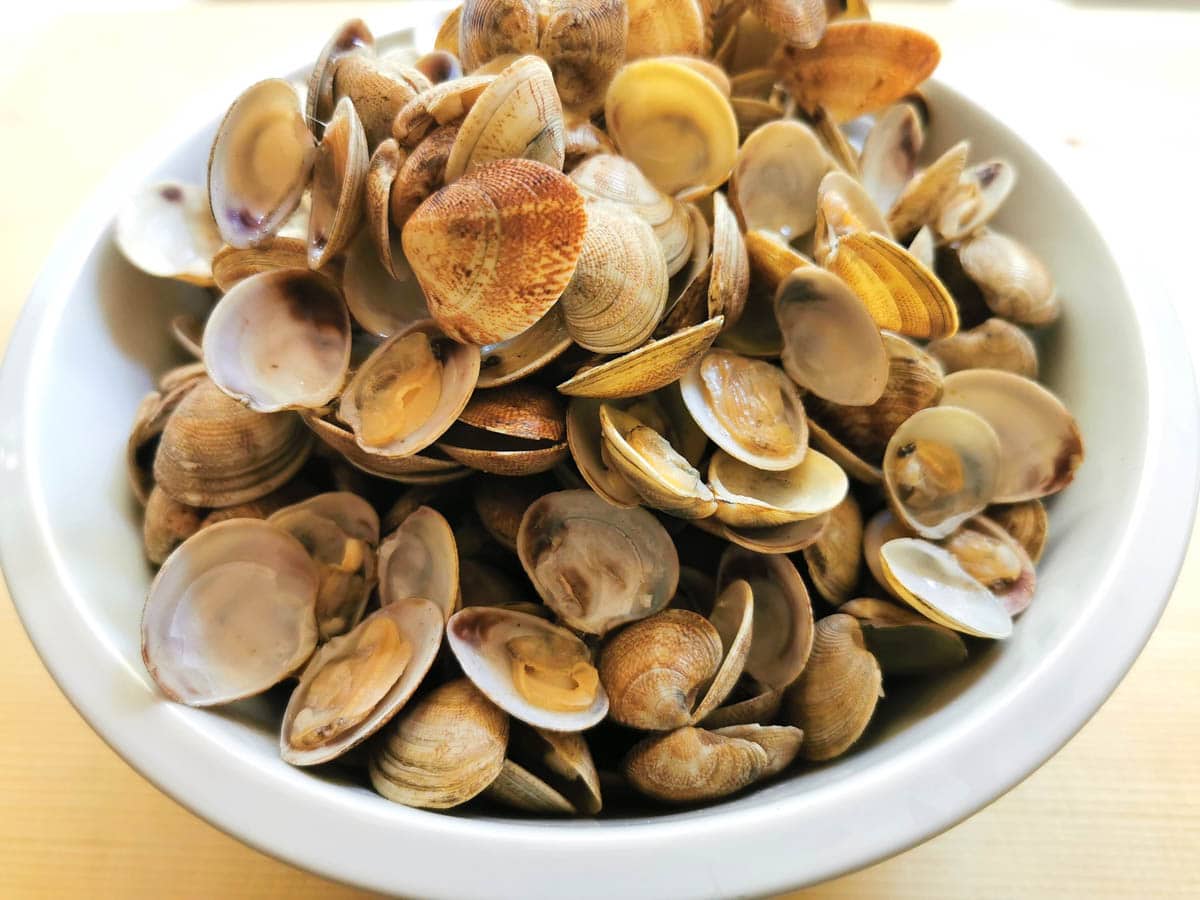 Preparing the clams
The most time consuming part of this fregola with clams recipe is cleaning the clams. The rest is super simple! The clams probably need to be purged. So you have to wash them and then place them in a large bowl with water and salt. Leave them at least an hour. At the end of this time, rinse them again very well under running water and transfer them to a pan large enough for them to open when heated.
As they open, you will have to remove them with a slotted spoon and place them on a plate or in a bowl. When they are all open, separate the shells keeping the part that contains the attached mollusk. Collect the remaining liquid in the pan and then, pass it through the mesh of a fine sieve covered with gauze or a thin cloth.
Once that is done, the rest of this fregola with clams recipe takes just 30 minutes and then you're ready to enjoy a taste of Sardinia, which I'm sure will have you planning your holiday there soon!
Step by Step Instructions
1) Rinse the clams under cold running water to remove any initial grime or dirt from the shells (be sure to throw any with a broken shell away). Next, soak them in a large bowl of salted water for at least one hour. Then rinse them once more under cold running water.
Note: If there is any dirt or grime on the shells after they have been soaked, you can brush them with a stiff-bristled brush while rinsing them under cold running water.
2) Transfer them to the fire in a pan large enough for them to open when heated. As the clams open, remove them with a slotted spoon and place them on a plate or in a bowl. When they are all open, separate the shells keeping the part of the valve that contains the attached mollusk (you can also remove some from the shells completely).
3) Pour the remaining liquid in the pan into a bowl through the mesh of a fine sieve covered with gauze or a thin cloth.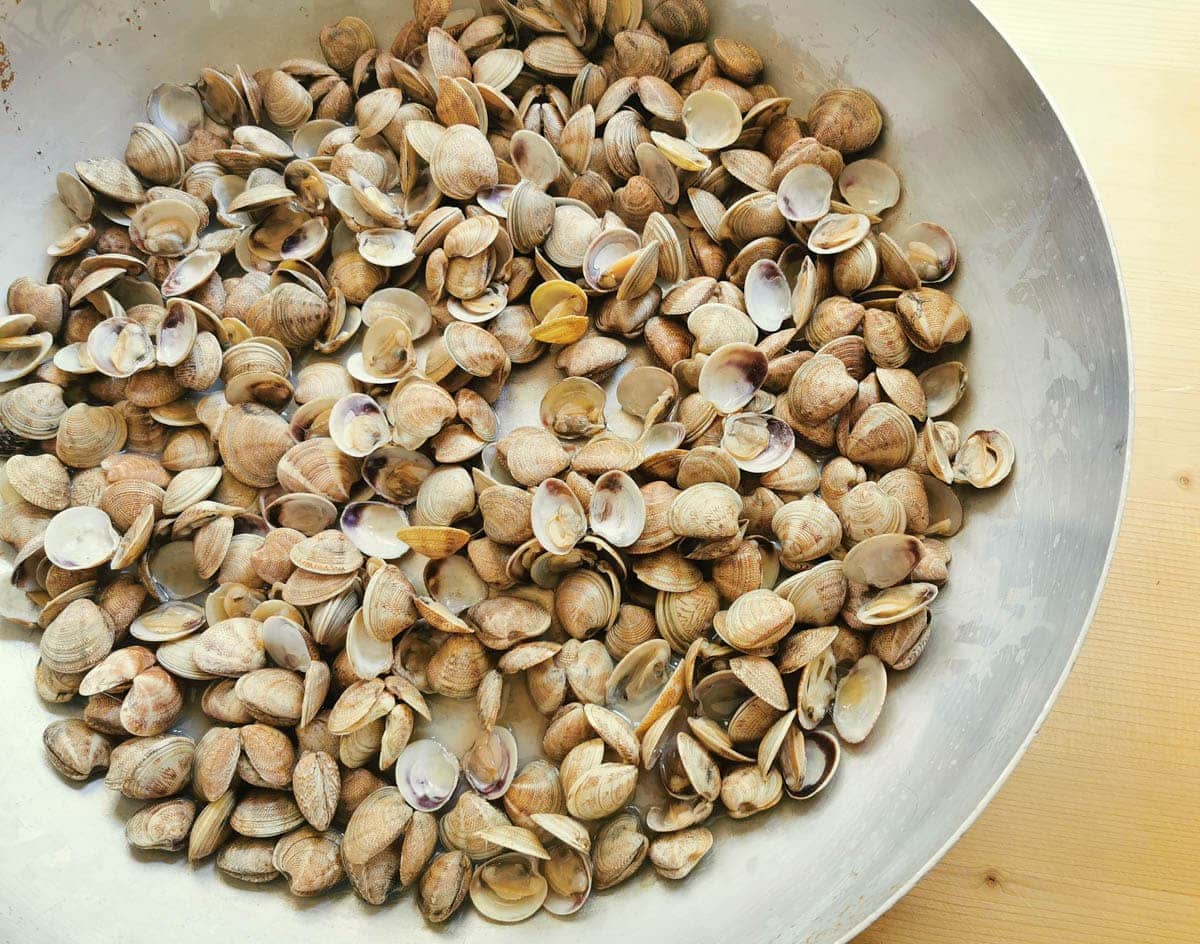 3) Heat the olive oil in a separate large deep sauté pan and add the two peeled garlic cloves. Sauté until they start to brown and soften, then remove. Thoroughly stir in the tomato paste, add the hot water, then boil the sauce.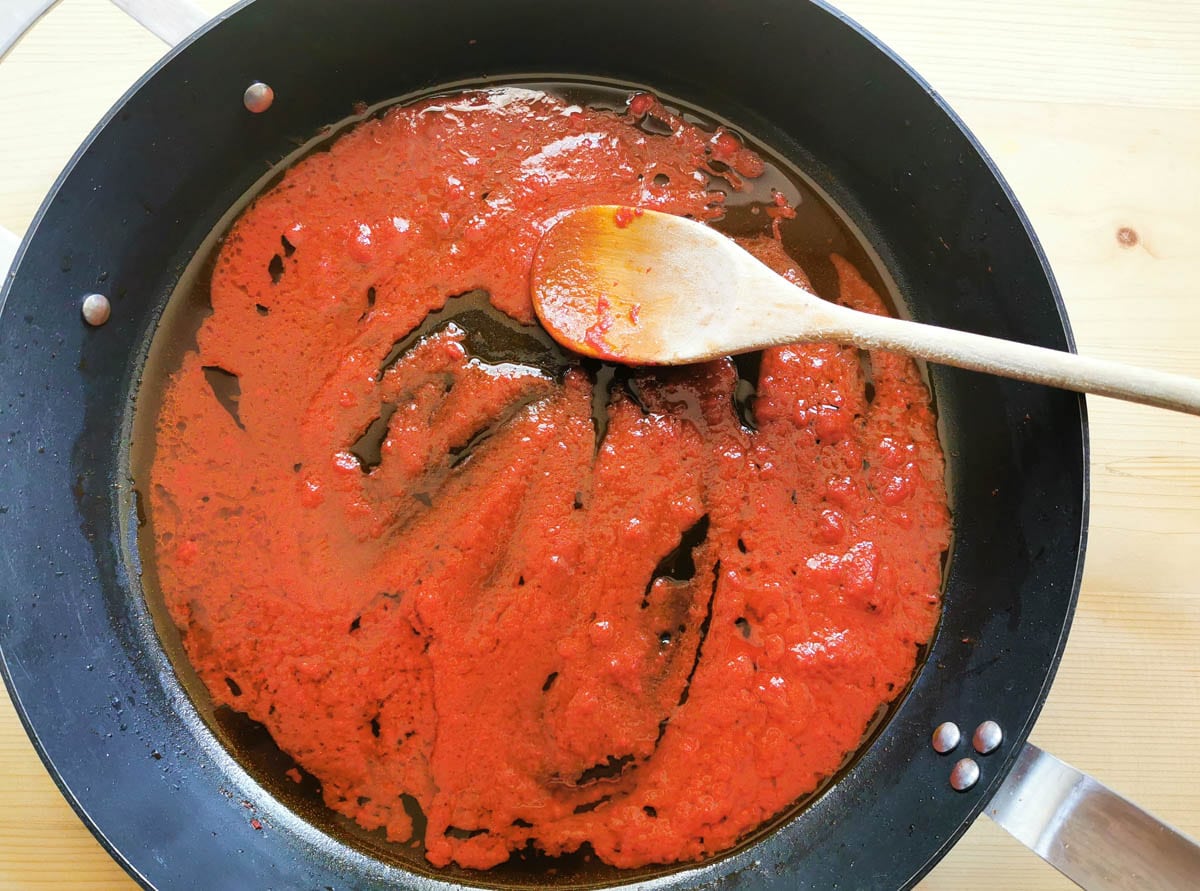 4) Reduce the sauce for 2 to 3 minutes and add the clams, filtered clam water a handful of chopped parsley.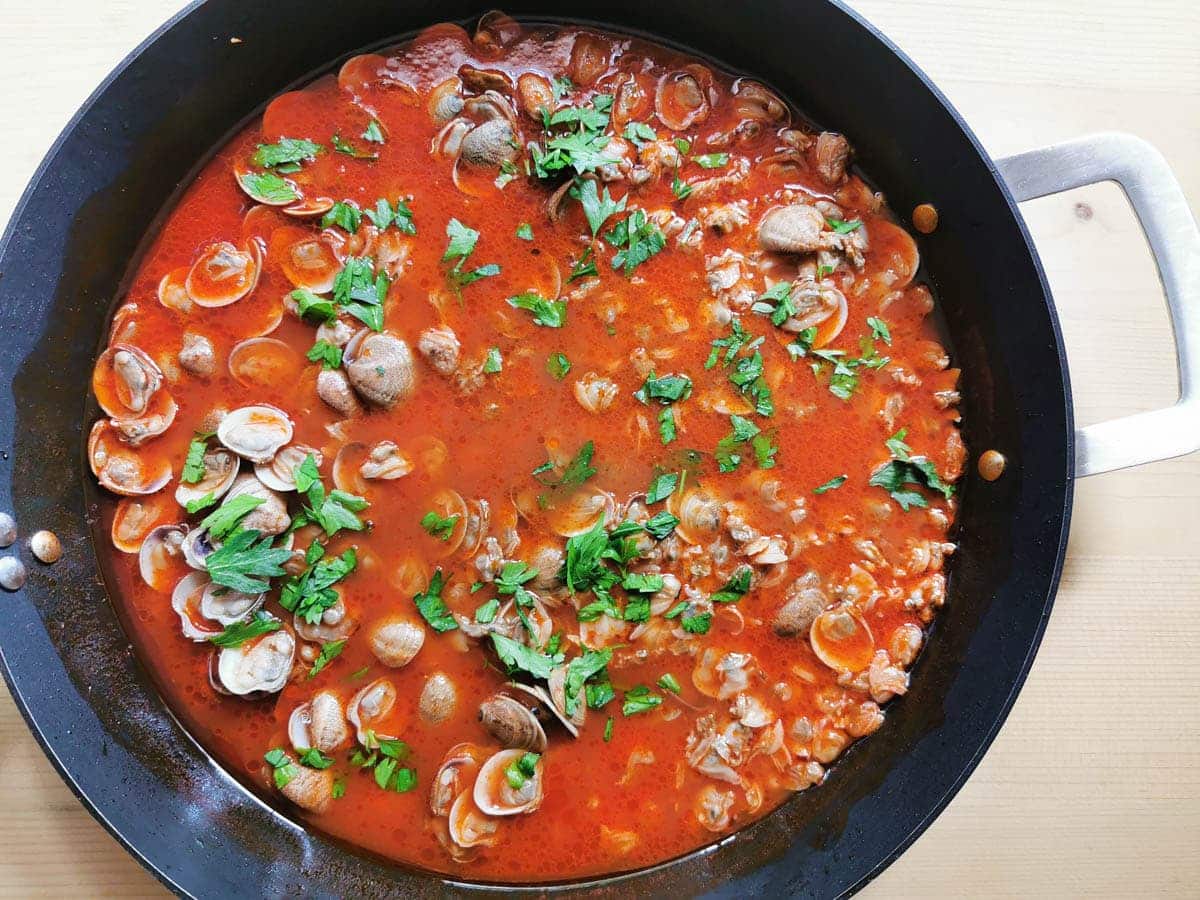 5) Bring the sauce back to the boil, then add the fregola and cook over medium heat for about 15-20 minutes. If necessary, add a pinch of salt.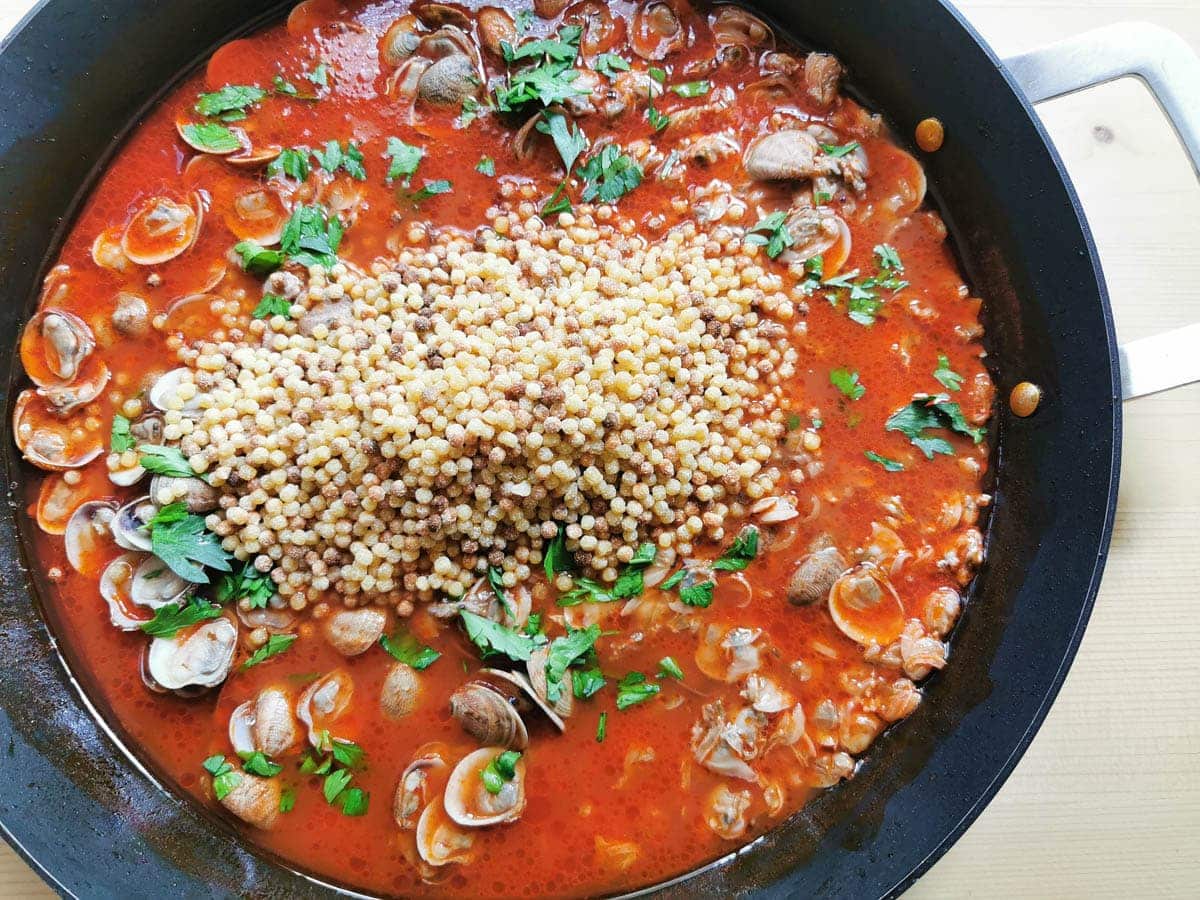 6) Pour the fregola with clams into serving dishes and serve immediately while still hot.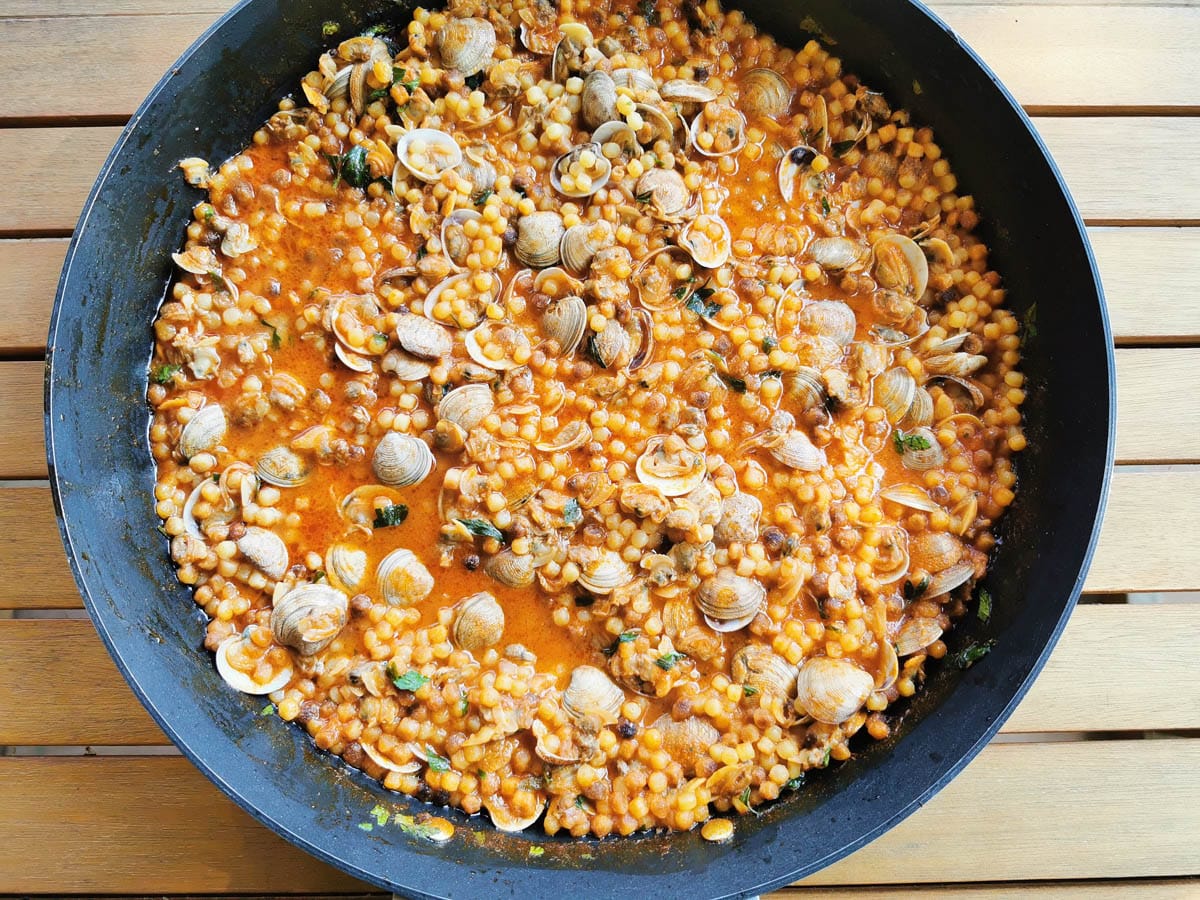 Storage and Leftovers
To store leftovers of your fregola and clams recipe, allow it to cool to room temperature, then transfer it into airtight containers. The dish can be safely stored in the refrigerator for up to 2 days.
When you're ready to enjoy your leftovers, the best way to reheat the dish is to transfer it into a pot and gently simmer it on the stove until it's hot throughout (165F or 75c).
Remember, as with all seafood dishes, it's important not to leave leftovers at room temperature for more than two hours, and to consume refrigerated leftovers within the recommended timeframe to ensure food safety.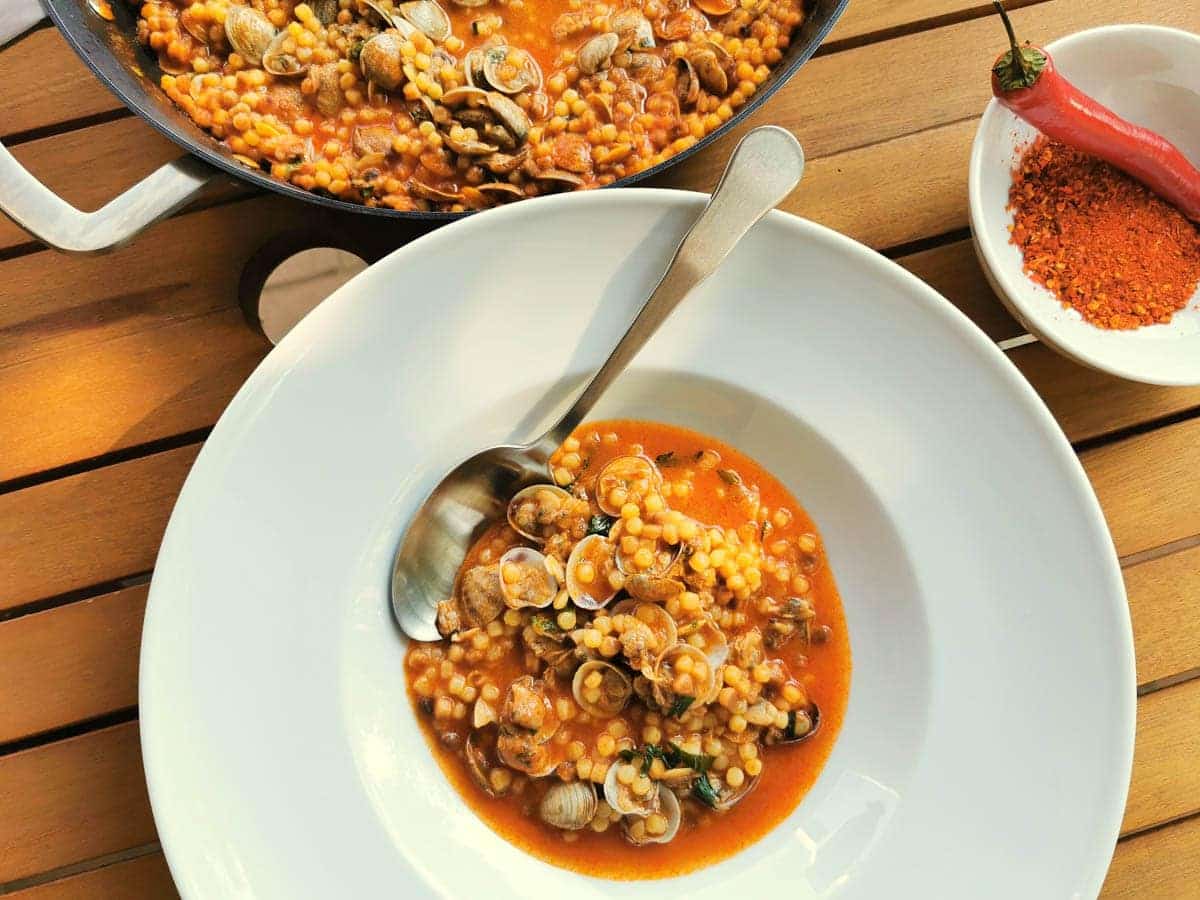 FAQs
About fregola?
Fregola is also known as Italian couscous or Sardinian couscous. It is basically little balls of pasta traditionally made by hand in a terracotta bowl, called a 'scivedda' in the local dialect.
What's the differance between fregola and couscous?
The main difference between fregola and couscous is that the latter is traditionally made from crushed durum wheat, whilst fregola is made with coarsely ground semolina. In addition, couscous is usually steamed. Fregola is often toasted first and then cooked in the broth of the recipe or like rice in a risotto.
Where to buy fregola.
Until recently, fregola wasn't easily available outside of Italy. But, it's becoming popular and you can find it either online or in some Italian specialty shops.

Readers in the US can buy it from Supermarket Italy, an online Italian gourmet food store. I recently collaborated with this online shop to promote some of their other pasta. In fact, they stock some very good Italian pasta brands. So worth checking out!

Wherever you are, you can also search on Amazon for fregola (also sometimes called Sardinian fregula). I've seen a number of different options to buy it there.
You can read more about this interesting and very ancient type of pasta in my post about Sardinian fregola.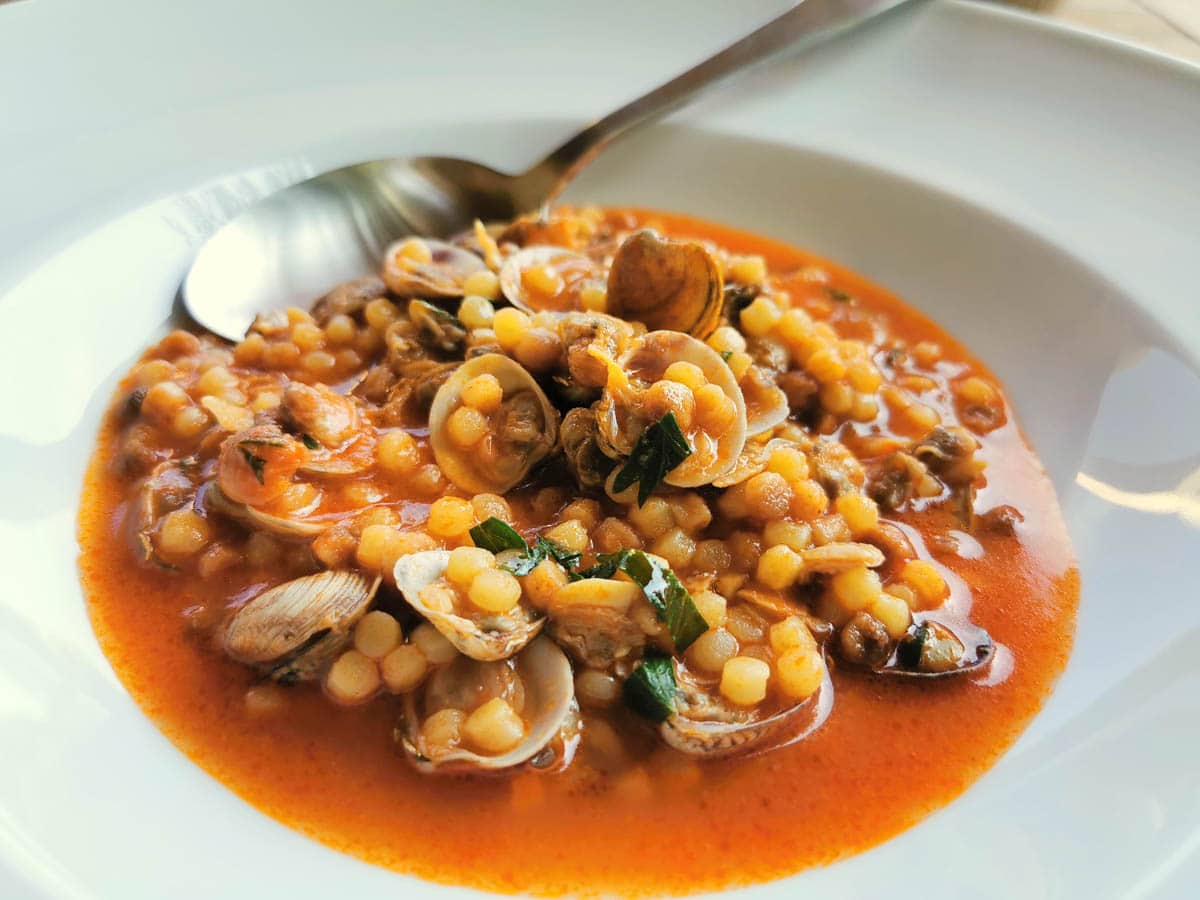 If you do try this fabulous fregola seafood recipe, I'd love to hear what you think. Please write a comment here on the blog or post a comment on the Pasta Project Facebook page.
Your feedback means a lot to me!
Buon Appetito!
Read more Sardinian info, pasta and recipes
Save this recipe for later?
If you want to save this recipe for later, you can print it, bookmark this page or save it to Pinterest.
Pin for Later: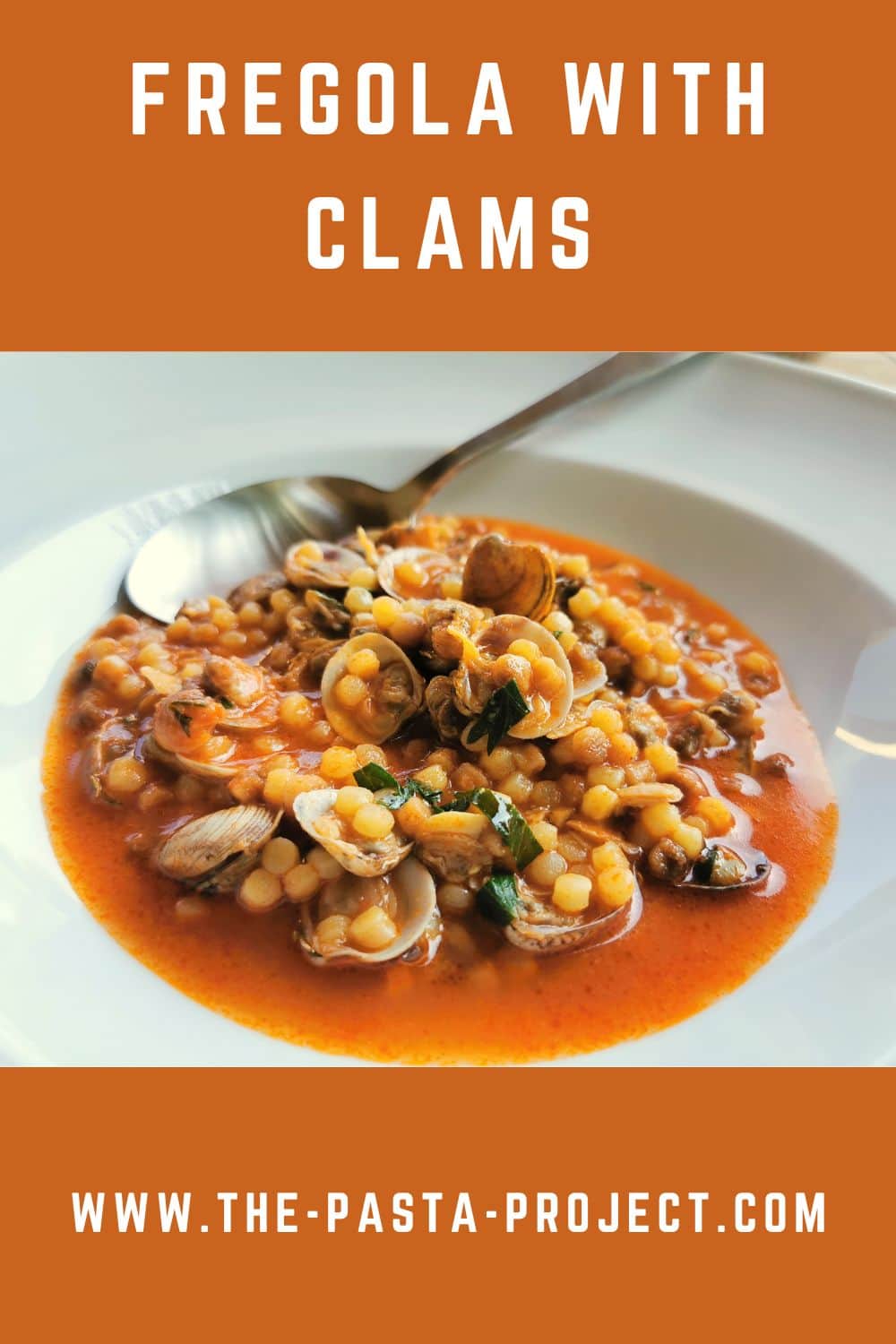 If you are interested in learning how to make homemade pasta and different types of gnocchi, check out my shop page for some great video online courses from my friends in Rome! Nothing beats learning to make pasta from Italians! Plus while you're there why not order a copy of one of my seasonal pasta recipes cookbook!?