Calabrian baked-pasta (Pasta Mbruscianta)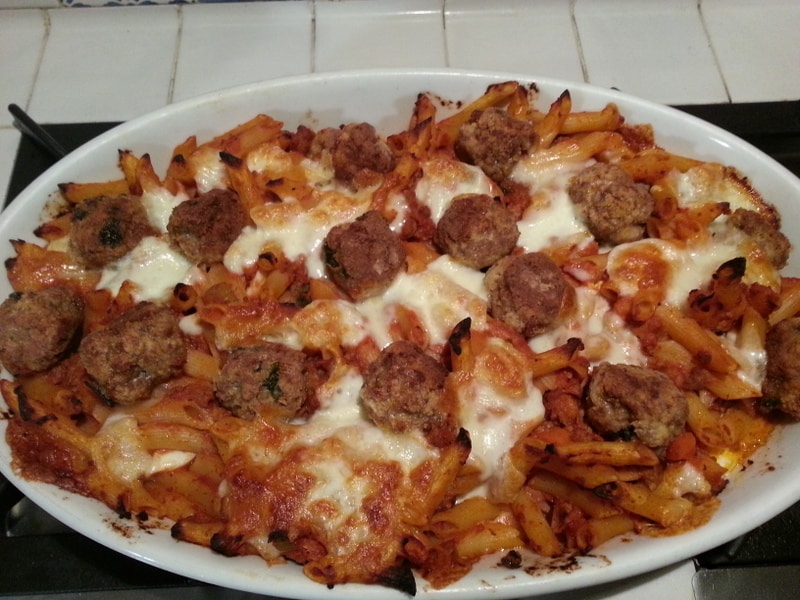 A wonderful baked-pasta from Calabria (Pasta Mbruscianta)
Among the most filling pasta dishes are the baked ones, often served as a first course on Sundays and special occasions in many Italian regions. Each region has its own typical baked-pasta recipes (pasta al forno). Pasta Mbruscianta, or all'imbruscinata, is a typical Sunday lunch baked-pasta dish in Calabria. (go straight to recipe)
Traditionally, pasta dishes are a first course or 'primo' in Italy (although they usually follow an antipasto or appetizer). Having had their fill of pasta (which at a special occasion could mean 2 or 3 different pasta dishes!), Italians then move on to a main course of fish or meat. When I first moved to Italy I found this quantity of food hard to swallow- literally! However, I've learnt to be less indulgent and take it easy with the first courses, preferring to eat only half or skipping one course altogether (even if that means missing out on something delicious!).
So, if you ever get invited to an Italian wedding, special occasion or even just dinner at Italian friends be warned. It's best not to eat too much antipasto and/or pasta or you'll never reach dessert!
Although the recipe may vary from town to town in Calabria, the general rule for baked Pasta Mbruscianta seems to be put as many ingredients in it as you can! Most Calabrians make a bolognese type sauce, prepared with a mixture of minced meat such as pork and veal, some people also add sausage. Then they add mozzarella, provolone cheese, boiled eggs, seasoned salami, ham, or meatballs.
I made the version that I like most of all, without sausage or ham, but with meatballs, boiled eggs, mozzarella and provolone. The meatballs are an important part of the dish and I'm going to give you a few secrets to making good meatballs.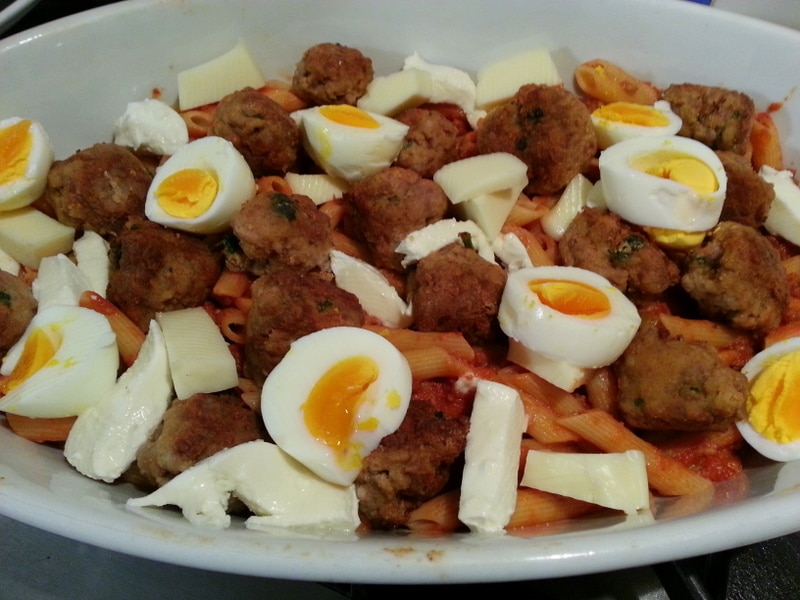 Making great Italian meatballs!
Firstly, make sure that the mixture is well seasoned, don't skimp on the salt or the grated cheese, whether parmesan or pecorino. Secondly, use enough milk-soaked bread or breadcrumbs that the texture is not too soft nor too dry. The more bread or breadcrumbs you use, the softer the meatballs will be. Thirdly, make sure that you shallow fry the meatballs in light olive oil (or vegetable oil) over a moderate heat, so they don't cook too fast—the bread content means they brown quickly and can burn—nor too slowly or they'll become dry and greasy. The oil should bubble up gently around the meatballs when you place them in it.
To be sure that your mixture is properly seasoned and of the right texture, it is a good idea to make one meatball, fry it and taste it. If you are happy with the taste and consistency, continue. If not, adjust the seasoning or other ingredients.
Pasta Mbruscianta makes for great leftovers too!
This dish can also be reheated the following day. The consistency will be very different, much drier than when served right out of the oven, but the flavors will be stronger.
In my opinion, this wonderful dish is more than a one-plate meal. It's an absolute bomb and I can't imagine being able to eat a main course afterwards! Having said that it is absolutely delicious and your family and guests will probably be wanting a second helping, so make sure you make enough!
Buon Appetito
(see the recipe on page 2)