Penne alla vodka a Retro Italian Recipe.
Penne alla vodka, also called pasta alla Russa, is a delicious creamy vintage pasta with vodka recipe very much in vogue in Italy during the 1970s and 80s. The dish then lost popularity here. However, it's been making a comeback in the last four to five years and is currently very trendy in the States.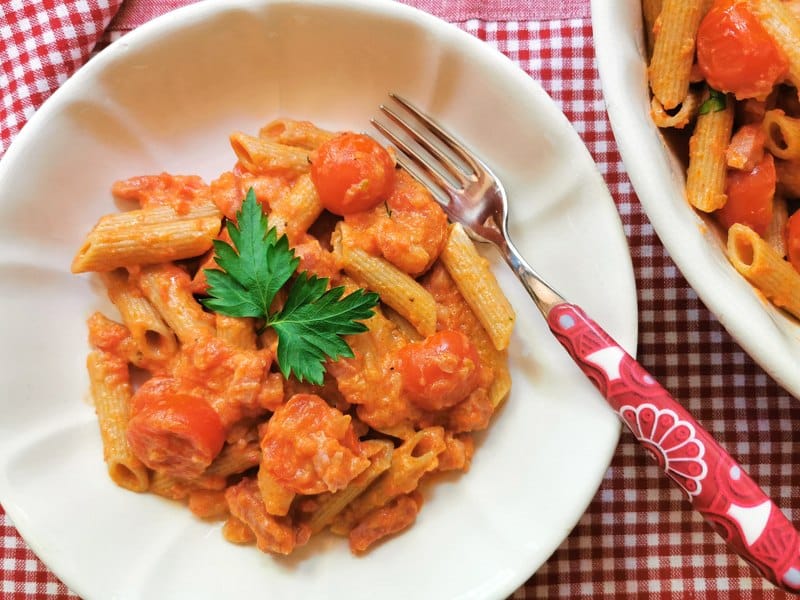 Who invented penne alla vodka?
Contrary to what some people believe, pasta with vodka was not invented in Russia. In fact, it was apparently relatively unknown there until 25th October, 2016 when the Italian Association of Confectionery and Pasta Industries promoted it during the 18th edition of the World Pasta Day in Moscow.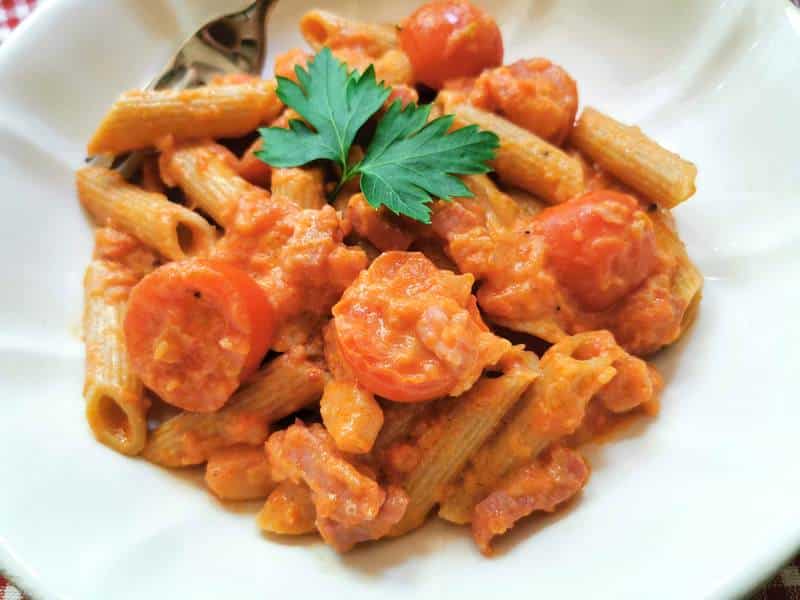 Like many Italian recipes, there are varying theories about who invented penne alla vodka. The most common belief, here in Italy, is that it was created in the mid-70s in a restaurant in Bologna called 'Dante'. However, according to the Williams Sonoma Essentials of Italian cookbook, a Roman chef invented this recipe for a vodka company that wanted to popularize its product in Italy.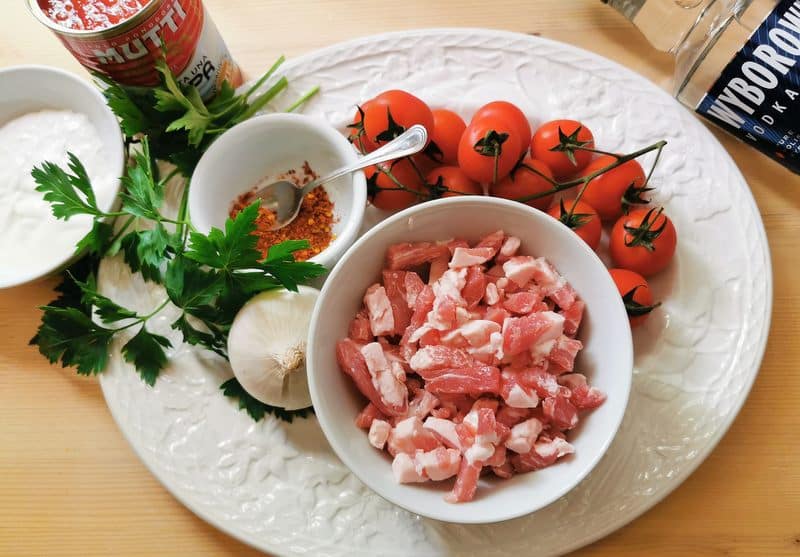 In fact, I have read that, in the late 70s and during the 80s, pasta with vodka was a popular nightclub menu item! The chef and Italian-food guru Cesare Casella remembers enjoying plates of midnight penne alla vodka at the clubs and discos on the Versilia coast in Tuscany.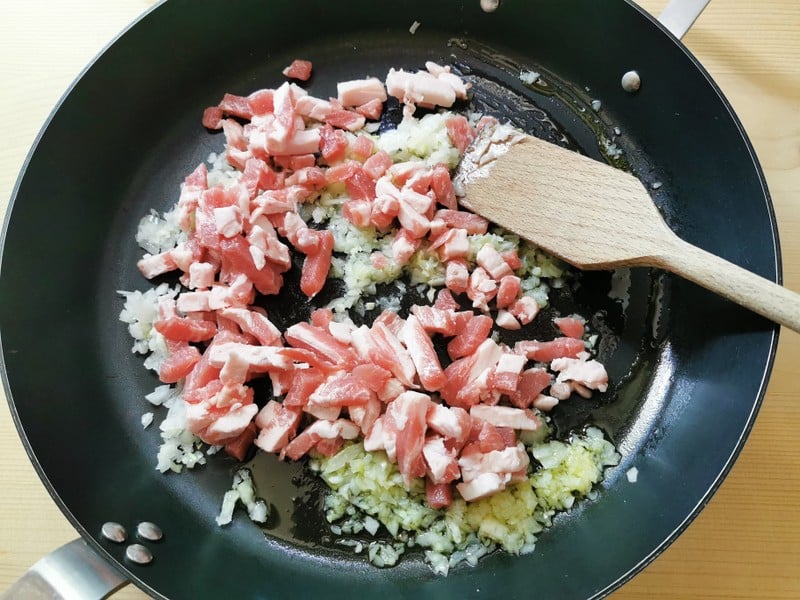 Made in the USA?
There are also those who claim that penne alla vodka was invented in America; either by a chef called James Doty or by Luigi Franzese, a celebrated chef at Orsini restaurant in New York in the early 70's. When and wherever it was invented, this dish is definitely very popular in USA today, probably much more so than here in Italy! In fact, it's the second most searched for pasta recipe on Google in the USA.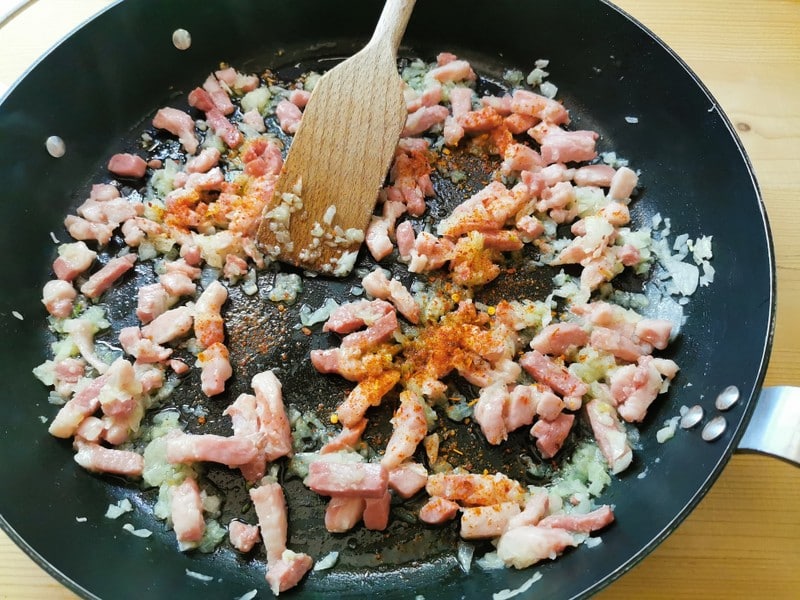 Pasta with vodka isn't alcoholic!
Although you might think that penne alla vodka is not a recipe for children, it's actually not really alcoholic. Most of the alcohol content evaporates. The vodka also serves another interesting purpose! The use of cream with pasta is typical of dishes from the 80s, but unusual in traditional Italian cuisine especially combined with a tomato sauce.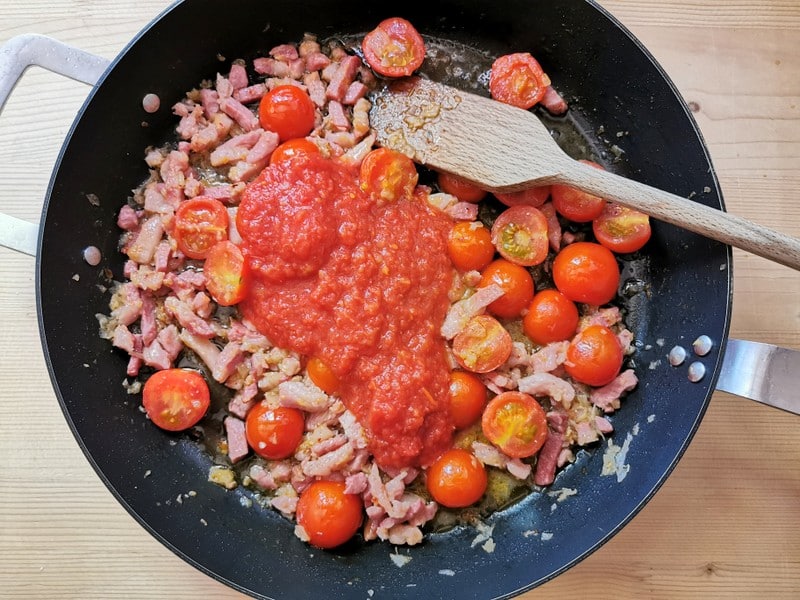 This is because the acidity of the tomatoes would normally make the fat in the cream separate. However, according to some food writers, the vodka (ethanol) actually prevents this from happening! The ethanol acts as a emulsifier and keeps the water and fat in the cream together. In my opinion, the vodka also gives the sauce a wonderful flavour!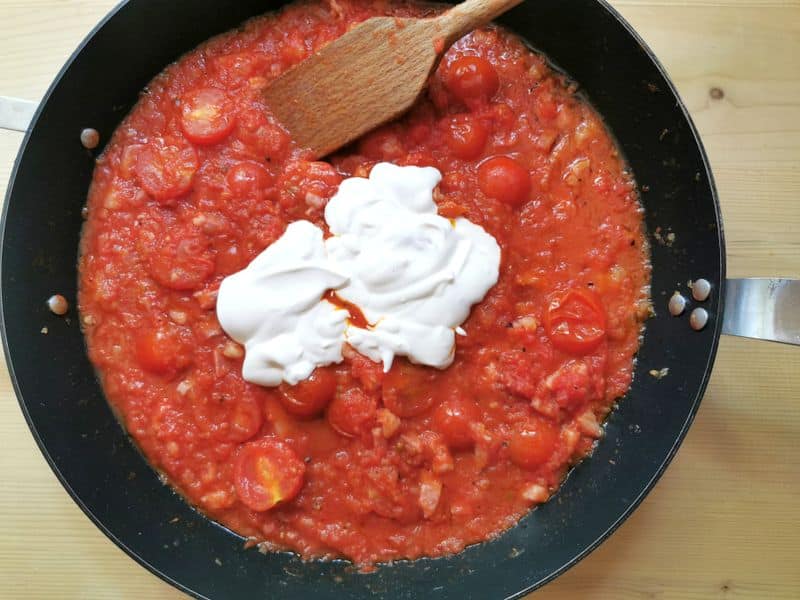 Interestingly, there are some Italian food traditionalists who look on pasta with vodka as an unthinkable fusion of two Italian cuisines, namely from the North and from the South. In the south, tomatoes reign supreme and would never be mixed with cream. Whereas, they use cream a lot in Northern Italy but tomatoes are less traditional!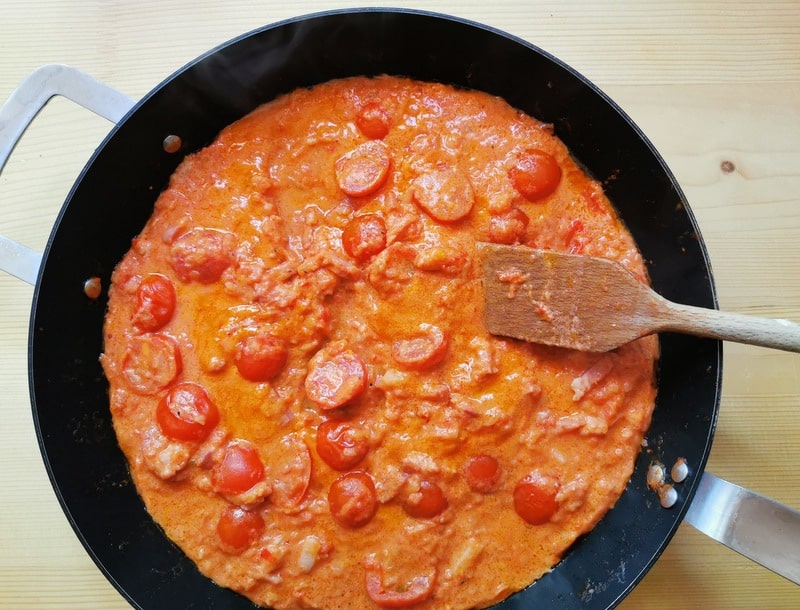 Penne alla vodka without vodka!
There are also a number of variations of this recipe. The original Italian version (this one) includes pancetta. However, some people make it with prosciutto or shrimps instead. Plus there's a version without tomatoes but with smoked salmon and caviar also called pasta alla vodka or dello zar (of the Czar) or alla zarina (Czarina).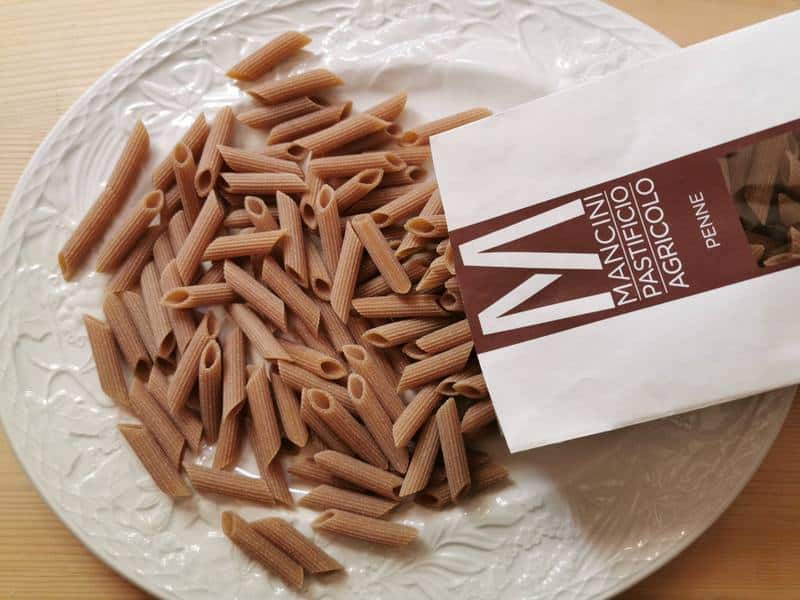 There's even a version without vodka. Apparently, this is one of the most popular items on the menu at New York's hot spot Italian-American restaurant Carbone. They make it with rigatoni and without vodka, although they call it spicy rigatoni vodka. As a footnote, Carbone charge around $26 for their pasta alla vodka without vodka. Here in Italy, that would be considered an astronomical amount for a plate of pasta, especially one that calls for pretty simple, staple ingredients.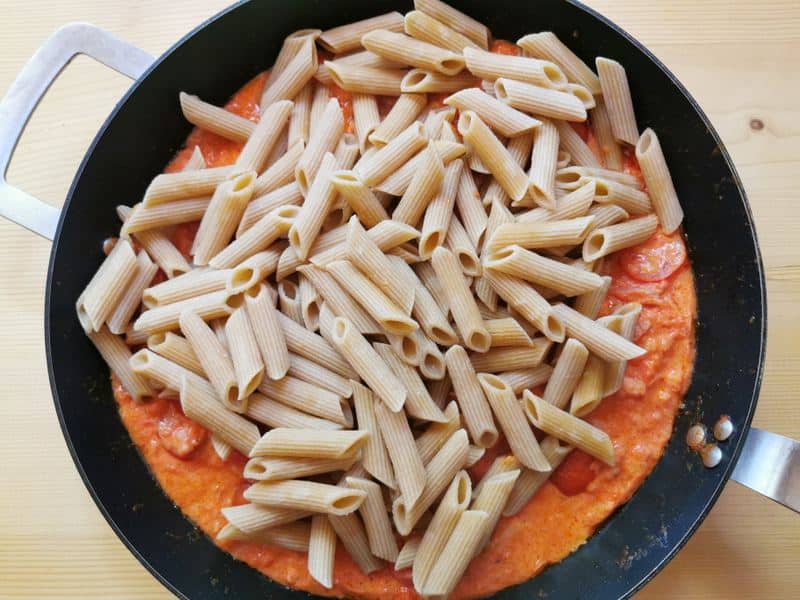 Penne alla vodka ingredients.
Apart from the vodka, penne alla vodka includes tomato passata, pancetta, onions, fresh or heavy cream, peperoncino (Italian red chili pepper) and grated parmigiano (optional). I added cherry tomatoes because I have a garden full of them this year. But, I also like mixing passata with cherry tomatoes. It gives the sauce more texture and makes it sweeter.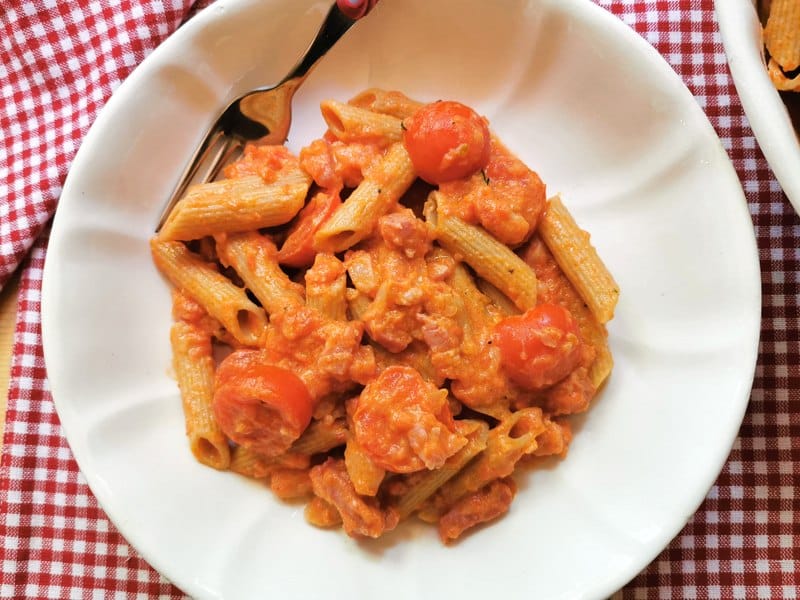 The pasta.
The most traditional pasta for penne alla vodka is, of course, penne. Some people also use pennette, which is small penne. And, as I mentioned above, you can use other pasta tubes such as rigatoni.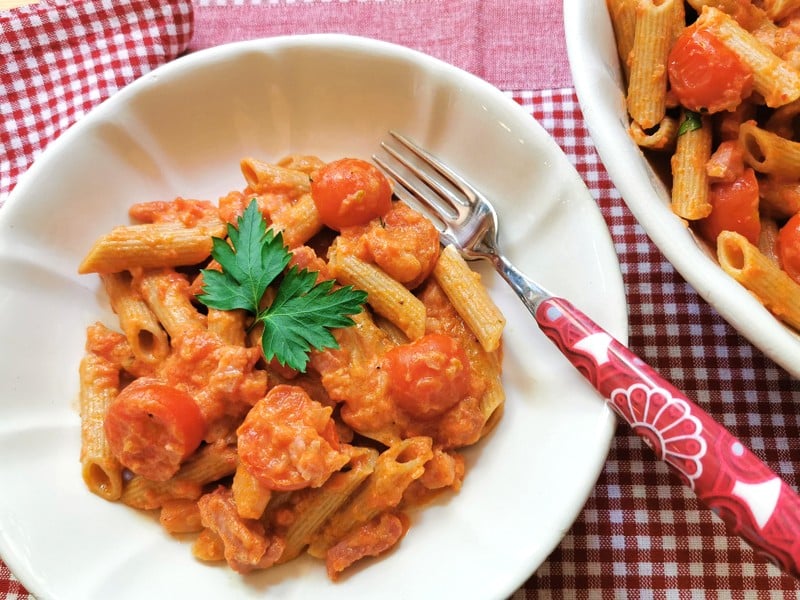 I used whole grain penne made by one of my favourite pasta makers, pasta Mancini. I visited this company, located in the Marche region, last year. In my opinion, pasta Mancini is quite unique in the world of Italian pasta because they make their pasta with wheat they grow themselves. In fact, their pasta factory is in the middle of their own wheat fields. So, literally this is pasta from field to fork! You can read more in my post about my visit to pasta Mancini.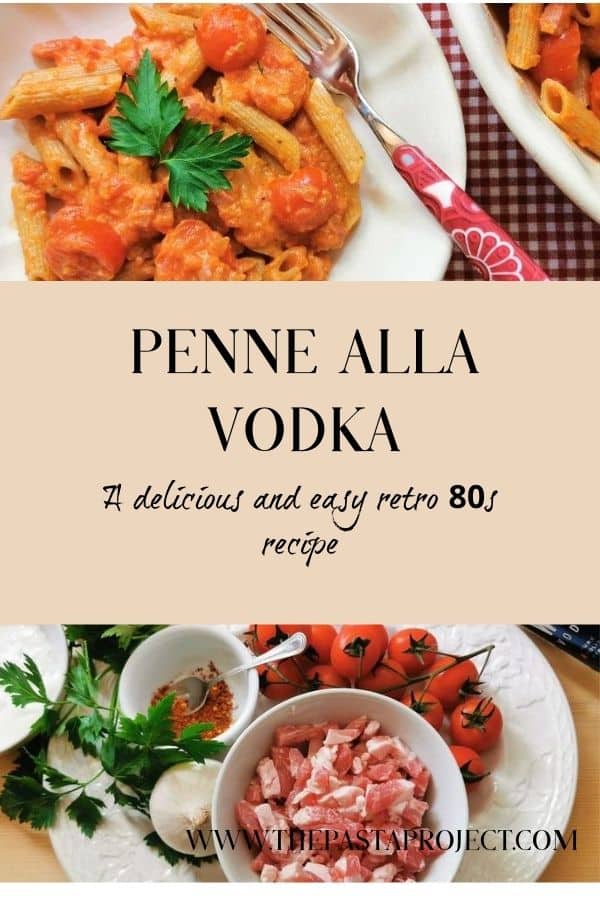 Whole-grain pasta is healthier.
Standard pastas are made with refined durum wheat flour. During the refining process, the nutrient-rich outer bran shell and inner germ layer are removed from the grain, leaving just the starchy endosperm. This process removes much of the fiber, vitamins, minerals and phytonutrients in the wheat.
Even in the case of pasta made with high quality organic wheat, standard pasta is lower in nutrients. Yes, some nutrients, including iron and a handful of B vitamins, are added back during manufacturing (enriched flour). But, these represent only a fraction of what is initially removed from the grain.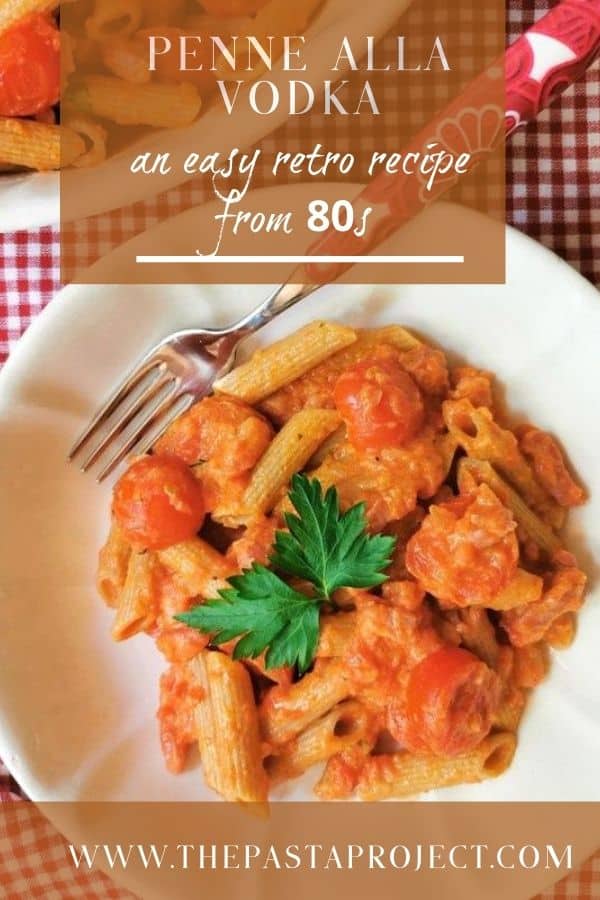 Whole-grain pasta is definitely healthier but it does have a stronger flavour than normal pasta. So, it needs to be used with a fairly robust and flavourful sauce, not something delicate. I thought it was an excellent pairing for the vodka sauce! If using whole-grain pasta you'll find it more filling than standard pasta. Therefore, you can use smaller quantities.
Whether you choose to make this penne alla vodka with standard pasta or with whole-grain pasta, I'm sure you'll love this retro recipe! It's creamy, flavourful and easy to make! Perfect for date night or a weeknight meal!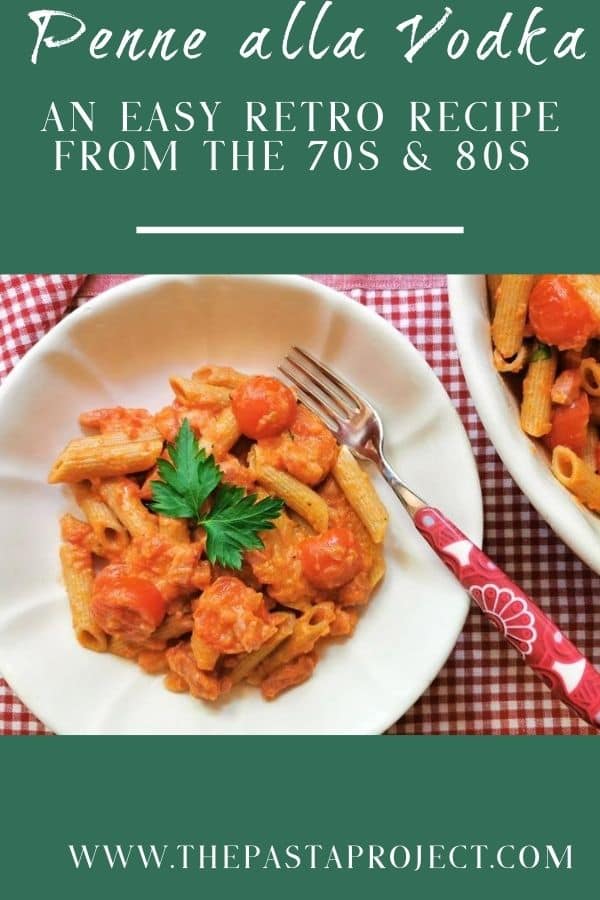 If you give this pasta with vodka recipe a try do let me know how it turns out, either by commenting below or on the Pasta Project Facebook page. And if you feel it's worth sharing with friends please do.
All your feedback and support is much appreciated!
Buon Appetito!
Do you like penne pasta? Read more about this pasta and check out this recipe too.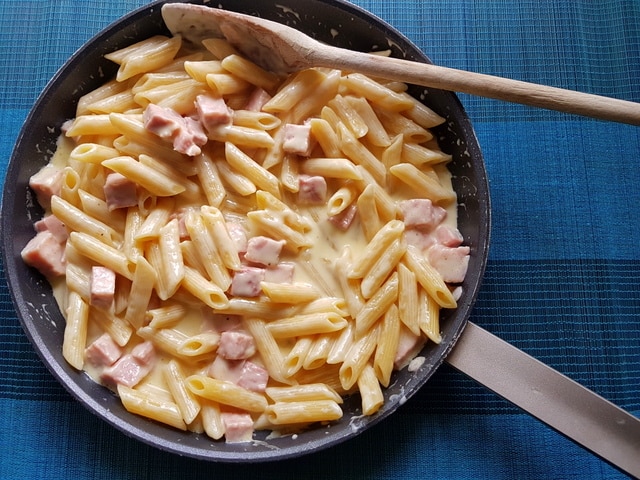 Save this recipe for later?
If you want to save this recipe for later, you can print it, bookmark this page or save it to Pinterest.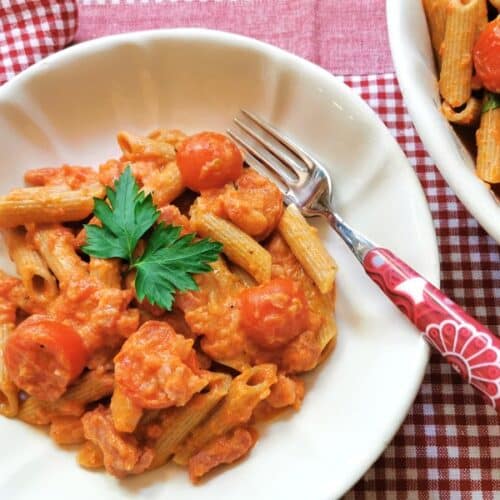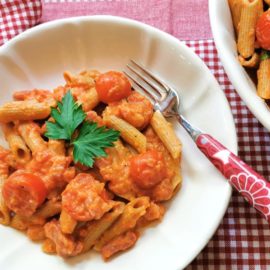 Penne alla Vodka
This creamy pasta with vodka is a vintage recipe from the 1970s and 80s that has become really popular and trendy in the last few years. It's easy to make, yet special enough to serve on date nights and to guests.
Ingredients
350

g

penne

(12oz) or rigatoni. I used whole grain penne from Mancini

200

g

pancetta

(7oz) diced

1

small onion

peeled and chopped

300

g

tomato passata

(10.5oz)

10-12

cherry tomatoes

halved

150

ml

Fresh cream

(5floz) or Italian heavy cream (panna da cucina)

1/2

cup

vodka

2-3

tbsp

extra virgin olive oil.

1

tsp

peperoncino flakes (red chili pepper)

or as required

salt

for pasta and to taste

freshly ground black pepper.

to serve

Parmigiano Reggiano

grated as required
Instructions
Prepare ingredients
Peel and chop the onion, dice the pancetta if it's in one piece. Wash and cut the cherry tomatoes into halves.
Make the sauce
Cook the onion in a large skillet with olive oil until it becomes transparent. Add the diced pancetta and brown it. Deglaze with the vodka over a high heat and let the alcohol evaporate. Add the red chili pepper and then add the cherry tomato halves and cook until they soften slightly.

Add tomato passata and cook over low heat for 15 minutes until the sauce has reduced. Add salt to taste. Add the cream and mix the ingredients together carefully.
Cook the pasta
Put a pot of water on to boil for the pasta. Add salt once it starts to boil and bring to the boil again. Cook the pasta al dente according to the instructions on the packet. Once the pasta is ready, save a cup of cooking water and drain.
Finish the dish
Add the cooked pasta to the sauce and mix together well. If you think your sauce is too dry, add a little pasta cooking water. Serve with freshly ground black pepper and grated parmigiano (if required).
Nutrition