This warming Sardinian fregola with chickpeas is a nutritious and delicious slightly spicy vegetarian/vegan pasta soup recipe from Sardinia. Known as 'pasta e ceci' in Italian, this is perfect cold weather comfort food. Add spinach for colour and more fiber or pancetta/guanciale for a non-vegetarian version.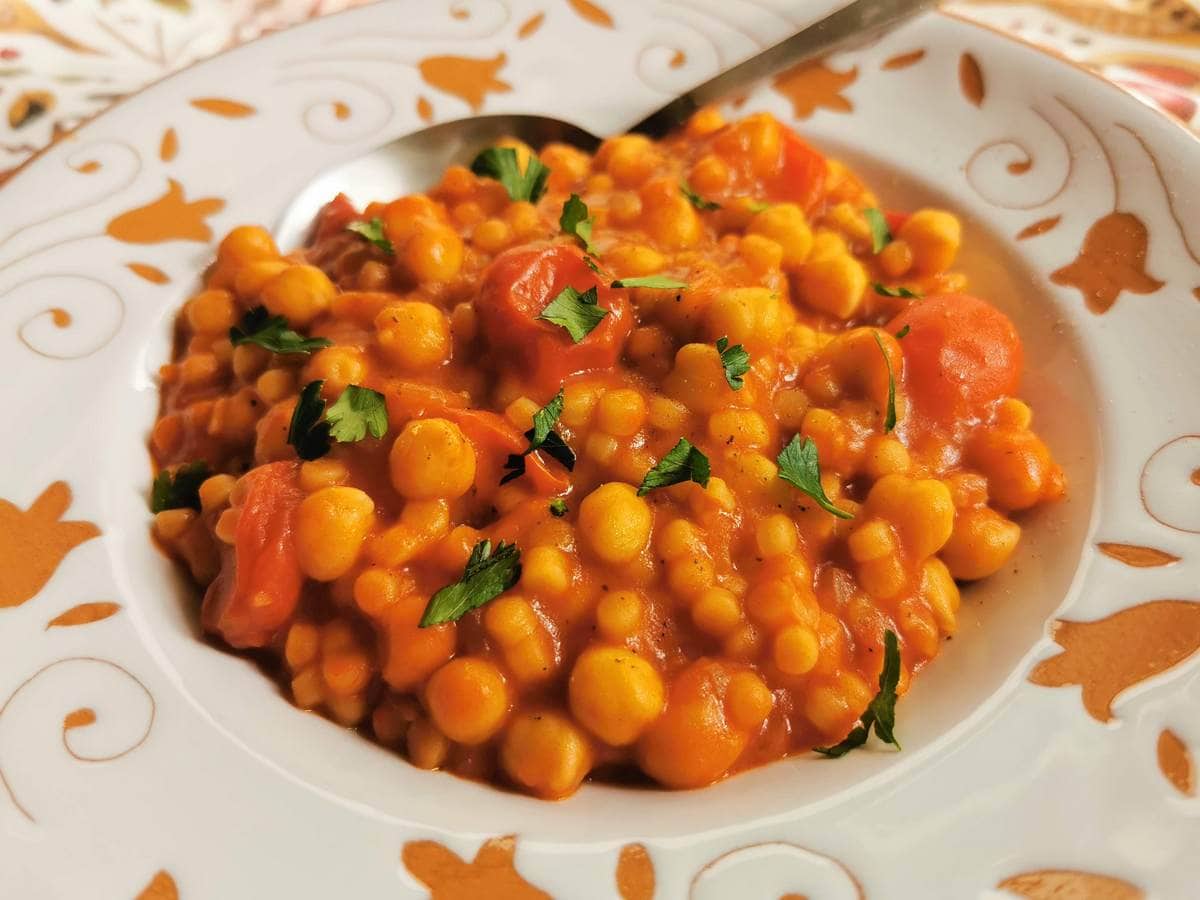 Pasta with chickpeas is healthy.
When the cold days of November and December hit, using pasta in soups is very popular here in Italy. Pasta adds healthy carbohydrates and bulk that turn a soup into a hearty dish. Legumes are also a common ingredient in Italian soups. In this Sardinian recipe, the chickpeas add protein, calcium, iron and fiber as well as other nutrients, so this fregola with chickpeas is a well-balanced meal too!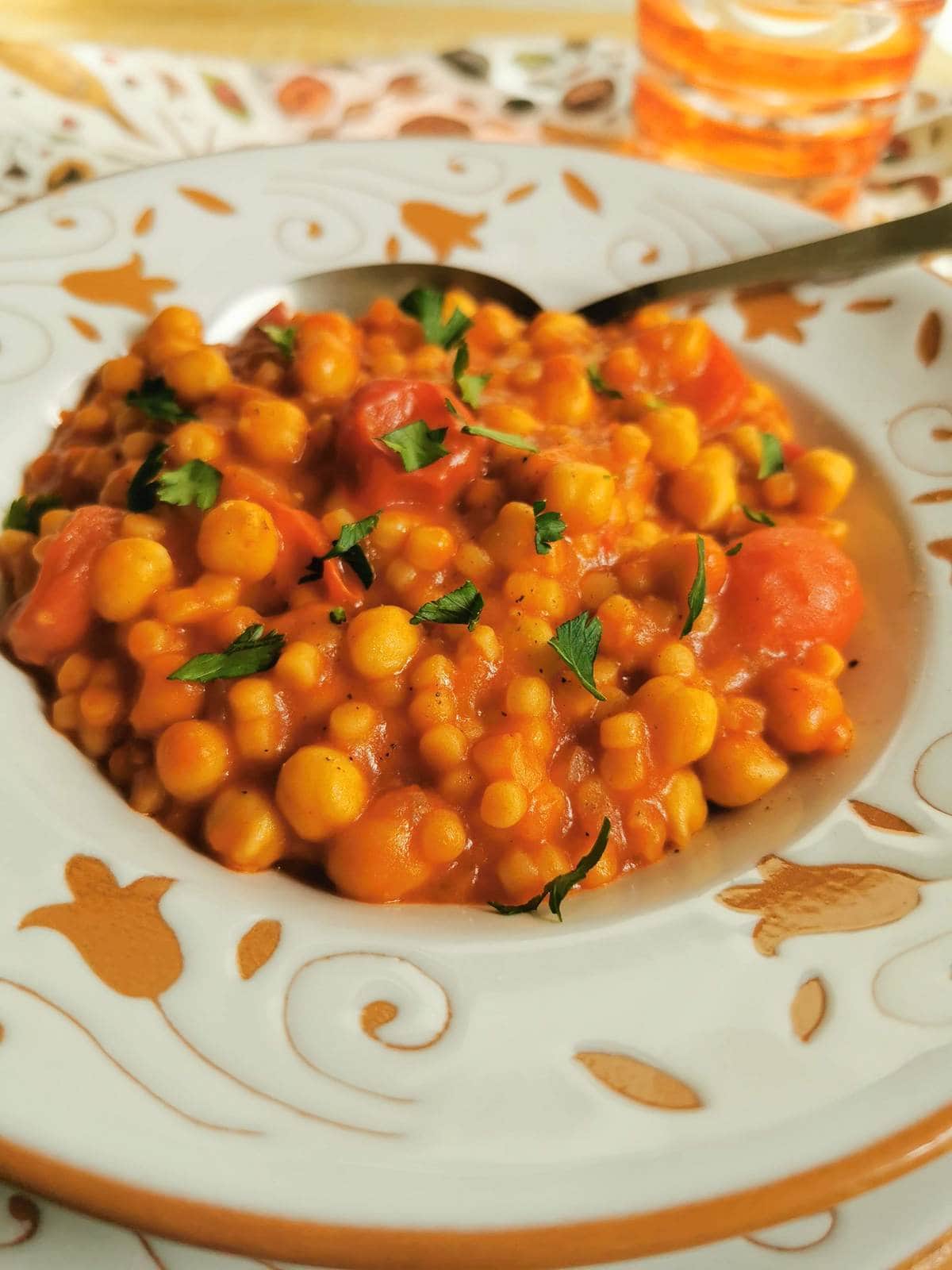 I have always found it intriguing that many traditional Italian recipes are so nutritious. Back in the day when dishes like pasta with chickpeas became popular, people didn't really understand the nutritional value of the different foods they ate! They just put dishes together based on what was seasonal and available and what they grew or foraged!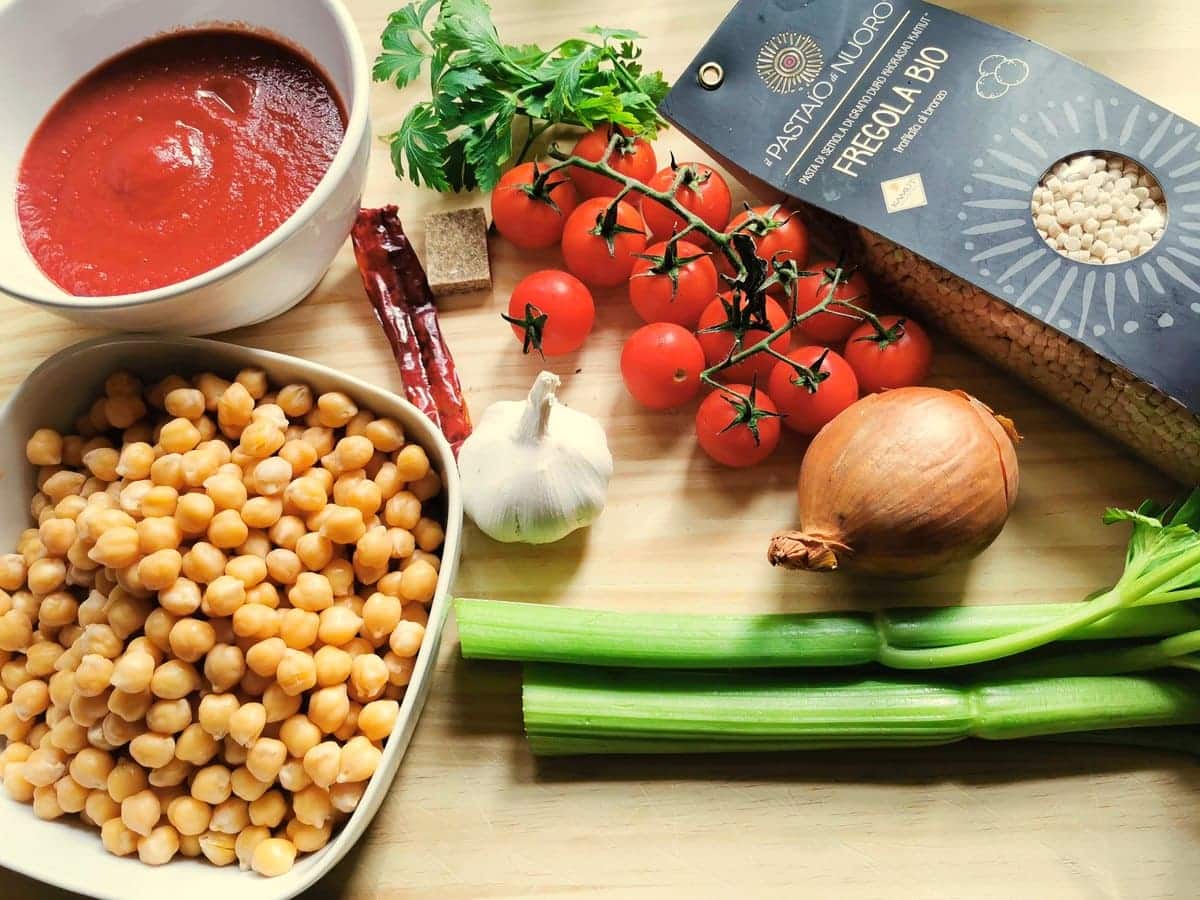 Chickpea recipes in Sardinia.
People have cultivated chickpeas in Sardinia since the times of Ancient Rome. As you can imagine, there are many traditional chickpea recipes on the island. Many of these are types of soup like 'minestra di ceci e finocchio', made with chickpeas and wild fennel or 'zuppa di ceci e verza' (chickpea and savoy cabbage soup).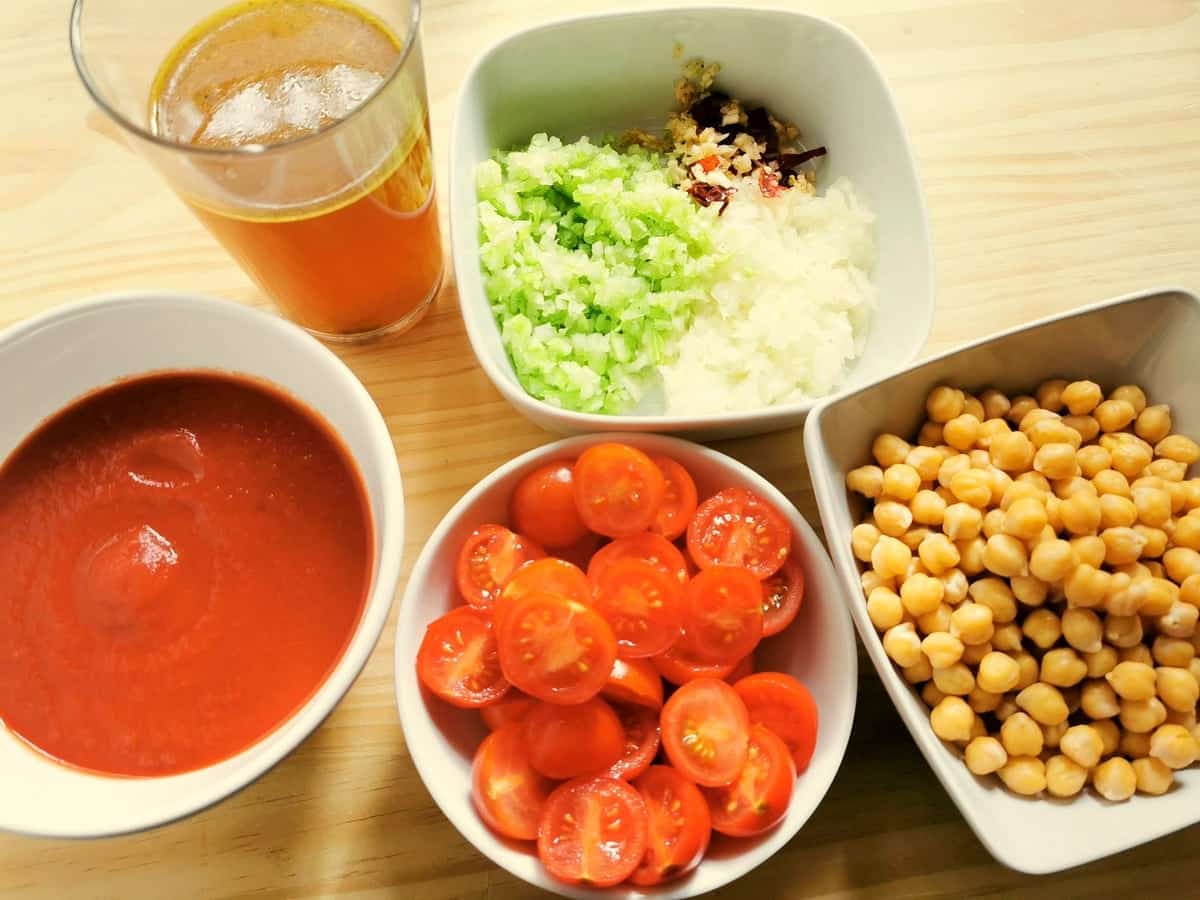 Another famous Sardinian chickpea recipe is stewed chickpeas. The Sardinians also use chickpeas in a very old sweet Christmas recipe called 'cixirau' in which they cook chickpeas with honey, sugar, Christmas spices like cinnamon and cloves and orange peel!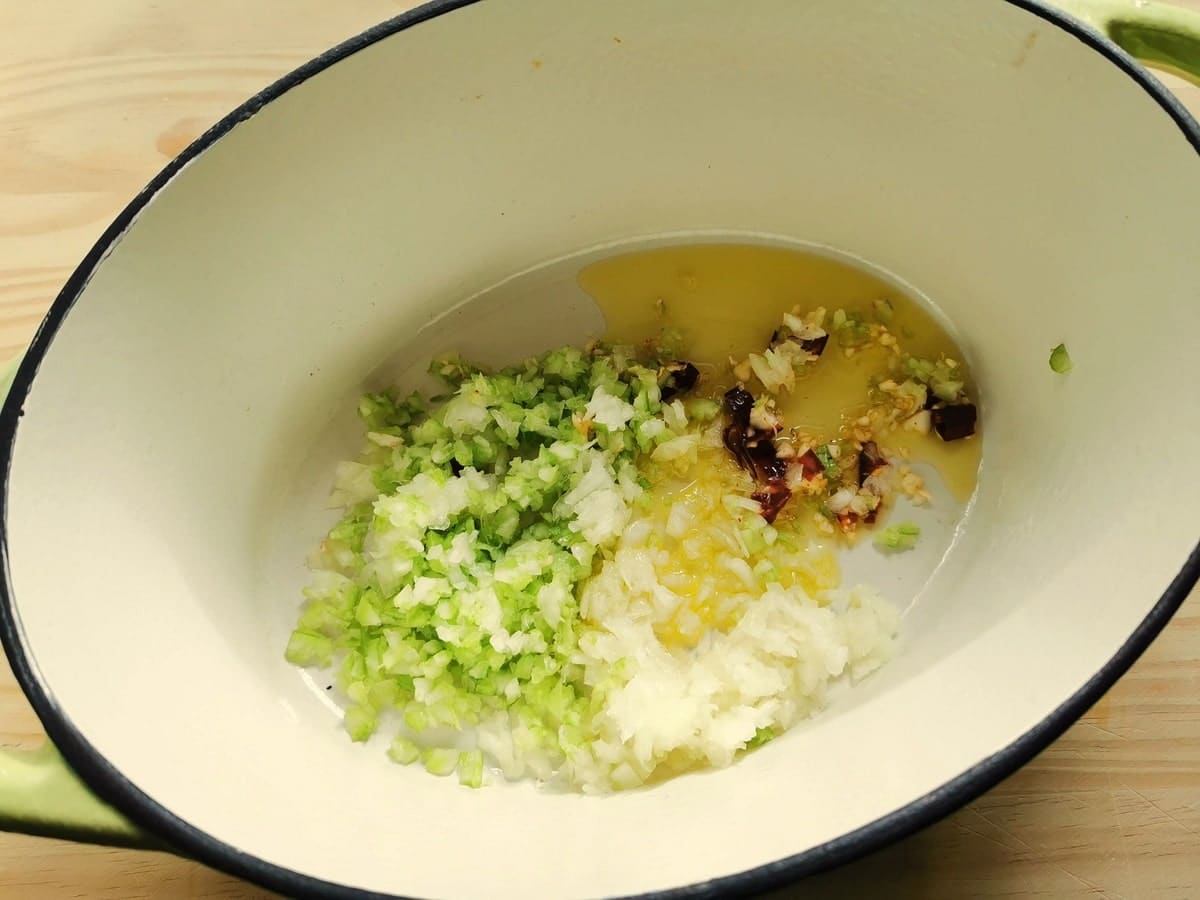 The city of Sassari in Sardinia is famous for a type of chickpea flour pancake called 'fainé alla sassarese'. This popular street food was imported from Liguria centuries ago by Genovese sailors who landed in the ports of northern Sardinia. Sardinians eat it either alone or flavored with onions and/or Sardinian sausage.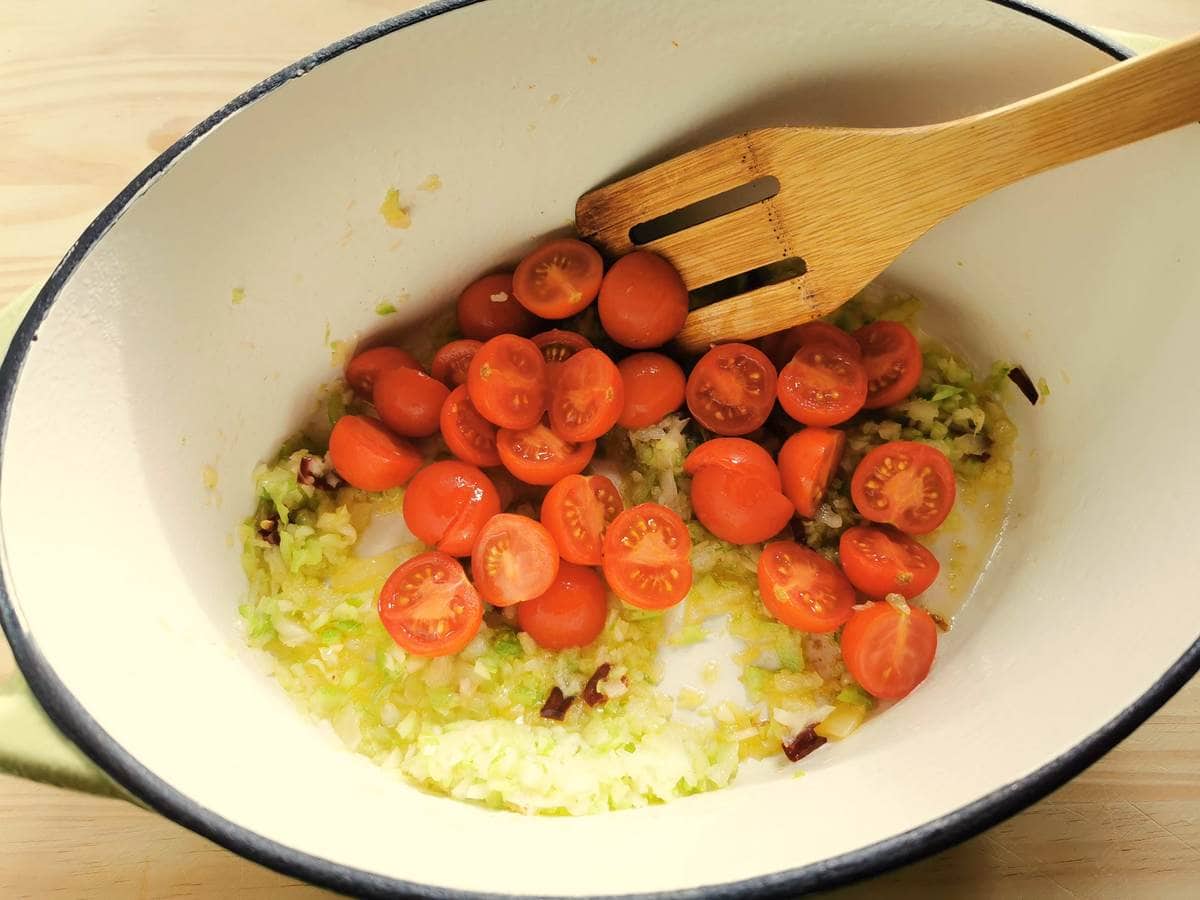 What is fregola?
Fregola (or fregula) is a small pasta typical of Sardinia. It is traditionally made of balls of durum wheat semolina and water, worked by hand and then toasted in the oven. This pasta is uniquely Sardinian and not found in other Italian regions. It looks very similar to couscous but with a slightly nutty flavour.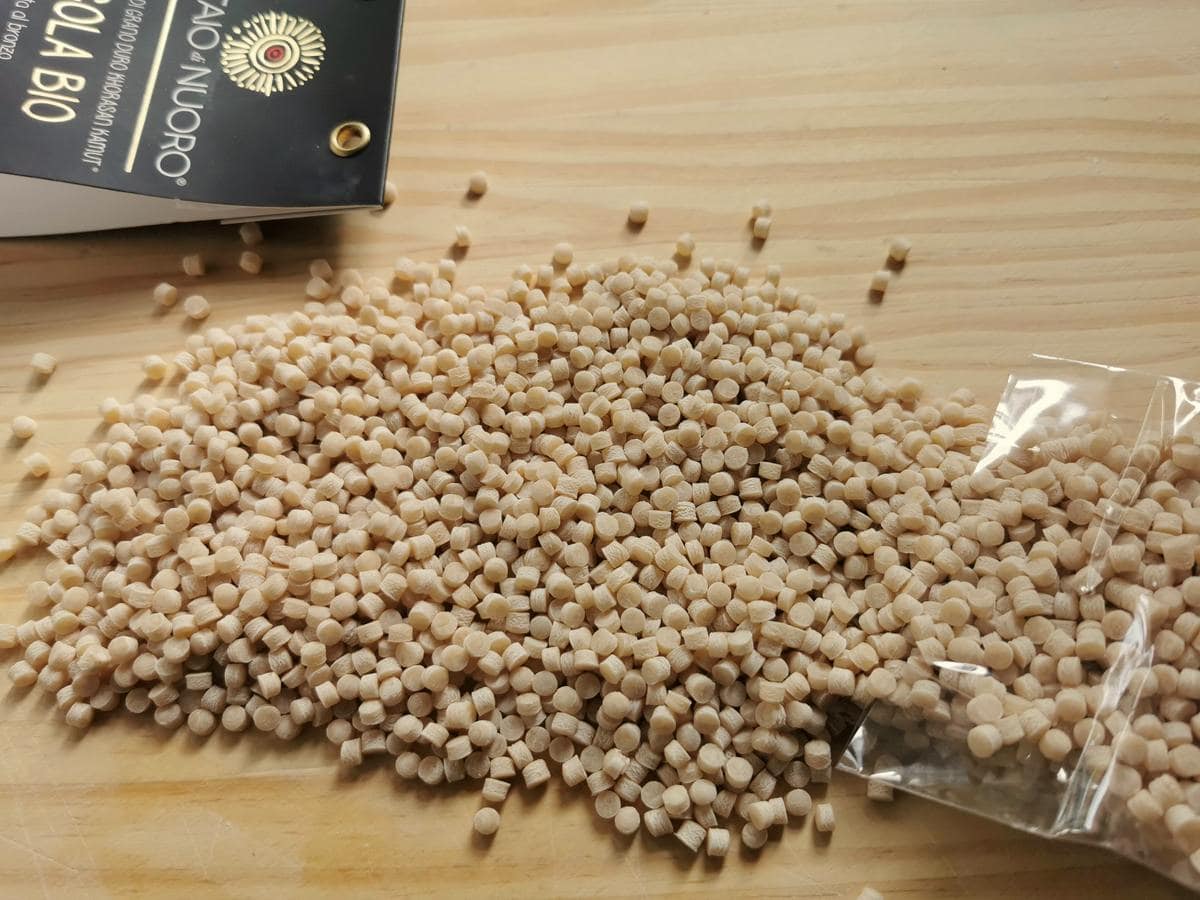 Fregola is often called Italian couscous or Sardinian couscous. The fregola I used for this recipe was made of khorasan wheat (kamut in Italian). It wasn't toasted but just dried. If you want to learn more about this unique pasta, check out my post on Sardinian fregola.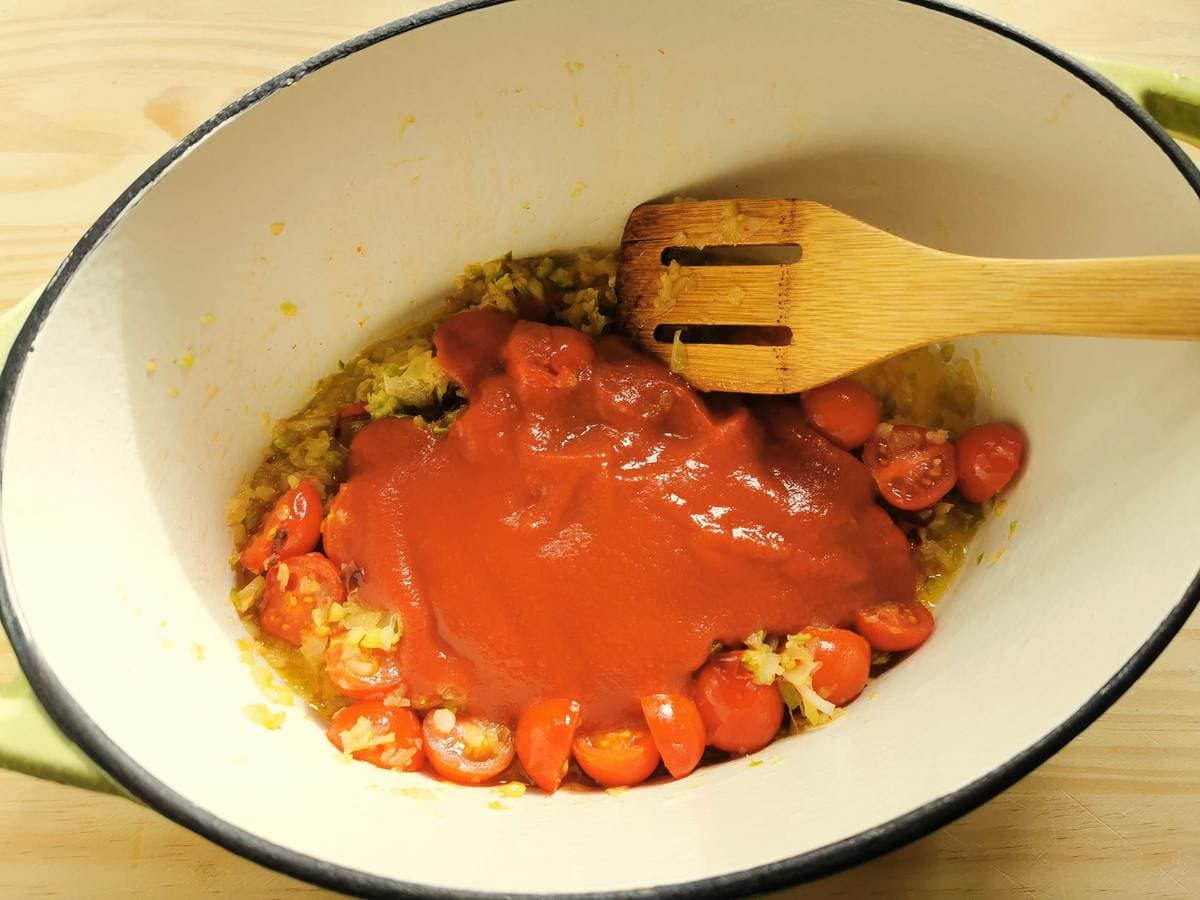 Dried or canned chickpeas?
I definitely prefer using dried chickpeas to canned. But, of course, this recipe can be made with both. Obviously, soaking dried chickpeas overnight and then boiling them takes time. However, I think the result is more flavourful and healthier. Dried chickpeas are more economical and they have a more natural flavour.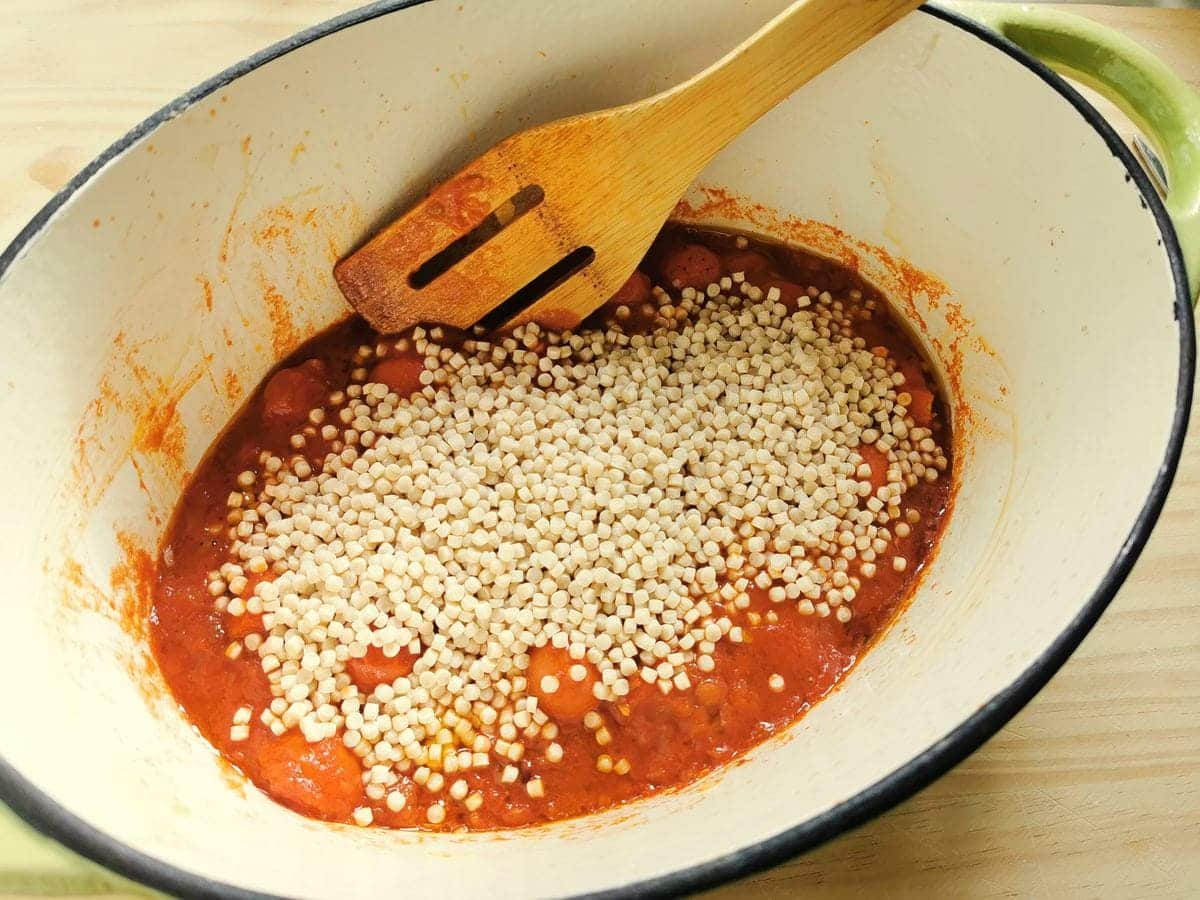 The two main differences between canned and dried chickpeas is firstly the latter have less sodium. Secondly, the leftover liquid from cooked chickpeas is rather special. Known as aquafaba or chickpea water, it can be used as a vegan substitute in many recipes that call for eggs or egg whites!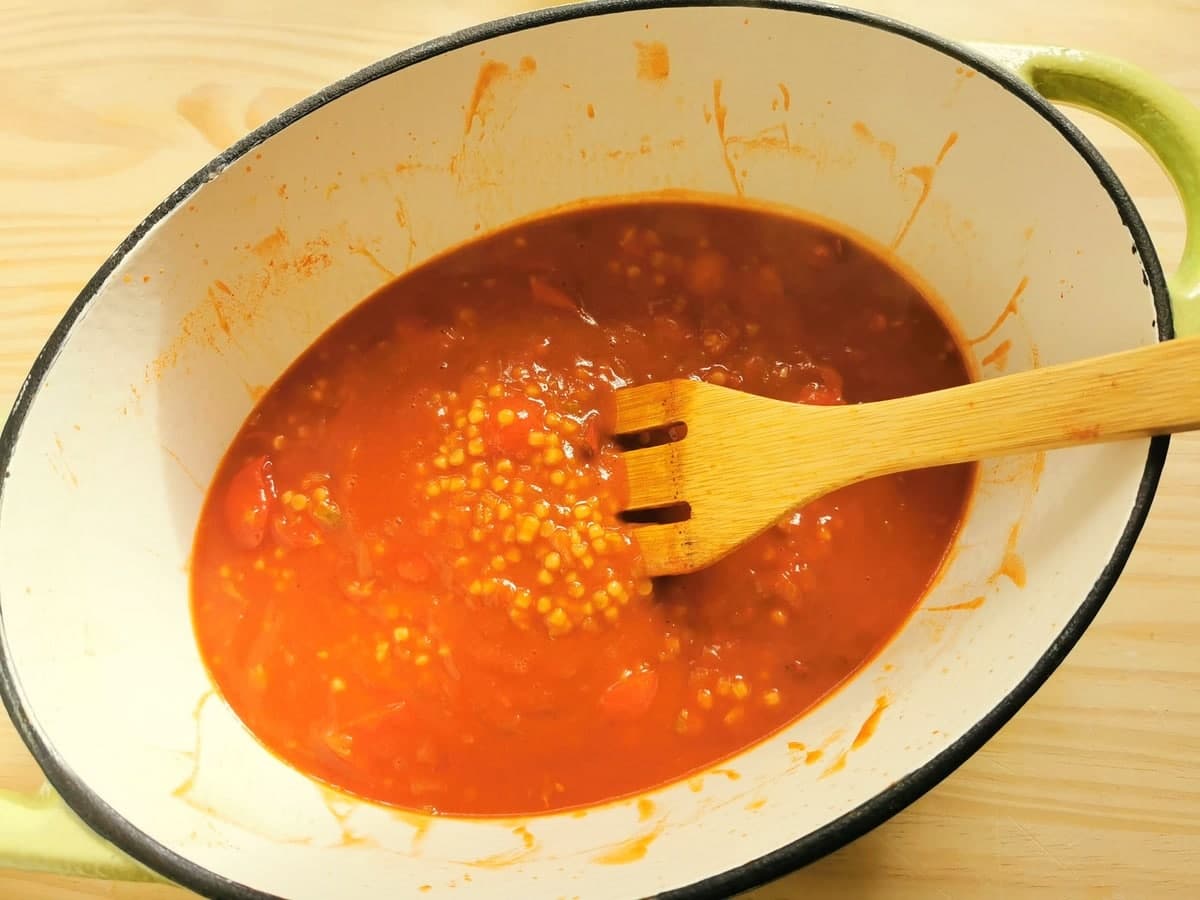 How to make Sardinian fregola with chickpeas.
This Sardinian fregola with chickpeas is a pretty simple recipe. Apart from the fregola and chickpeas, all you need is onions, garlic, celery, tomatoes, tomato passata, parsley, some vegtable broth and peperoncino (red chili pepper). You can leave the latter out if you don't like spicy food.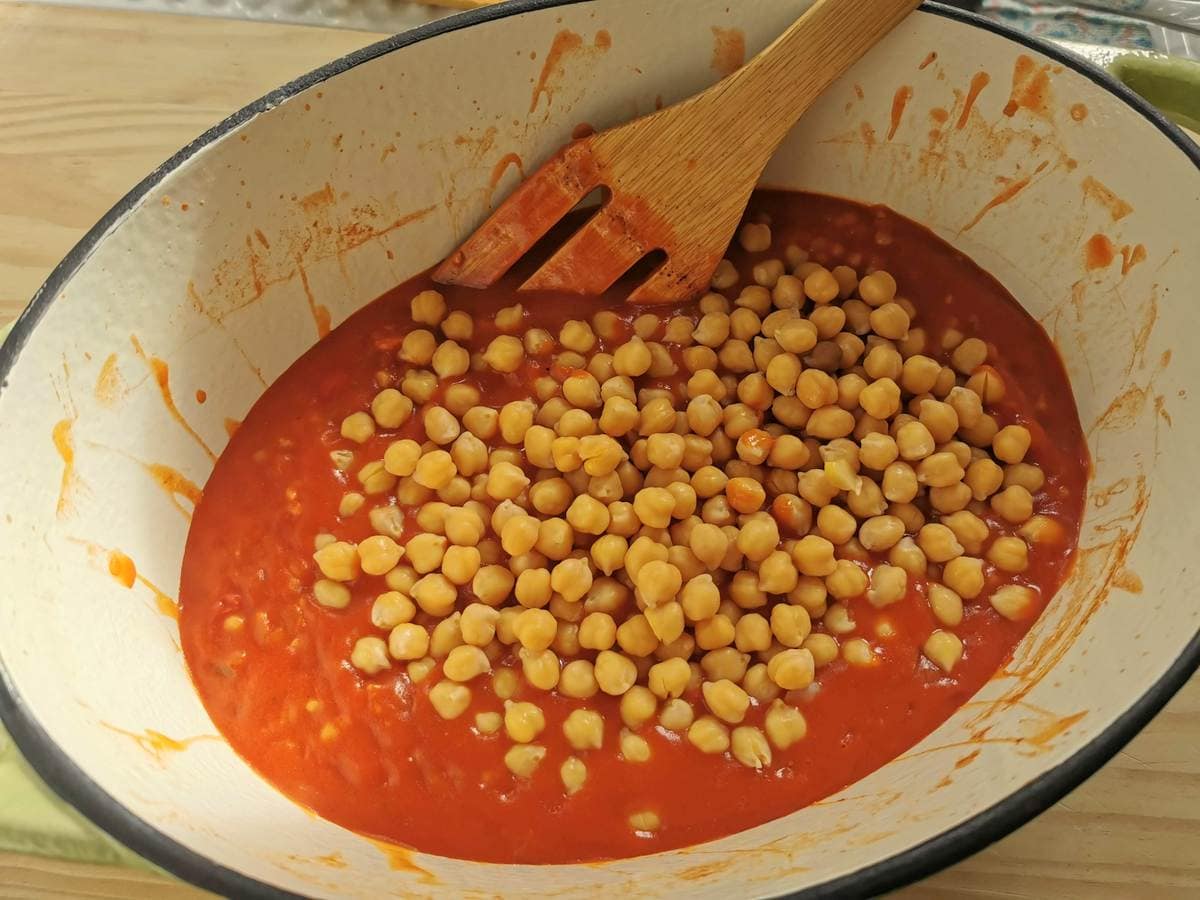 Because the fregola pasta cooks in the soup it actually absorbs a lot of the liquid, so the end result can be more like a soupy risotto than a soup. However, if you want your Sardinian fregola with chickpeas to have more liquid, just add some extra broth or water.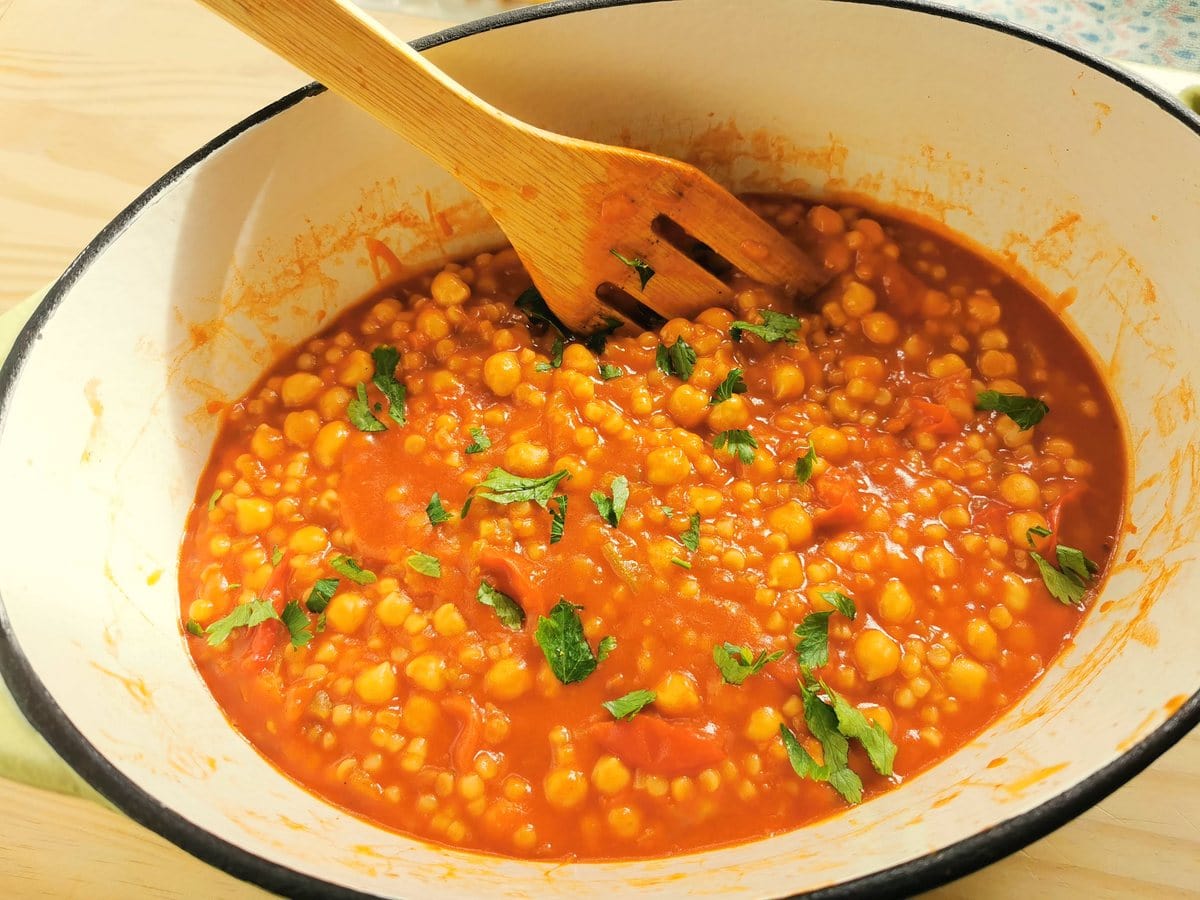 Fregola and chickpeas are a great combo.
Fregola and chickpeas are such a great combination. Not only are they delicious together but the similarity in the size and shape of both gives this soup a fabulous texture and look. However, if you don't have fregola you can use Israeli couscous instead, it looks pretty similar.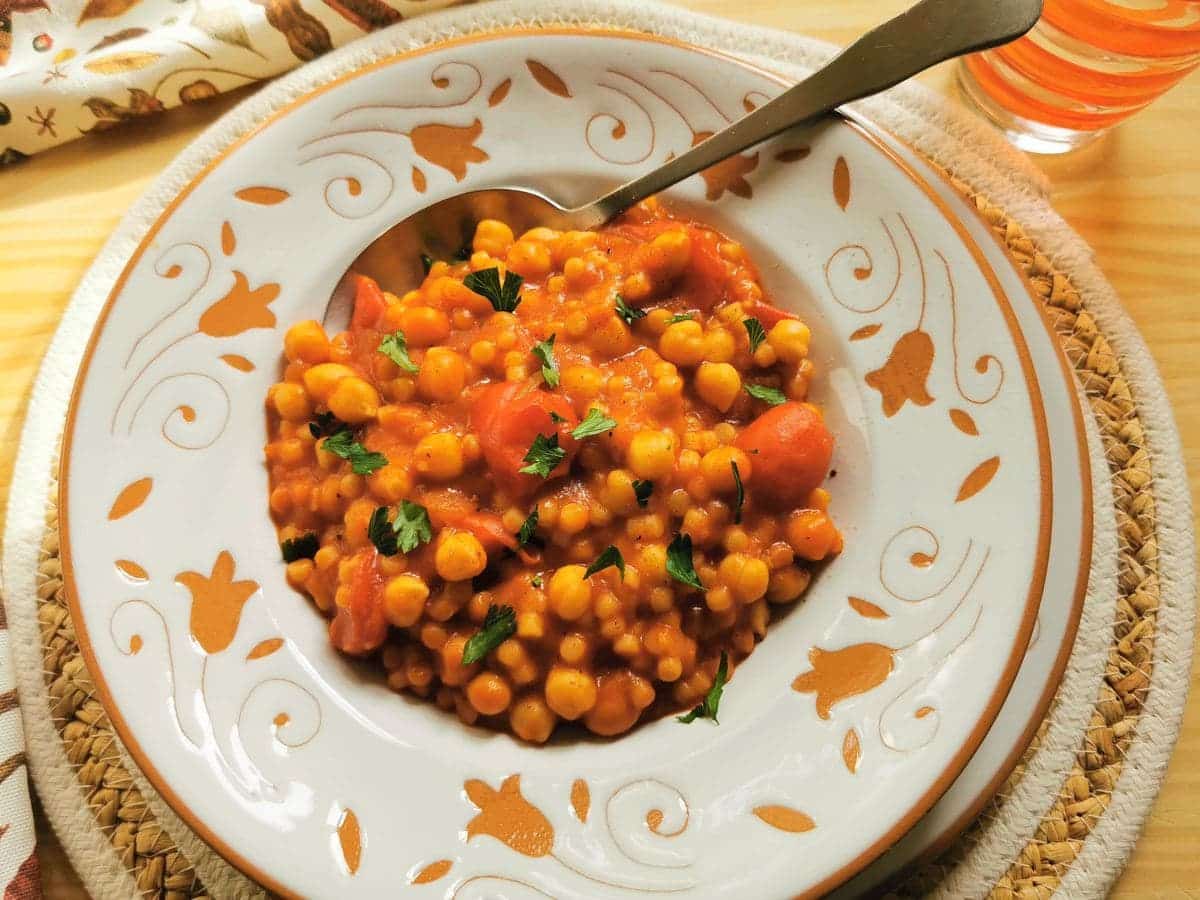 Ingredient additions and substitutions.
Spinach or kale go really well in this Sardinian version of pasta e ceci, as do mushrooms or other legumes like red or black beans. Instead of peperoncino (red chilli pepper), use fennel or rosemary. Non vegetarians can also add pancetta.
However you make this vegan Sardinian fregola with chickpeas, I'm sure you'll agree with me that it is classic Italian comfort food!
If you do try this recipe, I'd love to hear what you think. Please, write a comment here on the blog or post a comment on the Pasta Project Facebook page.
Your feedback means a lot to me!
Buon Appetito!
Pin for later.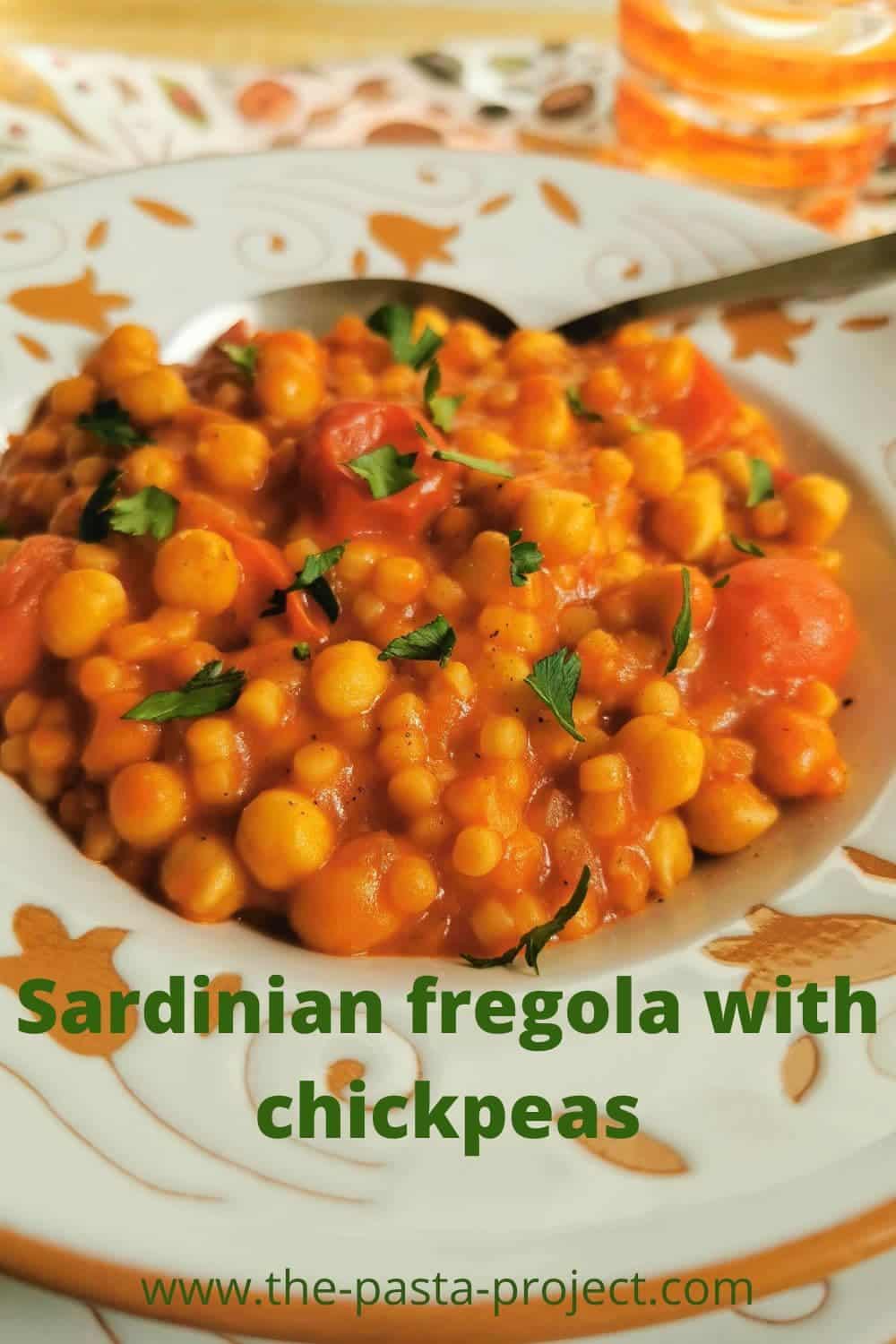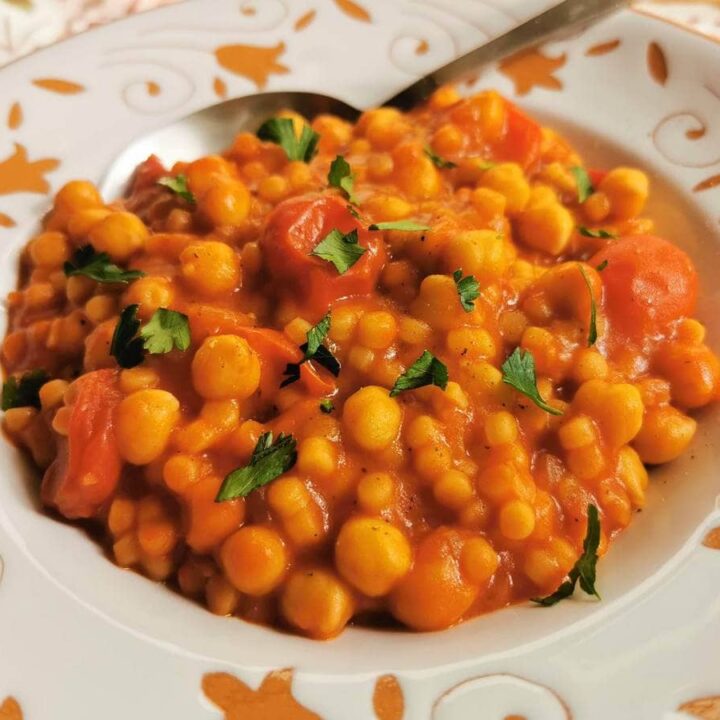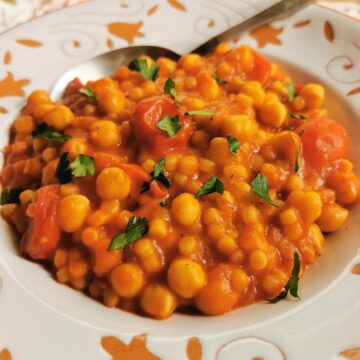 Sardinian fregola with chickpeas (pasta e ceci)
This warming vegan Sardinian fregola (fregula) with chickpeas is a nutritious and delicious slightly spicy pasta soup recipe. Perfect Italian cold weather comfort food this Sardinian version of pasta e ceci is a one pot meal that's easy to make. Add spinach for more fiber or pancetta/guanciale for a non-vegetarian version.
Ingredients
300

g

fregola (10-11 oz)

or Israeli couscous

350

g

chickpeas (12 oz)

dried, soaked and boiled or canned

1

onion

peeled and finely chopped

1-2

garlic cloves

peeled and finely chopped

1-2

celery stalks

finely chopped

500

g

tomato passata (17floz)

10-12

cherry tomatoes

cut into halves

3-4

tbsp

extra virgin olive oil.

500

ml

vegetable stock (16floz)

cubes dissolved in water or homemade stock.

salt

to taste

ground black pepper

to taste

1

handful

fresh parsley

chopped

½

fresh peperoncino (red chili pepper)

chopped (optional) or red chili flakes
Instructions
If using dried chickpeas
Put the dried chickpeas to soak in water overnight. In the morning, drain the chickpeas and cover with fresh water. Add salt and bring to a boil.  Lower the heat and simmer until ready about 1 hour depending on the size and age of the chickpeas. You can also cook the chickpeas in the pressure cooker for about 20 minutes. Once cooked drain the chickpeas.
Make the soup
Chop the peeled onion, peeled garlic and celery finely and sauté together in a pan with extra virgin olive oil and the chopped peperoncino for about 5-7 minutes.

Add the halved cherry tomatoes and cook for a couple of minutes till they start to soften. Add the tomato passata, season with salt and cook for 10 minutes.

Add a little stock and the fregola and cook for about 5 minutes, stirring to combine.

Cook everything together slowly for 15-20 minutes stirring all the time and adding the stock little by little. (The same way as making risotto).

Once the fregola is just about al dente, add the drained cooked chickpeas to the sauce. (or rinsed canned chickpeas). Cook until the chickpeas are heated through. Sprinkle with chopped fresh parsley.

Serve immediately with more chopped parsley and some crusty bread.
Notes
If you don't have Sardinian fregola, you can use Israeli couscous in this recipe. You can add also spinach, kale or cooked mushrooms to this recipe. Instead of peperoncino, you can use rosemary or wild fennel.
Leftovers can be kept sealed in the fridge for 2-3 days. Reheat on the stove top or in the microwave after adding more stock or water.
Nutrition
Calories:
589
kcal
Carbohydrates:
97
g
Protein:
20
g
Fat:
14
g
Saturated Fat:
2
g
Polyunsaturated Fat:
3
g
Monounsaturated Fat:
8
g
Sodium:
550
mg
Potassium:
1115
mg
Fiber:
12
g
Sugar:
16
g
Vitamin A:
1223
IU
Vitamin C:
28
mg
Calcium:
95
mg
Iron:
6
mg
More Sardinian fregola recipes here on The Pasta Project.
If you are interested in learning how to make homemade pasta and different types of gnocchi, check out my shop page for some great video online courses from my friends in Rome! Nothing beats learning to make pasta from Italians! Plus while you're there why not order a copy of one of my pasta recipe cookbooks or checkout some recommended pasta making tools? They make great prezzies for pasta lovers!